Canon PowerShot G7X Mark II: Detailed Review by Sleeklens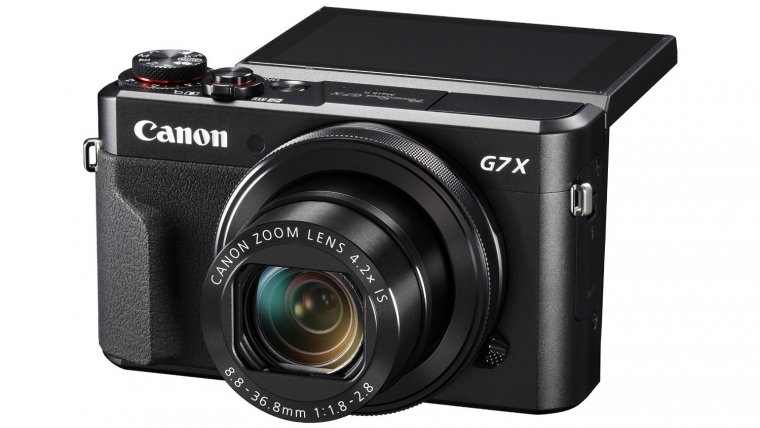 Canon PowerShot G7X Mark II: Detailed Review by Sleeklens
www.sleeklens.com
You might have already read some of our PowerShot G series reviews such as Canon G16 or Canon G3 X. Well, today we bring you Canon PowerShot G7X Mark II review. We are all well aware of how crowded the compact camera market is getting and how hard it is to release a product that will stand out from the crowd and be a big success. It's also hard to be unique and to innovate when most of the today's cameras already have everything most people need and trying to implement something new takes a lot of time and resources that some companies just don't have.
While Canon is a big company and could pull it off it seems that the story with the G7X Mark II is one of evolution rather than revolution, which isn't necessarily a bad thing since the previous model was already a good camera by itself and it only lacked a few things to become the real deal. That's where Canon decided to focus their efforts, in improving the formula that was already proven to work. Ironing out all the flaws they could find with the previous generation and try to make it to be Canon's best camera.
Let's see if they've managed to do it and is the Canon G7X Mark II a real competitor in the high-end compact camera market and is it comparable to the likes of Sony, Fuji or Panasonic which have already established themselves as the leaders in that same market.
Right off the bat, the GX7 Mark II looks like a camera that means serious business. Canon decided not to leave anything to risk so they included the trustworthy 20 megapixels 1-inch BSI-CMOS sensor coupled with a 24 – 100mm lens with a maximum aperture of f1.8-f2.8. That sounds like a really nice combo and we can't wait to tell you how it performs later in the review.
Pros
Built-in WiFi
NFC Connectivity
Image Stabilization
Articulating Screen
1080p Video Resolution
Touchscreen
RAW Shooting
Face Detection Focusing
Cons
No EVF
No Weather-sealing
No Panorama mode
Low battery life
Click to read the full Review
One thing that will also effect the image quality is the new and powerful Digic 7 processor which promises to bring a lot more advanced algorithms when it comes to sharpening and noise reduction. Another thing good about the lens on the GX7 Mark II other than the useful range and maximum aperture is the new Dual Sensing image stabilization which now uses both the data gathered by the sensor and the gyro system in the camera to reduce the blur caused by the camera shake even better than on the previous model. The lens also has a minimum focus distance of 5 cm, which is pretty good. On top of that, there's also an ND filter, which equals to a pretty good package feature-wise.

When it comes to autofocus, Canon included a 31-point contrast-detect system for which they also promise an improved performance over the older model, especially when if comes to subject tracking. There are also some improvements over the maximum burst rate for which you get 8 fps when the AF is locked at the first shot and 5.4 fps when continuous AF is turned on. Last noticeable improvement is in battery life which now sits around 265 shots and is roughly an improvement of 25% over the Mark I.

Let's take a look at some other features of the GX7 Mark II. The screen on the back is a tilt-style 3 inch TFT LCD touchscreen with a resolution of 1,040,000 dots. Sadly, Canon still hasn't decided to include a viewfinder which really seems like an opposite direction to go in when you make a camera that seems so serious and is aimed at the high-end market. At least there's a built-in flash, albeit with an average range of 7 m.

When it comes to video, Canon also decided to stay rather conservative and did not to include 4K recording and instead went with 1080p at 60 fps. We won't complain too much if it turns up to be a good quality 1080p video, so let's wait and see if that holds true. When it comes to wireless communication you have Wi-Fi 802.11b/g/n at your disposal as well as NFC.
Body and handling
The body of the GX7 Mark II is made out of quality metal and feels very smooth to the touch. It's also compact and not too heavy at 319 grams compared to DSLRs like Canon 6D. The grip isn't too big but you still won't feel like you'll drop the camera when holding it because of its otherwise ergonomic shape. The body itself looks quite understated and nothing really stands out, but in a way, it's still quite beautiful in a minimalistic way.

We wish Canon decided to put more physical controls rather than relying too much on using the screen to interact with most of the things, but at least the menus themselves are well optimized for use with a touchscreen. Those controls that are available consist of a shutter button that doubles as a zoom lever, a mode dial ring that also has an exposure compensation ring underneath it and the usual four-way joystick with four buttons located around it. Lastly, there's the ring around the lens which can be assigned for many different functions such as manual focus, step zoom, ISO, white balance, aspect ratio and so on.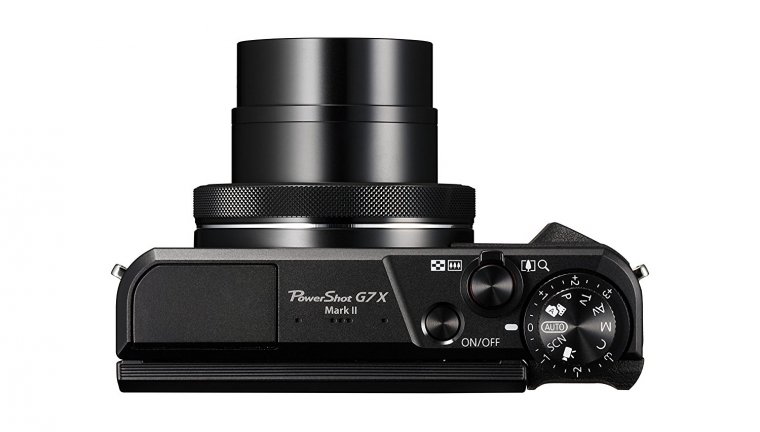 It also has two different working modes; one with a click at each step of its rotation and one that is smooth and silent. You are to decide for which use case scenario you will require any of these rotation modes. You can also assign different functions to the Ring Func. and Movie Record buttons like exposure metering modes, ISO, aspect ratio, white balance, timer and more. In addition to that, there's also a Quick menu option for which you can assign up to 12 different settings.

So, while the G7X Mark II doesn't have many physical buttons it does have quite a lot options when it comes to the customization of its functions. It's actually a good balance between using the touchscreen and using the buttons. You'll also be happy to know that Canon implemented the Wi-Fi functionality pretty well. You just need to install the Canon Camera Connect App on your Android or iOS phone, connect to it via Wi-Fi (or even NFC if your Android phone supports it) and you're done. The interface of the app won't wow anyone as it looks quite basic, but all the important features are here like remote shooting, image transfer, controlling the zoom, ISO, focus and so on. In the end, Canon only left us with one complaint, the lack of the viewfinder and other than that we can conclude that this is a well-balanced camera when it comes to its body and general usability.
Performance and autofocus
Canon claims major improvements in autofocus and overall performance over the G7X Mark I, so let's see are there really any improvements or Canon are all talk. You have two main AF modes to select from, One shot (Single AF) or Servo AF (Continuous AF). When it comes to subject tracking and detecting faces in your image frame you can choose from three different combinations, Face Detect + Tracking using One shot AF, Face Detect + Tracking using Servo AF and 1-Point using Servo AF.
The first combination works well for general moving subjects but isn't very fast and consistent for keeping faces in focus and following them around the frame. The second one works better if faces of your subjects are crucial to being in focus and as the name suggest works by focusing automatically as you or your subject moves to keep up with the focus.
Using the last combination is the only way of getting continuous AF while doing a burst of images. In this mode, the focus accuracy is nothing short of excellent and giving you a hit rate of almost 100%. This is a really big improvement over the Mark I. However if you aren't planning to shot anything that moves you should stick to the Face Detect + Tracking One Shot AF mode. It provides the best balance for everyday shooting.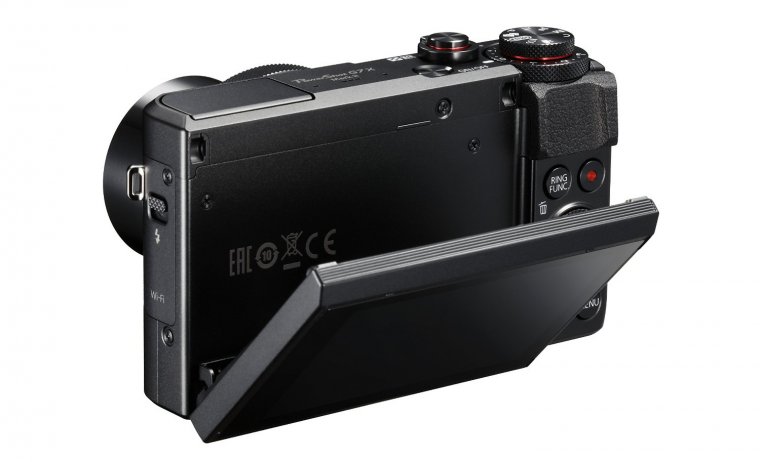 Manual focusing also isn't a bad experience on the Mark II with the option to magnify your view up to 10 times for more precise focusing. Another great addition is the focusing peaking. When it comes to burst rate performance, it's quite good. You get three different speeds, 8 fps (without continuous AF) and 4 and 5.4 fps (with continuous AF). I'm sure that most of you would stick with the 5.4 fps since it's the most useful mode, so we will concentrate on that one. You get a buffer of around 22 shots when shooting RAW and 48 shots when shooting JPEG. These are respectable numbers, but nothing groundbreaking.
Overall, the burst rate performance should satisfy anyone but the hardcore sports and action shooters. Lastly, there's the battery life. It is also another thing that has been improved over the Mark I and now sits around 265 instead of 210 shots. It's still not the best performance out there, but it's really close. You can extend the battery life even further if you turn on the Eco Mode which tries to save you additional power by turning on the screen more often and turning the camera off after a longer period of inactivity. It's really useful to have if you know you'll be shooting for a longer time than usual and you don't have any spare batteries lying around.
Video quality and features
While we don't see 4K video recording on this particular camera, it doesn't mean that it isn't capable of recording good quality videos. The G7X Mark II records video at 1080p and 60, 30 or 24 fps.
Like you would expect from a Canon camera, the quality is pretty good for a 1080p video. There's a lot of sharpness and very little artifacts or rolling shutter effect. The Dynamic IS also helps here to give you more smooth and professional looking footage. It works by combining the lens stabilization with the electronic 5-axis stabilization. It does result in a slightly cropped footage, but it isn't that of a large takeaway for getting such well-stabilized videos.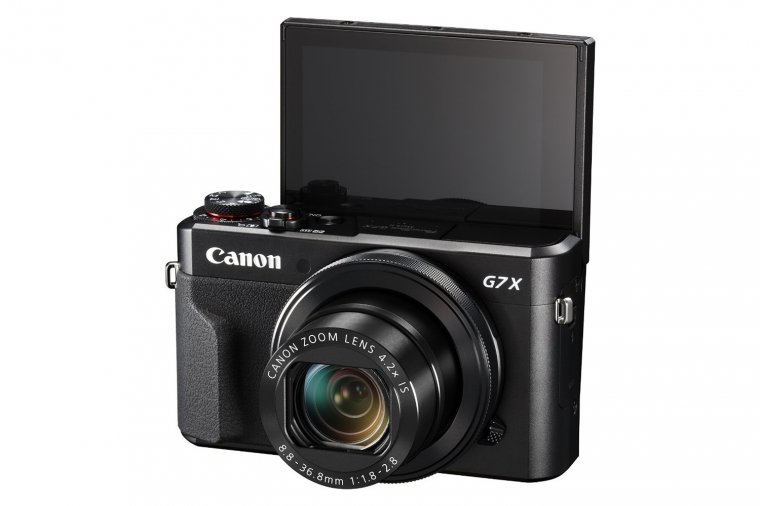 When it comes to exposure control during the video, you get a lot of options. You can shoot either in automatic or fully manual mode. While in the manual you can adjust ISO, aperture, shutter speed or exposure compensation just by touching one of the options on the screen. Canon's well-designed interface really helps here to give you a very intuitive experience. You also get Touch AF which works as expected and also tracks the subject around your frame. We are happy to say that it's the best point and shoot camera because it's so precise with just a little focus hunting here and there. There is also focus peaking here on helping you with manual focus which is always a useful feature to have.
The Auto ISO has also received an improvement and now changes only ISO value when you're using the exposure compensation instead of changing shutter speed and aperture. Sadly, as this is a compact camera, you won't find microphone or headphone jacks here, so you will have to rely on the integrated stereo microphones for audio. Luckily the integrated ones produce good enough audio for most uses, so most of the users shouldn't feel like they are being robbed of solid experience here. Canon also added one bonus feature and that is the Hybrid Auto feature which works similar to living images on Lumia smartphones meaning that seconds before you take a photo it records a video clip of the scene you are shooting and later combines them into one movie. It's not something you would use on a daily basis, but it's a fun little feature nevertheless.
Overall, the video recording experience on the G7X Mark II is a very good one despite the lack of 4K resolution. You will get 1080p footage of high-quality helped by the many manual controls and features that will assist you in making a better video.
Image quality
It's very hard to judge the image quality of a camera these days with every manufacturer having different JPEG algorithms and different processing to their images. It would be much easier to judge it if JPEG never existed and there was only RAW, as most of the cameras show most of their strengths in RAW and are sometimes limited by their JPEGs. The story is similar with the G7X Mark II.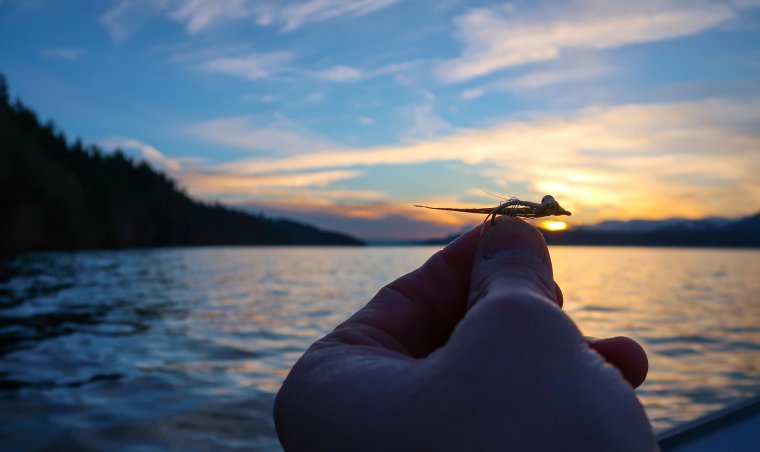 Photo courtesy of Erik Hanson
The JPEG images will look pleasing to most of the people, but we have to criticize Canon a little for their JPEG engine which puts a little too much sharpness and noise reduction on the images. It does help somewhat at higher ISO values, but it can still look artificial in some cases. Luckily for us, Canon implemented a feature called Picture Styles which has been ripped off straight from their DSLRs. If you don't want to play around too much with different parameters you can choose between 7 different presets and those are Standard, Landscape, Neutral, Monochrome, Faithful, Portrait and Fine Detail. If those aren't good enough for you then you can also manually adjust Sharpness (with an impressive amount of detail mine you), Contrast, Saturation and Skin tones. This is a great way to provide customer more control over the look of their images without having to use RAW, so we really applaud Canon for trying to cover most of their user's needs. Still, those that still prefer using RAW and know their way around in editing will benefit the most.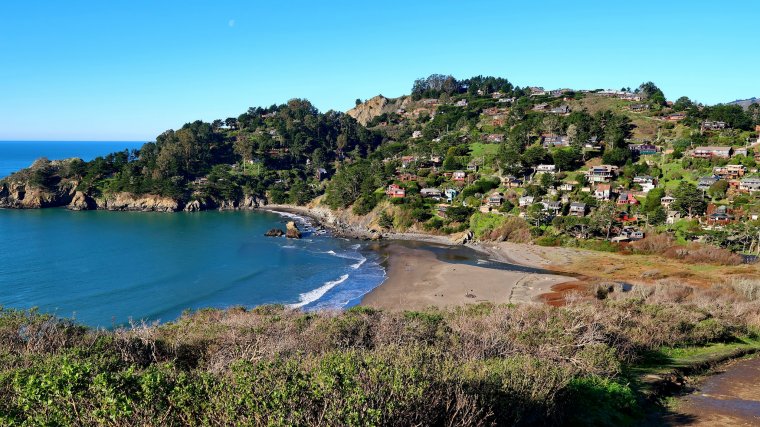 Photo courtesy of AndyS2525
The overall dynamic range and noise performance are up to par with other cameras that use Sony's 20 megapixels 1-inch sensor, meaning they are both good and will satisfy most of the people. We should also mention that the bright lens also helps a lot in low light conditions helping you get faster shutter speeds and less noise in your images than on many other compact cameras with slower lenses. On the more creative side, you can get some nicely blurred out backgrounds when you're shooting at 100 mm and at f2.8, so it's really great that Canon decided to increase the focal length instead of hovering around 70 mm like a lot of other manufacturer's cameras such as Nikon Coolpix P1000.
Conclusion
So where does this leave us with the Canon PowerShot G7X Mark II? Where it's a good camera in every aspect. It has no obvious flaws aside for the lack of 4K video recording and a viewfinder, but even those two don't sound so bad when you take into account that the G7X Mark II produces great looking Full HD videos and the screen on the back is a high quality and responsive touchscreen that can also be tilted at different angles.
Other than that you get a durable metal body, respectable burst rate, great AF performance, decent battery life and image quality that is up to par with every other camera with a 1-inch sensor. Add to that full manual control over pictures and video and a lens with a very useful zoom range and maximum aperture and you get a package that hardly anyone in a market for a camera of this type could be indifferent to. So if you had any preconceptions before that Sony rules this market with their RX lineup, well, think again, because the G7X Mark II can easily match any of those cameras and also add some unique features of its own. The compact camera market just got a lot more interesting, that's for sure.
The following two tabs change content below.
An amateur photographer, songwriter, musician, computer and technology geek and an occasional comedian, I'm a little bit of everything. I always aim to pursue things I'm passonate about and try to look on the positive side of things whenever I can. My mission is to wrap my articles in that aura of positive energy and keep a healthy balance between being serious about my work and spicing things up with a little fun now and than. After all, life's a game and there's always a different way to play it.