Canon PowerShot SX740 HS Review: Powerful Compact Gear to Check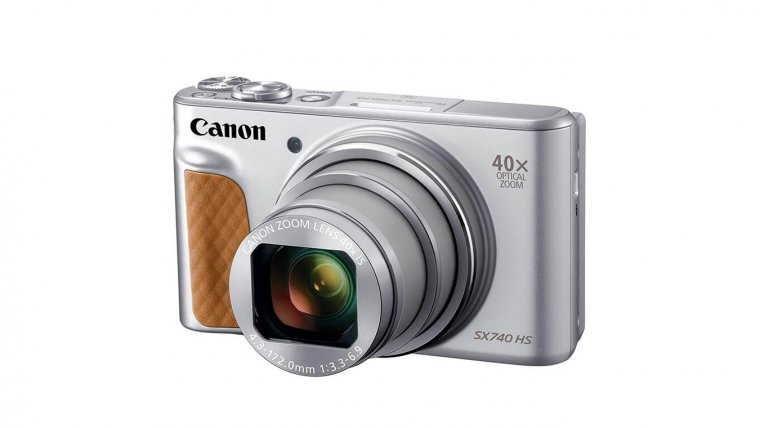 Canon PowerShot SX740 HS Review: Powerful Compact Gear to Check
www.sleeklens.com
It's always good to see that some manufactures are still covering all the segments of the camera market. Well, despite the fall in popularity of some particular camera types, people are still faced with the option to buy the modern versions of the devices they are interested in. While more and more people these days are either satisfied with everything their smartphone has to offer photography-wise or have plans for purchasing either an entry-level mirrorless camera or a DSLR, some still like the fact of having a very small camera that can easily fit anywhere and will still give them a lot of options when it comes to either learning about photography or making use of all the important functionality a dedicated camera has to offer.
If the image quality is not your primary concern but having an all-in-one pocketable camera that doesn't cost much is, then you're the right type of person who could be interested in a point-and-shoot rather than anything else that could be found on the market. For this reason, we've decided to cover as many of these devices as possible, since they are sadly ignored by many other websites that are also going through the motions of reviewing anything related to photography and it's important that people have access to all kinds of information regarding their next potential purchase, even if the camera in question is not a very popular mirrorless camera or some new DSLR. This time around we're looking at one of those devices that could be considered to be the best Canon camera hybrid between a superzoom and a compact camera, combining still a very good zoom range with a body that is light and easy to carry around.
It is the Canon PowerShot SX740 HS, one of the company's latest cameras belonging to the well-established line of SX devices and yet again bringing a combination of familiar features and some new ones to make it more competitive against other modern offerings from the likes of smartphones and mirrorless cameras. It was released in July 2018 approximately 5 months after the release of Canon EOS 2000D though they are two different categories. Just like other SX products,SX740 it is based around a smaller 1/2.3-inch sensor and most of you will know what kind of image quality you should expect to get out of it; if not, simply put, it will be on a very similar level to any of the current flagship smartphones, but with some advantages and also some limitations when compared to them. So, you certainly won't be getting the SX740 HS primarily for the photo quality it will be able to produce, but rather as a replacement or an extension of the functionality offered by your smartphone with more impressive zoom range, control scheme, handling, manual controls, shooting modes and more. It's also very important to remember that the SX740 HS is not a high-end compact camera, but rather one that sits somewhere in between an entry-level and a mid-range one, borrowing features from both and sitting right in the middle price-wise. While it doesn't promise to be a groundbreaking camera that will blow you away with some new technologies, it does seem to be a reliable performer that will give you just the right amount of functionality for you to have fun while taking photos but also learn a thing or two about photography in the process.
We've already mentioned the sensor inside the Canon SX740 HS is a smaller one and no bigger than the one found in your average flagship smartphone and despite not being comparable to any mirrorless camera or a DSLR on the market in terms of the image quality it's able to produce it will still serve you well in most situations if you're not the one that likes to pixel peep a lot and you care more about colors and effects than the sharpness and raw image quality in general. Its resolution of 20 megapixels is plenty enough to produce reasonably detailed photos and the new Digic 8 processor will make sure that the JPEG algorithms are doing a fine job when it comes to applying the right amount of color, sharpness and noise reduction. Still, the sensor inside of the SX740 HS is only half of the story if you decide to talk about its photos since there's also a 40x optical zoom lens attached on top of it.
Pros
Built-in WiFi
Bluetooth Connectivity
NFC Connectivity
Image Stabilization
Articulating Screen
4K Max Video Resolution
Face Detection Focusing
Light Body
Manual Focusing
Manual Exposure
Timelapse Recording
40X Optical Zoom
Selfie Friendly LCD Screen
Remote control with a smartphone
Cons
No External Flash Shoe
No Touch Screen
No Built-in Viewfinder
No RAW Shooting
Low Battery Life
No Environmental Sealing
Click to read the full Review
The unit in question brings an equivalent focal length of 24-960mm with the fastest aperture of f3.3 at the widest and f6.9 at the longest end. Optical image stabilization is also on board to battle any negative effects brought on by camera shake while you're shooting at the longer focal lengths or resorting to slower shutter speeds to get cleaner images in low light. For Canon to be able to put such an impressive zoom range inside such a small camera some sacrifices had to be made and these will mostly be apparent in form of increased noise in your images if you find yourself taking photos in lower light conditions or at night. Luckily the ISO range of 100-3200 and the available shutter speeds that can go as low as 15 seconds will help you choose between being able to shoot handled or putting the camera on a tripod for even better results and with the optical stabilization thrown in the mix you certainly won't be out of options even in the toughest of conditions. Sadly, there is no RAW support on board, but considering the fact that we are talking about a camera that's targeted at casual photographers the fact that it's missing doesn't come as a surprise since they probably wouldn't use such functionality anyway. We've already mentioned that the powerful Digic 8 processor is on board (this is the same one used in Canon's most advanced full-frame mirrorless camera at the time of us writing this article, the EOS R) and thus, the SX740 HS should exhibit very good performance no matter what you decide to do with it. The days of sluggish and underpowered compact cameras are surely long gone now and it's good to see that even those with not much money to spend on a camera will be able to get a product that won't let them down by its lack of adequate performance.

Now, it's not particularly clear how much focus points in total the SX740 HS has to work with, but our guessing would be that there's 9 of them in total because of the official description of the camera's Face & Tracking mode and while that's not an impressive numbers of points, it will be sufficient for most tasks that don't involve fast-moving subjects or action. The AF system in question is also of the contrast detect variety, meaning that it should be decently fast (although not as fast as phase detect systems), but also quite accurate and thus the entire focusing experience should be more than enough for everyday use. We also like the fact that MF Peaking is included and that the lens itself has the ability to focus as close as 1 cm to your subject if you enable the dedicated Macro mode, which makes it very useful for shooting any kind of things that would usually be impossible to focus on without a special macro lens (if we are talking about a mirrorless camera or a DSLR that is). The Canon PowerShot SX740 HS features build quality similar to most of the company's compact cameras, meaning that its made out of plastic, decently sturdy and very light considering all the technology packed inside of it. Its lens is retractable, so it doesn't an unnecessary amount of room when the camera is not in use, there are enough controls included for easy access to all the most important functions and the overall shape of the camera could be considered as a balance between good handling and maximum portability. As is the case with most point-and-shoots (especially at this price points) you won't be getting a lot of options when it comes to expanding the camera's functionality beyond what's included in the box, meaning that you'll only be able to find things like integrated pop-up flash unit, stereo microphones, a single SD card slot compatible with the UHS-I standard, micro-USB and the micro-HDMI ports and also a trio of wireless technologies, Wi-Fi, Bluetooth and NFC. So, there are no headphone or microphone jacks and no integrated or optional viewfinder, something that could be considered as a flaw on a more expensive camera but not in case of the SX740 HS. The screen on the back of the camera is of decent size and resolution (3 inches and 922,000 dots) and can be tilted upwards at a maximum angle of 180 degrees, which would be perfect for anyone planning to record themselves or capture self-portraits, but sadly it's not touch sensitive, which we believe was a cost saving measure for Canon to be able to sell the camera at such a low price. Luckily enough, they have finally listened to their customers and have decided to follow some modern trends on the market and have decided to bring 4K 30 fps as well as 1080p 60 fps recording on a consumer mainstream camera instead of pushing it only to more expensive models and their own video-centric devices. We have yet to see the quality of those videos, but we are very curious to see how the SX740 HS will perform in this regard and if we will be able to recommend it as a great purchase for anyone wanting to record 4K footage while on a budget.
Body and handling
It's always interesting to see how lower end cameras hold up in terms of their build quality when compared to more expensive devices and what the manufacturers were able to within their limited price points. The Canon SX740 HS represents a camera that manages to bring a fine balance between decent durability, attractive design, good handling and excellent portability. While we wouldn't recommend using it in any kind of harsh environments or bad weather because of the lack of environmental sealing (something that is still hard to find on budget compact cameras, unless they were specially made with ruggedness in mind, which also bring some sacrifices of its own) you should have no problems working with this camera for many years, even on a daily basis and even after you've dropped it a couple of times (we are confident that it would be able to survive a number of falls before any of its functions become affected by the possible damage). With a total weight of 299 grams, including its battery, the SX740 HS isn't exactly the lightest point-and-shoot on the market but it still impressively portable considering it comes equipped with such a long zoom lens. If you are the person who cares more about the camera's style than its features you will be pleased to know that besides being available in classic black color, you will also be able to find this product covered in silver, with its grippy parts being colored brown, which will certainly help it stand out from the crowd and fit in with your particular fashion choice. While we are on the topic of grippy materials, the ones located on the SX740 HS are placed on its front and the hand grip as well on the back where your thumb will usually rest while you're using the camera, making it quite comfortable to hold despite its small size and point-and-shoot inspired design. There's also not a whole lot of physical controls to be found (like you would on a DSLR or a mirrorless camera) since we are dealing it a device targeted at those people who would usually stick with Auto or Scene modes rather than tinkering with all the manual adjustments and only the most critical ones are available and can be found on the top and the back of the camera body, but even those are easy to use and offer nice feedback while being pressed or rotated.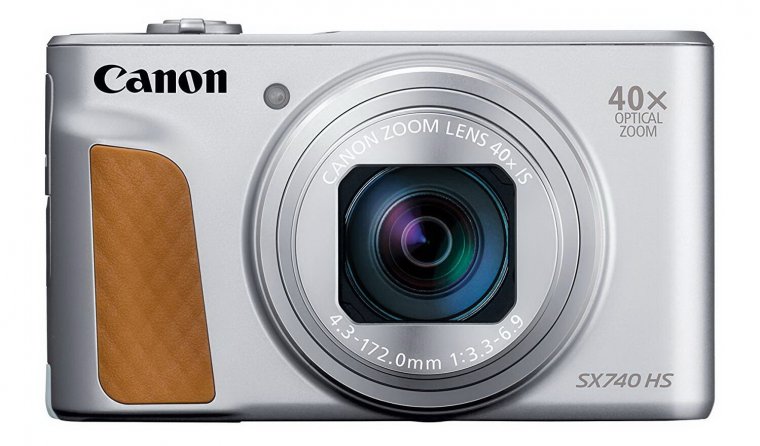 Let us take a quick tour around the camera itself and see what those controls really are and what else can you expect to find if you decide that the Canon PowerShot SX740 HS fits your needs as your new camera. The front of the device features only the front grip, the lens itself and the focus assist lamp and nothing else, which does contribute to camera's clean and understated looks, especially if you opt in for the all-black model. The left side of the body features the flash pop-up switch, the right side micro-USB and the micro-HDMI ports (which means that it will be an easy task to connect the camera to your computer or a laptop to transfer your photos and videos or to an HDMI-enabled screen to share them with anyone in the room) and the both sides have the right connectors that will allow you to attach a strap that will help you carry the SX740 HS with you without the fear of dropping it. The top of the camera is where you'll find the built-in flash unit neatly tucked in inside its compartment, a grill where the two stereo microphones reside, the On/Off button, the zoom lever, the Movie button as well as the main mode dial filled to the brim with different options (but more on those a little later). The SD card slot and the NB-13L lithium-ion battery pack share the same compartment located on the bottom of the body which is also the area where the standard tripod screw mount resides.
Looking at the back of the camera will also reveal a combination of clean design and great functionality. Most of the back is dominated by the LCD screen itself, while the textured thumb rest and the rest of the controls are located on the far right. These controls include five different buttons (Framing Assist/Single-image erase, Wi-Fi, Playback and Menu) and also the four-way navigation controller which doubles as a control dial(together with four separate functions mapped to each of its directions and these are Macro/Manual Focus, Exposure Compensation, Info and Flash settings) and also the Quick Control Menu/Set button placed in its center. It's pretty obvious that Canon went along the route of simplicity while designing the SX740 HS and that it isn't a camera meant to be used by professionals or even more advanced users, unless they don't mind having to slow their workflow down by having to press more than one button to gain access to some functions and aren't bothered by the lack of secondary control dial or the touch-sensitive screen. Including a touchscreen would seriously improve the usability of this particular camera but we guess we'll have to wait for an undetermined amount of time before such technology becomes so inexpensive that it becomes a valid option for camera manufacturers to include it even on their lower-end devices (which would make perfect sense due to the fact that their main purpose is to try and compete with smartphones more than anything else).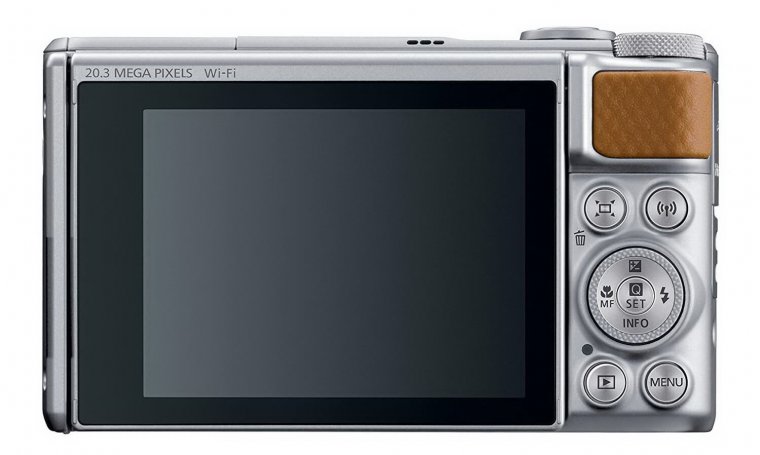 The user interface on the SX740 HS is very similar to one found on Canon's DSLRs and mirrorless cameras and is certainly a step up from PowerShot models a couple of years back. It is a clear indicator of company's expertise when it comes to making their cameras as easy to use as possible, no matter if we're talking about someone who has previously used a product from Canon, someone coming from a different brand or even the type of user that has never used a dedicated camera before. All of the menus are sorted in a logical manner, the font is perfectly readable, the iconography is easy to understand and to memorize and the overall responsiveness is top notch and up there with even more expensive cameras on the market. There are also a few key additions worth mentioning that make the whole experience so great and the first of those is the Quick Control Screen. It holds all the most important settings and functions, can be easily accessed with just a press of the button and is very intuitive to navigate. The other one is the Framing Assist – Seek feature, which will help you with keeping your subject perfectly framed while you zoomed in a lot by allowing you to zoom out for a moment, recompose your shot if necessary and zoom out to return to your previous focal length. The Auto Zoom feature is also an interesting one since it gives the camera the ability to automatically zoom in or out to keep your subject's face the same size if it moves towards or further away from you. Both of these features will be a massive help for those people that aren't used to shooting at long focal lengths and are trying to improve their technique. Now, we were also mentioning that a number of different shooting modes are also included and these are: Food (it will make any pictures of food more appetizing and boost the colors accordingly), Self Portrait (this mode includes special options that will enable you to apply skin smoothing effects, blur out the background behind you and also increase your brightness over the rest of the picture), Sports (in this mode the camera will focus continuously by itself to keep your moving subject in focus and will adjust the brightness of your photos depending on the conditions) and lastly, Specific Scenes, which will let you choose one of the predefined scene options that fit your current shooting situation the best. That mode also includes the very useful Handheld Night Scene option that will allow you to get even better images in low light than you would be using the more traditional shooting modes by talking a number of consecutive shots, combining them into one and thus decreasing the effects of the camera shake and giving you clearer pictures by reducing the overall amount of noise.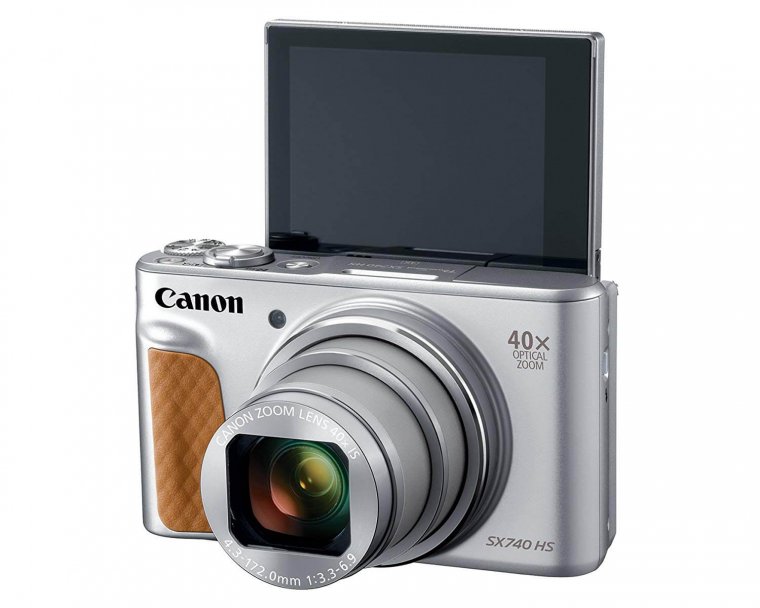 Before we move on to another important topic when it comes to reviewing any camera out there, and that is the performance, we need to examine one of the more modern aspects of any device and that is its ability to communicate wirelessly with other devices. More and more things in our daily lives included the internet, smartphones, social networks and more and thus it's no wonder that a manufacturer like Canon is taking wireless capabilities very seriously, despite the fact that we're dealing a with a camera that is more a budget offering than a professional one. So, the SX740 HS will also allow you to connect it to a smartphone or a tablet (either running Android or iOS), a wireless printer, a laptop or a computer and also directly to one of the internet services of your choice that you've previously selected with the help of the CANON iMAGE GATEWAY web service. What's cool about the technologies inside this particular camera is that it allows you to either make use of Wi-Fi for faster transfer speeds, Bluetooth for less demanding tasks, but also NFC for quick pairing with an Android device just by tapping it and the camera together. To pair the camera with a smart device you'll need to download and install the free Camera Connect app and go through the usual configuration process.
Doing so will allow you to view and transfer images from the camera to a smartphone, geotag them with the location data gathered by your smart device's GPS system and also remotely control the Canon SX740 and take a photo or start recording a video clip without even touching the camera (very useful for those occasions where you need to set the camera on a tripod or take pictures of a group of people with you also being in it). To send images to a computer you'll have to install the Image Transfer Utility 2 program and printing them on a wireless printer will only require you to establish the connection with the said device and you'll be ready to go. So, there's certainly no lack of wireless-related features on the SX740 HS and the same can be said for other things that it has to offer and is related to its usability as a modern camera. We would still like if Canon has somehow managed to include a touchscreen, but as always, with a camera in a budget price range, you can't always get everything you want.
Autofocus and performance
For a long time, it was hard to compare the focusing capabilities of something like a DSLR with any compact camera no matter how expensive the latter one was and that trend hasn't changed until the 21st century when the first RX100 model from Sony was released as a premium point-and-shoot whose aim was to bring as little compromise as possible but while retaining the many advantages of bigger and more capable cameras. While the SX740 HS isn't exactly comparable to the latest RX100 model in terms of its focusing speed and advanced features, it still presents itself as a noticeable improvement over those entry-level compact cameras that were available on the market a couple of years back. The included contrast detect AF system does sound basic in its nature, but it does offer a couple aces up its sleeve and its overall performance may surprise you if you decide to look at it without having very high expectations. In daylight and while you're shooting still subjects it should serve you perfectly well with the speed and accuracy very similar to any of the current smartphones and it will do so even if you find yourself shooting one or multiple people. Working with the camera in the low light conditions will result in slower focusing times but they'll never reach the point of being too slow or to inaccurate to be unusable (this may hold true if you decide to shoot in pitch black conditions, but that is something that would prove problematic for even more advanced cameras out there). Shooting moving subjects is also possible thanks to the inclusion of all the necessary modes as well as a very fast burst rate (even if you want to retain the continuous AF capability), but honestly you still won't be getting the same level of performance as with something like a mirrorless camera or a DSLR and you shouldn't expect any miracles out of the SX740 HS in this regard. Of course, for all of those occasions where you'd want to focus manually Canon have included two modes dedicated for specific shooting conditions that will fix your focus at a certain distance (Landscape and Macro) as well as the regular manual focusing mode that will allow you focus using the control dial on the back of the camera and also do it very precisely thanks to the MF Peaking technology (it will place colorful outlines around the edges of your subject so you can judge your focus more accurately).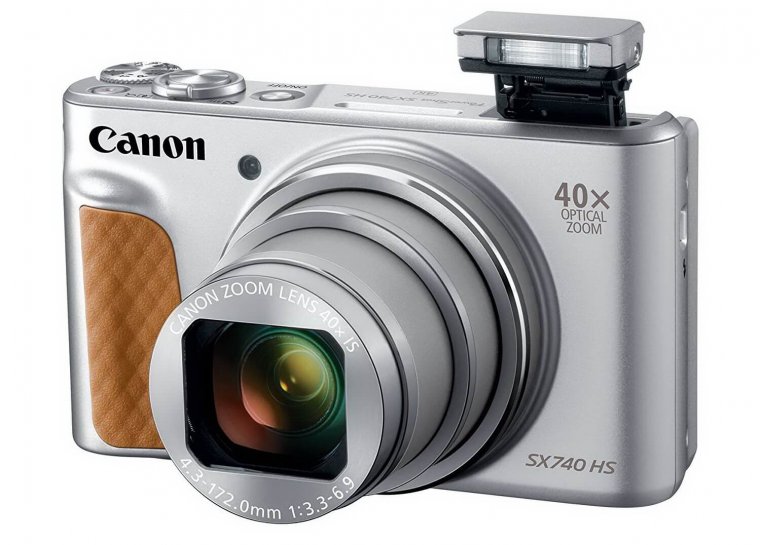 Moving on to all the modes that are related to focusing automatically will reveal four different ones that will help you adapt to different shooting situations. The One AF (this mode will use a single focus point in the center of the frame and will allow you to focus accurately on most types of subjects), Face+Tracking (as its name implies, this option is best to be used while you while you're shooting people since it will give the camera the power to prioritize their faces over anything else and also try to keep them in focus even if they decide to move), Tracking AF (simply put, this mode will tracking any kind of subject on which you've placed the focusing box shown on your screen and will continue doing so as long as you keep the shutter button pressed halfway) and Servo AF will automatically try to reacquire focus when it detects any changes in your frame and any kind of motion and will do so without you even touching the shutter button. You will also be able to engage the AF Lock feature if you are sure that your subject will remain at the approximately same distance of you and your camera. When it comes to performance, in general, we haven't observed any particular irregularities since the Canon EOS SX740 HS has managed to perform all of its duties and tasks at very satisfactory speeds and without any noticeable slowdowns, just like you would expect from a camera bearing the same processor found in a much more expensive device such as the Canon EOS R. The maximum shooting speed on this camera is rated at 10 fps when the focus is locked at the first frame and 7.4 fps with the continuous AF option enabled and both of these are quite impressive numbers for a compact camera of this class. While you shouldn't expect that you'll be maintaining such speeds for a very long time (even with a fast UHS-I card) you will be able to capture fast motion successfully with short but very quick bursts, which still makes the burst rate itself much more useful than those on a lot of other budget compact cameras on the market. The battery life on the Canon EOS SX740 HS is rated at a maximum of 265 shots and can be extended to up to 370 pictures if you turn on the power saving Eco mode and since the battery itself is replaceable you should have no problems carrying a couple of spares if your plans will require you to be far away from a power source for a long amount of time (those shooting more casually should have no problems with the battery life at all, even lasting them a couple of days thanks to the aforementioned Eco mode). There's another great thing about the SX740 HS and its battery that's worth the mention and that is the fact that it supports USB charging, which means that you'll be able to charge the battery within the camera just by connecting the camera to something like a power bank, computer or even a wall outlet just by using your regular smartphone charger and a micro-USB cable (which is quite easy to find these days even if you misplace your own).
Video features and quality
Like most cameras within its price point and its class, the SX740 HS is quite a simplistic video recording tool and doesn't offer a lot in terms of advanced features that would otherwise attract the attention of professional videographers. There's no way to improve audio recording by connecting an external microphone, no way to monitor the recorded audio with the help of headphones, no Zebra patterns, no Log profiles for easier and more effective color correcting, no touchscreen for easier focusing just by tapping anywhere on the screen and no extreme slow-motion modes.
Despite all of those omissions we still consider it a camera that's fun to record videos with and one that will certainly satisfy the needs of those that plan to capture footage for their personal needs rather for any kind of commercial use. The main reasons why we like it is the choice of resolutions and frame rates it offers, the video quality it is capable of producing, the included stereo microphones, image stabilization, capable AF system and also the Video Snapshots feature. Basically, the Canon SX740 HS will allow you to capture pleasant looking videos at either 4K resolution at 30 fps or 1080p resolution at up to 60 fps. So, you'll have the choice of either the best image quality or the smoothest possible footage. The audio captured by the built-in stereo microphones is also of above average quality, the focusing system worked surprisingly well when it comes to focusing continuously (despite being of the slower contrast detect variety that usually lags significantly behind phase detect systems) and the image stabilization turned out to be surprisingly effective even after we've decided to zoom the lens in to its maximum focal length. The Video Snapshot feature also turned out to be quite useful since it has allowed us to grab 8-megapixel still images from the 4K footage essentially giving us a 30 fps burst rate, but with a reduced resolution. There's also the Miniature Model Effect mode that can also be applied to videos and can give them quite an unusual and different perspective (although it certainly not something you will use on a daily basis).
Image quality
We've already mentioned that the 20-megapixel sensor inside this camera is very similar in size with Panasonic LX 10 and to those found in most smartphones. Thus, it should produce very similar image quality. Well, that would certainly be the case if it had a fixed bright aperture lens like those devices (which makes it much easier to optimize their image quality and JPEG processing to make the most out of their simple hardware), but considering the fact that it has a rather complex image stabilized retractable 40x optical zoom lens this just isn't the case. In good lighting conditions, you will be able to capture photos with a decent amount of detail, pleasant colors and very little noise, even if while you're shooting at a full frame equivalent focal length of 960 mm.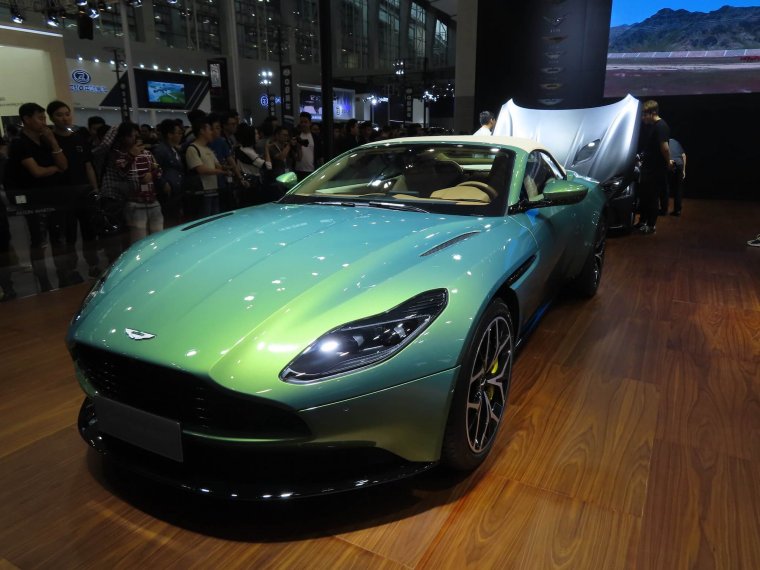 Photo courtesy of Arnold Yam
If you decide to shoot in low light the rather slow maximum aperture of the lens and the higher ISO values that will often be used will affect the overall image quality in a noticeable way and you will only be able to get images of average quality (unless you put the camera on a tripod or you find yourself in a situation where you're only capturing still subjects, where the Handheld Night Scene mode will give you cleaner images). The lack of RAW support also means that you won't be able to take full control of how your images are being processed, but on the more positive note, Canon did include a couple of Special Effects that you'll be able to use to give the captured photos a different look like the Smooth Skin, Grainy B/W, Soft Focus or the Fish-Eye Effect. Still, despite not being able to push its sensor to its limits in terms of image quality, the SX740 HS still has a zoom range that's unparalleled by any current smartphone on the market and if you like to capture subjects that are far away you will surely be satisfied with the photos it will be able to produce.
Conclusion
It's always great to see when the camera market is as competitive as it can be and that even the types of the devices that aren't as nearly as popular as they once were are finding their place within all the chaos (since it's becoming increasingly harder to recommend one camera over another and the competition between all the different brands has never been more fierce than it is right now).
The type we are talking about is the compact cameras (or point-and-shoot as others call them) and the Canon SX740 is one of those modern takes on the old an well established concept that has received a lot more competition these days with the ever rising popularity of smartphones and mirrorless cameras (even some DSLRs are getting smaller and more portable, like Canon's own EOS 250D), meaning that its not easy to sell a camera such as the SX740 HS in today's world as it was before. Still, despite all of that, it is still a device that will find its way in the hands of many different people thanks to its portability, design, flexible zoom lens, image stabilization, 4K video, good battery life, decent AF system and an excellent user interface that offers the same level of polish as any other Canon mirrorless camera or a DSLR released in the last couple of years.
No, you won't be getting the best image quality possible, a lot of flexibility when it comes to different ports or even a touchscreen, but you will be getting a very solid portable camera that is lots of fun to use and is priced very competitively and there's no arguing the fact that it's something that many people will be interested in.
The following two tabs change content below.
An amateur photographer, songwriter, musician, computer and technology geek and an occasional comedian, I'm a little bit of everything. I always aim to pursue things I'm passonate about and try to look on the positive side of things whenever I can. My mission is to wrap my articles in that aura of positive energy and keep a healthy balance between being serious about my work and spicing things up with a little fun now and than. After all, life's a game and there's always a different way to play it.