Nikon Z7 Review: A Flagship Mirrorless Camera for Nikon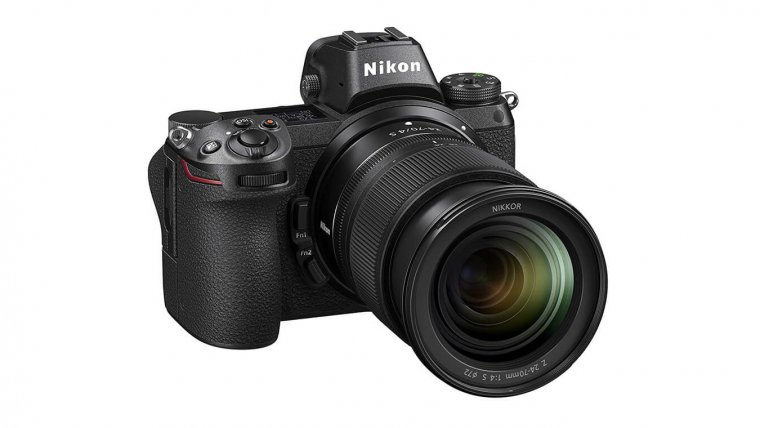 Nikon Z7 Review: A Flagship Mirrorless Camera for Nikon
www.sleeklens.com
The world of mirrorless cameras is an exciting one for sure. Now that they have become the most popular thing amongst most types of photographers (some professionals are still swearing by their DSLRs) it's no wonder that all the major manufactures are trying hard to make themselves known with as much quality products as possible and that a battle like that often leaves us with many different cameras to choose from no matter what type of photographer or videographer you consider yourself to be. This means that you'll be able to find everything from powerful flagship devices that almost look like their DSLR competitors, small cameras with aggressive price points that aim to share the same storage space as our smartphones, ones that are almost entirely centered around video recording and more. We've finally reached the point in time where most of the manufactures have equal tools to create impressive mirrorless cameras and that the market is ready to flourish with so many options available that it could make your head spin if you're new to this sort of thing.
The camera we got the chance to review this time is one of those products that is sorely targeted at professionals that aren't limited by the size of their wallets and that want great features, amazing image quality and ultimate reliability over anything else and are prepared to pay the premium to get it. We are talking about the Nikon Z7, which is the best mirrorless camera Nikon has to offer at the time of us writing this article. While it is a professional camera by nature and is more targeted at those interested in the likes of the Nikon D850, it still won't compete with the likes of the D4s or the D5, since that category of cameras is still dominated by DSLRs and has only been breached a little with a camera such as the Sony A9. So, the Z7 is a mirrorless device that was made for those photographers that want a high-resolution sensor without having to invest in a much more expensive medium format camera, but who also want important features like in-body image stabilization, 4K video recording and decent battery life and don't want to buy a bigger camera to gain access to all of them. While not especially targeted at those photographers who value speed over image quality, the Z7 still offers very fast shooting speed which is even more impressive considering the resolution of the photos the camera has to work with.
We've already reviewed its younger brother, the Z6, and have concluded that it was a great mirrorless camera for its price point, despite lacking some useful features such as the dual SD card slots (which is sadly also the case with the Z7) and being able to produce limited (but still very good) sharpness due to its AA filter sitting on top of its sensor (the Z7 does not include it and thus will be able to fulfil its true potential and make the most out of its high-resolution sensor). We surely have a lot of ground to cover, so let us list all of the important specifications before we dig deeper and find out everything we can about Nikon's new and impressive full frame mirrorless camera.
As you would expect from a first generation product (meaning Nikon's first ever professional full-frame mirrorless camera) the Z7 borrows a couple of things from the company's successful DSLR, the D850 and one of the most important things shared between two of those cameras is the image sensor. We are talking about a 45.7-megapixel full frame sensor that is also free of any kind of an AA filter, meaning that it will enable you to get extremely detailed photos in all situations, especially if you pair it with one of Nikon's high-end lenses that can actually handle such a demanding sensor and make the most out of its capabilities.
Pros
Built-in WiFi
Bluetooth Connectivity
5-axis Image Stabilization
Articulating Screen
4K Max Video Resolution
Touch Screen
External Microphone Port
External Headphone Port
Environmental Sealing
Timelapse Recording
Face Detection Focusing
46.0MP Sensor
Remote control with a smartphone
Good Low ISO
Cons
Low Battery Life
Heavy Body
Click to read the full Review
Besides offering great resolution for a full frame sensor, it also boasts great dynamic range and doesn't produce too much noise at higher ISO values, which makes it one of the most capable sensors on the market for tackling many different types of photography and it's good to see that its high megapixel count doesn't come at a cost at overall image quality as was the case with some of the older cameras on the market. As all of that wasn't enough to attract the attention of many professionals, Nikon have decided to go one step further and include 5-axis image stabilization with a rating of 5 stops to help you get sharp photos even in the more demanding situations where camera shake would be hard to battle or where shooting handled at slower shutter speeds is a requirement. It will also help you get much steadier videos, but we'll talk more about that at a later time. You'll also be able to shoot at ISO values ranging from 64 to 25600 (expandable to 32 at the low and 102400 at the high end), choose one of the 12 white balance presets (with 6 slots for custom ones), adjust the exposure compensation in 1/3 or 1/2 EV increments ranging from +5 to -5 EV and also work with either 12 or 14-bit RAW files.

Just like the Nikon Z6, the Z7 also brings a hybrid AF system (meaning that it consists of both the contrast and phase detect points and will be able to adapt to more shooting scenarios that than more traditional systems) with a 90% frame coverage but also with a higher number of focus points to work with, 493 in total. In theory, this should allow you to easily track any moving subjects even if they are in the very edge of your frame and do it precisely because of such a high number of focus points. We'll reserve our judgment after we perform our usual tests, but all indicators are pointing at a very capable AF system that will work great both for stills and videos, which is something that couldn't be said about any DSLR that Nikon has released so far since none of them was very proficient at focusing continuously during video recording. Of course, the overall performance of the camera should also be top notch thanks to the powerful Expeed 6 processor and the support for the very fast XQD memory card standard (which will enable the camera to save image quickly and not take to look to clear its buffer after you've taken a burst of images with it). The Z7 is also capable enough to offer shooting speeds up to 9 fps (mighty impressive for a camera with a demanding 45.7-megapixel sensor), shutter speeds as fast as 1/8000 and as slow as 30 seconds, a flash sync speed of 1/200 sec (we do wish that Nikon has gone up to 1/250 sec, but even the slower speed will be fine for most users), fast transfer speeds from the camera to your computer thanks to the USB 3.1 Gen 1 standard and its theoretical maximum speed of 5 Gbit/sec and, lastly an official battery life rating of 330 seconds (which will probably turn out to be slightly better as these ratings tend to be a little conservative). As is expected out of a flagship camera, the Nikon Z7 also brings excellent build quality, weather protection, an advanced control scheme and a fine selection of different ports and expansion slots. It's made out of magnesium alloy and sealed tightly so it can be protected from things like dust and water but without affecting the overall weight too much (it's 330 grams lighter than the D850 and that weight can come down even lower if you pair the Z7 with one of Nikon's new native Z mount lenses, which are usually lighter than their DSLR counterparts).

While the new camera lacks a built-in flash unit (it would certainly be a nice addition to make it even more portable and feature packed) and dual SD card slots (a strange omission to see on a professional grade camera) it does not disappoint with its overall features and functions; it includes both the headphone and microphone jacks (together with integrated stereo microphones for more casual recording), USB-C and micro-HDMI ports, fast 802.11ac Wi-Fi chip and also the hardware necessary for Bluetooth communications, as well as very impressive tilting 3.2-inch TFT LCD touchscreen with a resolution of 2,100,000 dots and a huge EVF with a magnification of 0.8x and a resolution of 3,690,000 dots. It can also be remotely controlled either with your smartphone or the optional MC-DC2 unit (all the location data needs will also be handled by your smart device as is the case with most cameras nowadays). To top it all of, Nikon has also decided to take some very important steps to make the Z7 as capable as they when it comes to recording movies to satisfy the needs of more advanced videographers, finally making it easy to recommend a Nikon camera both for photography and videography. The combination of the above-mentioned features as well as things like 4K and full HD 120p recording, 10-bit log over HDMI, full manual control over exposure (including the aperture, something that will be a familiar nuisance to deal with to previous Nikon DSLR users), Focus peaking and so on. We can safely conclude, even by only looking at the specs sheet, that the Nikon Z7 is destined to be a camera that has all the potential to finally convert some die-hard DSLR users to the new and ever-growing mirrorless trend, even with a couple of quirks here and there that prevent the transition from being a perfectly smooth affair.
Body and handling
There are certainly many reasons to purchase a mirrorless camera these days instead of a DSLR and a small sensor superzoom like NikonP900 (portability, adaptability to many kinds of different lenses, built-in image stabilization, electronic viewfinder and so on) but for a long time the main reason to obtain a DSLR has always been the build quality and more importantly, the feel in the hand. No matter how small and light a mirrorless camera was, it was always a hard task to beat the ruggedness and the sheer comfort provided by a traditional DSLR (big grip, better weather protection, bigger and easier to use controls) but we're finally starting to see a change in this trend with the likes of the Nikon Z6 and a few other cameras. Of course, cameras like the Panasonic GH5 do exist for a while now and they are doing a fine job of providing the same level of usability as a DSLR does, but also with a penalty to size and weight, which somewhat negates the advantage of having a mirrorless camera in the first place (at least if portability is your main concern). The Nikon Z6 presents itself as a fine balance between the build quality and usability you would expect from a DSLR and just the right portability you would get with a flagship mirrorless camera. It's still far from being the most portable camera out there, even if you only compare it to full frame mirrorless devices, but it is still easy enough to carry around and it does offer that impressive image stabilized 45.7-megapixel sensor that you'll be able to enjoy more often than while bringing something like the D850 with you. We've already said that the included LCD screen and the EVF are equally impressive units, but so is the entire control scheme with nicely positioned buttons and dials and a lot of them to work with. You will get the option to customize their behavior in a lot of different ways and also rely entirely on the touchscreen if that's your cup of tea. The only bit of controversy surrounding the Nikon Z7 is its lack of a secondary memory card slot and there's no sugarcoating it, some professionals will surely miss having it for a number of reasons and will surely have to deal with less intuitive workarounds to get what they want. In all honesty, we don't consider it to be a deal-breaking omission since we do live in the world where it's much easier than ever to quickly back up all of your work on something like a portable hard drive or your smartphone even with the help of some clever adapters or even wirelessly.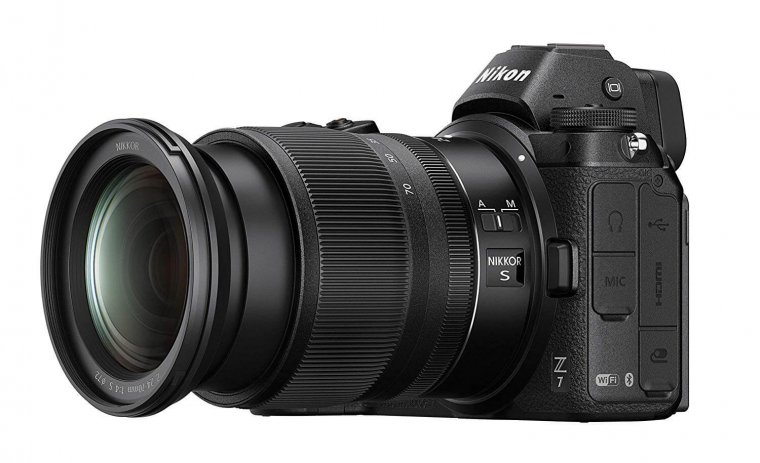 Now, let us take a look at the Z7's exterior before we move on to examining its user interface, menu system, interesting features and wireless capabilities. The front of the camera consists from regular things like the lens mount, lens release button and the AF-assist illuminator/Red-eye reduction lamp/Self-timer lamp, but also the sub-command dial and the Fn1 and Fn2 buttons (conveniently placed around the lens mount for easy access). It has interchangeable lens like the Sony A6300. The left side of the Z7 houses a myriad of different ports; the microphone and headphone jacks, the USB-C connector, the micro-HDMI port and the accessory port, while the right side of the camera is only reserved for that single XQD card slot, with the battery compartment (), the tripod socket and the power connector (used for attaching the optional battery grip) being located on the bottom of the body. Looking at the camera from the top will reveal the main mode dial (together with a total of three custom modes), a hotshoe port, the integrated stereo microphones, the control panel (that's the Nikon's way of naming the secondary screen), a small speaker grill, the main command dial and an array of three buttons surrounding the shutter button and its power lever; the Movie-record, the Exposure compensation and the ISO buttons). Finally, we are left with examining the back of the Nikon Z7 and this is certainly the most crowded place of the entire camera. The top left is reserved for the Playback and Delete buttons, the middle is where you'll find the EVF, the eye sensor, the diopter adjustment control and the tilting LCD screen, the top right houses the Disp button coupled together with the Photo/Movie selector and the AF-On button, while the rest of the controls on the back are located at the right side and these are the Sub-selector (or the AF selection point joystick), the 'i' button, the multi-selector and the OK button, as well as the Magnify, Reduce/?, Drive/Self-timer and Menu buttons. Well, there's no denying the fact that very little mirrorless cameras on the market (especially the ones of its size) offer this much controls and ports at once and we're sure that there are no professional users out here that should find themselves dissatisfied with all the buttons, dials and ports that they'll have at their disposal if they decide that the Z7 is their next camera.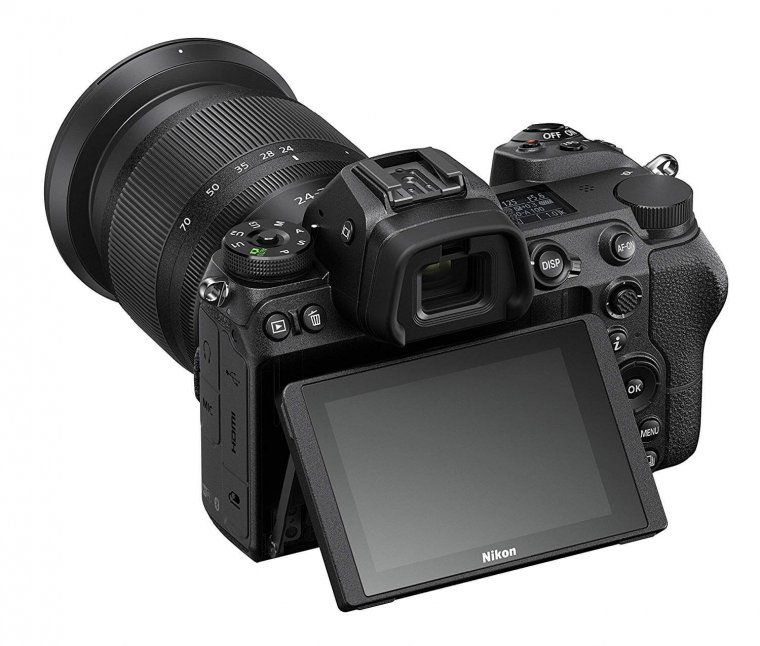 In terms of user interface and the menu system, what holds true for the Nikon DSLRs hold true for the Z7 as well; you will be dealing with software that will be familiar to anyone that has used any of company's DSLRs before but also easy to master if you're coming from other camera systems. Nikon, like Canon, is one of those companies whose highest priority has always been creating cameras that feel as intuitive to navigate as they are comfortable to use. Each and every menu is nicely labeled, easy to read, color-coded when necessary and sorted in the most logical way possible. It's quite clear that a lot of effort has gone into this aspect of the camera and we surely appreciate it. We also like the fact that the interface is perfectly easy to navigate using the touchscreen and that all the items on the screen are big enough to be activated or tinkered with the use of a finger. There's also one big improvement found on the Z7 over one of Nikon's DSLRs in regards to the user interface and that is the 'i' menu (which is the shortest possible name for the fully customizable part of the interface reserved for putting the items and functions of your choice inside of it so you'll be able to access them quickly at any time with just a press of the button). The menu itself looks very similar to the one we've seen on previous cameras, but for the first time, it can be operated via the touchscreen, making it more useful than ever before. The total number of different items that the menu itself can contain is very impressive, ranging from standard functions such as the Image Quality, White Balance, Flash mode or Wi-Fi connection, to more advanced ones like Choose image area, Flash compensation, AF-area mode and Electronic front-curtain shutter. And that kind of customization is only a small part of a thing on the Z7 that can be repurposed or set up the way you'd want it. Besides the custom shooting modes (U1, U2 and the U3) that can hold a bunch off different settings and adjustments that can always be brought up again on the fly, there's also two fully customizable Fn buttons (three, if you count the L-Fn button found on some Z mount lenses) and the press of the AF joystick that can hold the most functions of all the other available controls (like the AF-On, FV lock, My Menu and the Framing grid display), but also things like Active D-Lighting, HDR, Auto Bracketing and Peaking highlights if you keep any of them pressed while your rotating one of the available dials (this doesn't apply to the L-Fn button). The Movie Rec button can also be programmed to perform a number of different functions as well as the AF-On button. What makes the customization of these controls even more powerful is that they can perform entirely different tasks inside the movie mode, which is a great thing to have if you're serious about photography as well as videography and you have your own particular preference for the type of work you do. In the end, you'll also be able to program the shutter button to either start the video recording or take a still photo during recording and decide if you want to use the ring on your lens for manual focus or something like power aperture or exposure compensation.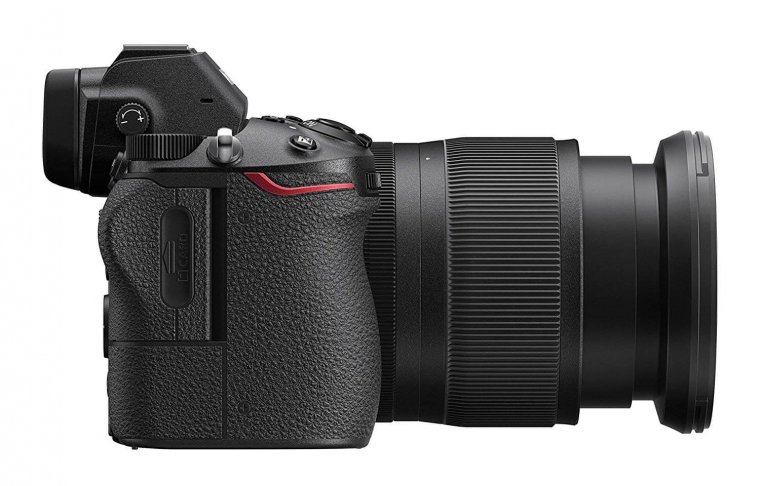 Luckily, if there is one thing that most of today's modern cameras have in common that's their ability to communicate wirelessly with all kind of different devices, some more successfully than the others, but the most of the major features are there no matter the price point (we are of course talking about mirrorless cameras and DSLRs, since point and shoots tend to have a different story behind them). In that case, it's no wonder that the flagship product such as the Nikon Z7 supports every important function out there neither is the fact that most of them will require you to pair the camera with a smartphone or a tablet to gain access to them. To pair the camera with a smart device you'll need to download the SnapBridge application either from the App Store or Google play and that particular application will enable you to download pictures from the camera to the smartphone, embed your images with the location data gathered by your smartphone or tablet, remotely control the Z7 or get notifications about the availability of camera's new firmware updates. If you decide to purchase the optional WT-7 wireless transmitter you'll also be able to pair the camera to a computer, laptop, ftp server or some other device, further extending the wireless capabilities beyond those available out of the box. While we are glad that the Nikon Z7 is capable enough to provide its users with such features, it is certainly strange that some additional hardware is necessary to make them all accessible and that's not something we were expecting to see on an expensive flagship camera. Still, aside from that strange quirk and the lack of the secondary memory card slot, the Z7 is still one of the most powerful full-frame mirrorless cameras on the market if you judge it by its build quality, handling, ease of use, customization options and all the functions it can perform wirelessly. We will see if the same can be said about its AF system and performance.
Autofocus and performance
The Nikon Z7 is currently the best mirrorless camera Nikon has to offer and thus, your safest bet if you want great focusing performance and you are really set on buying a mirrorless camera over a DSLR. It's equipped with a very flexible 493-point Hybrid AF system with a very wide coverage of 90% and on paper, has all the technology it needs to exhibit excellent performance. While the Z7 is comparable to all the other flagship cameras in terms of its focusing capabilities, it certainly isn't perfect and supports the fact that Nikon could have optimized it a little better for certain tasks. If you decide to purchase this camera to use it for portrait photography or landscapes, you will be able to enjoy fast and reliable focusing performance all of the time. Moving into low light conditions will degrade the speed and the accuracy somewhat, but not so much that it should bother anyone who's shooting still subjects. Shooting people and detecting their faces should also be an easy task thanks to the quite capable Face Detect mode and manual focusing even the widest aperture lenses shouldn't be too hard thanks to the inclusion of Focus peaking and that gorgeous, big and sharp LCD screen. Now, while the Z7 is a perfectly good camera for shooting still subjects, its performance does lag behind some of its competitors (even some of Nikon's own DSLRs) when we look at how well it handles the job of tracking moving subjects. It actually turned out to be a very decent performer during our testing and we were certainly able to get some nice keepers while shooting anything or anyone moving in a fast manner, but there still turned out to be more soft or unfocused photos than we would like to see from a pricey high-end camera like this one. We aren't sure if the problem is in the technology itself or in Nikon's lack of expertise when it comes to making mirrorless cameras, but we certainly can't recommend the Z7 to anyone that requires fast and accurate focusing while shooting sports or action, especially if its in any kind of low light conditions. Luckily for Nikon, those types of photographers aren't the main target audience for this particular camera, but it would still be nice to see somewhat better tracking performance from a product that's competing with the best out there when you start to factor in its price point.
There are four main focusing modes; AF-S (the best one to be in if your mainly shooting still subjects), AF-C (this mode will allow the camera to reacquire focus as long as you're keeping the shutter button pressed in hallway, so it will be your safest bet for shooting moving subjects), AF-F (the Full-time AF combines both the AF-S and the AF-C modes and will automatically choose one or the other depending on the situation) and lastly, the Manual focus. The AF-Area modes will allow you to choose which focus points are being used at any given time and they consist out of 6 different modes; Pinpoint AF (best for taking photos of smaller subjects or while you're trying to focus on any exact detail), Single-point AF (allows you to select one of the available focus points around the image frame and focus exclusively with it), Dynamic-area AF (this is an expanded version of the Single-AF point mode that is available only if the Continuous AF mode is enabled and will help you to keep your subject in focus if it suddenly starts moving around from its still position by using the points surrounding the one you've previously selected), two Wide-area AF modes (one small (S) and one large (L), both are best to be used for easier focus conformation on still subjects) and finally, the Auto-area AF, which is the mode that will automatically detect your subjects and pick the right number of focus points for it to stay in sharp focus (it can also be combined with the Subject tracking option which can be easily activated with the press of the OK button). If you decide that you should focus manually, for example in very dark conditions or while doing macro photography than you'll be able to judge your focus without too much hassle thanks to the Magnify option, as well as the Focus distance indicator and the Focus Peaking feature (you'll also be able to change the color of the outlines brought on by that feature).
In terms of numbers, the Nikon Z7 will take you around 1.5 seconds to power on, around a second to capture its first photo, a little more than 0.2 seconds to acquire focus and a little less than 0.5 seconds to capture shot after shot; none of these numbers are particularly groundbreaking and does present somewhat of a slower performance than what its bigger, the D850, was able to achieve, but they are still on a level we would expect from a flagship full frame mirrorless camera. The camera itself is capable of achieving a shooting speed of 9 fps, which is more than commendable for a device that has to deal with big 45.7-megapixel files, but it won't allow you to retain such speed for too long. It all depends on what types of files you're working with; shooting in JPEG will give you around 26 frames, 12-bit RAW around 23 and the most demanding 14-bit lossless RAW no more than 17 files till the buffer gets full and the performance slows down considerably. Do keep in mind that these tests were performed using a very fast XQD memory card, so your results will be different if you're not using one of the best cards available. In the end, let us talk about battery life. This still remains one of the areas in which mirrorless cameras usually can't compete with DSLRs and the same holds true with the Nikon Z7. The official endurance rating states that you'll be able to get up to 330 shots while using the EVF and 400 shots by watching the LCD screen on the back, but we were able to get more than that during our testing. Still, we weren't able to get nowhere near the numbers that are usually attributed to modern DSLRs (again the Nikon D850 sports a battery rating of up to 1840 shots), but they were above average for a portable mirrorless camera. Shooting videos, especially in 4K did hit the battery pretty hard and we would advise you to invest in a backup battery pack if you plan to indulge your self in longer recording sessions. In-body battery charging is also supported thanks to the included USB-C port but be aware that only the newer EN-EL15b batteries support this feature, not the older EN-EL15a and EL-EL15 that usually work perfectly with the Z7.
Video features and quality
You could certainly say that we live interesting times where a Nikon camera has finally surpassed a Canon camera in terms of its video recording capabilities and that can certainly be said in case of the Nikon Z7 if you compare it with the likes of the Canon EOS R or the 5D Mark IV. After years of chasing after competition and being considered as a company that produces excellent stills, but average video cameras, Nikon have finally managed to release a pair of cameras that are equally as capable of producing great footage and providing useful tools to more serious videographers as many of the more established video-centric models that have dominated the market so far. The Z7 is capable of recording videos in many different modes and resolutions, but there are four of them that are the most important; the full frame 4K, the Super 35 crop 4K (it will give you a field of you similar to a camera with an APS-C sensor, but will increase the image quality due to oversampling techniques), 1080p 60fps (the best mode to be in for a great balance of quality and speed) and yet another cropped mode, but also in 1080p and recorded at a very high framerate of 120 fps, perfect for all of your slow-motion needs. There are also two Log profiles worth mentioning, the Flat Picture profile which is reserved for internal recording and the more powerful 10-bit N-Log profile, which will give you noticeably more room when it comes to post processing your footage but will require you to use an external recorder. Sound recording is also covered very well thanks to the inclusion of the microphone and headphone jacks (as well as the built-in stereo microphones) and so are some other helpful features that will be appreciated by any professional like the aforementioned image stabilization (which proved to be quite effective in our testing and will be something you'll be able to rely on to give you smoother footage on a daily basis), Electronic VR (for even steadier videos but wish some penalty to image quality and the field of view), Focus peaking, Exposure warnings, Timecode, Picture Control options and more. Lastly, it's also important to mention that Nikon has done a terrific job of making the new hybrid AF system work well during video recording and that it is now on par even with the best performers out there, like the Canon EOS R and the Sony A7 III. This certainly wasn't the case with any Nikon DSLR or a mirrorless camera before the Z6 and Z7 have reached the market and thus, it's great to see that the Nikon has taken the job of making their new cameras as versatile as possible very seriously and have managed to turn them into great video production machines.
Image quality
We were expecting for the Nikon Z7 to offer very similar image quality to one the D850 is able to provide and we were right, you will get equally good photos out of both of these cameras. The 45.7-megapixel full-frame sensor worked great inside of the D850, and it does so inside the Z7 as well, but this time around its capabilities are even greater thanks to the wonders of in-body image stabilization. While it's not hard to find a stabilized F-mount lens it is still great to have an option to use older glass on a new camera and breathe new life into it. If you aren't very familiar with the full frame sensor in question, then let us give you a short round-up of all of its characteristics.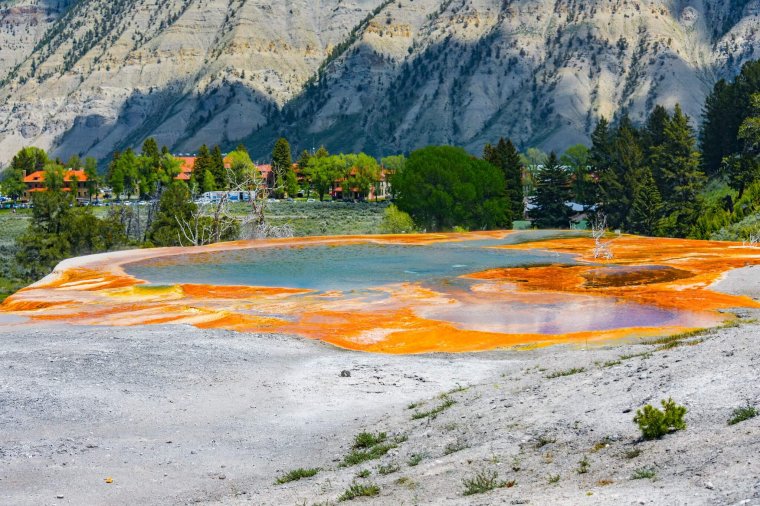 It lacks an AA filter, meaning that you'll be getting some noticeable moire effects but noticeably more sharpness; it will provide you with extremely good dynamic range and will often allow you to get HDR-like images while shooting in RAW without having to combine multiple shots and just by bringing back your shadows in editing and it will also give you very good low light capabilities and images with very little noise up until the ISO values of 6400. We also like that Nikon are processing their JPEGs in a very mature way and that they are also giving you the option to enable one of the predefined color profiles such as Neutral, Vivid, Monochrome, Dream, Toy, Sepia and Landscape as well create your own by adjusting a myriad of different image parameters that will affect the contrast, sharpness and the color saturation.
Conclusion
Well, it is always an exciting job to review one of the latest and greatest flagship cameras, no matter from which camp they've been released, and we've certainly had a lot of pleasure in examining the Nikon's latest full-frame offering, the almighty Z7. Yes, it is very close to becoming a perfect camera for those seeking great image quality but are also having portability in mind but is brought down a little by its lack of a second card slot and averagely good subject tracking performance.
Now, if don't consider yourself to be the person that will be especially bothered by these two things that you will have no problems enjoying a great full frame mirrorless camera that will bring you many hours of joy with its powerful sensor, advanced AF system, excellent build quality, rich control scheme, intuitive user interface and menu system, high levels of customization, in-body image stabilization, great 4K movie mode and much more things that can be taken straight from its list of specifications. You really can't go wrong with this one and it all depends on two things; do you have the financial means to afford it and do you care about portability at all.
The following two tabs change content below.
An amateur photographer, songwriter, musician, computer and technology geek and an occasional comedian, I'm a little bit of everything. I always aim to pursue things I'm passonate about and try to look on the positive side of things whenever I can. My mission is to wrap my articles in that aura of positive energy and keep a healthy balance between being serious about my work and spicing things up with a little fun now and than. After all, life's a game and there's always a different way to play it.