Canon 250D Review: A Budget Option to Consider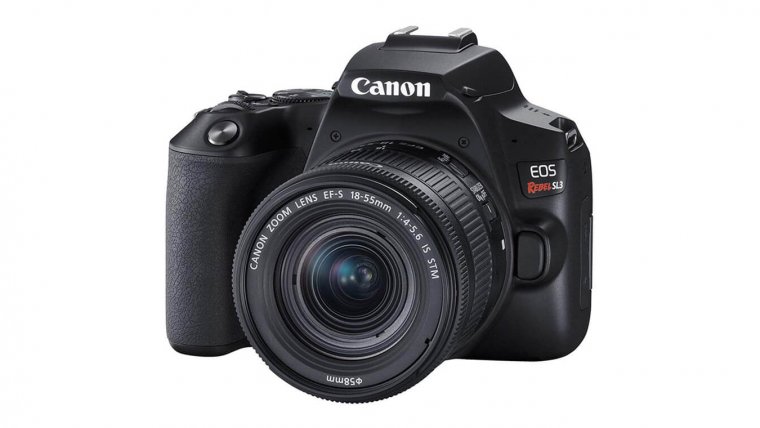 Canon 250D Review: A Budget Option to Consider
www.sleeklens.com
It's no secret anymore that the that the majority of mirrorless cameras, some point and shoots and our smartphones are now the most popular things amongst those photographers looking for a portable camera to satisfy their photography and videography needs and that is has become increasingly harder for manufacturers to put DSLRs in many of those people's hands, despite some of the advantages they still have over their smaller cousins.
Handling, durability and sheer number of available lenses are still the biggest selling points of any DSLR coming from a popular brand like Canon or Nikon and that is something that's not going to change any time soon, but for a lot of people the size of their cameras has become increasingly more important and being able to take one with them at all times a major priority. So, what can be done to merge those two worlds together and create a camera that is portable enough but also a pleasure to work with just like any DSLR out there is.
Well, our search ended rather quickly after we've found out that such a device is available straight from one of the biggest camera manufacturers in the world, the Japanese giant, Canon. Interestingly enough, they have already fiddled with such a concept with their 100D and 200D cameras, but this time around they've come up with a successor to both of those cameras, the small, but mighty Canon EOS 250D (or rebel SL3 and EOS Kiss X10 as they call it in some other markets). It may not be the biggest upgrade over its predecessor, but it does improve on it in some key areas to make it even more competitive against the aforementioned mirrorless cameras and even smartphones to some degree. While it certainly won't draw the attention of many photographers that have already grown accustomed to their very portable devices, it will attract those two are on the fence between choosing a DSLR or a mirrorless camera, especially if they are on a budget and aren't looking for anything that falls inside the premium category, click here.
The Canon EOS 250D presents itself as a camera that will be of interest to those previously coming from any of regular sized DSLRs, point and shoots with smaller sensors or just your modern smartphones (while the 250D isn't comparable to them in size it does beat them in other aspects such as image quality and flexibility of being able to adapt different lenses) and without costing the amount of money that would make it hard to obtain to most people. Now, it is for us to determine if the Canon 250D successfully brings the best of both worlds in one aggressively priced package and does it bring enough features to overshadow its mirrorless counterparts in the eyes of consumers who want a camera that is easy to thug along above anything else. As is the case with all of our camera reviews, we will start our journey with a detailed look at the 250D's specifications. After this and you still haven't decided what to purchase, you can browse this link to see more of Canon's best camera.
While the capabilities of a single camera lie in its feature set as well as image quality it can produce, we do need to establish what kind of photos you should expect to get out of the Canon EOS 250D before we talk about everything else it has to offer. After all, most of you will decide to purchase a camera like this one because of its ability to capture photos that are of better quality than those from a smartphone or a point and shoot and not so much to get serious about photography in general.
Pros
Built-in WiFi
Bluetooth Connectivity
Articulating Screen
4K Max Video Resolution
Touch Screen
UHS-I Memory Card Support
Long Battery Life
Light Body
External Microphone Port
Timelapse Recording
Selfie Friendly LCD Screen
Remote control with a smartphone
Cons
No Image Stabilization
No Environmental Sealing
Click to read the full Review
The Canon 250D offers a very familiar 24-megapixel APS-C sensor found that can nowadays be found in many other company's DSLRs and mirrorless cameras and has proven itself time and time again as an essential part of Canon's strategy to bring good image quality to everything from mid-range to low-end cameras and at a price point that can attract many different kinds of users. It's no secret that Canon has been lagging behind their competition a few years back with their adequate, but not particularly impressive 18-megapixel sensors and that they needed something to bring them back into the game. Well, the sensor inside the 250D does exactly that and will allow you to get very good photos even in low light conditions and those situations where you'll need to balance out the details retained in both the light and the dark areas (providing that you pair it with a decent quality lens, that is, which shouldn't be a big problem considering that even Canon's budget lenses are optically very decent and will give you very sharp results at apertures of f5.6 or f8). The said 24-megapixel sensor will also enable you to shoot at ISO values up to 25600 (51200 if you use the expanded mode), make use of the included RAW support for more effective picture processing outside of the camera and also take pictures with better noise reduction and sharpening algorithms thanks to the powerful Digic 8 processor. That processor is also responsible for giving the EOS 250D the ability to shoot at a speed of up to 5 fps and also the overall performance and responsiveness you would expect to get from a modern DSLR.The 250D is also no slouch when it comes to focusing capabilities, despite the fact that shooting in live view will yield better results than shooting through the viewfinder. This is due to the fact that the only 9 focus points are reserved for looking through the viewfinder (even though all of them are of the more sensitive cross-type variety), but the live view mode has the Dual Pixel AF technology to work with and it will give you the option to select a focus point from 3975 different positions across the screen. This means that you'll either be able to average focus tracking performance and save on some battery life in the process if you choose to shoot through the viewfinder or get great overall performance but worse endurance if you decide to look through the screen on the back. It's certainly nice to have that kind of flexibility on a DSLR. The viewfinder itself is an optical pentamirror unit with an accuracy of 95% and a magnification of 0.87x (certainly not the biggest and most accurate unit we've ever seen but it will do its job for anyone that isn't very demanding about their cameras), but the LCD screen on the back of the camera is the more impressive out of the two being 3 inches in size, fully articulating, touch sensitive and sharp enough thanks to its resolution of 1,040,000 dots. The 250D itself may not be the most rugged camera in the world, but it is one of the most recently built ones we've seen in recent times considering its size, handling and portability. You may not be able to use it in any nasty weather, but it will serve you just fine during regular shooting sessions and even survive some drops if you're not too careful with your gear. It also manages to offer a plethora of useful features found on most decent DSLRs like the hotshoe mount for connecting any wireless flash units, a built-in pop up flash more casual occasions, a single UHS-I compatible SD card slot that will easily support any memory cards fast enough to handle the 250D, a mini-HDMI and the micro USB ports (the same one used by most smartphones out there, so you should have no problem stocking up on a few different cables or finding one anywhere you go), 802.11b/g/n Wi-Fi coupled with Bluetooth for less demanding tasks, time-lapse video recording, built-in stereo microphones as well as the standard 3.5mm port for connecting an external one and lastly, a battery pack that will enable you to shoot up to 1070 pictures before having to touch a charger (this holds true if you mostly rely on the viewfinder since the LCD screen wastes a lot more power than the viewfinder).Lastly, we should mention the movie mode on the Canon EOS 250D, something that has been one of the more controversial areas of Canon's latest DSLRs and mirrorless cameras. The reason for that is Canon's tendency to reserve all the best video recording features for their dedicated video cameras and moving very few of them down to their more mainstream offerings, like the 250D. For this reason, there are two main shooting modes available, one will give you good image quality and nice fluidity without any caveats (that is the 1080p 60 fps mode) and one that will give you even better quality but at the expense of slower motion and a severe crop applied to it (that is the 4K 24 fps mode). Still, the 250D does offer things useful to any type of person interested in capturing videos like the digital IS, a dedicated microphone jack, Dual Pixel AF and the fully articulating touch screen, so things are far from being bad because of the not so useful 4K mode. We'll touch on that particular topic a little later, now it's time to see how the 250D handles in daily use and is it a comfortable camera to work with despite its small size.
Body and handling
The Canon EOS 250D is very similar in design to any of Canon's latest entry-level DSLRs, but with a couple of changes thrown into the mix. The most obvious ones have to be its dimensions and weight, which place it perfectly somewhere between a mirrorless camera and a normal-sized DSLR. With its rather narrow size parameters and a total weight of 449 grams (including its battery) much lighter compared to Canon 1DX which weighs 1551 grams. It won't fit in your pocket, but you could easily throw it in a small camera bag or a backpack and never feel burdened while carrying it around with you. This especially holds true if you pair it a small prime lens, like the Canon 40mm f2.8 or the 50mm f1.8, which will not only help it retains its small size, but will also give you sharp photos thanks to their good optical quality and without spending a lot of money on top of what you've already spent on the 250D itself. We also don't have any particular complaints about its build quality, despite the lack of any kind of premium materials being used for its construction and also the lack of environmental sealing; we wouldn't advise you to take the 250D into any kind of extreme conditions, but you also won't need to be as gentle with it as you would with something like a modern smartphone, which is usually far more fragile and won't withstand as much damage while being abused as a DSLR would. On top of good build quality, you'll also be getting a great ergonomic design thanks to the very pronounced handgrip and textured non-slippery materials being placed on important parts of the body where you would usually place your fingers while holding the camera. There's also more than one color available for those of you that have been bored to death with all-black DSLRs and want something more refreshing; that's where the white model comes into play, which can also be found with equally white 18-55mm kit lens that will fit its exterior perfectly. If you've previously used a traditional Canon DSLR you will also notice a couple of changes made to the controls and their overall layout, like the newly redesigned shutter button, main mode dials and a few of the buttons, as well as the separated dial reserved for powering on the camera or switching to the movie mode.
The back of the camera remains largely the same, except for the slightly different four-way navigation controller that gives the 250D a more modern look, just like all the redesigned controls found on the top of its body. There may only be a single control dial available, which is something that more advanced users won't appreciate, but considering how good the user interface on Canon's DSLRs is and how well it works together with touch input, most people won't be worried about such omission and will enjoy using the 250D for all the positive things it brings to the table.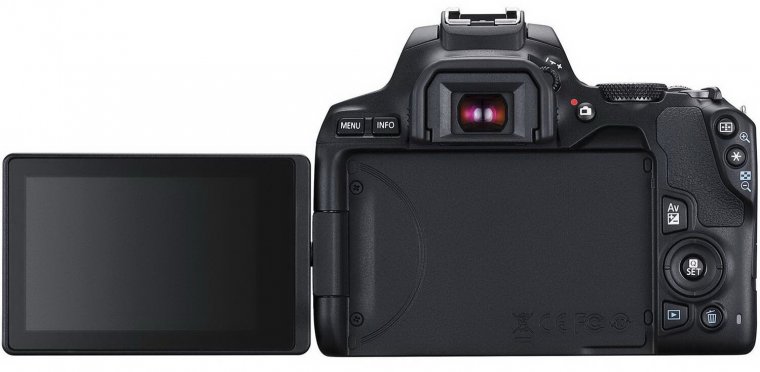 Now, let us examine the Canon EOS 250D from every possible angle and see what its body is really all about. Starting with the front, you'll find things like the shutter button, a pair of microphones (it's good to see that camera manufacturers are starting to place the microphones in front of the camera rather than on top of it), the flash/AF-assist beam emitter, the lens release button and of course, the obligatory lens mount. The left of the 250D features the remote control connector and the external microphone jack, while its right side micro-USB and the mini-HDMI ports (all of the included connectors are neatly protected by sturdy flaps when they aren't being used). The UHS-I compatible SD card slot and the battery slot reserved for the lithium-ion LP-E17 battery pack (the same one that powers the likes of the Canon 800D, 760D and the 750D, so some of you upgrading from those cameras will probably have a few of the spare ones lying around) share the same compartment located on the bottom of the camera, which is located right next to the standard tripod socket. The top of the body is where you'll find the speaker grill, an integrated pop-up flash, the main mode dial, a single command dial, the ISO and the Disp buttons, as well as the power On/Off dial that can also be used to immediately switch to video recording mode. Lastly, let us take a look at the back of the Canon EOS 250D. It's mostly dominated by the optical viewfinder and the fully articulating touch screen but it also includes things like the Info and Menu buttons, the dioptric adjustment knob, the Live View shooting/Movie shooting button), the AF point selection/Magnify and the AE lock/FE lock/Index/Reduce buttons, the Aperture/Exposure compensation button, the four-way navigation controller with the Quick Control/SET button inside of it (it can be used to quickly bring up an interface which holds all the most important settings that you'll want to change or adjust while actively shooting with the camera) and also the Playback and the Single-image erase buttons. Well, we can say with utmost confidence that Canon has managed to include all the most important controls necessary for smoothly operating the camera despite having less space to work with than they would usually have with a more traditional DSLR like Canon 1D X.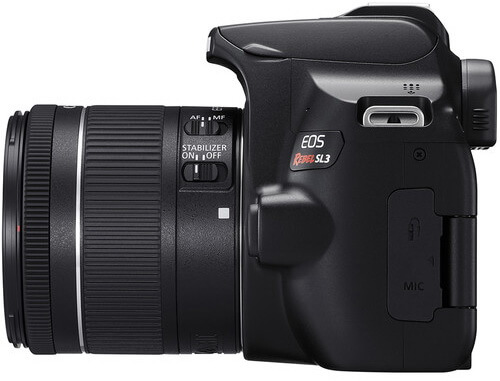 Still, a lot of the included controls wouldn't matter if the connection between the hardware and the software wasn't good enough for the user to easily operate the camera and it's always good to know that Canon has always been very serious about making the best user interface they could make at any given point in history and this also holds true for the EOS 250D. It's as usable and as intuitive as on any other Canon DSLR, working perfectly with both the physical controls and touch input, but also well optimized for both those people who have just begun to take a more serious interest in photography and also those that are more experienced. We like the fact that the interface itself consists out of more classic parts that will help you easily access all of your most important settings and also some additional ones, but also those that are more focused on looking attractive to beginner photographers and will give them graphic representations of all those items that they should focus on before taking a photograph. Besides the traditional Auto mode, the 250D also offers a great selection of different Scene modes that will allow anyone just starting with photography to get more familiar with different shooting situations, subjects and lighting conditions. So, for example, you'll be able to switch to Portrait mode to get pictures with thinner depth of field and more emphasis on the person in front of your camera, Landscape mode for the opposite and a wider depth of field, Sports to help you take better photos of moving subjects, Close-up for smaller subjects and so on. These are certainly a great addition when you're finally ready to move away from the fully automatic mode, but you still aren't prepared to tackle the full manual mode just yet. The 250D also brings a couple of useful features that will optimize the look of your photos, like the Auto Lighting Optimizer that will adjust the brightness and contrast accordingly to bring out a little more detail on those occasions where photos would turn out too dark or to bland and the Highlight tone priority option that will help with the possibility of getting images that are too bright and clipping away all the details found in the highlights. While you shouldn't expect to get the same customization options like those found on a true mirrorless camera or a more expensive DSLR, you will still get the necessary features to do things like changing the increments in which the exposure will be adjusted, choose the ISO expansion range, change the functions of the SET and Disp buttons, make the Quick Control screen appear immediately after you power on the camera, register different items under My Menu section (perfect for gaining faster access to those features that you'll only be using on some occasions) and so on.
Now, let us talk wireless communications, something that has become a very important part of modern electronic devices and it was only a matter of time before it would start to appear like an obligatory inclusion on even the lower-end cameras. While you can certainly do a lot more with any camera if you give it access to any kind of wireless technology (be it Wi-Fi or Bluetooth), most of the experience is centered around connecting it to a smartphone or a tablet with the intention of backing up your photos or sharing them on a social network of your choice. So, all you'll need to do to gain access to all the smartphone-related features is to download the Camera Connect application (available for Android and iOS devices), perform the initial setup and you'll be able to view images stored on your camera's memory card, save them on the smartphone, shoot remotely and change a decent number of different settings without even touching the camera, enable the Auto transfer feature and also send the location data gathered by your smart device over to the camera itself and store it with the rest of the information available for each photo after it's been taken. If you wish to pair the Canon EOS 250D with a computer or a notebook, you'll also be able to do things like importing your photos and controlling the camera within the EOS Utility software which is conveniently available for both the Windows and Mac-based devices. The 250D can also be connected to a Wi-Fi-enabled printer that supports the PictBridge technology and can make printing your photos a breeze. Of course, there's also the option to send your images to any Web Service you've previously registered on the CANON iMAGE GATEWAY website (this is one of those things that could certainly be replaced with something more intuitive, especially in 2019, but considering how reluctant Canon always was with adopting new technologies, we are happy to see that at least the sheer number of available features and functions is on the highest possible level). In the end, the Canon EOS 250D may not break any new grounds in terms of its features, but it does refine the already successful formula of a small and affordable DSLR who's mission is to show that there's some strength left in these types of cameras and that they can still compete with mirrorless devices on a level playing field.
Autofocus and performance
The Canon 250D is an interesting beast when it comes to its focusing capabilities and certainly the one that requires a little time to get the grasp of and become aware of all of its pros and cons. Its performance will sorely depend on your method of looking through the camera, whether it is through the optical viewfinder or the LCD on the back of the camera. Shooting through the viewfinder will give you fast, but simple focusing system consisting out of 9 all cross-type focus points and switching to live view will upgrade it to an equally phase Dual Pixel AF system, but with much more options in terms of different modes that would be especially helpful for tracking moving subjects. The said AF system is also much better for taking photos of sports and actions because its focus points cover much more of the image frame than those available while you're using the viewfinder. On the flipside, using the viewfinder will save you a lot of power and thus increase the battery life considerably, so if you're mostly shooting static subjects you'll surely be able to get very good focusing performance even without resorting to the more advanced Dual Pixel AF system. If you're however interested in recording videos, as you might as well be considering the fact that the EOS 250D presents itself as a great vlogging camera or one that will satisfy the needs of more casual photographers, the Dual Pixel AF technology will help you get consistent, reliable and fast continuous AF performance, especially if you pair the camera with one of Canon's newer STM and USM lenses (the older ones may take a little more time to focus and could produce more noise because of their often old school focusing mechanisms). All in all, we surely aren't dealing with the fastest focusing camera around, but factoring in its price and flexiblity, the 250D will most certainly satisfy the needs of the type of audience it is targeted at.
Now, let us dwell deeper inside the camera's menu system and see what it exactly offers in terms of all the focusing modes and helpful features that would have an impact on its focusing capabilities. Of course, you'll be able to choose between AF and MF modes but the autofocus mode itself is separated into three different ones, the One Shot (a mode best suited to still subjects), AI Focus (this is a mode that combines the One Shot and the AI Servo modes and switches to one or the other depending on the situation you find yourself in) and AI Servo (this one is your best friend if you find yourself shooting anything that moves since it will allow the camera to continuously search for changes in movement and adjust the focus accordingly as long as you keep the shutter button pressed halfway). Now, shooting in live view will give you some additional modes to work with and the first ones are so-called AF Methods. These are the face + Tracking (as its name implies, this method will instruct the camera to prioritize people's faces over anything else in your frame and keep them in focus even if they move around), Sport AF (this mode is best to be used for shooting smaller subjects like insects or flowers since it's the most precise one to pick smaller details), 1-point AF (this is the most traditional method for dealing with any kind of still photography)and Zone AF (this method will allow you to use a group of focus points that will be extra helpful for keeping track of any kind of moving subjects). Other helpful features are also available, like the Eye Detection AF (a perfect mode to be in if your shooting a portrait of someone) and the Magnified View (it will help you focus more accurately while you're in the MF mode, but sadly, Focus peaking isn't included like it is on most mirrorless camera and is still a feature that is reserved for just a few DSLRs on the market).
The overall performance of the EOS 250D is on the level you would expect to get out of a DSLR in its class and unless you need the fastest camera possible you shouldn't have any problems with its responsiveness and the small amount of time you'll have to wait for it power on, focus on your subject and take the shot. The touch input also feels great and is as smooth and as precise as that of any modern smartphone with a traditional capacitive touch screen. The fastest burst rate of 5 fps is a decent speed to work with for anything but the most demanding situations, but its usefulness will largely depend on the type of files you plan to work with. If you're satisfied with only having JPEG images at your disposal, the 250D will allow you to shoot at the same speed as long as you have enough free room on your memory card but switching to RAW will limit the camera's performance. You'll only be allowed to shoot at a speed of 5 fps for about 10 shots (that's also counting in the usage of a fast UHS-I card) but if you're willing to accept having a little less information to work with, but still reap the benefits of RAW images, than you'll always have the option to switch to C-RAW (or compressed format) and get around 37 shots per full burst. The battery life on this camera is also heavily dependent on what you're exactly using it for. If you're only a photographer and you're satisfied with the focusing performance while shooting through the viewfinder than you'll be able to get more than 1000 shots per charge if you don't leave your camera on for too long between taking pictures. If you're set on using the LCD screen as your main composition tool than you'll be able to get half of that endurance at best and one full charge will also allow you to get around one and a half hour of 4K and around 2 hours of 1080p video footage. Sadly, USB charging is not supported and that still remains a feature mainly reserved for mirrorless cameras and rarely for any DSRLs. Luckily, it's quite easy to find replacement batteries for the 250D, if you ever found yourself in need of a little more juice.
Video quality and features
This time around, we are dealing with yet another slightly controversial Canon DSLR in terms of its movie mode. Now, we should say it right from the start, that doesn't necessarily mean that we're dealing with a camera that has no place in a bag of someone interested in videography, just with one that has some unfulfilled potential because some of its features have been artificially limited. Now, let's first deal with the good stuff. The Canon EOS 250D is capable of recording good looking 1080p 60 fps movies with very fast focusing capabilities thanks to the Dual Pixel AF technology and decent quality audio thanks to its built-in stereo microphones (even better quality if you connect an external microphone). There may not be a headphone jack available or even features like log profiles, Focus peaking or Zebra patterns, but the included fully articulating LCD touchscreen more than makes up for the lack of those specific functions considering the act that we're examining a device that is more targeted at casual and amateur users than the professionals. The very polished user interface also allows for quick adjustment of any important setting and will also allow you to change those setting silently thanks to the touch-sensitive screen.
Shooting in 1080p will also allow you to use the digital zoom with very little loss in quality (from 3x to 10x), capture HDR movies with better dynamic range, apply different Creative Filters and also create Video Snapshots. The 250D also offers two levels of digital IS (or Image Stabilization), which is decently effective if you use it with a wide-angle or a short telephoto lens, even though it does reduce the overall field of view and image quality (we would recommend sticking with the first level of stabilization, unless you really need all the help you can get to battle the camera shake). This brings us to the unfulfilled potential part of the EOS 250D and that is its 4K mode. Yes, the footage itself is of pretty decent quality and is sharper than the 1080p footage, but you'll have to give up a lot of options and features in the process, deal with much bigger files, replace the impressive Dual Pixel AF system with a more traditional contrast detect one, limit yourself to a maximum framerate of 25 fps and lastly, with a severe crop applied to the footage (2.6x in full frame terms, to be exact). This means that wide-angle videography is simply out of question at 4K resolution and that all of your lenses will be much more zoomed in than in 1080p mode. The only silver lining here is that those interested in shooting wildlife will get noticeably more reach out of their telephoto lenses, but that's about it. We would advise you to stick with the much more flexible 1080p mode unless you absolutely need the best video quality and you are ready to accept a lot of compromises to get it.
Image quality
If there's one category of this review which left us with no real surprises (which can be a good thing, since they often tend to be of the negative type) it has to be the image quality we were able to get out of the Canon EOS 250D. Since the camera in question shares the same 24-megapixel APS-C sensor with many other Canon cameras that have been present on the market for a couple of years now and we already know what to expect out of it and how capable it really is. It does lag behind slightly behind the latest APS-C sensors found in other manufacture's cameras in terms of its dynamic range and low light performance, but it's nothing that you would notice in day to day shooting unless you are directly comparing this camera with one from a different brand.
There's still plenty of resolution available for getting sharp photos (especially if a quality lens is being used), enough room to get nicely exposed images even on those occasions where there's too much light or your subject is located in a shadowed area and also, there's the ability to bump up your ISO values to about 3200 before you start getting noticeably grainy images. You'll also be able to get better images by shooting in RAW format but that's something that holds true for all cameras. We also like Canon's approach to processing their JPEGs since it offers a nice balance of sharpening, noise reduction and color adjustments and we also like the sheer number of available Creative Effects that you'll be able to play with (like Soft focus, Fish-eye effect, HDR, Grainy B/W, Miniature effect and many more).
Conclusion
Well, we can surely say that we've had a lot of fun testing out the Canon EOS 250D and putting it through its paces and there is a number of reasons why that was the case. While it added 4K mode is only useful for certain applications, the viewfinder is on the small side when compared to more expensive DSLRs and mirrorless cameras and the inability to take the camera out in any kind of rough weather stop the 250D from being one of the best budget-oriented cameras out there, the great image and video quality it's able to produce, its well-built, full-featured and impressively portable body, well-optimized user interface that works perfect for both the touch and physical input and great battery life among other positives still make it a compelling offering for those that still aren't ready to fully invest their time and money into a mirrorless system, but want some of its features in a package that's comfortable to use and looks more like a serious photography tool than a piece of technology that tries to look stylish and capable at the same time (which is the case with many mirrorless cameras within its price segment). More about Canon here.
The following two tabs change content below.
An amateur photographer, songwriter, musician, computer and technology geek and an occasional comedian, I'm a little bit of everything. I always aim to pursue things I'm passonate about and try to look on the positive side of things whenever I can. My mission is to wrap my articles in that aura of positive energy and keep a healthy balance between being serious about my work and spicing things up with a little fun now and than. After all, life's a game and there's always a different way to play it.