Canon PowerShot G16 Review: A Mid-Step Towards DLSRs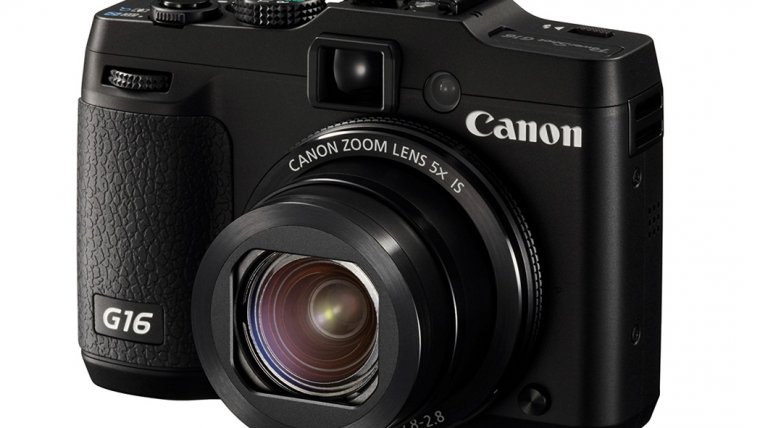 Canon PowerShot G16 Review: A Mid-Step Towards DLSRs
www.sleeklens.com
While the eyes of photographers are more and more focused on the current and upcoming mirrorless cameras and less on DSLRs and compact cameras, there are still some exciting products on the market that deserve some attention from photographers and the camera we're reviewing today also falls into this category.
The Canon PowerShot G16 isn't one of the new, cool and hip cameras on the market as it was released in 2013, but that still doesn't mean that we can't revisit it and take a look at it from a different angle than the one we could when it was new. Since it was one of the most advanced compact cameras from Canon at the time of its release, it still has enough fight left in it to become a decent purchase even today. There are still a lot of photographers that don't care much about having the latest features and all the new technology in their cameras and just want a solid and reliable device that will help them take good quality photos and video. The G16 certainly has the ability to fulfill the needs of those photographers and also without breaking the bank. Let's see how well this camera holds in 2017 now that Canon Powershot G1 Mark III was launched and how much strength is left in it to compete with more modern cameras of its class. And if you're looking for different models and more of Canon's best camera, visit this link.
The first thing that makes the Canon PowerShot G16 stand out from your traditional compact camera is the size of its sensor. Rather than the traditional 1/2.3 inch sensor, it has a bigger 12-megapixel BSI-CMOS 1/1.7 sensor. This means that it has the ability to gather more light, give you better image quality and also a larger depth of field. Aside from that, it has another distinctive feature and that's the lens sitting atop of that sensor.
Pros
Built-In WiFi
Image Stabilization
Optical Built-In Viewfinder
RAW Shooting
Long Battery Life
AE Bracketing
Remote control with a Smartphone
Cons
No Articulated Screen
No Touchscreen
Heavy Body
No Weather Sealing
Poor Low Quality Performance
Click to read the full Review
It's an optically stabilized 28 – 140 mm equivalent lens with a fast maximum aperture ranging from f1.8 to f2.8. At 1 cm, it also has the ability to focus extremely close. To ensure the best performance possible, Canon included their Digic 6 processor, which is also found Canon's higher-end cameras like the 5D Mark III and 80D, so it is certainly powerful enough to cope with all the demands coming from the G16. It also allows it to shoot at a pretty respectable frame rate of 12.2 fps.

As the G16 is a professional compact camera it features both the LCD and a viewfinder. The LCD itself it is a fixed 3 inch unit with a resolution of 922,000 dots and Canon's PureColor II G technology. The optical viewfinder itself is a little less impressive as it only features a coverage of 80% and that limits its functionality in a big way. This would easily be solved with an addition of an EVF, but it wasn't achievable in this case since the G16 is an older camera.

Other things built into the body include a flash unit with a range of 7 meters, a hotshoe, USB and mini-HDMI port and also Wi-Fi. There are no headphone or microphone jacks, but there are stereo microphones included. Like all other cameras from 2013, it doesn't support 4K video recording, but surprisingly enough it's able to record 1080p footage at a pretty fast frame rate of 60 fps.

There are also some interesting movie modes available like Minature Effect and Slow Motion Movie but we'll talk about those later in the review. So, the PowerShot G16 does show its age in some respects, but overall it still looks like a rather capable camera for those users that are on a tight budget, but are still looking for something more advanced than the traditional compact camera. Now, let's see how its body and its features held up over these few years.
Body and handling
The Canon PowerShot G16 may not be built out of metal like some of other Canon's advanced cameras, but it still manages to feel like a quality made camera. It's built of sturdy polycarbonate and together with a nicely textured faux leather material that's found on both the grip and the thumb rest the whole camera feels really solid in the hand and also easy to hold and use for a prolonged period of time. At 356 grams, the G16 also has the right weight to feel light enough and substantial at the same time. The other thing that really makes it stand out from many compact cameras out there is the sheer amount of manual control it has. Because it doesn't have a touchscreen like many modern cameras these days, it's important to have all the important settings and features right at your disposal and enough of them to avoid having to dig through the menus or look on the screen too often. The layout of all the controls on the G16 is nicely though out and well-optimized for its size, so no space was wasted here.
Let's see what exact controls you'll find on this camera, together with some other things that grace its body. As usual, we'll start with at the front. Here we find the front control dial, ring release button, AF assist lamp and the viewfinder opening. The lens itself also has a ring on it which is used for manual focus. As is the tradition with many compact cameras, the sides are free of any buttons and only feature one flap with all the ports hidden underneath it and the mono speaker. Moving on to the top of the camera, the first thing we find are the pop-up flash tucked neatly inside the camera body and the flash release switch right beside it.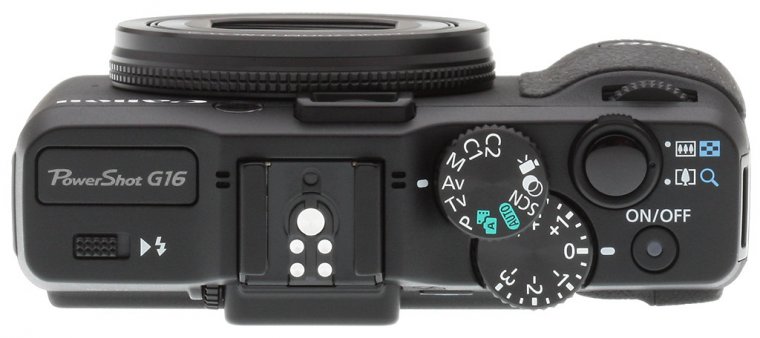 Moving to the right you'll find the hotshoe port and the two microphones at each of its sides. After that you'll find the two dials overlapping each other; one is the main mode dial with additional custom modes and one is exposure dial with the ability to adjust the exposure from -3 to +3 EV. Lastly, there's the shutter button with a zoom lever on it and also the power on button. That only leaves us with the look at the back of the camera. As this is a smaller camera, most of the back is dominated by the 3-inch screen and the optical viewfinder above it. The viewfinder itself has a diopter adjustment dial and some focus indicator LEDs. The rest of the buttons found on the back are the Playback, record, shortcut, ISO, AE Lock, AF frame selector and Menu buttons. The main navigation wheel also acts as a four-way navigation controller with four different shortcuts on it; Macro mode, Manual focus, Display and Flash options. So, the sheer number of physical controls available on the G16 easily rivals any other advanced camera and even outclasses some of them. That is an impressive achievement for a compact camera that's much more limited by its size and surface area than many other cameras that sport the same amount of control.
The menu system on the G16 is the same one you'll find on many other Canon's compact cameras and this means that it's nicely laid out and everything is located in its logical place. The whole interface sports a black and gray color scheme, with the current part of the menu you are currently in being colored in orange. One useful addition on the G16 is the Func. Menu which allows you to fill your screen with many different options like for example the White Balance, Metering modes, Image quality, Aspect Ratio, Video resolution and so on. It's a neat way of giving you a quick way to access some of those secondary functions that would otherwise be buried somewhere deep in the menus. There are also new and interesting shooting modes added as a bonus. One of those modes is the Star mode which allows you to take pictures of both the stars themselves or create star trails and even create time-lapse videos from those photos. There's also a Background Defocus mode which creates a fake bokeh effect that tries to mimic the depth of field achieved with a DSLR or a mirrorless camera and there's also a High Dynamic Range (HDR) mode that combines three differently exposed images into one image with improved dynamic range.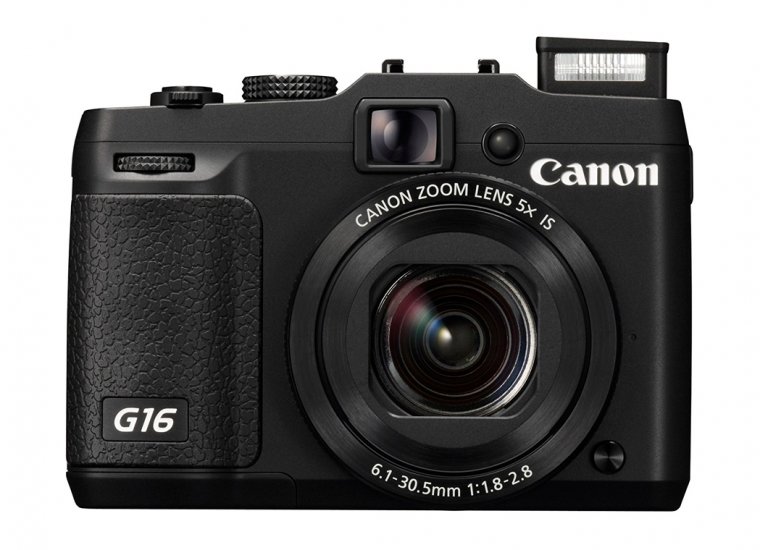 As the G16 comes with a built-in ND filter, you can also enable or disable it within the menus and you can also enable some useful features like the Electronic Level or the RGB histogram. So, you may not get the same amount of customization on the G16 like on some other advanced cameras, but since it has physical controls available for most of the important functions we don't find it an issue at all.
Before ending this section of the review, we only have to say a few words about its Wi-Fi functionality. You get the ability to directly share images while in Playback mode just by pressing the Wi-Fi button on the back of the camera and you can either send them to your smartphone, computer or a wireless printer.
To connect the G16 with your smartphone or a tablet you will need to download the Canon CameraWindow application, which is available both for Android and iOS devices. You can also use that application to embed your photos with the GPS data gathered by your smartphone. Unfortunately, there's no option to remotely control the G16, a limitation that comes with its age and something that many other Canon's compact cameras missed up until now. So, despite the lack of that particular feature and the lack of a touchscreen, we couldn't find any other flaws on the G16 and the rest of it stood very well against the test of time. Let's see if the same can be said about its autofocus system and performance in general.
Autofocus and performance
The G16 doesn't come with the most advanced AF system in the world, as it only has 9 focus points and is entirely based on the contrast detect technology. This would lead you to believe that it doesn't perform up to today's standards, but you'd actually be wrong. In normal lighting conditions, it still takes a lot less than a second for it to acquire focus and it also manages to keep decent performance also in low light conditions. Of course, the limited number of focus points does take its toll when it comes to subject tracking, so don't expect any miracles here. There is a dedicated Tracking AF mode available that allows you to pick a subject that's in the center of your frame, so the camera can track it for you. It generally works ok, but the G16 is far from being a sports camera, but in all honesty, this kind of camera was never made to replace a professional DSLR or a mirrorless camera, but rather give you a smaller camera that will give you the same amount of control and a decent performance that won't hinder your shooting experience too much. If you're keen on focusing manually, you'll be happy to know that Canon also added focus peaking to help you with that.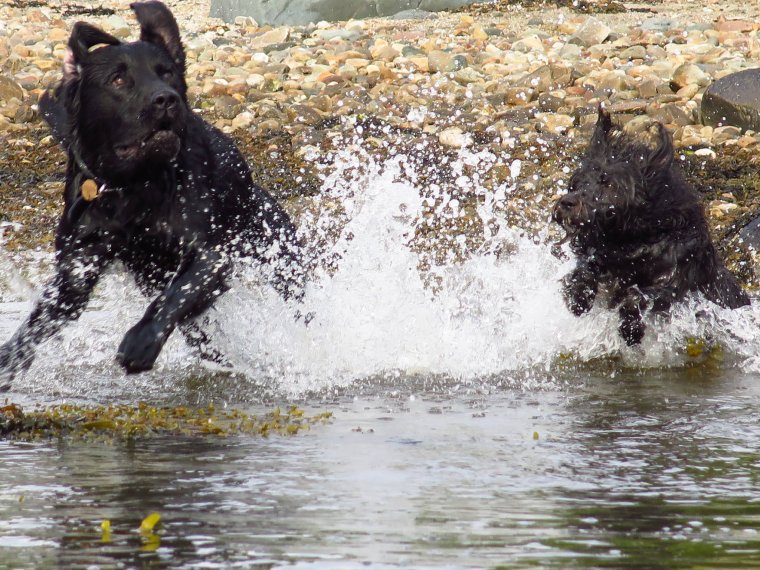 That also brings us to its general performance, which is also quite nice, but not up to the levels of more expensive or more modern cameras. It takes a little less than 2 seconds to turn the camera on and take a shot and it takes almost the same time to shut it down. It's still an acceptable performance for this type of camera, especially when you take into account its age. One of its strengths in regards to performance has to be its burst rate (assuming you find it acceptable to only take JPEGs in this case). In JPEG mode, the speed maximum speed of 12.2 fps drops to around 9 fps and it goes a long time after that meaning that the buffer is quite deep in this mode. Do keep in mind that the speed drops even more if continuous AF is activated, to around 5.8 fps, which is still a great performance for this camera. When you switch to RAW, the performance quickly drops to unusable levels, at around 1.8 fps. While the buffer size of 39 RAW files is more than acceptable, the speed itself really limits your options and forces you to stick to JPEGs if you wish to have a good experience. While it is certainly a flaw, we are still happy that you can still get a really good performance out of the G16, even if it requires you to only rely on JPEG photos. Battery life on this camera largely depends on the way you're using it. If you decide to only shoot through the viewfinder, you will get an excellent endurance of about 770 shots. If you mostly rely on the LCD screen, you'll get around 360 shots, which is quite a drop in performance, but an understandable one. Overall, if you spread your usage between the viewfinder and the screen, you will get a very good battery life out of the G16.
While the buffer size of 39 RAW files is more than acceptable, the speed itself really limits your options and forces you to stick to JPEGs if you wish to have a good experience. While it is certainly a flaw, we are still happy that you can still get a really good performance out of the G16, even if it requires you to only rely on JPEG photos. Battery life on this camera largely depends on the way you're using it. If you decide to only shoot through the viewfinder, you will get an excellent endurance of about 770 shots. If you mostly rely on the LCD screen, you'll get around 360 shots, which is quite a drop in performance, but an understandable one. Overall, if you spread your usage between the viewfinder and the screen, you will get a very good battery life out of the G16.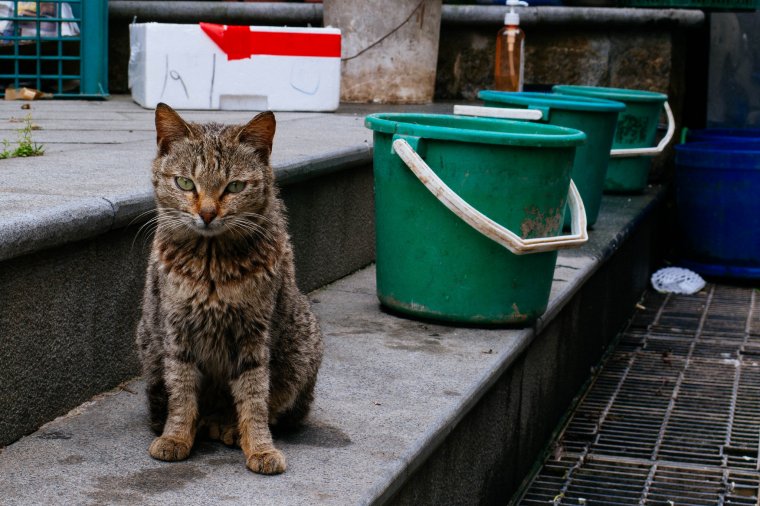 Video features and quality
As is the case with many other compact cameras on the market, the G16 also isn't heavily focused on video recording, but at the same still, has some interesting features hidden in its sleeve. The first one has to be the addition of the 60 fps mode to its 1080p recording, something that many cameras of its time lacked and that even applies to a lot of DSLRs and mirrorless cameras. This means that you'll get smoother footage and the ability to get some decent looking slow-motion footage if you decide to play around in post processing.
While it lacks a microphone jack, the G16 does record stereo audio with its integrated microphones and the quality should be very acceptable to a lot of users. There's also a separate slow-motion mode which records 120 fps videos at 640 x 480 resolution or 240 fps videos at 320 x 240 resolution. It's obvious that these can't be used for anything other than something casual or just for pure fun, but it's still interesting to have something like that included. Continuous AF is also available while recording, but
Continuous AF is also available while recording, but its performance is nothing to write home about like you would expect from an older and limited AF system. You do get the benefit of focus peaking if you decide to focus manually, so it's not the end of the world. The quality of recorded videos isn't bad at all and you can definitely get some very usable footage out of the G16, as long as you're recording in conditions where there's enough light in your scene, as the smaller sensor does struggle a bit at higher ISO values. So, as a backup camera, you can get away with recording some of your footage with the G16 without too much loss in image quality.
Image quality
This finally brings us to the most exciting part of this review, since we were very curious about how the G16 still holds up when it comes to taking stills. Honestly, it holds quite well. This is in part thanks to the high-quality lens that Canon decided to use with the G16. It will give you decently sharp photos wide open at all focal lengths and even sharper photos if you stop down the aperture.
There is slight blur found in the far corners, but it won't be very noticeable in your everyday photos until you intentionally start looking for it. Also, 12.2 megapixels may not sound like a very high resolution for today's standards, but it still feels like a perfect pairing for the size of the sensor found in the G16. JPEG processing is also very mature and we didn't notice any signs of over sharpening artifacts that plague many compact cameras.
Noise reduction also isn't unnecessarily aggressive and manages to retain the fine balance between details and the amount of noise. No matter if you're shooting in JPEG or RAW mode you can easily get very nice images up until the ISO of 1600 and acceptable image quality at 3200. Any photos taken at higher ISOs show considerably more noise and will only be usable for those times when you're just posting them on social sites or the web in general.
Conclusion
So, what did we learn from this little retrospective about the Canon PowerShot G16? Is it still a competitive camera in today's market or buying it over a newer camera doesn't make any sense? Well, it certainly still has some life left in it, despite a few limitations it has when compared to modern cameras.
The viewfinder is small and not very usable, there's no touchscreen and the autofocus performance isn't the best around, but it still has a lot more strengths than weaknesses. Body quality, handling, and controls are all top notch and so is the optically stabilized lens which is also very bright and offers a very useful focal length.
The burst rate is also very respectable as long as you stick to shooting JPEGs, video quality is good and stills quality is even better. You really can't go wrong with the G16 if you want a capable and well-built camera, but you don't need it to be the fastest available or have all the latest features.
Looking for something cool? If you're the type who loves underwater photography, try the Nikon Coolpix S33.
The following two tabs change content below.
An amateur photographer, songwriter, musician, computer and technology geek and an occasional comedian, I'm a little bit of everything. I always aim to pursue things I'm passonate about and try to look on the positive side of things whenever I can. My mission is to wrap my articles in that aura of positive energy and keep a healthy balance between being serious about my work and spicing things up with a little fun now and than. After all, life's a game and there's always a different way to play it.