DxO One Review: A Smart Lens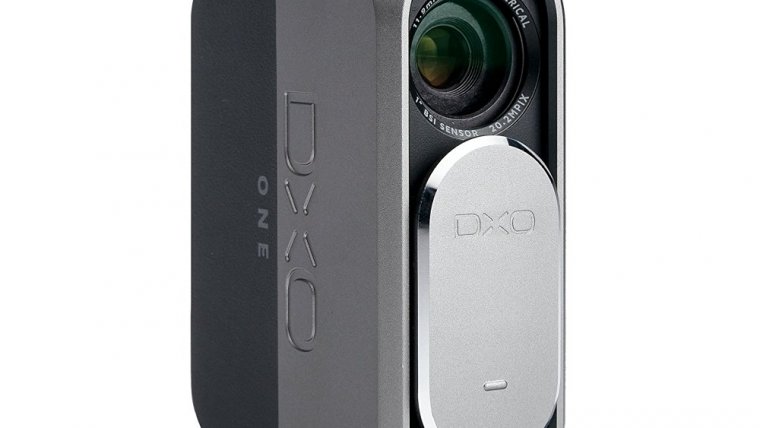 DxO One Review: A Smart Lens
www.sleeklens.com
As we all know, the selection of different types of cameras is almost limitless and the cameras themselves can be found on many many devices. Most of us want a conventional camera like a compact camera or a DSLR, but there are some people whose needs are a little different and they are looking for something unlike anything else. This is where the DxO One comes in. You've all probably heard about the DxOMark website which tests all types of camera sensors and lenses in a manner which made them respected by many and made a lot of photographers rely on their reviews. Not many people expected it, but it was only a matter of time before they attempt to put all their knowledge in a product of their own and that's when this separate camera was born. Like we've already said, this isn't your conventional camera, but in a way, something unique. Check out DxO One review and let's see if this attempt in creating something different resulted in a good and useful product or a niche one that will be bought by a few people and then forgotten.
Before we dwell deeper into more detail about DxO One and some of its specific features, let us first establish what this camera really is. The idea around this separate camera is that it should serve as replacement for the camera on your smartphone and make both your phone and the DxO work like one device that functions similar to a standalone camera.
Pros
Compact Size
1-inch image sensor
Wide aperture f/1.8 lens
Sharp images
Innovative concept
Practical accessory
Holds its own SD card
Cons
Expensive
Tends to overheat
SuperRAW requires a lot of resources
Click to read the full Review
Its small dimensions serve as a showcase of how portable it is and that it should be no hassle to carry it around with you anywhere. It really is smaller than your traditional point-and-shoot camera and should easily fit in a larger pocket or a bag. You can connect it to a compatible iOS device (iPhone or iPad) via the lightning port or wireless connection and then use the screen on your phone as its viewfinder. This is where we run into one serious issue with DxO and that's the compatibility with different types of devices. While there are many Apple users out there, limiting your product to only one platform seems like a very bad idea when you're trying to sell a product that already falls into a niche category on its own. It's hard to take a company seriously when there isn't at least a support for Android devices, let alone other platforms like Windows Phone or BlackBerry. Ok, after this slight annoyance, let's move on to other aspects of this camera. First, let's see what makes it tick.

The sensor inside of it is a familiar 20 megapixel 1 inch BSI-CMOS sensor that is likely the same one that can be found in Sony's mirrorless cameras like the RX100 Mark III. DxO made a good decision sensor wise since it has the potential to produce great images and at the same time keep the size down. The lens behind it has a focal length of 32 mm and an f1.8 aperture. It's not as wide as the one on your smartphone but it should do well for general shooting since it's considered a "normal" focal length by many. It also has a minimum focus distance of 20 cm which is good enough for a lens with that focal length. Sadly there is no zoom except the digital one and the image stabilization is also digital rather than being mechanical. It seems these things were very hard to implement from the engineering standpoint considering the very unique form factor, so we won't complain too much here.

Moving on to other aspects, rather than sporting a usual LCD screen the DxO One comes equipped with a rather smallish OLED touchscreen that is mostly there view some basic info and play with a few settings here and there. It makes sense, since you'll be looking at your phone's screen 99 percent of time anyway. Other hardware features include an ISO range of 100-12800 (expanded to 51200), shutter speed range of 15 - 1/8000 sec, RAW support, 1080p 30 fps video recording, micro-SD card slot and an integrated battery.
Body and handling
As we've already mentioned at the beginning of DxO One review, the DxO One is pretty compact for a camera for with a 1-inch sensor. It weighs only 108 grams (with battery included) and sports the dimensions of 64 x 48 x 25 mm. The reduction in size and weight obviously makes sense for a device that aims to be as portable as it can but it also means that it won't put any unnecessary strain on the lighting port of your device. As expected for this type of device, it's made entirely out of plastic to keep the weight down as much as possible, but luckily it doesn't feel cheaply made. When it comes to manual or physical controls, it's as simplistic as it gets. There's only one button and that's the shutter button. There aren't any rings or dials and there's also no manual focus, which is a shame.
The lens features a large cover that slides over it and the micro-USB port and micro-SD slot is also covered by a flap that protects them from gathering any dust. In our DxO One review, we noticed that the lighting connector is neatly tucked inside the body of the device when not in use and is also mounted on a rotating mechanism that gives you the ability to tilt your phone just like a screen on a regular camera, which is a nice touch indeed. The lighting connector itself flips out when you open the lens cover.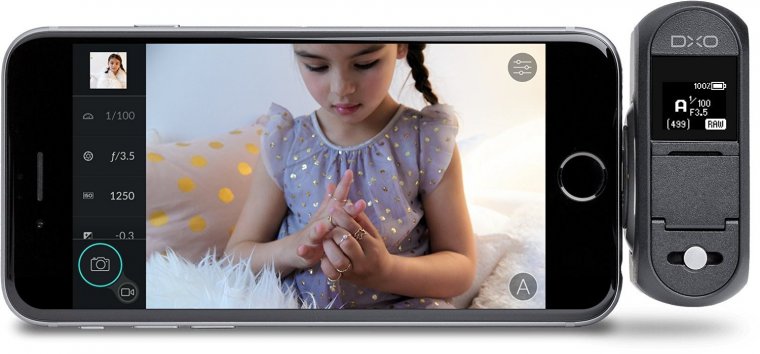 While you can connect your phone to the DxO one by using Wi-Fi, in our DxO One review we suggest that it's actually a better idea to use it connected to the lightning port since it will give you more reliable experience because of how wireless connections are more sensitive and depend on many more factors to always perform up to par. In the case of using the lightning port, the connection is rock solid and stable and there is no shutter or preview lag like in the case of wireless. Also, photos and videos can be transferred much faster to your phone because of faster transfer speeds due to the physical connection. Do keep in mind that only JPEGs will be transferred to your phone and RAW files are kept on the micro-SD card.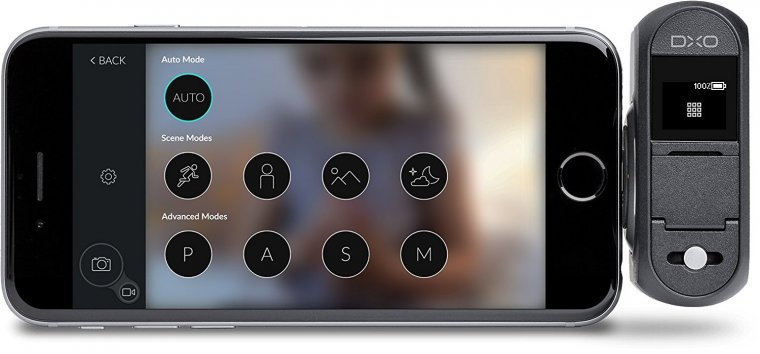 When it comes to the camera app that DxO provide, we noticed in our DxO review that it is quite intuitive and well designed. It really looks like an interface you would expect from any other camera. You get all the usual shooting modes like Program, Aperture Priority, Shutter Speed Priority and Manual. You can also adjust any exposure parameter like you'd like. In addition to that, there's a self-timer option, flash control, automatic face detection and different scene modes. You can easily share your photos to your social networks and even have them available across all of your iOS devices if you enable the iCloud backup. Every aspect of the app is nicely laid out and touch friendly, just like you would expect. One really useful feature is that the updates you receive for the app can also contain firmware updates for the camera itself and there's no need to update is separate. This really streamlines the whole experience and makes the camera more user-friendly. Another thing you should keep in mind from our DxO review, which isn't a feature itself, is that that shooting with it is much nicer than shooting with any other camera in Live View for the sole reason that the screen on your iOS device is much nicer, larger, more responsive and of higher resolution than on any standalone camera on the market.
Performance and autofocus
There's not much to say about the performance of DxO One. It performs as well as you would expect considering how powerful today's iOS devices are and how well the OS itself is optimized. Unfortunately, what we gathered from our DxO One review, is that there is no burst rate mode of any kind, which is pretty strange considering that every camera on the market has it some form. The DxO did say they will include it in a future firmware update, so we will have to wait and see if they will act on their promise. When it comes to autofocus, little is known of the type of system that DxO decided to implement in the camera, so we can only focus on its performance and features. All we know is that it's based on contrast detect technology, so there aren't any advanced AF features like on many cameras with phase detection autofocus. It works just like the AF on your iPhone, meaning you just tap on your subject, it focuses and that's it.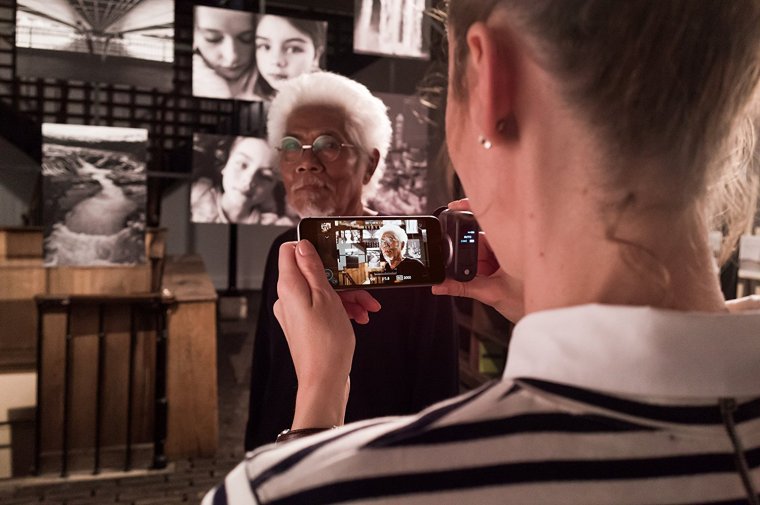 The continuous AF is enabled by default meaning that it will refocus immediately as you recompose your shot. It's very obvious here that DxO decided to keep the auto focusing as simple as possible and expected that most of the buyers of this camera wouldn't want to fiddle with it too much anyway. The AF speed itself is quite average and so is the accuracy. It will do fine for static subjects and landscapes, but don't expect to be shooting any action or anything that moves fast with it. Overall the AF system in the iPhone is more advanced and powerful, so this is certainly an area which needs some improvement which we hope we'll see on the future iterations of this camera if DxO ever releases anymore.
Video quality and features
The DxO One may look like a camcorder and could make people think that it's some kind of an advanced videography tool, but it's far from it. It offers basic 1080p 30 fps video recording as well as slow motion video at 720p resolution at 120 fps. The quality is nothing to write home about, but fortunately, it's far from being bad; it's passable. There are no advanced modes here and not many control over the video itself, no advanced features like zebras or focus peaking and only mono audio recording.
There is electronic image stabilization available and it does indeed help to prevent shaky videos but it isn't as good as the optical image stabilization found in other cameras and smartphones. You should only resort to shooting video if you plan on shooting in low light or you need more depth of field in your videos. It is clear that this camera is primarily a photography tool that aims to improve the quality of photos over the camera on your phone since there is much more improvement to be made there than in video quality that is already very good on some phones, iPhone included.
Image quality
Now onto most important aspect of the DxO One review, its image quality. Let's finally see how much of an improvement the 1-inch sensor and f1.8 aperture lens really bring over the small 1/3 inch sensor in the iPhone. Simply put, quite a lot. Image quality is up to par with other cameras that also come with this sensor, so you shouldn't be disappointed with the results that it can produce. The images come out sharp, detailed, with little noise and great dynamic range. There also no problems with vignetting, chromatic aberrations or distortion. The noise performance at higher ISOs clearly won't rival that in larger sensor cameras, but it's still really good and you can get great images up to ISO 3200 and even higher ISOs if you only plan to post them on the social media anyway where the reduced amount of detail and increased noise won't be noticeable at all.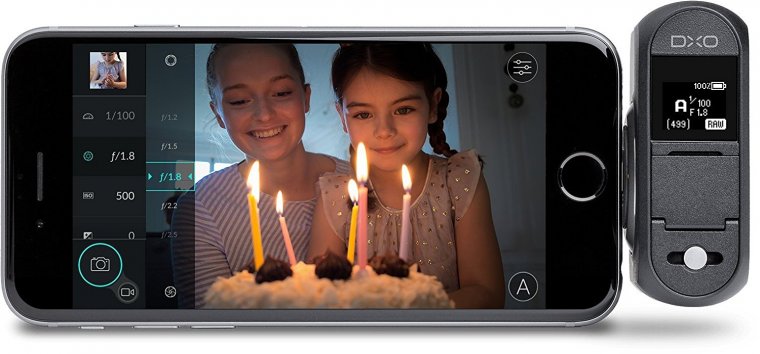 If you do care about the amount of noise on those ISO values, DxO implemented a feature called SuperRAW which works by rapidly taking 4 photos at the same time and combining them into one RAW file thus reducing the amount of noise. It also tries to compensate for ghosting that can be introduced while taking those shots if your hand wasn't steady enough. We are happy to say that it all works as promised and you do end up with cleaner looking images. It's obvious it won't help with moving subjects, but it's still a nice feature to have. It's important to note that the images are saved in DxO's proprietary format and you'll need to process them with the software that comes included in the package.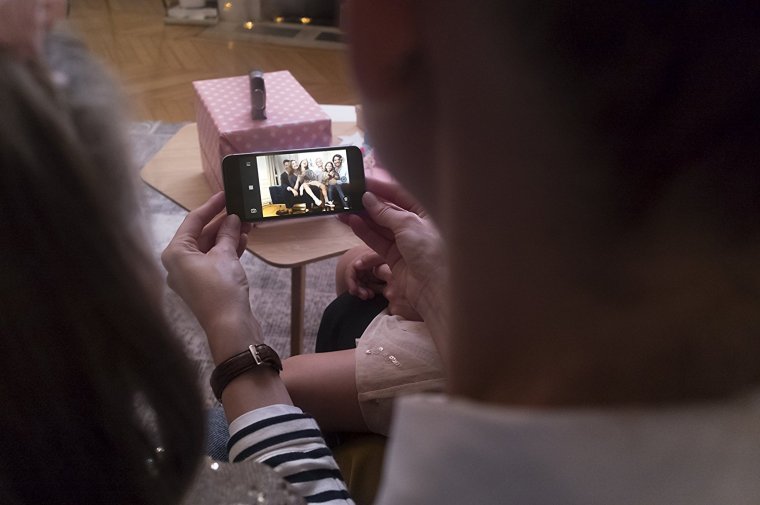 The software package itself provides a great value with DxO Connect, Film Pack and Optics Pro applications. All in all, we are very satisfied with images that this device produces and they are really good by themselves, let alone if you compare them to ones you can take with your iPhone. Even on the latest iPhone 7 the images look less natural, with more sharpening and processing artifacts, less detail and more noise, which is to be expected for a smaller sensor 's barely a third of the size of the 1 inch one. The latest iPhone does have one advantage and that is image stabilization which could even the field in some low light scenes where there aren't any moving subjects in your frame but there's still the SuperRAW feature to counter that.
DxO Review Conclusion
So one final time, is the DxO One worthy of your purchase and a product you're looking for? Well, the story isn't as simple as that. Although it was made with ease of use in mind it isn't a mainstream device. One of its biggest problems doesn't lie in its design or features but in its limited compatibility with other smartphone platforms. While the number of iOS users is very high, so is the number of them who are already satisfied with the cameras on their devices since Apple is already respected in this regard.
The difference in picture quality and amount of manual control is not negligible but it will only interest those users who are a little more into photography than than most of the people who take a picture a two and put them mostly on social sites where photos are already compressed and it's very hard to tell the difference between the camera on a phone or one that has larger sensor but it isn't a DSLR. It doesn't mean that the DxO isn't a good product because it is, but the idea to already limit your product to only one platform seems like a really bad decision from a business standpoint. I guess that's why it's called One because it only works on one platform.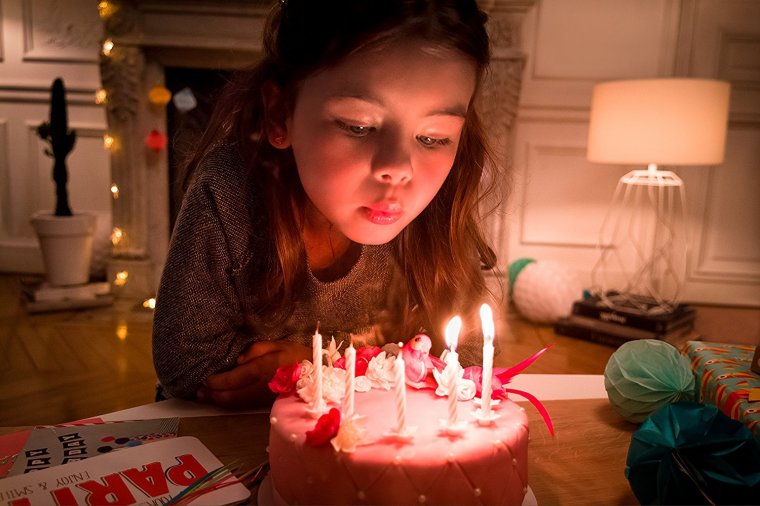 When we move away from that fact, this model is a cool concept and it mostly works well. It does miss some features here and there, but the core experience of getting better pictures with your phone the easy way remains unchanged. So, if you're a lucky owner of one of the newer iOS devices with a lightning port and you want to take your photography to the next level without wanting to buy a separate camera you'll really like this model. We only hope that DxO will release an updated version with other users in mind so they can also experience this interesting device without the feeling of being uninvited to the party.
The following two tabs change content below.
An amateur photographer, songwriter, musician, computer and technology geek and an occasional comedian, I'm a little bit of everything. I always aim to pursue things I'm passonate about and try to look on the positive side of things whenever I can. My mission is to wrap my articles in that aura of positive energy and keep a healthy balance between being serious about my work and spicing things up with a little fun now and than. After all, life's a game and there's always a different way to play it.