Meet the Pentax K-70: Camera Test & Review
Meet the Pentax K-70: Camera Test & Review
www.sleeklens.com
Today, we have an interesting DSLR at our hands, from a company that's trying to find their place in the camera market once again and that's Pentax. Although the real company behind this camera is actually Ricoh, they are continuing the legacy of the very familiar Pentax brand and keeping the name alive.
The camera in question is the Pentax K-70, an entry-level DSLR with a lot of compelling features to it while being cheaper than some lower tier cameras from other manufacturers. Pentax K 70 has an APS-C sensor unlike Pentax K-1 that features full-frame sensor. It promises to bring enough manual control to satisfy most of photographers, a capable high-resolution sensor with a lack of AA filter for improved sharpness, in-body image stabilization, a capable AF system that also aims to bring good focusing performance in video and image quality that can easily compete with other DSLRs with APS-C sensors that are found in its price range. It also has some other tricks up its sleeve, but we'll talk about those in more details during this review. No matter how good or bad this camera turns out to be, it's good to see the Pentax name appear on more and more cameras and battling with the likes of Nikon and Canon once again. Ricoh is really getting serious in competing on the market again and this camera looks like a really good effort from them.
The first thing that pops into mind when looking at a camera is its type and the type of sensor inside of it. So, the Pentax K-70 is a mid-sized DSLR with a 24-megapixel APS-C sensor that also lacks the AA filter so it has the ability to produce sharper images than most of the sensors that come with the filter on top of them. The usually side effect to lacking this filter is the appearance of moiré effect in your images, so we have yet to see how apparent it is on the K-70. The sensor in question also has the ability to shoot at a pretty impressive ISO range of 100 – 102400. While you probably won't shoot at an ISO of 25600 or above, it could mean that the sensor will perform very well at a more normal ISO values.
Pros
Built-in WiFi
Image Stabilization
Articulating Screen
External Microphone Port
Environmental Sealing
Timelapse Recording
Selfie-Friendly LCD Screen
Sensor-Shift High-Resolution Mode
Anti-Alias Filter Simulator
Cons
No Touch Screen
Low Battery Life
Heavy Body
Click to read the full Review
The AF system inside of the K-70 is a traditional phase detect system with 11 focus points from which 9 are of cross-type variety. It may not sound like a very impressive system for today's standards, but we still believe that it can perform admirably in normal shooting conditions. The same can be said about the burst rate of 6 fps, which isn't nothing to write home about, but still quite adequate for this type of camera.

Pentax also decided to improve AF performance in video by also putting phase-detect focus points on the sensor itself, something similar to what Canon has done with their Dual Pixel Technology. There's also the sensor-shift image stabilization which promises to up to 4.5 stops of stabilization and will surely be beneficial for both video and stills. The body of the K-70 also has some interesting features to it, the first one being weather and dust sealing, something that you'd never find on a camera at this price point. The other ones include a very capable flash unit with a maximum range of 12 meters, a microphone jack and a large pentaprism optical viewfinder with a magnification of 0.95x and a 100% accuracy.

Now this is huge, a 100% viewfinder on an entry-level camera is something we never expected to see from any company, this is how you compete with the big boys and make their cameras look like a bad value for money. The screen on the back is a traditional 3-inch unit with a resolution of 920,000 dots and the ability to be articulated. It's not touch enabled, but this may not be such a problem on the K-70 with it putting more emphasis on physical controls. In regard to video, it can record 1080p videos natively at 30 fps or at 60 fps in interlaced mode, so there's nothing special to talk about here like with many other Pentax cameras. Now, you can clearly see we are excited for this camera, hence the longer than usual list of specifications, so let's immediately begin with the look at the body of the K-70.
Body and handling
The first thing you'll notice while holding the Pentax K-70 is how substantial it feels in hand. This is something that came with buying a Pentax camera; it will never feel cheaply built. The front grip, while having a slightly different shape than your traditional DSLR, is still very deep and makes holding the camera securely quite easy. The control layout, on the other hand, is very traditional and Pentax decided to play it safe here to keep the usability and handling as high as possible. The pure number of controls is also very impressive for a camera in this category, which is something that will make many photographers happy, whether they're beginners that are just learning about photography or more advanced users.
So, as usual, let's start with the front of the camera. Here, we only find the front control dial that sits right above the camera grip and the focus assist light near it, and that's it. When things begin to get more interesting is when we take a look at the left side of the camera. Here we find the Flash release button and RAW/Fx1 buttons as well as the dial that's used to switch between manual and automatic focus. The Fx1 button is one of the two included customizable buttons, but we'll talk about it in more detail little later. The left side only holds the microphone jack, while all of the remaining ports and compartments are located on the right side. Now, let's see what's to be found on the top of the camera. Here we find the pop-up flash and the hot shoe together with the integrated stereo microphones and all the controls located on the right side. They include the main mode dial (with three custom shooting modes), Exposure compensation and Wi-Fi/Fx2 buttons as well as the Green button which is used to reset all of your current settings or can alternatively be customize to do other things. The shutter button is also something that makes the K-70 stand out from the crowd. First, it has a lever to it which has three positions; On, Off and Movie mode. It's an interesting way of making the movie mode quickly accessible, but it's up to you if you prefer for it to be done this way or via a traditional button. What's also interesting is that there's a LED ring around the shutter button which lights up green when the camera is powered on and lights up red when the movie mode is activated. That's a pretty neat design choice. Now, if all of that wasn't enough, we still have to take a look at the back of the camera. The first thing you'll notice after the screen and the viewfinder is a Live view/Delete button found at the top left corner. Moving further to the right reveals the second exposure control dial as well as the AF/AE-L button. Moving to the bottom reveals a little activity LED, a Playback button, a four-way controller with some shortcuts on it and the Info and Menu buttons. The controller itself gives you a quick access to things like Flash settings, ISO, White balance and Timer/Drive mode.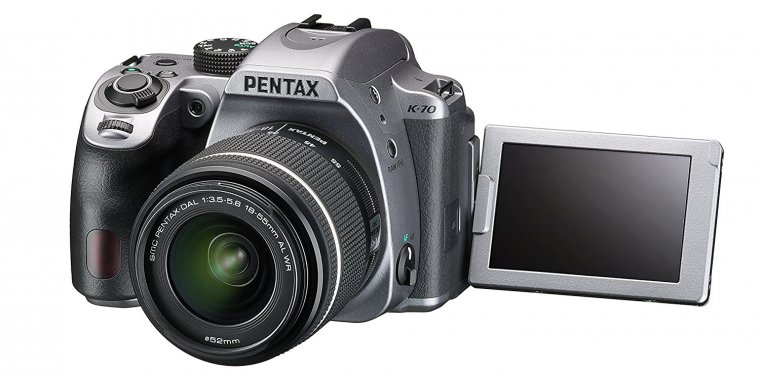 Well, Pentax certainly isn't joking around with this camera as it certainly has the most impressive number of physical controls we've ever seen on a DSLR at this price point, we are really impressed with the K-70 in this regard. This also brings us on the topic of customization. The first thing you can do is to specify how the camera acts the moment it turns on and what settings it needs to immediately set up. You can make it set up an ISO value of your choice, activate one of the Flash modes, apply one of the filters, activate HDR capture and so on. It's up to you how much you'll get out of this feature, but it's great to have that much choice on a camera. Then there's the Fx1 and Fx2 buttons which can be programmed to access things like Wi-Fi, Image Preview, Electronic level, AF area, Night Vision LCD display and so on. The exposure control dials can also be customized and set up to change different settings depending on the shooting mode you are currently in. For example, if you're in Shutter Priority mode you can set the dial to change ISO, Shutter speed or Exposure compensation or if you're in the Aperture Priority you can do the same aside from the fact that you'd be controlling the Aperture instead of the Shutter speed. It's literally a level of customization and controls you would expect to see on a much more expensive and advanced camera and for the price you're paying for the K-70, Pentax really went one step further and decided to overshadow all of the other similarly priced DSLRs in this regard.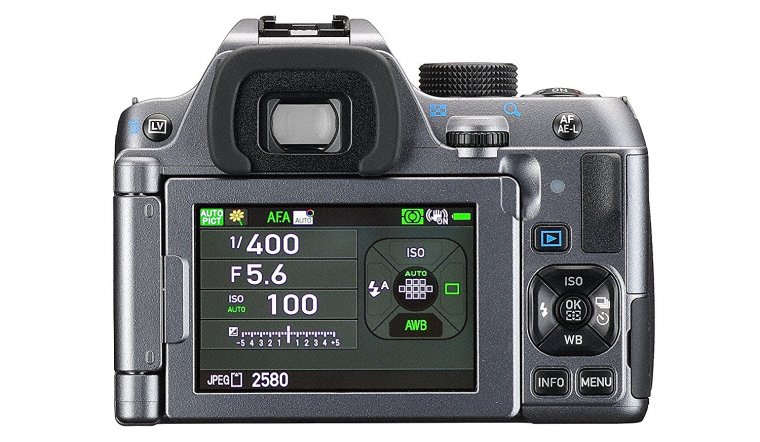 This only leaves us with the topic of Wi-Fi connectivity, which the K-70 also has. To access the Wi-Fi features and to initiate a connection with your smartphone you just need to press the Wi-Fi/Fx2 button on the top of the camera and install the Image Sync application from Google Play or the App Store. After that, you'd get all of the usual functionality like the ability to backup photos to your smartphone, upload them to the social network of your choice or remotely control the K-70 by using your smartphone's screen as a viewfinder. What's impressive about the remote-control capabilities on the K-70 is the amount of manual control you get. You can change the ISO, adjust the aperture and shutter speed, use your smartphone's screen as a shutter button and more. So, the great implementation of Wi-Fi related features is another thing that goes on the list of positives to be said about the Pentax K-70. Let's see if the same can be said about its autofocus and overall performance.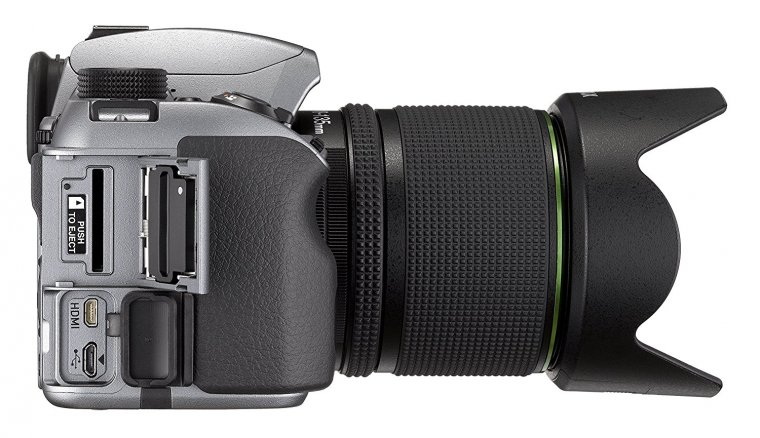 Autofocus and performance
It's true that the AF system with 11 focus points doesn't sound like the most exciting thing about a DSLR camera in 2017, but there's more than meets the eye here, so let us elaborate. First, to get the most out of the AF system in the K-70 you should stick to using the newest lens as possible, since the older lenses with slower focus motors do hinder the overall performance and make the camera feel slower than it really is. You can either make the camera select the AF points automatically for you or you can switch to Expanded Area mode and choose one yourself. There's also a Spot AF mode which only uses the central AF point to focus. The AF performance is generally good, even when you have to deal with moving subjects. The subject tracking performance isn't half bad, but don't expect to be using the K-70 for shooting sports or anything similar, because it just isn't fast enough for those use case scenarios. You can also play around with AF behavior with the AF-Hold feature which lets you control the camera's tendency to look for subject changes in your frame and in deciding if it will keep the focus on the current subject or focus on something else. Tweaking it little yields even better tracking performance, so keep that in mind when working with the K-70 for the first time. The AF in live view is a hybrid between the traditional contrast based system and a phase detect one, so it does exhibit improved performance is some occasions. It's performance also depends on the lens being used, and you'll also get the most out of it when using one of the Pentax's newer lenses with PLM marking on them, meaning they have the pulse focus motor built inside of them. Unfortunately, there's currently only one lens on the market with such technology built into it, and that's the 55-300 mm f4.5 – f6.3 PLM WR RE lens, but more should be coming down the road.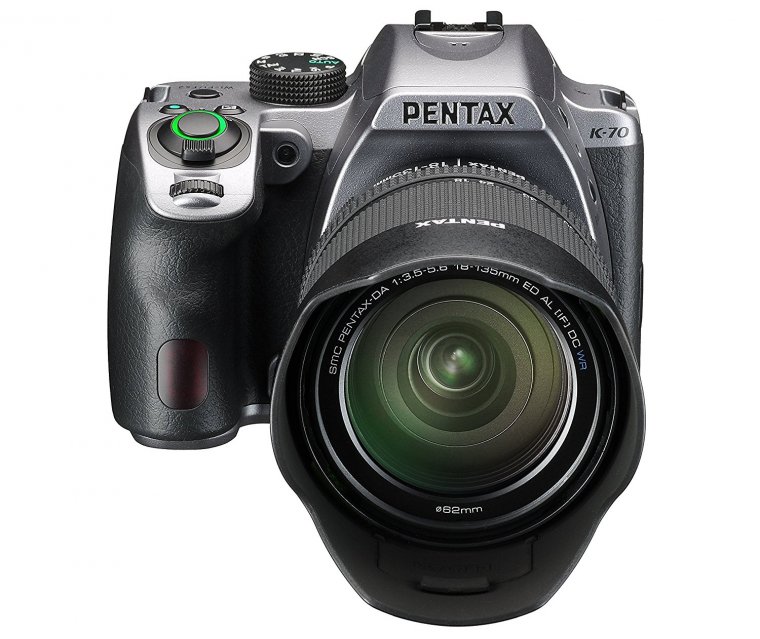 When it comes to general performance during use, we had no problems with the K-70, and it performed admirably no matter what we were using it for, and it also felt very smooth while we were navigating through the user interface, so there are no issues present here. The burst rate of 6 fps is also quite respectable for this category of cameras. If you have a fast SD card (something that is always recommended), you can take up to 47 JPEG photos or 11 RAW files before the buffer fills up. Just as on many other cameras in this price range, the performance while taking JPEGs is pretty good, but the RAW performance leaves a lot to be desired. SO, the K-70 doesn't disappoint here. The worst part of its performance has to be the battery life. It's not bad per say, but at 410 shots on one charge, the endurance could have been slightly better since this is a DSLR and there should be enough room to put a decent sized battery inside of it. When we take a look at K-70's performance as a whole, it's actually a good showing for an entry-level camera and neither better nor worse than that of its competition. Let's move on to the movie mode.
Video features and quality
While every other aspect of the K-70 doesn't bring much or any complaint with it, the video capabilities surely do. We all know that Pentax always lagged behind the competitions when it comes to video recording, and the story is pretty much the same with this camera. The feature set itself isn't bad as you do get Zebra exposure warnings, Focus peaking, full manual exposure control and flat picture profile for easier post-processing. You also get a quite effective image stabilization that has the benefit of working with every lens you attach to the camera. There's also the continuous autofocus while recording thanks to the new sensor with phase detect focus point, but it doesn't work as well as we expected. There's still some evident focus hunting in all shooting conditions, no matter if it's good or low light or there are people or moving subjects in your frame. While it's helpful to have for occasional video or two, it's far from being good enough for professional use. The K-70 does have a headphone jack which is very useful to have, but it does lack a headphone jack, something that some professional videographers will surely miss having. Lastly, this brings us to the video quality itself. The positive thing is that you do get a standard resolution of 1080p and a 60 fps mode, but the negative thing is that the quality of the recorded footage isn't very impressive. While the noise is pretty low for a camera with an APS-C sensor, even in low light conditions, the overall lack of detail is noticeable in every step. If video quality is something that is on the top of your list when buying a new camera, then the Pentax K-70 isn't for you. It's simply average at best when it comes to video recording, which is something you would expect for a camera at an entry-level price.
Image quality
Moving on from the unimpressive video performance, the tables quickly turn when it comes to stills quality. This is where the K-70 really begins to shine. Thanks to the lack of an AA filter, the amount of detail you'll get is excellent. There is some noticeable moiré effect here and there, but it's controlled well enough that it doesn't become an issue. Both dynamic range and noise performance are great and put the K-70 right up there with the best from Nikon and Sony, the current champions in this area.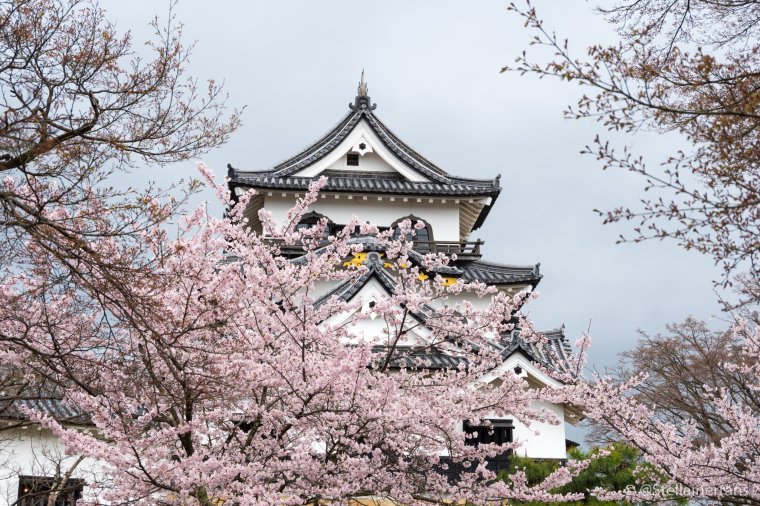 You can easily pull lost detail from both shadows and highlights with a little to no loss in detail and the great noise performance allows you to shoot up to an ISO of 6400 with no problems. On top of that, Pentax also brought one interesting feature from their K-1 camera and that's the Pixel Shift Resolution mode. Without going into too much detail about how it works, simply put, you can activate this mode when you put the camera on a tripod, turn it on and then let the camera use its stabilization to move the sensor four times, take exposure readings and combine results into one image. You will essentially get better color depth, lower noise and increased amount of detail, which makes it a great feature to have when you need the best image quality possible and you have your tripod with you. All in all, the K-70 really impresses when it comes to image quality and we expected nothing less from a Pentax camera.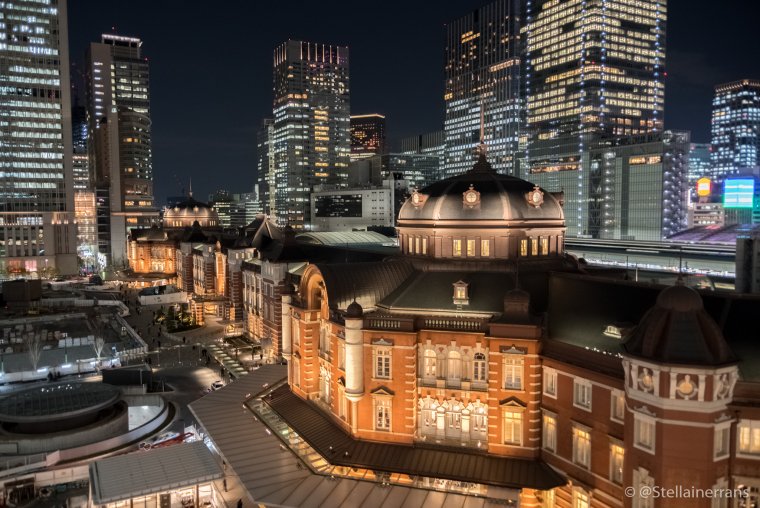 Conclusion
We were right for thinking that the Pentax K-70 is a unique camera among the similarly priced cameras it aims to compete with. It really brings a lot of features to the table that is often found on much more expensive and advanced cameras. It brings a weather sealed rugged body with a lot of manual controls, a decent articulating screen, 100% accurate, bright and large viewfinder and the amount of customization you will rarely find on an entry-level camera. There's also a very impressive sensor-shift image stabilization, which helps a lot both for taking stills and for recording video. The autofocus system may not be the most advanced one around, but it gets a job done in all shooting scenarios, except for video where it falls flat. While the K-70 exhibits excellent stills image quality, especially when you can use its Pixel Shift Resolution mode, it does have one Achilles heel and that's video recording. Despite having many helpful features, both in software and hardware, the video quality still falls short of its competition and that's one area in which Pentax still have to invest more time and effort to improve it. Other than that, the Pentax K-70 is essentially a mid-range camera sold at an entry-level price and when you're on a budget you really can't ask much more than that. If for some reason you aren't tied to other camera systems, give it a shot, we are sure you will love it.
The following two tabs change content below.
An amateur photographer, songwriter, musician, computer and technology geek and an occasional comedian, I'm a little bit of everything. I always aim to pursue things I'm passonate about and try to look on the positive side of things whenever I can. My mission is to wrap my articles in that aura of positive energy and keep a healthy balance between being serious about my work and spicing things up with a little fun now and than. After all, life's a game and there's always a different way to play it.