Canon EOS RP Review: A Full Frame Mirrorless Beauty
Canon EOS RP Review: A Full Frame Mirrorless Beauty
www.sleeklens.com
If you're by any chance following the current trends on the camera market, you are probably aware of Canon's latest move to jump on the full frame mirrorless camera bandwagon and the release of their EOS R device. While it hasn't received entirely positive reviews, it still turned out to be a pretty capable camera in its own right and one that can easily adapt any of Canon's DSLR lenses that were ever released (even if they are of the APS-C variety) and even a lot of third party ones, besides the native RF glass that has received a lot of praises for its optical quality.
Now, the EOS R is still a semi-professional body that will certainly be out of reach to a lot of people and that would usually prompt them to invest in a cheaper full frame mirrorless camera from the likes of Sony or one with a smaller APS-C sensor inside. Luckily for Canon, they have recognized a big opportunity here to expand their new line up of full-frame mirrorless cameras and have decided to release the Canon EOS RP, this 2019 which is three yrs younger than Canon EOS M5. We can say that EOS RP is a device that's more suited for those photographers planning to buy their first full frame camera, but also one with all the advantages of a modern mirrorless system. It does bring even more compromises with it when compared to its bigger brother, but considering it cost less than that particular camera that is to be expected. Judging by its specifications, the highlights of the EOS RP are its full frame sensor (apparently very good when it comes to low light photography), 4K video recording, Dual Pixel AF system, great handling very reminiscent of a smaller DSLR, a high-resolution EVF, a touch-sensitive fully articulating screen, and both the microphone and headphone jacks. It certainly won't blow you away if you're already used to working with flagship cameras, but it will represent a big step up from a low-end mirrorless camera or a DSLR targeted at beginners (not only because of the bigger sensor, but also the advanced features it brings to the table).
Before we examine the Canon EOS RP in all of its glory and really get the feel of how it behaves in the real world, let us first take a look at all of its specifications.
Category-wise, the Canon EOS RP is positioned in the same place as the Canon 6D Mark II, which was the company's latest mainstream-oriented full frame DSLR that's present on the camera market since 2017. It's no wonder that Canon has decided to build upon that particular camera, but also include the same 26-megapixel full frame sensor and a couple of other features that made the 6D Mark II a decently popular camera among those looking or an affordable entry into the world of full-frame devices.
Pros
Built-in WiFi
Bluetooth Connectivity
Articulating Screen
4K Max Video Resolution
Touch Screen
UHS-II Memory Card Support
Light Body
Remote control with a smartphone
Timelapse Recording
Cons
No Environmental Sealing
No Image Stabilization
Low Battery Life
Click to read the full Review
The EOS RP will offer you similar image quality to one of its bigger cousin, meaning you'll be able to get very sharp photos, good low light performance, but also the average dynamic range (which means that this won't be an ideal camera for those interested mainly in landscape photography, especially if we're talking about high contrast scenes). If there is one improvement you should expect to get in regard to image quality that has to be the more sophisticated JPEG processing algorithms and that is thanks to the new Digic 8 processor (an upgrade over the Digic 7 unit found in the 6D Mark II). As is the case with the Canon EOS R, the EOS RP also lacks the in-built image stabilization (IBIS) that can be found on many modern mirrorless cameras but considering its very low price point we believe that it wouldn't be fair to complain too much about its absence. For those interested in this camera's ability to provide you with the right tools to achieve perfect exposure it is important to note that it's capable of achieving ISO values as high as 40000 (even 102400, when boosted) and as low as 100 (50 if boosted), a fastest shutter speed of 1/4000 sec, a maximum flash sync speed of 1/180 seconds (even though it doesn't include a built-in flash unit and you'll be required to connect an external one), an exposure compensation adjustments in 1/3 or 1/2 EV steps and in the end, there's the included EVF itself, as it will provide you with real-time exposure changes and will allow you to immediately see all the changes to the brightness of your image before you press the shutter button and also other aspects of its identity like colors, contrast and white balance.The Canon EOS RP also shouldn't disappoint you with its performance (if you're not the more demanding type of a photographer, that is). The aforementioned Digic 8 processor will make sure that the camera deals with all the necessary tasks smoothly and predictably well, while the Canon's lightweight and well-optimized user interface will go hand in hand with a responsive touch screen and allow you to operate the camera with utmost confidence. We know that all of it sounds like some marketing lingo, but it's actually the truth, the EOS RP is a very reliable camera, as was the case with almost anything that Canon has ever released on the market in the last decade or two. You will also be able to focus quick and accurately thanks to the included Dual Pixel AF technology, which uses phase detect focus points instead of the more traditional contrast detect ones and will allow for very quick focusing both in live view and through the viewfinder, good subject tracking performance as well as quick continuous AF capabilities during video recording. You'll also be able to follow your subject around a large portion of your frame thanks to the maximum number of 4779 AF points the camera has to work with. Still, we wouldn't expect the EOS RP to replace anyone's high-end sports camera, but it should perform just fine for more casual and less demanding tasks. Another thing that indicates that it's nature lies among those photographers more interested in still subjects is its maximum burst rate of 5 fps (which drops to 4 fps if you'd like to make use of the continuous AF option), which is a pretty conservative speed for a camera released in 2019. You'll also probably need to be careful with your battery consumption since the included LP-E17 lithium-ion battery pack is rated at only about 250 shots per charge (again, another conservative number regarding the overall performance of the camera).On the more positive note, the EOS RP does offer a camera body worthy of any photographers admiration (at least if you're one of those people that cares very much about portability, as well as handling and build quality). Canon promises the design quality that rivals the 6D Mark II and while we yet have to confirm if that is the case we can certainly say that the EOS RP does feel very good in the hand right from the first time you take it into your hands. It offers the same combination of aluminum and hard plastics, a versatile control scheme consisting out of two control dials, a flexible fully articulating TFT LCD with touch support and a resolution of 1,040,000 dots and also, a high resolution EVF with a resolution of 2,360,000 dots and a magnification of 0.7x (so, it may not be the biggest electronic viewfinder we've ever seen on a full frame camera but it's still a very useful unit nonetheless). The port and the expansion slots selection is also a decent one, with a single UHS-II compatible SD card slot, micro-USB and the micro-HDMI ports, both the microphone and headphone jacks and also the necessary port to connect a cable required for remotely controlling the camera (even though you'll be able to achieve the same thing using Wi-Fi and Bluetooth, meaning you'll also be covered well when it comes to all the wireless technologies). The last big deal regarding the Canon EOS RP that should be mentioned and is a big improvement over the 6D Mark II has to be the video recording. While the addition of a headphone jack is a big addition by itself, the choice of both the 4K 24 fps as well as the 1080p 60 fps capture will create a big change in your production quality if you're coming from the 6D Mark II. There are some caveats though, as is the case with every Canon DSLR and mirrorless camera that has reached the market so far, but we'll talk more about those inside the section of this review dedicated to examining the video recording capabilities of any camera that lands into our hands. So, the Canon EOS RP does seem like a very decent camera right from the beginning, especially when you take into account the very aggressive price point that Canon decided to attach to it, but as always, it will take a lot more effort than examining the specifications to fully understand how a product performs. For that reason, let us start by seeing how exactly does it handles in action and is it capable of providing its potential buyers with great shooting experience.
Body and handling
What's impressive about the Canon EOS RP in terms of its design, is its overall size and weight. Making it to be the best feature in this Canon camera. You expect the mirrorless camera to be smaller and lighter than a normal sized DSLR, but the RP is even smaller than some of Canon's DSLRs with APS-C sensors than you really have a winner on your hands in terms of ultimate portability. While the 6D Mark II never was the biggest and the heaviest camera out there with a total weight of 765 grams, the RP itself is noticeably easier to lug around by weighing only 485 grams and housing all of its features inside dimensions of 133 x 85 x 70mm. What's even more important to mention is that no sacrifices have been made to handling and the feel in the hand and in simple terms, the EOS RP feels just like a small DSLR when you're holding it. It's obvious that Canon didn't want to accept any compromises in this regard and that their plan was to make the transition from a DSLR to a mirrorless camera as smooth as possible for their loyal customers and even those coming from other brands. We also like the included control scheme, which features enough buttons and dials to satisfy the needs of even the more demanding photographers out there and will make you feel right at home or if you've previously used a mid-range Canon DSLR or one of their top of the line APS-C mirrorless cameras. We also appreciate the addition of weather sealing, which will help you use the RP efficiently in those situations where the weather or harsh conditions would get in the way of you taking all the important pictures you need. Still, we wouldn't suggest that you submerge the RP in the water or even take it in the heavy rain since it's level of weather protection is not as high as on those high-end cameras that are much more expensive and were specifically made to be used in every possible situation in which the photographer finds himself in.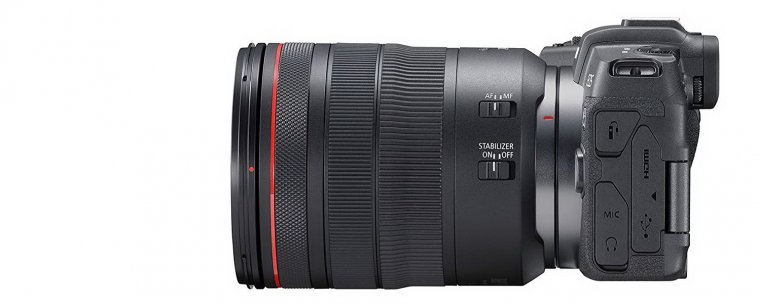 Let us start with the front. Other than the usual stuff like the lens mount, the lens release button and the AF-assist beam/Self-timer/Remote control lamp, you'll also be able to find the two of the microphones capable of recording stereo sound (on most cameras of this type they are usually located on the top, near the hotshoe port). Interestingly enough, Canon has decided to retain the same silver "R" logo that was also a part of the original EOS R and did not change it to "RP". Thus, it will be hard to find any difference between the two cameras if you look at them from the front. The left side of the Canon EOS RP houses that impressive array of different ports (the remote control terminal, external microphone jack, headphone jack and also the micro-USB and the type-C HDMI ports, (which you cannot find in Powershot G9 X Mark II) while the right side of the camera body is completely clear of any prominent features. Instead, the obligatory card slot has been moved to the bottom and now shares the same compartment as the battery. The top of the camera holds no less than four dials in total (the On/Off, mode, quick control and the main dials) but also a standard hotshoe port for all of your accessories like an external flash or a shotgun microphone, a Movie shooting button, the shutter button, the M-Fn (or the Multi-function button, which you'll be able to customize to your own liking) and lastly, the Multi-function lock switch. In the end, it is time to see what the back of the EOS RP offers in terms of different functionality. First, there's the obvious things like the fully articulating touchscreen and the EVF (coupled with its dioptric adjustment knob and the eye sensor), the Menu button, the AF-On, AE lock/FE lock and the AF point/Index/Magnify/Reduce buttons, as well as the four-way navigation controller with a Q/Set button in its center and the Info, Playback and Erase button located around it. You'll also be able to assign different functions to each of the directional buttons on the navigation controller, but we'll talk more about that when we touch on the topic of customization.
In conclusion, there are not many things to complain about when it comes to the EOS RP and its overall body design. The more serious professionals out there will miss having a couple more buttons to work with and will also be in need of a secondary card slot, but everything that this camera does offer is perfectly catered to the type of audience its targeted at and these are the casual photographers and enthusiasts not looking for a portable full frame camera that is less expensive than any flagship offering out there. If there's one thing you can count on when purchasing a Canon camera is that you'll be getting an exceptionally good experience while using its user interface or while digging through its menu systems. The company has perfected this area of their cameras years ago and it certainly shows on the EOS RP. No matter what you do while the camera is powered on, it always feels very smooth, responsive and finely optimized. This also holds true if you decide to pick the touch screen as your primary way of interacting with the camera since it feels no different than using one on a modern smartphone device. The interface itself has also been made in a way that it doesn't matter if it's being navigated with the help of the navigation controller or the touchscreen as the usability of the camera won't be affected in any way no matter which input method you choose.
Now, let us touch on the topic of customization. It wasn't something that was an integral part for a Canon's non-professional DSLRs and cameras for a long time (you could change the function of a couple of buttons but often with some limitations to the available list of included options, which were often intentionally set by the manufacturer and there was no real reason why the list couldn't be a lot longer), but the times are finally changing with the arrival of the EOS RP. No, it doesn't have the useful and reprogrammable touch bar of its bigger brother, the EOS R, but there's still a lot of ways in which you'll be able to customize the device's behavior. You'll be able to assign different functions to a total of 9 buttons (Movie record, M-Fn, AF-On, AE lock, AF point, SET button and all the directional buttons located on the four-way navigation controller) and these range from things like Depth-of-field preview, Image quality and Picture Style to Magnify/Reduce, Eco mode and Wi-Fi functions options. The EOS RP will also allow you to choose which of the included control dials will be used to adjust the aperture and witch to change the shutter speed, but also program them to let you change the ISO or adjust the exposure compensation.
You'll also be able to reap the benefits of having an additional customizable control ring If you decide to purchase an RF-mount lens or one of the EF mount adapters with the same ring attached to them. Lastly, there are three separate custom shooting modes that can hold three separate sets of settings and adjustments and can easily be switch between with the use of the main mode dial on the top of the camera. We certainly like Canon's commitment to bring a lot more customization options to the table and their effort really shows in the case of the EOS RP. Before we conclude this section of the review and move on to examining the performance and the AF behavior, we need to see how the camera handles all the tasks related to any form of wireless communication.
As is the case with any of the latest Canon cameras, you can connect the RP to four different things: a smartphone/tablet, a printer, a computer/laptop or directly to a web service of your choice. To pair it with a smart device you'll need to install either the iOS or the Android variant of the Camera Connect application and enable Wi-Fi and Bluetooth on your device. After you've gone through a simple setup procedure you'll be able to control the camera remotely, view the images taken with the camera on your smartphone or transfer them to its memory, add geolocation data gathered by your smart device's GPS system to the photos themselves or enable the automatic transfer of images after they've been captured.
We like the fact that both the Wi-Fi and Bluetooth are included as a means of communication as that will allow the camera to save on battery power and switch to Bluetooth for less demanding tasks. If you ever find yourself stuck in the process of learning about how to use the EOS RP's wireless functions you can refer to the official manual for an insanely detailed explanation of how to make sure that everything is set up the right way and works as expected. While the wireless printing feature is self-explanatory, we should also say that you'll need to register your desired web service on the Canon iMAGE GATEWAY website before you'll be able to upload your images directly to it from the camera and that you'll be using the EOS Utility application on your computer either as an additional method of remotely controlling the camera (which is a much better solution than a smartphone or tablet if your working in controlled environment like a photo studio) or as another way to back up your images automatically. If there's one thing that's missing on the EOS RP to complete the holy trinity of wireless functions, it's the NFC. Now, it depends entirely on you if having such a feature is important but having Wi-Fi and Bluetooth will surely be more than enough for most people's needs.
Autofocus and performance
The Canon 6D Mark II was infamous for borrowing the AF system from the Canon 80D and has received some criticism because of that mismatch of features. While the said 45-point phase detect system as quite a capable one on an APS-C DSLR it just wasn't good enough for a full frame one and resulted in very small focus points that were crammed in the middle of the frame and didn't cover a whole lot of it. That wasn't a big problem for photographers who were only shooting still subjects, but any kind of subject tracking was quite affected and resulted in a mediocre performance at best. The EOS RP may contain the same image sensor as the 6D Mark II, but if there's one thing completely revamped over the older camera, it has to be a focusing system. While still being of the phase detect variety and also working together with Canon's Dual Pixel AF technology, it now has as much as 4779 focus points to work with that cover approximately 88% of the frame horizontally and 100% vertically. This essentially means that you'll be able to place your focus points almost anywhere you'd like and quite easily just by dragging your finger along the touchscreen and lifting it up after you've achieved the desired position. This also means that you should expect to get very good continuous focusing during video recording while capturing 1080p footage (the Dual Pixel AF is not available during 4K recording, something that the more expensive EOS R is capable of). The EOS RP is also a little less sensitive in low light over the regular R (-5EV instead of -6EV with an f1.2 lens) but that still a very good light sensitivity by itself, especially when you compare it to what the rest of the competition has to offer. While we believe that the AF system itself has enough power to it to handle some sports or action photography, you are likely to be more limited by the speed at which this camera can shoot photos continuously, then the AF system itself (but we'll talk more about that near the end of this section).
This brings us to all the focusing modes and all the features directly related to them. Starting with the basic ones, there are three of them: One Shot (your simplest form of focusing, you press the shutter button hallway once, the camera will focus on your subject and let you know about it and that's it), Servo (this mode is best to be used for any kind of moving subjects as it will allow you to hold the shutter button hallway as much as you want and the camera will constantly search for any movements in front of it and adjust focus accordingly) and Manual focus. The second set of modes you should look at when deciding which types of subjects to shoot with the EOS RP are the AF Methods. These are: Face+Tracking (the camera will automatically look for people and their faces and prioritize focusing on them over anything else), Spot AF (this mode will give you the option to use the smallest size of a focus point as possible and allow you to more easily focus on specific parts of your subject), 1-point AF (works the same as Spot AF just with a focus point of a regular size), Expand AF area (the expanded version of 1-point AF that also places a number of surrounding focus points around the one you've previously selected) and lastly, there's the Zone AF option, which will automatically select the right number of focus points located inside a single zone and depending on the shooting situation you find yourself in). The EOS RP also offers a very useful feature called Focus Bracketing, which can be used to take a high number of images that are focused differently with each shot and then combine into one photo with a very deep depth of field (with the help of Canon's official software). This will be especially useful for macro photography since the often result in a thin depth of field and can be very challenging to acquire the correct focus without some special assists tools like the Focus Bracketing itself. Of course, like with any mirrorless camera out there, Focus Peaking and Magnify options are also available and will help you nail your focus in more demanding scenes (for example low light) or if you're using an older lens that doesn't feature autofocus (which a lot of you probably will since those manual lenses can prove to be very useful considering their often smaller size and lower price points).
We've already mentioned that the Canon EOS R is a camera that won't let you down in terms of its responsiveness and performs as well as a modern digital camera should, but there is one area of its performance in which its capabilities are quite modes and that is its burst rate. Topping out at 5 fps (4 if you need the ability to focus continuously), it's certainly far from being the fastest camera on the market in this regard and you won't have an easy time trying to capture any fast moving subjects. One saving grace is the buffer depth if the right type of an SD card is being used (a very fast one, that is) since you'll be able to shoot an unlimited number of JPEGs as well as RAW files before it fills up and even around 130 of them combined (which are excellent results for any camera, let alone one that doesn't cost very much). We were also happy with the time it took for the buffer to clear and allow you to shoot again; it took no more than 2 seconds in case of JPEG or RAW files and around 10 seconds if we decided to shoot both of them. In the end, there's the battery life. It's yet another area in which the Canon EOS RP doesn't impress, but doesn't disappoint in any major way. You can expect to get around 300 shots from one battery pack, but that endurance could go up or down depending on how you use the camera; lowering the screen brightness or activating the Eco mode will certainly increase your shooting time with the camera, but recording a lot of videos will lower it, so it's up to you to decide if you'll require an additional battery or not.
Video features and quality
The Canon EOS RP turns out to be a strange beast if you look at its video recording capabilities. It is a blend good features mixed in with some omissions and oddities you may expect to find on a camera that tries to as competitive as possible price-wise within the market of usually quite expensive full frame cameras. First, there's the resolution, frame rates and codec situation. You will be able to record 4K videos at 24 fps (albeit with a pretty strong crop of 1.8x applied to the footage) or 1080p videos at everything from 24 to 60 fps, which are quite positive things and will allow you to get very nice looking footage no matter the resolution (not the best out there, but still very usable) but there's no option to record 4K videos at 30 fps or using the more powerful higher bit rate ALL-I codec (like on the EOS R) or editing videos using the Canon Log profile. What you see, is what you get, and you won't get a lot of room to process your videos later on a computer, especially if you need a great dynamic range. The RP does offer a decent electronic stabilization solution (although at a cost of a tighter crop and overall image quality) but again, there's no hardware-based stabilization system and the more serious shooters among you will have to resort to using a tripod or any other solution to get the smoothest footage possible. The EOS RP will get you covered for all of your audio needs thanks both the headphone and microphone jacks being included and will also provide you with great focusing performance thanks to the Dual Pixel AF system, but sadly, only if you plan to record 1080p videos since it isn't available during 4K recording and instead relies on a less impressive contrast detect system. We do appreciate the addition of a fully articulating touchscreen, a combination of hardware which still eludes a big number of cameras in the market for some reason and also the Focus peaking for all of you relying on manual focus instead on AF. There are also features like the Video Snapshot (it automatically takes short clips out of all your videos and combines them into a single compilation video) or the 8-megapixel screen grab function that will allow you to take photos of decent quality straight from your 4K recordings. Lastly, the RP also offers 4:2:0 8-bit internal recording as well as 4:2:2 8-bit recording via its HDMI port and an external recorder.
Image quality
Since the EOS RP uses the same 26-megapixel full frame like the Canon 6D Mark II DSLR, it shouldn't be a big surprise to anyone that the newer camera produces images of very similar quality. So, if you pair the RP with a quality lens and you know how to control your exposure, then you'll be able to get very high-quality images out of Canon's latest mirrorless full frame offering. Bumping up the ISO also won't hurt the quality of those photos too much, but you will need to be careful in those situations where you have to underexpose to save your highlights and lift the shadows back up in post-processing.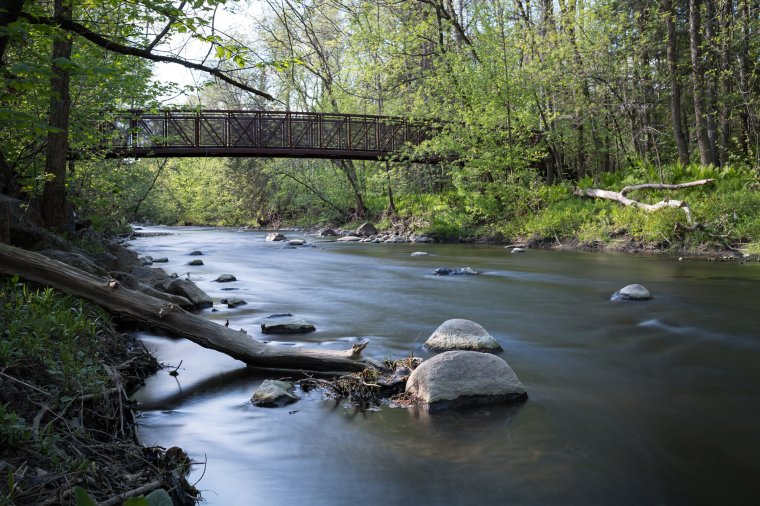 Photo courtesy of Nicolas Bussieres
The EOS RP won't give you as much room as other competing devices to brighten up dark areas without some cost in added noise and thus we advise you to use the very well implemented HDR features in those situations with such extremely unforgiving lighting. While shooting in RAW won't show any difference between the RP and the 6D Mark II, shooting in JPEG will since the RP does have a more powerful processor and better JPEG processing sharpening and noise reduction algorithms. If you aren't satisfied with the default Standard processing, you'll always be able to switch to another Picture Style like Portrait, Landscape, Fine Detail and Neutral, as well as create your own Styles by changing the Sharpness (and its strength, fitness and threshold), as well as Contrast, Saturation, Color tone, Filter effect and Toning effect (the last two are only available for shooting in Monochrome).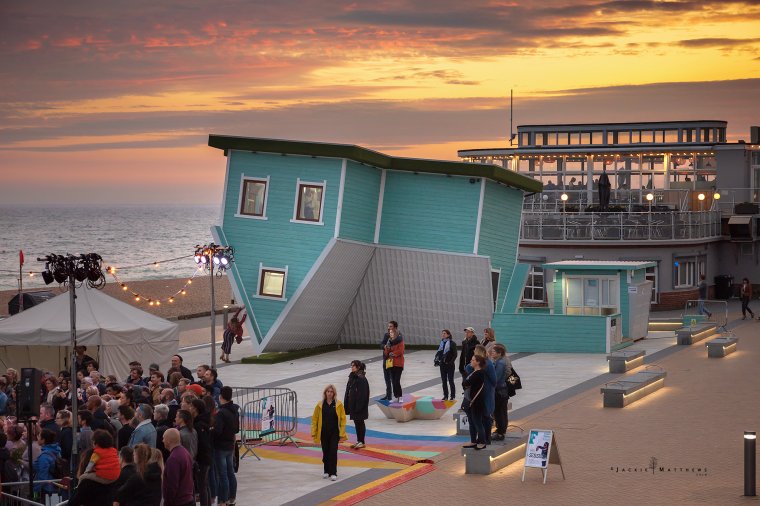 Photo courtesy of Jackie Matthews
For the Filter effect itself, you'll be able to choose from yellow, orange, red and green colors and sepia, blue, purple and green for the Toning effect. So, even if you aren't interested in editing your photos away from the camera, there's certainly a lot of options available to do it within its menus.
Conclusion
So, in the end, what do we think about the Canon EOS RP as a new offering from Canon's line up of full frame cameras? Does it do enough to attract the attention of those photographers who are ready to make the transition to a bigger image sensor or those previously coming from any Canon DSLR that doesn't fit into the high-end category or any of their APS-C mirrorless devices? Well, it certainly does, even with a couple of its less impressive aspects like the battery life, cropped 4K recording, no image stabilization and the averagely good dynamic range. If you are willing to accept those couple of flaws (and you should be, considering how much you'll be paying for the EOS RP), you'll be getting a camera that's small in the hand and at the same time very comfortable to hold, easy to operate and even easier to navigate thanks to its intuitive user interface, fast to power on and fast to focus, capable of capturing pleasant videos and good photos in low light and able to use any Canon AF lens in existence (with the official adapter in case of the EF and EF-S lenses) except for the EF-M mount lenses.
There's a lot to like about the Canon EOS RP, especially if you're a semi-professional or a hobbyist photographer looking to get into the world of full frame cameras, but without spending the usual premium price attached to most of them currently available on the market.
The following two tabs change content below.
An amateur photographer, songwriter, musician, computer and technology geek and an occasional comedian, I'm a little bit of everything. I always aim to pursue things I'm passonate about and try to look on the positive side of things whenever I can. My mission is to wrap my articles in that aura of positive energy and keep a healthy balance between being serious about my work and spicing things up with a little fun now and than. After all, life's a game and there's always a different way to play it.