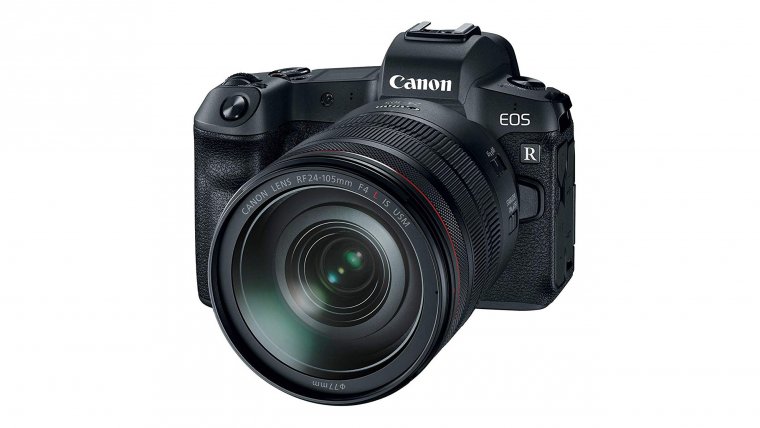 Canon EOS R Review
www.sleeklens.com
Yes, it's true, we've finally reached that point in time where mirrorless cameras have become so popular that even the two of the biggest DSLR manufacturers have decided to throw their own fighters into the brutal fight for dominance on the market. While a couple of brands have enjoyed more popularity than others in the last decade, all the released cameras from this year (and some of those products that are slated for release in 2019) are ready to shake things up again and force those manufacturers that were playing it safe to innovate once again in a mission to retain their current audience and also gain some additional fans.
Still, why there are many newly released mirrorless cameras that have caused some buzz within the photography community, there is one that could be singled out as the device that has been most talked about (both for its good and some less impressive aspects as well). You probably would have guessed it if you follow the current trends as we are about to take a look at one of most controversial cameras of 2018, the Canon EOS R. The company certainly didn't have it easy with their last full frame camera (the Canon EOS 6D) due to all the criticism they've received for purposely underequipping it, so it wouldn't hurt the sales of their flagship DSLR, the EOS 5D Mark IV
So, they couldn't afford the same with their first mirrorless full frame camera, the aforementioned EOS R and luckily, they didn't, but it still carries some unpopular traits that were part of Canon's cameras since forever and that's mostly to company's unwillingness to go all the way with their cameras (despite that they possess all the manpower and the resources to do it) and make a truly impressive flagship product that will include all the good things that made Canon's devices so popular (like their ergonomics, build quality, Dual Pixel AF, intuitive user interface and an impressive array of compatible lenses) but also all the features that the competition is using against them to draw away their potential audience (like the in-body image stabilization, full frame 4K video, dual SD card slots and a few other ones that we will mention in our review). Still, even when you take into account the Canon's stubbornness when it comes to adopting all the latest technologies, the Canon EOS R still remains a mirrorless full frame camera that has a lot to offer and is easily the most advanced Canon camera to this date when it comes to photography (even though its positioned below the 5D Mark IV in terms of its price point).
While any big company deserves every criticism they get when releasing a pricey product that doesn't deliver on all fronts, it doesn't necessarily mean that the product itself is bad and that there isn't a lot of users out there that would enjoy it thoroughly if you put it in their hands. We do believe that the Canon EOS R does include a lot of great features and that it will turn out to be a very good camera in its own right, but as always, we'll try to keep an objective (but also positive) perspective on everything and see if this camera has what it takes to find its own place in the already crowded market or will it be written of as some niche product only reserved for Canon's most loyal fans that also have very deep pockets. Well, let's find out and begin our review by looking at the overall specifications of the EOS R.
So, what kind of image quality can you expect to get out of Canon's first full frame mirrorless camera? Well, one that is very similar to the likes of the Canon 5D Mark IV, since it does sport the very same 30-megapixel sensor. This means that you'll be able to get great quality photos while shooting in normal conditions and in low light, buy you won't get as much room as the competing cameras when it comes to high contrast or backlit scenes that require as much dynamic range as possible (although the EOS R and the 5D Mark IV for that matter are far more capable in this regard than any Canon cameras that came before them and thus we are talking about a noticeable upgrade in image quality over those older models).
Pros
30.3M Megapixel
Same Full-frame CMOS sensor and the DIGIC 8 Image Processor as 5D Mark IV
Articulated Screen
Face Detect Function
High-Resolution EVF Focus Peaking
Multi-Function Bar
Cons
Heavy Body
No stabilization
One SD card slot
Click to read the full Review
If you pair the camera with a lens of nice quality (which is something you would certainly want to do if you decide to purchase an enthusiast oriented device like this one) and you know how to master your exposure, you'll be able to get some really nice images with the EOS R. This camera also shares its processor with the Canon EOS M50 and this is the Digic 8 unit, Canon's latest and greatest one that brings the ability to shoot 4K videos using the MP4 format and the H.264 compression but is also here to keep the overall responsiveness at a high level and this is certainly true for the EOS R, since it quite fast in its operation.

Other things directly related to image quality and exposure that need to be mentioned are the support for C-Raw (Canon's new compressed format), the native ISO range of 100 to 40000 (expandable to 50 at the low and 102400 at the high end), the fastest shutter speed of 1/8000 and the slowest one of 30 seconds and also, six built-in White balance presets. If there is one thing that would improve the Canon EOS R's performance and image quality even further in challenging conditions it would be the inclusion of on-sensor image stabilization and sadly, such feature is nowhere to be found. It's hard to understand why Canon have decided to omit such an important feature from their best mirrorless camera and accept all the inevitable criticism that is bound to come their way and lessen their chances of attracting some new audience to their cameras (as things stand, this camera will mostly be appreciated by current Canon users since they've learned to accept that they'll have to trade some functions to get experience other benefits of company's cameras that are still valid now in 2018).

Still, we believe that a lot of people are blowing this image stabilization thing out of proportions since it's quite easy to find a stabilized lens of any kind in these modern times and completely solve that particular problem (there have also been a lot of cases where the lens-based stabilization turned out to be more effective than the one build inside the camera itself). Also, the EOS R brings more than one electronic stabilization modes for video recording that are decently effective at giving you even smoother footage, but of course at the expense of having to deal with some light cropping (if you activate the first mode).

Video recording is certainly one of those areas where the EOS R brings a number of improvements over the 5D Mark IV and ends up being much more capable device for that kind of work. While they both share the same restriction when shooting 4K movies (that being the addition of the 1.8x crop factor), the EOS R does bring more efficient codec, focus peaking, the aforementioned electronic IS, built-in C-log profile (you will be required to send the camera to Canon for upgrade to get it on the 5D Mark IV) and that useful fully articulating touch screen that is loved by many different types of videographers (and it's an excellent unit that is 3.2 inches in size and with a resolution of 2,100,000 dots). Most importantly, Canon's Dual Pixel AF is also included and in its most advanced implementation yet. For video recording it works as expected, but this time around its also a main focusing method for stills since the EOS R is a mirrorless camera and there is no need to separate focusing systems between shooting in live view or through the view finder. It brings an impressive coverage of 88% of the frame and a total of 5655 focus points you'll be able to choose from (which means incredible precision when it comes to picking the exact position to focus on and something that has never been seen on a mirrorless camera before). You can also expect to get very good tracking performance and a decently big buffer size when shooting at the burst rate of 5 fps (there's also the 8 fps mode, but it locks the focus on the first frame).

Moving away from the conservative shooting speed brings us to the last part of the Canon EOS R that will make it an interesting choice for those that value handling, great controls, a full array of ports and an excellent build quality above all (even though dual SD card slots are missing) and that is its body and its design. This camera looks and feels like a small DSLR and there's nothing you would want more from a mirrorless camera in terms of its ergonomics (there are a lot of mirrorless cameras on the market that bears more impressive specs than the EOS R, but it handily beats almost all of them in the amount of comfort it offers while you're using it). Add to that the environmental sealing, secondary screen, very large and sharp EVF with a magnification of 0.76x and the resolution of 3,690,000 dots, microphone and headphone jacks, USB-C 3.1 Gen 1 port, mini-HDMI port, Wi-Fi, Bluetooth 4.1 LE and a large LP-E6N battery that is the same unit found in many of Canon's DSLRs and the EOS R certainly doesn't look nearly as bad as some people would lead you to believe (a lot of them clearly hold a grudge against Canon as a company and aren't judging their cameras in an objective manner).
Body and handling
While you may not be buying the Canon EOS R because of its specifications and because you are trying to get as much features for your money, you could surely do it because comfort and handling are your top priority above everything else. Canon has managed to find a perfect balance between build quality, portability and ease of use, which is something that can hardly be said for many mirrorless and compact cameras out there. If you're one of those photographers that have previously only been using a DSLR, then you'll feel right at home with the EOS R. Its big front grip will allow for your fingers to perfectly wrap around it and hold the camera really steadily and securely, even when using a long telephoto lens.
With the weight of 660 grams, it's certainly not the lightest mirrorless camera around but is still light enough for you to be able to carry it with you without having to deal with any fatigue after using it for prolonged periods of time. We also like the addition of weather sealing (which is apparently on the same level as one found on the 6D Mark II) which will give anyone shooting in harsher conditions some piece of mind that nothing will happen with their new and expensive investment. Then there are things like the fully articulating touchscreen, the top LCD panel which you can see in most cameras like Canon D70 and the new Multi-function bar that also add a lot to the overall usability and the flexibility of the camera. A lot of reviewers have reported that they didn't like the added touch sensitive Multi-function bar and they had to deal with too many accidental presses, but our opinion is quite opposite of that one. We've never used the bar accidentally during our testing (not even once) and even though it may not be as comfortable to use as a physical button or a dial (which do offer nicer feedback while being pressed) it is a highly customizable piece of hardware and can really make your life easier when setting up the right way (we'll talk more about it very soon).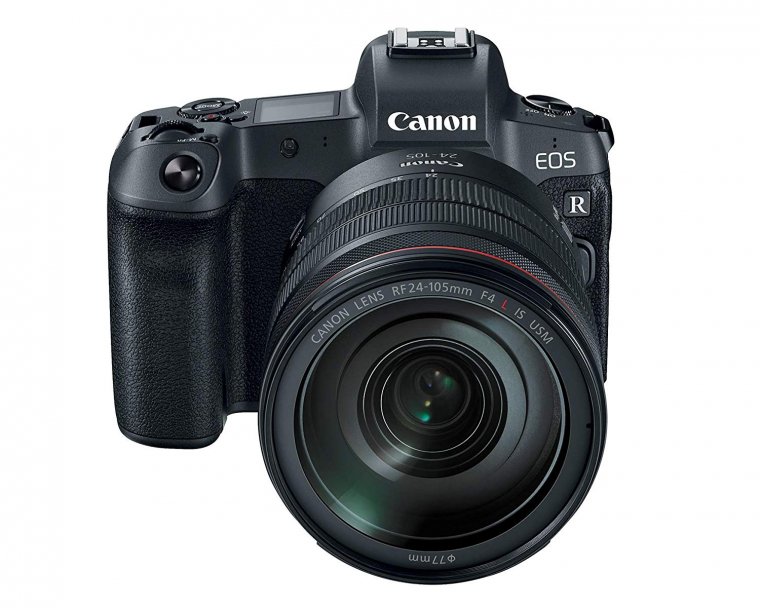 Now, before we dwell deeper inside the Canon EOS R's core and menu systems, its time to take a little tour of its exterior. Let us begin by examining the front of the camera. Here you'll find the AF-assist beam/Self-timer/Remote control lamp, the stereo microphones, the DC coupler card hole and the lens release button. There's a lot to be said about the new RF-mount, but there are two things that stand out the most: the three official adapters that Canon have released to support its current EF and EF-S lineup and the one extra feature that can be found on all the current and future RF lenses and that is the additional fully customizable control ring (besides the regular things like zoom and focus rings). The great thing about said adapters is that not only do they work with any of Canon's EF and EF-S lenses ever released, but besides the regular one there's also one that has the control ring built into it (so even your DSLR lenses can gain that functionality) and also the one that features a filter slot to allow you to use ND or polarizing filter on any lens that you decide to mount on the Canon EOS R (no more worries about not being able to use filters with your ultra-wide angle lenses or having to worry to buy many different varieties to fit the different filter sizes of all of your lenses).
The left side of the camera holds a plethora of different ports (the remote control port, USB-C, HDMI and the microphone and headphone jacks), while the right side is reserved for the UHS-II compatible SD card slot. The bottom of the camera is where the tripod socket and the battery compartment lie. Looking at the top of the camera reveals the On/Off dial, the standard hotshoe mount, the top LCD (just like on DSLRs, it is also used to showcase any important shooting information while consuming much less power than the EVF or the screen on the back of the camera, with the added bonus of always showing you're currently active mode even while the camera is powered off), the Mode button and the Quick control dial (with the standard main mode dial now gone, you will be switching between your shooting modes with the press of the Mode button and by rotating the said dial), the LCD panel info switching/Illumination and the M-Fn buttons, the Movie shooting button, the main dial and lastly, the shutter button. In the end, let us see what the back of the EOS R holds. The top is occupied by the Menu button, the dioptric adjustment knob, the EVF and the viewfinder sensor, the Multi-function bar and the AE lock/FE lock and the AF point/Index/Magnify/Reduce buttons, while the rest of the EOS R includes the fully articulating touch screen, the Info button, a four-way navigation controller with the Set/Quick Control/Setting button in its center and also the Playback and the Erase buttons.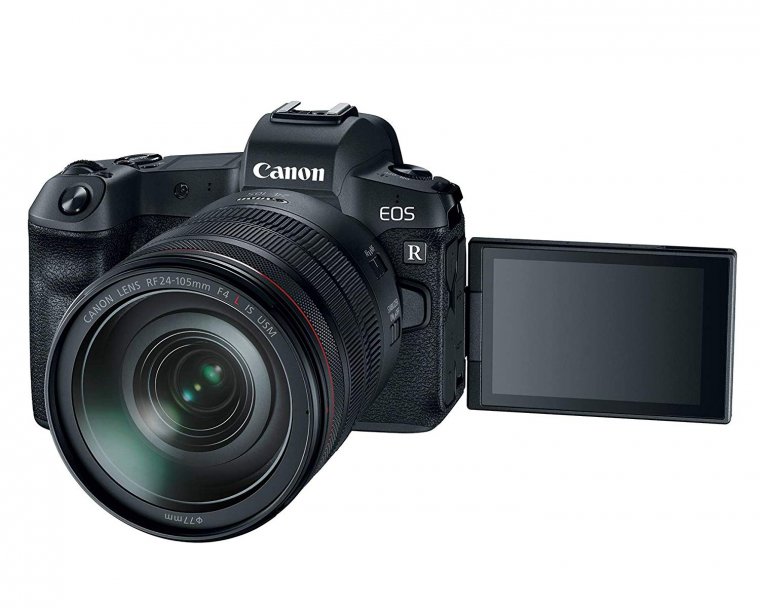 We can all conclude that the control scheme in the EOS R is a little less traditional than ones found on other Canon cameras but is still one of the best ones we've seen from any recent modern camera. It features everything you would want to find on a high-end mirrorless camera and also adds a very familiar Canon-made user interface that is very easy to understand and works great both with the physical buttons and the touchscreen. The company have really perfected their formula when it comes to giving their users a great experience when it comes to operating their cameras and making it irrelevant if those users are just beginning to get the grasp of photography or they're more seasoned shooters. So, we can say that it is one of the best camera Canon has released in the market.
Now, one of the major differences between the EOS R and a traditional Canon DSLR is the amount of customization possibilities that can be found on every corner of its menu system. We're still not talking about the most advanced camera in this regard when compared to its competitors, but it still a big step in the right for Canon as a company and will certainly bring a smile to the face of their current audience (because in all truth, the EOS R is a product created primarily with Canon fans in mind and they will certainly appreciate a large number of new features and functions that this device brings to the table). Now, in regard to customization, the first thing you'd want to do is to set up all the available physical controls to give you access to your most important options or to make them behave the certain way that would benefit your workflow. There are three menu items available that you'll be digging into to satisfy your customization needs: Customize buttons, Customize dials and Customize M-Fn bar. The controls that are available to be reprogrammed under the Customize buttons tab are split between the stills and the movie mode (meaning you'll be able set them up differently for each of those modes) and these consist out of 13 different buttons. The list of items to choose from is decently big and consists of things like AF stop, Set AF point to center, Eye Detection AF, Metering start, Exposure compensation, Set ISO Speed and on (the only limitation present here is that not all of the buttons can be used to access every function available, something that we hope Canon will improve on with the next generation of their full frame mirrorless cameras).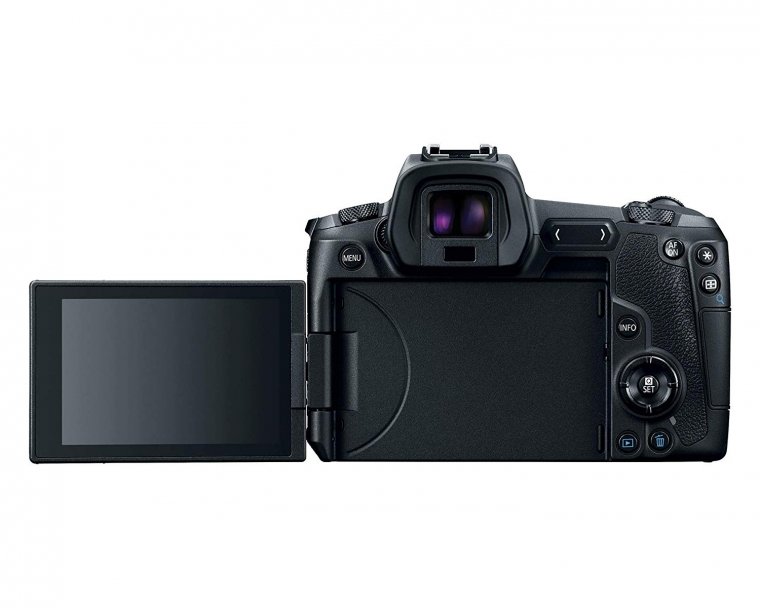 Then there's the Customize dials menu and it will allow you to change the behavior of both the control dials included on the camera, as well as the one found on the RF mount lenses themselves. The last one is the most interesting one since it contains all the available options that will allow you to set up the newly added M-Fn touch bar. Now, while it's true that learning to use it to its full potential will take some time for a lot of photographers, it will be worth it for everything it offers. All of the included options will be useful for all kinds of types of users (the adjustment of White balance, easy control over the magnification for manual focusing, audio level adjustment, changing the AF methods and more), our first choice would be to use it to control your ISO values. Not only will you be able to swipe left or right to adjust the ISO, you'll also be able to tap one side of the bar to instantly access one user-defined ISO value and the other to enable the Auto ISO function, a type of use that any kind of photographer will certainly enjoy (all those reviewers and users that weren't patient enough to learn how to cope with the M-Fn bar are certainly losing a big chunk of functionality that the EOS R brings to your fingertips). On top of all of those options you'll also be able to adjust the rotation of the control dials (clockwise or counterclockwise), save three different sets of settings under the available custom menus (C1, C2 and C3), create a separate screen of less-commonly used settings under the My Menu option, decide how much information is display on your LCD and inside your viewfinder and so on.
This brings us to the last matter that needs to be discussed and that is the Wi-Fi functionality. Canon has been doing a great job in this particular area for quite some time now and the story is no different in case of the EOS R. There are four categories of available features: communication with a smartphone (either an Android or iOS device), uploading images to a Web service, printing them via a Wi-Fi printer or connecting the camera to a computer with the use of Canon's own or a third-party software. Pairing the EOS R with a smartphone and the Camera Connect application will allow you to view or save your images to your smart device, use the remote shooting function (together with the ability to change a lot of different settings) and also gather the GPS data, while doing so with a computer or a laptop will also allow you to remotely operate the camera and upload your photos.
Printing wirelessly is pretty self-explanatory and so is the uploading to different web services once you've finished the initial setup through Canon's Image Gateway website. The addition of Bluetooth is also a nice bonus to help you save power while doing anything else but an image and video transfer and nicely rounds up all the functions that will be given at your disposal if you decide that the EOS R is the camera for you. And it certainly should be on the top of your list if you care about having a rugged portable camera that handles like a dream, has a very intuitive user interface and a healthy number of customization options that will allow you to make the camera feel like your own.
Autofocus and performance
While the Canon EOS R has been a target of harsh critique from a whole lot of people for many different reasons (some certainly deserved), there's certainly a few things it manages to do right and one of them has to be everything related to focusing and performance. It's certainly one of the most impressive mirrorless cameras on the market in this regard and this all due to Canon's well known Dual Pixel AF technology. This time around it takes care of everything, from shooting still through the EVF and in live view, to video capture, but is also coupled together with a couple of useful addition as well. It now features an 88% horizontal and 100% vertical frame coverage, has as much as 5655 AF points to work with (yes, you've read that correctly), Touch and Drag AF functionality (it will let you select any part of the touchscreen as an area inside of which you'll be able to drag your finger and select your desired focus point while looking through the EVF), great focusing support when shooting at dark apertures such as f8 or f11 (making it a great to use with teleconverters) and an impressive ability to acquire focus in low light conditions rated as low as -6 EV (that is, if you're using a lens with an aperture of f1.2, but is still something that can't be achieved with any other camera on the market). The overall focusing performance turned out to be excellent and it didn't matter what we were doing with the EOS R, with only the subject tracking performance not working perfectly on some occasions (it will still enable you to get a very high capture rate, but just shy of the best cameras for sports and action).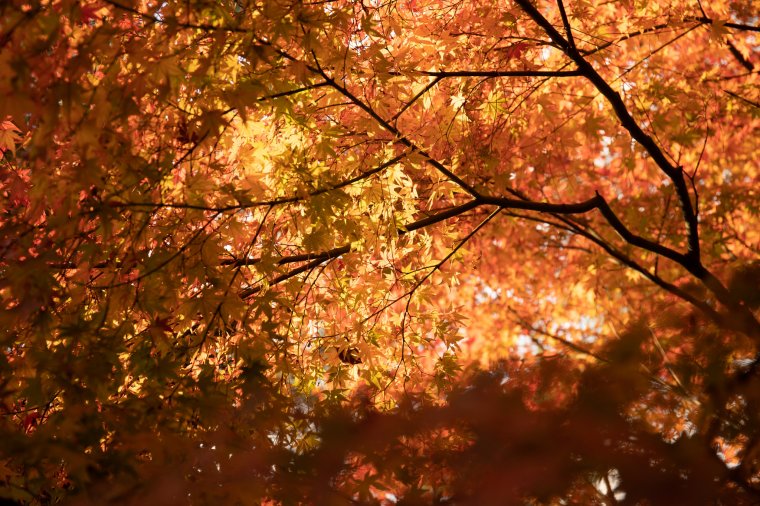 Photo courtesy of Takeshi Watanabe
Now, before we move on to continuous shooting capabilities and battery life, let us dive into the EOS R' menu systems and see what kind of focusing modes it hides behind its lovely user interface. Your main modes will be the One-Shot AF, Servo AF and of course, Manual Focus, but it's the additional AF Methods that make this camera such an impressive performer. These are the Face+Tracking, 1-point AF, Expand AF area, Expand AF area: Around, Zone AF, Large Zone AF: Vertical and lastly, the Large Zone AF: Horizontal. This essentially means that Canon is giving you as many options as possible for fine tuning the AF system, so you'll be able to cope with any shooting situation. Since we are dealing with a flagship mirrorless camera, its also of no surprise that Canon has taken things one step further in terms of manual focus.
The large and sharp EVF does a great job of allowing you to see every little detail on your subject even without other focus assist tools, but the Magnify and Focus peaking features are both here to provide a lot of help in more trickier situations and so is one new feature brought from Canon's lineup of video cameras, the Focus Guide (which displays a little white box with three arrows on top of it, spreads these arrows around depending on the direction you're focusing in and turns the box green when the focus is acquired). Let us throw around a few numbers from our testing to showcase the EOS R's performance in even more detail; it took around 2 seconds for it to power on and capture the first image, only 0.1 second to focus and take one photo and around 0.3 seconds between each captured shot (both for JPEG and RAW files).
At it, its fastest burst rate of 8 fps (though it does lock the focus at the first image) it was able to shoot around 65 RAW and 125 JPEG images before any drop in shooting speed could be observed and the buffer was getting close to being full. You can expect to get similar or even better buffer depths if you switch to 5 or 3 fps modes (which will also allow you to use the camera's very good subject tracking capabilities). So, while the EOS R doesn't manage to beat its competition in terms of its pure shooting speed, it does offer a consistent and reliable performance that will allow you to tackle some sports photography if you aren't in need of absolutely fastest available burst rates that you can find on a modern camera.
Lastly, let us talk about battery life. This is a rather interesting topic, since Canon is very conservative with their official rating of 370 shots (without using the added Eco mode), which doesn't sound like an impressive endurance by any standard, but then again, every reviewer out there (including us) was able to surpass the official rating and get anywhere between 600 and 1200 shots per charge and rarely reach numbers that go below them.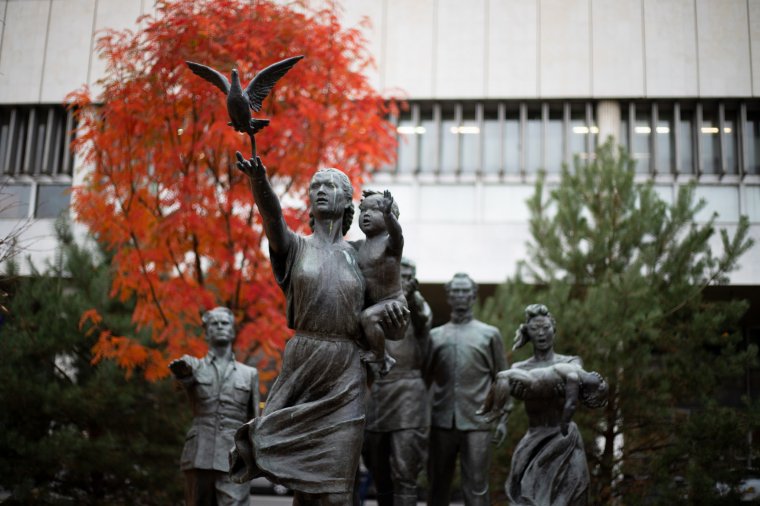 We don't know why Canon is lacking in confidence so much when it comes to EOS R's endurance, but we are still happy that we can report that it turned out to be one of the best performers on the mirrorless camera market instead of the rather average one according to Canon themselves. We should also mention that the camera supports USB charging, but only by using the optional PD-E1 USB Power Adapter and according to some users on the internet, it also works with selected USB-C compatible power banks (but since they aren't officially supported, you'll have to do your own research to find what works and what does not).
Video features and quality
Canon's cameras have always presented themselves as a solid choice for casual and semi-professional users and the very same can be said for the EOS R. It's the closest you'll ever get to one of the company's dedicated video cameras if you want a solid feature set and a hybrid device that will also allow you to produce great photos. Being able to record in 4K 30 fps at a very high bitrate of 400 Mbps is the EOS R's headline feature, but it does come with one caveat and that is the 1.74x crop that's being applied to the footage itself. Now, while the quality of recorded videos is still very good (although not the best we've ever seen), the added crop will be a blessing for some and a curse for others; it all depends on what kind of videographer you really are.
Those recording the types of videos where getting the most range out of telephoto lenses is of high importance will actually love the 1.74x crop as it will allow them to get closer to their subjects without having to use a teleconverter, but on the other hand, creators of landscape videos will have a hard time getting the most out their full frame ultra-wide angle lenses. On the positive side, the EOS R does support EF-S lenses and investing in some UWA glass made for APS-C sensors will allow you to get a very wide field of view and resolve the problem of the added crop.
Another thing that separates this camera from a professional one when it comes to video recording is the lack of in-body image stabilization. This means that you will be able to get decently smooth footage using the available electronic stabilization modes (although they will crop your footage even further and add more softness), but you will need to invest in an optically stabilized lens if getting steady handheld videos is of any importance to you. Besides lacking Zebra exposure patterns and the available histogram being gone once you hit the record button, the EOS R does include a plethora of useful features: Dual Pixel AF, Focus peaking, C-Log recording, excellent battery life, 10-bit HDMI output, the fully articulating touch screen, many different video modes, 1080p 60 fps and 720 120 fps recording, microphone and headphone jacks, manual audio adjustments, the different picture profiles, the customizable controls and more.
The continuous AF performance during recording is still very stellar due to the already mentioned Dual Pixel AF technology and the articulating touch screen is still as helpful as ever for any kind of recordings, especially if you're doing any kind of macro work or you're a devoted vlogger. So, in all honesty, the Canon EOS R can't be compared with the best cameras out there (be it mirrorless or DSLRs) on a merit of its video recording capabilities, but it despite that, it will still find its audience among less demanding videographers that are also into photography, but aren't dealing with any big projects that require very high production values or some specific recording tools that aren't available on the EOS R.
Image quality
What the Canon EOS R lacks in terms of its video production capabilities it more than makes up with its ability to capture high-quality photos with the help of many different tools: its handling, user interface, control scheme, AF system, burst rate and battery life. While none of them will have a direct effect to your image quality, they will allow to get more consistent results on a daily basis and have and an easier time working with the camera in more demanding conditions.
The 30-megapixel full-frame sensor built inside of this camera is the same unit found in one of the company's flagship DSLRs, the 5D Mark IV and possesses all the necessary qualities to allow you to get very respectable results. It has good dynamic range, great noise performance, excellent color reproduction and enough resolution to give you plenty of details if you're using a good quality lens (we recommend any of Canon's L lenses, especially the new ones that are native to the RF mount). We also like the JPEGs that come out of the EOS R since they bear that familiar Canon look and don't go overboard with things like sharpening or noise reduction.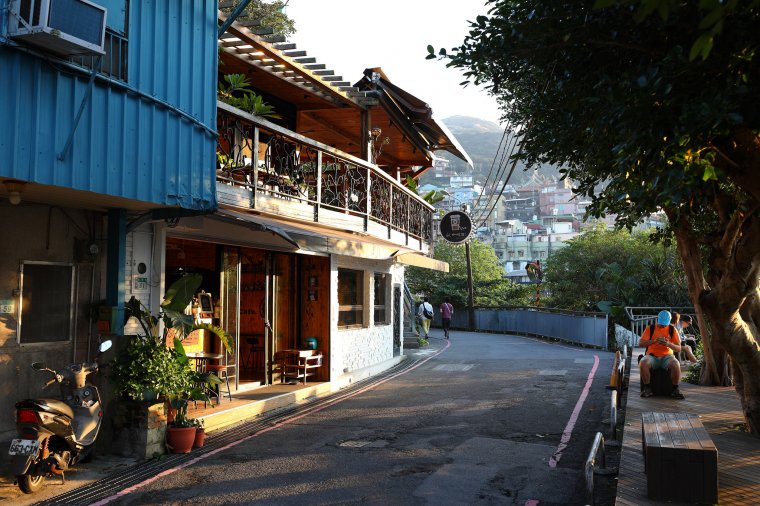 Photo courtesy of norbelthomas
You will be able to get sharper and cleaner images with some of the devices that the competition offers, but only if you're always dealing with very tough shooting conditions and if you've got deep enough pockets to invest in lenses that can make the most out of higher resolution sensors. We also like the fact that Canon have included a lot of options for correcting the optical flaws of some of their lenses (like Peripheral illumination and Distortion corrections, as well as the Digital Lens Optimizer feature), the Auto Lighting Optimizer (it will allow you to get more dynamic range out of your JPEGs), Highlight Tone Priority (for getting more details out of your bright areas) and also, the different Picture Styles (Standard, Portrait, Landscape, Fine Detail, Neutral, Faithful, Monochrome and three User Defined profiles).
There are no fancy effects this time around, which is quite understandable considering the fact that we're dealing with a professional grade camera and that they're more suited for younger and more casual audience that won't spend too much time playing around with RAW files in post-processing.
Conclusion
We can all conclude that the Canon EOS R is not a perfect camera and won't be found on top of many lists, but that is something that could be said for any camera that Canon has made in the recent history (with the only exception being the 1D X Mark II, which is to be expected given its eye-watering price point) and still doesn't take away from a lot of positive things that justify its existence. It offers very good image quality, great battery life, durable and ergonomic body, excellent EVF, fully articulating touch screen that is also very sharp, top of the line focusing performance thanks to its Dual Pixel AF system, 4K video recording, microphone and headphone jacks, intuitive user interface, stable and long-lasting burst rate and more.
It may not look like the most advanced piece of gear when directly compared to its competitors thanks to cropped 4K footage, lack of dual SD card slots, no image stabilization (except the electronic kind), no Zebra exposure patterns and a couple of other quirks that could have been ironed out a little more, but as a standalone camera it is still a very capable tool that a lot of hobbyists and professional photographers (even some videographers that can live with its limitations) will be very happy with and will allow them to get the job done, earn their paycheck and go home with a full wallet.
Especially if they are existing Canon users, since they will feel very familiar with a lot of aspects of the EOS R (especially its menu systems), but be able to use all of their Canon glass (and a lot of third-party lenses, but we advise you to check the interweb for those that are compatible) thanks to the well-engineered adapters that the company offers at a small price and even bundled with the EOS R itself for some markets. Even if they still haven't managed to make a dream camera that we've always wanted from them, Canon certainly knows what they're doing to keep their business alive and you know, brand loyalty is a powerful thing.
The following two tabs change content below.
An amateur photographer, songwriter, musician, computer and technology geek and an occasional comedian, I'm a little bit of everything. I always aim to pursue things I'm passonate about and try to look on the positive side of things whenever I can. My mission is to wrap my articles in that aura of positive energy and keep a healthy balance between being serious about my work and spicing things up with a little fun now and than. After all, life's a game and there's always a different way to play it.