Canon 800D/Rebel T7i – One Faithful Partner to Start Your Journey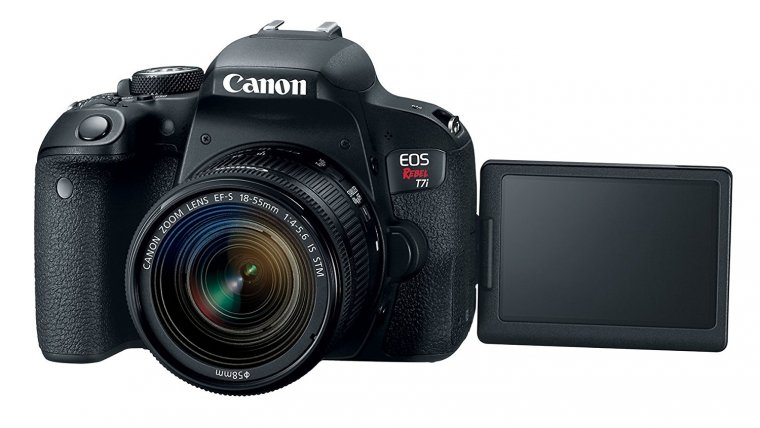 Canon 800D/Rebel T7i – One Faithful Partner to Start Your Journey
www.sleeklens.com
You really have to love technology and the way it continues to improve with each passing year and the same can be said for everything camera related. Since there's a massive competition between all the manufacturers, each and every one of them has to bring their A game with each new device if they want to remain competitive and stand out with their products.
Today, we have a fine example of how the budget-friendly DSLRs have improved over the course time and how with each new iteration they bring a feature of two that was previously only available on the more expensive models. This means that those people who do not have much money to invest in a camera are getting much better products for their hard-earned money with each passing generation. Click here to know more of these types of camera in our Canon's best! The camera we are taking a look at today is a prime example of such a trend and that camera is the newest offering from Canon's line up for beginners and amateur photographers, the Canon EOS 800D.
This time around, it really aims to close the gap between a budget-oriented and a mid-range camera and give the similarly priced DSLRs and mirrorless cameras a run for their money. Now, we all know that Canon have been kind of slow in regard to innovating with their cameras for the past decade, but things have noticeably improved with the last few generations of their cameras and the 800D sits perfectly with the company's tendency to bring a new attention to themselves and also to bring back at least a part of their once loyal customers that have decided to look elsewhere for more exciting offerings. It's good to see that a well-known company such as Canon themselves have begun to do much more with their products than releasing a marginally improved camera each year and relying on their brand alone to sell it. Will it be much better than Canon Powershot N100 which is 4 years older than 800D? We'll see… You need to know more of Canon's best? Click here.
Now, the biggest deal about the Canon 800D is that it borrows a few of its crucial features from its more expensive brother, the Canon 80D. The first one of those features is its sensor; it has retained the megapixel count of the previous models (750D and 760D), but it does bring improved image quality in terms of dynamic range and noise performance. Actually, there should be less noise when shooting JPEGs than on the 80D since the 800D also brings a more powerful DIGIC 7 processor to the table, which should do a better job of dealing with the noise reduction algorithms.
Pros
Built-in WiFi
Bluetooth Connectivity
NFC Connectivity
Articulating Screen
FullHD Max Video Resolution
Touch Screen
Optical Built-in Viewfinder
Face Detection Focusing
Remote control with a smartphone
Long Battery Life
Cons
No Image Stabilization
No Environmental Sealing
Click to read the full Review
The same processor also equipped the 800D with electronic 5-axis image stabilization for videos, which can also work in tandem with the image stabilization inside of your lenses to provide you with the even smoother footage. Still, these aren't the only improvements that come with the new sensor as we've saved the sweetest one of as the last. It's the addition of Dual Pixel AF! Yes, for the first time in Canon's history their beginner's cameras can benefit from having a very capable focusing system, especially in live view. This is certainly big news and an important aspect of the 800D which will make it stand out from other similarly priced DLSRs and even some mirrorless cameras. Having fast autofocus for both stills and videos is certainly an excellent thing to have and we can't wait to test it out more properly.

Things are pretty standard when it comes to the available maximum ISO values and the shutter speed range; you can shoot at an ISO of up to 25600 (extended to 51200) and at a shutter speed from 30 to 1/4000 sec. However, the burst rate did receive a noticeable bump from the 750D/760D combo as you're now getting 6 fps instead of 5 fps. Couple that burst rate with the new AF system and the 800D could potentially end up being a solid camera for those beginners and amateur photographers on a budget looking to take decent pictures of moving subjects.

Before we dwell into the more hardware-oriented aspects of the 800D, let us say a few words about its video mode. Aside from the obvious improvements brought on by the Dual Pixel AF system, the other noticeable improvements are the addition of the 1080p 60 fps mode, on top of the more standard 30 and 24 fps modes. For the end user, this means two things: more smooth and lifelike videos and also more room to create some nice looking slow-motion footage. Both great things to have, wouldn't you agree? The 800D is also well-equipped in the audio department (even without the addition of the headphone jack) as you are given the option to record audio both via the integrated stereo microphones or by connecting an external one to the appropriate port. Now, in regard to its body, this camera is certainly more of an upgrade over the 750D than 760D. The information screen on the top is nowhere to be found and neither is the dual dial action. So, it's still a camera that will be more interesting to beginners than to the more advanced users. Still, the 800D does have that familiar Canon design that makes the camera extremely comfortable in the hand and also easy to use. You'll get a fully articulated 3-inch TFT LCD touchscreen with a resolution of 1,040,000 dots, a rather small (but still useful) 95% accurate optical pentamirror viewfinder with a magnification of 0.85x, an impressively bright flash unit with a maximum range of 12 meters at an ISO of 100, an HDMI port and lastly, a plethora of wireless technology including the Wi-Fi, NFC and also Bluetooth LE.

We'll talk about wireless communications a little later in the review, so keep on reading if you're interested about those. Well, this was one of the longest sections of the article that portrays the specifications of a particular camera that we've ever written and there is no better showcase of how much improvements the 800D brings over its older brothers and how much time it took to mention most of them. Now, let's finally take a look at its body, shall we?
Body and handling
If you like the ergonomics brought on by the traditional mid-sized DSLR bodies, especially those coming from Canon you'll certainly like how the 800D feels in the hand. Not much has changed since here in terms of handling and build quality which is almost the same in appearance with Canon 250D. You are still getting a decently durable body with a deep enough front grip that provides a very secure holding of the camera and well-thought-out control scheme. The 800D might not be built as well as more expensive cameras and it has to do without any weather sealing, but it should have no problems standing the test of time and surviving all of the use and abuse that a DLSR can get over its lifespan. While we would finally like to see a viewfinder with a better coverage included in this class of Canon's cameras (95% is starting to look a bit dated), on the flip side, we like that the fully articulated screen is still on board and brings great image quality and a high level of responsiveness.
It seems that Canon is trying to appeal to those users that are coming from point-and-shoot cameras and smartphones and are already very used to using the screens on their devices for everything they do on it and that kind of strategy certainly makes sense as we are dealing with a camera that will mostly appeal to that kind of audience. As we've already mentioned, the control scheme is that of a traditional Canon DSLRs and remains unchanged from the 750D, which is certainly not a bad thing as it was already nicely optimized and easy to get a grasp of. Now, let's take a look at it in a little more detail. The front of the camera is your standard affair with the beginner DSLRs, only the focus assist light and, the stereo microphones and the lens release button can be found here. The left side holds the mono speaker, the NFC contact point and all the necessary protective flaps that keep the dust away from the USB, HDMI, microphone and remote-control ports. The right side holds the SD card slot and the DC cord hole.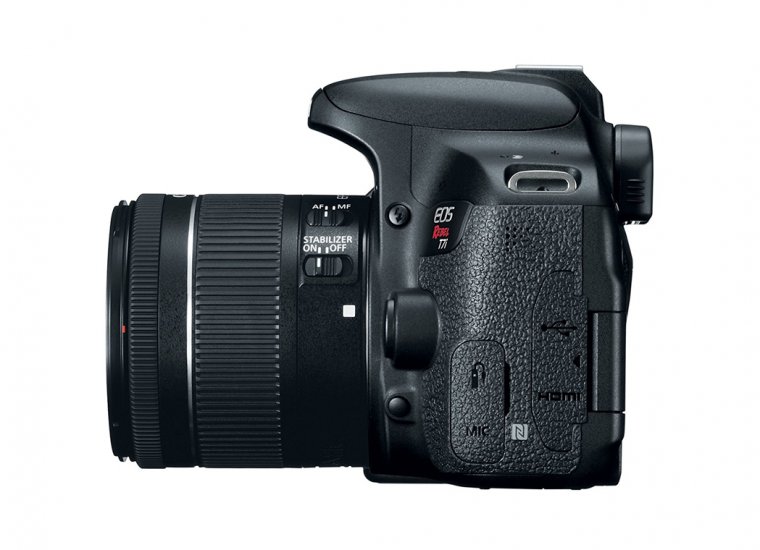 The tripod socket and the battery compartment are still located at the bottom of the camera, as is the tradition. Now, let's see what the top of the camera holds. From left to right, we find the hot shoe, the main mode dial which also holds a lever for turning the camera on and off and to directly switch to movie mode, a trio of buttons (the AF area selection, ISO and DISP), the main dial and lastly, the shutter button located neatly just above the front grip. Now, we are only left to see what can be found on the back of the 800D.
First, there is the MENU, INFO and Live View shooting/Movie shooting buttons which are located at the each of the sides of the viewfinder. To the far right and right about where the thumb rest lies we find the AE Lock/FE lock/Index/Reduce and AF Point selection/Magnify buttons, while the rest of the controls are located near the right edge of the screen. These are the Aperture/Exposure compensation, Wi-Fi, Quick control, Playback and Erase buttons as well as the four-way navigation controller with the SET button in the middle. Aside from it being used to navigate through the menus and to adjust settings, the navigation controller also has four different shortcuts mapped to each of its buttons (the Up button can be used to access the White balance, the Down button is reserved for Picture Styles, The Left button acts as a Drive button and lastly, the Right button can be used to play around with AF operation. To put it in simple terms, we are quite pleased with everything the 800D offers in terms of its control scheme, it's pretty obvious that a lot of thought has gone out into providing the users with each and every button imaginable that they could benefit from while learning to use their camera and even afterward. We should also compliment Canon once again for their user interface as it's simply one of the best you can find on any camera system. It's easy to navigate no matter if you're doing it with the physical buttons or via the touchscreen, every important setting and feature is nicely sorted out, the menus are all logically laid out and the iconography and the color schemes are used perfectly to distinguish all of the elements of the interface. Add to that the overall excellent performance and responsiveness and you'll get a perfect package that should satisfy beginners and advanced users alike. On top of all that there's a decent level of customization available (for a beginner's camera) as you get 15 different custom functions in addition to the also customizable My Menu tab.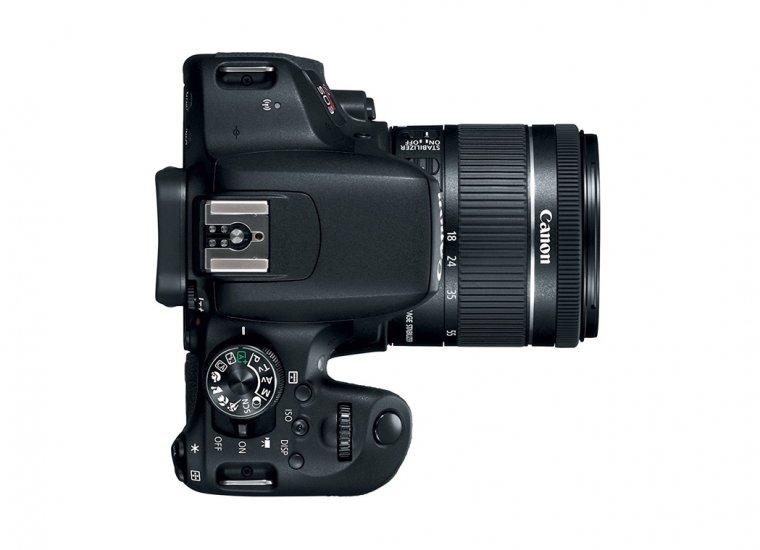 Now, onto Wi-Fi and the rest of the wireless communications. Most of the wireless functionality is centered around two things: web service and smartphones (you can also connect the 800D directly to a wireless printer, but that's a rather simple functionality in regard to the other two). To send an image to a web service of your choice you'll need to enable that functionality via the EOS Utility application on your computer and after that, it's quite easy to send any photo you want via the camera's interface. To connect the 800D to your smartphone or a tablet you'll need the Camera Connect application and you can choose one of the three available methods (Wi-Fi, Bluetooth or NFC). After you've done that, you can send images directly to your smart device or control the camera remotely and adjust many parameters inside the application before taking your shot. Lastly, you can also connect the 800D to another Canon camera, if that's something you'd like to do. Well, we rarely find ourselves in a situation where we aren't given any reason for criticism and this is certainly one of those situations.
The Canon 800D may not be a camera that will interest those looking for an advanced DSLR with a lot of manual controls and customization, but it will be a perfect companion for anyone looking to buy a well-built piece of gear that will last them for a long time and will help them improve their photography skills each time they take the camera in their hands and begin shooting with it. Well done Canon, well done!
Autofocus and performance
Now, there's certainly a lot to say about the 800D's focusing system. It's a 45-point phase detect AF system and one of the best you'll ever find on any other entry-level DSLR or a mirrorless camera. It's very quick, accurate and responsive in conditions where there's enough light in the scene and a little slower, but still good in low light. The autofocus in live view exhibits a very similar performance, which is a great thing to see on a DSLR. As you would expect with such an advanced focusing system, there is an abundance of different focusing modes available, so let's quickly go through them.
The first mode that will be available at your disposal is the One-Shot AF. It's the simplest mode around and is best to be used for still subjects as it only allows the camera to focus once each time you press the shutter button. The AI Servo AF is the opposite of the One-Shot AF and is nicely suited for shooting moving subjects as the camera will try to keep the subject of your choice in focus as long as you keep pressing the shutter button halfway. If you're unsure about choosing either of those modes, then you can switch to AI Focus AF in which the camera will decide for you when to pick one or the other. If you wish to use the electronic manual focus available on some of Canon's USM and STM lenses together with the One-Shot AF you can easily enable that feature in the camera's settings.
Now, let's talk about the AF Areas and how much control you are given at picking your own focus points. Well, you'll get four main modes: Single-point AF lets you pick one AF point from the 45 available points, the Zone AF lets you choose from one of nine predefined focusing zones, Large Zone AF gives you the option to pick one of three larger zones (left, center and right) and lastly, there's the Automatic selection AF in which the camera chooses which focus points to use depending on the situation you are in. If, however, you're inclined to focus manually then you'll be able to achieve critical focus much easier with the help of the Magnifying frame feature which zooms in on the part of the frame you wish to focus on and thus helps you distinguish if something is in focus or not. We do wish that focus peaking was also available, but considering how good the AF system itself performs it's not a big issue at all. The focusing performance also reflects how the Canon 800D handles all of the hurdles of daily use; it handles them with ease. You should never feel that the camera is slow and that it struggles with anything that you throw at it. Everything from turning the camera on and off and to the shot to shot times performs fast and reliably. It may take it some time to clear its buffer after a full burst of images, but that's it.
Now, we should mention that we were very impressed with the buffer size itself. The Canon 800D will allow you to shoot at its maximum burst rate of 6 fps for as long as 148 JPEG or 24 RAW files, which is an extremely good performance for a camera in this class. The buffer size wasn't considerably reduced even when both the JPEG and RAW files were combined as it was still able to handle around 20 shots before becoming full. Do keep in mind that you'll need a very fast SD card to achieve those levels of performance, but it is a well worthy investment to enjoy having such a good burst rate. Lastly, we should mention how good the battery life on the 800D is.
Well, it depends on how you plan to use it. If you'll mainly be shooting by looking at the screen on the back you'll be able to get a maximum of 270 shots, which is an average performance at best. If, however, you are used to using the optical viewfinder most of the time than you'll be able to squeeze a lot more battery life and around 600 shots per charge. So, a mixed usage of both should give you pretty decent endurance, even if a power outlet isn't anywhere near you. So, more pleasant surprises in case of the 800D continue even when it comes to its performance. In short, you shouldn't be disappointed with it at all, even if you're a more advanced user, which certainly says a lot about how the Canon's entry-level DSLRs are starting to evolve beginning with this one.
Video features and quality
Arriving from the performance side of things, we are brought to yet another category in which the Canon 800D has received some significant updates over its predecessor. The first that comes to mind is the new and improved 1080p 60 fps mode (sadly there's still no 4K support, but this is an entry-level camera, so we can't criticize it too much for that omission) which brings better image quality and also overall smoother footage. You will also gain full manual exposure mode and the ability to adjust all the main parameters (shutter speed, aperture, and ISO). All of these options are available in the so-called Creative Zone mode, but there's also a Basic Zone mode in which the camera itself will use some of its predefined Scene settings depending on the lighting conditions.
You can also shoot using two different compression methods (the Standard one and the Light which records videos at a lower bit-rate but takes noticeably less space on the SD card). Canon's Digital zoom feature is still here, allowing you to crop in your footage from 3 to 10x times without any big loss in quality. There's also the HDR mode that was previously seen on the Canon 760D, but the new 800D can now record them in 1080p instead of 720p on the previous model, which is a pretty nice improvement in the overall quality.
If you are one of those people that don't plan to color grade their videos in post-processing, you'll be happy to know that you can also apply Creative Filter Effects to drastically change the look of those videos. Those that are available are Dream, Old Movies, Memory, Dramatic B&W and Miniature effect movie. Now, we should also mention that the autofocus performance during recording is excellent on the 800D thanks to its Dual Pixel AF system. The camera had no problems continuously refocusing for every change in the scene and we've also noticed a little hunting in low light. Audio recording quality with the included stereo microphones was also decent and there also the option to add an external one to add a more professional feel to your videos.
Lastly, there's the new electronic 5-axis stabilization. By itself, it works pretty well to stabilize the footage, but it's even more effective when you combine it with the image stabilization already built into your lens. The only thing missing on the 800D to make it a perfect package for videographers on a budget is the lack of a headphone jack, but such compromise is to be expected on a DSLR at such a competitive price point. Other than that, we are talking about one seriously capable camera when it comes to video recording and we are sure that anyone who decides to invest in it should be very pleased with the results and the overall feature set.
Image quality
The Canon 800D has held very well so far through our usual review procedure, but can the same thing be said about its imaging capabilities? Well, it certainly can. Since we are talking about the same sensor that's also built inside one of Canon's most capable APS-C DSLRs, the 80D, it's no surprise that the image quality is very satisfactory indeed. Images coming out of the 800D exhibit good sharpness, neutral colors, very respectable dynamic range and low noise up to the ISO of 1600.
You can easily get usable images at 3200 and 6400 if you decide to shoot in RAW, but the JPEGs shot at those ISOs are also pretty good with very mature processing and well-optimized noise reduction algorithms. This certainly puts the 800D right up there with the best that the competition has to offer. It may not surpass some of those cameras, but it does have enough power to its side to hold its own and considering all of its other positive aspects it's hard to ask anything more from it.
If you're a JPEG shooter and not interested in playing around with the look of your photos in some image editing tool, you will be happy to know that there are 8 different Picture Styles given at your disposal that will help give them a different feel (Standard, Portrait, Landscape' Fine Detail, Neutral, Faithful and Monochrome). You also get the option to create 3 different User Defined profiles.
Conclusion
So, what are our final impressions of the new Canon 800D? Well, we can safely say that the company has done a fine job in creating one of the most advanced entry-level DSLR currently available on the market. It's certainly not without its flaws; we do wish that the viewfinder was more accurate or that the 4K recording finally makes its way onto more budget-friendly DSLRs, but those are very little flaws in the sea of positive things that could be said about the 800D.
You'll get a very capable sensor that will provide you with good image quality in all conditions, a camera body that is very easy and very comfortable to hold, respectable performance for both the focusing and the general operation, extensive video mode with a lot of manual options and wireless communication capabilities that some manufacturers could be envious about.
Add to all of that the fact that Canon has one of the best lens lineups catered to photographers on a budget and you can certainly see why the 800D is a well-rounded package worthy of your attention and hard-earned money. You really can't go wrong with it and that can't be said about a lot of other cameras on the market, no matter their price and class.
SaveSave
The following two tabs change content below.
An amateur photographer, songwriter, musician, computer and technology geek and an occasional comedian, I'm a little bit of everything. I always aim to pursue things I'm passonate about and try to look on the positive side of things whenever I can. My mission is to wrap my articles in that aura of positive energy and keep a healthy balance between being serious about my work and spicing things up with a little fun now and than. After all, life's a game and there's always a different way to play it.