Canon 700D / Rebel T5i Review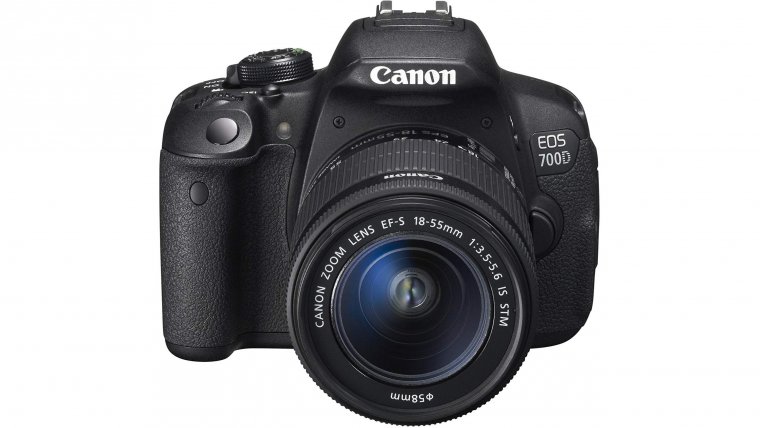 Canon 700D / Rebel T5i Review
www.sleeklens.com
The fact that DSLRs aren't enjoying as much popularity as they were half a decade ago is well known to almost everyone following the photographic industry and its everchanging trends and that certainly won't change anytime soon because of how good the today's mirrorless cameras are and because of everything they promise to bring in the future. Even the modern smartphones have managed to take a piece of a market from best DSLR camera manufacturers because of their increasingly better image quality and features and also the unparalleled portability and convenience (the best camera is the one you carry in your pocket, isn't it?). Still, all of this doesn't mean that there still aren't a lot of people in the world who put their trust in their DSLRs, are used to them and like how they look and feel (this holds true both for professionals and more casual photographers).
They are still great cameras for learning about photography, using long and bulky telephoto lenses and also for getting the best battery life around. A lot of users also appreciate the fact that there is a huge number of available first and third-party lenses (especially on the second-hand market) and it isn't always necessary to spend a lot of money to get a decent setup (which is something that can't be told for many mirrorless camera systems). For a lot of these reasons, the camera we are looking at this time can still be considered a very compelling product, despite being 5 years old and bearing an entry-level etiquette. We are of course talking about one of Canon's most popular consumer cameras, the EOS 700D (or Rebel T5i, as they call it in other markets). It certainly isn't the most exciting device anymore and may not bring anything particularly original to the table that isn't already included on most of today's cameras, but it still has very decent specifications of its own and presents itself as quite a well-rounded package for less demanding users looking for good image quality and good handling on the cheap.
You'll get a large APS-C sensor area though it is 62 percent smaller. … Despite having a smaller sensor, the T5i offers a higher resolution of 17.9 megapixels, compared with 12.7 MP of the Canon 5D and Canon's SX60 which provides 14.2 megapixels. It has decent battery life, slim and easy to handle body, an articulating touchscreen, a true optical viewfinder, a microphone jack, stereo microphones, full HD video recording, support for wireless Eye-Fi SD cards and a lot more. Most importantly, you will be getting a true Canon experience with their intuitive user interface and reliable operation (something that is still the main reason why many photographers aren't switching systems, despite the fact that a lot of manufactures are doing better than Canon in terms of some of the new technologies and features). All in all, despite its age, the 700D certainly isn't ready to become ancient history and still has some life left inside its familiarly designed body and for that reason, we have decided to tackle this review and see how well it holds up to all of today's fierce competition.
The Canon EOS 700D brings an already well known 18-megapixel APS-C sensor that has been featured both in Canon's cameras before and after its time and is still a decent performer for today's standards (especially when compared to a lot of popular products with smaller sensors).
Pros
Articulating Screen
FullHD Max Video Resolution
Touch Screen
Optical Built-in Viewfinder
Face Detection Focusing
Light Body
Selfie Friendly LCD Screen
Cons
No Wireless Connection
No Image Stabilization
Low Battery Life
No Environmental Sealing
Poor Low Light Performance
No AF Micro Adjustment
Click to read the full Review
The megapixel count is high enough to give you plenty of details in your photos, while the dynamic range and the noise performance will allow you to get quite satisfactory photos in low light and in the case of shooting high contrast scenes where there's a big disbalance of bright and dark areas. So, while the 700D's image quality may be far from being class leading, most of the benefits of having a large APS-C sensor remain unchanged and it will still be able to produce far superior results than any of the modern smartphones (which is certainly one of the types of devices this camera tries to battle with considering its more catered to casual photographers). The said sensor isn't entirely the same unit found on some of Canon's DSLRs that came before the 700D as it does bring one new feature and that is the Hybrid CMOS AF technology.

While we surely can't expect for it to bring the performance improvements to live view focusing you would expect out of Canon's cameras with Dual Pixel AF systems, it should still bring at least a more consistent experience when compared to the traditional contrast detect focusing still found on many DSLRs even to this date. To control your exposure Canon have also included the support for RAW files, a shutter speed range of 30 to 1/4000 sec, maximum available ISO value of 25600, exposure compensation adjustments going from -5 to +5EV and also six white balance presents including the one slot for a custom one. Considering the fact that the 700D is an entry-level camera by design, some sacrifices had to be made for it to retain its highly competitive price point and its performance is one of them (not to say that it's a slow camera by any means).

The included Digic 5 processor should do a fine job of keeping the camera's performance on a decent level when it comes to power On/Off times and saving photos and videos to the memory card, but the 9-point phase detect AF system certainly won't be as versatile as those found on today's beginner-friendly mirrorless cameras and DSLRs. By that, we mean that you shouldn't expect to be shooting any kind of sports or action with the 700D (unless you do have some experience with photography and you know how to make the most out of your equipment) or working in low light without having to resort to focusing manually to get the best results. Still, despite all of these facts, the 700D will give you very fast focusing performance in decently lit conditions and you will be able to reap the benefits of having a DSLR if you're doing any kind of normal photography that doesn't require you to follow your subjects around. A burst rate of 5 fps is an added bonus here and its usability will only be determined by how long it can be sustained before any noticeable drop in speed or how long it takes before all of the photos are written on the memory card (we'll test this out a little later).

The next thing everyone should take into account when deciding if this camera is right for them is its design, build quality, controls and the available ports and while we will examine all of those items in a lot more detail within the next section of the review, let us give you at least a basic insight about everything the 700D has to offer in this regard. It's certainly one of the most portable and lightest DSLRs on the market as it manages to beat even some mirrorless cameras out there with its small dimensions (like for example, the Panasonic GH5 or the Fujifilm X-H1). Despite that, it also brings excellent ergonomics thanks to its rounded shape and protruding grip and a very decent endurance of 440 shots thanks to its Lithium-Ion LP-E8 battery pack (again, beating the aforementioned mirrorless cameras while weighing less at the same time).

Another important part of this camera's design has to be its optical viewfinder and the fully articulated Clear View II TFT LCD touchscreen; both are very usable in their own right, with the screen itself being very flexible and sharp thanks to its resolution of 1,040,000 dots and the viewfinder being decently large and accurate with a magnification of 0.85x and a 95% accuracy (it's still nowhere near as good and big as any of the viewfinders found on modern advanced DSLRs and mirrorless cameras, but still quite enjoyable to use if you're not one of the more demanding users or you don't necessarily plan to use manual focus without using the live view mode on your camera (considering it's much easier to nail focus that way thanks to the magnify feature). On top of all of that the 700D also includes features like built-in Xenon flash unit, a traditional hotshoe mount, a 3.5mm microphone jack (together with built-in stereo microphones), mini HDMI and USB ports, a single SD/SDHC/SDXC compatible slot, an orientation sensor and the compatibility with the optional GPE2 GPS unit.

Sadly, things like the headphone jack, Wi-Fi (which can be rectified to some degree with the use of an Eye-Fi SD Card), Bluetooth and NFC are missing on the 700D and these are the products of its time and position on the market. It is up to you to decide how much you need all the Wi-Fi-related functions on your camera and if you could live without them and just rely on your smartphone for quick posts to social media and any of the available cloud services. Still, in our opinion, the lack Wi-Fi functionality doesn't hurt the 700D too much as it certainly has enough features on it specs list to satisfy the needs of many different kinds of photographers and videographers, as you are about to see immediately after reaching the next section of the review.
Body and handling
If you're looking for an easy to use DSLR that will give you both the manual control of a dedicated camera and all the helpful Auto and Scene modes of a point and shoot, all wrapped up in a very comfortable to hold the body, then you should feel right at home with the Canon 700D. While the lack of some buttons and dials, weather sealing and magnesium alloy construction is something that would bother almost any professional user out there, it is perfectly fine that they are missing on a camera of this type.
The 700D (and all the other similar cameras) were primarily made fulfill two goals: providing an intuitive and a beginner-friendly friendly platform for those people in the process of learning about photography and wanting to make an upgrade from their smartphones and compact camera and also, giving everyone out there the opportunity to feel the joy of having a device with interchangeable lenses that is also comfortable to handle and as portable as it can be (you could argue that there are many mirrorless cameras out there that are more portable than the 700D, but they often tend to sacrifice ergonomics, battery life and durability to reach their narrower dimensions and thus they certainly weren't made for everyone).
This is one of those cameras that manages to bring a fine balance between a very simplistic control scheme, lightweight and decently durable body and flexible options when it comes to composition and viewing experience (thanks to the combination of an optical viewfinder and a fully articulating and very responsive touchscreen). The aforementioned touch screen is a center piece of 700D's usability and will help those that are used to using their smartphones for photography to make a smoother transition to their brand new DSLRs and Canon have certainly made a very smart decision to include this kind of technology on one of their most mainstream series of cameras (even back in 2012 when the 650D released).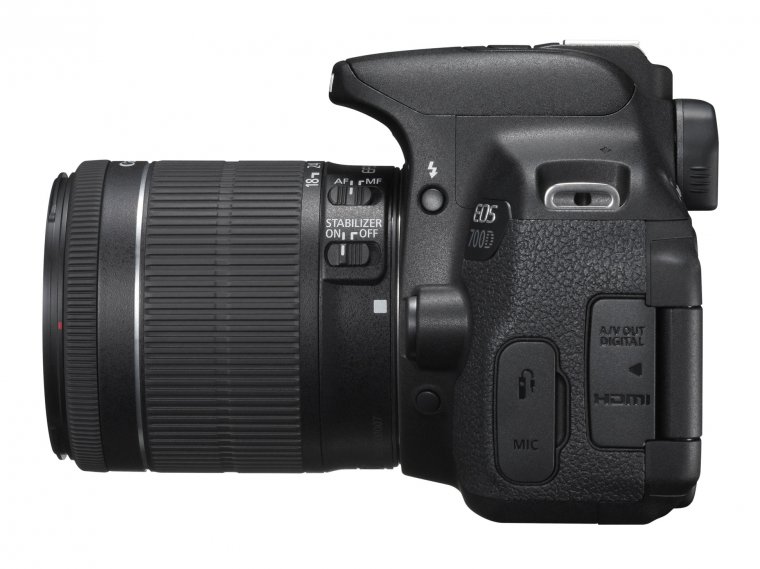 Now, let us see what exactly the Canon 700D's exterior holds and we'll fill you in about all of its aspects as we go along. Starting with the front you'll find the Flash button, the Red-eye reduction/Self-timer lamp, the Remote control sensor and also the obligatory lens release button. All the available ports, including the remote control terminal, the headphone jack and the USB and HDMI ports are located on the left of the camera and protected by appropriate rubber flaps, while the right side is reserved for the SD card slot and the DC cord hole. As is the case with most DSLRs out there, the tripod socket and the battery compartment are both located at the bottom of the device. The top of the 700D holds the stereo microphones, a hotshoe mount (it will allow you to connect something like an external flash or a shotgun microphone), the main mode dial (you will be using it to determine how much control you want to give to your camera over your exposure and colors), the ISO speed button (used to adjust the sensor's sensitivity to light), the Power switch, the main dial (it will allow you to control your shutter speed) and lastly, the shutter button.
In the end, let us check the back of the 700D. Besides finding the LCD monitor and the viewfinder (together with its dioptric adjustment knob), you will also be able to make use of the included Menu and Info buttons, the Live View shooting/Movie shooting button, the Magnify+/AF point selection and the Magnify-/AE lock/FE lock/Index buttons (the first will help you to magnify your view while focusing or looking at any of your photos and the second one will allow you to reduce the amount of zoom or to lock your exposure), a little speaker grill, the Aperture/Exposure compensation and the Quick Control buttons (this one is used to bring up a separate interface consisting out of all the most frequently used settings and functions), the four-way navigation controller and the SET button (the controller itself also has functions mapped to each of its directions: Drive/Timer, White Balance, AF Operation and Picture Style), an access lamp that will worn you when the camera is writing something on the SD card and in the end, the Playback (for accessing your photos and videos) and the Erase buttons.
Well, now you can easily see by yourself what we've meant when saying that we like the 700D's control scheme. It is that tried and true layout that Canon has been including on all of their DSLRs (with slight variations, of course) since the beginning of the digital age and one of the biggest reasons why so many users still put a lot of trust in their products. It is that familiarity, predictability and a great user experience that makes a Canon DSLR and that also holds true for the one this article is about. The 700D does not offer nearly as many customization options as any of the mirrorless cameras or even modern DSLRs, but it makes up for it with a straightforward and easy to navigate user interface and menu systems that are nicely organized, color-coded and full of helpful tooltips that will allow you to learn about all the included functions and everything they do without having to reach for the manual every time.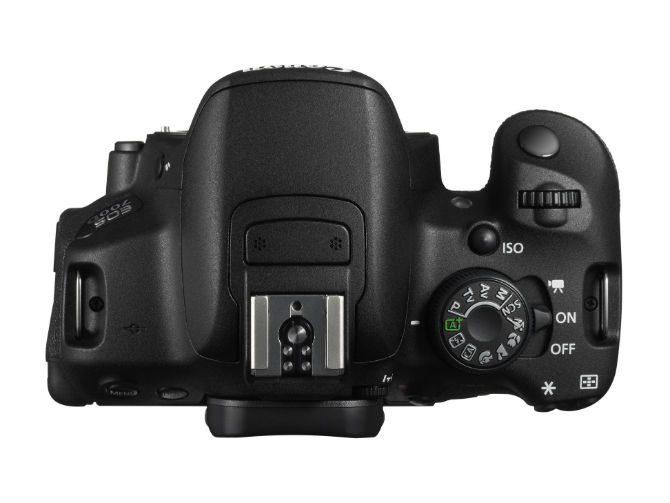 The interface itself is also perfectly tied in with the included touchscreen and thus many of you out there that have never used a DSLR before won't have to feel threatened by all the buttons and dials and will get the chance to keep up with all of camera's features at your own pace and decide if you'd like to stick with touch input as your preferred method of controlling the camera or decide that it's the right time to make the most of all the physical controls. As is the case with almost any DSLR out there, the 700D also includes a plethora of different shooting modes to choose from like the Scene Intelligent Auto (the camera will automatically adjust all of your settings and also initiate the Continuous AF option if it detects any moving subjects), Creative Auto (it will allow you to control your depth of field, drive modes and decide if you wish for the flash to be used), Portrait (this mode will help you to make your subject stand out from the background more easily and give you that nice blur effect if you pair your camera with a telephoto lens), Special Scene Mode (it contains the Night Portrait, Handheld Night Scene and the HDR Backlight Control modes) and much more. We also like the way the Quick Control interface was implemented as it offers a different set of functions depending on your active shooting mode and thus, you will always know what kind of adjustments will be available at your disposal (shooting in the Manual mode will give you the widest selection). Now, the 700D also doesn't disappoint when it comes to advanced shooting options, as it will give you enough of them to play with, so you could learn everything there is about controlling the exposure, making image adjustments, changing your white balance and so on.
You'll be able to pick your metering mode (allowing you to get accurate exposure in different lighting conditions), enable the High ISO Speed and Long Exposure noise reduction (which will give you cleaner if you decide to shoot in low light, but you still didn't get the chance to play with RAW files and found about the correct way to edit them), turn on the Lens Peripheral Illumination/Chromatic Aberration Correction feature (it will improve the image quality of your Canon lenses by way of correcting some of their possible optical flaws), control your sound recording levels while capturing a video clip (and also enable the Wind filter/Attenuator feature), adjust the behavior of the integrated pop-up flash unit or an external one (changing the flash sync speed, metering, exposure compensation and so on) and everything else you would expect to find on a modern DSLR.
The only thing you won't find hidden in any menus is the Wi-Fi option, as this is something that still wasn't the standard on Canon's cameras back in the day and considering the fact that the 700D was always targeted at the less tech-savvy audience, it's no wonder that such feature is missing. If all you're interested in is to be able to transfer your images wirelessly to another device, then you're in luck as this camera does support the Eye-Fi standard of Wi-Fi-enabled SD cards. Otherwise, the Canon 700D may not be the right camera for you and you should be on the lookout for one of the company's more recent offerings. Other than bearing that little flaw, the 700D acts as a great showcase of good design and a well-rounded feature set and there's not much more you could ask from a very affordable entry-level DSLR released back in 2013.
Autofocus and performance
As we've already mentioned, the Canon 700D comes equipped with quite a basic 9-point phase detect AF system that won't be exciting to any kind of advanced users but will be perfectly usable to more casual photographers. Taking photos of still subjects isn't an issue with this camera (even when it comes to using its live view mode, considering the fact that it offers slower focusing speeds than what's the case with shooting through the viewfinder) since its central focus point is very accurate and will allow you to get perfectly focused photos in all but the dimmest conditions (you will have to resort to focusing manually for those cases).
Using the rest of the focus points and doing any kind of photography that involves moving subjects will be a challenge for those that aren't used to shooting with DSLRs and just want for the camera to do everything for them automatically. You will be able to shoot sports and similar events on some occasions, but it will require you, as a photographer, to know which focus mode you should be in and to keep your expectations on a reasonable level (in regard to the total number of correctly focused photos that you'll be able to get).
Canon has also made slight improvements to the focusing speed and accuracy of the contrast detect system used in the live view mode (meaning you will notice the improved performance when comparing the 700D to some of the company's older models or those DSLRs that only rely on more traditional focusing systems), but honestly, it's still not comparable to Canon's newer cameras that include their Dual Pixel technology (which relies on phase detect focus points). Thus, if you were planning to take photos with your new DSLR only by relying on the LCD screen, then the 700D probably isn't the right camera for you, but in all honesty, you shouldn't be buying a product of this type without trying to get used to looking through the viewfinder (something that is the preferred method of shooting with all DSLRs, despite all the advancements made to their respective live view modes).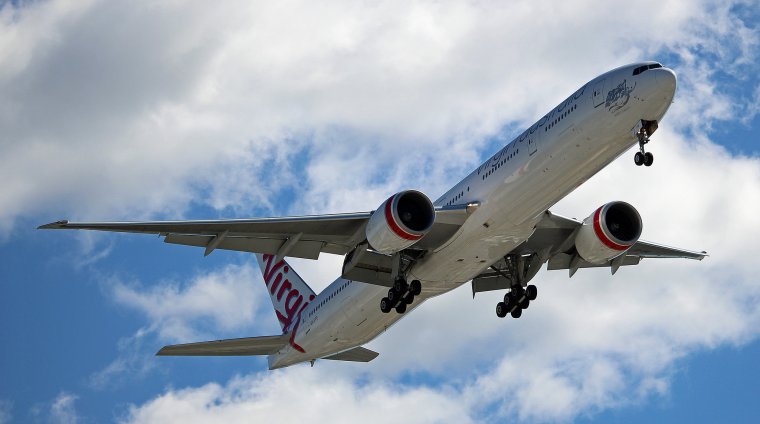 So, let us see if an entry-level camera like this one manages to bring all the important focusing modes and features that would allow you to improve your knowledge about focusing in general and give you a clearer picture on how those things work on standalone camera. The 700D feels like any other Canon DSLR in this regard (at least when it comes to its basic functions) meaning that it's main focusing modes consist out four options: One Shot (works like any other traditional focusing method, you press the shutter button halfway, the camera focuses and retains it until you let go), AI Servo (a mode that's best to be used when there's a lot of things happening in your scene, since it will enable you to constantly refocus just by keeping the shutter button pressed halfway), AI Focus (it's a combination of the previous two modes that will automatically switch between the One Shot and the AI Servo depending on what's going on in front of your lens)and Manual Focus (MF).
The 700D will also give you the ability to pick any of your desired focus points with the press of the AF point selection button (aside from allowing the camera to pick them automatically), to perform manual focus more easily with the help of the Magnify feature (you'll be able to zoom in at the part of your frame containing your subject of choice) and lastly, to choose your preferred AF method when shooting in live view (Face+Tracking, FlexiZone-Multi, FlexiZone-Single or the Quick mode).
Now, let's get to some numbers and benchmarks and really see how the Canon 700D performs in a number of different operations. It took it 0.7 seconds to power on and capture a photo, 0.3 seconds to view it its gallery, around 0.2 seconds to focus after the shutter button has been pressed (this time falls to just under a second in live view mode) and 0.3 seconds between each shot (this was true for both the RAW and the JPEG photos). All of this numbers mean that the 700D performs as well as an entry-level DSLR should, but the burst rate sustainability of around 15 shots for JPEG and 6 for RAW files also mean that you will never mistake it for a camera that will be able to retain its good performance for more than a couple photos at a time.
Considering the fact on most occasions very few people will ever decide to use the burst mode, it's of no surprise that something like that isn't one of this camera's stronger suits and only the more serious photographers out there would see it as a potential problem.
Video features and quality
The Canon EOS 700D is certainly an interesting camera to get if you're into recording videos (more interesting than you would expect from a 5-year-old model). No, it doesn't offer things like 4K or 1080p 60 fps shooting modes, Dual Pixel AF and focusing peaking or even more advanced features like Log profiles, in-body image stabilization and Zebra patterns (although, in all honesty, a lot of them still aren't included on a big number of modern Canon cameras) and instead offers a basic, but very useful feature set that revolves around good video quality and giving you the means to achieve it without too much hassle. First, you'll get the option to of either automatic or manual exposure control over your footage (just like you'll be able to focus using Continuous AF, Touch AF or manual focus).
The 700D is one of Canon's first DSLRs to offer real autofocus during video recording (most of them will allow you to initiate focus just once before you start to shoot, which is of course far from an ideal solution). While it's speed in reality is average at best when compared to the capabilities of more modern cameras (or even your smartphones) the usefulness of having such a feature far outweighs its performance as not everyone will be skilled enough to properly focus manually and will often get worse results than leaving it to the camera to do it for you. The addition of both the stereo microphones and a dedicated 3.5mm jack (together with manual microphone level adjustments) will make anyone that cares about their audio quality very happy, just as the inclusion of the ability to control the look of your videos inside the camera (with things like Picture Styles, White balance correction, Auto Lighting Optimizer, Peripheral illumination correction and Highlight tone priority) will please those that want to have the option to get the most out of the captured footage without having to transfer it to a computer and dwell into the time consuming job of working within one of video editing programs.
In the end, this camera also offers an interesting feature called Video Snapshot and it will give you the opportunity to record short video clips and combine them into one movie (allowing you to capture all the small, but memorable moments without having to capture long videos and edit them afterwards).
Image quality
If there's one reason why a lot of casual people where and still are buying DSLRs (and mirrorless cameras too, for that matter) it is to get the image quality that no compact cameras or smartphone could ever reach (at least when it comes to shooting in more challenging conditions).
Despite being an older model, all those reasons to buy a DSLR still hold true in case of the 700D. Its big 18-megapixel APS-C sensor is perfectly capable of producing very sharp and detailed photos in good light (if you pair it with a right lens, of course), give you the real depth of field (you won't have to rely on artificial software background blur found on modern smartphones) and also a very good low light performance (very usable results up to an ISO of 3200). Its dynamic range is on the average side of things but using all HDR features or playing around with RAW files will allow you to get pleasing photos even when the light is not on your side).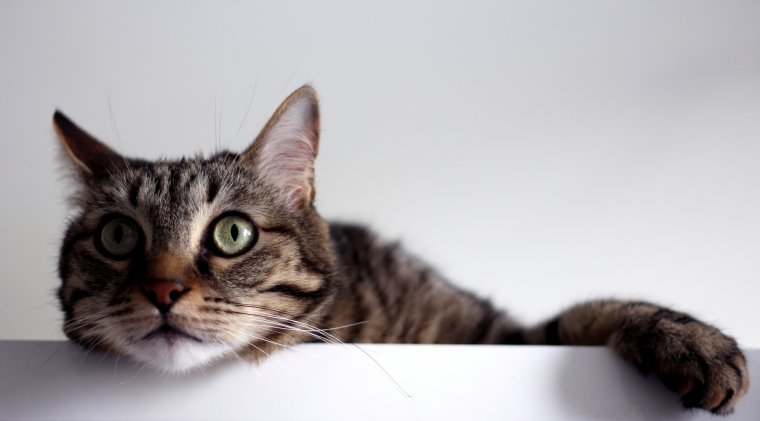 Photo courtesy of Joanna Mutton
Those of you still in the process of learning about the all the bells and whistles the camera has (and not ready to make use of the RAW support) should do just fine when it comes to giving their photos a completely different look thanks to the inclusion of Picture Styles (Auto, Standard, Portrait, Landscape, Neutral, Faithful, Monochrome and three User Definable modes) and a plethora of different Creative Filters (Grainy B/W and Soft focus, as well as the Fish-eye, Art Bold, Water painting, Toy camera and the Miniature effects).
So, in a nutshell, your overall image quality will mostly be depended on the type of a lens you decide to mount on your camera and you'll be happy to know that you'll have a lot of Canon's native lenses to choose from since almost all of them (even the cheapest ones) usually offer at least decent optical characteristics and won't hold you back in terms of getting sharp images.
Conclusion
In summary, the Canon 700D certainly manages to stand the test of time for a lot of its features and capabilities, most importantly its image quality, ease of use, design and handling, performance and video quality. It is held back a little by the lack of Wi-Fi, 4K recording, a more capable AF system (at least when it comes to shooting moving subjects) and an unimpressive burst rate (not the speed itself, but the capability to sustain it), but all of these cons are reflected within its price point and it does help it to stay highly competitive even amongst the more recent offerings (the choice of lenses that can be adapted to it also plays a big part in its desirability as an entry-level DSLR).
The bottom line is, if you're on a tight budget, but still determined to get something a lot more capable then your point-and-shoot or a smartphone, you surely won't be disappointed with the camera the likes of the Canon 700D, as it will offer you pretty much everything a dedicated camera can (with a few exceptions) and give you the opportunity to get more pleasing photos and learn about the craft of photography at the same time.
The following two tabs change content below.
An amateur photographer, songwriter, musician, computer and technology geek and an occasional comedian, I'm a little bit of everything. I always aim to pursue things I'm passonate about and try to look on the positive side of things whenever I can. My mission is to wrap my articles in that aura of positive energy and keep a healthy balance between being serious about my work and spicing things up with a little fun now and than. After all, life's a game and there's always a different way to play it.