Canon Powershot SX60 HS: A Detailed Review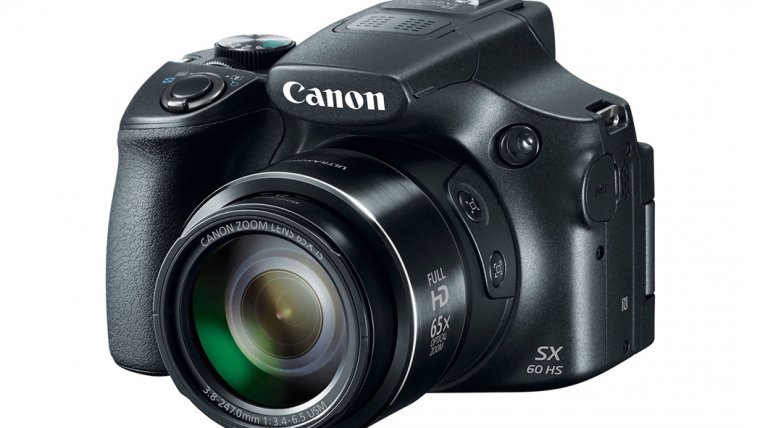 Canon Powershot SX60 HS: A Detailed Review
www.sleeklens.com
Everyone who ever owned a digital camera and took any pleasure in taking photographs must have wished to have a long zoom range in their camera at least once. Aside from being very useful, it's always fun to be able to go very wide and take a lot of your frame in one picture or zoom in into objects you can't even see with your naked eye in just a few seconds without even moving an inch.
Many people start with those cameras and then move away to a DSLR or a mirrorless camera like the Canon EOS M3 craving for a better image quality, but almost all of them will never be able to replace that zoom range no matter the lens they choose. Yes, it's not impossible to replicate it, but it can end up being crazy expensive and totally robbing you of any portability you had before.
So with that in mind, let's take a look at Canon's latest offering from their superzoom range of cameras, the PowerShot SX60 HS. Can you finally get Canon's best superzoom camera with an unmatched zoom range that also sports a decent image quality or is it still too big of a trade-off to make for some. We will find out all of that soon enough.
Now let's be clear here, this may be Canon's top of the range superzoom camera, but it doesn't necessarily mean you'll get flagship specs here. The SX60 is a camera built around that powerful zoom lens, meaning that every part of it works for that lens and nothing else stands out that much. It still doesn't mean that it's an underpowered product, but we have to keep our expectations in check before we can appreciate what this camera has to offer.
Pros
Built-in WiFi
NFC Connectivity
Image Stabilization
Articulating Screen
External Flash Shoe
1080p Video Resolution
Electronic Built-in Viewfinder
RAW Shooting
Face Detection Focusing
Cons
No Touchscreen
Heavy body
No weather sealing
No panorama shooting mode
Click to read the full Review
With that said, let's see what the SX60 is all about. It's clear we should start by mentioning the lens, which is its primary selling factor. It's 21-1365mm equivalent lens with a maximum aperture that ranges from f3.4 to f6.5. There is no denying that this zoom range is incredible and it's not just because of the extraordinary telephoto focal length, but also the widest focal length of 21mm which is very useful to have.
One immediate trade-off that couldn't be avoided is the relatively narrow maximum aperture, especially at the longest end of the zoom range. We can't put any blame on Canon here; it's just the nature of the beast with this kind of
lenses
. At least it comes with image stabilization which makes the problem more tolerable and increases the usability of the lens in those less than ideal conditions. The sensor that lives underneath the lens is a 16 megapixel ½.3 inch one, a pretty standard affair on this kind of cameras.
We do applaud Canon for sticking with 16-megapixel sensor without the additional increase of resolution which would surely hurt the image quality more than it would improve on it. It's certainly a sweet spot for a sensor of this size. When it comes to image quality, it's always good to see RAW support included, so we are curious to see how much juice you can pull out of this camera past its JPEGs.
When it comes to shooting photos and videos, you'll be doing that on a 3 inch fully articulated LCD with a resolution of 922,000 dots or an
electronic viewfinder
of the same resolution and the coverage of 100%. Neither of those is particularly impressive when it comes to their quality, but they will be perfectly fine for all users but the most demanding ones. For all other features that have to do with the body of the SX60 check out the category below this one.
The SX60 isn't a speed demon, but the burst rate of 6.4 fps doesn't sound too bad when you think about it, and we will touch on it in more detail later in this review. We will do the same with the 9-point AF system. For your video recording needs, you'll get a maximum recording resolution of 1080p at 60 fps. It's always a shame when 4K recording isn't included, and we can only blame Canon for putting too much effort in resisting current trends and leaving
4K video recording
out of the camera that should be more than capable of handling it. Connectivity options aren't bad with mini-HDMI port and Wi-Fi both being included. This concludes this section of this article, let's move on to dissecting the body of the SX60 a bit and shedding more light on its features and handling.
Body and handling
Something you can notice right away is how the SX60 resembles a DSLR when it comes to its overall design language. You could easily mistake it for one if you didn't know it was a point and shoot camera, even it's hefty weight of 650 grams supports that fact. That being said the SX60 isn't really that heavy or large when you take into account that monster zoom lens. It's an elegant package that is well balanced and well made with quality plastic being used to shape the body.
The control layout is your standard affair with everything being in a place you expect it to be on the camera of this type. Usability wise it's just like using an entry-level DSLR. First, you've got an electronic viewfinder on the top and articulated display in the middle. They are both of pretty decent quality, but not the best around. You'll get good enough image quality out of them but not the best resolution at 922,000 dots. We also wished that the screen itself was touch enabled like in many cameras these days, but we suspect this wasn't included to reduce the price of the camera. The button layout requires no additional explanation as there are no special function buttons included or any other dials for manual control, you get all the standard buttons for functions like ISO, flash control, focus, video recording and so on as well as the one dial that is used to switch between different shooting modes and one dial that is used to control your exposure like for example shutter speed.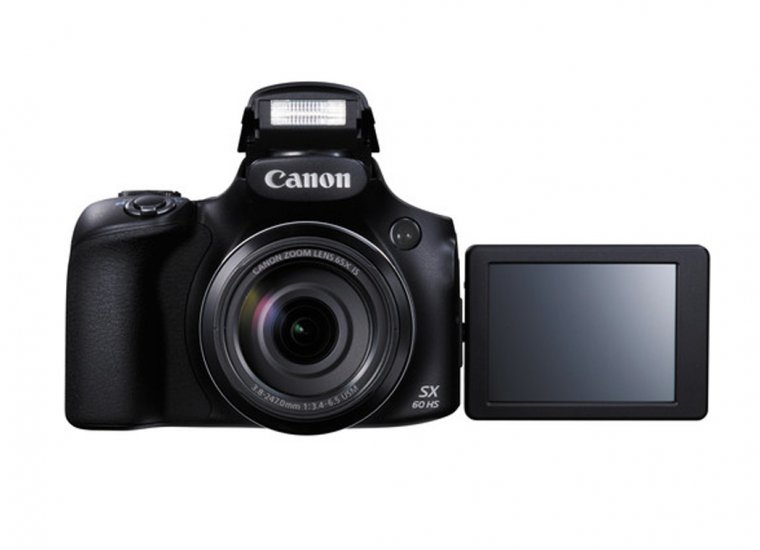 The shutter button is also the type you will usually find on a digital camera with a zoom lens meaning it incorporates a zoom lever that you can zoom in and out with and is always at your disposal and easy to use. You also get two additional buttons located on the barrel of the lens, one that is used for accessing Canon's Zoom Framing Assist function and another that activates some additional image stabilization trickery to help you steady your camera even better before taking the shot.
There is one interesting button on the main control joystick, and, that is the upper one that activates the camera's Wi-Fi interface that lets you easily transfer your photos to your smartphone or another device. Canon's CameraWindow application works very well and with no apparent lag being present, but unfortunately, it lacks one core function, and, that is the ability to manually set a focus point. Strange that Canon decided not to include this, but other than that the app itself is pretty usable. On the top of the camera, you will find the stereo microphones, the integrated flash unit and a hot-shoe mount for connecting an external flash or something like a shotgun microphone. On the software side of things, the user interface on the SX60 is the same as on the other Canon cameras, meaning it's quite intuitive and easy to navigate.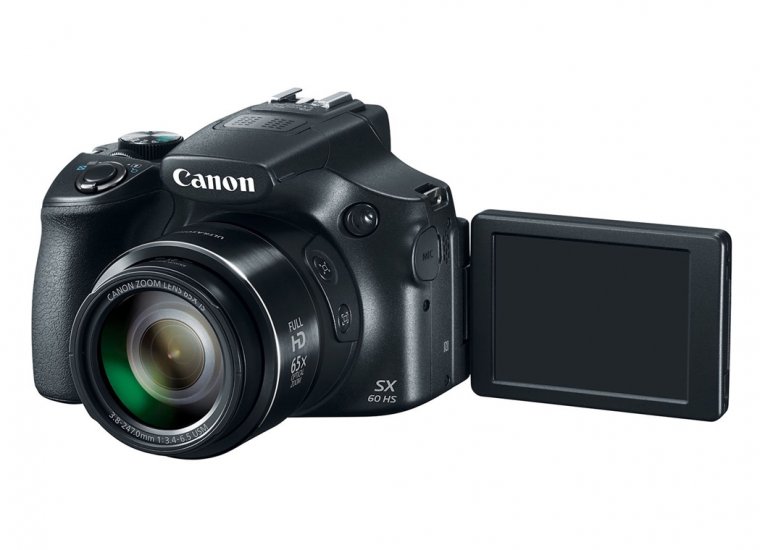 Those looking for a way to get their creative juices flowing will be happy to know that Canon included a Creative Shot mode which captures six images with a press of the shutter button and applies a different filter to each one of them. While it isn't the most reliable method of making a good photo, it could certainly give you some interesting and unconventional shots from time to time. If, however, you like to apply your filters by yourself you get a set of eight different filters to choose from. It's not a high number by any means and it won't rival the sheer amount of filters you get with services like Instagram, but it still a fun addition that you'll certainly play around with at least once or twice while you're bored or your shots require a little more pop to them.
Performance and autofocus
The SX60 is a pleasant camera to use when it comes to its performance. The user interface and the menu system are both a standard Canon affair. This means that you will almost certainly be able to find every setting you need pretty quickly even if you've never used a Canon camera before and because the performance is pretty good you won't have to wait very long for anything on your screen to show up. The SX60 also performs admirably when it comes to its shooting performance, meaning you can take a shot in about 1.8 seconds from the moment you turn the camera on.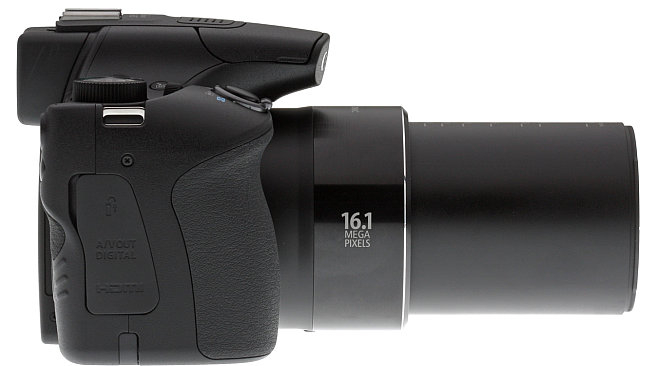 Focusing speed is great in good light and average in low light when you can certainly notice some focus hunting here and there. Autofocus speed is also affected by the focal length you are shooting at, meaning it can get slower when you reach telephoto range, but it's still pretty usable. Burst rate can range from being good to being below average, depending on how you plan to use it. When shooting only JPEGs it sits around 6.1 fps (3.4 fps with continuous AF turned on) which are nothing to complain about in our books, but the moment you decide to shoot JPEG+RAW, it slows down to almost unusable 1.3 fps. The good thing for both modes is that the buffer can keep up with continuous shooting for a long time, as long as you're using a fast SD card.
Finally, there's the battery life. It could also be considered one of the stronger points of this camera, sitting around 340 shots with normal usage and at a maximum of 450 shots when the Eco mode is turned on. It's still not the best performance we've seen for this class of cameras, but It's still rather good and above average.
Video quality and features
Other than having manual exposure control don't expect many advanced video features on the SX60. You get a different choice of frame rates and resolutions with the highest setting being 1080p at 60 fps. We wish that Canon included 4K recording, but considering how slow they are in adopting it even on their more expensive cameras and DSLRs it's not surprising they didn't include it here. At least they were serious enough to include an external microphone jack, something that every videographer will appreciate.
When talking different resolutions, you can also shoot some basic slow motion videos if you drop it down to 640×480 or 320×240 which will allow you to shoot at 120 or 240 fps. The video quality itself is good for this lens and sensor combination, it won't blow your mind, but it shouldn't leave you disappointed either. It's only in low light and higher ISOs where it suffers and is noticeably worse, but that's expected for a camera with such a small sensor and a slower lens that doesn't let a significant amount of light.
Image quality
The image quality of the SX60 is exactly what you would expect from a camera with this kind of sensor and lens combination. If you're looking for a simple and straightforward answer, it's just good. At lower ISO values you can see there's a healthy amount of detail, low noise, and average dynamic range. There are no surprises here considering the sensor size and megapixel count, but we can at least applaud Canon for getting the JPEG processing right and making the most out of that sensor.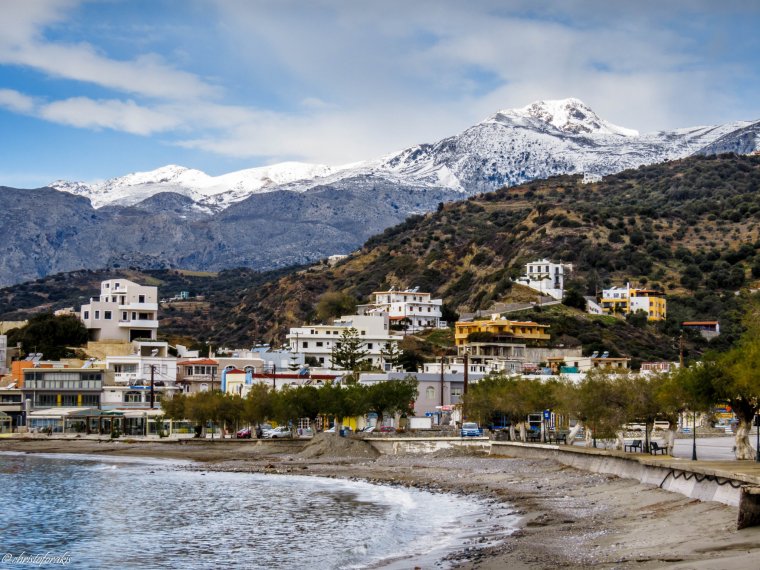 Photo courtesy of George Christ
Like on many other consumer-oriented cameras, there is some noticeable over-sharpening noticeable, but it's still not that aggressive that it degrades the overall image quality that much. Noise reduction is also not too heavy, and there aren't any noticeable artifacts. One thing to keep in mind is that the pictures get softer as you increase the focal length, a characteristic that can be attributed to almost every superzoom camera on the market, but the most expensive ones. The narrow maximum aperture can also present some challenges and result in noisier images in conditions without the abundance of light. That brings us to low light performance. We can only say that it's average at best.
Images at ISO values of 800 or above often end a little soft because the noise reduction algorithms work even harder in this case. That's one of the cons of a smaller sensor. Luckily you do get RAW support with the SX60, and you can end up with more beneficial results with skillfully applied sharpening and noise reduction in post-processing. All in all, we are satisfied with the results you can get out this camera, and we are sure that many people will accept the lower image quality in some conditions just to reap the benefits of that incredible zoom range.
Conclusion
Well, there's a lot to say about Canon SX60 HS. While it's not a perfect camera by any means, it's still a fascinating package that aims to replace your primary digital camera or even an entry-level DSLR. It's never easy to design a product that wants to be a jack of all trades and at the same time carry a compelling price point that won't empty your wallet in a flash. That's the best way to describe the SX60.
This is a camera that will be adored by people who want something flexible, with enough manual control, but aren't ready to invest their money in a DSLR and expensive lenses to achieve the same zoom range or they just don't need the improved image quality. So, it isn't a professional camera, but at the same time, it isn't purely aimed only at beginners like many other digital cameras with the same sensor size. Other than that monstrous lens you will also get a well designed and ergonomic body that is perfectly balanced to work with that lens, a decent amount of manual controls, good performance and intuitive user interface and good image quality at lower ISOs.
One area where this camera doesn't excel at is in low light, which is something that just couldn't be avoided with this kind of lens design without increasing its size and increasing the price of the camera itself. At least you'll get a very efficient image stabilization to combat that problem, so not everything is bad. To sum everything up, the Canon SX 60 HS is a good camera that will certainly interest many people and let them explore some aspects of photography that are hard to touch on without this type of camera or a lot of money for a similar setup using a DSLR or a mirrorless camera.
SaveSave
The following two tabs change content below.
An amateur photographer, songwriter, musician, computer and technology geek and an occasional comedian, I'm a little bit of everything. I always aim to pursue things I'm passonate about and try to look on the positive side of things whenever I can. My mission is to wrap my articles in that aura of positive energy and keep a healthy balance between being serious about my work and spicing things up with a little fun now and than. After all, life's a game and there's always a different way to play it.