Documenting the Passage of Years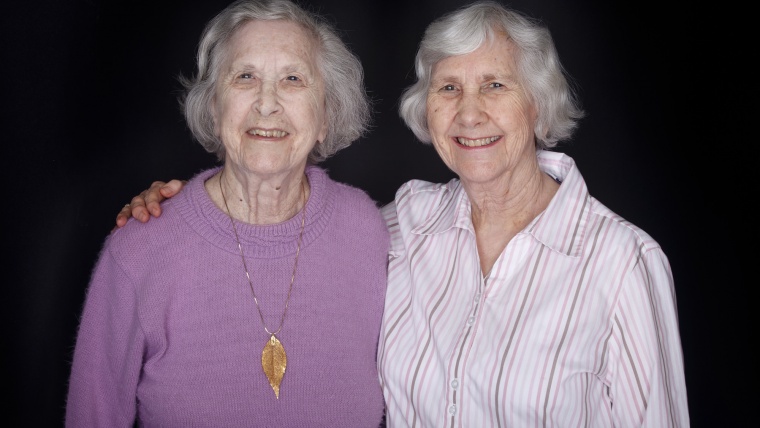 Documenting the Passage of Years
www.sleeklens.com
I sometimes think photography doesn't get the love it deserves for its capacity as a time machine. Especially now. We take bazillion pictures of our different adventures and life events along with some of the most mundane stuff imaginable, and it all gets shared online or on our phone's screen for a millisecond before disappearing, maybe forever.
Because I'm sentimental, I think that's wrong. I happen to like going through my old photos to remind me where I was at a certain moment on the calendar. That little bit of retrospection gives me a different perspective of how my life has progressed. Or not, as the case might be, which might be an inspiration for some self-improvement.
So a few years ago, I decided to take that idea to what I figured was its logical conclusion and started documenting an annual event with one of the photography's more formal genres, the portrait. Every Christmas, our extended family meets in a secular fashion at one person's home or another and I take advantage of the captive subjects for a round of quick photographs. I tape up a swath of gray seamless paper to whatever wall is available, set up a couple of portable flashes on light stands with softboxes and spend a half hour or so documenting everyone who happened to attend that party. It's all quite casual.
Of course, I'm not the first person to do this. One of the more famous applications of the portraits-over-the-years category is a long series done by Nicholas Nixon who documented the four Brown sisters—one of whom is his wife—starting in 1975 on a yearly basis. Each black and white portrait maintains superficial similarities to the ones before it—the women are shoulder-to-shoulder in the same order often with penetrating stares into the lens. Occasionally, half-smiles dare to appear but they are otherwise restrained in their expressions. But it's the passage of the years that writes the stories in these pictures—or at least we conjure up our own interpretations which turn it into a shared experience with the sisters who we will never meet but feel a connection with them nonetheless.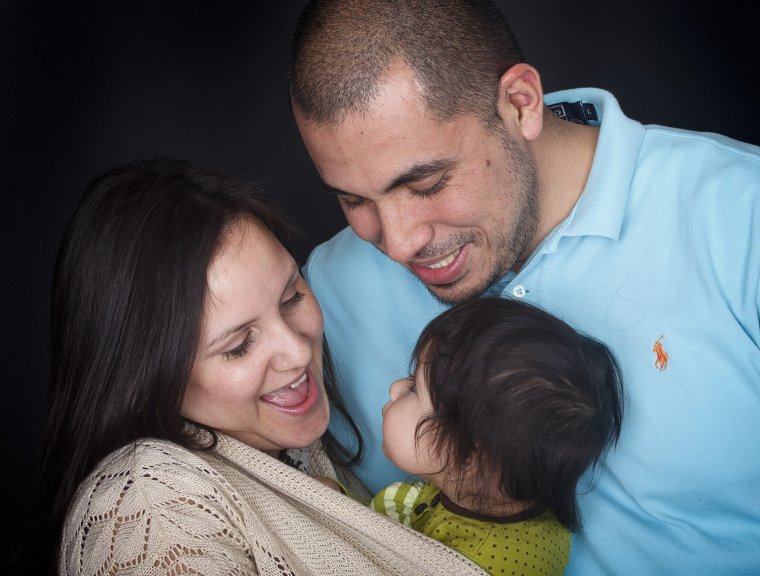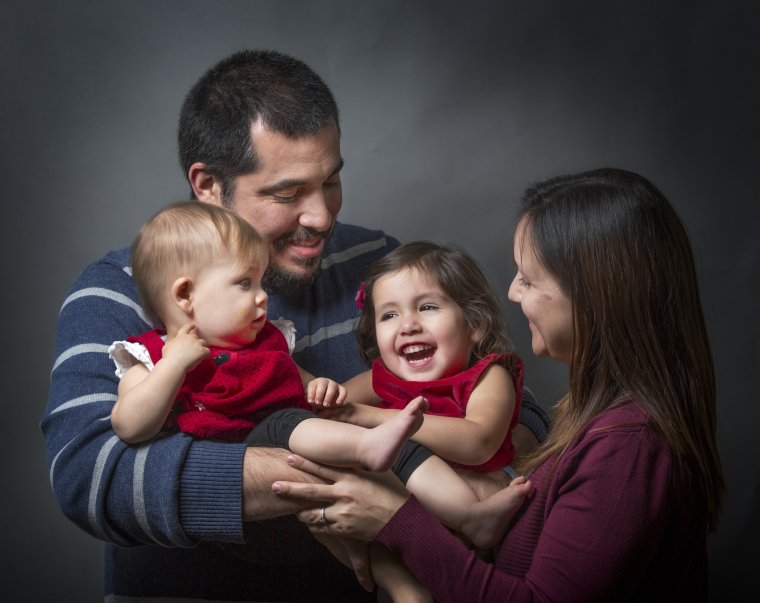 As for my Christmas project, I don't spend a lot of time on each person, couple or family. I learned a long time ago that people are more patient with you blasting off, say, five frames than being the artist and struggling to get just the right characterization. In fact, I've taken the attitude this isn't about personal expression—I do plenty of that with other kinds of photography—but about getting, ahem, a snapshot of that one day. It's the accumulation of those quickie shots that's more powerful than any one image.
For better or worse, there are the relationships that show up for a couple of years and then vanish. There's the childless couple that gradually blooms into a family of four. Children get older. Faces, hairstyles, clothes change.
The one constant is the technique. A simple background and more or less the same lighting tie the images together. I don't suggest poses unless someone asks. I let them choose how they want to be seen that day. Sometimes that means wonderful expressions and for others, the picture comes across as a yearbook mugshot. Doesn't matter. Just like a single frame in a video time lapse usually can't stand on its own, it's how the photographs over the years tell a story that's important. All that it takes is the dedication to the task where the payoff is years away.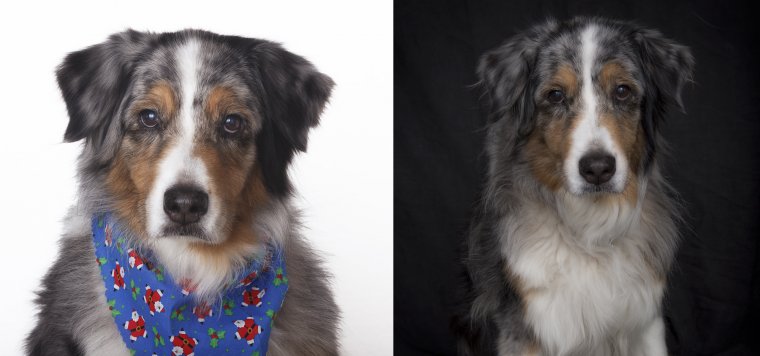 Variations on the Theme
Of course, there are many other ways to take this idea. Take a portrait of a child on his or her birthday or some other annual occasion. Or document your parents once a year. Do a self-portrait on a regular basis. And I'm not suggesting you be so arch as to make these portraits on the same day every year, just be consistent.
Or, perhaps you're a landscape photographer. Choose a scene and take a picture of it, say, once a month or so over the course of years.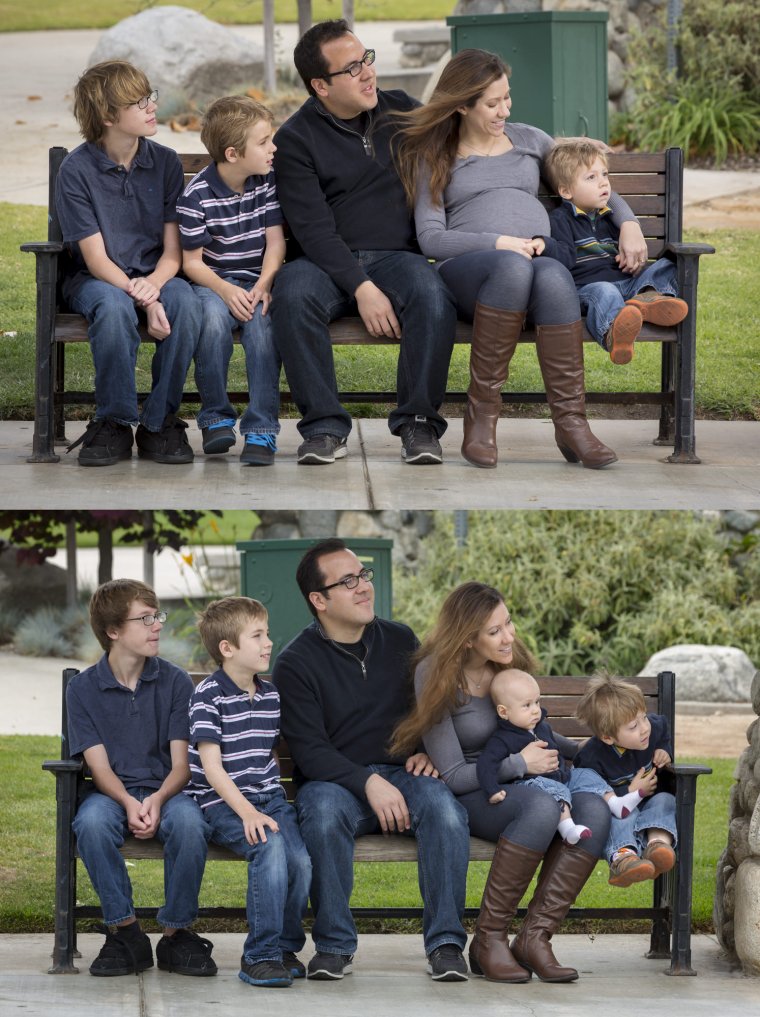 I've also taken the same idea for families under construction. That is, I photograph a couple or family while the mother is pregnant and then place them in exactly the same place after the baby is born. A simple, celebratory story is told with that one diptych.
As for the point, I made at the start about our snapshots disappearing by the billions, one of the more important aspects of this kind of documentary is making sure your images last long enough to make a statement. This means being diligent about keeping copies of everything you shoot. I maintain my archives on at least three different portable hard drives and the most important work—such as the Christmas series—also gets protected on a remote server, aka the Cloud. I use CrashPlan, but there are many to choose from.
As I said, this does take some perseverance plus cooperation from your subjects. I've promised them a book sometime in the future as a reward for their indulgence. The only trouble with a project like this is deciding on an end point. Not sure when that will be.
The following two tabs change content below.
Bill Sharpsteen has seen photography evolve from the primitive days of film (his first camera was a cheap metal box with plastic lens and a hundred light leaks) to digital sophistication (he now works with a Canon EOS-1D X). Not once has he ever uttered the words, "Real photographers only use film." He's a freelance photographer and writer; his first book project, Dirty Water: One Man's Fight to Clean Up One of the World's Most Polluted Bays, was released in 2010, and his next book, The Docks, about the Port of Los Angeles was published in 2011, both by University of California Press. His latest book, self-published in 2015, is a collection of essays and photographs about the sport of canyoneering called Canyon Deep: Descents Into Hidden Landscapes. His photographs have appeared in Washington Post, Entrepreneur, Emmy, Westways, Washington Journey, Outdoor Photographer and Photo Techniques. He has published more than 60 articles for such publications as Los Angeles Times Magazine, Los Angeles Magazine, Washington Post, TV Guide, Entrepreneur, Photo Techniques, Outdoor Photographer and Alaska Airlines Magazine. The topics covered a wide range of interests including business, television, the environment, personalities, travel and entertainment. Sharpsteen also worked during the early 1980s as an award-winning documentary director covering Alaska Natives and the social issues facing them. Those shows garnered such awards as a silver medal in the 1983 International Film & TV Festival of New York, the Lincoln Unity Award and Alaska Press Club awards for best documentary and best video photography. He lives in the Los Angeles area.