How to Perform a Face Swap Using Photoshop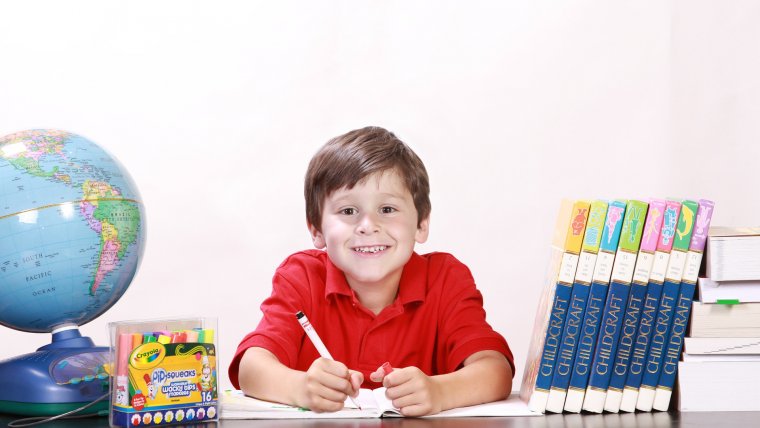 How to Perform a Face Swap Using Photoshop
www.sleeklens.com
Hi all, I hope you are all having a great time learning the in's and outs of the great program that is Photoshop, and as much as we have learned we have much much more to discover.
With this tutorial, we are going to have a look at how to swap faces in Photoshop. There are many reasons that you would like to do this but the one that we are going to discuss is when you have multiple photos from a Photoshoot and after you look you see that one of the faces has a great smile and another is frowning or looking the wrong way, or someone is blinking. Essentially you like a face on one photo you'd like to add to another image you prefer.
Ok, so let's take a look at our two images from today.
The first image is what my 'hypothetical' client likes; this is their chosen Photo they want to go with as they like the set up with the books, the globe and your boy's favorite set of coloring in pens.
Unfortunately for the 'Client', they would have preferred a bigger smile, and we only have one image like this, but lucky for use we anticipated that and took a few extra headshots just in case.
Face Swap Using Photoshop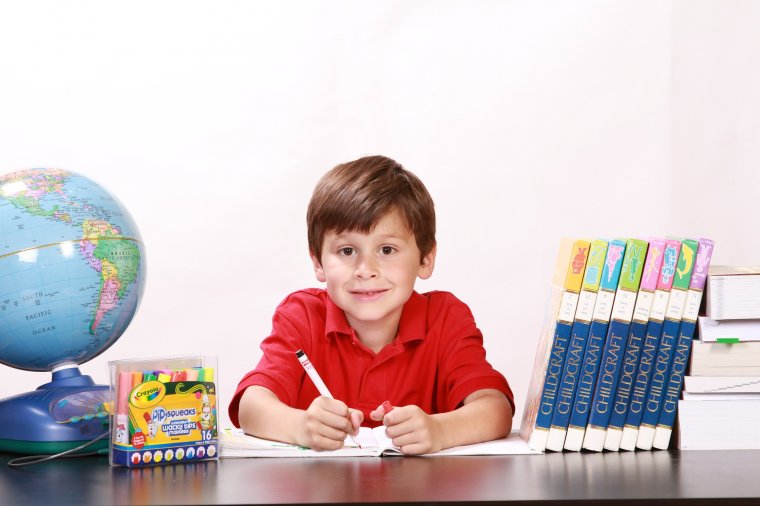 The one they chose what the image we have below, it's pretty similar to our image above which is good because we won't need to do so much skin tone matching, which can be a nightmare, so if you're a Photographer best to take all these shots in the same light if you can.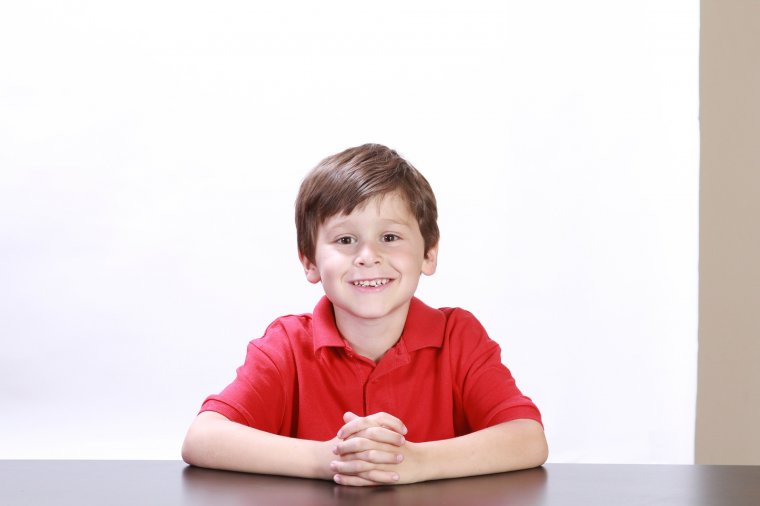 To begin we first make selections around the Boys head on the image that we are going to use to replace the face in the first picture.
The easiest way to do this is to use the rectangular selection tool, then go to Edit – Copy.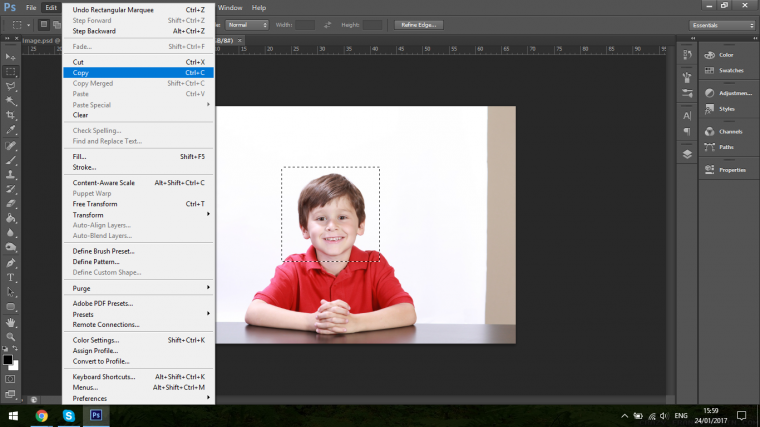 When you have the image copied you then open the picture, you will be working with to replace the face and go to Edit – Paste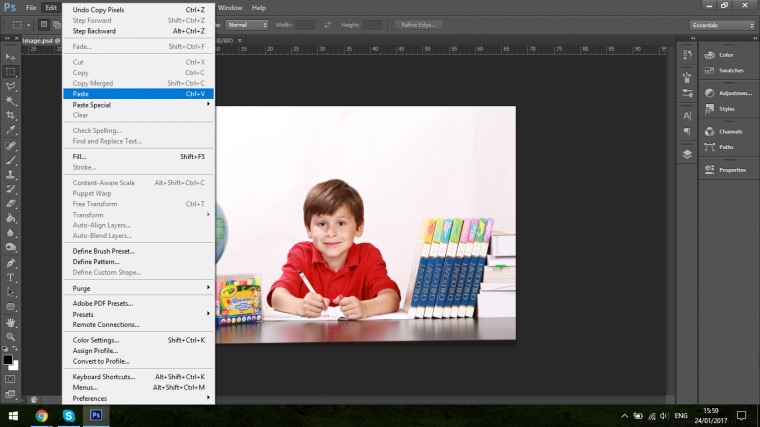 Then you can close the first image we selected from and get to work on our main image.
Now you will need to resize and position it over the other face. Lowering the opacity of the image, so you will be able to see the other picture under it.
50% will be okay.
Then zoom in using Ctrl +
Then, hold the Spacebar so you will be able to position the image in your work desk correctly in the center.
By now pressing Ctrl-T you will open your Transform Tool.
You will now be able to start positioning the top layer face over the bottom layer.
This may take a little bit of work so be patient.
Remember to hold Shift while you drag the corners inward, that way it will keep its shape and not distort.
You will also want to rotate the image as well. This is done by hovering over the square until you see a little circular rotation icon appear then you can just click and drag your mouse.
Now bring your image back to 100% and click on the layer mask icon to create the layer mask.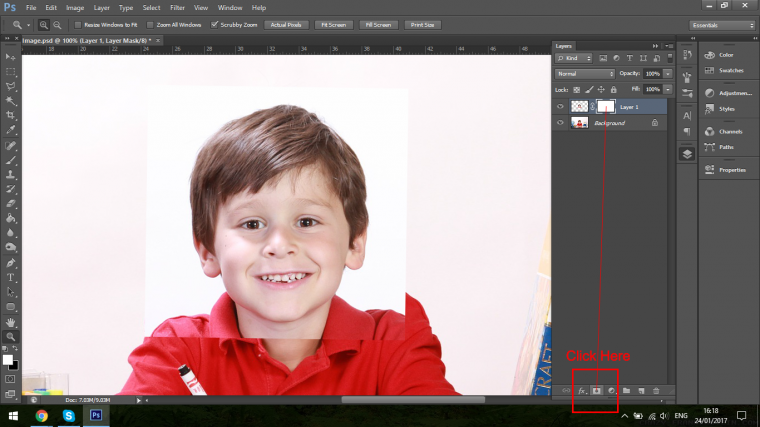 Now using a Paint Brush Tool, on a Soft Brush Setting and a lowered Opacity you should be able to now go along blending in the face.
You don't have to get it perfect just yet, and if you make a mistake, you can paint using white to bring the image back.
You will find the Soft Brush and Opacity options on the Tool Bar under the PS Logo you see in Blue to the top left-hand corner.
Below that you will see the Brush, and besides that a Circle, if you click on that, you will see a few different Brushes, the one you want to be concerned with is the very first Brush, then across from that you will see Opacity, 40-50% will do the trick.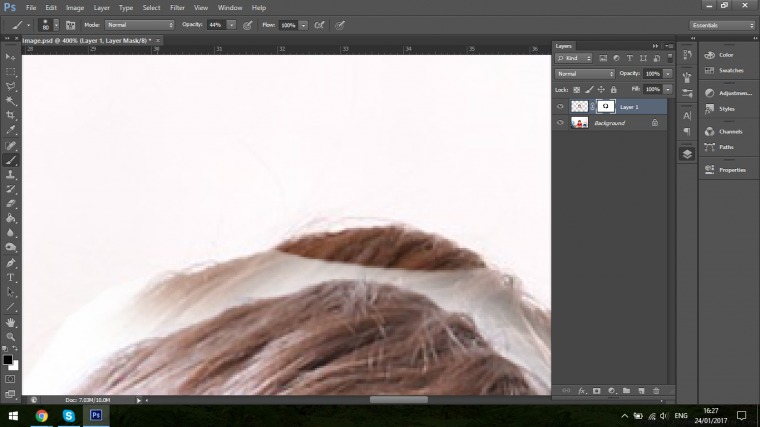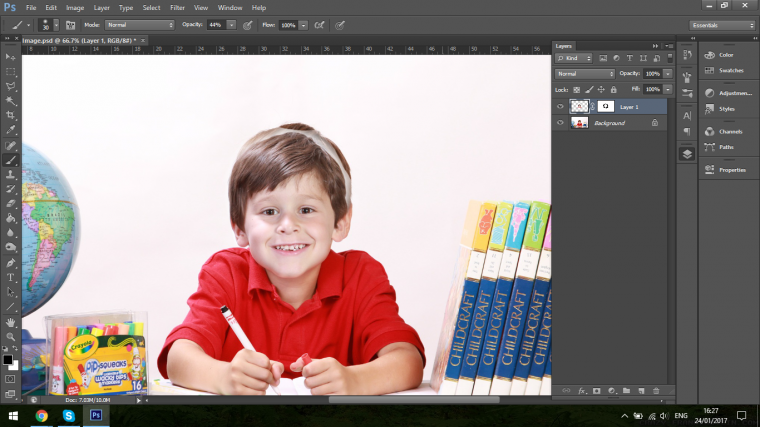 So now we have blended in the head we will want to get rid of the rest of the background.
That is achieved by using the Clone Stamp Tool, with this you hold Alt to sample an area close by that is similar, you paint it on by clicking.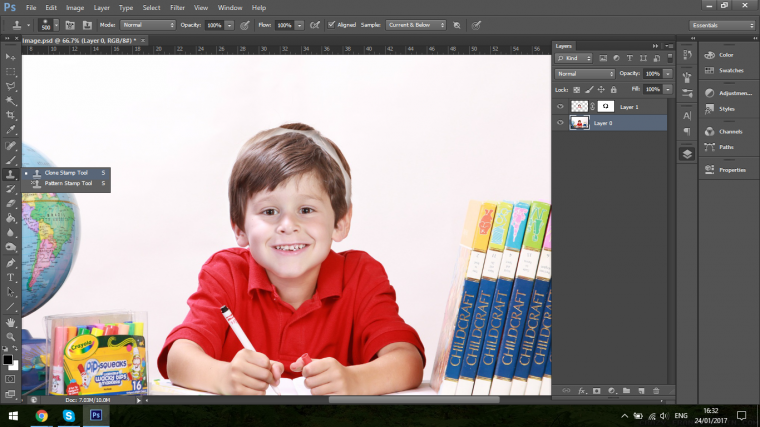 Then you go back in with the mask to tidy up.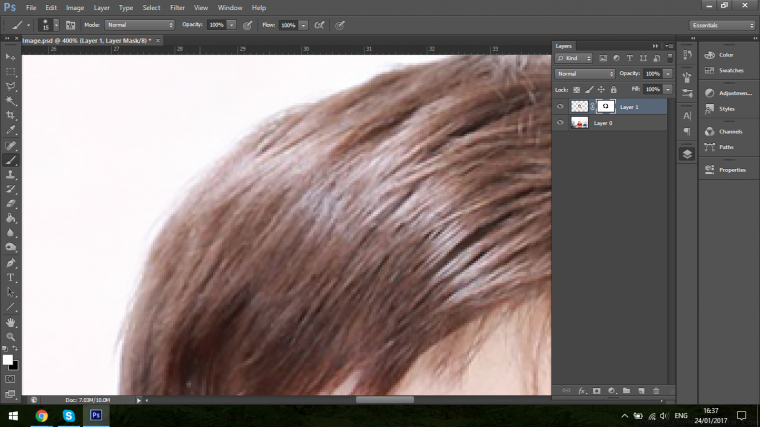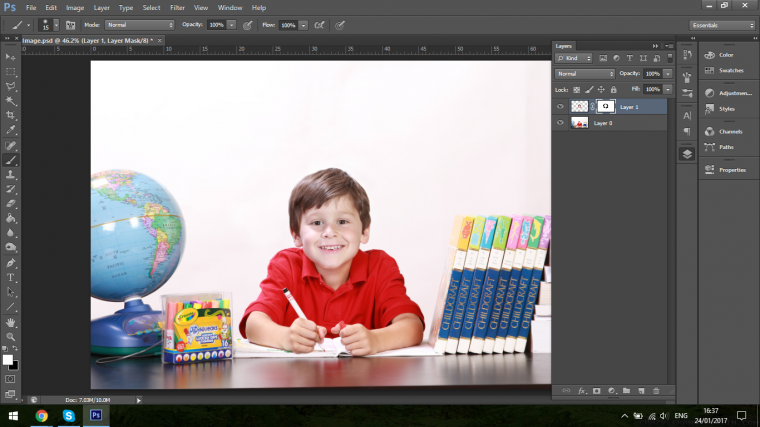 And your end piece should be looking great.
Face swapping is one of the biggest trends on social media in 2022. Remember that movie Freaky Friday, where a mother and daughter switch bodies? Face swapping is sort of like that but with no unpleasant side effects. Basically, face swapping is just swapping out your face in a picture or video with someone else's face – whether that's a friend, parent, significant other, celebrity, politician, or famous athlete – even yourself!
Face Swap App as an Alternative to Photoshop
If you're still learning Photoshop but wish you could do some face swapping, you can still join the fun.
Several mobile apps are very user friendly and don't require complex editing skills. In fact, some of them even do the editing for you, so you can focus on the humor of swapping faces.
Reface
Snapchat
Face Swap Live
B612
Cupace
Microsoft Face Swap
Face App
MSQRD
MixBooth
Face Swap Booth
Realistic Face Swap
Reface
Reface was previously known as Doublicat. It's a tool that is used to create deep fakes – digitally altered videos that are often used to promote fake news or false narratives. But despite the sinister sound of Reface's common use, you can rest assured that it's a fantastic tool for swapping out your face with someone else's in a picture or video to share with friends and strangers. Reface has a massive collection of animated GIF options and new ones are being added every day, so this is a great app to create some fun face swaps to drop into a texting conversation.
Snapchat
Snapchat is well known as the premier app for filters, effects, stickers, and other tricks you can do to make photos fun. Part of the appeal of Snapchat is that your Snaps disappear after 24 hours unless you can save them in the conversation (determined by the sender) or screenshot them (and they will know). The face swap button is at the bottom of the screen along with all the other fun buttons and stickers. If it isn't, you'll have to head to the explore section and then add it to favorites, so you can swap faces and send some funny snaps at will.
Face Swap Live
With a name like Face Swap Live, you know that this app is going to be good. There is a free version of the app, but just by paying a nominal dollar and change subscription fee per month you can gain access to a wider range of celebrity faces, themed masks, and search capabilities to locate a friend's face in your pictures and swap with them. Some users have reported that the file sharing capabilities of Face Swap Live are not as strong as other apps, but it does have plenty of other perks like face swapping in a real time video.
B612
This app, which sounds like an intense dose of vitamin B, is an app that is used for touching up selfies. However, there is a face swap feature that can be used to swap faces that are both in the same image. That said, this is a good app to do some funny face swapping if you are taking a picture with someone. The app is also free so the downside of only working with real time photos or videos is offset by its price…not to mention it has lots of awesome filters that are great for touching up any selfies you take.
Cupace
Cupace is a great free app that is subsidized with ads (so that part might be annoying). You can swap faces within the same photo, and even swap faces from one photo to another. Images are saved in the face gallery, so you can use them again and again, perhaps making a running joke out of some of your favorite face swaps (oh, look who is photobombing us again). One of the drawbacks to this app is that in some cases you may have to do a little manual thumb editing. But it also has lots of great stickers and captions that can make your face swaps come to life with a little extra humor.
Microsoft Face Swap
The best thing about the Microsoft Face Swap app is that it will do all the work for you. This cross-platform app will work on a number of devices, and can swap multiple faces in the same picture. Because it works in an automated way, there is not much room to fine-tune or edit what it does, so that can be a drawback for certain users who are looking for the perfect, seamless face swap. But by and large, to do some face swapping for entertainment, it's a great go-to app that will do the work for you.
Face App
Face App is not an app that can facilitate face swapping, per se. In fact, it doesn't really do that at all. But what it does is very interesting nonetheless…and it's kind of like face swapping, in a way. It lets you swap out your own face for a different look, gender, age, or set of facial features. Want to see how you'd look with bangs, or a wider smile? What you might look like in ten years? Face App is the app that can do this. So while it won't help you change faces with friends or celebrities, it will help you swap out your face with something from the future, past, or maybe an alternate universe.
MSQRD
Masquerade, as it's known in full, is the perfect app for taking selfie videos. There are some really wild filters that will allow your face to take on the look of an animal with just one swipe. If you need to do a vlog and want to spice it up a little bit by looking like a tiger or an orangutan, this is the app to masquerade (hence its name). You can also become any one of the celebrities or characters it has in its range of face swapping filters. Best of all, you can use the filters live while you are making a live video for another platform like Facebook. Additionally, you can share the photos and videos you make across other platforms as well.
MixBooth
This app is kind of a zany recreation of a classic photo booth. How it works is you take a photo of yourself and a photo of someone else from the internet (whether it's a friend on Facebook or a Google-found image of a celebrity). You pop the two images into the app, shake your phone, and take a gander at what you've shaken together as the final result. If you like what you see, you can save the image right to your phone's photo library or share it with others right away on any of your social media profiles. MixBooth is a great example of a face swap app that won't require online photography classes to master.
Face Swap Booth
Face Swap Booth has a ton of celebrity faces preloaded into the app, so you play around with some hilarious face swaps…for instance, swapping out different cast members from Harry Potter, or making Mr. Bean and Barack Obama switch faces. You can also add faces if you are looking to do a little face swapping yourself. Face Swap Booth is free, but the images come with watermarks, so if you want to get rid of that you'll have to pay a whopping $2.99, and then you can enjoy some unlimited face swaps, along with other advanced editing tools.
Realistic Face Swap
This app is great because it has an AI that automatically detects the contours of faces and determines how to swap them out with great precision. That said, if you want to swap out some celebrity faces but don't want to have to fine-tune all the details, this is the app for you. It also has a way of automatically detecting and adjusting skin tones and textures, which means that the final result will be a lot more blended and realistic than a basic cut and paste. This face blender and face changer options make this app user friendly and simple.
How To Face Swap
Face swapping is a fun way to switch faces or change facial features. Swapping people's faces has become somewhat of a trend among social media users since the photo face swap often has a comedic effect that is fun to share with friends and followers.
While a face swap option is accessible via the many apps outlined above, those who are familiar with using Adobe Photoshop can add some extra bells and whistles like a background layer and Lightroom presets. Casual users who just want to create face swap without worrying about photo editing can always use an app.
The following two tabs change content below.
Graduated from college in 2002 with a degree in Art & Design, I started exploring my way in Graphic Design and Professional Post Production. Full-time freelancer since 2011.