How to Create Chromatic Aberration in Photoshop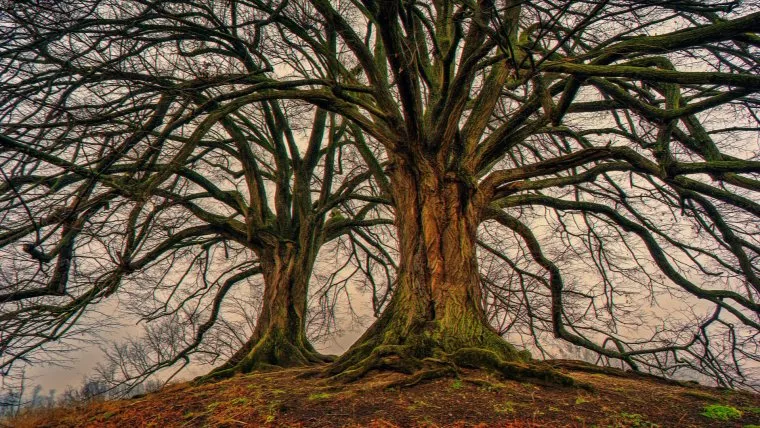 How to Create Chromatic Aberration in Photoshop
www.sleeklens.com
Ok and we're back! so in a previous Tutorial for Lightroom I did we looked at How to Remove Chromatic Aberration in Lightroom. Link
How to Remove Chromatic Aberration in Photoshop Link
Well this time we are going to look at how to actually create it, goodness knows why but I thought that for many of you, you may not have an image that had any so I thought it would be a good idea to show you exactly how it can be created in Photoshop, then I'll do another Photoshop tutorial on How to Remove Chromatic Aberration in Photoshop and you can use the image that we make here today for that tutorial or if you want to learn to do it or both the links will all be included in this very tutorial.
Also, maybe you just like the effect that it creates and want to use this for some sort of photo composite, well if that's the case then get out! lol joking, you are very much welcome to join along too, and at the very least perhaps we'll just learn a few things about Photoshop that we've never seen before or areas we didn't even know existed which is great too.
So with all that being said let's get to it.
Ok open up your image and the first thing that I want you to do is to create two duplicates of that image.
There a couple of different ways you can do this, the easiest being if you click on the layer, you will see it in my image below, it has a padlock on it and it is called 'Background'
well if you click that and drag it down to the icon that is one before the last at the bottom of that panel and releases it will create a new layer that is a copy of your background layer.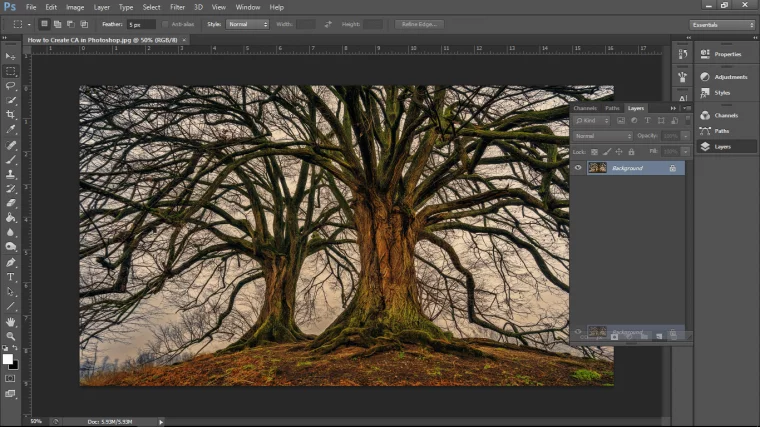 Then you just simply repeat and you will then copy another version.
So just in case you are confused as to which icon it is, you will see it on the right-hand side of the screen at the bottom of the panel that contains your layer 'Background'
The icon itself is right beside that recycling bin there and it looks like a square with a fold at the bottom left.
The reason I'm doing this and not just indicating it to you on the image is because I want YOU to look and try to find it yourself.
That way it will sink in far better through actions than just mindlessly copying.
I'm all for live participation and active searching when possible as opposed to the very forgetful "here it is right here approach"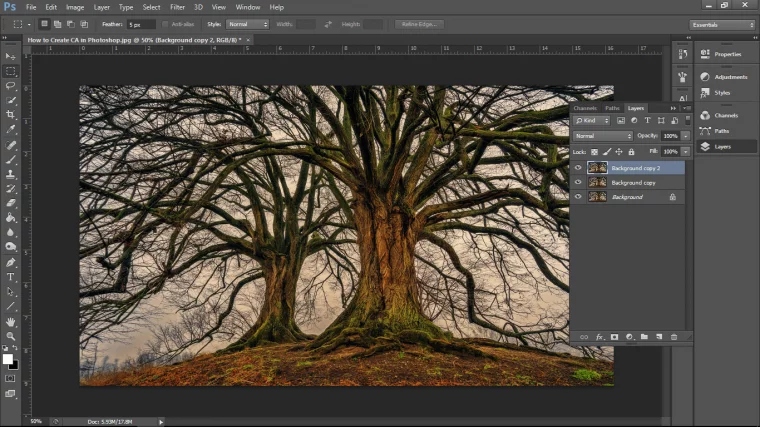 Another slightly slower way is to go to 'Layer' – Duplicate Layer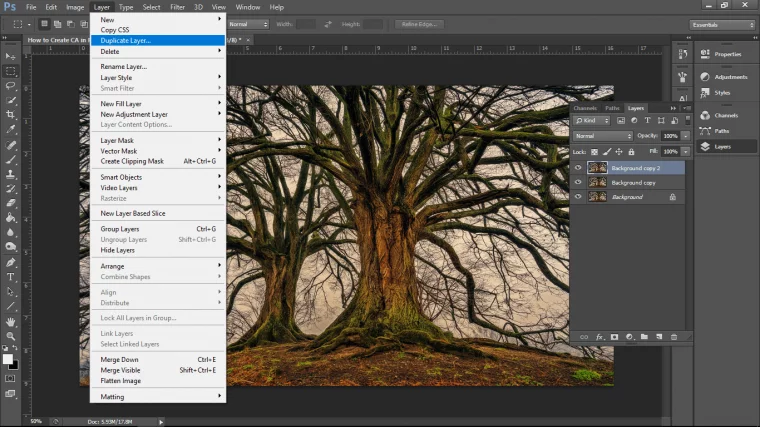 Next label the two new layers, doesn't matter in which order.
Name one Green and Blue and name the other Red.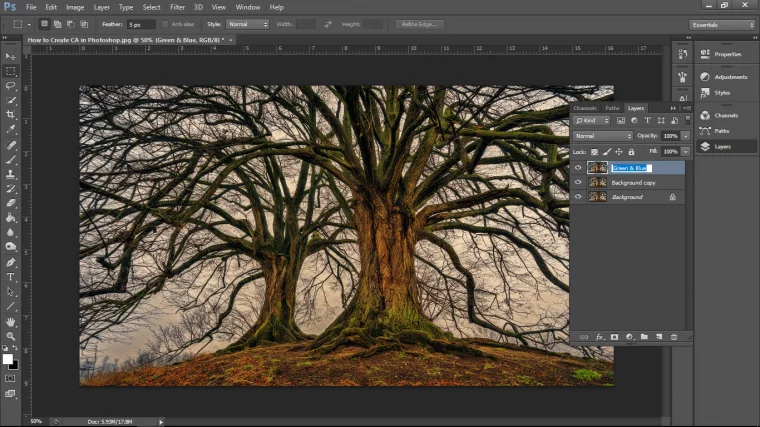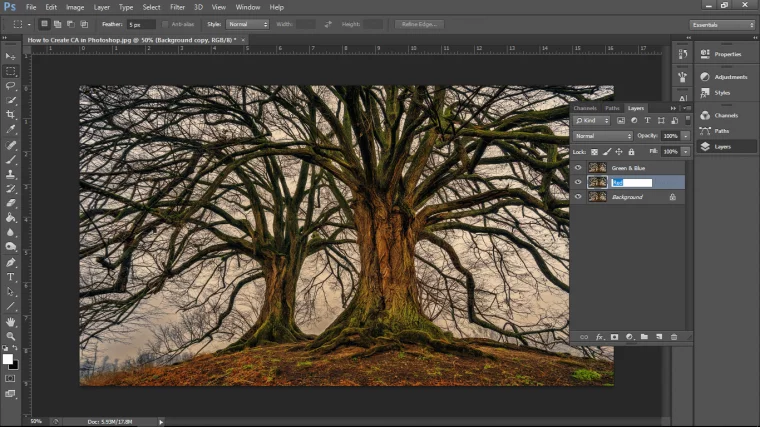 Next step is to go to the Layers Styles panel.
The easiest and fastest way to do this that I know is just to double-click on one of the layers.
The panel should appear now.
In there you'll see a whole bunch of options, ok we have to learn all of them for today… haha just kidding.
Don't worry if it looks a bit daunting at the minute, the only thing we have to concern ourselves with is the middle section called Advanced Blending.
You'll see there that there is 3 little boxes that will be ticked and labeled R G B, they're beside the word 'Channels' because that's what they are.
Ok so say you are in the Green and Blue layer, what you do here is then click on the G and B boxes to untick them, this will remove those colors from your image.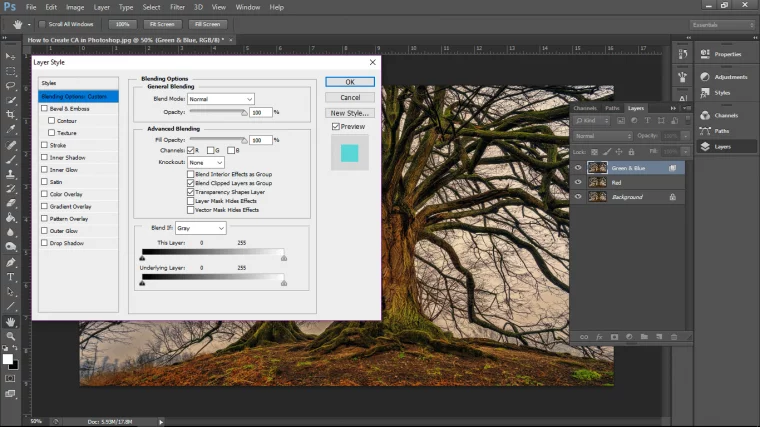 Next, go to the layer labeled Red and repeat the exact same process except for one major difference, instead of clicking on Green and Blue, untick the box 'R' and press OK.
This will remover the Red from that layer now.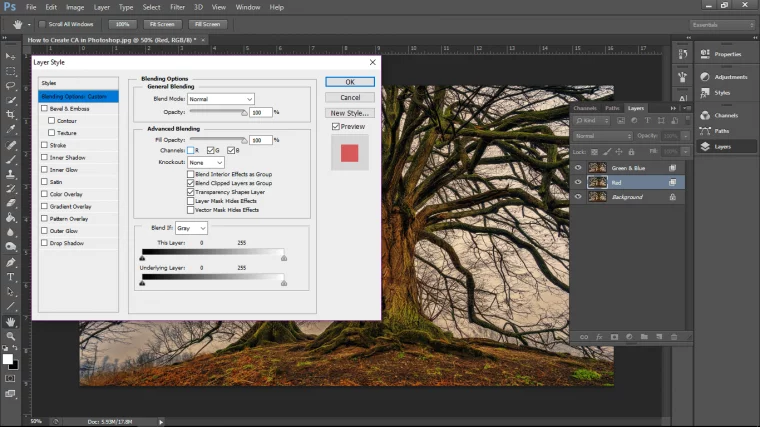 Last but not least, zoom in [you can use your plus and minus keys on your keyboard for this while holding Ctrl]
Take each layer, in turn, click on the layer and give it a nudge or two to the side and up [or down]
The Green and Blue layer will go to the right and the Red layer will be nudged to the left.
And save up because we are done 🙂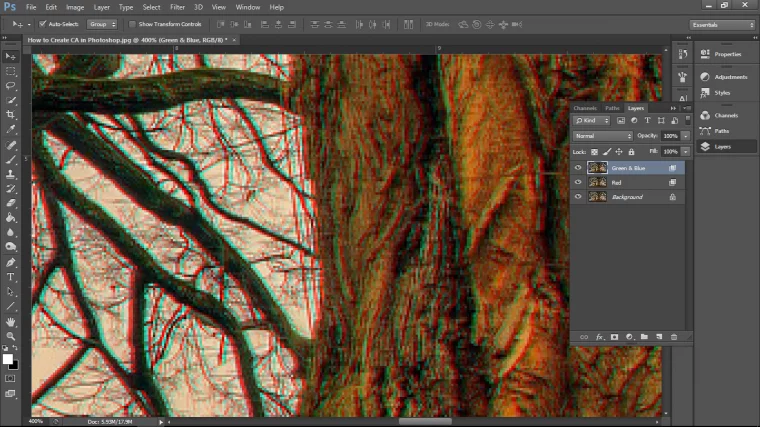 ---
Frequently Asked Questions
The following two tabs change content below.
Graduated from college in 2002 with a degree in Art & Design, I started exploring my way in Graphic Design and Professional Post Production. Full-time freelancer since 2011.