How to Create Dreamy Double Exposure Images in Photoshop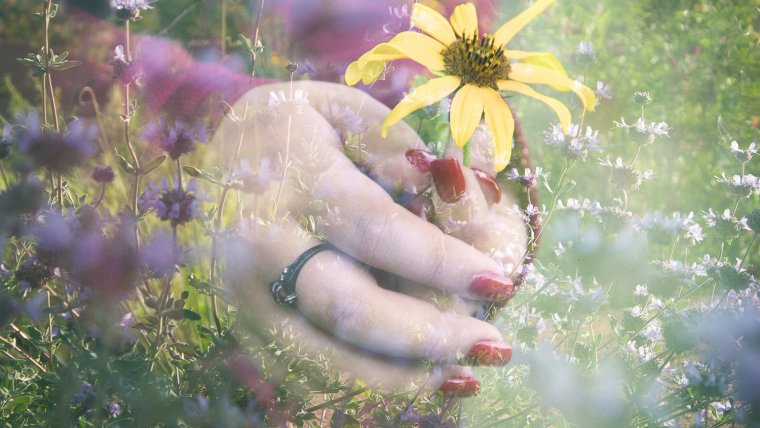 How to Create Dreamy Double Exposure Images in Photoshop
www.sleeklens.com
I wanted to share with you one of my favorite creative editing processes using Photoshop, which is creating double exposures. My favorite thing about double exposures is how dreamy and unique they are in your image. This is a popular technique when shooting film, but it is also an easy post-process technique for digital photography, too.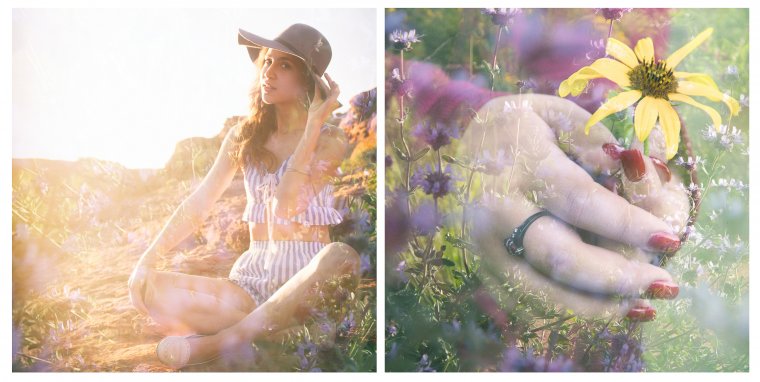 The first thing you will want to do is pick two images. My suggestion is to think of contrasting between an image with little detail and a focus in your images such as a portrait or flower. Your second image should have some more detail to it such as a landscape, a bunch of flowers, or a detailed texture. This way your images will complement each other rather than clash. Also, think about the colors you are using and how they will complement one another.

The background image I have chosen is a detail shot of hands holding a single flower and for my foreground image, I have used a bunch of purple desert flowers. I thought the contrast between the bunch of purple flowers and the single yellow flower would complement each other well.
The first step is to pull up both of your images into Photoshop. First, you will want to duplicate your background layer of your first (background) image and rename it. When you are finished prepping your background image you go over to your second image, select, and copy it. (Select > All….Edit > Copy)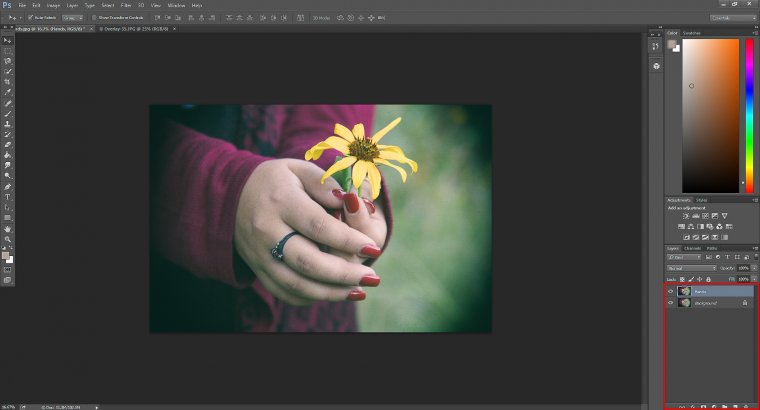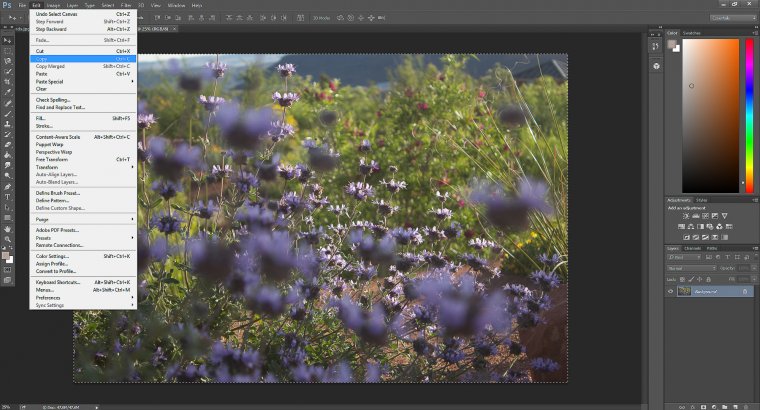 Once you have copied your image you will paste it on top of your background image. (Edit > Paste) After pasting, your images rename your foreground layer. While your top layer is selected you will then change the blending mode to "Screen." The screen blending mode will lighten the top image and you will notice a blend of the images. You can also move the image and size it freely until you like where everything is placed. Something to note when using the blending mode for double exposures is that the background highlights are going to absorb the foreground image. This means that the darker part of the image is going to show more of your foreground image.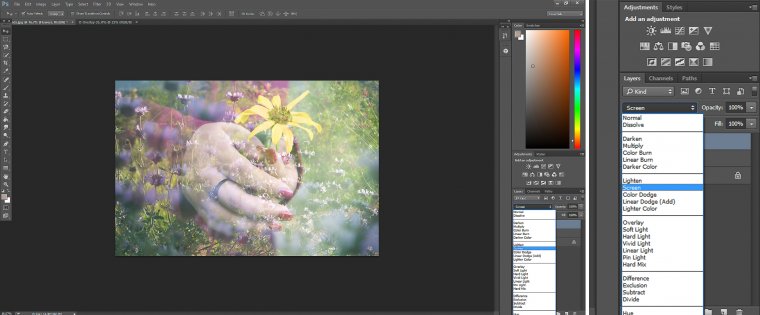 At this point, you can see that it makes a great double exposure but there may be some details from your background images that you might want to pop out more in the image.
Select your foreground image and add a layer mask on top. You will find this at the bottom panel of your layers. This layer mask will allow you to control the opacity of selected areas. You will be controlling these areas with your paint brush tool using black and white. Black will reveal more of the background layer and white will conceal it more with the foreground image.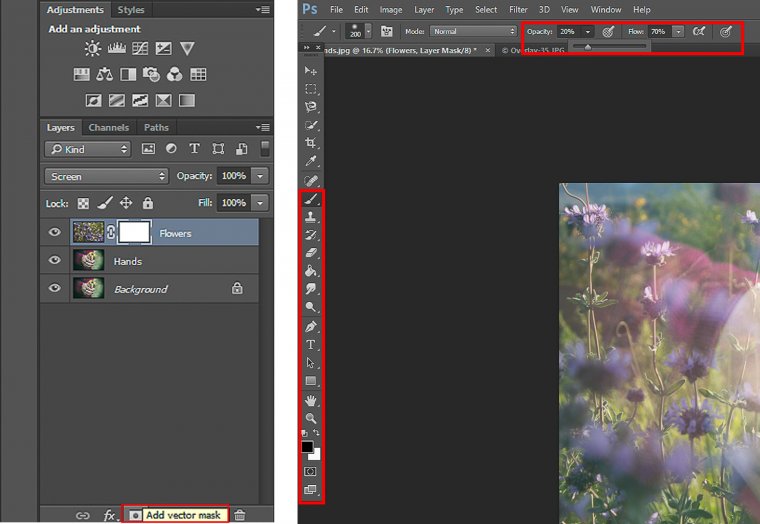 While making sure your layer mask is selected, take your paint brush tool and turn the opacity down to 20% and your flow to 70%. We are going to select black for our color to paint with because we want to reveal more of the background image. I want to reveal more of the flower and red nails in my image so this is the area I'm going to paint on. If you seem to have revealed more than you would have liked then you can just select white to conceal it again with the foreground

Once you are finished with your creation flatten your image (Layer>Flatten Image) and save as a jpeg. and/or save as a PSD file so you can go back and make further changes.
I hope you enjoyed this dreamy and unique image tutorial!
The following two tabs change content below.
My name is Mariah Baumgartle and I am a traveler, photographer, blogger, and life enthusiast. I graduated from The Art Institute of Colorado with my Bachelor of Arts in Photography in 2014. After graduating I became a professional real estate photographer in Denver, Colorado and Burlington, Vermont. I currently photograph fine art landscapes, architecture, interesting things and places. I have a passion for teaching art, photography, and inspiring others.