No Expectations Travel Photos: Embrace the unknown
No Expectations Travel Photos: Embrace the unknown
www.sleeklens.com
Before I left for a recent trip to Italy with my wife, I decided to try something different—for me, at least—and research the crap out of everywhere I was going. That's right. I wasn't going to miss anything. No coming home and having someone say, "What? You didn't go to San Giovanni? As a photographer, you would have loved it!"
Our itinerary was pretty simple. We were to fly into Rome and spend three nights there. Then go Cinque Terre for two more nights. And lastly, drive to Tuscany where my wife had a week-long painting workshop. While she did that, I would spend my time photographing the nearby countryside and small towns.
So I did all the stuff you're supposed to do. I Googled for hours. I looked up our destinations on 500px and Pinterest. I made lists. I saw how the rest of the world had photographed these places. I was prepared!
And then I deliberately left the checklists on my desk.
I realized I was handcuffing myself to other peoples' photographs and the locations they found photogenic. What if I went there and the light wasn't the same? Or I wasted hours just trying to find these places missing countless image opportunities along the way? I envisioned the trip becoming an exercise in frustration.
So I gave myself the assignment of simply keeping my eyes open and going into the country empty-headed (in a good way) with no expectations. Two weeks later, I had more than enough images that were special to me. Here's what I learned.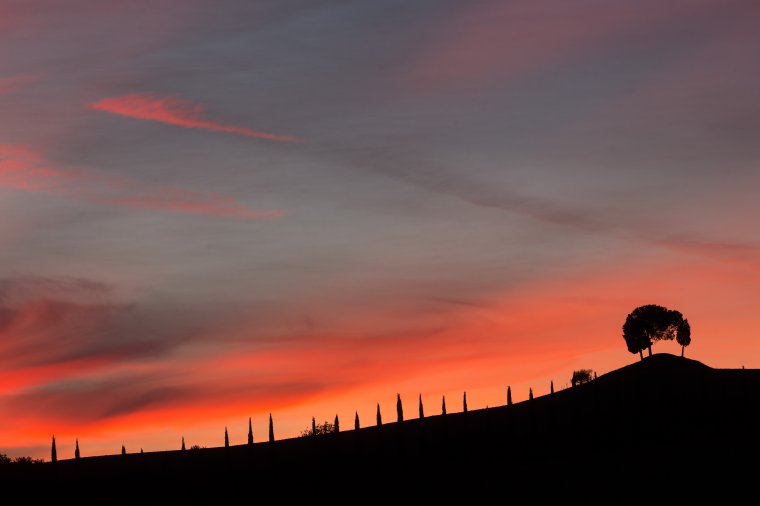 Make a shot list at home and then tear it up—It's not a bad idea to get a feel for your destination. For example, I eyeballed enough pictures of Tuscany to learn it had rolling hills and medieval towns. That at least primed me for what kind of situations I might find interesting to shoot. But then I started to make lists of specific scenes others had photographed so I could bag them, too, and realized that wouldn't work. I needed to discover my own landscapes and narrow streets.
So I forgot all I had seen in favor of simply stumbling about the farmlands and villages in search of images. I know, I know. That doesn't sound like a formula for good travel photos, but it forced me to be open to everything, every possibility, and my camera cards filled with successful images. I admit this requires a little self-confidence to be so laidback but it also takes an attitude of losing yourself in the simple, fulfilling pleasure of travel and the adventures it brings.
Don't pressure yourself—I think the first step in being open to good travel images is by not comparing what you see in the viewfinder to others' past photos. This can only create feelings of despair and the illusion you'll never equal those supposed masterpieces. Forget about winning likes on Facebook or Instagram. Look for subjects that dovetail with your interests. Maybe you have a thing for doors, which in many places are unique from home to home. So blast away. Maybe you like street photography. Have fun with that. You are unique and you'll see all this in ways no one else can.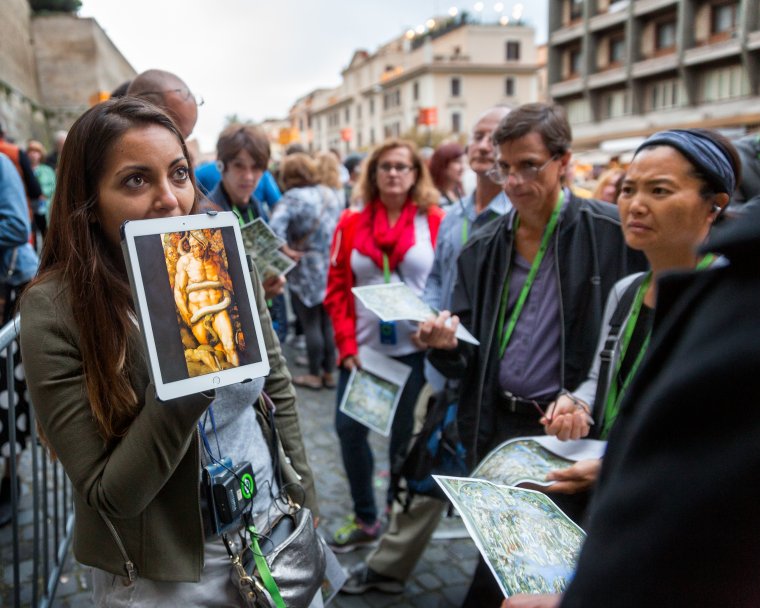 Concentrate on recording your experiences—This gives you a start, a doorway through which other images can emerge. Look for the stories inside your trip. Take pictures of your travel companions doing whatever it is you did (selfies and mug shots in front of famous landmarks don't count). If you stay at a B&B, for example, ask the proprietor to pose for a portrait. Take a picture from your hotel window. Record the meals you ate. For our major excursions, I like to put together a photo book afterward of our adventures, and so I use that as a reminder to look for storytelling photos.
Walk to your destination—This may not always be possible, but there's so much to see and photograph when you use a bit of shoe leather as opposed to a bus, subway or taxi. I carry a small daypack for a couple of lenses, camera battery and cards. I look for details, some of which speak of the culture and some don't. I like to take pictures of people and during a walking excursion to the Spanish Steps, I snagged one of my favorite shots of two women in conversation. Couldn't have gotten that from a speeding taxi. At one point, we have turned around—my wife called it "lost"—and because of that, I stumbled on a beautiful photo of the Pantheon.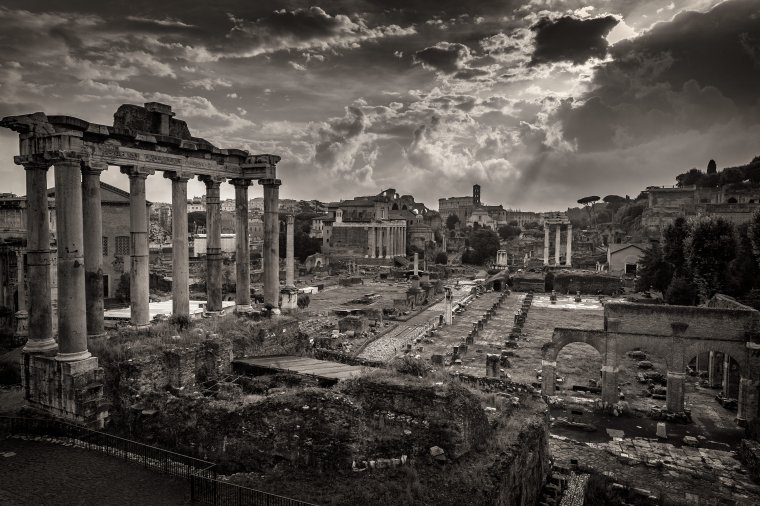 Allow yourself time to wander—As a corollary to the above, if you have a rental car, take a back road instead of the main highway, or just randomly drive down different roads. These days with GPS, it's tough to get permanently lost, so explore! You won't find the country's iconic landmarks, but you'll likely see and photograph places few people do.
Relax, you don't have to see everything—I'm forever amazed at how some people feel the need to rush from place to place, measuring the success of their trip in how much they saw. Mixing photography with travel is a lot easier if you plunk down for a few days in one location and wander out from there. You'll still see a lot, get a great feel for the culture and ultimately come back with far better images because you had the extra time to look around.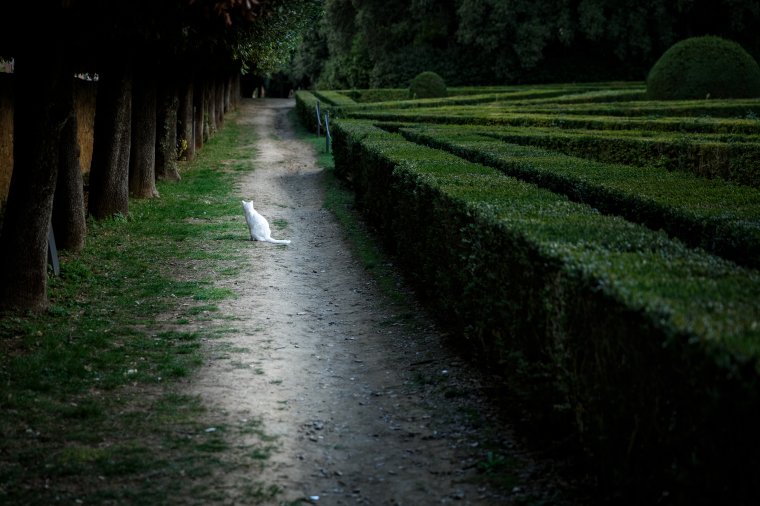 Be curious—If something looks intriguing, don't just pass by because you've got a specific place you're going to—check it out. Or, if the tour guide has you pointed in one direction, sneak a peek at you. There are unexpected images almost everywhere you turn if you just look.
Be flexible—It rained while we were in Rome. Oh, dear. No photo ops, right? Nope. We walked to the Coliseum at night with umbrellas and were rewarded by images filled with shiny streets. Plus, only a few, brave tourists were milling around so we nearly had the place to ourselves.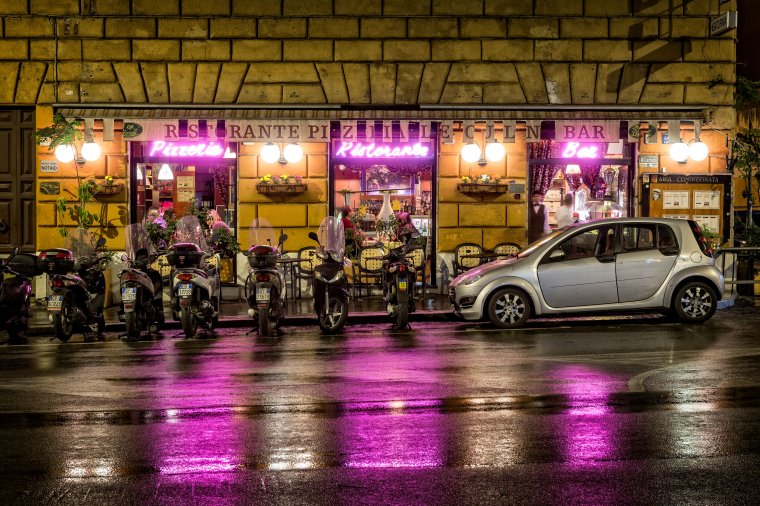 Get a record shot for your personal pleasure—One of the great things about photography is it reinforces your memories. So instead of berating yourself for being an uncreative hack, go ahead and get a standard issue shot of the Eiffel Tower. Twenty years from now, you'll be glad you did. Also, by letting go of your aversion to the cliché picture, you might start to see unique angles for more personal takes on the subject.
Lastly, sometimes you just get lucky. You can't predict at home what the light is going to be like or what rare convergence of elements is coming your way. But by keeping your mind—and eyes—open, you can create photographs that are meaningful to you both from an artistic standpoint and as a document of your experiences. And, by the way, I never got to San Giovanni. Oh, well. I hear it's great.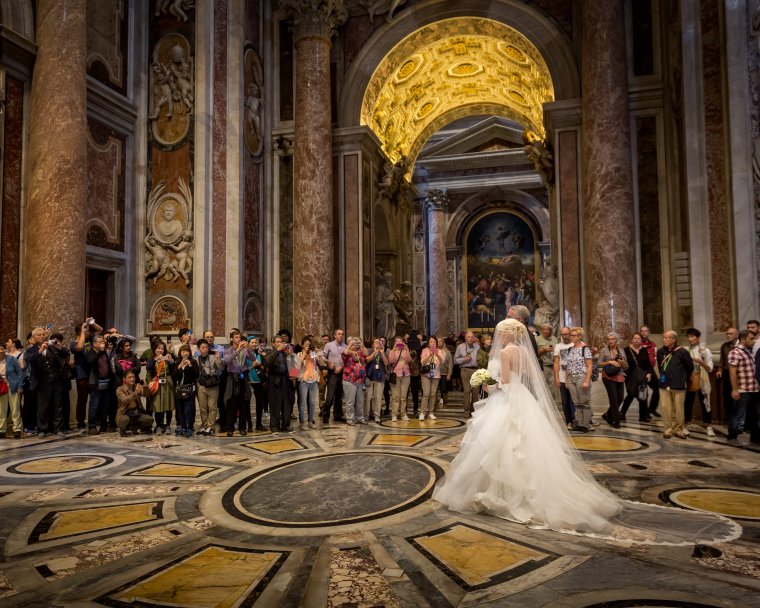 The following two tabs change content below.

Bill Sharpsteen has seen photography evolve from the primitive days of film (his first camera was a cheap metal box with plastic lens and a hundred light leaks) to digital sophistication (he now works with a Canon EOS-1D X). Not once has he ever uttered the words, "Real photographers only use film." He's a freelance photographer and writer; his first book project, Dirty Water: One Man's Fight to Clean Up One of the World's Most Polluted Bays, was released in 2010, and his next book, The Docks, about the Port of Los Angeles was published in 2011, both by University of California Press. His latest book, self-published in 2015, is a collection of essays and photographs about the sport of canyoneering called Canyon Deep: Descents Into Hidden Landscapes. His photographs have appeared in Washington Post, Entrepreneur, Emmy, Westways, Washington Journey, Outdoor Photographer and Photo Techniques. He has published more than 60 articles for such publications as Los Angeles Times Magazine, Los Angeles Magazine, Washington Post, TV Guide, Entrepreneur, Photo Techniques, Outdoor Photographer and Alaska Airlines Magazine. The topics covered a wide range of interests including business, television, the environment, personalities, travel and entertainment. Sharpsteen also worked during the early 1980s as an award-winning documentary director covering Alaska Natives and the social issues facing them. Those shows garnered such awards as a silver medal in the 1983 International Film & TV Festival of New York, the Lincoln Unity Award and Alaska Press Club awards for best documentary and best video photography. He lives in the Los Angeles area.