Canon T6s Review: An Exciting Rebel Model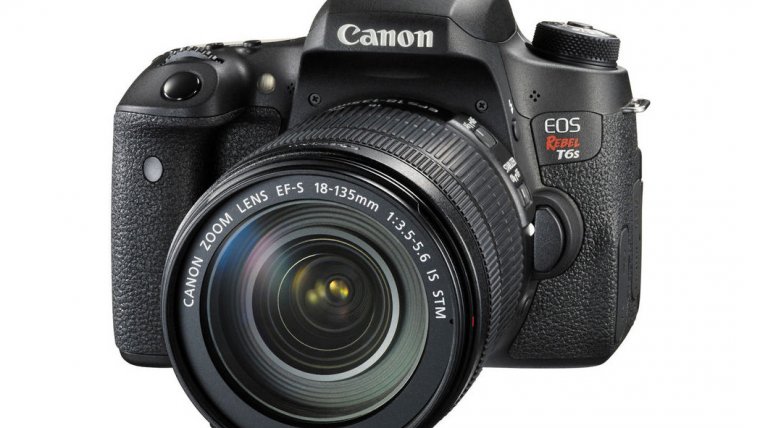 Canon T6s Review: An Exciting Rebel Model
www.sleeklens.com
It has never been a more exciting time to be a Canon Rebel owner. We've finally reached the point when Canon couldn't get away with a very little upgrade with each new iteration and when they had to put some noticeable improvements in their new models. Yes, for the first time we have two models available. The Rebel T6i is a direct upgrade over the T5i, while the T6s we're reviewing today is an entirely new model that aims to bring more advanced functionality and make it to be the best Canon Rebel camera lineup. The Canon T6s sits right between its little brother the T6i and the Canon's more advanced model the 80D. This is a camera for those people who were previously satisfied with their Rebel cameras and want to invest in the new model but decided they want a little more control and a more professional feel. While the Rebel series of cameras always had everything necessary for you to be able to get some really nice photos and videos like the most entry-level cameras they've always lacked the amount of control you would get with a more advanced DSLR. Canon aims to solve this problem with the T6s and bring that control at a way smaller price than you'd have to pay for 70D or 80D. Let's see if they've really achieved that goal.
There are a few things that stand out on the T6s over its predecessor, but the most notable one has to be the new sensor. Canon finally decided that it's time to replace the old 18 megapixel sensor with a newer and improved one. Now we have a 24 megapixel sensor that aside from the obvious increase in megapixel count also promises better dynamic range and better high ISO performance. We can't wait to test this and see if there is really any improvement here.
Pros
Built-in WiFi
NFC Connectivity
Articulated Screen
Image Stabilization
RAW Shooting
Light Body
Selfie Friendly LCD Screen
Remote Shooter with Smartphone
Cons
Low battery life
No weather-sealing
No touch screen
Click to read the full Review
We also have the same Digic 6 processor that is also used on the Canon 80D which should bring really snappy performance and better noise reduction. It also allowed Canon to retain the maximum burst rate of 5 fps even though the resolution has been greatly improved. Improvements have also been made in regards to the AF system. The new Rebels now sport a Hybrid CMOS AF III system with which Canon claim is really close in performance to their Dual Pixel AF.

The traditional phase detect AF also received an upgrade and now we get a 19 focus point all cross-type system instead of the old 9 focus point with one cross-type point system. While the number of focus points isn't dramatically increased, the sheer number of cross-type points should improve tracking performance immensely. Aside from the bump in focusing speed, the accuracy should also be improved with the new 7560 pixel RGB metering sensor. Unfortunately, video resolution and maximum framerate remain the same as on the T5i, meaning you can record 1080p video at 30 fps. It's a shame that Canon didn't bump up at least the framerate to 60 fps, but we won't be very disappointed if the quality of the videos at least turns out to be up to the standards.

Another upgrade over the T5i is the inclusion of the integrated Wi-Fi and NFC, something that is a must have for a today's modern camera. Now, these are all the important features and improvements that are shared between the T6s and the T6i, but as this is the review of the more advanced of the two, it's time to see what are the differences between them. Conveniently enough, most of them fall right into our next section of this review, so we'll cover right now.
Body and handling
Before we focus on the actual differences between the T6s and the T6i, let's see what the new Rebels actually bring to the table in regards to their bodies. The actual size and the weight are really similar to the older T5i, which is heavier than Canon EOS M10 but the choice of materials has changed and now we have aluminum alloy chassis with composite materials being used for exterior instead of stainless steel and polycarbonate resin with glass fiber. This results in T6s feeling slightly lighter, but also somewhat nicer in the hand. The grip is also just the right size and the new material choice also helps you to hold the camera more securely. We really have no complaints in this regard, Canon really found the right balance for a DSLR in this price category. Now, let's set the T6i aside for a while and look at what the T6s brings to the table as a separate camera. Like we've already mentioned, this camera attempts to bring more control to the amateur and casual photographers who can't afford more expensive camera bodies, but is also something that will be useful to those advanced photographers looking for a capable backup body to their more expensive cameras.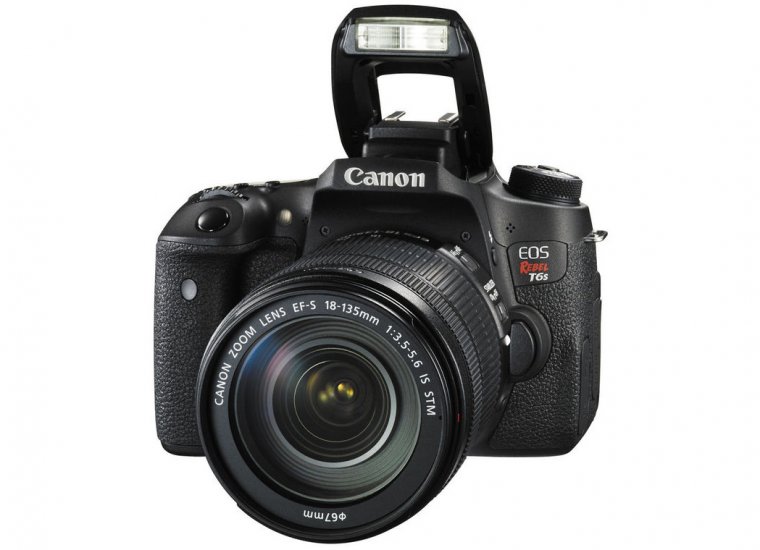 So, let's take a look at the camera. Looking at the front, you'll only find the button to pop up the flash unit. At a maximum range of 12m, it is slightly less powerful than the unit on the T5i, but it's still powerful enough for casual use and it serves its purpose. The left and the right side of the camera contain no buttons, but that's where you'll find all the available ports and expansion slots. There is no real change here and you still get an A/V out and mini-HDMI ports, a remote control port, and the microphone jack. Sadly, Canon is still reluctant to put a headphone jack on their lower tier cameras, so you won't find one here either. Looking at the top of the camera you'll notice the first changes over the traditional Rebel camera.
The main mode dial is now on the left side of the camera to make room for the new LCD that now sits on the right. We've finally reached that point in time when we can find such a useful feature on an entry-level DSLR. Now you have an easy and a quick way to see all your important information and settings without having to take the time to look the at the screen on the back. This, of course, saves you time and even battery life as the monochrome LCD on the top consumes very little power. That LCD also has three buttons at the top of it one of them being an ISO button, which is also something we are happy to see on a Rebel DSLR. Lastly, on the far right, you'll find the main control dial and the shutter button. Looking at the back reveals more change. The On/Off switch has been relocated and is now right on the main dial, which is a better position than before if you ask us. Under it lie the Menu and the Info button.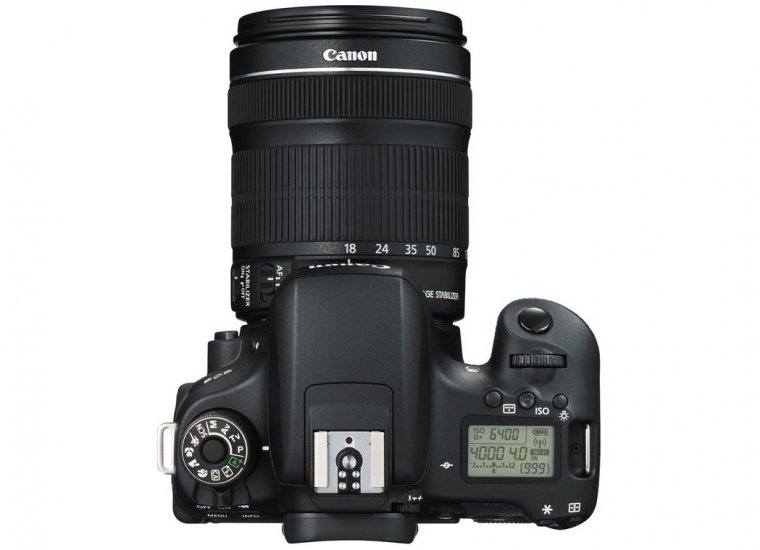 The live view switch lies in its regular place right of the viewfinder and the Zoom in and out buttons are on the far right. Another big change can be found in the main navigation controller which is now the same quick control dial found on Canon's more advanced DSLRs. It indeed offers a very quick way to adjust your settings instead of the traditional four-way controller. Like the old controller, it can also be clicked in four directions and gives you access to WB, AF, Timer/Shooting mode and different Picture styles. Other buttons on the back are your regular affair; Q Menu, Playback and Delete buttons. We should also mention that the quick dial can be locked to prevent you from accidentally changing anything while you're shooting with your camera to your eye.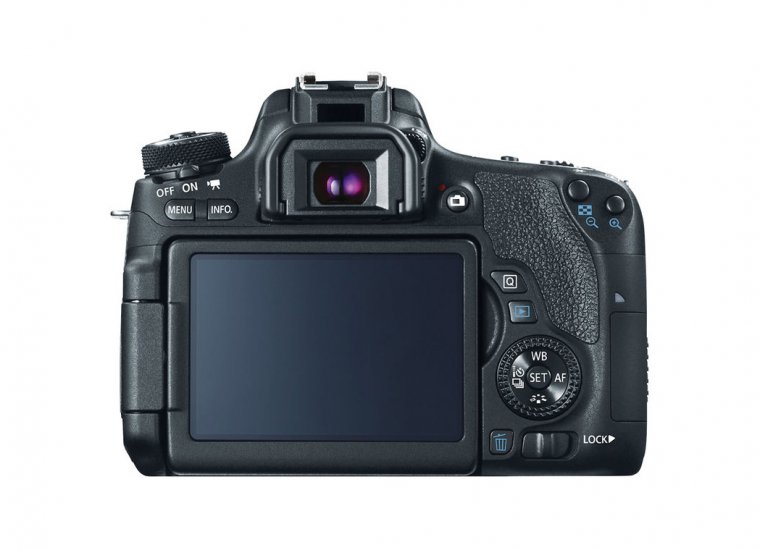 Two things that didn't receive any change over the T5i are the screen and the viewfinder. We still have a 3 inch 1,040,000 dot TFT-LCD touch screen and a 95% accuracy pentamirror viewfinder. While we have no complaints in regards to the screen because it's still a very good unit for today's standards, we do have to give some critique to Canon for not giving any improvement to the viewfinder. We do realize that the Rebel series of cameras are considered entry-level and that the priority with these cameras lies elsewhere, but refusing to improve the viewfinder accuracy after several different models is a cheap move in our opinion. It's especially strange considering how Canon markets the T6s as a simple camera that even some enthusiast will love, but they improve everything but the viewfinder. Canon's user interface is nicely laid out and intuitive as always. It's also very nicely optimized for touch screen use and those who enjoy using the touch screen on their cameras will really enjoy working with the T6s.
In the end, let's say a few words about the Wi-Fi functionality. The features you get are split between those found in the camera itself and those you get with the Camera Connect application. Without the app itself, you can transfer images to another Canon camera, view them on a Wi-Fi enabled screen or media player or connect to a compatible printer and directly print out your photos. The Camera Connect application is of course used to remotely shoot with your Canon T6s and offers a full suite of manual controls like choosing an AF point, changing the ISO, aperture, exposure or the shooting mode. Unfortunately, you can't remotely record video with this application. So, in regards to its body, other than the smallish and less than the ideally accurate viewfinder, we really can't complain about anything else on the Canon T6s. It ended up being a really solid and capable package for a Rebel DSLR and is really a step in the right direction for both the amateur and enthusiast photographers.
Autofocus and performance
Now that we've touched mainly on the external body improvements of the T6s, it's time to take a look at one of the most important internal ones, the AF system. Improvements have been made both to live view autofocus and also the traditional system when shooting through the viewfinder. The viewfinder AF system is now a pretty respectable 19-point all cross-type unit. It's the same one found in the 70D which is of curse an older camera, but still a very capable one AF wise. Feature-wise, you know to gain the ability to choose between three AF point selection modes: zone, manual and automatic selection. This really gives you more control over which subject you wish to track. The general performance is a big improvement over the old 9-point focus system found in the older Rebels. The T6s focuses reliably and fast in all conditions but the darkest where you can notice some focus hunting here and there. Subject tracking abilities are also much improved and very usable, but still not class leading since many of other manufacturers now offer more advanced tracking methods. Still, we are very happy for all of the improvements. Interestingly enough, the live view AF is any even bigger improvement, especially when it comes to continuous AF and subject tracking. It's not as good as what you'd get with Canon DSLRs that come with Dual Pixel AF technology, but it's still great for an entry-level camera like the T6s.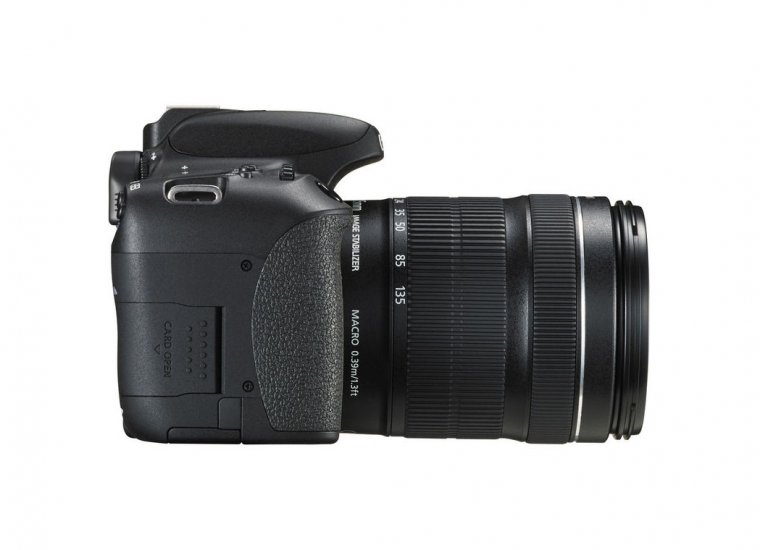 The overall performance is also on a pretty high level and we never felt any lag or slowdowns when working with the camera. We believe that the powerful Digic 6 processor is playing a big role in this. Burst rate is also another area that has received a noticeable improvement even though it sits at the same 5 fps as on the T5i. The latter could only shoot for a short time and its buffer could only handle about 22 JPEGs until it needed to be cleared. This has been massively improved on the T6s and now sits around 940 JPEGs. One thing did remain the same and that's the battery life. It's still rated at 440 shots per charge. On the negative side, we've seen better endurance from many other DSLRs so the one on the T6s isn't particularly impressive. On the positive side, it's good that Canon managed to keep the same endurance despite so many new technologies included in this camera over the T5i. All in all, we are still happy with all the improvements we got in regards to autofocus and performance.
Video features and quality
While you certainly wouldn't buy a Rebel camera as a device to primarily shoot video with, it could still function like one in some ways. When it comes to features, there actually aren't many. You do get full manual control of exposure and the benefit of recording high-quality audio through the external microphone jack, but there aren't any helpful features found on other cameras like focus peaking or zebra patterns. Some will also miss the ability to record at 4K resolution or at 60 fps in 1080p mode and some will even miss the lack of any kind of slow-motion mode at 120 fps or more. Luckily, the T6s delivers in terms of quality of the recorded footage. It's not the best around, but still of above average quality, even at higher ISO values and we couldn't really ask much more at this price point. The autofocus in video mode also performs great and outclasses most of other DSLRs in its class due to the new Hybrid CMOS AF III focus system. This is another area in which the T6s excels over the T6i as it offers better continuous AF performance in video mode. There also one additional feature and that's HDR video. It does what it is supposed to do, but the results aren't really that dramatic and the footage looks only marginally better than in regular video mode. You are also stuck with 720p resolution and no manual exposure control, so this mode really has limited use. So, if you are happy with a DSLR that can record good quality video and has good AF performance, but you don't need many advanced features, you should be quite happy with what the T6s has to offer.
Image quality
This brings us to the all-important image quality. While the improvements that come with the new 24 megapixel sensors like the Pentax K3 aren't groundbreaking in any way, we are still content with what we get. While there is a noticeable increase in detail due to the higher resolution, what really jumps out is the improved dynamic range.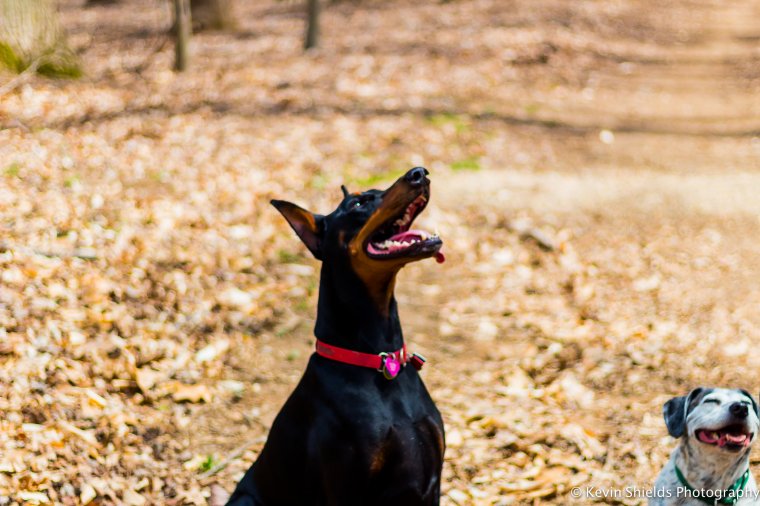 Photo courtesy of Kevin Shields
The older 18-megapixel sensors suffered from large amounts of noise in shadow areas, especially when you tried to bring them up in post-processing. While the T6s still doesn't offer class-leading performance in this regard it's still largely improved over the old sensors and thing now look quite good. The noise performance has also been improved, but not as much as the dynamic range. This results in T6s being able to produce some really nice looking photos in almost all conditions, especially if you pair it with quality glass.
Conclusion
We are all aware of how slow Canon can be in adopting new features and updating their cameras with major improvements, especially when it comes to their Rebel line and we are happy that we can say that it's never been a better time to invest in a Canon Rebel body. While we would like to see more improvements in areas like video features, the viewfinder, and battery life, we are still satisfied with what the T6s has to offer in its segment of cameras. It's almost a perfect blend of a simple entry level camera with a decent performance and a more advanced camera with more manual control. It's also interesting how many reviewers overlook the ability to use some high quality and really affordable glass with this camera like the 10-18mm IS STM, 50mm 1.8 STM or 55-250 IS STM lenses, something that is unmatched by any other manufacturer on the market. When you take something like this into account, the T6s really comes a pretty tempting camera for the photographers on a budget looking to take great quality images for not much money.
So, if you're looking for best DSLR cameras that fit your budget, click here.
The following two tabs change content below.
An amateur photographer, songwriter, musician, computer and technology geek and an occasional comedian, I'm a little bit of everything. I always aim to pursue things I'm passonate about and try to look on the positive side of things whenever I can. My mission is to wrap my articles in that aura of positive energy and keep a healthy balance between being serious about my work and spicing things up with a little fun now and than. After all, life's a game and there's always a different way to play it.