Canon Rebel SL2 Review: An Ideal Choice for Beginners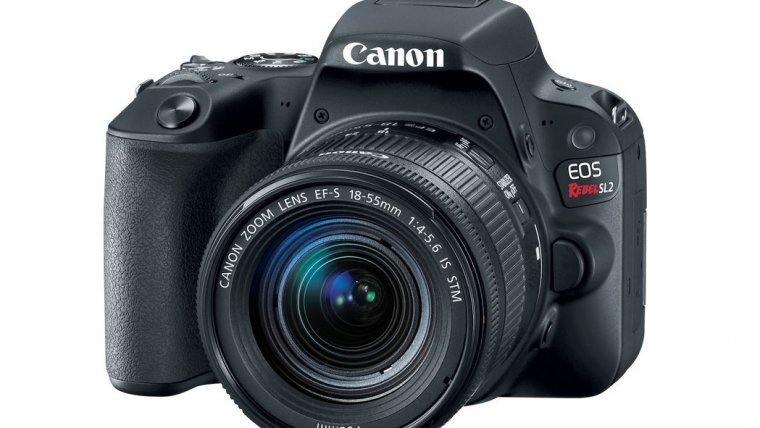 Canon Rebel SL2 Review: An Ideal Choice for Beginners
www.sleeklens.com
With the ever-increasing popularity of mirrorless cameras and the slow decline of compact cameras and DSLRs, it's always interesting to take a look at one or two brave attempts from a camera manufacturer to keep some of those categories alive. Now, since its growing increasingly harder to find a bad camera in a market that's the most competitive it's ever been, even those "attempts" often equal to a very decent product, no matter if they turn to be a commercial success or not. This is also the case with the camera we've got on our hands this time around, the Canon Rebel SL2 (Kiss X9 or Canon 200D on other markets). The SL2 exists to directly compete with budget mirrorless cameras and DSLRs alike and tries to take the best of both worlds to create something truly unique and different. It's predecessor, the 100D tried to do the same thing and ended up being a fairly successful camera, but that was a couple of years ago and during the time where DSLRs still enjoyed a great deal of popularity, even in the segment of more budget-friendly cameras.
The Rebel SL2 retains the same formula brought on by its predecessor, but with a host of new improvements and refinements that make it a logical upgrade for anyone that still rocks the older model. The real question is, does this camera make sense in 2017 and is it worth buying over a mirrorless camera or a full frame DSLR camera like Nikon D810 and Canon 5D Mark IV. Well, we do believe that there is still a place for such a camera on the market and that it should attract enough users to become a commercial success, but it all depends on how well it's able to do its job and balance the two different types of cameras it's trying to be. Well, we're here to find everything out for you, so stick around and enjoy our in-depth review of the Canon Rebel SL2.
So, now that we've presented you with a short introduction in regard to the Canon SL2, let's take a detailed look at all of its most important specifications.
Pros
Built-in WiFi
Bluetooth Connectivity
NFC Connectivity
Articulating Screen
FullHD Max Video Resolution
Touch Screen
Optical Built-in Viewfinder
Face Detection Focusing
Selfie Friendly LCD Screen
Remote control with a smartphone
Light Body
Long Battery Life
UHS-I Memory Card Support
Cons
No Image Stabilization
No Environmental Sealing
Only 9 Focus Points
Click to read the full Review
The first thing that comes to anyone's mind when looking to buy a dedicated camera is its imaging capabilities and this is certainly an area in which the SL2 excels when compared to its competition. It borrows the very capable 24-megapixel ASP-C sensor from Canon's mid-range offering, the 80D which means that you'll be able to get great looking photos with this camera, even in low light and in other conditions when demanding lighting comes into play.

You'll also gain a lot of control over exposure thanks to the ISO range of 100 to 25600 (expandable to 51200) and the shutter speed range of 30 sec to 1/4000 sec. The SL2 also comes equipped with one of Canon's latest imaging processors, the DIGIC 7, which promises to provide better low light performance when it comes to shooting JPEGs thanks to more advanced noise reduction algorithms. On top of that, the new processor also brings digital image stabilization for video recording, which will certainly prove useful to anyone remotely interested in video creation. There's also 5 fps burst shooting on board, which is not the fastest speed ever achieved by the combination of said camera sensor and processor but still perfectly in line with the speed you would expect out of a small budget DSLR, such as the SL2.

Where this camera does leave some room for concern is when it comes to its AF system. For some reason, Canon has decided to equip them with the same 9-point phase detection AF system previously found in some of their other budget DSLRs from a couple of years ago which isn't a very advanced one for today's standards. However, it still shouldn't provide ineffective for the types of users the SL2 is targeted at (amateur and casual photographers), so, it should perform just fine for general use except in very low light conditions or when it comes to shooting fast moving subjects.

Luckily, and to our surprise, Canon has decided to include their famed Dual Pixel AF technology into the Rebel SL2, which will mean that the focusing performance in live view should be very good, even when it comes to more challenging situations. It somehow seems that the company is trying to cater more to those users who are used to shooting with cameras not equipped with viewfinders or indeed, their smartphones since they've decided to equip it with such an advanced focusing system for shooting in live view. This theory also goes well together with the fact that the SL2 comes equipped with a rather traditional optical pentamirror viewfinder with an accuracy of 95% and a magnification of 0.87x, but also with a fully articulated and very capable TFT LCD touchscreen with a resolution of 1,040,000 dots. This means that you'll be using the LCD screen a lot more because of the added accuracy and the touchscreen capabilities, which shouldn't be a big problem for any of the said users that were already used to using their screens as their viewfinders. Now, let's move on some of the other hardware aspects of the Canon Rebel SL2.

The camera is made out of composite materials, which enables it to remain decently sturdy, but also extremely light weighing only 453 grams. It features a built-in pop-up flash unit with a maximum range of 9.8 meters (at ISO of 100), two stereo microphones and an external microphone jack, a mini-HDMI port and an USB 2.0 port (sadly there's no USB 3.0 support), a plethora of wireless connectivity options (Wi-Fi, NFC and Bluetooth) and lastly, an orientation sensor. Environmental protection and the headphone jack aren't included on the SL2, but that is to be expected when it comes to a budget-oriented camera.

The last improvement that this new model has received over its predecessor is on the video recording front. Aside from the obvious improvements to the focusing performance thanks to the Dual Pixel technology and the addition of the new digital image stabilization, the SL2 also enables to you record 1080p videos at a higher framerate, specifically, at 60 fps instead of only 30 fps on SL1. We know that some of you may have hoped to see 4K recording support, but considering how slow Canon is to include such a feature on their DSLR line up, it's no wonder that its' also missing here on the SL2. Still, 1080p 60 fps is also a nice improvement in its own right. Well alright, let's move on to everything related to the camera body and the general usability of the camera.
Body and handling
The body of the SL2 is a perfect blend of simplicity and functionality. You won't find as many buttons and dials as on a more advanced camera, but you get enough to be able to easily operate it together with the touchscreen input, which is the type of usability that feels just right on a camera like this. You should also have no problems getting used to the layout since it's pretty much your standard Canon affair and should equally appeal to those who have used a DSLR before and also to those that haven't. The SL2 isn't built out of top quality materials, neither is it weather resistant, but it doesn't feel like a cheaply made camera at all. If you don't treat it well you will notice some scratches here and there, but it will surely remain in working condition for a very long amount of time. The grip on the front also isn't the biggest we've seen, but it's still miles ahead of those you would usually see on mirrorless cameras and thus the SL2 fits a lot more comfortable in the hand. It's also one of the most portable DSLRs on the market thanks to its small dimensions and quite a low weight of 453 grams. While we would certainly like to see a bigger and more accurate viewfinder than the one that's included, the very sharp and fully articulated touchscreen more than makes up for that omission in our opinion.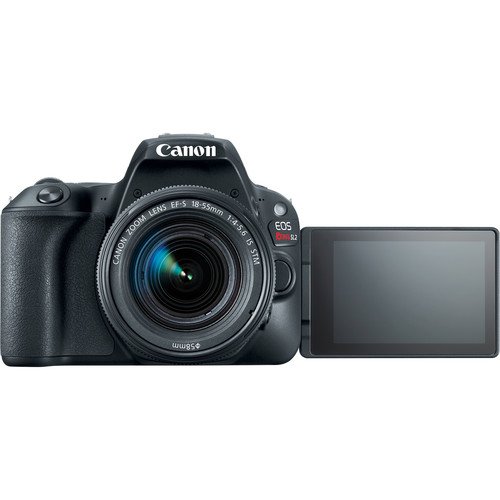 Before concluding the general story of the Canon Rebel SL2's body, we will also have to take a more detailed look at all of its prominent features, to determine whether we can add this to the lists of best Canon cameras in the market. So, let's begin. Starting with the front, you'll notice the stereo microphones, Red-eye reduction/Self-timer lamp and the lens release, flash, and the Depth-of-field preview buttons. The left side of the camera holds the NFC contact point, the remote-control port, and the, while the right side holds the mini-HDMI and USB ports, as well as the DC cord hole. The card slot and the battery slots are located in the same compartment on the bottom of the camera, as is the tripod socket. Now, let's see what the top of the camera reveals. Here we find the speaker unit, the Wi-Fi button, a hotshoe, the built-in pop-up flash unit, the main mode dial, the power switch, the main control dial and lastly, the ISO and Display buttons. Now, the back of the camera also holds a couple of interesting things. Besides the articulating touch screen and the optical viewfinder, you'll also find the Info and Menu buttons, the dioptric adjustment knob, the Live View shooting/Movie shooting button, the AE lock/FE lock/Index/Reduce and AF point selection/Magnify buttons as well as three additional buttons located around the four-way navigation controller (Aperture/Exposure compensation, Playback and Erase buttons) and one Quick Control/Setting button inside of it.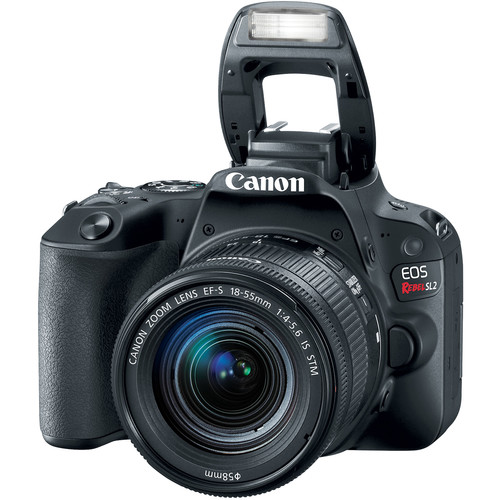 So, it's actually quite impressive how much buttons and dials have Canon managed to put on the SL2 without compromising its handling and the overall design. Even without it having a touchscreen as an additional input method, it would still be a camera that will be of pleasure to use for both the beginners and amateur photographers. Both of the control methods (physical and touch) benefit greatly from Canon's well-thought-out user interface which ties all of the controls, menus, and settings into one reliable and very functional entity. It's so easy to view and adjust every important setting that even first-time DSLR user should quickly get the hang out of the SL2. The Quick Control screen (accessed by pressing the Quick Control/Setting button) also provides a very simple way of adjusting a few of the simple parameters and also shows you an aperture scale which illustrates how much depth of field you'll be getting for different aperture values. You will also get some degree of customization with the Canon Rebel SL2 as you'll be able to do things like change the default function of the Shutter/AE lock and SET button, create your own customizable screen with the My Menu feature, enable or disable different warnings inside the viewfinder or let the exposure be adjusted in 1/3 or 1/2 stops. They are not as extensive as some of the more advanced cameras, but perfectly fine for the balanced type of DLSR like the SL2. Now, before we move on to other important aspects of every camera (its focusing capabilities and performance) we need to see how much functionality will potential buyers gain in terms of wireless capabilities, so let's begin.
As is the case with many of today's Canon cameras, the SL2 features a plethora of wireless-related features and can connect to many different types of devices. Most of you will probably want to connect it to your smartphone or a tablet and the easiest way to do so is via NFC (if your Android device supports it), but there's also the option to use Bluetooth, which is something that can be found an all of the today's smart devices. To make use of all the important functionality when the camera is paired to a smart device (remote-control, sending photos and adding GPS information) you'll need to download and install the Camera Connect application either from Android or iOS store. There are also other ways of sending or backing up your images; sending them directly to another Wi-Fi supported Canon camera, to a web service of your choice via the CANON iMAGE GATEWAY or additionally, to the Canon Connect Station (which is a device that acts as a wireless hard disk to store all of your photos and videos and can be accessed by any Wi-Fi enabled device that supports file transfer protocols). In the end, you can simply print your photos by connecting the SL2 to a wireless printer.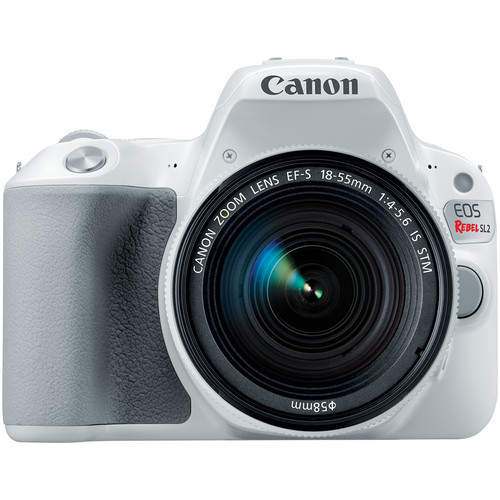 Once again, Canon has left us with nothing to complain about when it comes to wireless capabilities of their camera as this is yet another one of them that will satisfy the needs of even the most demanding types of users looking for such functionality. We are also very satisfied with what the company has done with the Canon Rebel SL2 in terms of its overall body design, functionality, usability and build quality. Surely this camera won't impress any professional photographer, but anyone that's a more casual user and likes to dwell into photography for their own pleasure should really like using the Canon SL2, at least when it comes to its camera body. Let's see if we'll be able to say the same when it comes to its focusing capabilities and performance.
Autofocus and performance
So, we've already established the fact that the SL comes equipped with a rather simplistic 9-point phase detect focusing system and we've adjusted our expectations accordingly since no one should expect any miracles out of it. In all honesty, it performs pretty well in normal shooting conditions and where there's at least some amount of light given at your disposal, but it does tend to slow down as soon as light levels begin to drop and some focus hunting does begin to occur. Also, forget about subject tracking as the SL2 focusing system is only sufficient for shooting still subjects and nothing that moves in fast or unpredictable manner. Still, this is a camera that's more aimed at those who just want to learn about photography and won't be bothered by the lack of its ability to capture movement as this is something expected out of more expensive cameras anyway, so its overall focusing performance is adequate for what it tries to achieve. However, if you don't mind mostly shooting by looking at the screen on the back you'll be treated to even better performance due to the included Dual Pixel AF technology and that's where the SL2 shines in this case.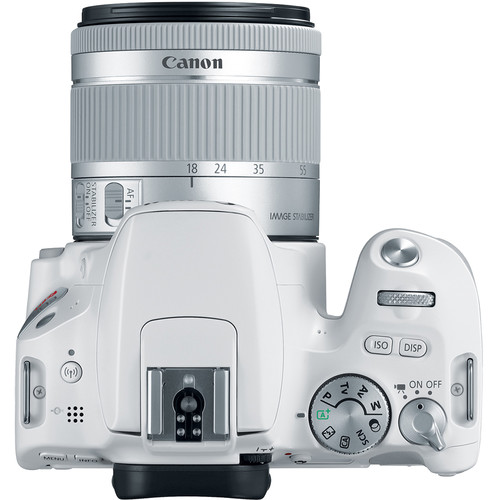 Now, let's see what you'll get in terms of different focusing modes. You'll be spending most of your time inside the One-Shot AF mode since it's the most traditional method of focusing on the SL2. It operates quite simply, you only need to press the shutter button halfway and the camera will try to acquire focus and adjust the exposure metering accordingly to the scene you're shooting in and that's it. If you're inclined to shoot any moving subjects, then you should switch to AI Servo AF mode which operates similarly to the One-Shot AF, but instead of locking focus at the press of the shutter button it constantly refocuses until you let go of the button or you take a photo. Those of you that are unsure of which of one those focusing modes to use can always enable the AI Focus AF mode and let the camera decide it for you when to use the One-Shot AF or when to switch to AI Servo AF. If you wish to choose your own focus point (from the total of 9 given at your disposal), you can do so by pressing the AF point selection button on the back of the camera and using the navigation arrows to move around the focus point array. Manual focusing is also available and so are two helpful features; focus confirmation beep when you're shooting through the viewfinder and magnify assist when you're in live view. So, in the end, we can say that the focusing performance of the Canon Rebel SL2 is on the same level we've expected it to be. Professional users won't be very compelled by its capabilities, but everyone else should surely find some enjoyment in what it has to offer.
Now, one area in which neither types of users should find no disappointment is in how good the SL2 performs during use. The combination of a very capable DIGIC 7 processor and a simple, but effective user interface will surely enable anyone to have a great experience when using the camera, no matter the type of operation they're performing with it. It takes around 0.6 seconds for it to power on and takes the first photo and less than 0.1 seconds for it to focus using the center focus point, which is a very good performance indeed. One thing that certainly isn't as impressive (but still quite decent) about the SL2 it is buffer size when you're taking a burst of images. If you invest in a fast SD card, you'll be able to shoot at the fastest speed of 5 fps for as long as 22 JPEG or 5 RAW files before the camera slows down to around 3.2 fps (or around 1 fps when it comes to RAW). You couldn't call this an inspiring performance (at least when it comes to shooting in RAW), but the SL2's burst rate is still far from being unusable, which is certainly a step up from the previous model.
Lastly, we should mention the battery life, which luckily for the Canon Rebel SL2 is one of its biggest selling points. If you find yourself in a situation in which you'll be using the camera for a noticeably long amount of time, then you'll certainly stick to shooting through the viewfinder to save battery power. In that kind of usage scenario, you can expect to get around 650 shots before the battery will require a recharge. However, if you're mainly shooting using the LCD screen your endurance will be noticeably lower and will fall to around 260 shots per charge. In reality, if you can balance your usage between the two, you should be able to get very good battery life out of this camera.
To conclude this section of the review, we can only say that we're pretty satisfied with the Canon Rebel SL2 when it comes to its performance. It has a decent focusing system (especially in live view), excellent performance during use, average, but useful burst rate and a very good battery life. You'll certainly get quite a capable little DSLR for not much money and that's exactly what the SL2 is all about.
Video features and quality
Shooting videos with the SL2 is a rather simple affair; you just flip the power switch to movie mode, focus on your subject (you don't even have to be bothered by this if you enable the continuous AF or Movie Servo AF mode) and press the Movie record button to start recording. It's as simple as that. The Dual Pixel AF technology certainly plays a big role in such a user-friendly experience as you'll rarely have to use manual focusing during video recording and that takes over a big amount of work that a lot of users will usually have to do a lot of other DSLRs and mirrorless cameras to get great focusing performance.
Having a touchscreen and Touch AF capability also helps a lot in this regard. There are also both the full manual and auto exposure modes available, so it's up to the user to decide if they want a more straightforward experience or more control over the look of their videos. The same can be about the audio recorded with the Canon Rebel SL2. You can either opt in for the integrated stereo microphones and get the decent audio quality that will be more than suitable for casual shooting or invest a little in an external microphone and get the very good quality that will give your videos a lot more professional feel. When it comes to resolution, you can expect to get very decent looking high definition videos out of the SL2 thanks to it being able to record 1080p footage at 60 fps. You'll be able to capture a lot of detail, good colors and dynamic range and also a very little amount of noise up to the.
Now, we know that we should mention the fact that the Canon Rebel SL2 doesn't support 4K recording, but we believe that that isn't such a big omission in case of this particular camera (the same can be said for the lack of a headphone jack). Remember, this isn't a professional or even a mid-range DSLR, so it would be a little unrealistic to expect to see such features included with it, but on a very positive note, the SL2 does include enough functionality to become a very interesting camera for anyone wanting to record good-looking videos on a budget or anyone looking for a backup camera to their main device.
Image quality
While the Canon Rebel SL2 has many positive things to its side, the most important of them has to be the image quality it's able to produce thanks to its 24-megapixel APS-C sensor. No matter if you're shooting in RAW format or in JPEG you can expect to get very detailed photos with low noise and above average dynamic range.
We like that Canon has done a lot of work in optimizing the JPEG processing, since most of the users will spend their time shooting in that format anyway and the result of that processing is vibrant colors, moderate amounts of sharpening and very mature noise reduction that manages to keep a decent amount of details when the camera is dealing with high ISO values. This means that you can expect to get quite good low light performance if you can stay around the ISO of 6400 most of your time as photos above that value do tend to look noticeably less impressive and thus not as usable.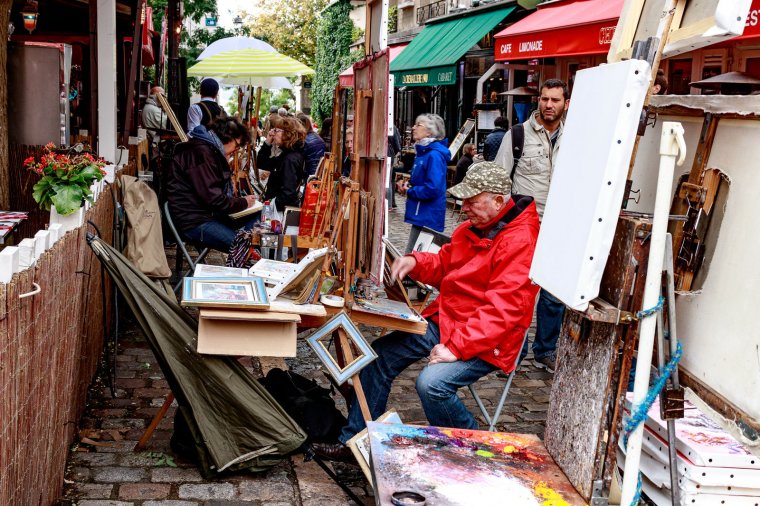 Photo courtesy of D Blain Morton
Thanks to the improvements Canon has made to their latest APS-C sensor, the dynamic range you can expect to get out of the SL2 is noticeably better than that of its predecessor and on par with most of the cameras it's trying to compete with (bested only by Nikon's DSLR, but only by a margin). So, it's good to know that the camera will have no problems handing challenging lighting conditions and also providing you with a decent amount of room to adjust your exposure in post processing if you decide to shoot in RAW format. If you believe that you'll mainly be sticking with shooting JPEGs, then you can make use of different Creative Filter Effects that will be given at your disposal. Some of these can be quite interesting, like the Grainy B/W which will enable you to create a more vintage look or the Miniature effect that will give your standard photos more depth and a unique look.
In the end, the Canon Rebel SL2 does a fine job of capturing photos that shouldn't leave any user wanting for more and for a lot better results. Pair it with a nice quality lens and it could easily be mistaken for a much more expensive DSLR judging solely by the quality of its images.
Conclusion
So, what else is there to be said about the Canon Rebel SL2? Well, we can certainly say that it fulfilled our expectations and even surprised us to a small degree. It may not sound like the most exciting camera ever (at least on paper), but it does present a well-thought-out package aimed at those users that want a simple, yet powerful DSLR.
It's true that it doesn't come with a most sophisticated focusing system (except for the Dual Pixel AF in case of shooting in live view) and the largest and most accurate viewfinder, but each of its other aspects is perfectly catered to its price point and purpose in general.
In our opinion, it's a fine alternative to getting a mirrorless camera as it will offer a very similar feature set, but in a body, that brings that traditional DSLR handling that is still loved by many photographers and is hard to replace by anything else. If that is something of value to you, then you should seriously consider the Canon Rebel SL2 as your next purchase.
SaveSave
SaveSave
The following two tabs change content below.
An amateur photographer, songwriter, musician, computer and technology geek and an occasional comedian, I'm a little bit of everything. I always aim to pursue things I'm passonate about and try to look on the positive side of things whenever I can. My mission is to wrap my articles in that aura of positive energy and keep a healthy balance between being serious about my work and spicing things up with a little fun now and than. After all, life's a game and there's always a different way to play it.