Canon PowerShot G1 X Mark III Review: Discovering a Life Companion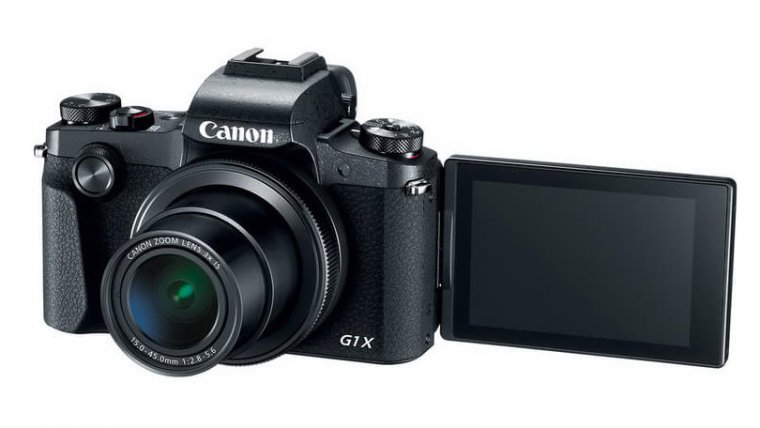 Canon PowerShot G1 X Mark III Review: Discovering a Life Companion
www.sleeklens.com
While compact cameras have begun to be slowly replaced by mirrorless cameras and even smartphones, a lot of manufacturers aren't ready to give up on them and are trying hard to create products that will play on the strengths of dedicated cameras and bring them to those users that want something capable and but aren't in need of a camera with the ability to change lenses or aren't satisfied with the image quality or the amount of photography-related features brought on by today's smartphones. And this makes perfect sense to us and we also believe that compact cameras aren't ready to kick off the bucket and call it quits. Now, when a big company like Canon still decides to invest their resources into making a premium compact camera, you know that things are serious.
This time we get to review one of their latest attempts to make a serious dent in the camera market, the Canon PowerShot G1 X Mark III. It is a camera that tries to combine the image quality brought on Canon's interchangeable lens cameras like the 80D or the M100, but with the power of an advanced control scheme, great build quality, simple, but intuitive user interface, a fixed optically stabilized zoom lens and many more features you would expect from a modern compact camera. Unfortunately for Canon, they are still hesitant in unleashing all of their expertise at those highly interested in video recording, so the G1 X Mark III also lacks 4K recording like most of Canon's cameras, on top of some other things.
So, this is certainly a camera that mainly focuses on shooting stills and you should keep that in mind if you're considering it as your next purchase. Still, not everyone is interested in making videos and there are a lot of users out there that just want a capable and portable camera that will allow them to capture high-quality photos and that's where the strengths of the Canon PowerShot G1 X Mark III really lie. We believe that Canon knows what they are doing and that they wouldn't risk their reputation in making a product that won't appeal to a larger audience and thus let us give the G1 X Mark III a fair chance instead of focusing on the things it lacks when compared with some of its competition. So, if you want to know more of Canon's best? Just click this link.
What lies at the heart of every digital camera is its sensor and for some, it may not be of very high importance for it to stand out in any way, but that is certainly not the case with the premium compact camera such as the Canon PowerShot GX 1 Mark III. So, it's good to see when a company also recognizes the same thing and that's why Canon has decided to build the G1 X Mark III around the same 24-megapixel APS-C sensor found in their second best non-full frame DSLR, the 80D. This means that you'll be able to get high-quality photos at any time and under any lighting conditions with a camera that you can easily carry with you every day and that is, of course, one of the main reasons why you would invest in such a piece of gear in the first place.
Pros
Built-in WiFi
Bluetooth Connectivity
NFC Connectivity
Image Stabilization
Articulating Screen
External Flash Shoe
FullHD Max Video Resolution
Touch Screen
Electronic Built-in Viewfinder
RAW Shooting
Built-in ND Filter
Dual-axis Electronic Level
Remote control with a smartphone
Environmental Sealing
Timelapse Recording
Cons
Low Battery Life
Heavy Body
Click to read the full Review
All of you who are used to putting a lot of effort in editing your photos after you've taken them will be happy with the inclusion of RAW support and it's certainly of no surprise that it's included on the G1 X Mark II. The only thing that could be holding that sensor back is the lens and we have yet to test the optical quality of the 24-72mm equivalent f2.8-f5.6 lens sitting on top of it. Since we are talking about a lens mounted on a compact camera that's aimed at enthusiasts, we do believe that it will turn out to be respectably sharp at all focal lengths.

One thing that will limit some of your creativity to a certain limit is the rather dark maximum aperture of f5.6 that the lens has at the end of its zoom range, meaning that you would be getting as nice of a subject and background separation as you would for example with an f2.8 or an f4 lens. Still, the more important thing is that the lens itself is equipped with a very effective stabilization that offers up to 4 stops of correction which will enable you to get very respectable images in low light even when shooting at 72mm and at the aperture of f5.6. There's also the ability to shoot at ISO values as high as 25600, which will certainly prove useful in the most challenging lighting conditions. You'll also be able to dwell on macro photography in a certain way thanks to the minimum focus distance of 10 cm.

If there's one area in which the G1 X Mark III shows no obvious limitations, it's in its performance. First, the camera sports a very familiar DIGIC 7 processor, which will ensure that it remains responsive even during the heaviest tasks, such as shooting a burst of photos or focusing on moving subjects. The same processor also enables the G1 X Mark III to take images at an impressive speed of 9 fps (7 fps with continuous focusing) and you certainly couldn't ask more from a compact camera with a high-resolution APS-C sensor. To make sure that such shooting speed doesn't go to waste, Canon has decided to include the 49-point phase-detect AF system with Dual Pixel AF technology, the same one that's found its way in many of their modern cameras. If you know your way around cameras, then you're certainly aware of how much praise has been put on the said AF system, starting with its debut in the Canon 80D and how capable its proven to be both or shooting stills and recording video. To round up all the talk about performance we should also mention that the G1 X Mark III has the ability to use shutter speeds of up to 1/2000 sec and as slow as 30 seconds, which will certainly prove useful for those interested in night photography.

There's one area in which the G1 X Mark III feels a little undercooked and that's video recording. It does offer things like 1080p recording at 60 fps, stereo microphones, full manual mode, Dual Pixel AF and Focus peaking, but the lack of 4K support and microphone and headphone jacks makes it less useful to serious videographers than it could be if Canon has decided to include those features. Thankfully, other than those two ports, no other cutbacks have been made to the camera body itself and its quality. It's made out of magnesium alloy, weather sealed and brings a control scheme worthy of its premium price tag. So, physical controls wouldn't be everything, it also brings a fully articulated 3-inch TFT LCD touchscreen unit with a resolution of 1,040,000 dots that brings useful features such Touch AF, full capability to navigate the user interface and can also act as a touchpad to select your focus points while you're looking through the viewfinder. Having an EVF on board is also something that will be appreciated by every photographer out there and it's good to see that the unit itself is 100% accurate and very sharp thanks to its resolution of 2,360,000 dots.

The Canon PowerShot G1 X Mark III also brings other important features such as the built-in pop-up flash unit with a maximum range of 9m and also support for sync speeds of up to 1/2000 and the ability to connect an external flash via its hotshoe, a single SD card slot with support for UHS-I technology, micro-HDMI and micro-USB ports, an orientation sensor and lastly, a plethora of different wireless technologies including the Wi-Fi 802.11b/g/n, NFC and Bluetooth. It also includes a battery pack rated at a maximum of 200 shots and the model in question is an NB-13L battery.

So, the Canon PowerShot G1 X Mark III certainly isn't a perfect camera that will satisfy the needs of all the different types of users, but it does have lot of strengths to it and presents itself as a very capable tool for those that want to have camera with a large sensor that they can always have in their bag or a backpack and have the ability to take great looking photos no matter what they decide to shoot with it.
Body and handling
The design of the Canon PowerShot G1 X Mark III holds very few surprises as it's a camera that's built following the traditional guidelines of Canon's previous advanced compact cameras and doesn't try to reinvent the wheel. It's a very familiar design, that's both user-friendly and also packed with enough physical controls to satisfy the needs of enthusiasts who like to have dedicated buttons and dials for all the important functions. It's made to the highest standards thanks to the use of magnesium alloy materials and also the inclusion of comprehensive weather sealing that seals tight every possible point of entry where the water could reach critical parts of the camera and cause some damage.
We wouldn't go as far as to fully immerse it in water, but it should do just fine in those conditions where there's more moisture in the air or during the rainfall. Despite its smallish size, the G1 X Mark III is a comfortable camera to hold because of its nicely shaped front grip and thumb rest and also the non-slippery texture that covers all of the important areas. All of its most important parts from the buttons and dials, to the hinges of the articulated screen fill us with confidence that it will be able to withstand a lot of abuse before it stops working for any reason and that more careful users out there should have no problems keeping it in a near pristine condition even after many years of use. Also, thanks to its traditional look all of its controls are easily accessible, and we found no buttons or dials that were put in an awkward position that would hurt the overall usability of the camera. Now, let's examine all of the hardware aspects of G1 X Mark III in more detail and see what Canon has really done to make using it a nice experience, no matter how much expertise you have with dedicated cameras.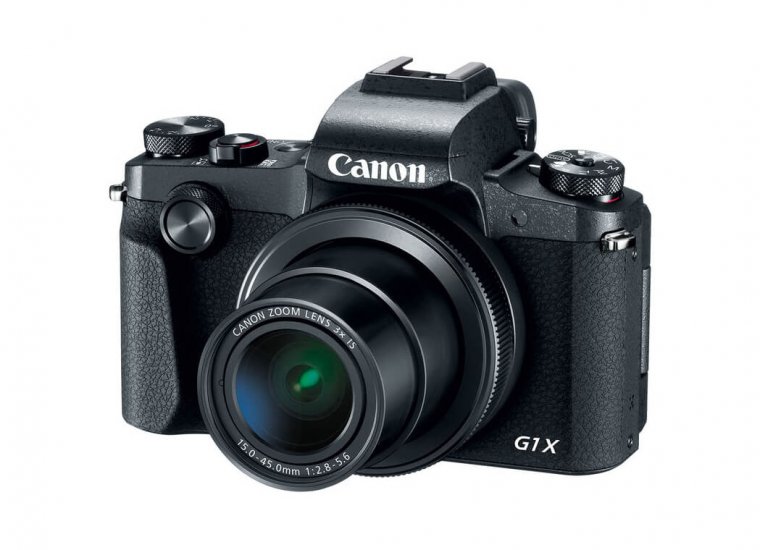 Let's start with the front. Here we find the front control dial, the focus assist/self-timer lamp and the lens itself with one control ring on its barrel. The left side of the camera holds the mono speaker and houses the hinge for the articulated screen, while the right side has all of the included ports (remote, digital and HDMI) and also the Wi-Fi button used for direct access to all the wireless features. The bottom of the G1 X Mark III holds the tripod socket, the NFC mark and a compartment that's shared by the battery and the SD card slot. Looking at the top reveals the main mode dial and two of its custom shooting modes (C1 and C2), the stereo microphones, a regular hot shoe connector, On/Off button, the shutter button that also has a zoom lever attached to it and finally, the exposure compensation dial with the adjustments that go from -3EV to +3EV. Finally, let's have a close look at the back of the G1 X Mark III. The main things that stand out are of course the LCD screen and the EVF, but beside them you'll also be able to find the dioptre adjustment dial, the Move button, AE lock, AF frame selector, Playback and Menu buttons, as well as the rear control dial that also doubles as a four-way navigation controller with four default shortcut mapped at each of its four directions (Drive mode/Single-image erase, Macro/Manual focus, Flash, and Info) and also comes equipped with a conformation (or Quick Set menu/Set) button in its middle.
Like we've said at the very beginning of this section, there aren't any special things to take note of in case of the control scheme as everything you'll ever need is featured here and is covered either by a dedicated dial or a button or can easily be selected or adjusted directly from the touchscreen. That's where the Canon's great use of touch capabilities and well thought out user interface and menu system come into play to round up the entire experience and make it as smooth as possible. The interface itself is very clean and simple and its very easy to understand most of the features and what their exact function is, so you won't have to spend a lot of time reading the manual to learn your way around the camera. It also doesn't matter if prefer to control the camera with the physical buttons or via the touchscreen, as both methods make full use of the user interface and offer equally good experience. Now, you're probably wondering how customizable the said interface is and how deep can you go to fine-tune the G1 X Mark III to your own needs.
Well, for starters, let's talk about custom shooting modes (C1 and C2). Their function is quite simple as they will allow you to save most of your current settings to one of those profiles and gain access to those exact settings every time you select the mode you've assigned them to. It's a great time saver if you're often shooting in very similar conditions where there isn't a lot of variation when it comes to lighting. The good thing is that you can always change those settings on the fly and they won't interfere with the settings you've saved after you turn off the camera. After that, you can choose to reassign the functionality of the AE lock, Movie and the AF frame selector buttons, as well as both the rear and front dials and the lens control ring. Then there's the Quick Set Menu which will allow you to put up to 12 different functions organized in a tiled interface that's very easy to access. In addition to the Quick Set Menu, there's also the My Menu feature which will enable you to choose some of the menu items that usually aren't easy to find and be able to quickly use them quickly at any given time.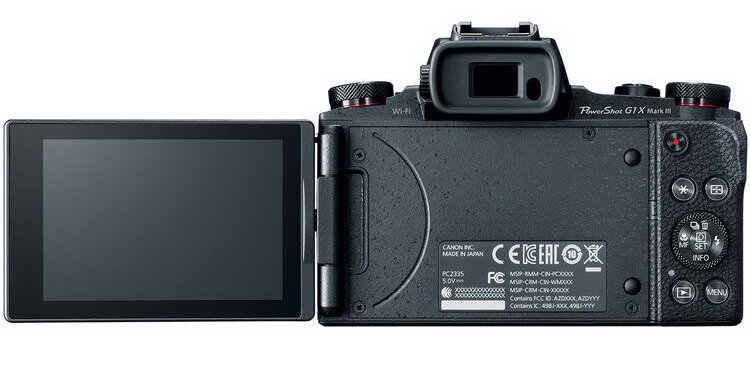 Now, to round up this section of the review, let's talk about every important feature that's related to wireless communications and see if the G1 X Mark III can also hold its own it this regard. First, you'll probably want to know what kind of functionality can you expect to gain when connecting the camera to your smartphone or a tablet. Well, the G1 X Mark III certainly manages to cover all of the features that matter (you'll just need to download and install the Canon's free Camera Connect application and you're good to go); you can easily connect to any NFC-enabled Android device just by tapping it on the NFC mark and immediately establish a connection between the two, view photos located on the camera itself directly on your smartphone or send them to it, remotely control the G1 X Mark III and shoot both photos and videos and also add the location data gathered by your smart device to the EXIF info of your images. You'll also be able to register the camera the to the CANON iMAGE GATEWAY service and upload your photos or videos to many different web services like Facebook, Flickr or YouTube. You can do this manually or automatically via the Image Sync feature.
Lastly, you can also connect the G1 X Mark III to a compatible PictBridge printer and easily convert your images in a paper form or connect to another Canon camera which also has the Wi-Fi functionality. If you wish to save some power and still use the camera for things like remote shooting, viewing or geotagging images, then you can use the included Bluetooth technology. All in all, the Canon PowerShot G1 X Mark III certainly manages to present itself as a very capable piece of gear both when it comes to its usability and quality of construction and when it comes to performing Wi-Fi related tasks.
Autofocus and performance
One of the most exciting upgrades that the G1 Mark III manages to bring over its predecessor is related to performance in every possible way, so let us start checking the items off that list. First, there's the autofocus. Since the 49-point phase detect found inside this camera is the same as one featured in the Canon 80D, it's no wonder that it manages to exhibit excellent performance no matter the type of work you decide to throw at it. The normal daily situations of shooting still subject and in broad daylight provide no challenge for it at all and you should always end up with perfectly focused shots in those conditions.
When it comes to shooting anything that moves or in any kind of low light, the camera does slow down to a certain degree, but never in a way that it feels like it's holding you down to take an important shot and the number of correctly focused images will again remain very high and the overall performance will never feel inconsistent or ruin your shooting experience. All in all, the G1 X Mark III certainly won't be mimic the performance you would get from a more expensive action or sports-oriented camera, but it will perform exceptionally well for the type of compact camera it tries to represent and shouldn't feel any of its users disappointed or even wanting more from their camera.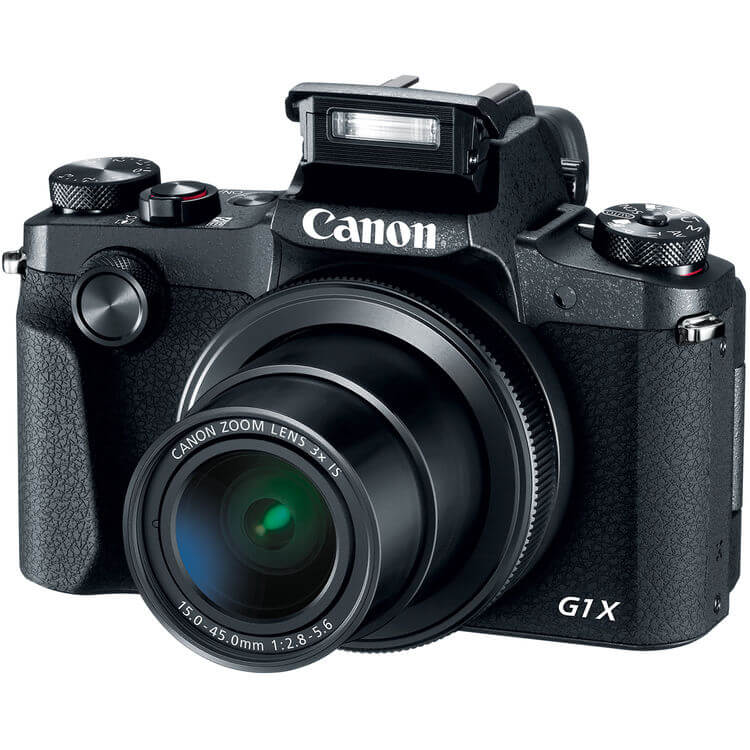 Now, let us see what this camera offers in terms of the available focusing modes and how much control is given to the user in customizing the behavior of the Canon PowerShot G1 X Mark III when it comes to its AF system. You'll get to choose between four of the main focus modes; the 1-point AF (it's your most reliable focusing method as it only uses a single AF frame that can be moved around the image frame and also resized), Face+Tracking (in this mode the camera will try to focus on your subject's face and keep it in focus even if it's moving), Smooth Zone AF (best used for those occasions where 1-point AF or Face+Tracking aren't accurate enough because it will let you focus on one designated area of your choice) and lastly, there's the Servo AF (the best mode to be in when you're only shooting moving subjects as the camera will continue to refocus your shots as long as you keep the shutter button pressed halfway).
There's also the option that will allow you to fine-tune your focus after the AF has done its thing. As long as you keep the shutter button pressed halfway a magnified view of your frame will appear and you can easily adjust your focus just by using the ring on the lens. Touch AF is also available and works as you would expect (it can also be used together with the Face+Tracking mode). You can also lock your focus with the help of the AF lock feature and prevent any unnecessary changes to your focus distance while you're moving the camera around. Of course, there's also the manual focus which can be easily operated with the help of the four-way navigation controller and its Up and Down buttons (using the Up button will move you up the focusing scale and closer to infinity, while using the Down button will bring you closer to your subjects and enable you to reach the closest focusing distance at the end of the focus scale). Besides the general method of magnifying the part of your frame to assist you with focusing, you can also enable the Focus peaking method which will put colored outlines of one the parts of your images that are in focus. You'll also be able to choose from a few predefined colors or adjust its sensitivity. Lastly, Focus Bracketing is also available, and it will allow you to capture three images with different focal distances (one set manually by you and the other two farther and closer to your setting) and combine them into one image that now has an increased depth of field (this mode is especially helpful if your shooting anything at close-up distances and where thinner depth of field comes into play).
When it comes to overall performance, the Canon G1 X Mark III generally acts like a flagship camera and is very snappy when it comes to most types of operation. It only takes about 1.5 seconds for it to start up and get ready for work, but after that initial boot up it performs on a level you would expect from a high-end compact camera. It only takes around 0.15 seconds for it to acquire focus, 0.5 seconds to take a photo and up to 2 seconds take one with the flash on. Now, let's talk real shooting speed and reveal its performance when it comes to taking images in rapid successions. At its maximum burst rate of 9 fps, the Canon PowerShot G1 X Mark III will be able to take around 23 JPEG or 17 RAW photos before its buffer begins to fill up and the overall shooting speed slows down. While that's certainly not the kind of performance that could rival the fastest cameras out there, it's still rather good for a compact camera with such a big image sensor and there is no reason to complain about it. You'd certainly be able to use the burst rate the way it was meant to be used and capture some types of moving subjects with little to no problems (the great AF performance helps a lot in this case). You could even get away with shooting some light sports, like for example your child's soccer game or something similar.
Now, in the end, let's talk about battery life. If there's one aspect of the Canon G1 X Mark III that could be considered to be our least favorite one, that has to be its battery life. Rated at only around 200 shots, which is 115 below compared to Canon SX50 HS is below the endurance we would consider to be average for a compact camera and certainly would hurt your ability to shoot the entire day without having to charge or change your battery. Just like Panasonic Lumix DMC-GF7 which can only do 230 shots. So, the heavier users out there should definitely carry an additional battery with them or make use of the available in-body charging and use an external battery bank to keep the camera filled up for as long as the of that power bank allows it. These aren't the most elegant solutions for hassle-free photography you would expect to get from a compact camera, but considering how much power the G1 X Mark III manages to offer we would call them acceptable solutions to one of the only serious flaws this Canon has to its side.
Video features and quality
Now, if there's one part of the entire shooting experience that the Canon PowerShot G1 X Mark III brings to the table that resembles using a smartphone the most, it has to be its video recording and the features related to it. Since it lacks dedicated microphone and headphone jacks (and relies on a decent pair of built-in microphones) and offers reliable and fast focusing performance while recording, it can be easily left in Auto mode and used to shoot decent quality videos stress-free.
If you decide to use it that way and you don't consider yourself to be a demanding user than you will be left with a very satisfying experience and will enjoy every second of creating videos with the G1 X Mark III. If, however, you consider yourself a more advanced user that is very interested in every possibility to expand the functionality of your camera to help you with your work or you must have a camera that records 4K footage, than you won't be very pleased with everything this one has to offer. It's quite obvious that Canon decided to leave out the "advanced" part of this camera out of it when it comes to video recording and instead decided to focus on a more straight-forward way of allowing their potential buyers to make use of the image quality the G1 X Mark III has to offer and create footage that is pleasing to the less demanding eye. It's certainly not the best footage we've ever seen (even from a camera with the large APS-C sensor), but it's still quite decent thanks to the bitrate of 35 Mbps and maximum available framerate of 60 fps.
Now, it may not be the advanced 4K shooter some people desired it to be, but we really need to praise it for its focusing capabilities once again, since they show the same high level of performance that they've managed to reach during our focusing test for shooting stills. Canon has done a phenomenal job with their Dual Pixel AF technology and it really shows when you switch the camera to video mode and you compare the G1 X Mark III with other cameras in its class. If there's one feature that makes it stand out from the crowd in regard to its video recording, it's the Dual Pixel AF. So, once again, if you consider yourself a serious videographer, then you should probably look for another camera, but anyone else who wants to get a new compact camera to primarily shoot photos with, read on, as we're about to talk about stills capabilities in the very next section of this review.
Image quality
We all know that Canon's sensors were rarely considered to be the best around when it comes to the image quality they are able to produce, but the company has finally decided to change that trend and the improvements brought on by their cameras released in these last few years weren't hard to spot. The Canon PowerShot G1 X Mark III represents the best the company's APS-C sensors currently have to offer since it sports the same one built in the renowned Canon 80D DSLR and is able to reproduce its stills quality to the latter. The lens included with the G1 X Mark III may be slower than some people may have liked, but it does a very good job of making the most out of the 24-megapixel sensor that sits behind it, no matter if you're shooting at its wide or telephoto range.
You can expect to get very detailed shots in all conditions and even low light (getting very usable images at ISO values of up to 6400 shouldn't be a hard thing to do, especially if you're shooting in RAW and editing the photos by yourself). Dynamic range is also very decent and while you won't be able to pull a lot of details out of your bright areas if they end up being overexposed, the story is quite different when it comes shadows and dark areas, as there's a lot of information to be pulled out from those areas and white very little degradation to the overall image quality. We also like the JPEGs that come out of the G1 X Mark III since they manage to offer a fine balance of detail, contrast, and accurate colors and also handle noise reduction pretty well thanks to the power of the DIGIC 7 processor. Those of you that are interested in applying different effect to their images will also be happy to know that there are a lot of them included on this camera. These are the Smooth Skin, Panning, Grainy B/W, Soft Focus, Fish-Eye, Art Bold, Water Painting, Toy Camera and the Miniature effects and also the High Dynamic Range mode.
Lastly, we would also like to point out a few of other interesting features like the Digital Tele-Converter that will allow you to increase the focal length of your lens by factors of 1.6 or 2x (but with some cost to image quality), the new Panoramic Shot features that lets you capture panoramic images easier than ever before or the different shooting modes optimized for taking pictures of stars like the Star Nightscape or Star Trails. So, while the G1 X Mark III may not be the most impressive camera to take videos with, it does manage to improve the entire shooting experience by adding a lot of flexibility when it comes to taking stills and a lot of photographers won't mind that things have turned out that way.
Conclusion
It's true that the Canon has received a lot of criticism because of the PowerShot G1 X Mark III since its initial release and it's easy to see why that has happened. A lot of people have expected for this camera to be an ultimate compact camera both for photography and videography and wanted for it to compete with the best mirrorless APS-C cameras out there, but in all honesty, some of them have kept their expectations unreasonably high. No matter what its position on the market is meant to be, the G1 X Mark III is still a compact camera and those types of cameras alone often have to bring some sort of compromises to become what they are; a certain type of photographic tool that you can easily carry with you and produce good looking photos and videos without needing to invest in any additional gear or even spend much time away from the Auto mode to achieve satisfying results.
The Canon G1 X Mark III perfectly fulfils that role, but at the same time also manages to bring a few of the more advanced features with it, like weather sealing, comprehensive control scheme, an excellent EVF and flexible touchscreen, an optically stabilized lens that can easily go from decently wide field of view to short telephoto range, great 24-megapixel APS-C sensor, one of the best AF systems you'll ever find on a compact camera (especially if you spend a lot of your time shooting in live view), very good burst rate with decent buffer depth, wide range of wireless capabilities thanks to also having NFC and Bluetooth in addition to Wi-Fi and more. You may fault it for having a slower lens than you would usually be able to put on a mirrorless camera and having below average battery life, but we believe that those were the sacrifices that had to be made to be able to keep the camera as portable as possible.
The only aspect of the G1 X Mark III that could certainly be improved is its video recording capabilities, as having 4K recording would certainly bring it to the level of quality you would expect out of a modern camera. So, if you are taking your cameras seriously when it comes to recording videos, then all the criticism that has gone in Canon's directions is justifiable, but if you're only interested in taking photos (as a lot of people certainly are) than the Canon PowerShot G1 X Mark III isn't nearly as bad of a choice as many photographers present it to be. It really manages to tick most of the important boxes that make a premium compact camera and despite a flaw or two, it certainly does the job it was created to do and there's not a lot more you could ask of any camera.
SaveSave
The following two tabs change content below.
An amateur photographer, songwriter, musician, computer and technology geek and an occasional comedian, I'm a little bit of everything. I always aim to pursue things I'm passonate about and try to look on the positive side of things whenever I can. My mission is to wrap my articles in that aura of positive energy and keep a healthy balance between being serious about my work and spicing things up with a little fun now and than. After all, life's a game and there's always a different way to play it.