Canon EOS M5 Review: A Precise Mirrorless Camera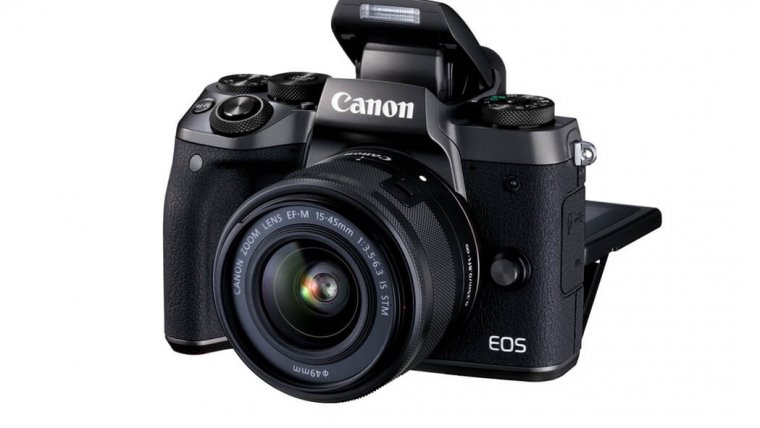 Canon EOS M5 Review: A Precise Mirrorless Camera
www.sleeklens.com
A lot of people believe that Canon entered the mirrorless camera market a little too late to make an impact such a well known and established company should make by putting their name on any decent product and there is some truth to that. While you can't consider any of their M cameras as a bad product, they were somehow always behind the best in the business for one reason or another.
Canon EOS M5 was revealed to the public in the year 2016 which is the same year as Fujifilm's XT-2. But this time, we feel that it could finally change and that we have a very compelling and competitive product on our hands. It seems that Canon finally found a winning formula and made the best camera that can proudly wear their name and hold its own in the ever growing and crowded mirrorless camera market. Let's see if this holds true and brace yourself for a detailed review of the Canon EOS M5.
What's a better way to start talking about specifications than mentioning the heart of the camera, the sensor itself? Here we have Canon's newest and most advanced APS-C sensor to this date, the 24-megapixel one that also carries their trademark Dual Pixel AF technology. We will take a deeper look at what it can do later in the review, but it does sound very promising from the very beginning.
Pros
Built-in WiFi
NFC Connectivity
Articulating Screen
1080p Video Resolution
Touch Screen
Electronic Built-in Viewfinder
Light Body
Cons
No Image Stabilization
No weather-sealed
Low battery life
Click to read the full Review
There's also the powerful Digic 7 processor which should help with delivering better noise reduction and sharpening in photos and videos as well as giving a good maximum burst rate, which the M5 does have at 7 fps (9 fps when AF is locked at the first frame).

The body of the M5, while sporting a high-resolution screen and EVF also comes with something that is very rare on Canon cameras that have the ability to change lenses, and that's image stabilization. It's a 5-axis stabilization and very effective indeed, but sadly, it's still a half-baked solution, meaning that it only works for video and not for stills. Those who care a lot about video on their mirrorless camera will be left with a bittersweet feeling.

On the other hand they get a very effective image stabilization, microphone port and Touch AF, but on the other hand, there's no 4K video recording. It's true that a lot of people still aren't ready or interested in moving their video work to 4K, but it still being adopted by more and more people and we've reached a point where it's a risky decision not to include it on your flagship mirrorless camera when almost all of the market now include it on their cameras.

Canon is again a little slow to adopt to new trends, and they'll surely lose some potential buyers because of this decision. One redeeming factor could be the video quality itself; we'll see how it holds under the Video section of this review. Let's continue with a more in-depth look at the body of the M5, so stick around, things are about to get quite interesting.
Body and handling
From the first time you take a glance at the Canon EOS M5 you will immediately get an impression of it being an enthusiast-oriented camera through and through. The rugged metal body that borrows some design aspects from the DSLR cameras and a healthy amount of manual controls prove that fact. This is a lot different than Canon Powershot ELPH 360 because it is made of plastic.
First, there are the dials; you get three at your disposal; one acting as the main mode dial, one to control exposure by controlling shutter speed or aperture and one exposure compensation dial. It's a standard amount of dials that can be found on a lot of advanced cameras, but not many mirrorless cameras these days that can often heavily rely on the touch screen for most of their controls.
That brings us to the touch screen itself. It's everything you could ask for from a modern camera display, it's sharp at 1,620,000 dots, 3.2 inches large and can also be articulated. We don't have to mention the benefits of it being a touch screen; you should only know it's quite responsive and not much different from the one you are used to using on your smartphone.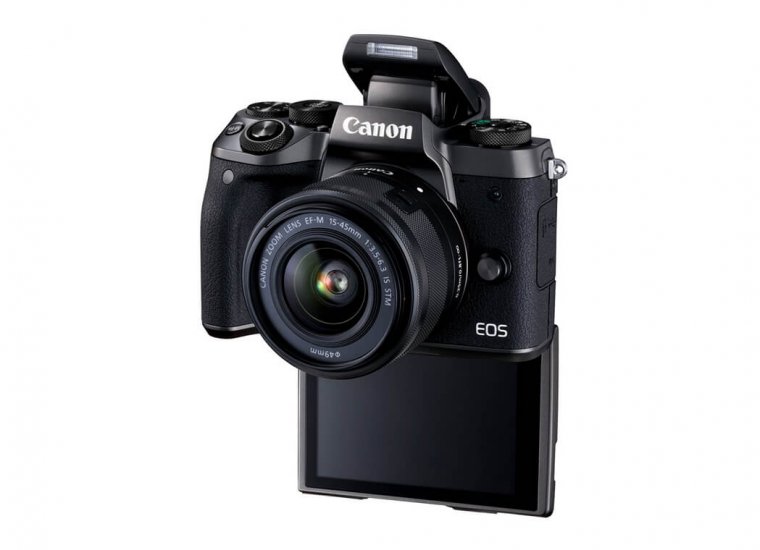 The story is pretty much the same when it comes to the viewfinder or EVF in this case; it's pretty much as high-end as it gets. You have a very high resolution of 2,360,000 dots, 100% coverage and exhibits virtually no lag. Today's EVFs have certainly improved in quality so much that they could easily phase out normal viewfinders found in DSLRs. We almost forgot to mention one interesting functionality when it comes to manual controls on the EOS M5, and that's the Dial Func. button which can be used to change the functionality of one of the command dials just with the press of that button meaning you can use that command dial for working with different settings like ISO, AF Mode, White Balance and so on. This option together with some more customization found inside the camera's menus also rounds up the M5 as one competent package that both enthusiast and amateurs will enjoy working with every day.
The menus themselves are also easy to navigate through, and every option seems to be in its place without the unnecessary clutter found on some other manufacturer's cameras. Each category is also color coded for additional help with finding everything you need and to easily remember and recognize every menu by eye after using the camera for a prolonged period.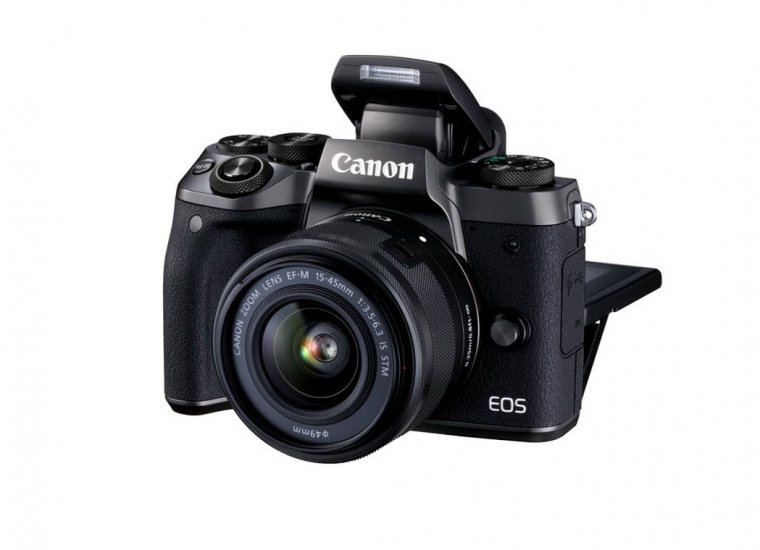 We should also mention another interesting and useful feature, and that is the ability to manually choose which area of the screen is active and which is disabled. This helps with preventing unexpected touches on the screen while you are using the camera up to your face and shooting through the viewfinder. This section of our review couldn't be complete without mentioning the ability to adapt Canon's EF and EF-S lenses to M5's body using the EF-EOS M adapter.
To our surprise, the adapted lenses usually work as well as they do when used on the cameras they were made for meaning there is almost no penalty to AF speed and accuracy. It isn't a cheap investment but for those that already own some expensive and quality Canon lenses won't complain that much just to be able to use those lenses with their shiny new M5s. Those who are solely interested in the native EF-M mount lenses also shouldn't be left disappointed with plenty of different lenses now being available for the EOS M lineup. Some good examples are the EF-M 11-22mm IS STM, 18-150mm IS STM, 22mm f2 STM or 28mm f.35 Macro IS STM lens. There is also a myriad of third party lenses available like those from Tamron, Samyang or Rokinon. The situation is a lot better than in the early days of the M lineup.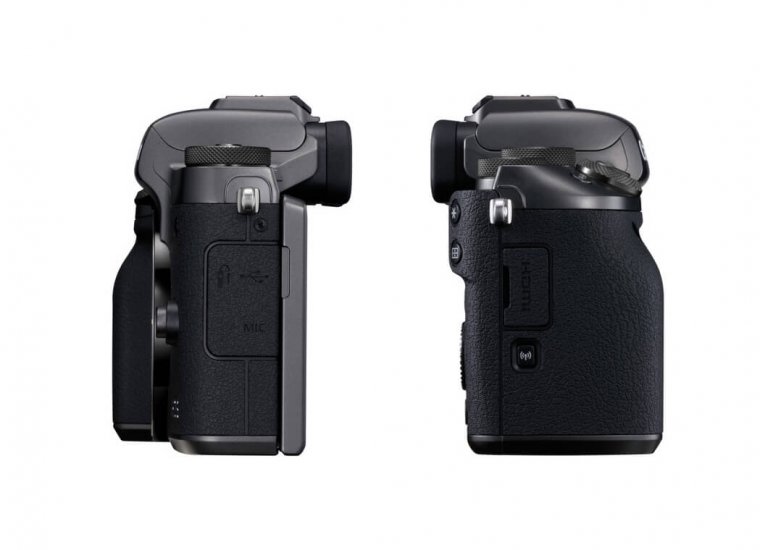 As the last feature, we should mention the M5's Wi-Fi capabilities, which are splendid indeed. It's easy to connect the camera to your smart device and you've even got NFC to help you with that. Canon's camera application which is available for Android and iOS devices is very intuitive and offers all of the features you would expect from a remote camera application. We can safely conclude that the Canon EOS M5 is a no compromise camera when it comes to its body and general usage and we can't see anyone complaining about anything when it comes to those things.
Autofocus and performance
This is another category where Canon saved no expense and decided to include an AF system that can also be found in their flagship DSLR camera, the 80D, so right from the start, we can expect some impressive performance. That system consists of 49-focus points and also uses Canon's trademark Dual Pixel AF technology. Without going the into all the details of how this technology works, you only need to know that it brings much-improved autofocus performance in live view than what you usually get with contrast detection AF. It brings impressive continuous AF performance when your taking a burst of images that even surpasses the 80D itself. This performance also translates to video recording, meaning you can finally rely on autofocus when using video without resorting to using manual focus because of usually inconsistent performance.
Do note that it still isn't as perfect as it should be for every serious videographer (or photographer for that matter) to consistently use it instead of AF through the viewfinder and it still has some quirks with being unresponsive from time to time. It's nothing that problematic to ruin the overall experience, but there is still some room for improvement indeed. One area where the M5 shines is its shooting speed, where it also beats the bigger 80D sporting a maximum burst rate of 7 fps with continuous AF enabled and 9 fps with AF and exposure locked.
The only caveat here is that the buffer isn't very large meaning it fills will up in a matter of seconds even with the fastest SD card being used. At least you can continue to shoot even while the buffer clears, so your camera isn't entirely out of commission while it's doing that. General performance is also very good with no noticeable stutters or hesitations. One area where the M5 falls behind its competition is in battery life, which is slightly below average at 295 shots per charge. Luckily this can somewhat be improved by turning on the Eco mode and increasing it to 410 shots.
Video quality and features
Now, we know what many of you will think about the video capabilities of the EOS M5 when you hear the fact that it's missing 4K video recording. No one would blame you for assuming that Canon decided not to put too much effort in video department or they are annoyingly stubborn to accept new trends and technologies. And you would be partially right. We are relieved to say that despite this fact not everything is so grim and the M5 is still a capable camera when it comes to video recording.
The highest you can go regarding resolution and frame rate is 1080p at 60 fps, which is still a combination many people will find useful and be happy. One important fact is that the M5 records 1080p videos of pretty high quality with lots of detail, accurate colors and little to no compression artifacts.
The video quality degrades a bit when you turn on the digital image stabilization, but it seems like a worthy trade-off to get very smooth handheld footage. The combined power of digital and lens stabilization does work as advertised, and we were very impressed by the results we got from using it.
We are also happy to report that the M5 deals with rolling shutter very well and that it's very hard to notice it even when shooting at 60 fps, which can't be said for many mirrorless cameras these days. Some won't like that Canon decided not to include zebra patterns to help you adjust your exposure more quickly, but on the flip side, you get an even more useful feature in the form of focus peaking. To continue with the positives, you also get the benefit of having HDMI out and a microphone port, as well as fully automatic or manual control at your disposal.
Even without the 4K recording and some useful features that can be found on other cameras, the EOS M5 is still an accomplished video recording camera that produces 1080p videos of very high quality helped by the superb image stabilization system and the ability to record higher quality audio with the use of microphone jack. Let's see if Canon were able to pull it off in the stills department and put the M5 among the best of the best on the mirrorless camera market.
Image quality
Now on to something that most of you will be interested in, how good the M5 really is when it comes to taking photos. It sports the same 24-megapixel APS-C sensor found in the Canon 80D, which sounds very promising right from the start. And indeed, the M5 is capable of taking some really beautiful photos, but as with many cameras these days it fulfills it's true potential only when you shoot in RAW. The JPEGs in general are all right, but there is some rather noticeable sharpening and noise reduction that reduces the quality of the photos by a notch and makes them look a little artificial instead of looking pure and natural like you would expect from a large APS-C sensor.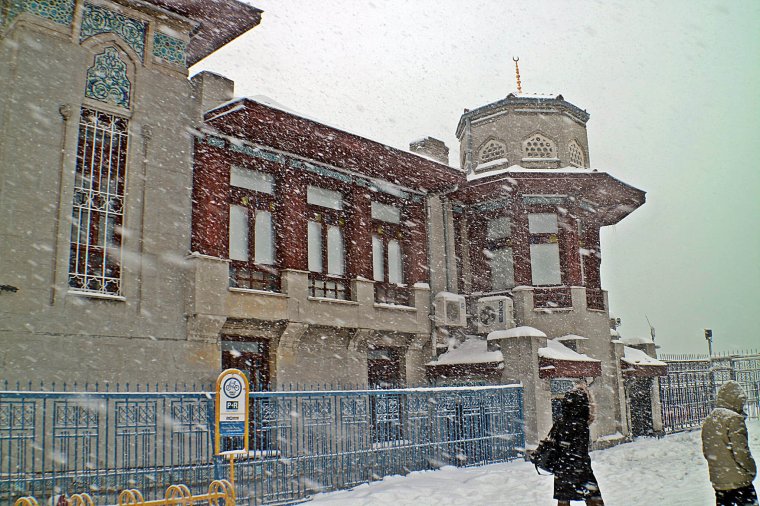 Photo courtesy of Mehmet Arisli
It seems that Canon decided that a lot of potential buyers of the M5 won't fiddle too much with their photos when it comes to sharpening and noise reduction and that many people would like the over sharpened look which gives the impression of sharp photos with a lot of detail. I guess we can't blame Canon too much since it seems to be a trend among a lot of camera manufacturers these days, those who plan to edit their photos after shooting will resort to using RAW anyway.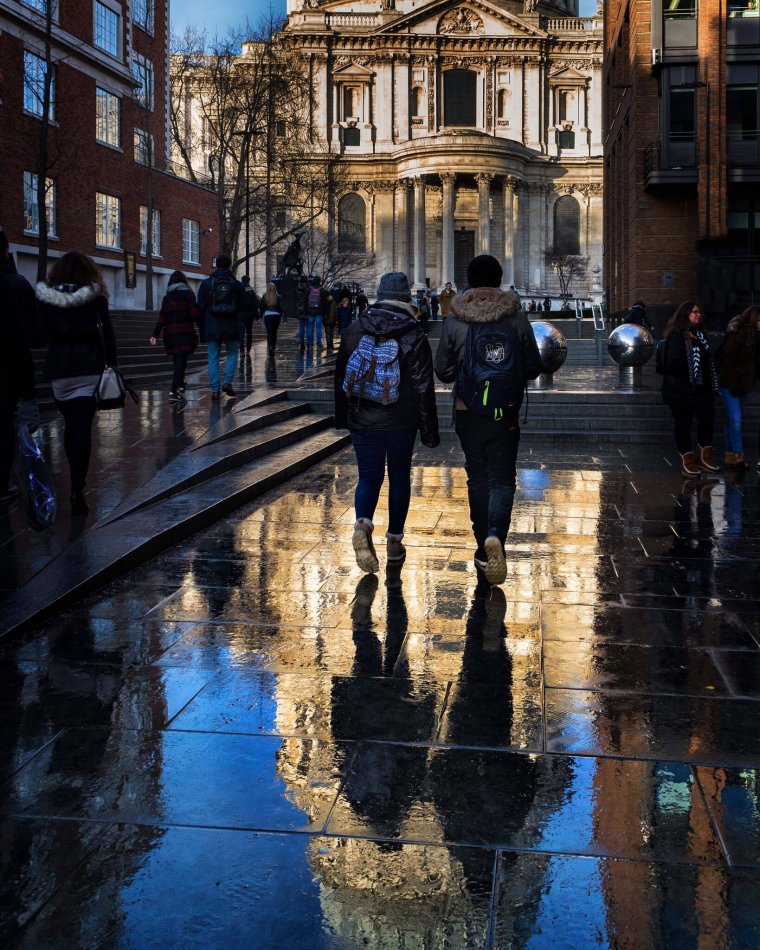 Some of the positives of Canon's JPEG algorithms is that they produce well-balanced colors that will be recognizable by the loyal Canon shooters with a keen eye. Dynamic range is also generally good and gives you a nice amount of room for tweaking exposure and saving those details in shadow or highlight areas. Low light or high ISO performance is good, but not the best we've seen on a mirrorless camera, meaning you will notice some noise creeping in at ISOs of 1600 or above. This is nothing to blame on the M5 itself since Canon's cameras never were the best low light shooters around anyway, but it's still much-improved performance over some of their older sensors. Overall, if you aren't planning to do most of your shooting in low light, you should be jubilant with the quality of photos this camera can provide.
Conclusion
It's always fun to review any new camera from a big boy company like Canon, especially one that is a high-end product that can peak the interest of your average amateur photographer as well as those more advanced and camera savvy ones. As a whole, the M5 is indeed one accomplished camera. It's true that some will miss the option to record 4K videos or wish for a better low light performance and battery life, but those are the only major flaws we could find.
Everything else about the M5 is done very well. Aside from being able to take good quality photos and videos the most impressive aspect is by far its body. It could easily be called a work of art. You get every button and dial you'll ever need, rugged metal construction, impressive screen and EVF and enough ports to satisfy most of your needs. Add to that an excellent AF system, advanced image stabilization and a very respectable performance and burst rate, and you can already see why we formed such a high opinion around the M5.
So to conclude this review, the Canon EOS M5 is a product you would expect from such a well-established company and one that ticks almost all the boxes when it comes to all the features you'll ever need in a high-quality mirrorless camera. Well done Canon, this is certainly a step in the right direction.
The following two tabs change content below.
An amateur photographer, songwriter, musician, computer and technology geek and an occasional comedian, I'm a little bit of everything. I always aim to pursue things I'm passonate about and try to look on the positive side of things whenever I can. My mission is to wrap my articles in that aura of positive energy and keep a healthy balance between being serious about my work and spicing things up with a little fun now and than. After all, life's a game and there's always a different way to play it.