Canon 77D Review: The Camera for Beginners and Mid-Range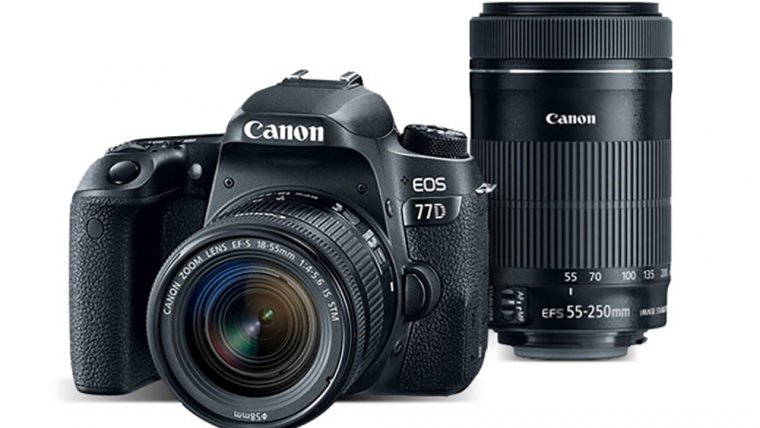 Canon 77D Review: The Camera for Beginners and Mid-Range
www.sleeklens.com
Well, it's time to take a break from reviewing all the mirrorless cameras that have flooded the market and look at something more conventional. Of course, we are talking about a DSLR and one coming from no other than one of the most popular DSLR brands; Canon themselves.
Now, if you know anything about different models of Canon's cameras and have been following everything that's been happening with them during the last decade, then you should already know how Canon ranks their DSLRs. Their formula hasn't deviated from its path up until now and the hierarchy has remained mostly the same with each new release, but things have changed with the camera we've got on our hands today. It's the Canon EOS 77D, a new class of a DSLR that the company has positioned in between their entry-level Rebels and the mid-range 80D, which instantly makes it sound like a very interesting camera.
It certainly makes sense to release such a camera since there will always be a lot of users out there who are looking for something more advanced than Canon's entry-level offerings but don't want to spend as much money on a camera like the 80D. The 77D also shares a lot of features with its bigger brother, most importantly its image sensor and focusing system (which has proven to be a very capable one during our testing of the Canon 80D). That already may be enough for some photographers, but the 77D offers much more than that and this is actually closer to being a mid-range offering than the entry-level camera and its price certainly proves that fact.
So, to give the 77D a proper rating we need to answer two questions; does it offer enough compelling features to make it a more compelling purchase than the Rebels or the 80D and the Nikon D610? Is it capable enough to compete with the mirrorless cameras at its price point. Once we have the answers, then we will know for sure if the Canon EOS 77D DSLR is something you should consider as your next best camera?
First, let's see what the Canon 77D offers in terms of its sensor and other features that will affect its overall image quality. Since it does come equipped with the same 24-megapixel APS-C sensor found in the Canon 80D, we can already assume that the image quality should be very similar to that camera. This means that you can expect to be able to get respectably sharp photos with natural colors, decent dynamic range and not much noise even at higher ISO values.
Pros
Built-in WiFi
Bluetooth Connectivity
NFC Connectivity
Articulating Screen
FullHD Max Video Resolution
Touch Screen
Optical Built-in Viewfinder
Light Body
External Microphone Port
Timelapse Recording
Long Battery Life
Digital video stabilization
UHS-I Memory Card Support
Selfie Friendly LCD Screen
Remote control with a smartphone
Cons
No Image Stabilization
No Environmental Sealing
Click to read the full Review
While there should be no discernable difference between the two when comparing RAW files, the story may be a little different when it comes to JPEG since the 77D comes with a more powerful DIGIC 7 processor that will surely have a positive impact on noise reduction and thus put it slightly above the 80D when it comes to image quality.

When it comes to controlling your exposure, you'll certainly get a lot of room with the maximum ISO value of 25600 (expandable to 51200) and a shutter speed range of 30 to 1/4000 sec. Now, another important thing that has been directly transferred from the 80D is its capable 45-point phase detect focusing system (activated when shooting through the viewfinder) and a Dual Pixel AF system that's used when you're in live view. While both of them should perform admirably for all kinds of usage scenarios, the Dual Pixel AF is a headliner in this case since it performs drastically better than the more traditional contrast detect focusing systems found in most DLSRs. This is especially important for those interested in recording videos, since it will enable them to shoot confidently and without the need to resort to focusing manually for those occasions when the older focusing systems just couldn't keep up.

When it comes to video, the 77D offers important features such as the 1080p 60 fps recording, a microphone jack and the built-in stereo microphones, the aforementioned Dual Pixel AF technology, electronic image stabilization brought on by its DIGIC 7 processor and a fully articulated 3-inch TFT LCD touchscreen unit with a very respectable resolution of 1,040,000 dots. If you don't miss having 4K recording or a headphone jack, then you should certainly find the 77D interesting for some light video work. Now, let's move on to some of its other hardware aspects.

The camera body sports a traditional Canon look, decently built quality thanks to being made out of composite materials and a control scheme that fits its mid-range nature. Sadly, there's no weather sealing on board, but some sacrifices did have to be made for it to be sold at such a price and we've expected that lack of any environmental resistance would be one of them. Unfortunately, Canon has also decided to equip the 77D with a rather average viewfinder and one very similar to those that can be found in their current Rebel cameras. It's an optical pentamirror unit with the accuracy of 95% and a magnification of 0.82x. Truthfully, it won't be much of a problem for the majority of users this camera was aimed at, but we do wish that Canon begin to pay more attention their less expensive DSLRs and invest into equipping them with better and more accurate viewfinders.

Let us get back to the more positive aspects of the 77D. It comes equipped with a very capable pop-up flash unit that has a maximum range of 12 meters at an ISO of 100, the ability to use a flash sync speed of up to 1/200 sec and to shoot at a burst rate of 6 fps. It also sports one SD card slot that's also compatible with the UHS-I standard, micro-USB and mini-HDMI ports and also all the necessary technology for to support Wi-Fi, Bluetooth and NFC connectivity. Finally, you'll get a built-in orientation sensor and the ability to connect an optional GPS unit. So, the 77D certainly doesn't sound as impressive as its bigger brother the 80D, but on the other hand, it's a far more capable camera than all of the available Rebel cameras, especially when it comes to physical controls and the ergonomics.

So, it makes sense that Canon has created a DSLR that will be of interest to a lot of users who were previously using an entry-level camera and are ready to move on to something more advanced but still don't want to spend a lot more money than they've spent on their previous camera. The 77D certainly looks like a perfect camera for that job, together with all of its pros and cons.
Body and handling
The Canon 77D is a prime example of how a mid-range DSLR should look like in terms of its design and control layout. It's a not the largest or the heaviest DLSR out there, but neither the smallest and lightest; it sits perfectly in between. It weighs 540 grams, is made out of composite materials and features a pretty large grip on its front which will enable you to hold it very securely and comfortably. If you decide to pair it with a more compact lens, then you'll be able to get a really portable, but powerful package (at least in DSLR terms). What's also great about the 77D is that it features a full array of manual controls suited for both the advanced users and those who are just learning how to use a dedicated camera. We believe that no users should find anything wrong with the control scheme and all of the available controls. The only thing that stops the Canon 77D from being a true mid-range camera is the lack of weather sealing which Canon 7D Mark II is good at because it could stand any harsh condition. It also has a rather small viewfinder. But still, users looking for a DSLR at this price point will surely be able to live with that and enjoy the 77D nevertheless.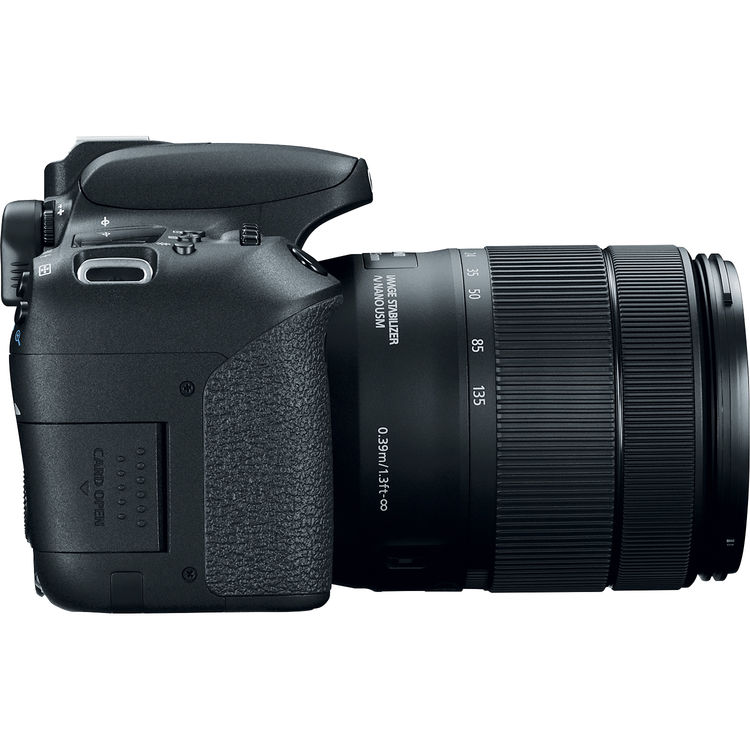 Now that we've given you a short summary of our impressions in terms of handling and usability, let us show you what you can expect out of this camera in a little more detail. Looking at the front reveals the Red-eye reduction/Self-timer lamp, the lens release button, a pair of stereo microphones nicely spread out for better sound separation, the Depth-of-field preview button and lastly, the Flash button which is used to raise the pop-up flash from the camera body and to access the flash related settings. The left side of the camera holds the mono speaker unit, the N-Mark (or the NFC contact point) and a terminal cover that protects all the available ports (digital, remote control and mini-HDMI ports, as well as the external microphone jack), while the right side holds the SD card slot and the DC cord hole.
As is the case with most of DSLRs, the battery compartment is located at the bottom of the camera and so is the traditional tripod socket. If you look at the 77D from the top you'll see things like the Mode dial with a lock-release button, a standard hot shoe, the pop-up flash that can also act as a AF-assist beam emitter, the top monochrome LCD panel (it will provide you with an easy way to view all of your most important settings just with a quick glance), a trio of little buttons (AF area selection, ISO speed and LCD panel illumination), the main control dial and lastly, the shutter button. In the end, let us look at the back of the camera, where we can find even more interesting things about the Canon 77D. Aside from the obvious items like the optical viewfinder (and its dioptric adjustment knob) or the LCD screen we find the power switch, Menu and Info buttons, the Live View shooting/Movie shooting button, three buttons located right where your thumb lies (AF-On, AE lock/FE lock/Index, Reduce and the AF point selection/Magnify), three buttons above the Quick control dial (Quick, Wi-Fi and Playback), the Quick control dial itself (which can also be used as a four-way navigation controller), the Erase button and finally, the Multifunction lock switch. As its natural with most of the directional navigation controllers, the one on the 77D can also be used to access the White balance settings, Picture styles, Drive modes and access different AF operations.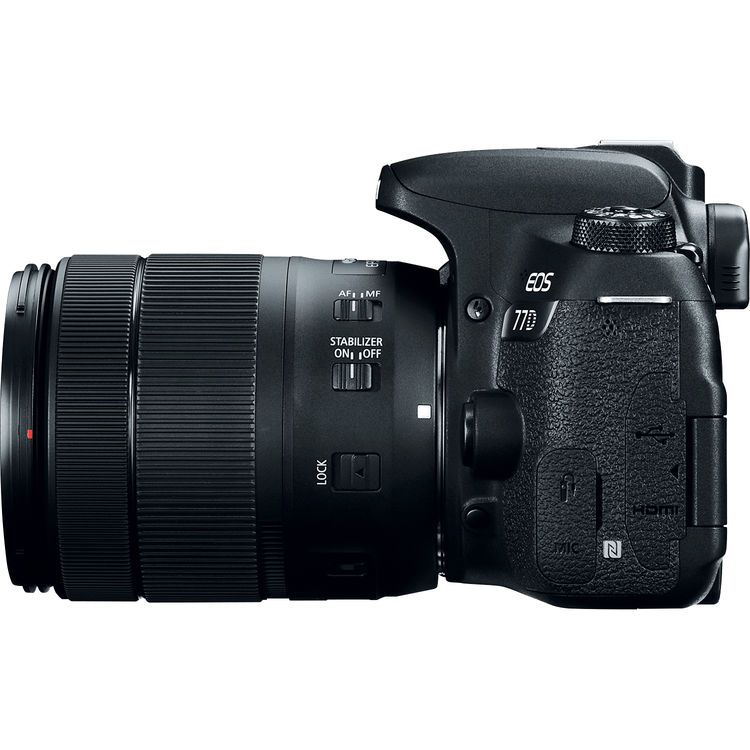 Well, we can certainly say that Canon has done a fine job in creating a DSLR that should be a pleasure to use to any potential buyer interested in this kind of a camera. There's really nothing bad to say about its control scheme and overall handling. We should also compliment Canon for making one of the best graphical user interfaces ever found on a DSLR up to this date.
Since the very first time you take the 77D in your hands and start using it you'll be aware of the fact that a lot of thought and effort has been invested in creating such a highly functional and intuitive interface. It also works extremely well with the included touchscreen and it really doesn't matter if you decide to navigate it the more traditional way or via the touchscreen itself as the experience will remain very good for both cases.
If you're one of those users inclined on customizing almost every aspect of your camera, then you shouldn't be dissatisfied with what the 77D has to offer in this regard. First, there are the Custom Functions, which will enable you to adjust the exposure level increments, choose the AF area selection method, enable different warnings that appear in the viewfinder, set up custom controls and more. When it comes to setting up the custom controls you'll be given the option to reprogram the behavior of only a few buttons and there's really no real Fn or Function buttons available. While most of the important functions are already covered by an assortment of dedicated buttons, it would still be nice to get a couple of them that exist solely to be customized. Still, since the 77D does offer a touchscreen, the already known My Menu customizable Tab is useful more than ever now as you'll be able to access anything inside of it with relative ease.
Before concluding this section of the review, we'll need to take a look at all of the available wireless functions that are included with the 77D. The available features are no different from most of today's Canon DSLRs as we're talking about yet another full-featured camera in terms of wireless capabilities. Those interested in connecting the camera with their smart devices will be happy with the inclusion of both Bluetooth and NFC connectivity, which makes the pairing process a much simpler one than by just the Wi-Fi connection directly. The Camera Connect application will be necessary to make use of all the smartphone-related features such as the remote camera control, image transfer or embedding GPS data (although you can connect an external GPS unit to the 77D itself). We don't see many unique features here, but all of the important ones are readily available. Aside from the traditional smartphone communication you can also use the 77D and its Wi-Fi capability to send your photos to another Canon camera, print them using a Wi-Fi printer, upload your photos to a Web service of your choice (using the CANON iMAGE GATEWAY) or to communicate with Canon's Connect Station and back up your images on its hard drive.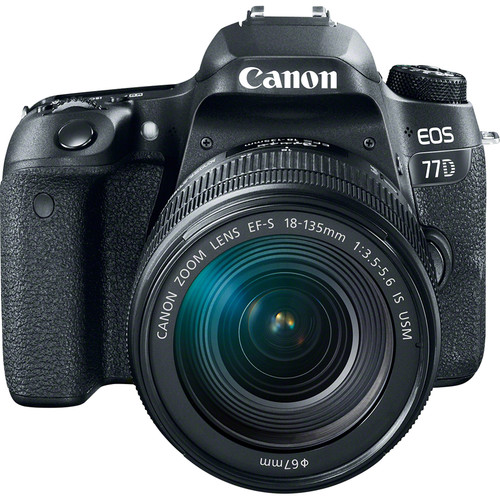 So, the Canon 77D may not be a perfect DSLR that will appeal to every type of photographer out there (with its average viewfinder, lack of weather resistance and not many options given in terms of customization), but it does bring enough quality features like the well-made and designed body, lots of physical controls, a capable touchscreen, intuitive user interface and the extensive Wi-Fi functionalities that will make into a very interesting proposition in the eyes of a lot of people. Also, let's not forget its competitive price point.
Autofocus and performance
Since the Canon 77D shares a lot of hardware with its bigger brother, the 80D, we weren't surprised to see that that there's no discernable difference between the two cameras in terms of focusing performance. The 45-point phase detects AF system certainly does a commendable job to provide the users of the 77D with enough power to adapt to almost any shooting situation (even when it comes to demanding ones like tracking moving subjects). There was also no noticeable difference in performance between shooting through the viewfinder or in live view, thanks to the already well known Dual Pixel AF technology that improves the speed of working in live view noticeably over the more traditional focusing systems.
The Canon 77D focused well both in good and low light (although some focus hunting did occur, but not often). You can also use this camera to shoot sports and action, but not professionally. Don't expect a hit rate like that of a more expensive and higher-end camera, but you can be sure that you'll get a very respectable performance for a device in the class of more advanced, but still rather affordable cameras. The different AF modes that will be given at your disposal are the traditional ones found on Canon's DSLRs these days; there's the One-Shot AF that's best used for still subjects, AI Servo AF that tracks moving subjects and AI Focus AF that automatically switches between the two. You will also be able to choose between four different focusing zones (Single-point AF for selecting one of the 45 available points, Zone AF which lets you choose one of the nine predefined focus zones, Large Zone AF which splits your focus point array into three selectable parts and the Automatic selection AF which uses the entire area of the AF frame to acquire focus). Manual focusing with the 77D also brings focus confirmation through the viewfinder and the ability to magnify your frame while being in live view, but sadly, there's no focus peaking and this makes this camera less ideal for manual focusing than some of the mirrorless cameras that it tries to compete with. Still, the AF system itself is reliable enough that you'll rarely need to focus manually anyway.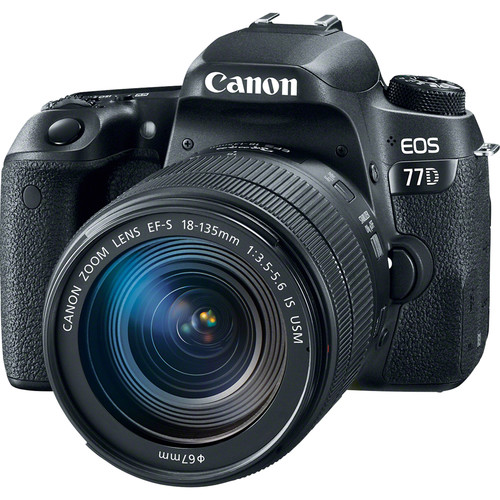 When it comes to performance in general, the Canon 77D was able to keep up with everything we've thrown at it with ease. Navigation through the interface was a breeze, powering the camera on and taking a shot took less than half a second and focusing times managed to maintain an average focusing speed of around 0.1 seconds the majority of the time. So, there's really nothing to complain about about here, Canon's own optimizations and the powerful DIGIC 7 processor are certainly doing a fine job of keeping the 77D as snappy as possible. It's burst shooting performance also falls perfectly in line with the cameras ability to constantly operate on a high level. While the maximum burst rate of 6 fps itself is more than adequate for this type of a DSLR, it's the camera's buffer size that makes it even more useful. While you won't be able to shoot a whole of a lot of RAW files before noticing a drop in speed (around 23 of them), the story is completely different when it comes to producing JPEG photos. In this case, the 77D was able to sustain its burst rate for more than 160 shots before the shooting speed dropped to around 5.4 fps. This is a performance that could be worthy of even some of the sports-oriented cameras, let alone a mid-range DSLR, so we can only commend Canon for enabling the 77D to have such a capable burst rate. We even like the fact that you can take around 20 shots of both the RAW and JPEG files combined.
Now, we believe that most of you are wondering how much of an impact on battery life is brought on by such a well-performing hardware. Well, the 77D doesn't have the best battery life out of all the available DSLRs (not even those in its class), but it still doesn't stop it from having an endurance that is way above average. It's officially rated at 600 shots per charge, but we believe that's the battery life you can expect to get when mostly shooting through the viewfinder, meaning that it will vary from user to user.
In a nutshell, if you manage to balance your use of the two shooting methods, you should have no problems using the 77D for a couple of days of moderate shooting or during one heavy day. All in all, we are very impressed with the performance of the Canon 77D as a whole and as hard as we've tried we weren't able to find any flaws that were worth the mentioning in regard to any important aspects that dictate its performance. It just behaves reliably well, no matter what you do with it and we couldn't' have asked for anything more than that.
Video features and quality
Now, a lot of you might be aware of the fact that Canon has been quite slow to adapt to new technologies in regard to video recording on a lot of their DSLRs and are trying to keep the entire experience of producing videos as simple as possible and the story is similar with the Canon 77D. It's nowhere near being a professional video camera, but it does offer enough to incite the less advanced users out there who are doing some lighter work for themselves or some simpler projects.
So, it's no surprise that the 77D lacks 4K recording (although it's available on some of its competing cameras) and instead, gives you the option to record in 1080p and at 60 fps. This will still be enough for most users out there, especially those that don't possess the necessary hardware to be able to process 4K videos and work with them on a regular basis. The good thing is that the 1080p videos recorded with the 77D look pretty good, no matter the lighting conditions. They are not of the quality you'd be able to get out of the best DSLRs or mirrorless cameras, but still very decent nevertheless. Plenty of detail is captured, colors are always well-balanced and never overly saturated and then there's also very little noise to be found, even at higher ISO values. The electronic image stabilization brought on by the DIGIC 7 processor also attributes to giving the footage a nicer look and is quite effective at removing most of the camera shake caused by handheld recording. If you want even more effective stabilization, you can always combine the camera's stabilization with the one built inside of your stabilized lens to get an even more professional look, which will be of great value to those who prefer to be more mobile while recording videos.
Full manual control of exposure is also available and so is a very capable Auto mode for those that want a point-and-shoot experience. When it comes to audio, the included stereo microphones do a very decent job when it comes to sound quality and you can also make use of the external microphone jack to add even clearer and better-quality audio to your videos. Still, it's a shame that Canon decides not to include a headphone jack as well since that would really turn the 77D into one compelling package for video production. On the more positive note, there are two of the important features available that seriously improve on the entire experience and these are the fully articulated touchscreen and the Dual Pixel AF technology. Both of those features complement each other very well; the included screen responds very quickly and accurately when the Touch AF is used and it's very easy to pick your focus point this way and the Dual Pixel AF system enables for admirably fast focus acquisition, even when the Continuous AF comes into play.
The bottom line is, if you really need 4K recording and a headphone jack to monitor your audio, then the Canon 77D certainly won't be a camera suited to your particular needs. However, if you want a DSLR that will allow you easily record videos of above average quality and has one of the best focusing systems around (even when compared to a lot of top-tier cameras), but you don't want to invest a lot of money into such a purchase, then you should seriously consider the 77D as one of the best contenders out there for hassle-free video creation.
Image quality
One of the biggest selling points of the Canon 77D has to be its stills quality. Canon has finally caught up to the competition in terms of their sensors and is equally as good as most of the offerings coming from other manufacturers. This means that the 77D doesn't excel in any particular area, but it also doesn't lag far behind the best APS-C cameras on the market. So, you can expect to get sharp and detailed photos with nice colors and contrast and little noise up to an ISO of 6400.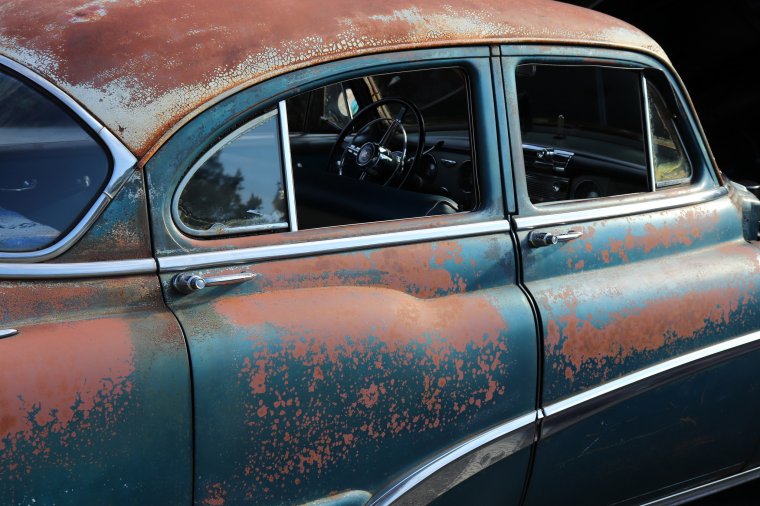 Shooting in low light certainly isn't a problem with this camera. Dynamic range, while not class-leading, is far better than on the Canon's DLSRs form a few years back and is now right in the middle of available APS-C cameras. What this means for you is that you'll be able to have more control over your exposure in post-processing (especially when shooting in RAW) and salvage your highlights or shadows if they didn't come out properly exposed.
The 77D does a lot better when it comes to pulling detail from shadows than from highlights, so you can comfortably leave your shadows underexposed if you're shooting in challenging conditions where there's a risk of overblowing the brighter parts of your images. For those users that will spend the majority of their time shooting in JPEG format, Canon has included a variety of different effects and filters that they'll be able to easily apply and change the look of their photos with little to no effort.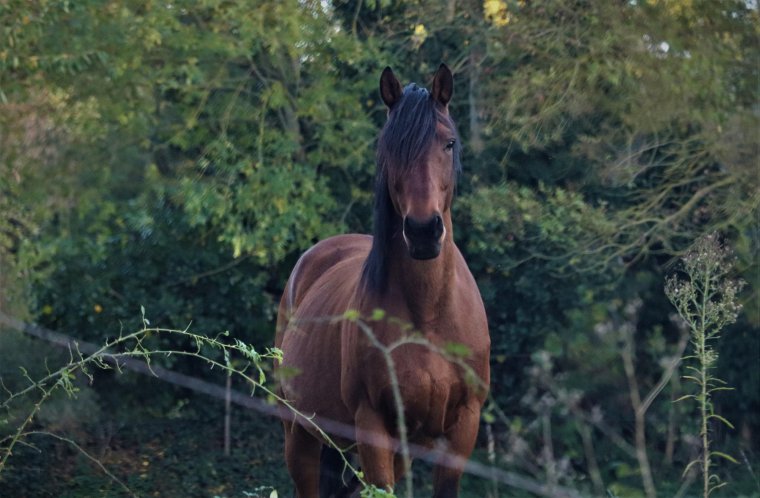 Lastly, you can manually adjust parameters like the contrast, sharpness, and saturation and gain even more control over the look of your images. So, while Canon hasn't really managed to beat their competition with their newest APS-C sensors, they have certainly managed to bring enough improvements to the table to give the potential buyers and the current Canon users a very good reason to look into one of their DSLRs and the same can be said for the 77D.
Conclusion
While examining the image quality of any type of a camera is always a fun part of a review, providing a valuable conclusion and summarizing everything we've learned about a camera is no less interesting. So, we'll try to put all of our impressions in just a few sentences and quickly point out all the positives and negatives about the Canon 77D.
Let's get the negatives out of the way first. Most of these are directly related to this camera's price point; the lack of weather resistance, smallish and averagely accurate viewfinder, no headphone jack and no 4K video recording are the only ones we could think of that will have an impact on you deciding if the 77D is the right camera for you. If you can live with those than you'll be getting a decently well-built DSLRs that brings a lot of manual controls, a very useful fully articulated touchscreen, one of the best user interfaces you'll ever find on a camera, great focusing system that performs equally good when shooting through the viewfinder and in live view, a 6 fps burst rate coupled with a very respectable buffer depth (especially when it comes to JPEGs), a microphone jack, great stills quality in all lighting conditions, respectable 1080p 60 fps movie mode that benefits both from the camera's electronic image stabilization and the Dual Pixel AF technology and lastly, very good battery life.
If all of those things sound interesting to you than the 77D certainly seems like a camera that should find its place in your camera bag. Let's be honest, you won't be buying the Canon 77D purely for its image quality since there are more capable cameras in this regard that can be bought for a very similar price, but as many reviewers and critics fail to mention when talking about any of Canon's APS-C DSLRs is that they offer the widest range of lenses out of all the available camera systems that can currently be found on the market. This especially holds true for more budget-oriented lenses, so if you have the money to spend on a camera body, but you're not left with much capital to spend on getting all the necessary lenses, then the 77D will be an even better investment since you'll be able to get a lot of affordable and capable lenses that will cover a very large number of different use case scenarios.
Aside from the regular 18-55 kit lens we would also recommend the 50mm f1.8 STM, 55-250mm IS STM and the 10-18mm IS STM lenses as all of them provide a great value for many types of users because of their great image quality and very competitive price points. So, if you're on a budget and you need both a DSLR and set of different lenses, then you really can't go wrong with the Canon 77D.
SaveSave
The following two tabs change content below.
An amateur photographer, songwriter, musician, computer and technology geek and an occasional comedian, I'm a little bit of everything. I always aim to pursue things I'm passonate about and try to look on the positive side of things whenever I can. My mission is to wrap my articles in that aura of positive energy and keep a healthy balance between being serious about my work and spicing things up with a little fun now and than. After all, life's a game and there's always a different way to play it.