Explore Mahabalipuram: A Historical place in South India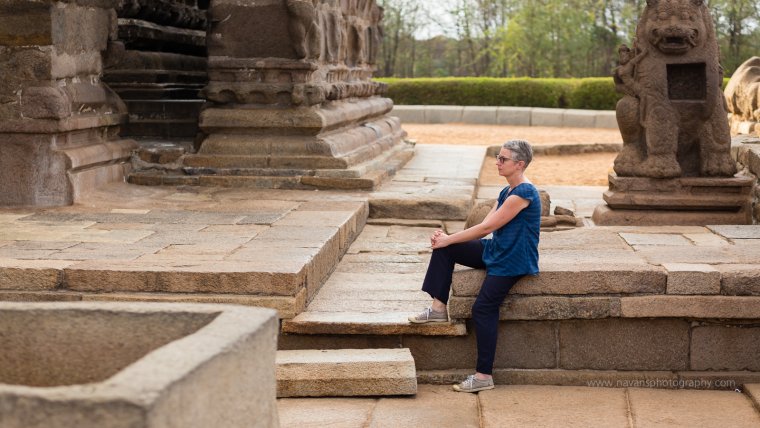 Explore Mahabalipuram: A Historical place in South India
www.sleeklens.com
What is special about Mahabalipuram?
Let me take you to a beautiful and a world historical place Mahabalipuram, shortly known as Mahabs with locality people. In this article, I am going to share my experience and interesting things about Mahabalipuram.Mahabalipuram is a sightseer located near Chennai city in southern part of tamil nadu, India. It is a town in Kancheepuram district, but which is near to Chennai. Mahabalipuram is referred as an 'open-air museum', because prestigious rathas, mandapas, temples and sculptures are located in Mahabalipuram. In earlier Mahabalipuram was named as Mamallapuram because the demon king Mahabali was killed by Lord. Later, it was changed as Mahabalipuram by the king Narasimhavaram-I of pallava dynasty, a great warrior. In that period, various parts of Mahabalipuram temple was built to show the glory of different gods and goddesses.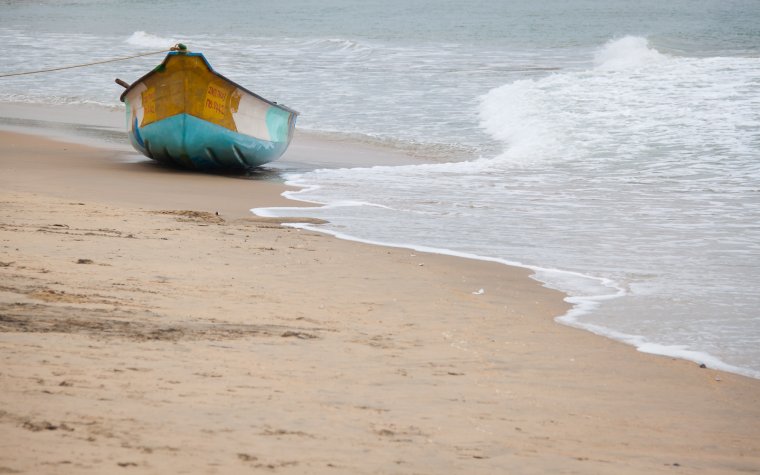 In 7th century Seaport were established by pallava dynasty on the Coromandel Coast which faces the Bay of Bengal. During the rule of the pallavas, great poets, dramatists, artists, artisans, scholars and saints emerged. Hence prestigious statues and artistic works made around Mahabalipuram. A single rock with thousand sculptures was a famous monument in Mahabalipuram. Mahabs connects Chennai with kancheepuram, thus it was called as "golden tourism". The most visited tourist place by people in Tamilnadu is Mahabalipuram. Then, will I miss such a wonderful place for a shoot?
My Experience in Mahabs
To me, Mahabs is all about the history, past life, how things would have been then, maybe people will be moving to using horses and bullocks carts. Each and every sculpture I saw, I wonder how they made this, such a creative architecture thought by pallavas. I use to go for a photo walk with my friends a group of photographers. I already mentioned, I love traveling and the most favorite part is taking travel photographs.In Mahabalipuram there are various heritages are shown up through sculpture in rocks and pillars. I covered few, as I liked it much than others, which I shared with you in the below-following parts. One should visit such an impressive place on vacation and get stunned by seeing the work done before centuries.
Shore temple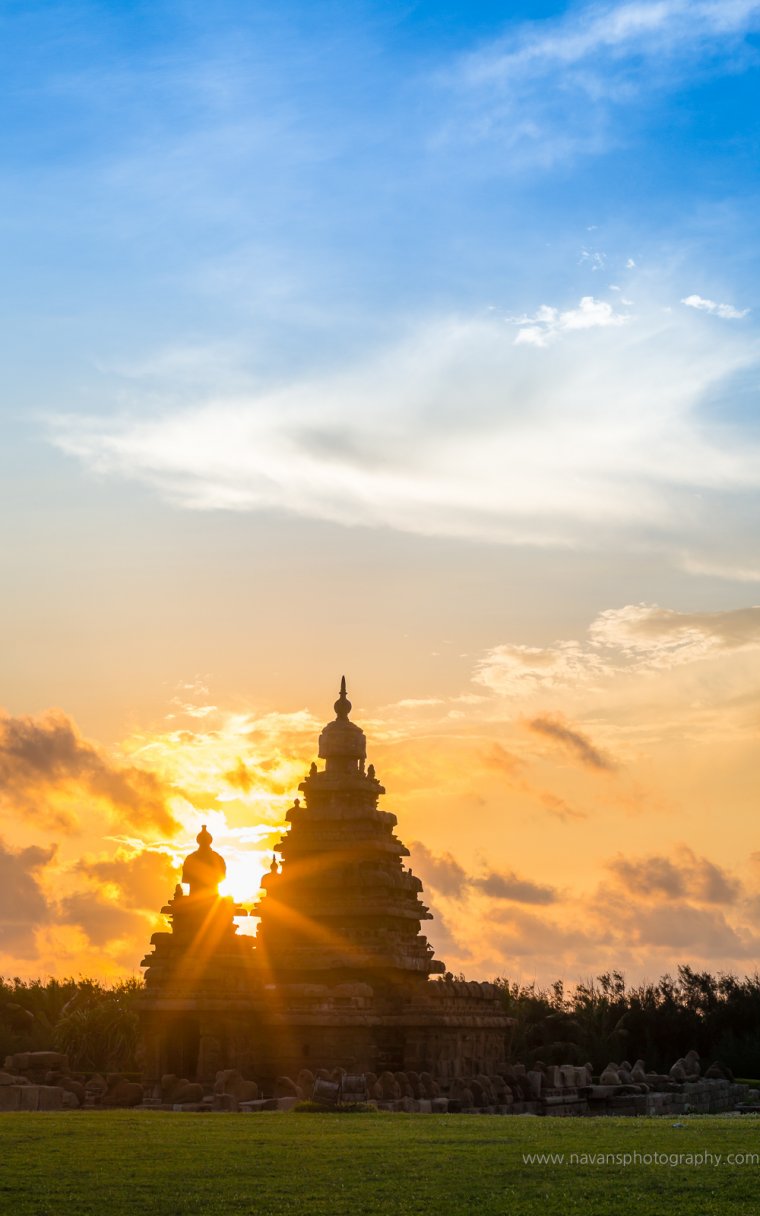 A Shore temple is a well maintained one in the sense the entry, the garden around the temple. All are being maintained by ASI (Archaeological Survey of India). My favorite photograph of the shore temple is the one below, the sun rising between the Shore temple towers in the early morning with the green in front of it. I think it is a pretty good photograph in my Lightroom library.
Five Rathas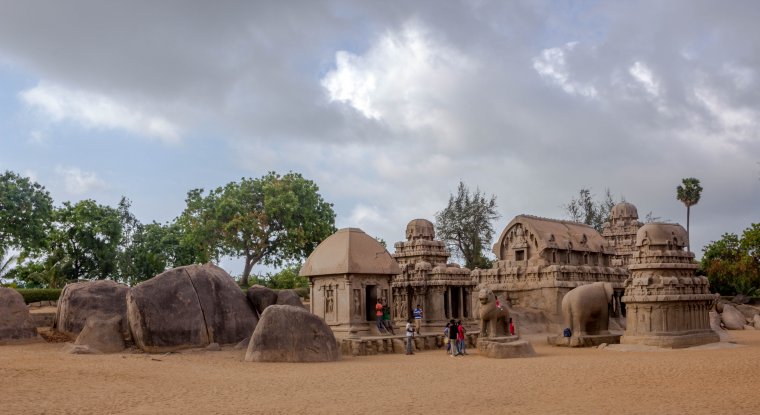 And the next wonderful side of mahabs I captured was Pancha Rathas. It was also known as Pandava Rathas, Pandava means five. Five rathas were carved in a single rock. Each giant rathas was made by a single and long rock stone in an architectural manner. The first Ratha is the name of Draupadi. It is also dedicated to the Goddess Durga who looks out at her people attending worship from as carved lotus throne while outside a huge sculptured lion stands as a guard. Behind the shrine of Goddess there is a huge nandi who is the bull or vehicle of Lord Shiva. Second Ratha is Arjuna Ratha which dedicated to Lord Shiva. After that, the other Ratha is Bhima Ratha. After that is Dharmaraja Ratha devoted to the Lord Narasimhavarman and the final is in the name of Nakula-Sahadeva Ratha which is dedicated to the Lord Indra and has a fine sculpture elephant standing nearby it.
Lion pillars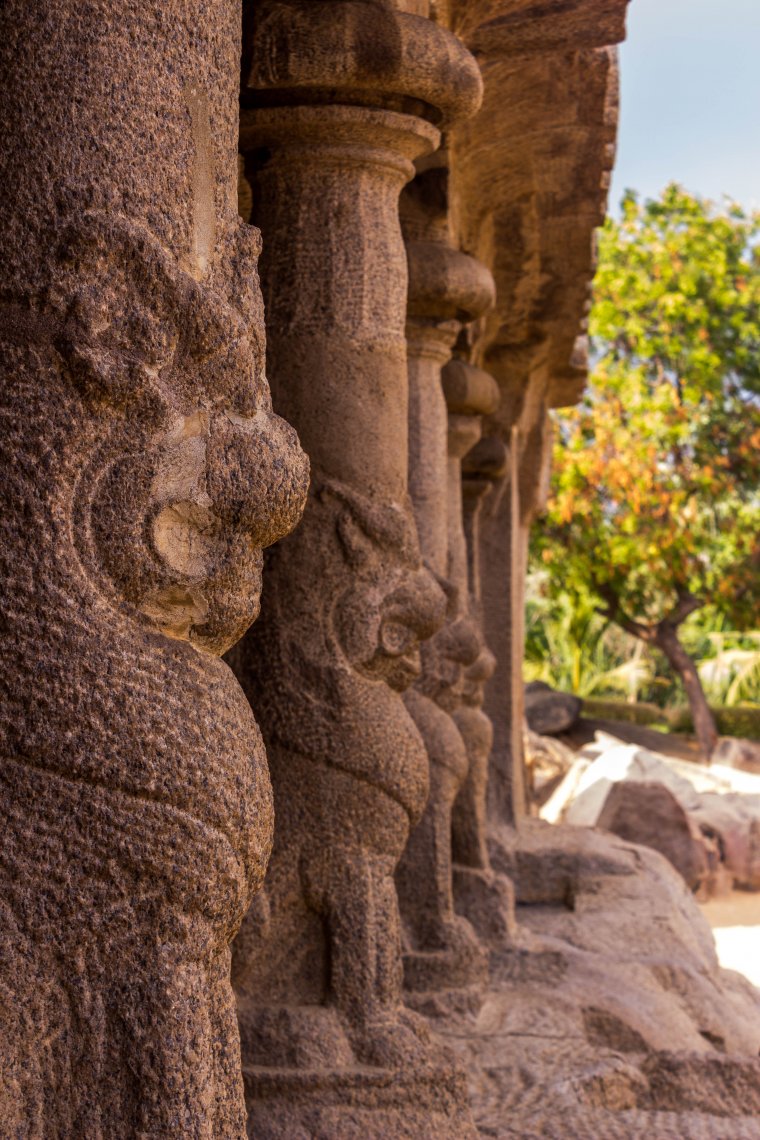 Mahabalipuram temple holds a well-built dedication for lion. In different places, lions statues were built between the sculptures especially in the pillars. See the below picture I took inside angle which shows the carving of a lion in a meticulous way.
Outsiders
Foreigners eagerly come over here to see the world prestigious heritage and some do reach on this. The above picture of a foreigner was taken, fortunately, but a casual and candid picture. She was mesmerisingly watching the architectural sculpture designs on the walls. Mahabalipuram is a tourist place not only people in local spend their time. But people across nations visit here occasionally also for the professional work such an archaeological research. I had shared my favorite place's general facts in my view and you do visit mahabalipuram, I assure you for a great photo shoot and a historical journey experience. Hope you enjoyed by reading my travel experience.
The following two tabs change content below.
Navaneethan Viswanathan (best known as Navanee Viswa) is a professional photographer based in Chennai. After completion of his Engineering and Management degrees he worked as a Civil Engineer for almost 10 years and slowly realized that his true passion was in building good photographs rather than building a structured construction. This made him quit his job and become a full time photographer to pursue his passion. Now he specializes in Candid Wedding photography primarily, he also does Product photography, and Industrial photography. Navaneeth is a trekker and a traveller, who enjoys photographing things he comes across during his travels. He contributes articles regularly to photography websites like Digital Photography School , and he also maintains a photography blog which is followed by many. This blog has lots to talk about photography and the techniques involved. His works have been exhibited at the photography exhibition organized as part of Art Chennai 2012. Many of his works have been chosen as best entries in on-line galleries like One Eyeland . Navaneeth is also well known in the industry for his photography related workshops.