A Photo walk on the streets of Kanchipuram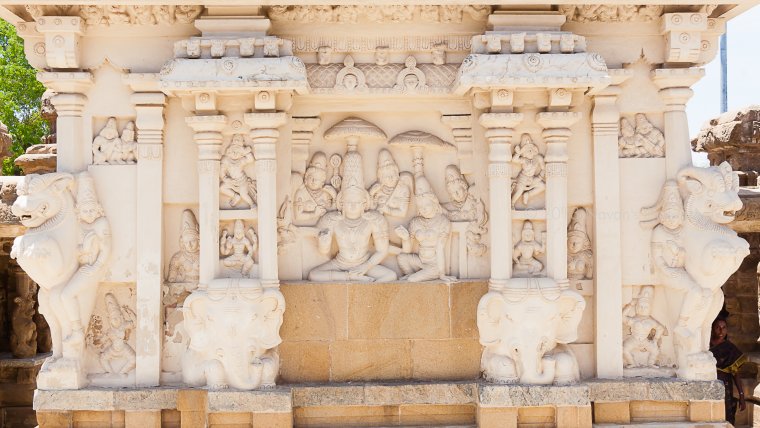 A Photo walk on the streets of Kanchipuram
www.sleeklens.com
Kanchipuram, sometimes called Kanjeevaram or Kanchi, is a small town in Tamil Nadu. It is one of the most important spiritual centers of Hinduism and a major pilgrim destination.
Kanchipuram has several medieval temples with incredible architecture. It used to be the capital of the Pallava kingdom from the 4th to the 10th century and was a center of learning for all the major religions of South India. Hindu temples are still present and in use today, and there are archaeological remains of Jain temples. Although Kanchipuram was reputed to be the center of Buddhism in South India and was visited by Chinese Buddhist monks, there are no remains of the present Buddhist times. Current day Kanchipuram is a major weaving center for visitors who can buy handwoven silk at wholesale rates.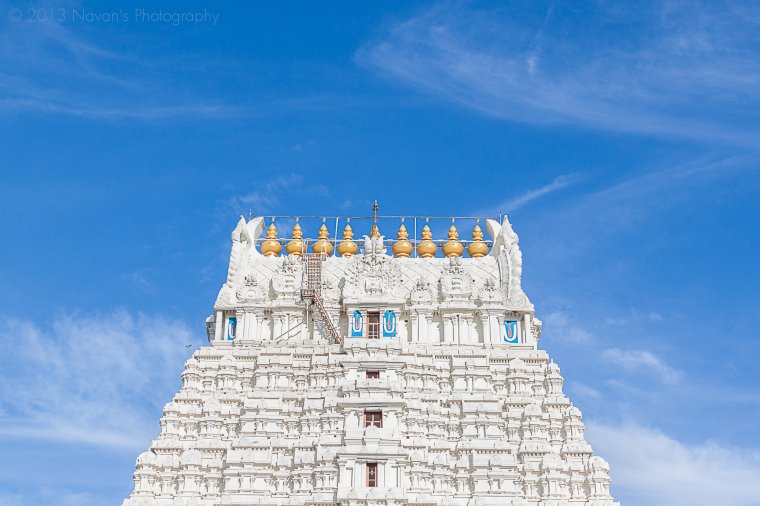 How can you reach Kanchipuram
The nearest airport to reach Kanchipuram is Chennai Airport, with domestic connections to all the major cities in India. Chennai is also well connected to the important cities of Tamil Nadu. Some international airlines also fly to Chennai. So, people from any part of the world can reach Kanchipuram quickly.
Most travelers and tourists prefer the road to Kanchipuram – it's certainly more practical than via train from Chennai. The distance is little, and the road is in good shape. Frequent bus connections also make it convenient to travel by road. Bus services are privately owned or operated by the government. Guided tours are available at travel/tour operators in Chennai.
To get around Kanchipuram, there is an interesting way of transport. You can rent a cycle near the city bus stand where cycles will be available for rent. Like to ride through the cycle in the city it would be a different experience altogether if you wish.
A Calm Photo Walk in the Temple City
First, we started our photo walk from the temples of Kanchi streets, as temples are most popular in this place. If you want to take an architectural and historical Photographs, Kanchipuram is the best place.
Firstly, I took the below picture of an ordinary man taking Snanam (Snanam is a tradition of Hinduism to worship God in a pure way) was captured in one of the temple ponds of Kanchi.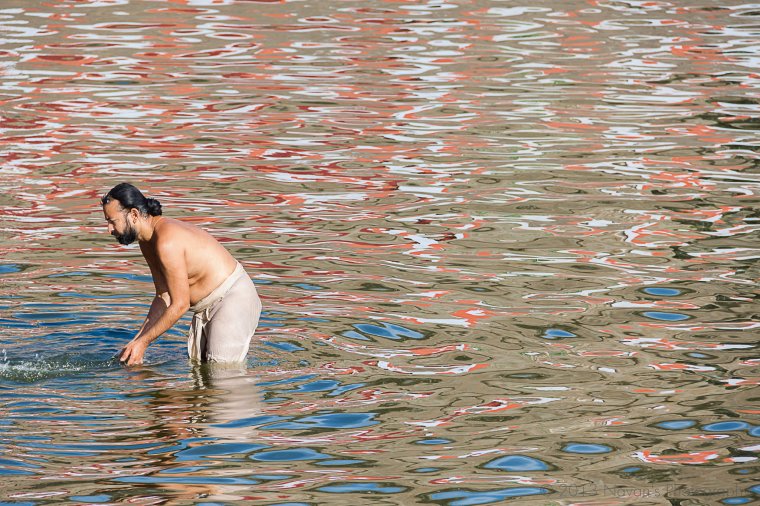 The vast amount of architectures you can spot in the temple walls. Each and every sculpture in these temples worked out in a detailed manner. From the below photographs you can understand the Pallavas architecture in the temples. Next, we moved to a famous temple.
Kanchi Kailasanathar Temple
Kanchi Kailasanathar temple is one of the famous and oldest temples in Kanchipuram with a beautiful out structure of the temple's building. It's built with a Dravidian architectural style on dedication to Lord Shiva. The temple was built from 685-705 AD by a Rajasimha ruler of the Pallava Dynasty in that period. It's of stone-built architecture. Unlike the rock cut, the structure made hollowed caves or carved into rock outcrops as in Mahabalipuram. You can also see the below photographs Hindu god sculpture a good example for the difference between the sculptures.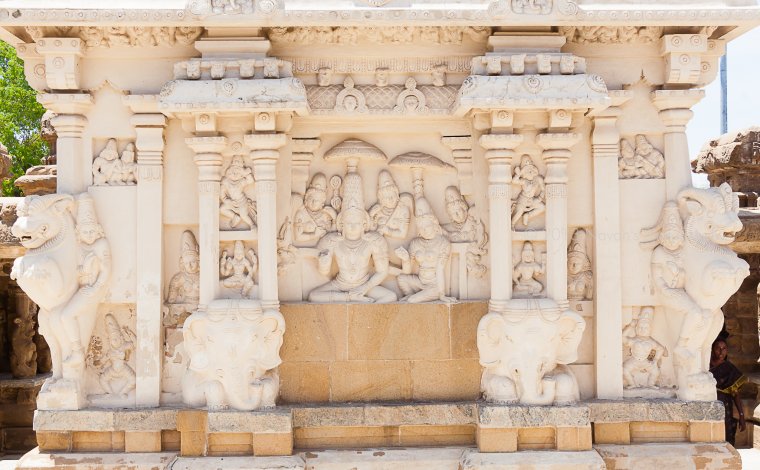 As I have already written a detailed information about Mahabalipuram by clicking here, you can know more about it.
Other Important Temples in Kanchipuram
Sri Ekambaranathar Ancient Temple
The Sri Ekambaranathar temple devoted to Lord Shiva. As like Kanchi Kailasanathar is oldest, this temple is the largest temples of the town. The massive gateway of the temple built by the great ruler Krishna Devaraya in the early 16th century. The main highlight of the temple is the mandapam supported by 1000 columns.
Kamakshi Amman Temple
Devoted to Goddess Parvati, this temple in Kanchipuram has huge sanctum, santorum and massive mandapam supported by huge pillars.
Devarajaswami Temple
The rulers of the Vijayanagar kingdom built this Devarajaswami Temple. This temple is dedicated to Lord Vishnu. The main feature of this temple is the sculpted pillared hall, marriage hall and the statue of submerged Lord Vishnu
Vaikuntha Perumal Temple
This ancient temple dedicated to Lord Vishnu. The lion pillars are the major draw of this temple. The huge mandapas and the sculptured pillars are worth mentioning.
The temples mentioned above are very few. There are lots of temples in and around Kanchipuram; these are the major temples.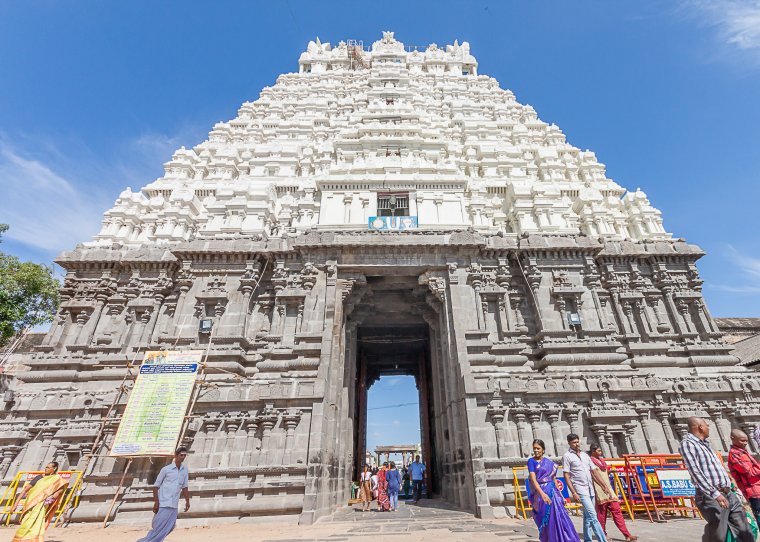 If your interest is towards historical and Architectural photographs, you must consider visiting Kanchipuram to capture and know about the architecture, Kingdom, and rulers.
The following two tabs change content below.
Navaneethan Viswanathan (best known as Navanee Viswa) is a professional photographer based in Chennai. After completion of his Engineering and Management degrees he worked as a Civil Engineer for almost 10 years and slowly realized that his true passion was in building good photographs rather than building a structured construction. This made him quit his job and become a full time photographer to pursue his passion. Now he specializes in Candid Wedding photography primarily, he also does Product photography, and Industrial photography. Navaneeth is a trekker and a traveller, who enjoys photographing things he comes across during his travels. He contributes articles regularly to photography websites like Digital Photography School , and he also maintains a photography blog which is followed by many. This blog has lots to talk about photography and the techniques involved. His works have been exhibited at the photography exhibition organized as part of Art Chennai 2012. Many of his works have been chosen as best entries in on-line galleries like One Eyeland . Navaneeth is also well known in the industry for his photography related workshops.