Desert in the Winter: Photographing Death Valley's Backcountry
Desert in the Winter: Photographing Death Valley's Backcountry
www.sleeklens.com
For my pixels, Death Valley National Park in California has some of the best and varied landscapes in the desert Southwest. As I showed in my previous post, there are many locations easily accessible by paved road. Just drive up and shoot. But, as with most national parks, the real drama comes from making the effort to go off-road. In Death Valley, that means either driving down a dirt road that may or may not be friendly to a typical sedan or just hiking out into the wilds. This is best done in the winter when the temperatures are far cooler and the weather sometimes more dramatic.
Safety Before Sensors
First, a few words of caution.
Take a whole bunch of water. Even when it's cooler, the air is often pretty dry and you can still get dangerously dehydrated, especially when hiking. How much is a bunch? No less than three quarts per person when hiking. If you're driving a dirt road, bring as much as you can just in case you break down. You might need it for an extended period of time until someone happens by. For this reason, also bring extra food and warm clothing in case you get stuck at night.
Your cell phone is useless. Tell someone where you're going and at what point they should call the authorities if you don't return on time.
Check the Death Valley website or visitor center for current road conditions. From time to time, roads get washed out during rainstorms or might be impassable for other reasons.
Bring a map. If you have a GPS, bring that, too, but understand that some of these places are deep inside canyons and signals may not get out to a satellite. In either case, the idea is to prevent getting lost.
Canyons
The mountains surrounding the usually dry playa that dominates Death Valley are full of canyons, many that still haven't been explored. The following locations are non-technical trips, that is, they don't require ropes and other gear to get through them. Photographing canyons can be tricky because there's almost always a combination of bright light above and deep shadows below. Try bracketing your exposures and then blend them together later in Lightroom or Photoshop. For perhaps obvious reasons, wide angle lenses are a must, especially in the deeper, narrower sections.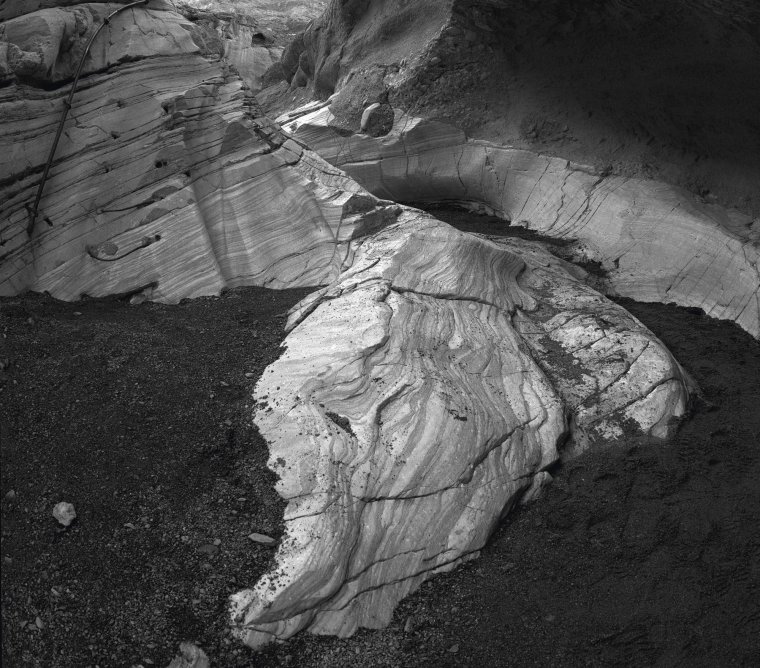 Mosaic Canyon. Take the marked, two-mile dirt road just outside of Stovepipe Wells and then hike up this wonderful canyon full of polished marble and other geologic formations. The hike ends after about two miles at a dry rock fall (a vertical, impassable wall).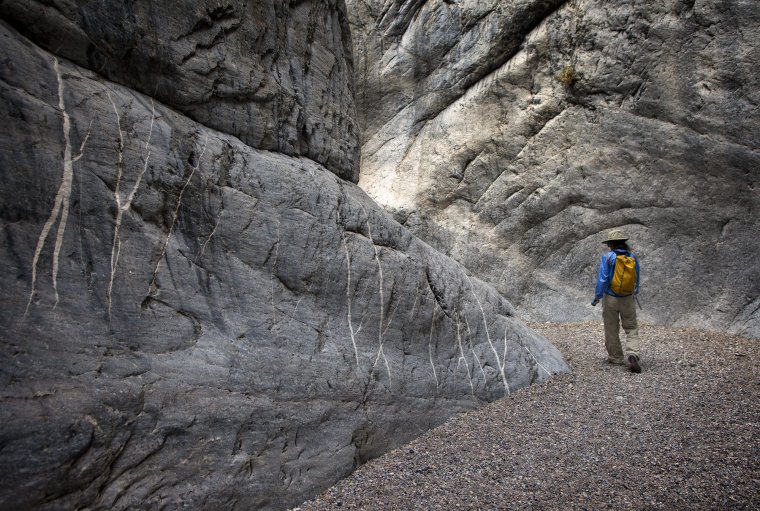 Fall Canyon. Take Scotty's Castle Road to the dirt Titus Canyon Road. At the parking lot, near the mouth of Titus Canyon, you'll see a trail leading off north (to the left as you face the canyon entrance). This runs along the base of the mountains and then into Fall Canyon's entrance. After about three miles, you'll hit a rock fall. Backtrack about 50 feet or so and look for the steep trail to your left (as you face down-canyon). While this isn't for those with a fear of heights, it's not a difficult scramble and takes you to the upper canyon that narrows to twisting hallways of stone. Lots of possibilities for photography.
Titus Canyon. In addition to Fall Canyon, you can simply walk up the road through the Titus Canyon narrows, going as far as you want. Keep in mind this is an also a one-way road with the traffic coming down-canyon. But it's possible you won't see any cars during your hike.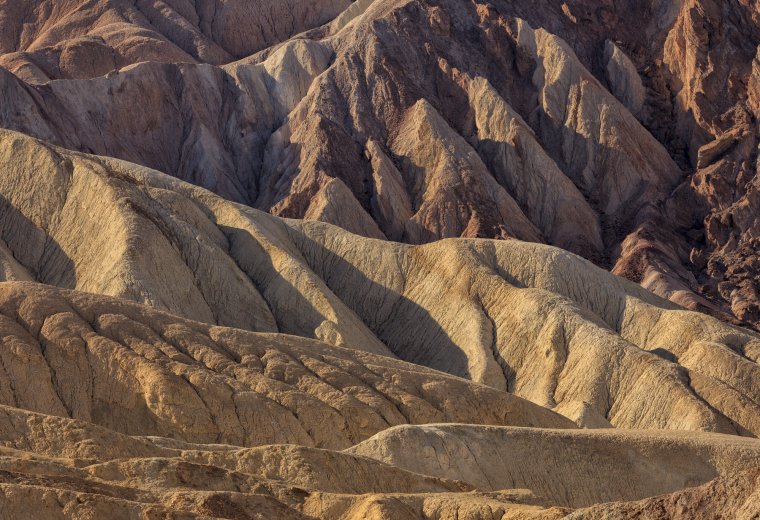 Golden Canyon. This is probably the most popular canyon in the park. The parking lot, often full during midday and the afternoon, is a short drive off Badwater Road and near Furnace Creek. You can hike up inside the canyon for a mile and then return, filling your camera card with the innumerable gullies and minor canyons. Or you can take the marked trail that climbs out of the canyon for great views of Golden Canyon and the surrounding, tortured landscape. From there, hike underneath Manley Beacon and continue on to Zabriskie Point. Instead of returning the same way, you can descend Gower Gulch back down out of the hills and return to your car, a four-mile loop.
Rough Roads
Depending on your bravery level, here are four dirt road trips that are sometimes driven with ordinary cars, but best done with a sturdy high-clearance, four-wheel drive vehicle.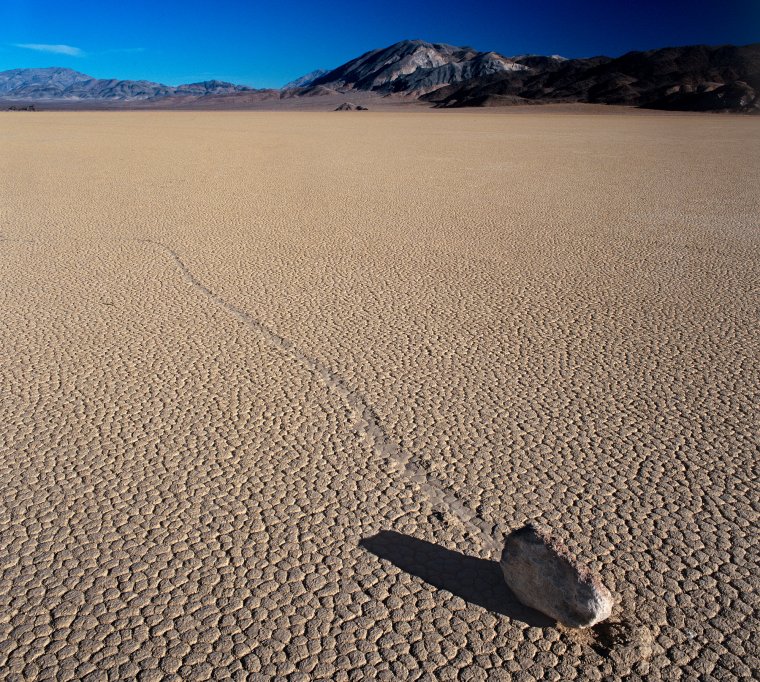 The Racetrack. This one of the best landscape locations accessible by car in the entire park for one reason: the dry lakebed at the end of the horrible, bumpy 28-mile drive has the famous, semi-mysterious rocks that move across the playa when no one's watching and mark their routes with grooves in the ground. It's best photographed in the early dawn or in the evening which means you should camp there to get the best light.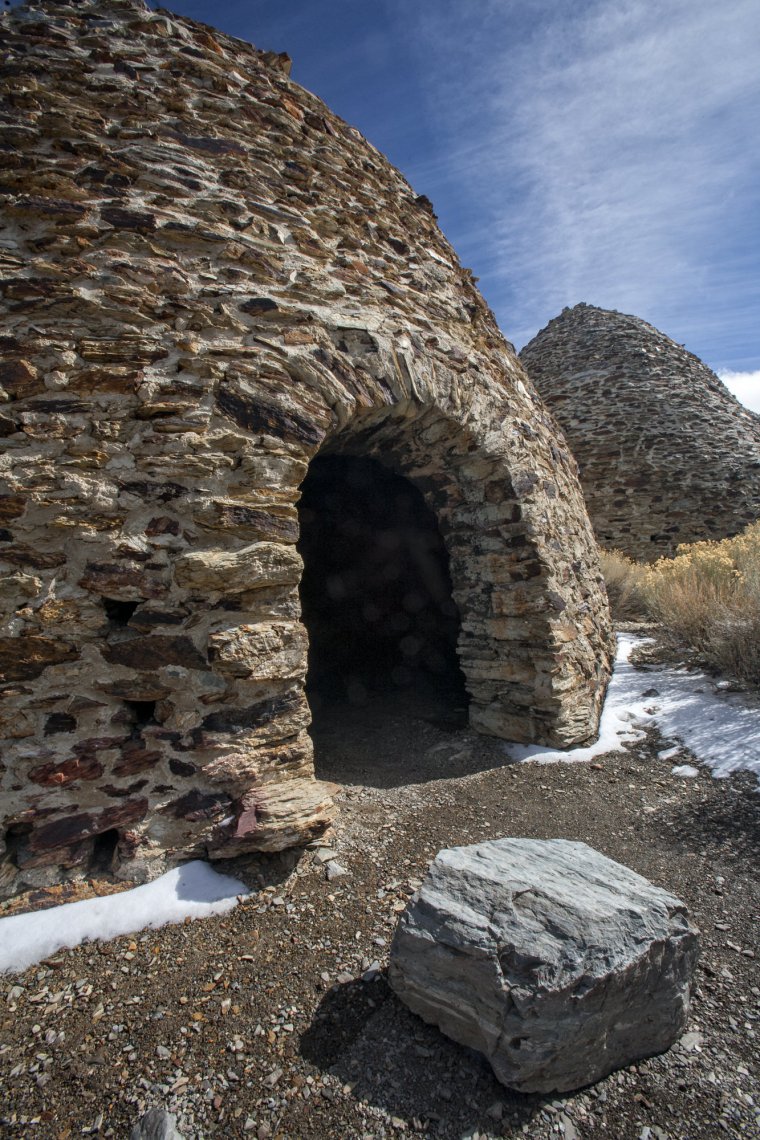 Charcoal kilns. Located in Wildrose Canyon on the west side of the park and involves a three-mile section of dirt road that is high enough in elevation to be snowed in at times during the winter. Built in 1877, these kilns are just strange enough to be worth your time. Given that the roads around here are often washed out, be sure to check the road conditions before attempting this trip.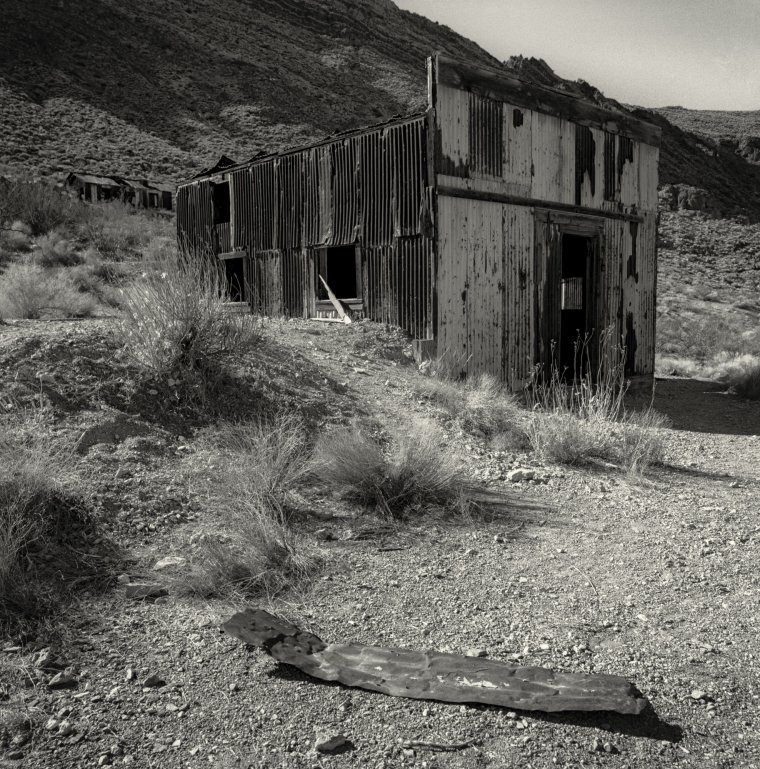 Titus Canyon. The dirt road, which I've driven in an ordinary sedan, winds through the mountainous backcountry, clears Red Pass (do not attempt if the road is icy!), passes a ghost town called Leadfield and lastly navigates the tight curves of Titus Canyon. The 26 miles are amazing in their variety. Watch for the petroglyphs (ancient carvings in the rock) marked by a large sign as you enter the canyon.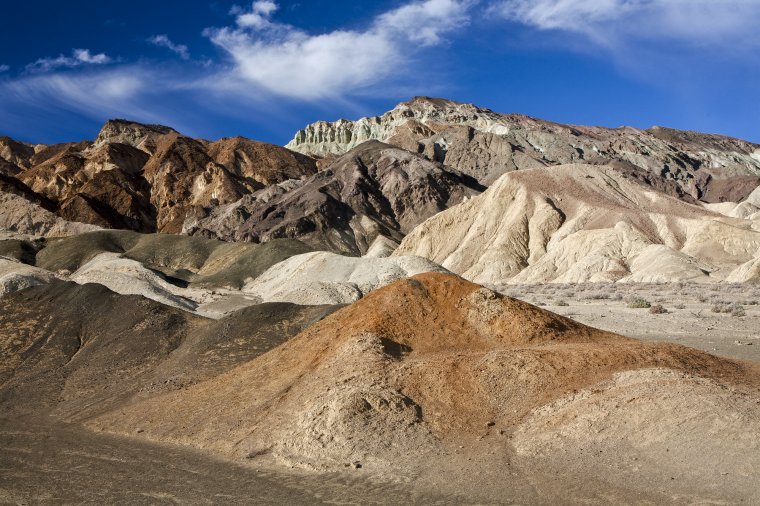 20-Mule Team Canyon. Accessible to most cars, this is simply a beautiful drive with colorful hills and a variety of landscapes to photograph. Best photographed in the morning.
[Opening photo: Golden Canyon]
The following two tabs change content below.
Bill Sharpsteen has seen photography evolve from the primitive days of film (his first camera was a cheap metal box with plastic lens and a hundred light leaks) to digital sophistication (he now works with a Canon EOS-1D X). Not once has he ever uttered the words, "Real photographers only use film." He's a freelance photographer and writer; his first book project, Dirty Water: One Man's Fight to Clean Up One of the World's Most Polluted Bays, was released in 2010, and his next book, The Docks, about the Port of Los Angeles was published in 2011, both by University of California Press. His latest book, self-published in 2015, is a collection of essays and photographs about the sport of canyoneering called Canyon Deep: Descents Into Hidden Landscapes. His photographs have appeared in Washington Post, Entrepreneur, Emmy, Westways, Washington Journey, Outdoor Photographer and Photo Techniques. He has published more than 60 articles for such publications as Los Angeles Times Magazine, Los Angeles Magazine, Washington Post, TV Guide, Entrepreneur, Photo Techniques, Outdoor Photographer and Alaska Airlines Magazine. The topics covered a wide range of interests including business, television, the environment, personalities, travel and entertainment. Sharpsteen also worked during the early 1980s as an award-winning documentary director covering Alaska Natives and the social issues facing them. Those shows garnered such awards as a silver medal in the 1983 International Film & TV Festival of New York, the Lincoln Unity Award and Alaska Press Club awards for best documentary and best video photography. He lives in the Los Angeles area.