How to Create HDR Photos in Lightroom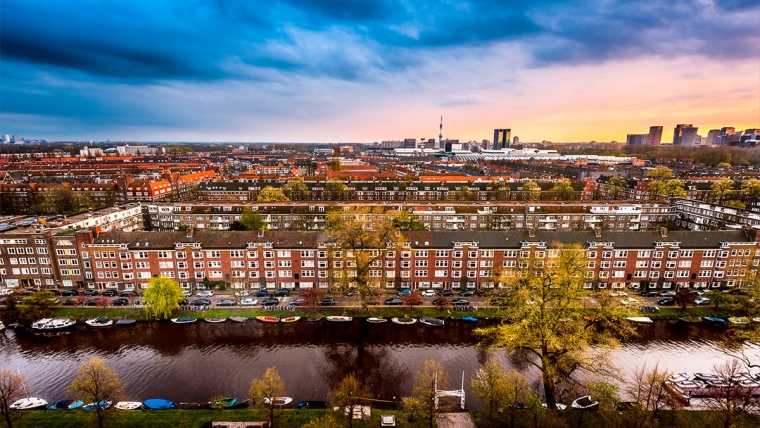 How to Create HDR Photos in Lightroom
www.sleeklens.com
High Dynamic Range photography (HDR) is a combination of multiple exposures captured photographs combined into one single image, this process is used to fill in the lack of capability of the camera to capture different intensities of light. For example, when you photograph a subject under a bright sky, either the background comes out great and the subject underexposed or vice-versa. Before Lightroom CC (2015) came out, in order to create HDR images, you needed to switch between Photoshop or use other specialized software.
The dynamic range of the human eye is around 14 stops, whereas with a digital camera the reach is only around 5-8 stops, that means that a regular digital photo can't represent the dynamic range of the visible world. Due to that, with HDR images, it is possible to unite the data of multiple photographs captured at different exposures into a single 32-bit file containing billions of possible levels of adjustment.
Commonly, High Dynamic Range images are being used in Architectural Photography and Interior Design Photography, due to the fact that if you shot indoors, most of the times, what is outside the window will not show up in the picture. Besides getting all the tonalities, some photographers are using HDR to get various types of effects.
Nowadays, it is easier than ever to create high dynamic range images within Lightroom itself.
Step 1 – Take multiple exposure shots with your camera
Shot RAW images, you will have more data to work with.

With your digital camera, take multiple exposure photographs, ideally shooting a range of 3 to 7 photos.

Make sure to alter only the shutter speed from each shot, with increments of 1, 2 or 3 stops. For example, if you were taking a single photograph and you use a shutter speed of 1/30.

1 stop increments using 1/30 as a base for shooting 5 images – you will end up with 1/8 1/15

1/30

1/60 1/125.

2 stops increments using 1/30 as a base for shooting 5 images – you will end up with 1/2 1/8

1/30

1/125 1/500.

Do not change the aperture of the camera, for example, if you use an aperture opening of F11, make sure you use it in every single shot.

It is highly recommended that you use a tripod, unless it's not possible, you can use the bracketing function on your camera, the one that takes a multiple bursts of images with different exposure.

Step 2- Import and select your images in Lightroom
Import the images that you have photographed.
File/Import Photos and Video
Select all the images that will be used.
Shift+click the first image and click on the last image in order to select all the images.
If your images are not in sequence, (cmd+click on the Mac or ctrl+click on the PC) on each image to select them.
There is no need to adjust your images on the Develop Module at this stage. We will do it afterwards, on the final image.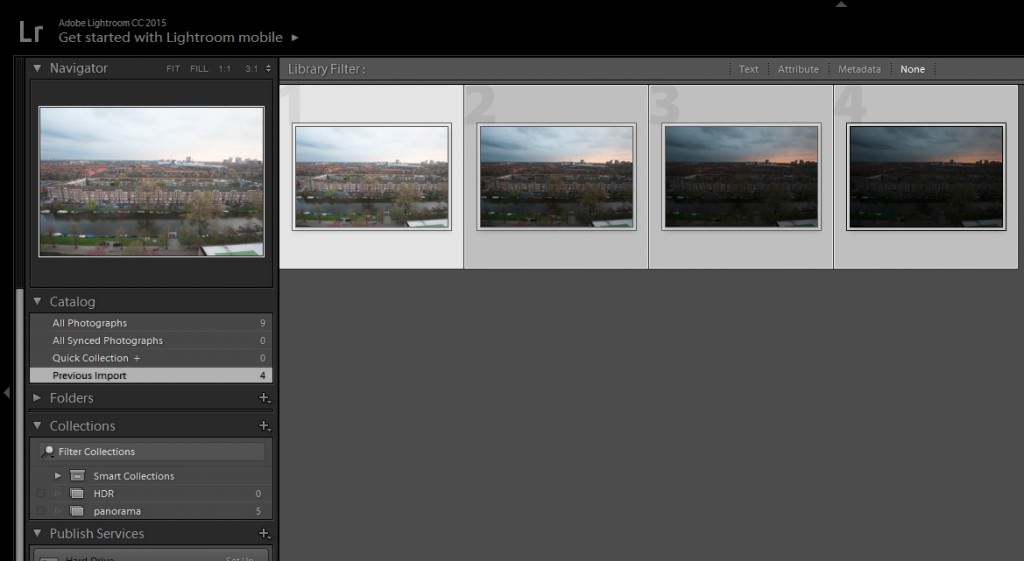 Step 3 – Merge the images to HDR

After selecting the images, go ahead and merge them together.
Photo / Photo Merge / HDR (cmd+H on the Mac or ctrl+H on the PC)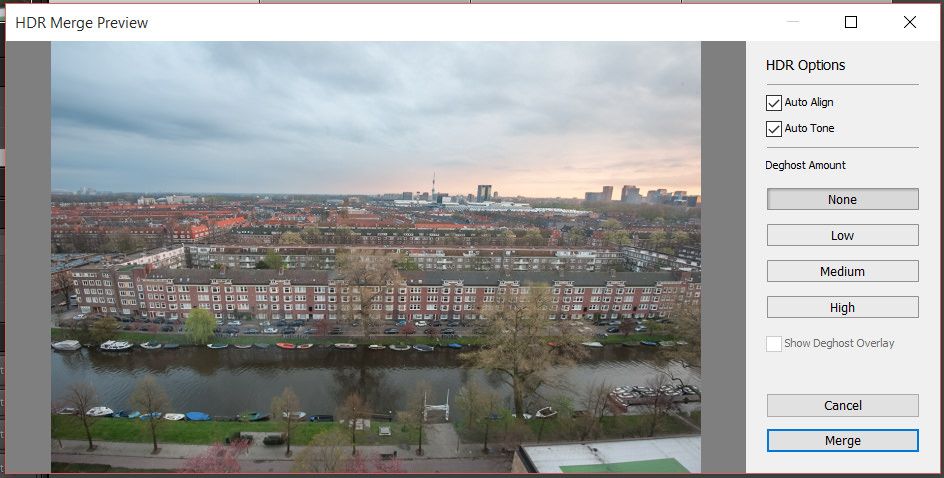 Auto Align – Will be selected by default and will align automatically the multiple exposures that were captured with your camera and also crops uneven edges of the images.
Auto Tone – Nondestructively tries to enhance based on the dynamic range automatically the combined images.
Deghost amount – Will try to fill in parts of the image that had changed between exposure, like birds flying over or leaves in the wind.
Low: Minor changes of movement between images
Medium: Considerable changes of movement between images
High: Cures high changes of movements between images
Show de-ghost overlay – shows what areas of de-ghosting that has been changed.
After you click Merge Lightroom will process the images in the background. Depending on your machine, it may take some time to process the multiple images.

The neat thing is that, Lightroom will create a brand new RAW file and renames it with -HDR at the end, that means that you will end up with the maximum capability for editing your image.
Step 4 – Adjust the final HDR image

If needed, make any adjustments regarding Lens Correction at this stage, since you are doing it to one image, it will save you time.

In the Basic tab, when we mess up with the exposure, you can see that we have a much broader dynamic range going from -10 stops to +10 stops, whereas in a regular image it ranges from -4 stops to +4 stops.
Now we can enhance the merged image with the develop module, as we would do to any other image. In the end, you can get a beautiful High Dynamic Range image.
The following two tabs change content below.
Luiz Kim is Photographer, Digital Retoucher, Food Photographer, Fashion Photographer, Still life Photographer. 12 years Photoshop experience, 8 years Photography, 7 years Lightroom experience. Photoshop teacher for 3 years at Centro Universitário Belas Artes de São Paulo. I've retouched for many magazines like Vogue UK, Vogue Brazil (Brazil), Casa Vogue (Brazil), RG (Brazil), TPM (Brazil). Ranging from skin retouching to vogue houses.