Why Crop Tool in Lightroom is Best Tool to Learn Photography?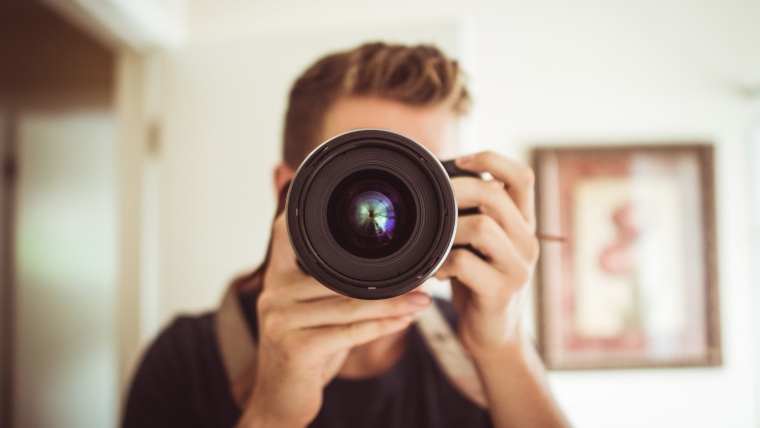 Why Crop Tool in Lightroom is Best Tool to Learn Photography?
www.sleeklens.com
Have you ever heard that in the older film era, emerging photographers cutout developed prints into different sizes & different ratios while trying to choosing the best version of the photographs they have taken? Some of you may find it interesting, and in a learning point of view, it makes much more valuable information.How can you become a better photographer than you were yesterday in the digital world with the help of Lightroom? Using the Crop tool (R) in the develop module you can become a better photographer. The Crop Tool is a very simple and yet powerful tool. You can learn in detail with an article we have about to go about using the tool effectively here. In this article, however, we are going concentrate on the area of "How Crop tool will help you to become a better photographer".This article will hopefully give you a better understanding of how to use the crop tool in Lightroom.Let's start with an image assuming that it is already imported into Lightroom and either the necessary adjustments been already done or you will do the processing part later. In this article, we are highlighting the use of the crop tool as it is one important tool in Lightroom that helps us cut out different compositions out of just one photograph and its use is recurring as well.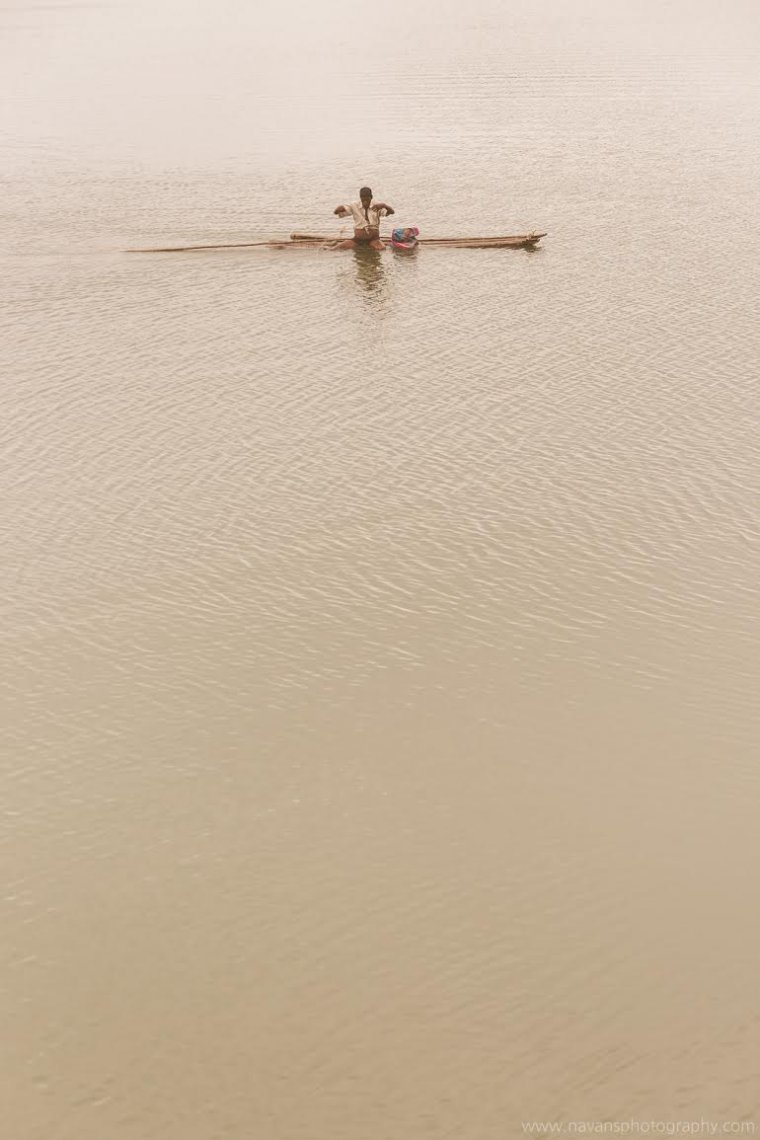 Above is an example of a picture that can be cropped in different ways to create various different versions of it like portrait, landscape and to try out different aspect ratios as well. You can go about using the crop tool to create diverse versions of the same picture. The Crop tool can be found in the Develop Module, beneath the histogram.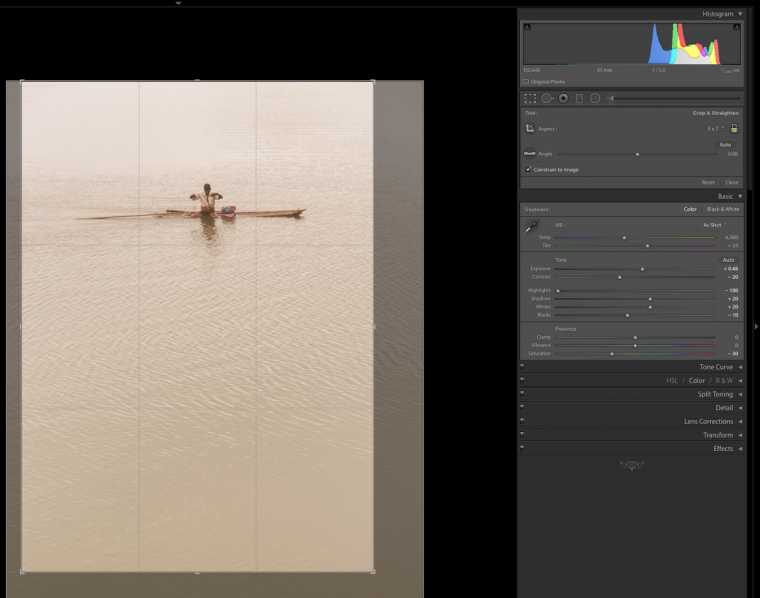 You can also access the Crop tool by hitting 'R' on the keyboard.The most basic way to crop is by starting on the outside of the image, as shown above. We can just click and drag up or down and left or right to move our crop around. When you let go of the mouse, the crop will set and when you hit "R" again, the crop is locked.The different Compositional Rules of photography can be used to crop your pictures are the Rule of Thirds, Diagonal rule of Composition, Golden Triangle, Golden Ratio, and the Golden Spiral Rule. Lightroom has a splendid feature which lets you view these Compositional Rules of Photography over your picture by just clicking 'O' when the crop tool is active. This will let you easily decide which composition is best and thus, which way to crop your picture so as to use the crop tool to your full advantage.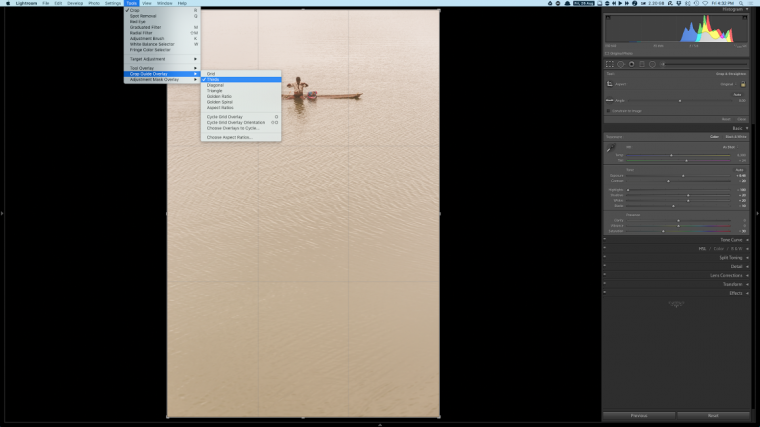 Among these 5 composition rules, you have the Golden Spiral rule and the Golden Triangle rule for which you can apply it more than one way on a picture. You can view these other ways of how to apply these two composition versions by simply holding shift while you press 'O'. To see all the different versions of crop and compare different crop versions you could create virtual copies for of the different crop proportions that you think is suitable. To know more about virtual copies and its use click here.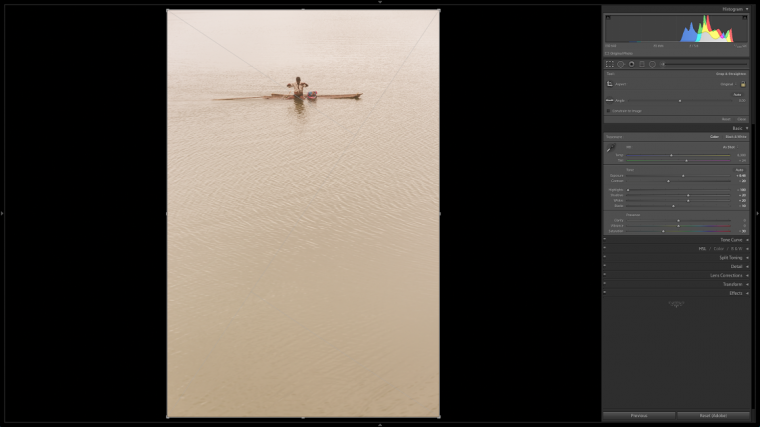 The picture above uses the Golden Triangle Rule on one side, although your subject might be on the other side of the photograph. This picture below is the other way of composing the photograph with the same rule, but in an alternate method which involves clicking 'O' to obtain it. It lets you use this feature with respect to your subject.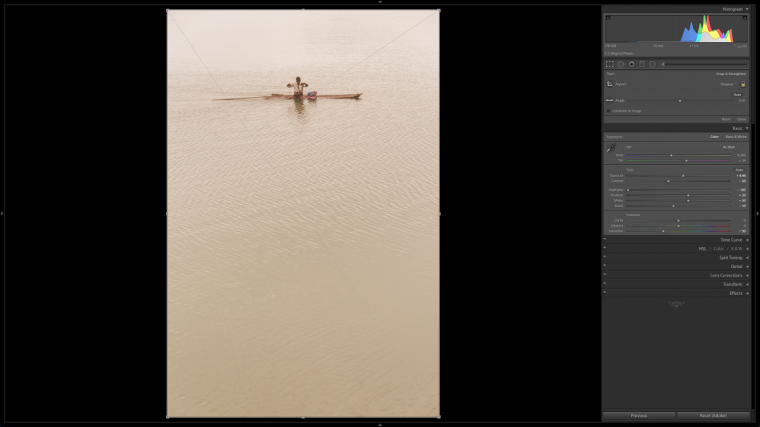 You can also try to change the orientation of the image by clicking "X" while the crop tool is on. This lets you choose between creating a portrait or a landscape. So you can take a look at what we've got after we changed the orientation. Although, you will have to keep in mind that changing the orientation will result in huge file resolution loss.
So this is also one creative way of experimenting with the Crop Tool in Lightroom though it has various other uses. You can easily attempt using each tool in without any risks involved in Lightroom as it is a non-destructive editing program that does not damage the original file, as Lightroom is keeping the instructions on a separate file. We hope reading this article gave you more incentives and ideas to use the tools in Lightroom in a creative manner!
The following two tabs change content below.
Navaneethan Viswanathan (best known as Navanee Viswa) is a professional photographer based in Chennai. After completion of his Engineering and Management degrees he worked as a Civil Engineer for almost 10 years and slowly realized that his true passion was in building good photographs rather than building a structured construction. This made him quit his job and become a full time photographer to pursue his passion. Now he specializes in Candid Wedding photography primarily, he also does Product photography, and Industrial photography. Navaneeth is a trekker and a traveller, who enjoys photographing things he comes across during his travels. He contributes articles regularly to photography websites like Digital Photography School , and he also maintains a photography blog which is followed by many. This blog has lots to talk about photography and the techniques involved. His works have been exhibited at the photography exhibition organized as part of Art Chennai 2012. Many of his works have been chosen as best entries in on-line galleries like One Eyeland . Navaneeth is also well known in the industry for his photography related workshops.