Olympus Zuiko 12-40mm f2.8 Pro Review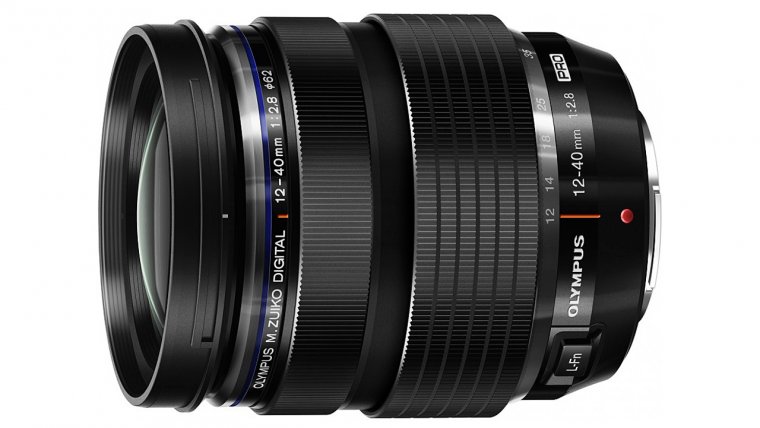 Olympus Zuiko 12-40mm f2.8 Pro Review
www.sleeklens.com
There are a few certain things that could be said about almost every photographer that owns a camera that has the ability to change lenses and one of the common needs of many photographers it to find that one great lens that will spend more time on their camera than any other. For some their 18-55mm kit lenses are just fine, but those who are a little more serious about their photography try to look for something that performs better in every way. While the standard kit zoom lenses sometimes have the ability to produce some decent photos, they usually underperform on several occasions and are also held back by their slow maximum aperture and unimpressive build quality. When talking about micro four thirds cameras, the Olympus Zuiko 12-40mm f2.8 Pro presents itself as a very good choice for those looking for a lens that corrects these flaws that plague the kit lenses. Like its name implies this is a professional lens aimed at those photographers seeking the best gear they can get and those who need a quality and versatile lens for everyday shooting and those occasions where you don't have the luxury to carry all of your lenses and you need that one lens to cover most of your needs. Let's see if the Olympus Zuiko 12-40mm f2.8 delivers on that promise.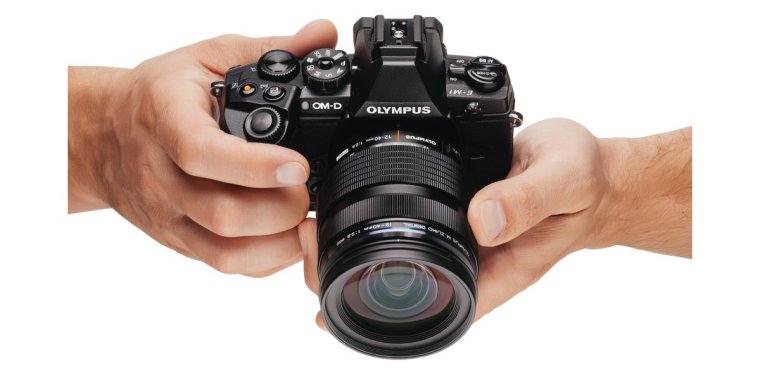 Let's take a look at some technical aspects of this lens. Its metal body incorporates 14 elements in 9 groups. It has 1 aspherical ED elements, two regular aspherical elements 1 EDA element and one HD element. It also features Zero coating, a marketing term for special nano coating that reduces reflections, ghosting and flaring and also increases contrast. It's also weather sealed and made out of metal, so right from the beginning, it sounds like a lens that can work in any shooting conditions. The smallest aperture you can shoot at is f22 and it can focus as close as 0.2m. There is no image stabilization available, which isn't really a problem since most of the today's quality micro four thirds cameras have the image stabilization build into their bodies and in practice, it usually works just as good as the stabilization build inside the lens itself. As this is a micro four thirds lens, you should also now that it works on all cameras that are based on that mount; this is one of the things we like the most about these lenses. The Olympus Zuiko 12-40mm f2.8 Pro also has 7 circular aperture blades and a filter thread size of 62mm. This means that the filters you are planning to use with this lens shouldn't be too expensive. The focusing system inside it is a High-speed Imager AF or Linear Motor Drive System. Technical naming aside, it promises to be very quick and silent at the same time. Lastly, there is a healthy number of accessories included in the box as you'll get a both the front and the rear caps, lens hood and a carrying case.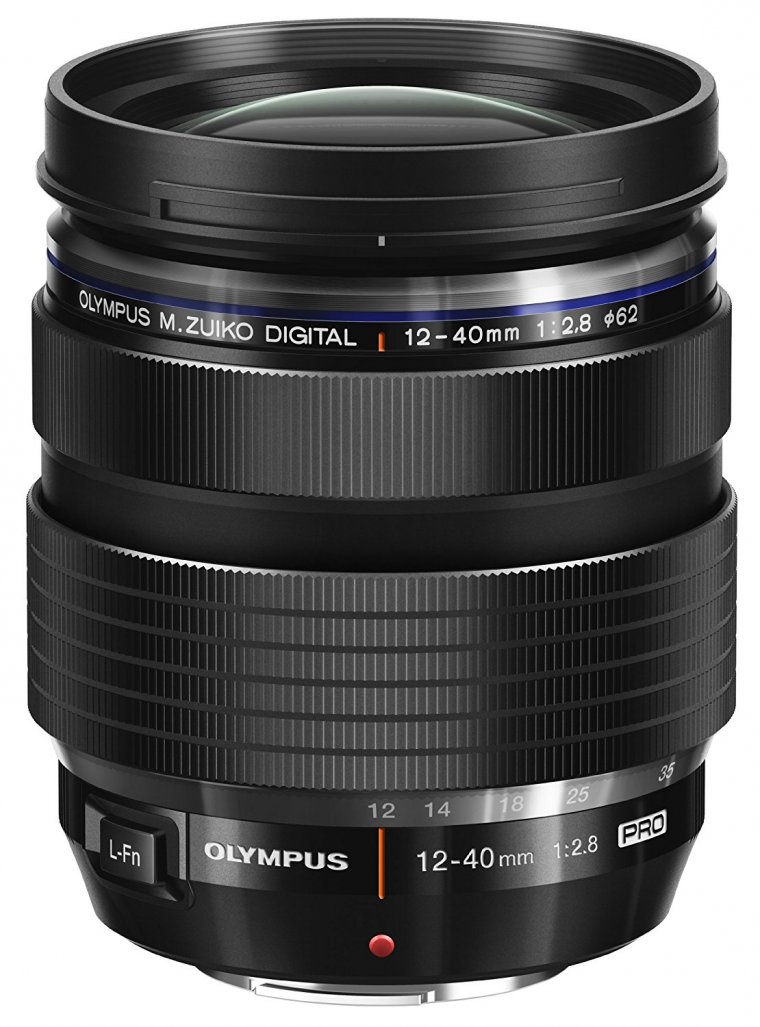 At 382 grams, the Olympus Zuiko 12-40mm f2.8 Pro feels just about the right weight. It's neither too light nor too heavy. It shouldn't feel cumbersome after longer shooting sessions, but it still has enough weight to it to make you confident that it will hold up and remain in good condition for a long time. Be aware that you should make sure that your camera body is weather resistant too if you want to make use of weatherproofing on this lens. The focus and zoom rings both feel well made and have a nice texture to them making them easy to use. This lens has one unique feature to it and that's the L-Fn button found on the bottom if its body. This button is used to temporally disable continuous autofocus when something blocks the subject you are currently focused on. It's not something you will use every day and it will be something mostly used by those shooting video, but it's still an interesting addition nevertheless. The lack of image stabilization may be a problem for some as not all micro four thirds manufacturers offer in-body stabilization, but this shouldn't be a problem for Olympus users since their cameras do offer that functionality. The AF performance of the Olympus Zuiko 12-40mm f2.8 Pro is simply great. Just as advertised, it's quick, accurate and silent. Even though there is some focus hunting in very low light conditions, it's still a rare occurrence and doesn't diminish the overall performance of this lens. Now, in full frame terms, the focal length you will get with 12-40mm f2.8 Pro equals to 24-80mm, which combined with fast maximum aperture turns this into a very flexible lens. This wouldn't be the case if the image quality didn't hold up, but luckily it does. Sharpness wise, this is a pretty sharp lens. Wide open, it exhibits great sharpness up until 28mm and good sharpness up until 40mm. The corners can get slightly soft at longer focal lengths, but no matter the focal length the image quality gets perfect by the time you reach the aperture of f5.6. Chromatic aberrations are controlled very well and you'll hardly notice any in your photos. The same can be said for distortions and vignette, so this lens performs admirably in these cases. You can also use it as a backup macro lens since it can focus as close as 20cm at its longest focal length and you can easily fill your frame with a moderately sized subject.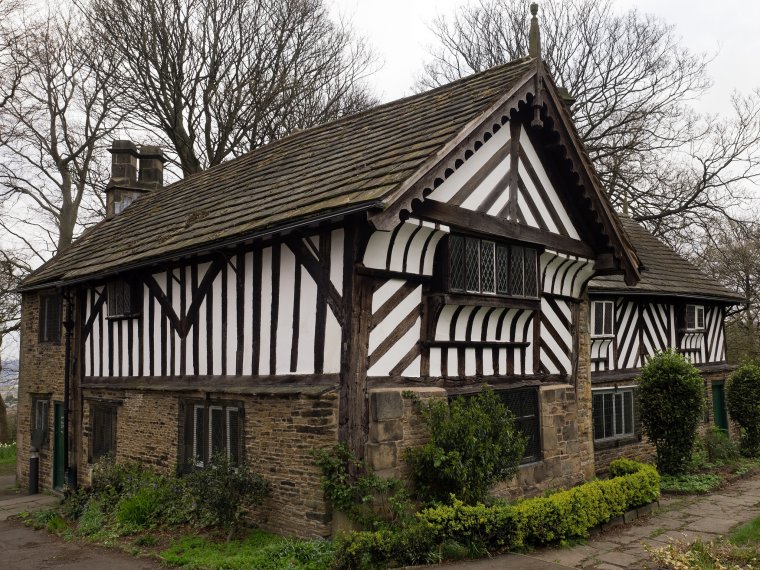 So, where does this leave us with the Olympus Zuiko 12-40mm f2.8 Pro? Does it deliver on its promises of being the all in one lens that micro four thirds cameras shooters desire? Well, yes, yes it does. It's not perfect mind you. Those who don't own a camera body with image stabilization built-in may have a problem with it missing from this lens. Also, it's not the sharpest lens wide open at 40mm and some may get better image quality out of a prime lens at that focal length and at f2.8. Other than that, this is an excellent lens. It's sturdy, just the right weight, has just the right focal length to be very useful and offers overall good image quality wide open and excellent when stopped down a little.
SaveSave
The following two tabs change content below.
An amateur photographer, songwriter, musician, computer and technology geek and an occasional comedian, I'm a little bit of everything. I always aim to pursue things I'm passonate about and try to look on the positive side of things whenever I can. My mission is to wrap my articles in that aura of positive energy and keep a healthy balance between being serious about my work and spicing things up with a little fun now and than. After all, life's a game and there's always a different way to play it.