Sony Cyber-shot RX100 V Review: Meeting New Classics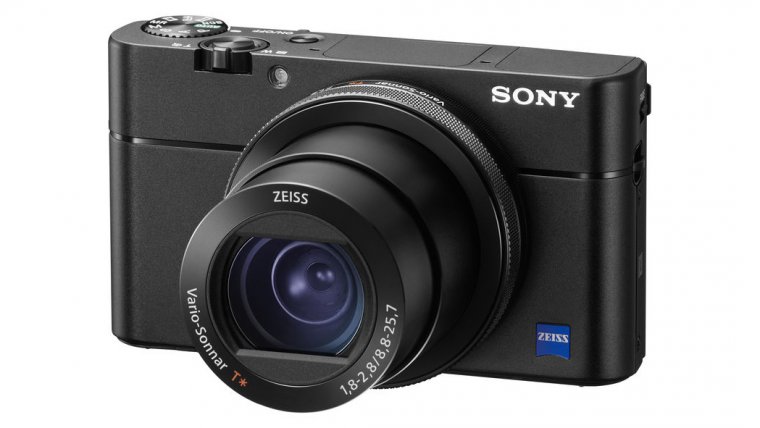 Sony Cyber-shot RX100 V Review: Meeting New Classics
www.sleeklens.com
The popularity of compact cameras certainly isn't as high as it used to be with smartphones getting better with each year and producing better images and mirrorless cameras and even DSLR becoming more affordable and easier to use. Luckily, there are still some interesting options on the market for those who still feel that a compact camera is exactly what they need and Sony's RX100 V is one of the best options out there.
From the very first model (the original RX100) Sony gained a lot of reputation on account of good their RX series of compact cameras is. Any of their models sits perfectly between the smartphone and the interchangeable lens camera with a large sensor. It doesn't offer the flexibility and the image quality of a mirrorless camera like Fujifilm's X T20 or a DSLR, but it does those two things far better than a smartphone and also fits in your pocket without a problem. The RX series of cameras are well known for their quality lenses, great features and really good image quality due to their 1-inch sensors. The story shouldn't be any different with the RX100 V and we are curious to see how much did Sony improve the fifth iteration of their advanced compact cameras.
As all RX series of cameras, the RX100 V is also equipped with a 1-inch 20-megapixel sensor, but it comes with its most advanced iteration to this date as it is a stacked sensor as well as backlit. Sony really pulled out the most they could out of their sensor. Actually, the sensor isn't the main selling point of the RX100 V. It's mostly focused on one thing and that is speed.
Pros
Built-in WiFi
NFC Connectivity
Image Stabilization
Articulating Screen
RAW Shooting
Light Body
Selfie Friendly LCD Screen
Cons
No Touch Screen
Low Battery Life
No Environmental Sealing
Optical Zoom only 3X
Click to read the full Review
The first thing that could be beefed up in that regard is the autofocus system, which is the first phase detect AF system implemented in a compact camera. It also holds an impressive number of focus points, 315 of them. What goes together with the new AF system than improved burst rate. The RX100 V can shoot at impressive 24 fps! And no, the focus doesn't have to be locked at the first frame, both the autofocus and auto exposure work through the entire duration of the burst.

The video recording is also faster now with the addition of the HFR or High Framerate video. You can now record videos of varying frame rate and resolutions from 24 fps up to an impressive 1000 fps. We look forward to testing these out in more detail as the RX100 sounds promising as a budget slow motion camera. The recorded 4K videos are now also oversampled and with a lot less noticeable rolling shutter effect. It shares most of its other features with its predecessor like the same 24-70mm f1.8 – f2.8 Vario-Sonnar lens, 3 inches TFT LCD 1,228,800 dot screen, 2,360,000 dot EVF and the build in ND filter. Add to that a built-in flash unit with a respectable range of 10.2m, micro-HDMI port that can output uncompressed 4K video at 30 fps, built-in Wi-Fi and NFC and you get one impressive package in a relatively small body. Let's see if that much technology crammed into such a small frame required some sacrifices or its body also one of its strong points.
Body and handling
Let's start by saying that not much has changed from the RX100 IV when it comes to its outer appearance. The RX100 V looks exactly the same and that isn't a bad thing since the RX100 IV was already quite easy to use and felt really well in the hand. The first thing you'll notice that this camera isn't made out of some cheap plastic, but out of aluminum. It really makes it feel really premium and durable, but still not too heavy because of how light the aluminum really is. Magnesium alloy would also be a good choice to improve durability even further, but as this is a compact camera we fully understand why Sony went with aluminum instead. All the buttons and dials also feel very good and it's noticeable that they are also made up to high standards. While there aren't that many manual controls on the RX100 V the ones that are available are perfectly laid out and easy to use. On the left side on the camera, you will only find an NFC contact point and a button to raise the pop-up viewfinder. On the right side, you'll find the two rubber flaps and micro-USB and micro-HDMI ports underneath them. Looking from the top left side you'll find the EVF, pop-up flash, on/off button, shutter button and the main mode dial. Finally, at the back only the right side of the camera contains manual controls and these are the direct video record button, customizable Fn button, Menu, view and "trashcan" buttons as well as the navigation wheel that can also be pressed in for directions to access the timer, display options, flash control and exposure compensation.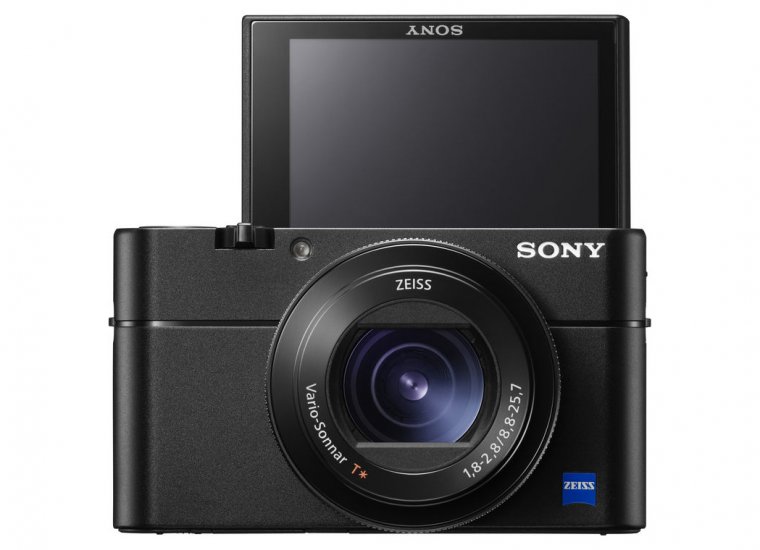 While there aren't that many manual controls on the RX100 V the ones that are available are perfectly laid out and easy to use. On the left side on the camera, you will only find an NFC contact point and a button to raise the pop-up viewfinder. On the right side, you'll find the two rubber flaps and micro-USB and micro-HDMI ports underneath them. Looking from the top left side you'll find the EVF, pop-up flash, on/off button, shutter button and the main mode dial. Finally, at the back only the right side of the camera contains manual controls and these are the direct video record button, customizable Fn button, Menu, view and "trashcan" buttons as well as the navigation wheel that can also be pressed in for directions to access the timer, display options, flash control and exposure compensation.
This brought us to the one criticism we have for the RX100 V and that is its lack of a touchscreen. It seems like a natural thing to include it on a camera of such a limited size and a limited amount of physical controls because of that. We can't understand why Sony hesitated to include it on all of their RX series and now also on its fifth iteration as it's now something that can be found on many different types of cameras. This brings us to another observation we've made about the RX100 V; it seems like an advanced camera when you look at its specs sheet and the quality of its body, but when being used it feels oversimplified at times and it can be complicated to set up anything more advanced. The menu system works well enough for basic things like setting up ISO, aperture, shutter speed and so on, but for other things, you'll have to spend some time in the menus before you learn where everything is located and learn to use it as fast as you can. It seems like Sony intended for this camera to be mostly used in Auto mode and only occasionally used in full manual mode. That's a shame considering how much advanced functionality the camera has inside of it and this could mean that some of its potentials would be left unfulfilled. Don't get us wrong, us criticizing it in this way doesn't mean that we don't like this camera and that it's all a deal breaker; it's just that we wish that Sony were a little more serious about it and focused a little more on advanced users who crave manual controls no matter the type of camera they like to use.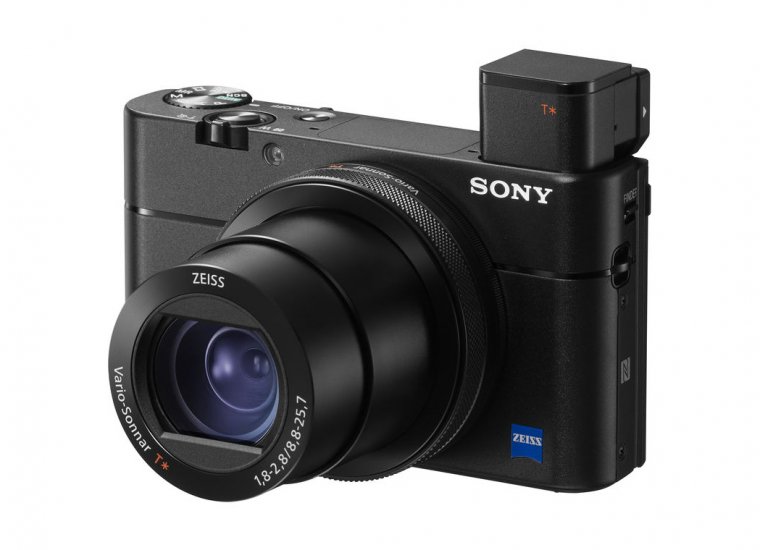 The main navigation controller is an interesting one since it's unclickable and without hard stops at each click, so it's great for fast manual focusing and quickly changing settings. As much as we criticized Sony for oversimplifying the RX100 V and deciding not to add a button or two extra to make it easier to use, we have to applaud them for including both the pop-up flash and the EVF as well. They are both perfectly flushed with the body until you decide to use them, so they are also well implemented from the design standpoint. The Auto ISO functionality is also something that we need to mention since it's very good and among the best in this camera class. It has the usual functionality like setting the desired ISO range or setting a minimum shutter speed and you can even make the camera pick the appropriate shutter speed in regards to what focal length you are shooting at so you can make sure that your photos won't be blurry due to camera shake that becomes very pronounced at lower shutter speeds. You can also gain quick access to the required menu by assigning it to one of the Fn buttons if you need this functionality on the fly.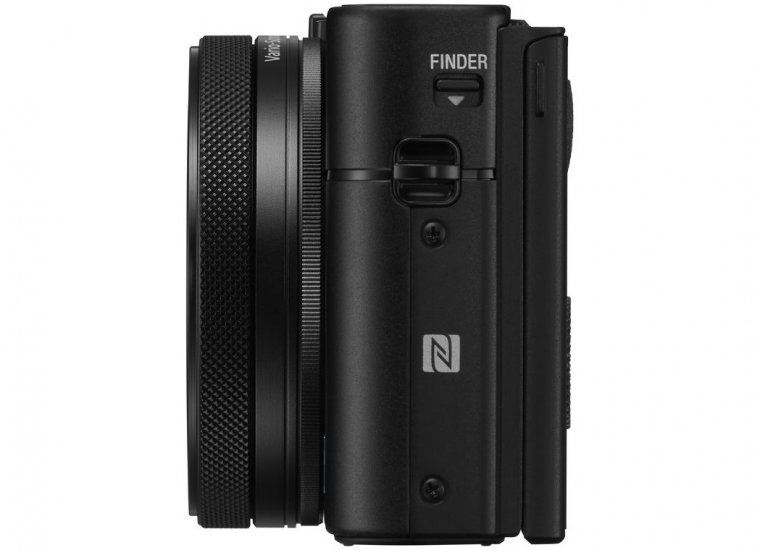 Lastly, let's touch on how well the RX100 V handles the Wi-Fi related stuff. You get the option to pair with your smart device using the Wi-Fi directly or tapping the little logo on the left on the camera to initiate pairing via NFC. The placement of some of the functions reminds us of using a smartphone like for example the need to access your photos first in the Playback menu and transferring them from there. Sony's PlayMemories application supports all the necessary features to remotely control the RX100 V and you won't be missing anything in this regard. So this camera is covered very well in terms of Wi-Fi functionality. The RX100 V left us with mixed emotions in this section of the review. The quality of the body itself and the ergonomics are great and the viewfinder, screen, and the integrated flash unit are also very compelling. We only wish that Sony catered the general user experience more to advanced users as they could do it very easily without ruining the experience for those users that don't want to bother with many manual controls and deep customization.
Autofocus and performance
We thought we will never see a 315-point phase detection autofocus system on a compact camera, but here we are. This is truly the future. It's truly a sight to behold to see all those points spread out across the entire screen. And the speed is truly great and puts the RX100 V at a whole another level when compared to its competition. You'll gain access to 5 different focusing modes. Wide mode analyzes the entire scene and looks for the best subject to focus on and does that together with face tracking. Center mode puts a box-shaped frame in the center of your frame and focuses on anything in that area. Flexible spot does the same thing but allows you to move the box around the entire frame and also lets you pick its size from three different options. Expand flexible spot primarily uses the central focus point for critical focus and uses the surrounding focus points if the need arises. You can also move the focus point and all those surrounding points around the frame. Lastly, there's the Lock-on AF which is best used to track one moving subject you specify without the need of taking other moving subjects into account. One thing we do need to mention is that the camera doesn't always use phase detection AF for focusing as it also has contrast detect capability and likes to switch to it when there are only static subjects in your frame. We don't mind this as there is no need for phase detect AF in those situations anyway. It's important to point out that the RX100 V focuses very quick and accurately in every situation, especially where those phase detect points come into play. It's really an unbelievable performance for a compact camera.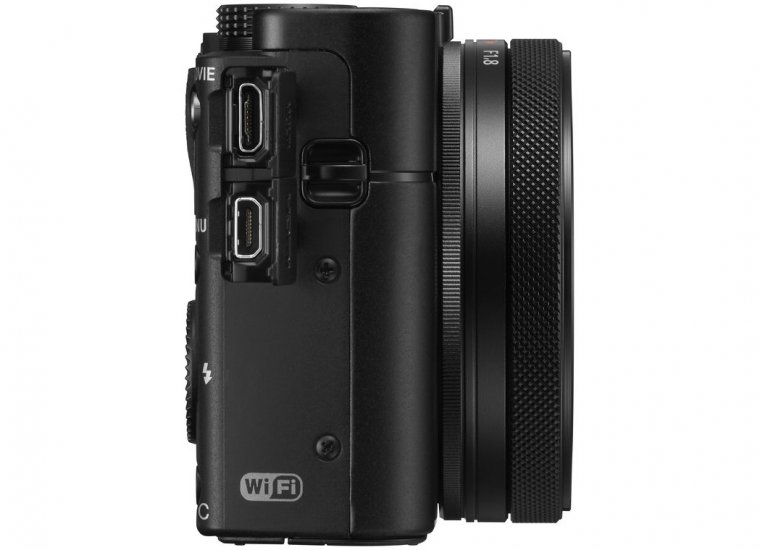 This camera isn't only fast when it comes to focusing, but it's also perfectly capable of carrying any operation with no hiccups and that's something that can be said for many compact cameras as their menus and generally, performance can often be somewhat clunky due to lack of optimization or weak processors inside of them. You couldn't wait to reach of the review to hear about that 24 fps burst rate and to read that it's actually too good to be true, couldn't you? Well, we were also skeptical about it when we saw it on the specs list, but were quickly persuaded that it's real when we started using it. It really does what it says it does, there are no tricks in play. It's mighty impressive to say at least. You can even make short video clips out of those frames if you wish so and end up with even higher resolution than 4K. The only real flaw to this is that the camera takes its sweet time to clear the buffer before you can shoot again. As this isn't a professional DSLR or a mirrorless camera we expected something like this to happen. It still doesn't take away the very positive feelings we got every time we used that burst mode. Unfortunately, there is one area in regards to a performance where the RX100 V doesn't shine as much and that's the battery life. It sits around 220 shots which are lower than the 280 shots you could get out of the RX100 IV. We would recommend carrying a spare battery with you if you plan to spend a day outside without any source of power in near vicinity. So aside from that underwhelming battery life, the RX100 V is really in a league of its own when it comes to the speed and reliability of its AF system and also that impressive maximum burst rate.
Video features and quality
There is a lot to be said about video capabilities on the RX100 V so we will try to cover as much as we can. Features wise you gain everything from focus peaking, zebra patterns, and S-Log2, but also some new ones like High Frame Rate video that takes a lower resolution video with a very fast frame rate and upscales it to higher resolution and it does quite a good job in improving the quality of recorded videos. Aside from that, the improvements were also made in 4K video quality as it now oversamples footage from the entire sensor and you're essentially shooting a 5.5K video that's being downscaled.
Rolling shutter effect is also noticeably less apparent in comparison to the RX100 IV and that's something that we really appreciate to see. Aside from that you also get the usual digital image stabilization and great stereo microphones as well. The new phase detection autofocus also helps a lot in video and works excellent with almost no cases of focus hunting. The quality of recorded videos is actually the best you can get on a compact camera right now and can even be compared to many cameras with larger sensors than the RX100 V.
Image quality
There isn't much to be said about image quality as it's the same as on the RX100 IV. It's clear that Sony decided to focus their efforts on other aspects of the camera which needed to be improved more. You can expect the same impressive image quality that was present on the RX100 IV, meaning the best in class performance that really uses that 1-inch sensor almost to its maximum.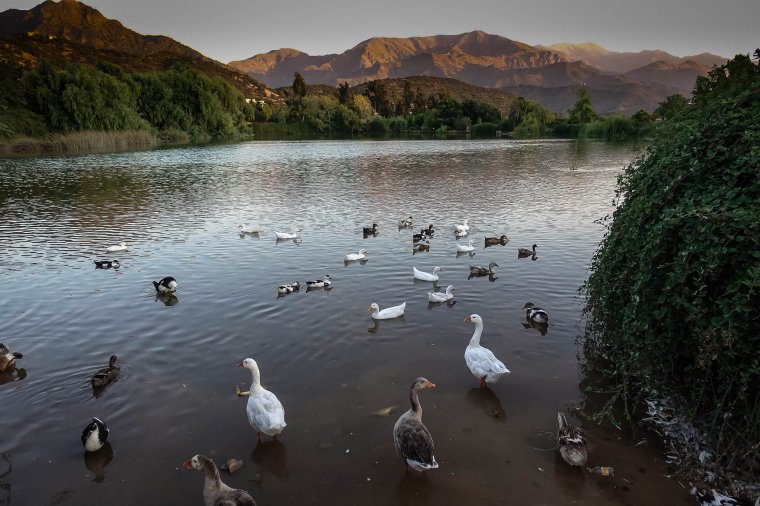 The only real change we noticed is the slightly different JPEG image performance that tends to apply a little more sharpening and the noise reduction is a little more aggressive this time around. It's still a great performance despite that change and it also translates to RAW as well.
Conclusion
The RX100 V is a changed camera from its predecessor, but one thing still remains the same and that is the fact that Sony still reigns supreme in the compact camera market. They RX100 V only fortified that position. While we would like to see more manual control, a touchscreen and better battery life we are also quite satisfied with the added improvements in form of impressive autofocus system and maximum burst rate and better quality 4K footage and slow motion videos. If you add those improvements together with the already well known bright and high-quality lens, great image quality, sleek aluminum body, awesome pop-up EVF and decent quality screen that also has the ability to be tilted to a certain degree and you really get one convincing package of well implemented features in something that can easily fit in your pocket.
The following two tabs change content below.
An amateur photographer, songwriter, musician, computer and technology geek and an occasional comedian, I'm a little bit of everything. I always aim to pursue things I'm passonate about and try to look on the positive side of things whenever I can. My mission is to wrap my articles in that aura of positive energy and keep a healthy balance between being serious about my work and spicing things up with a little fun now and than. After all, life's a game and there's always a different way to play it.