Sony Cybershot DSC-HX350 Camera Review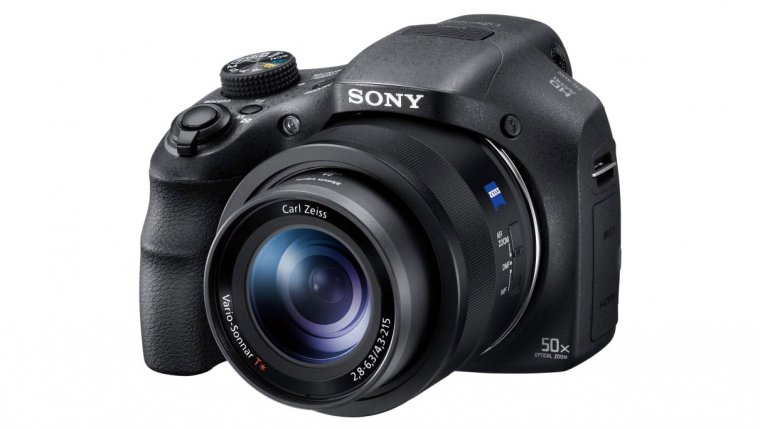 Sony Cybershot DSC-HX350 Camera Review
www.sleeklens.com
Nothing is more fun than getting the chance to review one of the newest flagship cameras that always have to be as competitive as possible and include as many impressive features as they can to justify their high price tags and the expectations of their potential buyers. Also, those cameras almost always offer one or two new technologies that weren't available anywhere else and will maybe found their way on less expensive cameras in who knows how many years. Still, the reality of things is that most people visiting our site (or any other that gets to review cameras and other photography gear) are mainly interested in getting the best possible deals and as much of a good camera as they can find without spending too much money. That's certainly to be expected in this tough economy and thus it's also interesting to see what all the different manufacturers can come up with to grab the attention of those types of buyers as it's always a challenge to create an attention-grabbing camera that doesn't make too many sacrifices to reach its price point and a wide array of different audiences.
That part of the market is also segmented into different types of cameras; compact, mirrorless, bridge, DSLRs and so on, which doesn't make the decision on which camera is right for you any easier. That's where we step in to help however we can and show each of those types of devices in the right light. Today, we've got the chance to review one of the more affordable bridge-type cameras from Sony, the Cyber-shot DSC-HX350.
This is one of those products that try to be as flexible as possible and present itself as an all-in-one solution that you'll be able to carry with you often and be able to indulge in many different types of photography (landscape, macro, wildlife to name a few). The reason for that has to be its main selling point, a 50x optical zoom lens, which the amount of zoom range that many photographers will appreciate and enjoy. Still, all of that range does come at an expense to image quality since a smaller 1/2.3-inch had to be used in order to keep the size of the lens itself and the camera body to a manageable size and it does have its limitations (especially if you decide to shoot in low light as this is when you notice the most difference between it and those cameras with larger sensors).
So, the HX350 is actually a camera that's catered to less demanding users that will mostly be shooting in less harsh lighting conditions or those that just plan to post their photos and videos on any of the available social networks (where the loss in image quality won't be very noticeable thanks to the smaller image sizes and the compression). Still, even the more advanced users will surely know how to work with it to get the best possible results, which could be an acceptable trade-off to some just to get such an incredible zoom range at a budget price point (since it would be quite an expensive task to try to get the same range on a larger sensor camera).
Now that we've established the HX350's most prominent feature, let us take a quick look at the rest of its specifications and see what else we can find out about this rather interesting camera coming from such a prominent camera manufacturer such as Sony. Will it manage to defend the company's name in a successful manner despite its budget-friendly nature or does it hold too many sacrifices to become a valuable purchase proposition for a lot of different people?
Sony Cyber-shot DSC-HX350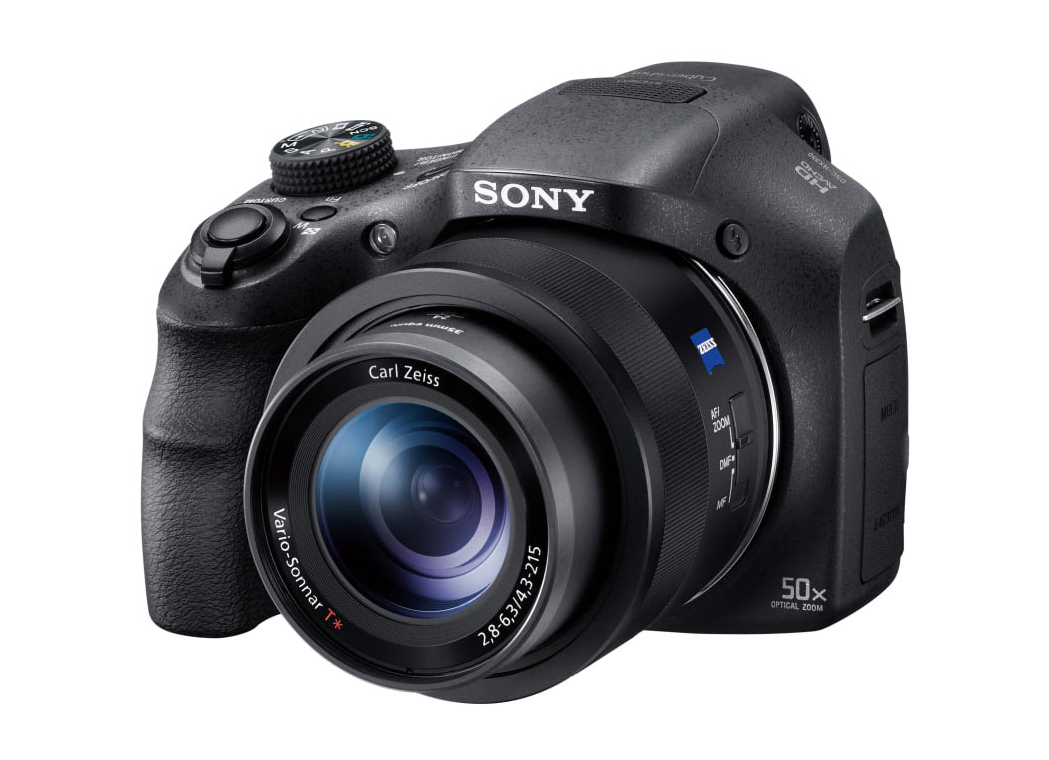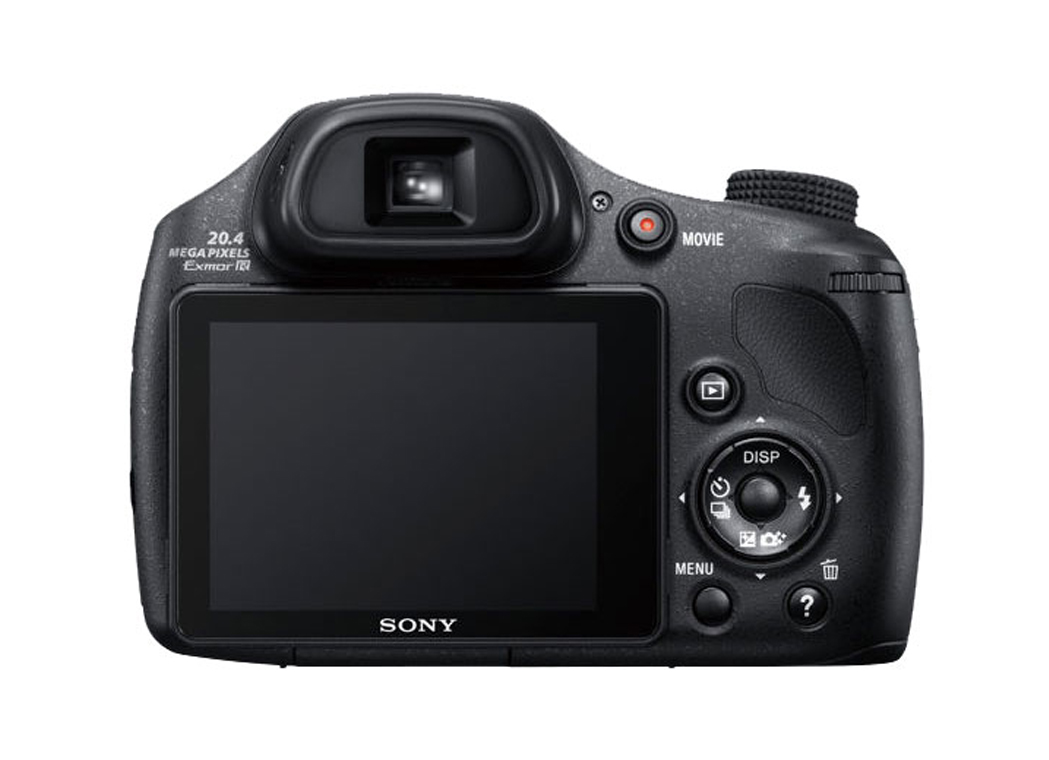 The Sony Cyber-shot DSC-HX350 features the company's own Exmor R 20.4-megapixel 1/2.3-inch BSI CMOS sensor, which is one of the higher resolution ones you'll be able to find on a bridge-type camera to this date. Now, while such a high megapixel count could have a negative impact on low light performance, the fact that the same sensor is backlit and also benefits from optical image stabilization should make up from the loss of light from the smaller pixel size.
Pros
Articulating Screen
FullHD Max Video Resolution
Electronic Built-in Viewfinder
Face Detection Focusing
Manual Focusing
Manual Exposure
24mm Wide Angle Lens
Cons
No WiFi Connection
No Image Stabilization
No External Flash Shoe
No Touch Screen
No RAW Shooting
No Environmental Sealing
Heavy Body
Click to read the full Review
Since the HX350 doesn't feature RAW support, the responsibility to make the most out of its JPEGs falls on the included Bioniz X processor, which promises to bring things like advanced noise reduction processing, reduced diffraction effects and good sharpness even in dimmer conditions. We will have to wait and see how well it does its job but taking into account how powerful Sony's predecessor usually are, we are inclined to believe that the photos coming out of this camera will be of at least decent quality (which, again, considering the small sensor size and the demanding lens wouldn't be a bad thing at all). Now, let us say a couple of words about the all-important lens which sits atop of that 20.4-megapixel sensor. It's an optically stabilized Zeiss Vario Sonnar T* unit with a maximum aperture range of f2.8 to f6.3 and the focal length going from 24mm at the widest and 1000mm at the longest end (not exactly a 50x zoom as marketed by Sony, but close enough). There's also the option to zoom in further thanks to Sony's Clear Zoom technology, which will try to make the most of digital zoom by applying clever algorithms and reducing the overall megapixel count (you'll be able to get 100x zoom at 10 megapixels, 142x at 5 megapixels and so on). So, while the maximum aperture of this lens, while it's fully zoomed in, won't enable you to get great images in low light, you will be able to get them while shooting at wider angles thanks to the very useful aperture of f2.8. There's also an additional benefit to having this kind of a camera and this type of a lens and that's macro performance.

The HX350 will allow you to focus as close as 1 cm from your subject and enable you to get some really dramatic shots that will also give you a decently blurry background, giving your images a little more depth and dimension. When it comes to focusing in general, we couldn't find much information about the HX350's focusing system, but all we know that it's based on the contrast detect technology and does offer a number of different focusing modes that will allow you to fine-tune its behavior and adapt to most situations you find yourself in while out and about. We wouldn't expect it to excel at things like subject tracking and continuous AF in general (thanks to the nature of the contrast detect systems), but it should do quite well in any other conditions and for more casual photography. You'll also be getting a pretty conservative ISO range going from 80 to 3200 (extendable to 12800), 10 fps burst rate and the ability to shoot at shutter speeds going from 30 sec to 1/4000 sec. While the included 10 fps shooting speed may sound impressive on paper (or on the screen, considering this is a digital review) we don't have high hopes for a very good buffer size necessary to support it considering we're dealing with an entry-level camera.

Surprisingly enough and even without its lack of any kind of high-end pedigree, the HX350 is a very solidly built camera that generally feels really nice in the hand. It may feel bulky to some when compared to something like your standard point-and-shoot or a mirrorless camera, but an oversized body is needed to house such a big zoom lens and to keep things in balance. It's mainly made out of plastic materials and also lacks any kind of weather sealing, but those are the sacrifices you'll have to learn to accept to purchase such a potentially versatile camera at such a decent price point. It brings a decent number of different controls (which make it look like some sort of an entry-level DSLR), a tilting 3-inch non-touch TFT LCD screen with a resolution of 921,600 dots, built-in pop-up flash unit supporting a maximum shooting range of 8.5 meters (there's no hotshoe connector to use an external one), micro-USB and micro-HDMI ports, SD and Memory Stick Pro Duo compatible card slot, an orientation sensor and even a 100% accurate electronic viewfinder (even though its resolution of 201,600 dots is somewhat below the standards of today's cameras).

Now, while we can't say that we're surprised by the lack of a microphone and headphone jacks (both of them tend to be missing even on much more expensive cameras than the HX350), we are saddened that Sony decided not to include any kind of wireless capabilities on a camera that was released less than 2 years ago (which is still considered a modern product even with the quick advances of technology we are faced with in more recent times). So, no Wi-Fi, no Bluetooth, no NFC and no GPS. We understand that some cost-cutting measures had to be applied for this camera to even come to its existence, but we weren't expecting for the lack of Wi-Fi to be one of them. Still, we are sure that that won't be a deal breaker for some, but we've had to point it out for those of you that do care about wireless capabilities. Now, to finish this section of the review on a more positive note, the Sony HX350 does have the ability to shoot 1080p videos at a decently high framerate of 60 fps and also record audio in stereo (which combined with the integrated optical image stabilization should allow for some very decent looking footage to be produced).

So, the conclusion so far is that the HX350 does sound like a capable entry-level bridge camera but is also one that lacks a few features that could bother some of its potential buyers. Thus, let us determine if those are enough to stop it from being a product that could find its way in the hands of many amateur photographers or should most of them look somewhere else for their new cameras. As usual, we'll start by looking at the camera body.
Body and handling
As we've already mentioned, the Sony HX350 may not be built up to the highest standards as some of the lot more expensive cameras but it does seem decently rugged for an entry-level bridge style device. These days, a camera made out of plastic materials doesn't always spell cheap and fragile and the story is the same with this one. While we wouldn't recommend for anyone to be reckless with their camera (even if it's one of those that are built with durability in mind), the HX350 itself should have no problems handling some abuse from those less careful photographers and still remain in perfect working condition. Where you should be extra careful is when it comes to different environmental conditions as this certainly isn't the camera you should be using during a rainfall or somewhere where you'll be faced with extreme temperatures as it doesn't feature any kind of weather sealing.
For a budget-oriented device, the HX350 certainly doesn't feel bad in the hand at all. It features a nicely rounded design, large front grip and a total weight of 652 grams, which doesn't make it the lightest and the most portable device around, but it still allows it to be very nicely balanced and that's even after that long zoom lens is extended all the way. You will certainly be able to hold it comfortably and with very little fatigue for long periods of time. While it doesn't feature a touchscreen (something that can be found on more and more cameras these days, but Sony has never been one of those companies that were very eager to widely adopt this technology) its control scheme shouldn't give anyone too much trouble because of the healthy number of buttons and dials that were strategically placed all around its body. Some users will need to be aware of the lack of certain things like the hot shoe mount or the microphone and headphone jacks and decide if they can live without them to get a camera at such a decent price point (their omission certainly isn't a surprise for us). On the other hand, despite it not being the best viewfinder unit we've ever seen on a modern camera, we do like the fact that Sony has managed to include an EVF on such a relatively inexpensive product (since one is often lacking on mirrorless or compact cameras of comparable prices).
Now, let us take the Sony HX350 firmly in our hands and carefully examine each and every important detail that can be found on its body. Starting with its front you'll be able to find the Self-timer lamp/AF illuminator, the Flash pop-up button and of course, the lens unit itself which also features a Manual ring (which can be programmed to be used as a zoom or as a focus ring) and the Zoom/Focus switch. Your traditional connection points for the shoulder strap are featured on both of the camera's sides, but only the left side holds the micro-USB and the micro-HDMI ports, while the right side is completely clear and void of any ports or buttons.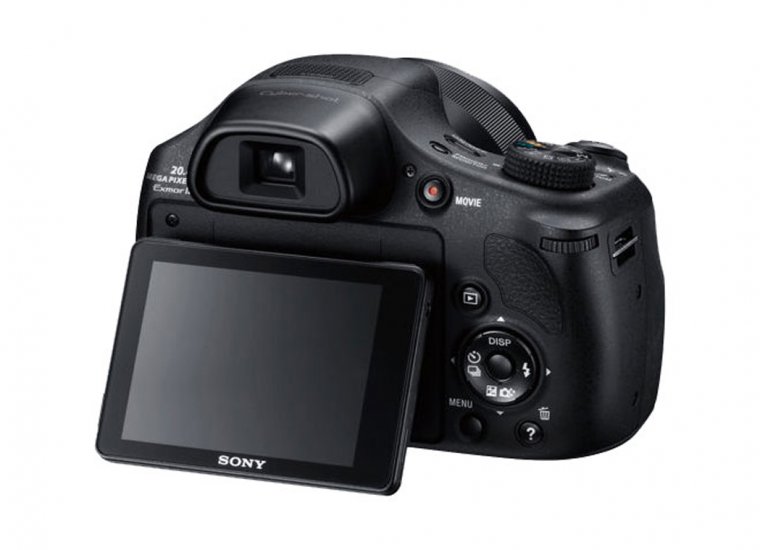 The tripod socket mount and the compartment that holds the card slot and the battery are located at the bottom of the camera. Looking at the camera body from the top will reveal the stereo microphones, the on/off button, the Finder/Monitor button (which will enable you to switch from shooting in live view or through the EVF), the shutter button with an integrated zoom lever, the Fn and the Custom buttons as well as the main mode dial (which also features two customizable modes, to our pleasant surprise). Finally, looking at the back of the Sony HX350 you'll find the Diopter-adjustment dial, a control dial, the Movie button and the Playback buttons, the four-way navigation controller with one button in its center and also the Menu and the In-Camera Guide/Delete button. As is the case with most cameras out there, the navigation controller itself can also be used access a couple of predefined functions and these are the Timer/Drive mode, Disp, Flash and lastly, the Photo Creativity mode and the Exposure compensation. So, the Sony HX350 certainly doesn't disappoint when it comes to all the different controls that it manages to bring to the table and even the more advanced users out there will be able to satisfy their needs for having more dedicated controls (especially if they are of the customizable variety).
While Sony has received some backlash from the community for creating somewhat unintuitive and overly complicated user interfaces, we haven't face any issues of that nature on this camera. Its menu system is quite simple in its design and will be fairly easy to navigate even for those that have never used one of Sony's cameras before (though a slight learning curve does exist, it's nothing you should be concerned about). Besides the nature of its design, we also appreciate all of the useful features brought on by HX350's user interface. The first one has to be the Function menu, which is where you'll be spending most of your time while shooting with this camera. It can easily be accessed just by pressing its dedicated button located at the top of the HX350 and will offer you the way to organize a plethora of different settings into one group (like the all-important ISO sensitivity, for example). The second thing has to be the ability to save two different custom shooting modes (just like those that are included by default, but these can hold all of the adjustments you've made) and access them very quickly from the main shooting dial (they are the one labeled by numbers). Then there's the ability to reprogram the function of the Custom button, which may not sound very useful to many since it's only one button, but it's still better than nothing and we would advise you to choose one of the functions you use the most and assign it to it. One of many useful features that found its way on the HX350 is certainly the Photo Creativity option. After you activate either the Intelligent Auto or the Superior Auto mode you'll be able to access this feature using the down directional button on the navigation controller and get the ability to adjust Brightness, Color, Vividness or Picture Effects, all on the fly and without having to dig through any menus. Since there is no RAW support on board and not everyone will be interested in spending time in any of the available editing tools, it's always good to see that there are options to easily change the look of your photos (and in a very dramatic way if you know what you're doing).
Since we are dealing with a camera that is more focused on being used on its automatic than manual settings, it's of no surprise that there are additional interesting modes to be found here. While the Intelligent Auto and Program Auto are pretty standard ones, the Superior Auto modes are more unique. It will also automatically recognize your scene and adjust the settings accordingly (just like you would expect from an Auto mode) but it will also create a composite of the burst of images and combine them into one purer photo with less overall noise and a little more available detail. It will also correct the negative effects of shooting backlight subjects with the use of the HDR techniques and also give you more stability while taking photos in low light thanks to the special Hand-held Twilight and Anti Motion Blur processing features. Now would be the time to talk about all of the wireless-related functions but since the Sony HX350 doesn't feature Wi-Fi we'll only mention the PlayMemories Home application which will allow you to connect the camera to your computer over USB and do things like place your images in a calendar, create movie discs or upload either your photos or videos to some of the popular social network services. So, to conclude this part of the review, let us summarize our current findings regarding the HX350.
Keeping things short as possible, it's a good entry-level camera thanks to its build quality, design, control scheme, tilting screen, the EVF, simple to use interface and all the customization options. Where it drops the ball for a second is when it comes to the available ports (no headphone and microphone jacks), no hot shoe mount to connect an external flash unit and no wireless capabilities whatsoever. So, it's up to you to decide if any of those are important enough to you to not consider the HX350 as your next camera or you can look past them and enjoy it for all of its other more positive aspects.
Autofocus and performance
It's true that the Sony Cyber-shot HX350 may not sound like a camera that will excel at all tasks that have to do with focusing like some of the more advanced ones out there will simply because of being sold as a budget-oriented device and also because of the fact that there's no public information released by Sony of what kind of an AF system we're dealing with. We only know that it's of the contrast detect variety and that's that, which means that advanced subject tracking capabilities can be immediately thrown out the window (in fact, some contrast detect systems do tend to exhibit pretty decent continuous AF capabilities, but since we're dealing with a pretty basic AF system with an unknown number of focus points here, we wouldn't hold our hopes high for this one).
While a lot of advanced users certainly won't appreciate being limited in such a way, we understand Sony's decision to focus on what works and making the HX350 perform well where you expect it to. So, in more casual shooting conditions you should have no problems in focusing fast and accurately and since most people that would have interest this kind of a camera will mostly be shooting still subjects it's good to see that the HX350 exhibits very decent performance for this kind of use cases. If you decide to step in dimmer conditions, you will notice some slowdown and some hesitation of the AF system to focus correctly and quickly each and every time, but that's to be expected when dealing with entry-level cameras. Thus, while shooting fast moving subjects won't feel even close to using a higher tier camera, at least you'll get the option to adapt to those demanding situations somehow and every other type of photography you decide to pursue will be covered well even with a rudimentary focusing system built inside the HX350.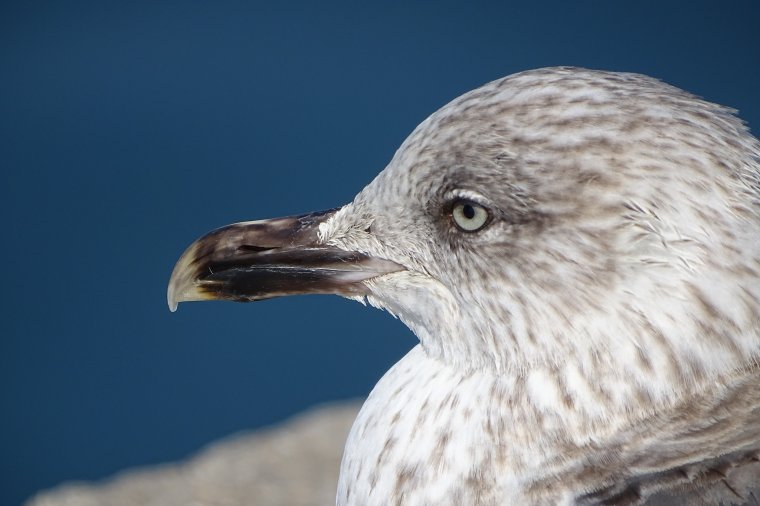 Photo courtesy of Filipe Fernandes
Now, we were pleasantly surprised to see that there is a rather nice choice of different focusing modes and focus assist features included and that you will be able to fine-tune the behavior of the focusing system in a number of ways. There are three main focusing modes to choose from (and easy to switch between them thanks to the dedicated switch located on the barrel of the lens) and these are: AF (the traditional focus and lock on to your subject mode), DMF (same as the AF mode, but also with the added benefit of giving you the option to fine-tune your focus manually after the camera finishes focusing automatically) and as expected, the third one is your traditional MF (or Manual Focus mode). The HX350 will also allow you to choose different Focus Areas; the Wide Area will search the entire frame to look for subjects to focus on, Center Area will focus on looking for those in the center of the frame and Flexible Spot will allow you to move the AF frame and place it on any subject you'd like, thus giving you the option to focus on particularly small areas like flowers, insects and more. If you'd like to take photos of moving subjects (or those that have the potential to start moving while you're trying to capture them) you should use the Lock-on AF mode which will track any potential movements of your subject and reacquire focus if necessary. Those of you inclined to focus manually should also be happy to know that Sony didn't skimp on the available MF assist features, as both the Focus Magnifier and Focus Peaking features are available and will certainly help you learn about focusing manually in a very good way and also give you the option to acquire critical focus in those conditions where there's not enough light in your scene for the AF system itself to work reliably enough.
When it comes to performance in general, we can't say that we were particularly disappointed or impressed with the Sony Cyber-shot HX350. Everything from the overall responsiveness of its user interface, power on and shot to shot times, the speed of writing images to the memory card and everything else was well within the results you would expect to get from an entry-level bridge camera. The Sony doesn't break any new grounds here or set some new standards, but it does offer performance that's comparable to its peers and thus it's getting a pass from us. However, its burst rate capabilities go well in line with its continuous AF performance; there's nothing particularly interesting to see here. There are two Continuous Shooting modes available: Hi setting 10 fps and the Lo setting 2 fps mode. While you will be able to get somewhat useable buffer size by using the 2-fps mode, the noticeably faster 10-fps one tops out at only about 10 frames per burst, which certainly isn't anything to write home about. So, the available burst modes are good for some casual photography, but nothing more ambitious or serious than that.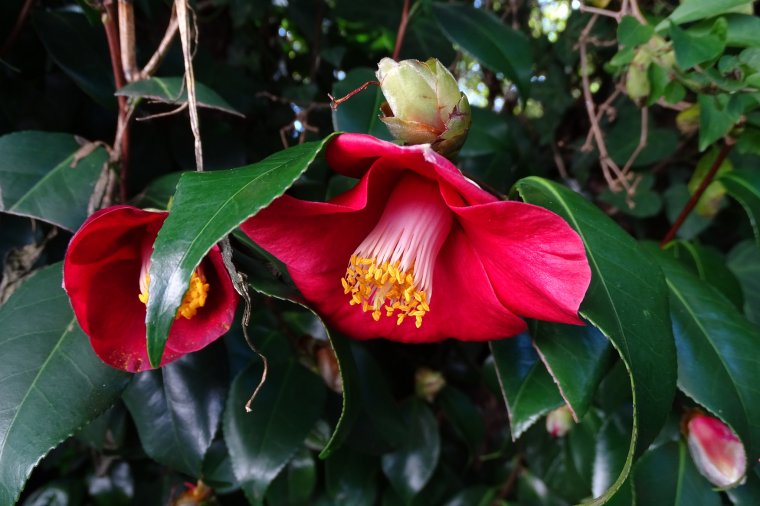 Photo courtesy of Filipe Fernandes
At the end (and to finally conclude the story about the Sony HX350 and its performance), we need to talk about battery life. Its rated at 300 shots per charge and is average for this type of a camera. So, casual users should have no problem shooting with it for days before needing to recharge the battery, but the more demanding ones will need to invest in at least one additional replacement battery or get an external power bank (since the HX350 supports charging over its USB port while without the need of having to remove the battery from its compartment). All in all, is one of Sony's cheapest superzoom cameras around, the HX350's performance held no nasty surprises left to be discovered upon closer inspection, but neither any extremely positive ones that we weren't expecting to find. Everything we've tested turned out to be on the level of performance you would expect out of an entry-level product that was made for more casual use, rather than anything professional. Decent AF system with an abundance of different modes, good responsiveness, useable burst rate and respectable battery life. We weren't expecting anything more out of this camera and we got exactly the kind of capabilities we hoped to see at this kind of a price point.
Video features and quality
The HX350's nature as a simple to use a camera that manages to cover all the basics continues with its movie mode. There's no 4K recording here (as expected at this price point), but surprisingly enough, you will be able to shoot 1080p videos at a very respectable framerate of 60 fps and a decently high bit-rate of 28 Mbps (thanks to the familiar AVCHD format). So, getting pleasant looking videos with this camera shouldn't be an issue to anyone (except to those who plan to spend a lot of time in lower light conditions as those tend to be too demanding at times for a small sensor inside the HX350). We also like the fact that Sony has included manual exposure modes for video recording which will allow you to adjust things like shutter speed and aperture (just as you would when taking stills). There's also the addition of a more storage-friendly MP4 format, microphone level adjustments (going from normal to low sensitivity), Wind noise reduction filter, Auto Slow Shutter feature (it will let the camera automatically drop the shutter speed if you suddenly find yourself shooting in a place where there's very little light available) and of course, the Continuous AF option (which does manage to keep things in focus most of the time, but we would still advise you to switch to focusing manually in more critical situations).
Sadly, because we're dealing with a more aggressively priced product, the Sony HX350 does lack things like Zebra patterns, microphone and headphone jacks, S-log profiles and the aforementioned 4K resolution recording. Still, it does bring one additional and very important feature to the table and that's the Sony's SteadyShot image stabilization system. It comes in two varieties: Active (uses both the digital and hardware stabilization and thus applies a small crop factor to the footage) and Standard (less effective than the Active option, but without the negative effect to your field of view) and both of them are doing a pretty good job of keeping the videos quite steady and free of almost any shake (even if you find yourself shooting at the telephoto end of the zoom range).
There's really not much to complain about the HX350's video mode; you get what you pay for, a capable camera for beginner and amateur videographers, but not one that could be used for a lot of professional type of work. It produces pleasant videos and that's all that matters.
Image quality
Now, it's true that expecting great image quality from a camera with a smallish sensor like the one built inside of the Sony HX350 and a large zoom wouldn't be very realistic, but we were pleasantly surprised to see that the photos coming out of this camera aren't half bad, despite all the limitations and challenges posed by its design. The Zeiss branding on the barrel of the lens certainly wasn't put here only for marketing purposes and that does show from the very first moment you take a few photos with the HX350. We wouldn't go as far as to say that its ability to produce the amount of detail comparable to a mirrorless camera or a DSLR but is certainly better than your average camera featuring a 1/2.3-inch sensor.
We also like that Sony decided not to implement very aggressive JPEG processing algorithms and that in return, photos certainly leave some room to play around with them in post-processing and adjust everything from sharpness, contrast, colors and even shadows and highlights (which is very good to see, considering that there's no RAW support included).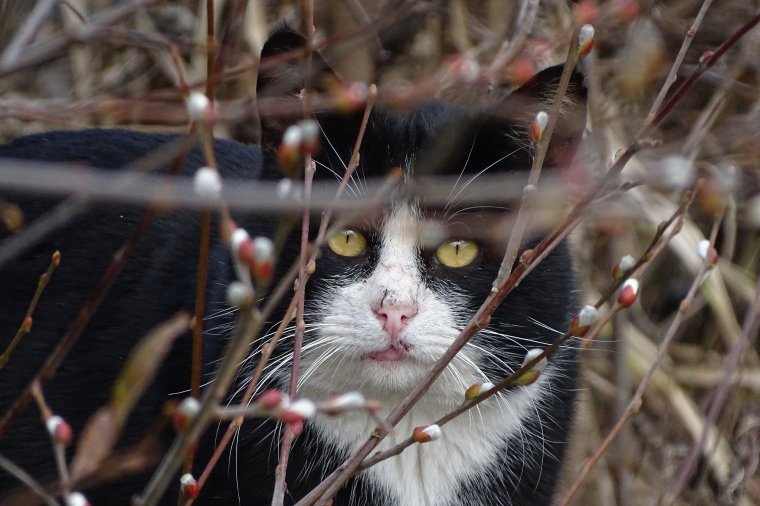 Photo courtesy of Filipe Fernandes
The dynamic range coming out of HX350's sensor is quite decent and so is the noise performance; both of them are as good as you'd expect from a modern superzoom camera. Again, since Sony decided not to implement RAW support, it's great that they've managed to counter its absence with features like D-Range Optimizer (a feature that will try to create the optimal balance of shadows and highlights), Auto HDR (a more aggressive version of the D-Range Optimizer which combines multiple photos of different exposures into one photos with a better balance of bright and dark areas) and the Multi Frame NR (an option, which when enabled will shoot a number of images and combine them together to reduce the overall noise while you're using the higher ISO values). Also, there's a myriad of different options available to instantly change the look of your photos. One of them are Picture Effects like Toy Camera, Pop Color, Retro Photo and Miniature, while the other ones like the Vivid, Portrait, Landscape and Sepia are Creative Styles that will allow you to adapt to more specific situations rather than being the kind of tools you'd only use while trying to achieve an entirely different look. You'll also be able to capture a wide view of your surroundings with the help of the iSweep Panorama feature and in a very straightforward way thanks to a well-designed interface that will guide you each step of the way.
So, while the Sony Cyber-shot HX350 isn't the best superzoom camera we've ever tested in terms of its image quality, it still a very good one for the price Sony is asking for it and offers enough features to keep many amateur photographers satisfied (quality and creativity-wise as well).
Conclusion
Well, this review was certainly an interesting ride as the Sony HX350 has managed to awake many different emotional responses from us. It isn't a perfect camera by any means and it could certainly be improved upon in a number of different ways with a more robust AF system, better burst rate, a touchscreen and the addition of Wi-Fi, but still, on the other hand, it does manage to bring a lot of positive aspects with its attractive price point (good image and video quality, nicely designed body, useful control scheme, well-executed and highly customizable user interface, respectable overall performance, decent battery life, the addition of an EVF, many helpful software features and modes and more).
Despite some of its shortcomings, we still wouldn't hold back in recommending the Sony Cyber-shot DSC-HX350 to those looking for a good and easy to use super zoom camera that wouldn't set them back for a lot of money, but ultimately, it would be up to you to decide if the lack of Wi-Fi is something that would consider being a deal breaker. In truth, we would take the image and video quality that the HX350 can produce for such a low price point over Wi-Fi any day, but that is just our opinion.
The following two tabs change content below.
An amateur photographer, songwriter, musician, computer and technology geek and an occasional comedian, I'm a little bit of everything. I always aim to pursue things I'm passonate about and try to look on the positive side of things whenever I can. My mission is to wrap my articles in that aura of positive energy and keep a healthy balance between being serious about my work and spicing things up with a little fun now and than. After all, life's a game and there's always a different way to play it.