Sony Alpha a99 II Review: Sony's True Masterpiece
Sony Alpha a99 II Review: Sony's True Masterpiece
www.sleeklens.com
Well, will surely be a review filled with excitement as its time to review the newest iteration of Sony's flagship full frame DSLR-like cameras, the Sony Alpha a99 II. It's a mirrorless camera that aims to bring the best in imaging technology in a body with a handling and ruggedness of a traditional DSLR. It comes with Sony's highest resolution full frame sensor to this date, a promising AF system, very fast burst rate, 4K video recording, in-body image stabilization and a very capable EVF and LCD screen for your viewing and framing pleasure.
Judging solely by its specifications, it almost sounds like an ultimate camera, one that is as fast as the best cameras in class and the same time can produce images and videos of very high resolution. All of that does come at a price, but not at a price that a lot of professional photographers aren't already used to paying for their enthusiast grade bodies. Now, we all know that things don't always look as good in real life as on paper, so we will try to hold in our excitement for the duration of this review and give the a99 II an objective review that will take every important aspect into consideration before we pass our final judgment.
The first thing that stands out with the a99 II has to be its sensor. It's a 42-megapixel full frame BSI CMOS sensor, and it's Sony's highest resolution full frame sensor to this date. Interestingly enough, besides the ability to capture a large amount of detail it also promises great dynamic range and noise performance, something that can rarely be said about a sensor with a very high megapixel count. It also works in tandem with a very capable Bioniz X processor and gives the a99 II a very impressive burst rate of 12 fps (while continuous AF is available).
Pros
Built-in WiFi
NFC Connectivity
5-axis Image Stabilization
Articulating Screen
4K Max Video Resolution
Electronic Built-in Viewfinder
Face Detection Focusing
External Microphone Port
External Headphone Port
1/8000s High Shutter Speed
79 Cross Type Focus Points
2 Storage Slots
Panorama Shooting
Good Low Light ISO
Environmental Sealing
Selfie Friendly LCD Screen
Dual-axis Electronic Level
Remote control with a smartphone
Magnesium alloy body elements
High Shutter Life Expectancy
Cons
Expensive
No Touch Screen
Low Battery Life
Heavy Body
Click to read the full Review
This is the first time we've had the chance to look at the camera that has a 42 megapixel sensor and also enough power to shoot at 12 fps; it's surely an impressive feat for Sony and we can't, wait to test it out more thoroughly. Put it together with a 79-point AF system which also has additional 399 focus points that can be used on certain occasions and the a9 II immediately sounds like a very fast camera. You also get the ability to shoot at ISO values ranging from 100 to 25600 (expandable to 50 – 102400). Another impressive feature that can be found on the a99 II is the built-in sensor 5-axis shift image stabilization. It also works or both video and still and is surely a helpful addition for any photographer or videographer. A great viewing experience is also guaranteed due to the tilting 3 inch 1,228,800 dot WhiteMagic TFT LCD and a large and 100% accurate EVF with a resolution of 2,359,296 dots.

There's also a lot of flexibility in terms of video recording. The video resolution tops out at 4K, while the fastest frame rate you can record at is 120 fps in 1080p resolution. Add to that the inclusion of both the headphone and the microphone jack and the a99 II sounds like a really capable tool for recording video. It's body and everything that surrounds it also doesn't sound any less impressive. You get magnesium alloy construction, weather sealing, micro-HDMI port, Wi-Fi with NFC, orientation sensor and dual SD card slots. The slots mentioned above support either the standard SD cards or Sony's proprietary MS Duo cards. There are however two things missing; the integrated flash and touchscreen capabilities. Professional users won't mind the lack of an integrated flash unit since they will surely use their proper external flashes anyway, but the lack of a touchscreen will surely bother some users, especially those that were looking into buying the a99 II primarily for recording videos.

The reason for that is that having the ability to focus by touch is very desirable to have when recording and the same goes for navigation around the interface and changing some of the important settings the quick way. Still, if it turns out that the a99 II is very capable in every other way, the lack of a touchscreen shouldn't be such a deal breaker. Despite all of that, the a99 II still sounds like a camera that is equipped to the teeth with all the features you would ever need and we are only left with testing all of them and seeing if they all hold well in real use.
Body and handling
First of all, the thing that couldn't get unnoticed about the a99 II has to be its build quality. It feels extremely robust in the hands, thanks to the magnesium alloy construction and it weighs a hefty 849 grams. (A total opposite of Fujifilm X A3 when it comes to weight.) Thanks to its weather protection it's also very tightly sealed, and it certainly seems like a camera that could take any manner of abuse and survive to tell the tale. It also has a deep enough grip that is almost perfectly shaped so your fingers can easily wrap around it and you can hold the camera securely in your hand. All the buttons and dials also feel well-made and provide a satisfying feedback after their pressed or rotated, so it's another plus for durability and handling. They are also nicely laid out, and everything fits well in its place and is easy to access during use. As this is a professional camera, it has different buttons and dials scattered all around its body as it aims to bring you the ability to access all of your most important functions and settings just with a press of a button.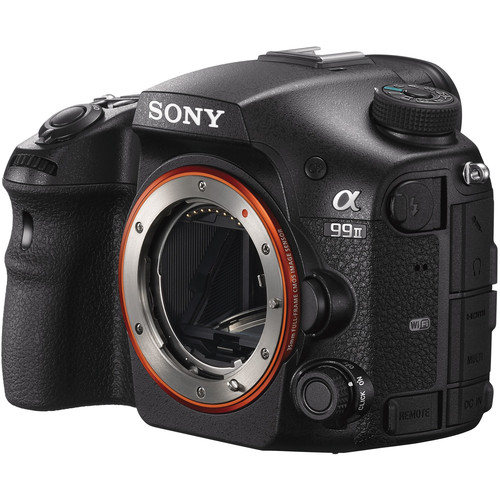 So, let's take a look around and see what we got. Starting from the front, we find the Depth of Field Preview, Lens release, and a custom C2 button. There are also two dials found here; the front control dial and the front multi-controller that can also be clicked. You activate the controller by pressing it, and after that, you can turn it around to switch between different settings like the Aperture, Shutter Speed, White Balance, Focus area and so on. It's a really interesting way of giving you, even more, control that you'd gain with the use of a traditional dial or a button. The left side of the camera holds all the different ports hidden under protective flaps while the right side holds the NFC contact point as well as the dual memory card compartment. The top of the camera is where the real action begins. Starting from the left you'll find the main mode dial with three customizable modes, a hot shoe and two stereo microphones at each of its sides, Finder/Monitor button, an information display LCD panel, Timer/Drive and White Balance buttons, a shutter button with a lever that powers the camera on and the lastly, Exposure compensation, ISO and LCD backlight buttons. Interestingly enough, the ISO button is slightly recessed to help you get an easier feel for it when you're looking through the viewfinder. As usual, we'll finish the tour of the camera by taking a look at its back. The first things you'll notice are the Menu and Movie buttons located at the sides of the EVF and a tilting screen underneath. What's unique about it is that it has a special hinge that allows you to adjust it at a myriad of different angles. It can be a little hard to adjust it the way you want it, but with practice, it becomes a very useful addition to the camera. Moving further to the right reveals the AEL/Slow Sync and the AF/MF/Enlarge buttons as well as the back control dial. The last set of controls is located right underneath, and these are the Multi-selector controller and the Display, Fn, Smart Teleconverter, Playback and the C2/Delete buttons.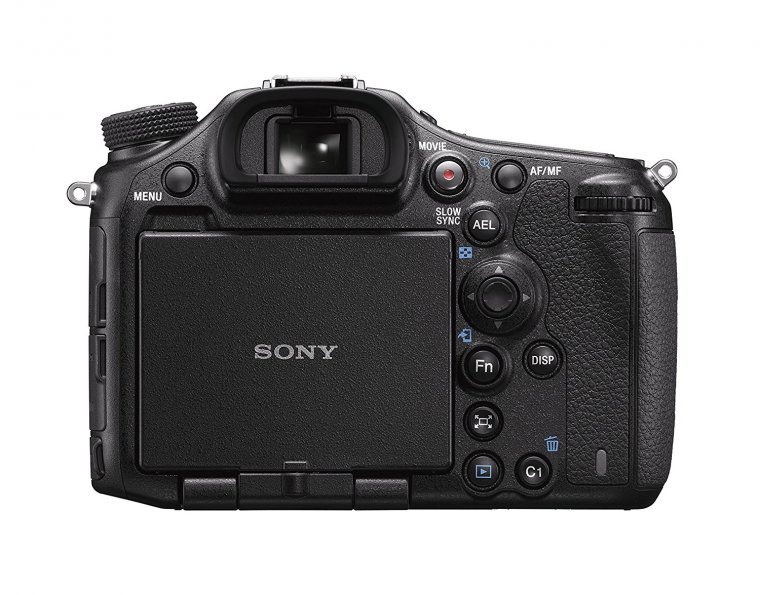 Well, Sony wasn't kidding when they were designing the a99 II since it's a real powerhouse when it comes to the available number of physical controls you get at your disposal. In many other occasions, we would criticize the lack of a touchscreen because of benefits it brings to controlling your camera, but this is one of those rare instances when we feel that it is totally unnecessary and would only be useful if you really need the Touch AF capability. Sony constantly tries to improve its user interface and menu systems, and the story is the same with the a99 II. There's a noticeable amount of polish present here, and everything feels more coherent and easier to work with, and all the menus and the items inside them have been arranged in a more logical way. It's still not as perfect as we'd like, but certainly a step in the right direction. As you would expect from a flagship camera, the a99 II also has a lot to it when it comes to customization. In addition to being able to change the function of C1 and C2 buttons, you can also do the same for 9 more buttons, and there is no restriction to what each button can and can't hold. The list of the items available is massive, and we will only mention a few that stand out: Focus Mode, Creative Style, Eye AF, Peaking Level, DRO/Auto HDR, Audio Rec Level, Steady Shot and so on. You can even customize the Multi-controller dial and program it with functions such as ISO, Focus Area, White Balance, Shutter speed and more. Lastly, there's the Fn menu which can also be customized. It can hold a maximum of 12 different items with each of them being represented by an appropriate icon. Some of these items can be Exposure compensation, Auto ISO, Metering, Auto White Balance and so on.
This only leaves us with saying a word or two about Wi-Fi functionality on the a99 II. First of all, you can connect to your smart device or PC either directly over Wi-Fi or by using NFC if you own an Android device with that functionality. This will allow you to back up your photos, remotely control the camera or send GPS information from your smart device. Do note that to enable remote control with your smart device you'll need to have the PlayMemories Camera application installed on your device. The amount of functionality you gain this way is nothing out of the ordinary, so expect to be able to change the basic settings in this mode, and that's it. You can also remotely control the a99 II while it's connected to your PC over USB connection and that will also require you to install a separate application on your computer. So, there's really not much to complain about this camera regarding its usability, handling, and overall build quality. Sony has really done an excellent job with all of these things, and the only minor inconvenience for some users could be the lack of a touchscreen, which didn't bother us too much due to an outstanding number of controls available.
Autofocus and performance
The first thing to say about the AF system on the a99 II is that it's rather unique. It's a hybrid system that uses both the 79 focus points (15 cross-type) coming from the AF module itself and the 399 on-sensor focus points to give the a99 II it's focusing capabilities. Do keep in mind that you'll need one of Sony's lenses to make use of additional focus points as third-party lenses will only work with the native 79 focus points. The AF performance is generally very good when there aren't any moving subjects in your frame, but the performance and accuracy do take a hit when you're required to track anything. While you can choose between many different focusing modes AF-C, Lock-on AF and even Eye-AF, your best bet for getting the most consistent results is to stick with Lock-on AF. When enabled, you leave it to the camera to choose your subject and track it for you, and while this can be a limiting factor in some occasions, it does yield the best and the most consistent performance out of all the available tracking modes. You would expect for such an advanced focusing system to work great in all of them, but this certainly seems like the usual case when a manufacturer is trying too hard to differentiate from the rest and overcomplicates things at the expense of reliability and performance. This doesn't mean that the a99 II is by any means a bad camera it this regard, but it certainly isn't the best choice for shooting sports or action.
It is pretty quick in regular operation, thanks to the powerful Bioniz X processor now found in many of Sony's advanced cameras. It's a pleasure to operate this camera when you also add in its well-built body and impressive set of controls. The a99 II achieves an outstanding burst rate of 12 fps, which is even more impressive when you take into account it's high megapixel sensor and very large file sizes. The continuous AF works in this mode, but you won't get any preview on your screen. You need to drop to an 8 fps mode to gain that functionality. We'll concentrate on the buffer size for the 12 fps or Continuous Hi mode. You get around 61 JPEGs or 25 uncompressed RAW files before the buffer needs to clear. If you don't need to shoot at a full resolution and you want all the speed you can get, then you can switch to APS-C crop mode which reduces the resolution but increases the buffer size to 124 for JPEGs and 59 for uncompressed RAW. This mode is also useful if you don't have the luxury to wait for long for the buffer to clear since it can take a while after a full burst of 42-megapixel images. Well, it's good that Sony gives us the option to choose between the two modes since we are sure that many photographers will found a use for the APS-C crop mode. Battery life on the a99 II can range from being average to being good. If you are mostly shooting through the EVF, then you can expect to get an endurance of around 390 shots per charge.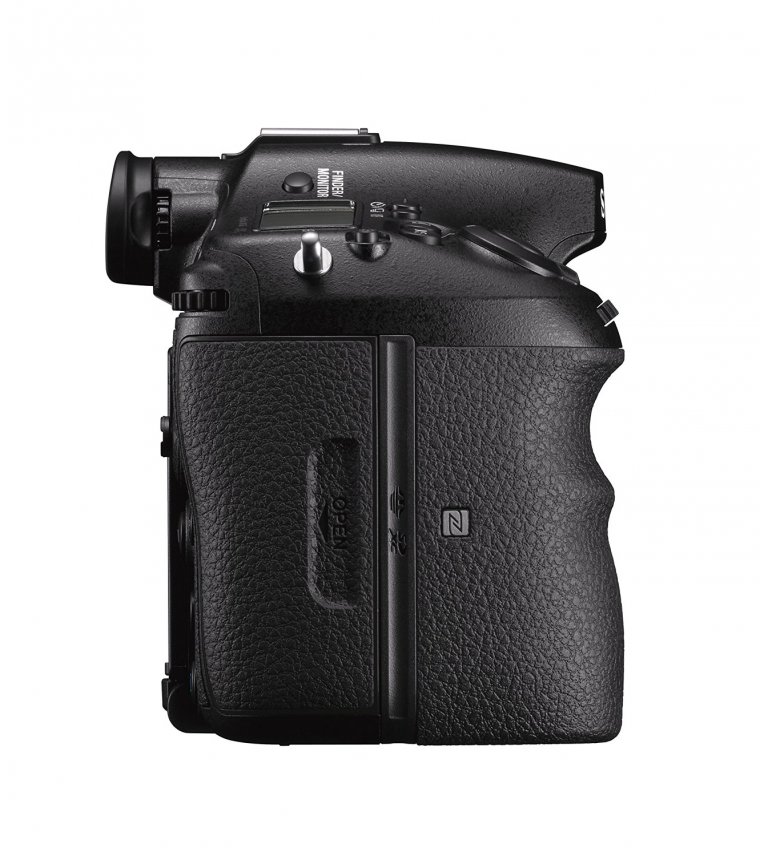 If, however, you are solely relying on the LCD screen then it will improve to around 490 shots. So, we did have some hiccups with subject tracking on the a99 II and we believe that the AF system, while being very capable hardware-wise, still needs some optimization in software to show its real capabilities. Other than that, it performed very well and so did the rest of the camera. We were particularly impressed with the burst mode, especially with its good buffer size despite having to work with such high-resolution images. All in all, we are quite happy with that we got with the Sony a99 II regarding its performance. Let's see if the same holds true for its video recording capabilities.
Video features and quality
The first thing you'll notice is that the a99 II can record 4K videos at a high frame rate of 100 Mbps. There's also the Super 35 mode (which gives you a field of view equal to the one on an APS-C camera) which uses a part of the sensor to create an oversampled 5K footage and downscales it to 4K giving you an excellent amount of detail and great sharpness. In normal full frame mode, the image quality isn't as high, and there are more artifacts and impurities, but you don't have to deal with the crop mode, and you get a full field of view of your lens. The same goes for the 1080p mode. So, it's up to you to decide in which mode you need to be. What is generally great about 4K video recording on the a99 II is that the footage isn't cropped in any way, which is the case for most APS-C and full frame cameras on the market. Audio recording is also a joy with this camera with it having both the headphone and the microphone jacks as well as manual audio adjustment. There's also a full manual exposure mode, zebra exposure patterns and focus peaking.
Unfortunately, the a99 II has one serious limitation if you need autofocus during recording; it locks the aperture to f3.5 and puts you into Program mode and if you decide to change the aperture or anything else that's related to exposure you will immediately be switched to manual focus and manual mode. While the AF performance remains quite good despite all of that, we still can't think of one reason why Sony would do something like this. This also brings us to our conclusion about video recording. If you don't need AF in the video, the a99 II is a great choice, if you do need it, then you'll either have to learn to work within its limitations or simply get another camera.
Image quality
Since the a99 II has the same sensor as the a7R II, we expected it to have similar image quality, and it certainly does. The amount of detail in photos is still outstanding as ever, and the same goes for both RAW and JPEG files because of the well-balanced processing that Sony applies to their images. Noise performance is also great despite the small pixels on the sensor itself, and there's not much loss in quality over the a7R II which doesn't feature a mirror that limits the light that reaches the sensor.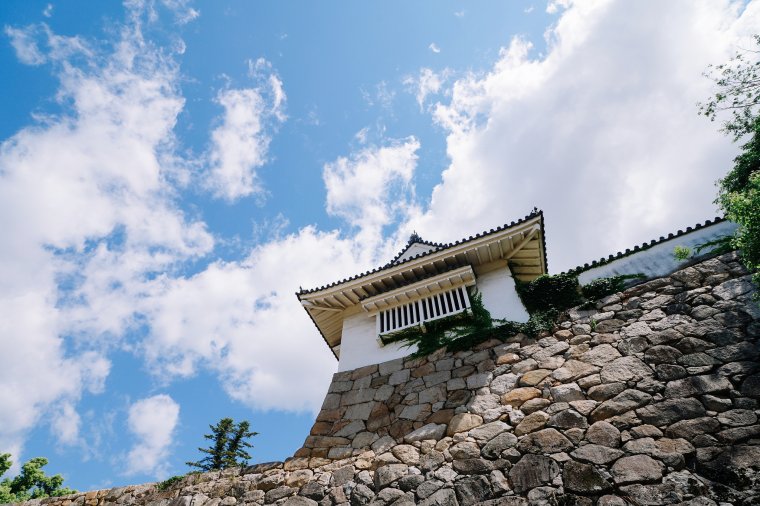 Dynamic range is excellent, like on most of Sony's cameras in the last few years and you really get a lot of room for exposure adjustment in post processing and if you're shooting in RAW. Image quality is certainly one of this cameras' biggest strengths and if you need such a high-megapixel sensor for whatever your line of work is that you really can't go wrong with the a99 II.
Conclusion
Sony has almost done it. They almost made a perfect camera that resembles a DSLR and aims to compete with them and other flagship mirrorless cameras. If you're all about taking stills and you need both the ultimate image quality and respectable performance, then the a99 II is certainly a camera that should fit your needs. It gives you an impressive amount of control; quality made the body, great viewfinder and LCD screen, an advanced hybrid AF system and image quality that easily competes with the best cameras on the market.
However, there are two things which hold it back from being the camera that competes and even beats other flagship cameras in every possible aspect. And that's subject tracking AF and limited AF in the video. If both of these are very important for you, then you should look elsewhere, and the a99 II isn't the camera for you. If not, then this will surely be one of the best cameras you've ever owned, it's that simple.
The following two tabs change content below.
An amateur photographer, songwriter, musician, computer and technology geek and an occasional comedian, I'm a little bit of everything. I always aim to pursue things I'm passonate about and try to look on the positive side of things whenever I can. My mission is to wrap my articles in that aura of positive energy and keep a healthy balance between being serious about my work and spicing things up with a little fun now and than. After all, life's a game and there's always a different way to play it.