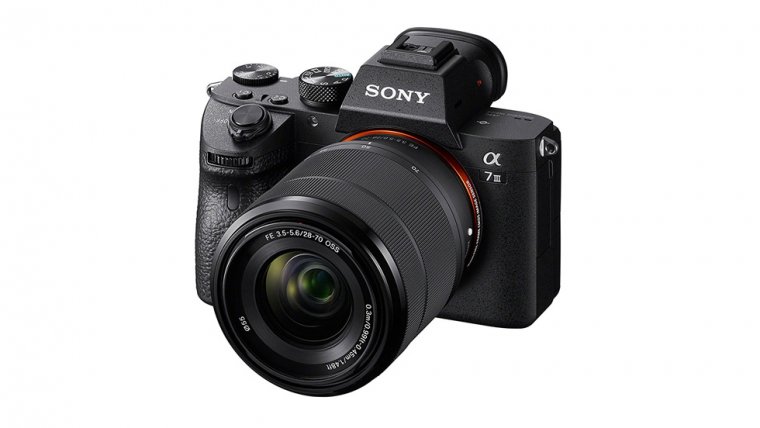 Sony Alpha A7 III Review
www.sleeklens.com
It's quite easy to notice that Sony's full-frame mirrorless cameras have started to bring a lot of attention from many different types of photographers and amateurs as more and more people are starting to recognize their value (having a portable camera that they can easily carry around with them and that can rival any other types of professional and mainstream DSLRs or other mirrorless cameras. Since the A7 and the A7R reached the market back in 2014, their successors and their other cousins have always been created to cover the needs of almost every type of users out there and priced accordingly, but this time around the company has decided to change their game around and bring one of those models to the next level and thus make it more interesting for both the amateur and professional photographers.
We are talking about the Sony A7 III and its job is to attract even more attention to the Sony brand and their line up already popular full-frame mirrorless cameras by seriously upping the specifications and bringing it closer in functionality to the likes of A7R III and the A9. It manages to improve on its predecessor in almost every way; more capable sensor, faster burst rate, more advanced AF system, touch-sensitive screen, improved user interface, 4K recording, longer lasting battery life, USB 3.0 support, dual SD card slots, more effective image stabilization, better design and more. While the newer models of cameras are always bringing a number of improvements over their older counterparts, the A7 III is almost in the entirely no class of its own when compared with the A7 II.
So, in a way, it wasn't released to replace the A7 II but to sit beside it as a more capable option for those enthusiasts that aren't interested in the likes of the A7R III, A7S II or the A9. Thus, Sony has managed to enrich their line up of full-frame mirrorless cameras even further and judging by its specifications, the Sony Alpha A7 III certainly looks like a product that will be very popular amongst enthusiast photographers and videographers and one that manages to brings a balanced set of features that will enable it to compete with many different types of cameras coming from the competition (no matter if they are focused on those interested in stills or video production).
While the Sony Alpha A7 III doesn't change the total megapixel count found on its predecessor (it is still a 24-megapixel sensor) but it does improve on images quality aspects other than sharpness like the dynamic range and noise performance (especially due to its BSI CMOS design). So, if you aren't in need of more resolution for your type of work you will certainly be able to tackle any type of photography that is centered around challenging lighting conditions and will require the use of higher ISO values or some heavy post-processing.
Pros
Built-in WiFi
Bluetooth Connectivity
NFC Connectivity
5-axis Image Stabilization
Articulating Screen
4K Max Video Resolution
Touch Screen
Long Battery Life
External Microphone Port
External Headphone Port
Environmental Sealing
Remote control with a smartphone
Click to read the full Review
Also, more mature JPEG processing algorithms are also included for those that don't have the time to process the RAW files or want the best burst rate performance (which always favors JPEG over RAW files). To top it all off, Sony have also included the in-body image stabilization and have also made it slightly better than the one built inside of the A7 II and the functionality such as this one goes hand to hand with A7 III's great low light capabilities and also its video recording pedigree and for that reason it is one of the most adaptable and flexible full-frame cameras on the market. The available ISO range on the A7 III goes from 100 to 51200 (it can be expanded to 204800), while the shutter speeds can go as fast as 1/8000 or as low as 30 sec, meaning you will have a lot of control over your exposure at all times.

Now, the A7 III also doesn't lag behind other flagship cameras when it comes to its performance since it manages to bring things like the 10 fps burst rate, a 693-point Hybrid AF system with a 93% frame coverage, a 1/250 sec flash sync speed (but no built-in flash unit of its own) and a very good endurance rating of 710 shots (thanks to the new type of larger batteries that Sony have started to include on their latest enthusiast-level cameras). It will be interesting to see how well these performance metrics tie in with the A7 III as it surely has the potential to be a very versatile camera that could be used effectively both for shooting still and moving subjects (something that surely can't be said for a lot of other cameras on the market, since it's never easy to find a perfect balance of image quality and speed).

Besides its stills capabilities, this camera also tries to bring a nice set of video-centric features and make it an even more capable modern device for producing high-quality photos and movies. Video recording is yet another area in which the A7 aims to bring you the choice between quality and performance thanks to it including both the obligatory 4K 30 fps recording and a lot faster and smoother option, the 1080p 120 fps capture. Also, no matter which of these options you decide to go for you will still be able to benefit from the included in-body image stabilization, stereo microphones, the standard inputs for external microphone and headphone units, Log profiles, Focus Peaking, Zebra patterns and also the included hybrid AF system thanks to its inclusion of phase detect focus points and the Touch AF capability.

Sony also promises even better than the usual 4K quality thanks to the oversampling technology, but we will see about further down the review and after our extensive testing. As is expected out of such an advanced camera, the Sony Alpha A7 III also has a lot of positive aspects to its side in regard to build quality, handling, design, expandability and functionality. It features a very familiar design but still a refined one over its predecessor (more on that later). It's made out of magnesium alloy, features weather sealing, dual SD card slots, a rich control scheme that will make both the enthusiast and amateur users happy, refined buttons and dials, more customization options and an overall heftier body to allow for more room for that larger battery pack. Current Sony users won't have to spend any time on learning about new techniques, while the users of other camera brands shouldn't have big problems with adapting to the A7 III as well, since Sony has managed to put every external aspect of this device in the right place making each one of them easy to reach and to get used to.

While the viewfinder on the A7 III is similar to one found on its predecessor (thanks to the resolution of 2,359,296 dots), the LCD screen itself brings slightly reduced resolution (now sitting at 921,600 dots) but those finally include touch capabilities and, in our opinion, some sacrifice in resolution is acceptable for the camera to gain entirely new functionality that will make it easier to operate to some users (especially those who like to focus by tapping on the screen).

As is to be expected from a modern 2018 camera, the Sony A7 III also brings features such as the USB 3.1 Gen 1 5 Gbit/sec and micro-HDMI ports, Wi-Fi and NFC, an orientation sensor and also the aforementioned dual SD card slots (one of those supports the very fast UHS-II technology). There's a lot more to be said about this camera, but we will reserve those facts and findings for the rest of this review and we will start by revealing everything we've learned about the A7 III's body, software and wireless capabilities.
Body and handling
The body of the Sony A7 III is a fine representation of the evolution of Sony's full-frame E-mount cameras and as is the case with every model before it brings a few notable refinements that will result in better overall shooting experience. This time around, the body itself is heavier (now sitting at 650 grams instead of 600 of the A7 II) and slightly larger but considering the fact that the battery life and handling were noticeably improved because of the extra size we believe that most of you won't feel that the A7 III is any less portable than its predecessor and will appreciate the added endurance and comfort.
The new camera allows for much more secure hold thanks to the increased grip size and all the available controls remain in a very familiar location but are now easier to feel under your fingers and easier to use. When it comes to building quality the Sony A7 III brings everything you would expect out of a flagship camera: magnesium alloy construction, weather sealing and a nice non-slippery texture included on the grip and the thumb rest on the back of the camera. We also like the addition of an AF joystick, which will make it easier to change your focus points while you're shooting through the viewfinder (it's also easy to do it by looking at the screen thanks to its touch capabilities).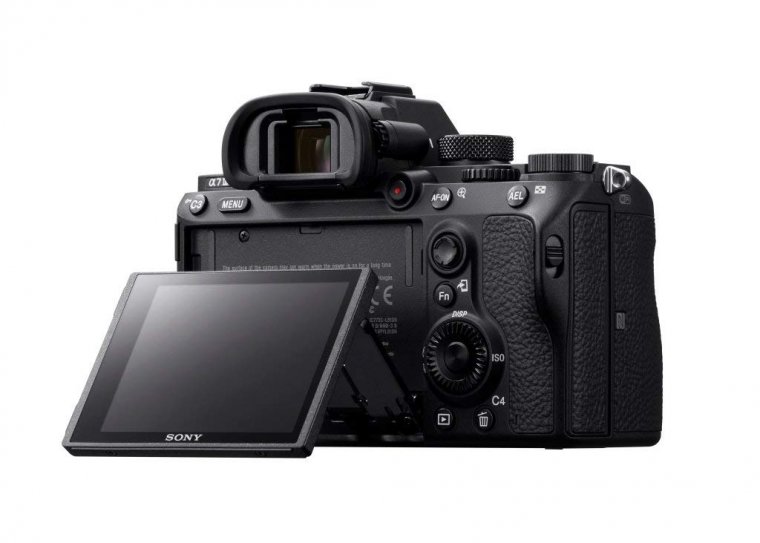 Sony has also done a lot when it comes to improving the usability of its user interface and also bringing more customization to the table, but more on that in just a moment. Some changes have been made to the viewfinder and the LCD screen as well; the EVF is now slightly bigger thanks to its magnification of 0.78x, while the screen itself is now less sharp but also touch sensitive (it can still be tilted in up and down motions, which is great for those shooting at more challenging angles). Lastly, the built-in 5-axis image stabilization also received an improvement in effectiveness and can no reduce the effects of shake of up to 5 stops (instead of 4.5 found on its predecessor) and thus it will be easier to retain slower shutter speeds while shooting in low light and also get smoother video footage while you're doing some handheld recording.
Now that we've given you a taste of what the Sony A7 III is all about when it comes to its body, let's break it down in even more detail by examining each of its sides and pointing out all of their important parts. Starting with the front you'll find the AF illuminator/Self-timer lamp, the lens release button, the remote sensor, the front control dial and also the obligatory Alpha and A7 III branding standing out from their brushed metal background. The right side of the A7 III holds the media slot cover switch, the N mark (or the NFC contact point) and also the dual SD card slots, while the left side holds the all the available ports (the microphone and headphone jacks, the micro-USB port, the type-C USB port and the micro-HDMI jack). The top of the A7 III features the speaker, stereo microphones, a standard hot shoe mount, main mode dial with two custom shooting modes, the exposure compensation dial (going from –3 to +3EV), two dedicated custom buttons (C1 and C2) and also the shutter button/power on/off lever combo. The standard tripod socket, battery compartment and the battery cover release lever can all be found at the bottom of the camera body. In the end, let us look at the back of the new Sony. As is the case with most cameras, it is dominated by the viewfinder and the screen, but also features a lot of other functionalities including the C3 and the Menu buttons, the diopter adjustment dial, the Movie, AF-On/Enlarge image, AEL/Image index buttons, the rear command dial, the AF point selection joystick, the Fn/Send to smartphone, Playback and Delete/C4 buttons as well as the confirmation button and the main control wheel located around it (which also acts as a four-way navigation controller that can hold up to four different shortcuts at once, like for example those that will act as the Disp, Timer/Drive and the ISO buttons).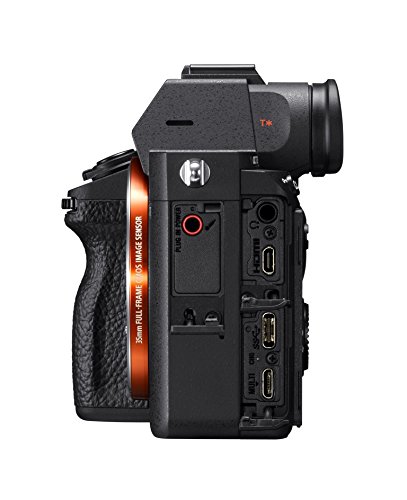 While the Sony A7 III features the number of controls the majority of professionals would be satisfied with, its real power lies in its rich user interface and customization options. Sony has certainly received a lot of criticism for the somewhat overwhelming and unorganized menu systems found on their previous full-frame mirrorless cameras and for that reason the software on the A7 III has been optimized to bring improved user interface and easier access to all the important and less important functions and features. The addition of a touchscreen certainly helps with the overall experience and having a secondary method of input and control is always a good thing to find on any camera (especially as its much easier to focus using the Touch AF function when shooting in live view than using the shutter button). The only thing that could be improved on the next iteration of the Sony A7 camera when it comes to its screen is its responsiveness. While the user interface itself is pretty responsive by modern standards, it doesn't react as well as it should touch input and we aren't sure if that's the fault of an unoptimized software of the quality of the screen itself, but it's something you should keep in mind if you were thinking of purchasing the A7 III to use it mostly with the help of the touchscreen. Still, the customization options are as rich as you would expect from a flagship camera and that is one of the main reasons to get a camera like this one. You will be able to change the behavior of up to 13 buttons in total and they will be able to provide alternate functions after you switch from stills to video mode. There's also the Recall Custom Hold option that will allow the A7 III to perform different functions while you keep one of the customizable buttons pressed instead of pressing it once. On top of that, the custom shooting modes are also included, and you can easily access them by switching to one of them using the main mode dial. They will allow you to save different separate sets of your shooting settings including your detailed exposure adjustments and will be a great use of those who shoot in unpredictable situations and don't have time to change their settings on the go. For those that do need such functionality, the Fn (function) button will provide you with a settings menu that can contain up to 12 different user-picked items that can be easily manipulated either by using the physical buttons or the touchscreen. The Fn button can also be used to activate the Quick Navi feature, which is similar to the Function menu but works only while shooting through the viewfinder (which means that you would have to move your eye from the viewfinder each time to look at the screen to adjust something or activate a function).
The last thing we need to cover before moving to the next section of this review is the Sony Alpha A7 III's wireless capabilities. Hardware-wise it brings all the necessary features: Wi-Fi, Bluetooth and NFC; this means that you'll be able to pair it with a plethora of different devices and pair it quickly if they support the NFC standard (both the Android-based smartphones and tablets are supported). While the lack of built-in GPS is evident, the alternative of using your smart device to collect the required location device works perfectly and will also save some of your camera's battery life. If you connect the A7 III with a smartphone or a tablet you'll be able to transfer your JPEG images, remotely control the camera, gather location data or upload your photos to social services. The remote control functionality offers a variety of different options you can play with including the shutter speed, aperture, white balance, ISO, drive modes and so on. The only thing that is missing on the A7 III when compared to its predecessor are a different application that you could install and extend the camera's capabilities, but since most of those features are already included out of the box and considering that the implementation of those apps was somewhat clumsy and unintuitive, we believe that most photographers won't miss them very much. All in all, aside from the less than ideally responsive touchscreen, there's not much left to complain in terms of the Sony A7 III and its build quality, handling, design, user interface, customization and the wireless capabilities. It's certainly a flagship mirrorless camera through and through when it comes to all of these things. Now, let us see if we will be able to say the same about its performance, which includes the focusing prowess, behavior while in use, shooting speed and lastly, the endurance.
Autofocus and performance
Right from the start, the Sony Alpha A7 III promises great things about its performance and its AF system is to thank for that. All you out there are certainly aware of one of Sony's breakthrough mirrorless products, the Alpha A9, which has marked the company's serious push into the professional sports cameras market. Well, the A7 III borrows one of its most important features, the 693-point Hybrid AF system. Aside from having an impressive number of focus points to work with it is flexible enough to provide excellent performance for all types of different situations thanks to its hybrid nature (having both the phase detect and contrast detect focus points) and also a very high 93% coverage of the image frame. This means that no matter if you're shooting still or moving subjects, the A7 III will be able to capture them in all their glory. It also performs very well when it comes to continuous AF during video recording thanks to that phase detect focus points and having a touchscreen will certainly help you to quickly change your focus point without having to stop recording. Most importantly, those planning to make the upgrade over from the A7 II will be happy to know that the AF system inside the A7 III is vastly superior in every regard and is actually one of the biggest reasons you could have for jumping on the upgrade wagon. The other one would be the video recording capabilities, where things are certainly looking good looking at the A7 III's specification, but we'll talk about those in a lot more detail in the very next section of this review.
Now, no flagship camera's focusing power would be complete without having a lot of different modes and settings to back it up and thus let us see what this one has to offer in that regard. There are five main focusing modes to choose from: Single-shot AF (best to be used for still subjects), AF-C (your traditional continuous AF mode that will keep your moving subjects in focus as long as the shutter button is being pressed halfway), AF-A (a mode that combines the AF-C and AF-S into one that will allow the camera to switch between them automatically depending on your shooting conditions), DMF (a combination of AF and MF in which you'll be able to focus automatically and then fine tune it's accuracy with help of manual focusing) and lastly, the traditional MF or Manual Focus mode (the A7 III also brings a number of focus assist features, including the venerable Focus Peaking). After you pick one of the available main modes, you should take a look at all the included Focus Area modes: Wide (automatically picks the right focus points for you), Zone (allows you to pick one of the focus zones that will be able to cover a part of your frame), Center (focuses on those subjects that are located in the center of the frame), Flexible Spot (best to be used for smaller subjects and specific details as it will allow you to move a smaller focusing frame and pinpoint the area you wish to focus on), Expand Flexible Spot (works the same as the Flexible Spot method but adds more focus points to increase the accuracy) and also, the Lock-on AF (a mode that will allow you to track your subjects using any of the available Focus Areas, as long as you're in the Continuous AF mode). Another optional, but important focus mode to take note of is the Eye AF feature and as its name implies it's optimized for portraiture as this is where it's important to keep your subject's eyes in focus (it also works together with the Continuous AF mode, which is great for those photographers that like to move a lot but want to keep their model in focus while they're doing it).
The added joystick on the back of the camera that can be used to change focus points while you're shooting through the viewfinder also rounds up the entire experience quite nicely and makes the A7 III one of the most capable and advanced mirrorless cameras on the market in terms of its focusing capabilities. It also doesn't disappoint in terms of its responsiveness as you can expect to get very fast power on, shot to shot and focus acquisition times, as well as very good read and write speeds thanks to the availability of the UHS-II compatible SD card slot. The same slot will also allow you to get deep buffer sizes when shooting at the maximum burst rate of 10 fps (which also supports AF). Your buffer size will vary depending on the amount of compression applied to your images; you'll be able to get almost 180 JPEG shots for the Standard and around 160 shots for the Extra Fine quality, while using the compressed RAW method will give you 90 shots and using the uncompressed one 40 photos until the performance slows down and the buffer fills up. Another area in which the A7 III marks a new beginning for Sony (and mirrorless cameras in general) is its endurance. Thanks to the addition of a noticeably bigger battery pack, the endurance has been increased to 710 shots per charge (up from 350 shots of the A7 II). This is a truly excellent battery life for a portable mirrorless camera and is even better when you take into account the addition of USB charging (which will allow you to charge the battery without having to remove it from the camera). There's really nothing negative to be said about the Sony A7 III and its performance as the company have done a fantastic job of improving on every aspect of the A7 II and putting the new model in a league of its own, one that allows it to compete with the best cameras out there and even beat some of them in a couple of categories. It's really a prime example of a high-performance mirrorless camera.
Video features and quality
Sony has become a really strong player in the video recording department with their latest cameras and the A7 III is here to prove the company's commitment to remaining one of the leading manufacturers in this area. The first thing that comes to mind when talking about the A7 III and its video recording capabilities its ability to capture 4K videos at 100 Mbps and at 24 fps (those are also oversampled from 6K footage and thus very sharp even for 4K standards) and doing it without applying any crop to the field of view in the process. Still, it's not the only trick it has in terms of the resolutions it can handle, as it will also allow you to record dramatic 1080p videos at 120 fps. Both of these types of videos are recorded using the XAVC S codec and can be edited and improved with the help of the right post processing software thanks to them supporting S-Log2, S-Log3, and HLG profiles. For those that like to save some room on their memory on their SD cards, Sony has also included an additional compression profile to sit beside the XAVC S 4K and XAVC S HD profiles, the AVCHD recording format (it is the most efficient one and also retains the compatibility with most devices out there).
Improvements have also been made to reduce the rolling shutter effect and important features such as the Zebra patterns and Focus peaking are also included any will provide you with a lot of help when it comes to achieving the perfect exposure and accurate focus. The A7 III is also well-equipped on the audio front thanks both the headphone and microphone jacks finding their way onto the camera body, as is also the case with all the necessary tools to control the microphone levels. The capable 693-point Hybrid AF system does a lot of work to ensure that the autofocus performance is kept at very high standards, something that should always be the case with a modern flagship camera (which it still isn't for some). We would even dare to say that it comes very close to Canon's popular Dual Pixel AF technology in terms of its speed and accuracy and it's great to see that other camera manufacturers are catching up to Canon in this area. Since the A7 III also features a touch-sensitive screen, focusing with this camera is a breeze no matter if you're an advanced or an amateur user. Add to all of that the full suite of manual exposure controls, the very effective 5-axis SteadyShot image stabilization and the ability to customize a large number of buttons to perform a different set of functions that can be set only to work in movie mode and it becomes quite obvious that the Sony Alpha A7 III is one of Sony's best mirrorless cameras that could appeal to professional videographers. Now, let us see if the same can be said about its ability to capture quality photographs.
Image quality
We've already established the fact that the Sony A7 III presents itself as a great choice for those professionals that need a portable full frame mirrorless camera that will give them the right tools to record high-quality audio and sharp 4K footage but is it as capable when it comes to providing its potential buyers with satisfactory photo quality. Well, as you could have already guessed, it does a very good job in that regard. While it may not feature as much megapixels as some of the other modern flagships (including the Sony's own A7R III camera) it does manage to produce very sharp photos when paired with a quality lens thanks even with its resolution of 24 megapixels thanks to the very weak AA filter and Sony's mature JPEG processing algorithms. It has the same megapixels with Canon EOS M50. It even manages to outperform the more expensive Sony A9 in regard to sharpness. Still, it's the biggest strength isn't in the resolution it's able to produce, but in dynamic range and noise performance. It is easily one of the best cameras on the market in terms of its capabilities to cope with those two areas. You can rest assured that you'll be able to cope with any kind of lighting conditions (as long as you shoot in RAW, of course) with the A7 III and get results that range from very usable to simply excellent.
So, getting a fine balance of light and dark areas and as little noise as possible shouldn't be an issue with this camera. The advanced 5-axis in-body image stabilization surely helps whenever the great low light performance is necessary as it will allow you to keep your shutter speeds and ISO sensitivities at their lower values. Such a good image quality will also give you a lot of room when it comes to reducing your file sizes thanks to the included compressed RAW option and will also yield bigger buffer size when using the camera's fast 10 fps burst rate. Of course, no modern camera would be complete without a comprehensive set of different effects, creative styles, picture profiles and other similar features and the Sony A7 III is filled to the brim with those. First, there are the Creative Styles which can range from simple ones like Vivid and Neutral, to more advanced like Landscape, Autumn leaves and Light. You can also create your own profiles and save your own adjustments for contrast, saturation, and sharpness. Then there are the different Picture Effects, which will drastically change the look of your photos and give them an entirely new feel (like the Toy Camera, Posterization, Retro Photo or the Pop Color effects). Lastly, you'll also be able to choose one of the two included Color Space profiles; sRGB is your standard profile, while the AdobeRGB is best to be used for prints that require even wider color space than the usual.
Conclusion
We are once again being faced with one of those rare occasions where we have a product on our hands that doesn't feature any prominent flaws and manages to cover every possible area of photography and videography well enough to satisfy the majority of professional users on the lookout for a powerful and portable full frame mirrorless camera. Sony have certainly created a very impressive successor to the A7 II that not only improves on most of its aspects but also turns a camera that used to be catered to less demanding enthusiasts and amateurs into one that even the most hardcore users wouldn't be able to resist (providing they don't need the highest resolution photos possible).
If you're a serious videographer who needs as portable camera as possible, but also one that will provide you with things like 4K recording, microphone and headphone jacks, a very capable AF system, image stabilization, log profiles, Focus peaking, Zebra patterns and more, than the purchase of the Sony A7 III should be a no-brainer to you. A similar thing can be said when it comes to photography, since excellent image quality, durable and comfortable to use body, fast burst rate, great battery life and a very advanced and highly customizable control scheme are all included with this camera and your only dilemma will be in deciding whether the resolution of 24 megapixels is enough for your needs or your line of work requires more than that.
The following two tabs change content below.
An amateur photographer, songwriter, musician, computer and technology geek and an occasional comedian, I'm a little bit of everything. I always aim to pursue things I'm passonate about and try to look on the positive side of things whenever I can. My mission is to wrap my articles in that aura of positive energy and keep a healthy balance between being serious about my work and spicing things up with a little fun now and than. After all, life's a game and there's always a different way to play it.