Sony A7 Review: When A Mirrorless Story Begins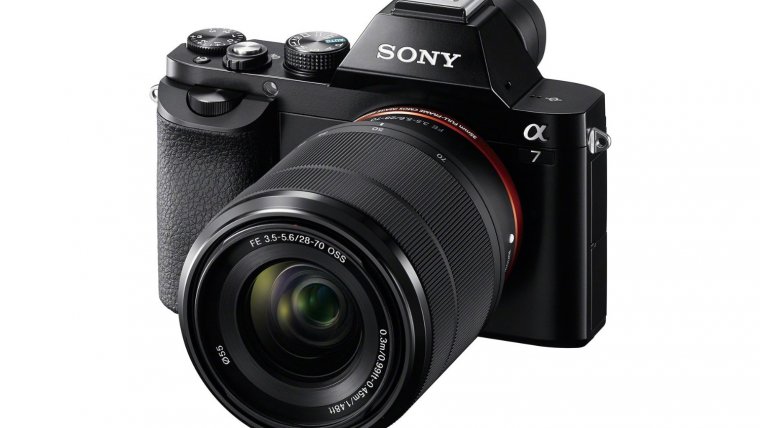 Sony A7 Review: When A Mirrorless Story Begins
www.sleeklens.com
We are all aware of all the buzz that Sony's A7 series of full frame mirrorless cameras have caused over a couple of years, but it's time to get to the beginning of this story and review the original camera that it all started with, the A7 itself. It was released together with another camera in the series, the A7R, but while that camera was somewhat targeted to a more specific audience the A7 is more well-rounded a catered to a larger crowd. Like Fujifilm's X100F, it promises to cover all the needs of an enthusiast photographer without doing any major sacrifices in quality or functionality. While the A7R brought a higher megapixel count at the expense of general performance and less advanced autofocus system, the A7 aims to bring the perfect balance of speed and good enough image quality. Let's see if it lives to that promise and is it really a camera that a lot of photographers looking for a more compact replacement to their reliable and less portable DSLR would like to own. Looking at the specs sheet and Sony's tradition in making all kinds of cameras, this may as well be the truth. Let's see.
There are a few differences between the A7 and the A7R and let's first get those out of the way. The first major differentiator is the sensor. Instead of the 36.3 megapixel sensor without the AA filter the A7 sports a 24 megapixel one with AA filter. Right of the bat, this means that the A7 won't capture as detailed photos as the A7R but at the same time this could mean improved noise performance and even dynamic range. We'll see if this is the case in our image quality test.
Pros
Full-frame sensor
Articulated screen
Weather sealed body
Superb high ISO performance
High quality EVF
Cons
No built-in Flash
No image stabilization
External battery charger not included
Limited lens variety
Click to read the full Review
What this change certainly did bring is the improved performance when it comes to shot to shot times and a better maximum burst rate of 5 fps. Other than the reduction of resolution, this kind of performance is also due to powerful Bioniz X processor. Another proof that the A7 are is more oriented on speed and general use case scenarios are its hybrid autofocus system, which combines both the contrast and the phase detection AF and is different from the contrast the only system in the A7R. We'll see how well it really performs in the autofocus section of this review. Now that we've got most of the differences out of the way it's time to mention other features they share. The body of the A7 is made out of magnesium alloy and brings a healthy amount of manual controls. It also sports a high-resolution electronic viewfinder and a high resolution 3 inch articulated LCD screen. There is also a plethora of different inputs and ports as well as an integrated Wi-Fi, NFC and an orientation sensor. Just like on the A7R, there is no 4K recording available and the video recording tops out at 1080p and 60 fps. If the A7 proves to record 1080p videos of the similar or better quality than the A7R, then this won't be much of a problem since the latter recorded very impressive videos.
Body and handling
The body of the A7 is almost exactly the same as the one of the A7R, even to its weight where the A7 is just 9 grams heavier, meaning they will feel exactly the same in the hand. The camera itself is quite comfortable to use and all the controls are in their right place. It's possible that some people could consider the grip to be too shallow, but that's the only real complaint you could have about the A7's body. It really screams premium quality with its frame being made out of magnesium alloy and all its buttons and dials being crafted with precision. The A7 should leave no one indifferent in this regard. When it comes to manual controls, you get a lot of them. First, there are four dials in total: main mode dial, exposure compensation dial as well as front and back dials that control different exposure parameters like aperture and shutter speed. Other than that there are three customizable buttons (C1, C2, C3), a function Fn button, direct movie record button and a few others. Lastly, on the back of the camera you'll find the navigation controller that doubles as the three-way button for options like Display, WB or Timer/Shooting modes and above it lies the AEL/AF/MF switch that chooses the function of the button inside of it. That's really a healthy amount of control at your disposal for such a relatively compact camera.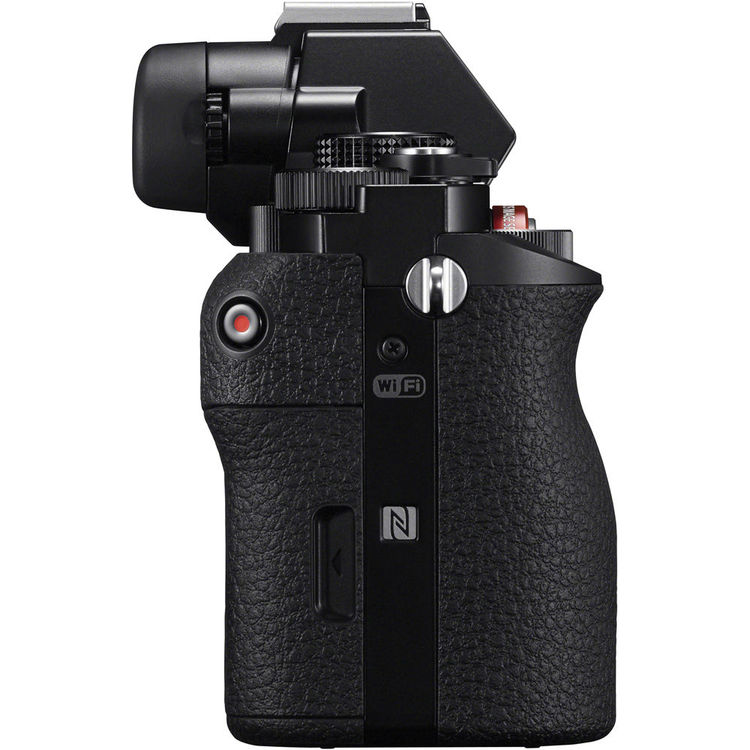 While we're on the topic of the A7's body, we should spare a few words about its screen and viewfinder, since they are both worths of nothing but praise. Other than the flaw of not being a touch screen, the Xtra Fine LCD is flawless. It bears a resolution of 1,230,000 dots making really sharp and it's also quite visible in direct sunlight without the need to increase the brightness to its fullest. The OLED EVF is also excellent with a resolution of 2,359,000 dots and a 0.71x magnification. It's also really sharp and its refresh rate is so high that you'll hardly notice any lag while using it. Sony's user interface also received an overhaul and is now very similar to one found on the Sony's range of DSLRs. This means it's a lot easier to navigate and a large amount of different and settings are now organized a lot better than on the NEX lineup of cameras which are always criticised for that reason.
Lastly, there's the Wi-Fi functionality. It's exactly the same as on the A7R, meaning you'll get quite an extensive set of features with the A7. Almost all of the functionality is brought by different apps which you can download from the store once you're connected to the internet. The ones that offer basic functionality like photo backup or remote control are free, but there are also some paid ones that bring you extra features like for example Time lapse. If you plan to connect the A7 to your mobile phone, you'll spend most of your time inside the PlayMemories Mobile app, which offers most of the functions you'll ever need. As a bonus feature, you can also connect the A7 to your PC or Mac via the USB cable and control it remotely that way if you wish.
Before concluding this part of the review, we should also mention the ability to adapt different types of lenses to the A7. It uses Sony's familiar E-mount, meaning you can use both the native FE-series lenses that were made especially for full frame or you can use any normal E-mount lens but you'll need to switch to crop mode for them to fill the entire image frame since they were made to be used with smaller ASP-C sensor cameras. This crop mode drops the maximum resolution to 10 megapixels, so it's up to you to decide if you can live with that caveat to be able to use your existing E-mount lenses. You can also use A-mount lenses with the A7, but you'll need to purchase one of four different adapters that Sony offers to be able to take advantage of that feature. You'll need to be careful when choosing one of those since their functionality varies quite a bit from having limited AF to not having AF at all or not even having full frame coverage. So, we can easily conclude that the A7 is a true powerhouse when it comes to ease of use, body quality and handling as well as the sheer amount of manual controls and a very high-quality screen and viewfinder. There's no room for complaints here.
Autofocus and performance
We've finally reached a category where we can begin to separate the A7 from the A7R and where their similarities end. A different autofocus system is one of them. Instead of only using the 25 point contrast detect AF the A7 also adds an 117 point phase detect system into the mix to create what Sony like to call the Hybrid AF. While the contrast detect points are spread around the image frame, the phase detects ones are crammed in the center area of the frame. This literally means that you'll get faster and more reliable autofocus performance as long as you keep your subject inside that center area. This is really helpful for tracking fast moving subjects and the general increase in performance is really noticeable over the A7R and its contrast-only AF system. This equals to A7 being a really good performer in this regard with only the low light conditions giving it some trouble here and there, but it's nothing that could be a deal breaker.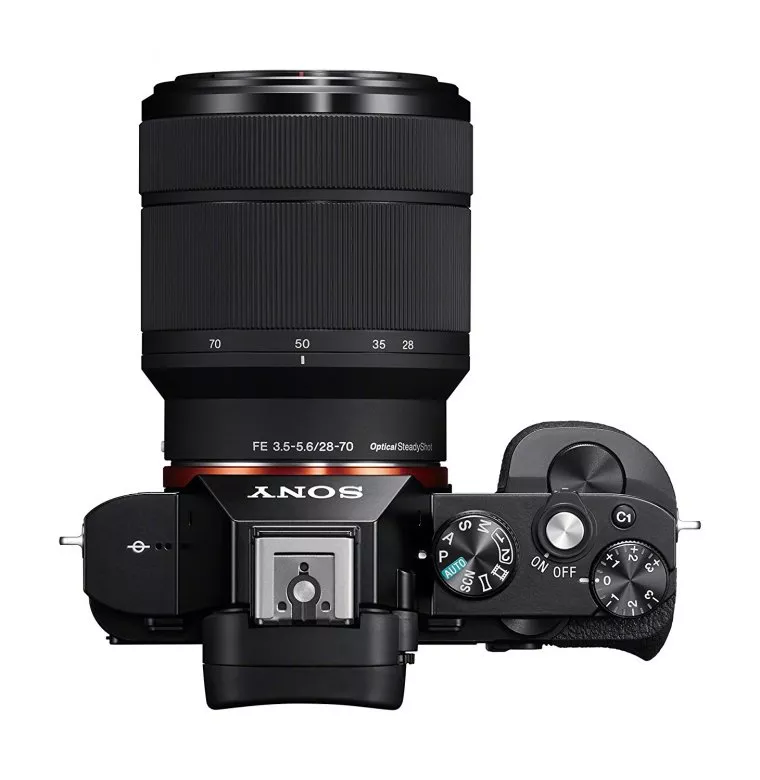 General performance of the A7 is pretty similar to the A7R with the only shot to shot times being slightly faster because of the reduced file size. This brings us to another noticeable difference over the A7R and that's the burst rate. Here, you still get two shooting modes: normal and speed priority. The first one limits the performance to about 2.5 fps, while the speed priority kicks it up to 5 fps. Interestingly enough, you get the option to enable continuous AF even at 5 fps, which is something that can't be said for A7R and its speed priority mode. Because of that, we'll only focus on the latter this time. If you only plan to shoot in JPEG, you'll be happy to know that you get an endless buffer in this mode. If you switch to RAW it drops to a maximum of 28 shots, which is still a respectable performance. There is one caveat to shooting in speed priority and that's the inability to view your shots in live view while you're shooting a burst, so keep that in mind. Lastly, there's the battery life. It's exactly the same as on the A7R and rated at 340 shots per charge. This is still not the most impressive performance for a mirrorless camera and it's average at best. So, aside from mediocre battery life, the A7 puts on a great performance in every other aspect of this category and it's certainly a noticeable improvement over the A7R.
Video features and quality
The A7 is not just an interesting camera for those shooting stills, it's also quite capable video recording tool. Yeah, it does not support 4K recording, but it still doesn't mean that it won't find its place in hands of many amateur and professional videographers. It records 1080p videos at 60 fps and a bitrate of 28 Mbps. Naturally, you can shoot at 24 fps and at a lower bit-rate of 24 or 17 Mbps if you wish to save on storage space. Audio is recorded in Dobly Digital (AC-3) or in AAC if you wish to record MP4 files. When it comes to manual control, the A7 is a real champ in this regard. You can use exactly the same shooting modes on the main dial like you would when shooting stills, meaning you can adjust everything from ISO, aperture, shutter speed and exposure compensation. You also gain focus peaking for those moments when you need critical manual focus and zebra patterns that show which areas in your frame could potentially be overexposed and may require further adjustment. While the internal stereo microphones are rather good, most of the professionals will make use of included microphone jack to improve their audio quality even further. You can also adjust microphone levels or turn on the wind filter. You can also monitor them in real time and make use of the headphone jack that way.
Video courtesy of Maximilian Weinzierl
When it comes to the quality of the videos recorded with the A7, we can only say that it's excellent. The footage that comes out of it is sharp and clean and is also able to handle noise well up to even the very high ISO values. There is some noticeable rolling shutter with fast panning, but that's something that can hardly be avoided in a mirrorless camera. If you believe that the videos recorded with A7 require a little more style you can always play with Picture Effects and Creative Styles that are also available when shooting stills. This is a nice way to give your videos a more of a unique look without going through the pain of doing post-processing on your computer. So, we can easily conclude that the A7 is a very capable piece of hardware when it comes to video recording. Some will miss the option to record in 4K, but those who can live without it will be quite pleased with what they can get from this camera.
Image quality
Finally, we've reached the part of this review where it's time to talk about all-important image quality. This is another area which separates the A7 from the A7R. We've concluded that the A7R had excellent image quality with its only flaw being the slightly over processed JPEGs. The story is largely the same with the A7. Its photos didn't come out quite as sharp and detailed as those on the A7R, but that was to be expected when there's such a large difference in megapixel count and there's also the fact that the A7R lacks the AA filter.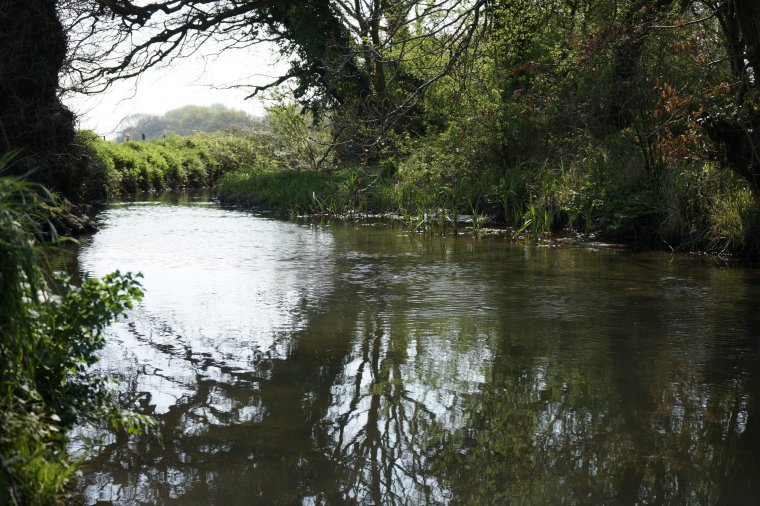 Photo courtesy of SamM Photography
The dynamic range and noise performance are almost the same and it's hard to find any difference between the two, which is unfortunate since we expected to at least find better noise performance due to A7 having larger pixels and thus gathering more light. When it comes to its JPEGs, it's also the same story as with the A7R, meaning they have slightly more pop than some of us would like. Of course, you can easily deal with this by shooting in RAW as like with any other camera. So while the image quality of the A7 isn't as good as on the A7R it's still a performance worthy of a full frame camera.
Conclusion
It's very rare to find a first generation product to be a success and with as little flaws as possible and the same could be said about the Sony A7. You really get what you expect with this camera. Good image and video quality, an extensive feature set, rugged and weather sealed body, great autofocus system and excellent performance in general, high quality screen and the viewfinder and a choice to use many different lenses from the E-mount (both FE and APS-C) and those made for the A-mount cameras (with use of an adapter). The only real flaws here are mediocre battery life and the lack of 4K video recording and one of those can easily be solved by carrying an extra battery pack. This really shows how well-rounded camera the A7 is. The bottom line is, if you all you're after is the image quality, go with the A7R. If you need a fast camera that comes with more than acceptable image quality and no major flaws, then go with the A7.
The following two tabs change content below.
An amateur photographer, songwriter, musician, computer and technology geek and an occasional comedian, I'm a little bit of everything. I always aim to pursue things I'm passonate about and try to look on the positive side of things whenever I can. My mission is to wrap my articles in that aura of positive energy and keep a healthy balance between being serious about my work and spicing things up with a little fun now and than. After all, life's a game and there's always a different way to play it.