Samsung NX1 Review: A Flagship Product Worth Checking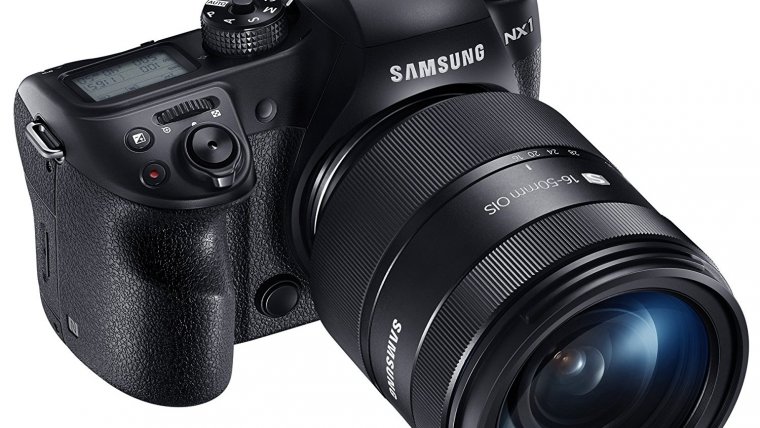 Samsung NX1 Review: A Flagship Product Worth Checking
www.sleeklens.com
Samsung has been in the camera game for some time now, but they never managed to make a breakthrough camera that would end up on the top of the market and become a bestseller. Their products have never been bad and almost all of them were quite good, but they never stood out either so they never gained the audience they could. The company did manage to profit from their expertise on the smartphone market with their phones always having one of the best cameras around.
So, one would expect that they break into the market with something big one day and the NX1 was the camera that was made to do exactly that. A no-compromise camera filled to the latter with quality features and aimed to fight with the big boys. So, let's answer that big question, is it really what Samsung claims it to be and is it the product to finally put the company where they deserve to be or is it yet another good try that maybe wasn't good enough. Since this is a really exciting review, let's not wait a moment longer and jump straight into it.
One thing that certainly portrays the Samsung NX1 as a premium and well-equipped camera are its specs. The first thing stands out is the sensor found in it. It's an APS-C 28 megapixel BSI-CMOS sensor. That's the highest resolution APS-C sensor found in any camera up to date. Later we'll see how it really performs and if some aspects of image quality were sacrificed because of the megapixel count that high. The AF system also sounds promising with a lot of focus points (209 in total). There was also no compromise made to the integrated screen and viewfinder.
Pros
Built-in WiFi
NFC Connectivity
Weather-sealed
Articulating Screen
4K Video Resolution
Touch Screen
Electronic Built-in Viewfinder
Face Detection Focusing
Click to read the full Review
The screen itself is a 3-inch tiltable touchscreen with a resolution of 1,036,000 dots. Something very unusual for a camera screen is that it's an AMOLED type rather than the traditional LCD, which is a very good move because AMOLED screens tend to have better contrast and better sunlight visibility than the LCD screens. The electronic viewfinder is also impressive with a resolution of 2,360,000 dots and a magnification of 1.04x. Neither the shutter speed and the maximum ISO values disappoint with a maximum shutter speed of 1/8000 seconds and a maximum ISO value of 25600 (expandable to 51200).

The built-in flash unit in the NX1 is also a strong one bearing a maximum working distance of 11 m (at an ISO of 100) and a sync speed of 1/250 sec. To continue with the so far impressive spec list, the maximum burst rate is a massive 15 frames per second (with continuous AF enabled!). That's something we are only used seeing on a very high-end full frame cameras and not some mirrorless APS-C camera. If that wasn't enough to peak your interest, Samsung also decided that it would be a smart move to focus on video capabilities as much a possible so they included 4K video recording as well as the microphone and headphone jacks.

When it comes to different communication options you get Bluetooth, Wi-Fi, micro-HDMI port and a fast USB 3.0 port for very fast transfer of those large 28-megapixel photos and 4K videos when you connect the NX1 to your computer. Well, that's a quite a list of impressive features, we can't wait to test them out and write our impressions in the rest of this article.
Body and handling
From the very first look you take at the NX1, you will realize that Samsung mean serious business with this camera. The body itself is made out of magnesium alloy and is also weather sealed that makes it different from Samsung NX3000 which is made entirely in plastic wrapped faux leather. Although it does sport a DSLR-like body, it isn't big or heavy like you would expect for such a camera and weights a reasonable 550 grams. It has all the manual controls you would ever need like two main dials, two secondary ones, main four-way controller and a lot of other buttons.
One of the main dial is used to select different shooting modes while the other has two functions; a dial to switch between single and continuous shot modes, use bracketing or self-timer and four buttons on top to control the AF mode, ISO, white balance or exposure metering. On the top right side is a very useful monochrome LCD that lets you quickly view important information like shutter speed, aperture, ISO, battery life and more without having to look at the main screen. Although the body of the NX1 leaves very little to complain about, we should mention the lack of a second SD card slot. It may not be a big deal for a lot of people, but we still aim to keep you informed of all the pros and cons no matter how small they might be.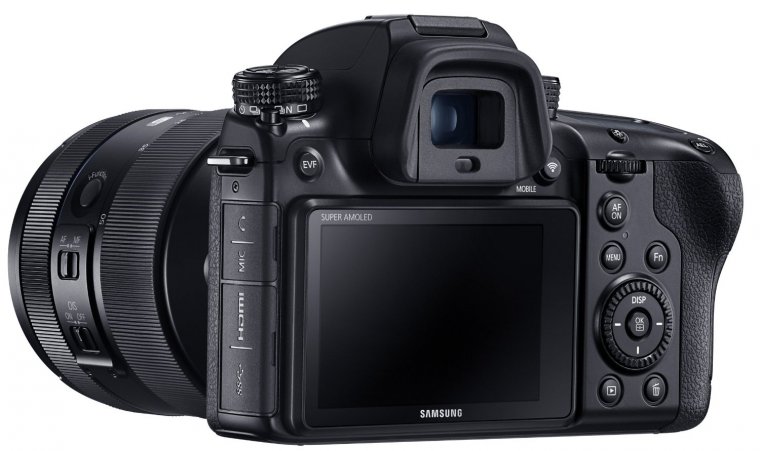 We should also give a nod to Samsung for the viewfinder they put in the NX1. It's simply stunning and probably one of the best electronic viewfinders out there. It's bright, sharp, free of lag and shows you all the info you'll ever need. Everyone who ever used a Samsung camera or delved deeper into one will surely agree that Samsung has one of the best user interfaces out there. It's nicely laid out, every menu seems in its place and navigating through it is a very smooth affair because of the responsive touchscreen and great performance.
We should also mention Samsung's implementation of Wi-Fi features because it's simply great. The first impressive thing about it is the way you can connect to your smartphone. You establish a connection using the NFC (if your phone has one), use low-power Bluetooth as a connection itself and Wi-Fi to transfer images. When you're connected via Samsung's official app, you get a lot of features when it comes to controlling your camera and its exposure. The app's interface looks exactly like the camera interface of your Android smartphone so almost anyone using it should have no problem working with it.
Performance and autofocus
Now on to another exciting category, the performance in general and the quality of the AF system. We've already mentioned how fast the NX1is when it comes to its user interface and we are happy to say that the story continues with everything else, there is no aspect of camera's performance that we could isolate at being problematic.
Before we dwell deeper into the AF system, it would be a crime not to mention the impressive 15 fps burst rate. There are no catches here and no tricks, it really does work as advertised and the autofocus does indeed work during the burst. What is also impressive is the buffer size for JPEGs, you can shoot as many as 73 before the buffer fills up. The maximum of 20 RAWs you can shoot doesn't sound as special but is still pretty good considering how large that 28-megapixel RAW files can get. As always, make sure you are using a very fast and high-quality SD card if you aim to achieve these results.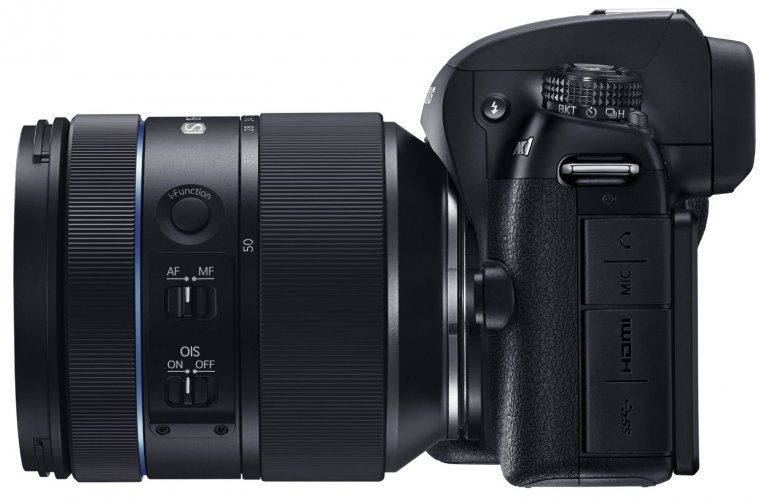 The battery performance is average at 500 shots, so there's nothing more to say here. When it comes to the hybrid AF system the one in the NX1 one really sounds like something with 205 phase detect and 209 contrast detect AF points. Luckily all those AF points aren't there just so Samsung can have something to boast about, they really help shape the AF system in the NX1 into a really respectable one. They also cover almost all of the viewfinder frame with 90 percent coverage, which is something very rare to see on any camera.
No matter if you are using the multi-AF mode where the camera decides which focus points it will use or Tracking-AF which is activated simply by tapping on the screen and selecting the subject you wish for the camera to track the performance is always admirable. It really does a good job with anything you throw at it and is easily comparable to the AF systems found on DSLRs that were specially made for shooting sports and high-speed action. It does struggle a little in low light conditions where some of these cameras perform better, but it's still a very good overall performance.
One thing to keep in mind is that you can only achieve this kind of speed with Samsung's newer S-series of lenses and that performance will degrade if you're using any of the older ones. The problem is that those lenses weren't designed and optimized to work with the hybrid AF system like the one found in the NX1 and tend to use only contrast detect AF most of the time. It's still far away from making the performance not being good, so you still shouldn't hesitate in using the quality glass you already own.
Video quality and features
If you aim to create a near ultimate camera to compete in the already crowded market than you simply cannot ignore video recording. Some manufacturers can get away with their cameras having mediocre video recording capabilities, but Samsung doesn't have that luxury. It seems that they were certainly aware of this fact when they were designing the NX1. It can record 4K video up to 30 fps with a maximum bitrate of 80 Mbps. Now, that may not sound as a very high bit-rate for a 4K video, but there is a reason for that and that's because the NX1 is using the new H.265 video codec which enables you to record videos at a lower bit-rate but without the loss of quality and end up with files that are much smaller in size than those encoded by the older H.264 codec.
Unfortunately, there are no advanced high fps slow motion modes and you will have to do with 1080p videos at 60 fps for your slow motion needs. The NX1 does have some other advanced features like focus peaking and zebra patterns, along with some picture profiles. In addition to the standard profile, you get two gamma profiles; Gamma C if the increased contrast is what you're after and Gamma DR for wider dynamic range. For even more control over the picture style of your videos, you can even adjust Luminance levels and Master Black levels. For those that plan to record uncompressed 4K footage via the external recorder, the NX1 one can output uncompressed 4K 4:2:2 8-bit video over its HDMI port.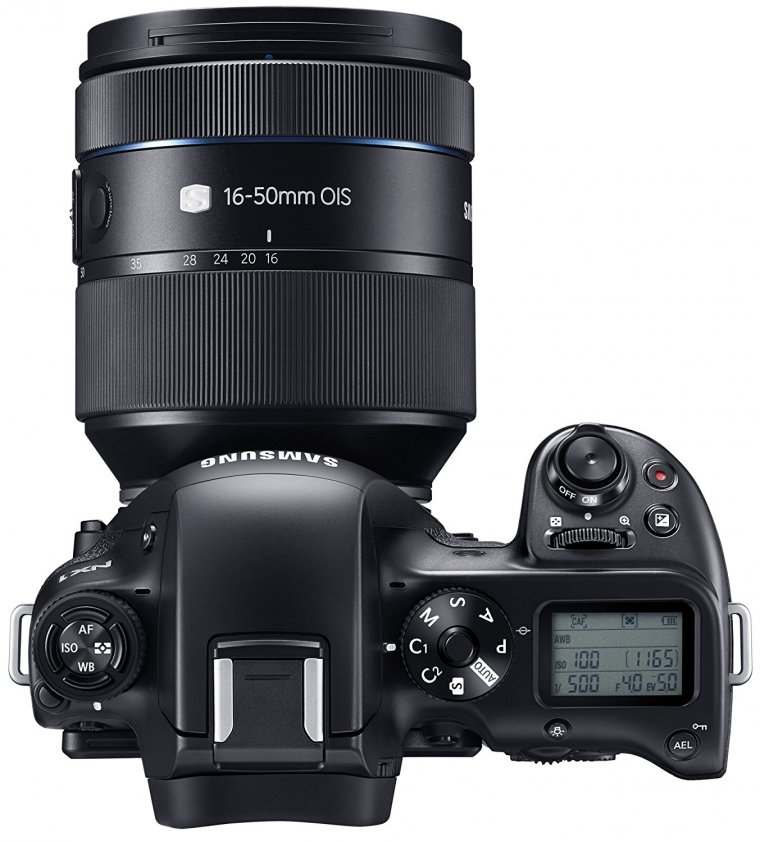 When it comes to autofocus in video, it is as good as in stills mode. You also get the Touch AF and Tracking-AF modes which both work very well and are very useful in the video as they are for stills. You can also adjust focus speed that enables you to get more dramatic focus changes in your scene rather than fast jumps from subject to subject which don't look good in every type of videography, so it's great that you can fine-tune the autofocus to suit your every need. Also, all manual controls that work in stills mode also work in video, in addition to being able to adjust microphone recording levels.
When it comes to video features, Samsung really stepped up and equipped the NX1 with everything you'll ever need. But what about video quality, does it match the impressive feature set? Well, yes, yes it does. You can get some really stunning and very detail videos out of the NX1. There is some rolling shutter effect and some compression artifacts here and there, but nothing that would stop us from calling the video quality great. In low light, the video quality holds up well until the ISO of 1600. Anything above that and some very noticeable noise creeps in. That is probably the side effect of having a very large amount of megapixels on an APS-C sensor, resulting in smaller pixels that create more noise.
So, if most of your work consists of shooting video in very low light and you really mind the noise on the higher ISO values than you should probably invest in a full frame camera. So, in the end, we can say that Samsung did come through when it comes to video recording on the NX1 and made a really capable camera for that purpose.
Image quality
Now, on to something that most of you must have been curious about right from the very start; the image quality you can get out of that unique 28-megapixel sensor. Well, it depends if you are shooting in JPEG or RAW mode.
For some reason, the JPEG engine is really aggressive when it comes to noise reduction, even at lower ISO values, resulting in image quality that can range from being impressive to being just good. This is most noticeable in low light and at ISO values above 3200 where the noise reduction algorithms are at their strongest resulting in noise performance that's just ok and not better than its other APS-C counterparts.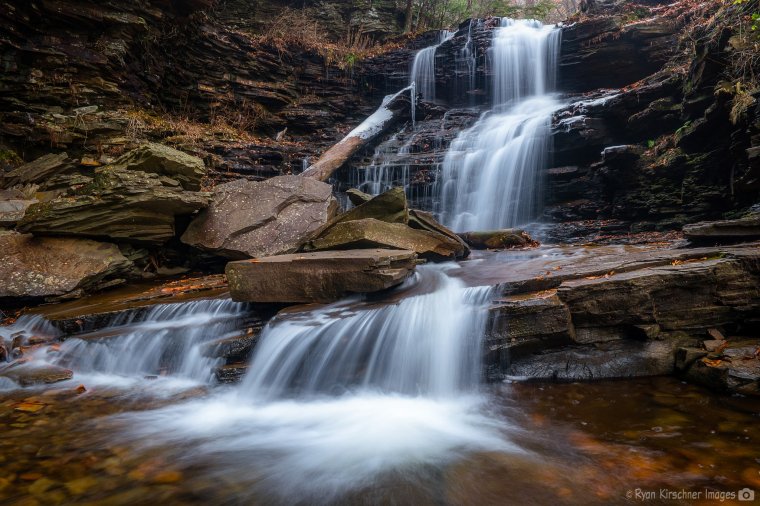 Photo courtesy of Ryan Kirschner
As soon as you switch to RAW, the story is another way around and the NX1 shows excellent noise performance that sometimes even manages to beat Nikon DSLRs in some aspects. The reason for image quality being that good despite the relatively small pixel size is due to Samsung's in-house made a sensor that has back-light illumination (BSI). This is something mostly found on smaller camera sensors, like those in smartphones and it's really interesting that Samsung decided to use this technology on a large APS-C sensor.
Shooting in RAW also does well to the dynamic range of the NX1, which like other aspects of its image quality is also impressive and up there with the best performers that have APS-C sensors in them. This means that you don't have to worry too much if your precious images end up over or underexposed because you can easily save them in post processing just by brightening the shadow areas or reducing exposure to reveal seemingly lost highlights.
Conclusion
Well, this was one really exhilarating review. We were really curious of how the NX1 will perform and if it will live up to its impressive specifications and it's a real joy to say that it is everything we wanted it to be. It's a very nicely designed camera with a rugged weather sealed body that isn't too heavy and cumbersome to use and a lot of manual controls and ports. It has a great and responsive AMOLED touchscreen and even better EVF.
The hybrid AF system works great in all use cases and only drops in performance a little in low light. And that burst rate, oh boy, don't get us started. When it comes to video recording it has all the bells and whistles you'll ever need no matter if you're amateur or professional and a great video quality that comes with them.
It does have one Achilles heel when it comes to video quality and it's the low light performance which isn't very impressive at higher ISO values. Where it does shine in low light is in stills quality where it is one of the best performers around when it comes to cameras with APS-C sensors. The same can be said for overall sharpness and dynamic range. Do keep in mind that you'll need to be shooting in RAW to achieve that kind of performance because of the JPEGs that this camera produces do hold back its potential.
That's it, the conclusion is pretty simple, despite a few small flaws here and there, the Samsung NX1 is a beast of a camera. You really can't-do much better when it comes to the mirrorless APS-C camera in a DSLR body. The only thing that could hold back its success is a number of lenses available for it because there aren't many. Luckily Samsung does know how to produce quality glass, so those that are available should have no problem in supporting this camera's impressive image quality.
Looking for best point and shoot compact cameras? Click here.
SaveSave
The following two tabs change content below.
An amateur photographer, songwriter, musician, computer and technology geek and an occasional comedian, I'm a little bit of everything. I always aim to pursue things I'm passonate about and try to look on the positive side of things whenever I can. My mission is to wrap my articles in that aura of positive energy and keep a healthy balance between being serious about my work and spicing things up with a little fun now and than. After all, life's a game and there's always a different way to play it.