Panasonic Lumix DMC-LX100 Review
Panasonic Lumix DMC-LX100 Review
www.sleeklens.com
While the entry-level compact camera market has become a little stale in these few years, the story is completely different when it comes to more advanced ones, especially if they come with large 4/3 or APS-C sensors. It was only a matter of time before an established manufacturer like Panasonic threw one of their offerings into the fight hoping to conquer at least the piece of the market and the result of that plan is the camera we're reviewing today, the Panasonic Lumix DMC-LX100.
It's actually a pretty unique type of camera for multiple reasons. It comes with a 4/3 sensor, but it's not using it in a traditional way and rather uses such a large area at its disposal to give you the ability to get different aspect ratios but without any loss in image quality. This also enables it to have the body and the lens combo that is a lot smaller than it would be if it used the entire area of the sensor, which brings it even more to being a compact camera than a mirrorless camera with a fixed lens.
Other than that, it offers a full array of features that would make any photographer very happy and it seems to cover every important aspect of a camera quite well. Let's take a quick look at its specifications before we dig a little deeper into its core and see what the LX100 is really all about.
As always, we'll start the specs round-up with the camera sensor, and interestingly enough, it's one of the unique selling points of the LX100. While it is a 16 megapixel 4/3 found in many other mirrorless cameras, it has one trick up its sleeve, and that's the Multi-aspect feature. This means that the LX100 uses one part of the sensor (up to 12.7 megapixels) and allows you to change your aspect ratio with a hardware switch that's placed on the top of the lens, thus giving you a lot of creative freedom while shooting.
Pros
Built-In WiFi
4K Video Resolution
Manual Focus
RAW Support
Built-In Electronic Viewfinder
Cons
No Articulated Screen
No Touch Screen
No Environmental Sealing
Click to read the full Review
Another positive thing is that the diagonal angle of view remains the same at 4:3, 3:2 and 16:9 aspect ratios. The lens on top of that sensor is another big selling point for the LX100. It's an optically stabilized 24-75 mm equivalent lens with a very bright maximum aperture of f1.7 to f2.8. While it may not be the longest zoom range in the word, it is still very useful, giving you the ability to shoot some nice landscape shots at 24 mm and even decent portraits at 75 mm with a decent amount of background blur thanks to that f2.8 aperture.

The lens also has a very good minimum focusing distance; 50 cm in normal use and 5 cm when you activate the macro mode. The impressive specs list doesn't stop here. The LX100 comes with 49-point AF system that uses Panasonic's trademark Depth from Defocus technology, so we are having a lot of hopes for good focusing performance. The burst rate also doesn't sound too shabby at all giving you a speed of 11 fps with fixed focus and 6.5 when continuous AF is enabled. Regarding controlling your exposure, you get an ISO range of 200 – 25600 (expandable to 100) and a shutter speed range that goes from 60 seconds to 1/4000 sec (1/16000 when the electronic shutter is being used).

The LX100 also doesn't disappoint in terms of its body. The main material of choice here is aluminum and it really feels when you hold it in your hands. The screen on its back has a decent resolution of 921,000 dots, but more impressive is the included EVF with a magnification of 1.39x and a high resolution of 2,764,000 dots. Other things included in and on the body are the hotshoe (which is used to connect the external flash that comes with the camera), micro-HDMI port, orientation sensor and Wi-Fi with NFC. The LX100 doesn't come with a headphone or a microphone jack, but it does have the ability to record 4K footage at 30 fps and with stereo sound.

All in all, we have to admit that the Panasonic LX100 looks like quite a compelling package when it comes to all the features crammed inside of it. We will reveal even more of them during this review, but first, it's time to take a more detailed look at its body and see if comfortable to use and easy to handle.
pw
Body and handling
The first thing you'll surely notice about the LX100 the moment you take in your hands is how solidly it's built, but without the usual penalty in increased weight. At 393 grams, it's not the lightest compact camera on the market, but it's not unreasonably heavy either, especially when you take into account the fact that it's made out of aluminum. It's also very comfortable to hold thanks to the deep grip on the front and the thumb rest on the back. All the physical controls are made to high standards and give away a satisfying tactile feel when in use. They are also arranged in a most logical order and nothing feels out of place or hard to reach. The LX100 also doesn't feel like it's missing any of the important buttons and dials and seems well-equipped in this regard. We are also quite curious to see if the Panasonic's familiar customization options have found their way on this camera as well, but more about that a little later.
Let's take a look at the physical aspects of LX100's body and which exact controls does it hold. On the front of the camera, you'll only find the focus assist light and the lens itself, which has some interesting controls to it: the aspect ratio selector switch, focus selector switch, aperture ring and a control ring. We'll talk about those in a little more detail very soon. The sides of the camera hold no physical controls and the only thing worth mentioning is that the NFC antenna is located on the left side. Looking at the top reveals the hotshoe, stereo microphones, a shutter speed dial that also comes with a power on switch, an iA button which automatically switches the camera to Intelligent Auto mode, a shutter button with a zoom lever, a Filter button which when pressed allows you to cycle between different picture effects and lastly, the Exposure compensation dial. Now, we are only left with taking a look at the back of the camera.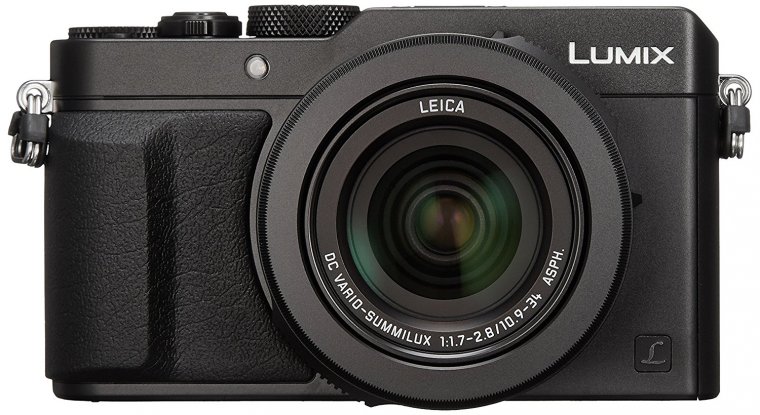 Besides the obvious things such as the EVF and the LCD screen, there's many different controls to be found. First, there are four buttons located just right of the EVF and these are the LVF/Fn3, Wi-Fi/Fn2, Movie and AF/AE Lock buttons. Moving further to the right reveals the Q Menu, Playback, Fn1/Delete and Display buttons, as well as the main navigation wheel which can also be clicked in four directions and used to access things like ISO, White Balance, Drive/Timer and also AF modes.
Well, it's obvious that Panasonic where very serious when they were creating the LX100 when they decided to equip it with such an impressive number of different physical controls. What also clearly shows their intent to make this camera both amateur and enthusiast friendly is how they've handled the entire user interface. There is no touchscreen on board, but that doesn't stop the LX100 in being a very intuitive camera to use as it comes with enough features to satisfy the entire spectrum of different types of users. The entire menu system is well thought out and comes with a right balance of customization and ease of use. One of the first things you'll notice when using the LX100 is how Panasonic changed the approach to switching between different shooting modes. Instead of giving the camera a dedicated main mode dial, you will automatically enter one of the shooting modes depending on your current settings. For example, if you set your aperture to Auto and manually change the shutter speed, you'll be in the Shutter-Priority mode and switching things around will bring you to Aperture-Priority mode and so on.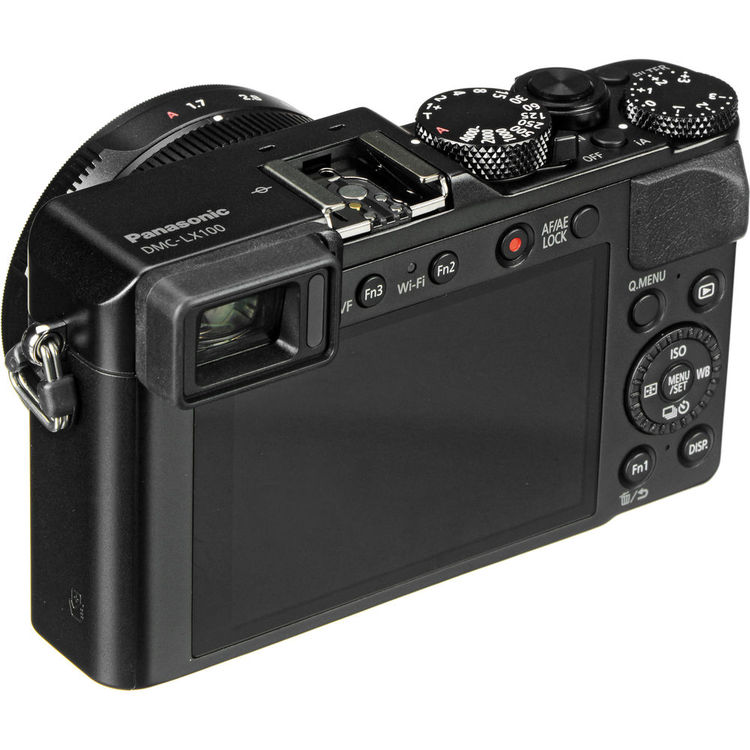 It's really effective way of simplifying the way you choose your shooting modes and we like it. Then there are the different types of customizable menus you get at your disposal. One of them is the Quick Menu, which can easily be accessed with the dedicated button on the back of the camera. It can hold up to 15 items of your choice and some of them are Picture Style, Quality, HDR, Shutter Type, Flash Mode and so on. This also brings us to the customization of the three Fn buttons found on the LX100. You can either use them for the functions that are assigned to them by default or change them to something like Preview, Focus Area Set, Digital Zoom, Stabilizer, Highlight Shadow and many more different functions. Lastly, there's the control ring found on the lens itself. By default, it gives you the step zoom ability in all modes but the Shutter-Priority and Manual for which it's used to change the shutter speed. You can also reprogram it and use it to change the ISO or White Balance, act as a normal zoom ring or to switch between different Filter types. There's no doubt about it, the LX100 is certainly a very powerful camera in terms of customization and the amount of control that is given to the user to really set the camera to their specific needs.
Before we move on to the next section of the review, we need to talk about Wi-Fi on the LX100. This is surely yet another area where Panasonic decided to go all out and throw every possible card on the table. The first thing you need to do is to download the Image application form a store and use it to connect the camera to your smartphone (or tablet) either via Wi-Fi or via NFC if your device supports it. After that, you'll be presented with a plethora of different features and functionality. You can send your photos to your smartphone, post them to social networks or automatically backup your photos to your phone the moment they are taken. You can also remotely control the LX100 with your smartphone. You can also connect the camera to a wireless printer or a display your images on the screen of a DLNA device and you can even connect the LX100 directly to your Wi-Fi router and send your images to a web service of your choice or Panasonic's own cloud storage via the LUMIX CLUB service. We are nothing short of impressed with the Panasonic LX100 in regard to how its body handles in daily use, its build quality and a large amount of different software and hardware features that create a camera that's a powerful tool that can be modeled to any photographer's desires. Let's see if the same amount of attention to detail has also been made when creating the AF system and the whole focusing experience.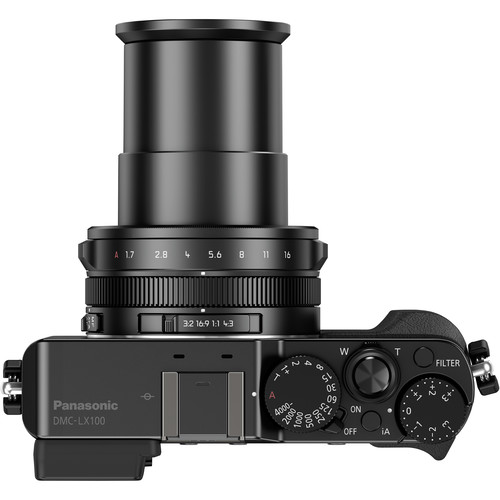 Autofocus and performance
As we've already mentioned, the AF system in the LX100 is a contrast detect based solution which consists of 49 focus points while also sporting Panasonic's Depth from Defocus technology. Simply put, we are very impressed both with its performance and all of the different focusing modes and features that go together with it. No matter the lighting conditions, you will easily achieve fast and accurate focus almost 100% percent of the time. Subject tracking performance wasn't bad either, despite the LX100 not having a faster phase detect AF system which usually works a lot better for this type of photography. You also get a decent number of focusing modes at your disposal: 49-area, Custom Multi, 1-area (or Single point AF), Pinpoint, Face/Eye Detection and Tracking AF. If you are more inclined to focus manually, you'll be happy to know that Panasonic has got you covered here as well. After you set the focus selector switch on the lens to MF and you press the AF mode button you'll be presented with a little frame that presents a magnified view of whatever you're seeing on your screen and you'll be able to move it around by using the navigation buttons. After you've done so, you can also enable focus peaking to help you even further in achieving critical focus. Lastly, to be completely sure that everything is in focus you can check the focus distance on the scale that will show up on the bottom of the screen. So, no matter if you opt-in for auto or manual focusing, you should have no problems in achieving fast and accurate focus with the LX100.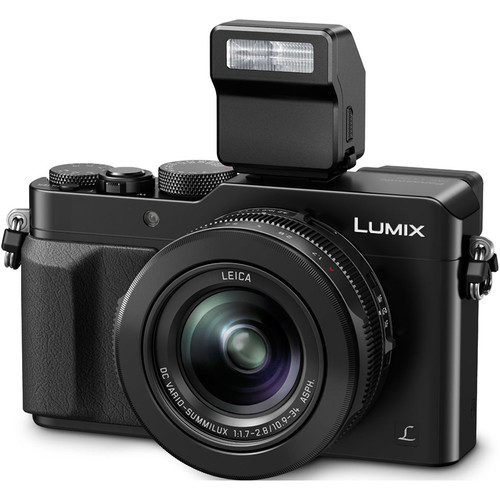 This camera also performs very well in general use, thanks to its powerful Venus Engine processor. Everything from shot to shot times to navigate through the interface was as smooth as it can be. We've only noticed that the camera takes a little longer than usual to power on, but that's it. The LX100 also offers a lot in regard to its burst mode. Now there's a lot of them and their performance differs depending on if you're using the mechanical or electronic shutter. The 11 fps or High-Speed Continuous mode is the fastest one, but it doesn't support continuous AF while shooting and only focuses at the first frame. The buffer size when using the mechanical shutter was around 100 JPEGs or 22 RAW files and around 130 JPEGs and also 22 RAW files when using the electronic shutter. If wish to continuously focus while taking a burst, the shooting speed will drop to 6.5 fps, which is still a very respectable performance for any camera in this class. There's also a special Super High-speed mode which takes 60 JPEGs at a speed of 40 fps, but with a reduced resolution of 3 megapixels. Battery life on the LX100 was very decent, but nothing out of the ordinary. It will largely depend on how often are you planning to shoot with the included external flash unit. If not at all, then you can expect an endurance of around 350 shots if you're mainly shooting through the LCD and around 320 when shooting with the EVF. That endurance will drop to around 300 shots with the LCD and the flash combo and to around 270 shots when the EVF is being used instead. There's really nothing much to complain about when it comes to LX100's performance, it did well in all of our tests and showed no major flaws and weakness in our use. It's really shaping up to be one very well made compact camera.
Video quality and features
The Panasonic LX100 may not be a direct replacement for professional camera specially made for recording videos, like the GH5, but surprisingly enough it still offers enough features to become an excellent backup camera or one that you'll be carrying with you all of the time. It's able to record either 4K footage at 30 fps and a bitrate of 100 Mbps or 1080p footage at 60 fps and a more modest bitrate of 28 Mbps. You can also choose between two different video codecs; AVCHD or MP4. You also get useful features like focus peaking and zebra exposure warnings, but sadly there is no flat picture profile like on some of other Panasonic cameras. Those that want professional grade audio will also be disappointed sine the LX100 doesn't come with a headphone or a microphone jack. Those people that don't consider the audio recording a priority will be perfectly happy with the included stereo microphones.
Full manual control of exposure is also available and so is the manual adjustment of audio levels and a wind filter to reduce the noise that appears when recording in windy conditions. There's also a useful feature called 4K Photo Mode which allows you to grab 8 megapixels still frames from your videos and save them as separate photos. Continuous autofocus is also available during recording and it performed pretty well in our tests. You can easily rely on it for most of your shooting needs, something that we're rarely able to say for a camera with contrast-detect based AF system. The expected benefits of having an optical image stabilization are also present here. It's not the most advanced implementation we've seen on a camera of this type, but it is still reducing the effects of camera shake enough that it's very usable for everyday shooting. We were also quite pleased with the quality of videos recorded with the LX100. 1080p looks average at best, but the 4K footage looks great, even in low light. Some noticeable noise does being to creep in at an ISO of 1600, but it doesn't ruin the image quality very much and doesn't become intrusive at all until you reach the high ISO of values 6400 and above. So, the LX100 isn't by any means a professional video recording tool, but for a compact camera that you can always carry with you it does a surprisingly good job of providing great looking 4K footage together with capable autofocus and decent feature set.
Image quality
Despite all of its features and very polished overall experience that it offers no matter what you're using it for, one of the biggest reasons for buying the LX100 over a lot of other advanced compact cameras like Canon PowerShot SX720 HS has to be its image quality. While it may not utilize its large 4/3 sensor to its fullest for obvious reasons, it's still one of the best performers we've seen for a compact camera. Don't be fooled by the relatively low megapixel count, the LX100 is perfectly capable of capturing sharp and detailed photos in all light conditions. Noise performance is also good and you'll be able to get perfectly usable images up to an ISO of 6400.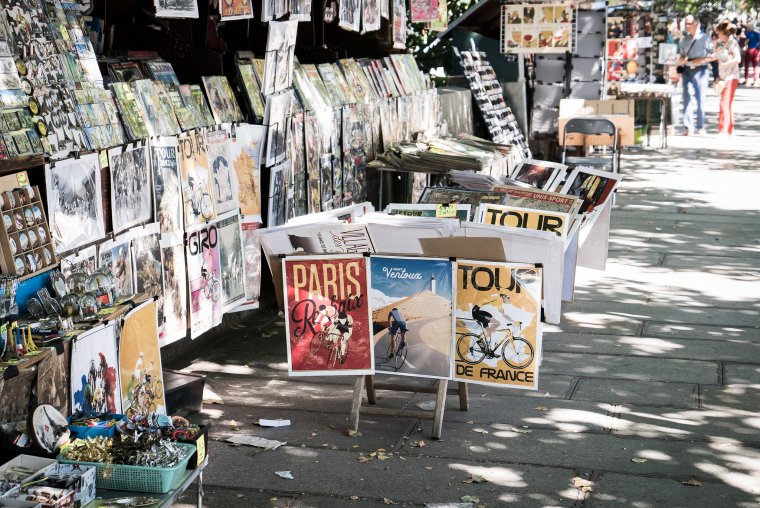 Dynamic range is also good and on par with the best compact cameras out there. Another important factor that enables the LX100 to get such good-looking images is its lens. It offers consistent performance at all focal lengths, even wide open. Stop it down a little and you can get even more sharpness out of it. It's bright maximum aperture also helps to keep the noise down in low light conditions and also gives you the room to get some nicely blurred backgrounds in some of your images, especially at 75 mm. If you're shooting JPEGs, then you can also take advantage of many different picture effects.
The filters that you can get are the: Expressive, Retro, Old Days, Sepia, Monochrome, Toy Effect, Cross Process and much more. There are also a lot of features that will enable you to improve the overall dynamic range, but we think that we've already shared enough details about the LX100 for you to be able to form some sort of opinion about its image quality.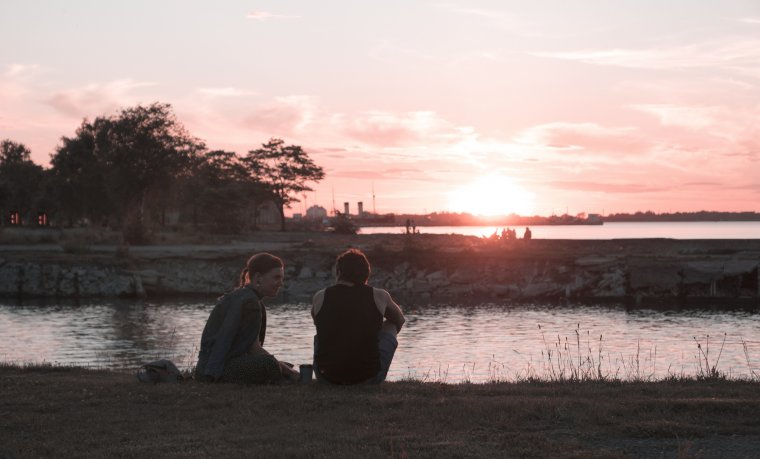 Photo courtesy of Kristina Jumankina
Conclusion
Well, ladies and gentlemen, here we have a prime example of a camera done right. The Panasonic LX100 is one of those rare examples of a camera that covers all of its bases well and leaves very little to be desired. The lack of a touchscreen is the only fault you'd be able to find and even that is remedied by the well-designed user interface and the overall great control scheme. Everything from the camera body, image and video quality and performance to battery life, autofocus speed and Wi-Fi capabilities is done in a way that should please any type of photographer seeking to buy this type of camera. And that's it, there's not much more to say. We recommend the Panasonic LX100 to anyone that wants a great compact camera and doesn't want to tolerate any compromise.
The following two tabs change content below.
An amateur photographer, songwriter, musician, computer and technology geek and an occasional comedian, I'm a little bit of everything. I always aim to pursue things I'm passonate about and try to look on the positive side of things whenever I can. My mission is to wrap my articles in that aura of positive energy and keep a healthy balance between being serious about my work and spicing things up with a little fun now and than. After all, life's a game and there's always a different way to play it.