Panasonic Lumix DMC-GF7 Review: Between Mirrorless and Compact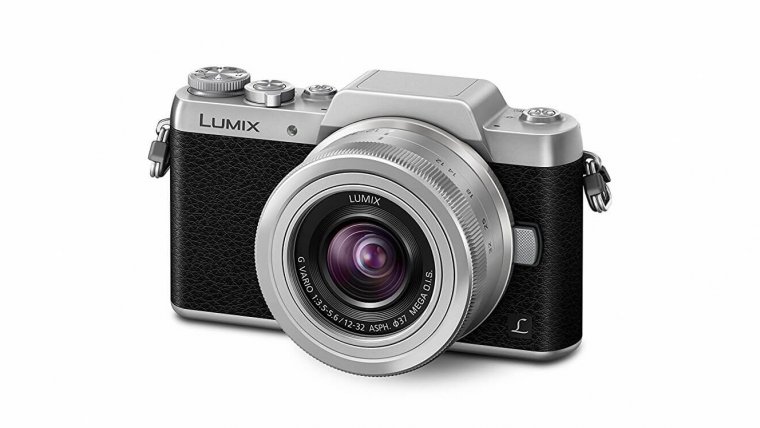 Panasonic Lumix DMC-GF7 Review: Between Mirrorless and Compact
www.sleeklens.com
There's no absence of different choices when it comes to buying a mirrorless camera these days, no matter the price point and the segment. You should have no problems in finding the camera that satisfies each one of your needs, even if you're the most demanding user out there. What most people are looking for is a good and simple camera that has most of the features a mirrorless camera has, but for not much money. This means that the entry-level camera market is one of the most competitive of all, because of the mixture of desirable compact, mirrorless, and DSLR cameras.
More and more people these days lean towards buying a mirrorless camera because of its portability and flexibility and today we're taking a look at one of Panasonic's offerings, the Lumix DMC-GF7. We all know how big Panasonic has become on the mirrorless camera market, but let's see if they can achieve the same greatness with one of their less pricey cameras. The GF7 looks like it has all the necessary features to be a perfect camera for undemanding users or photography beginners and also looks very stylish at the same time, which should appeal to more fashionable users. It may even be interesting to those advanced or professional who already a 4/3 camera and the appropriate lenses, but want a smaller and more portable camera like Samsung Galaxy Camera 2 as a backup body or for those occasions when they're traveling light and still want to take good quality photos and videos. So, let's end this brief introduction and let's see what can be found on the inside and the outside of the GF7.
The first thing that defines the GF7 is its sensor. It's a 16 megapixel 4/3 sensor that has found its way in many of mirrorless cameras in the recent years and is known for its ability to produce good-looking images in all lighting conditions. Sadly, in this case, there's no sensor shift stabilization like in more advanced cameras, so you'll have to invest in an optically stabilized lens if you want to shoot smoother videos or take photos at very low shutter speeds. It also gives you the ability to shoot at ISO values ranging from 200 to 25600 (expanded to 100 at the lower end). There's also RAW support on board.
Pros
Built-in WiFi
NFC Connectivity
Articulating Screen
FullHD Max Video Resolution
Touch Screen
Face Detection Focusing
Light Body
Timelapse Recording
Cons
No Image Stabilization
No External Flash Shoe
No Built-in Viewfinder
No External Viewfinder Option
Low Battery Life
No Environmental Sealing
Click to read the full Review
The AF system built inside the GF7 is a 23-point contrast detect sounds pretty basic at first, but we are optimistic about its performance considering Panasonic's expertise in this area, despite the fact that it lacks their Depth from Defocus technology. You're also given the ability to take photos at a very high shutter speed of 1/16000 sec thanks to the electronic shutter and a very respectable burst rate of 5.8 fps (10 fps when the electronic shutter is being used instead of the mechanical one). In regard to its body, the GF7 certainly feels like a
more expensive camera
and its made out of a combination of metal and hard plastics. We'll talk about it in more detail in the very next section of the review, so be sure to stick around for that.
In terms of different functionality built inside and outside of it, you get a pop-up flash with a range of 4 meters, Wi-Fi, micro-HDMI port and the orientation sensor. Since it's an entry-level camera, it doesn't feature advanced functionality like the headphone and microphone jack, nor any kind of a viewfinder, but it does feature a very versatile 3 inch TFT LCD touchscreen with a resolution of 1,040,000 dots and the ability to be tilted upwards to make taking self-portraits or vlogging type videos much easier. In regard to videos, there's also no 4K recording, but you do get 1080p 60 fps mode, which is still better than the 30 fps mode you'll find on many other cameras at this price point.
So, there's no denying the fact that some compromises had to be made for this camera to be able to sell at such a low and competitive price and that's certainly not a not a bad thing, since the GF7 does seem to cover all the basics well and still seems like a camera that will perform well enough to satisfy its target audience and we can't ask much more from it. Now, after we've given you a short overview of what you should expect out of the Panasonic GF7, let's continue this review with a more closer look at its body and how well it handles in real word use.
Body and handling
There's no denying that the Panasonic GF7 is one good looking piece of gear. The combination of the silver top made out of metal and the plastic bottom that has a faux leather feel and two color variants (black and brown) really makes this camera look like it comes from a higher price range. Don't get us wrong, we aren't saying that it feels as premium as some of those more expensive camera, but it certainly looks more expensive than it really is. At 342 grams, it also weighs just the right amount and it should never become too cumbersome to use after long periods of time. The control scheme on the GF7 fits perfectly with its entry-level nature as there aren't many physical controls available and more control falls on the touchscreen than on the more advanced camera. This isn't such a bad thing, since many beginners are probably used to working with a point-and-shoot camera or with a smartphone, so they will certainly consider everything that's available on the GF7 in terms of different dials and buttons to be a perfect balance between simplicity and usability. Interestingly enough, there are a couple of buttons we weren't expecting to see and we were pleasantly surprised that Panasonic decided to change the game a little and tried to do something new and different.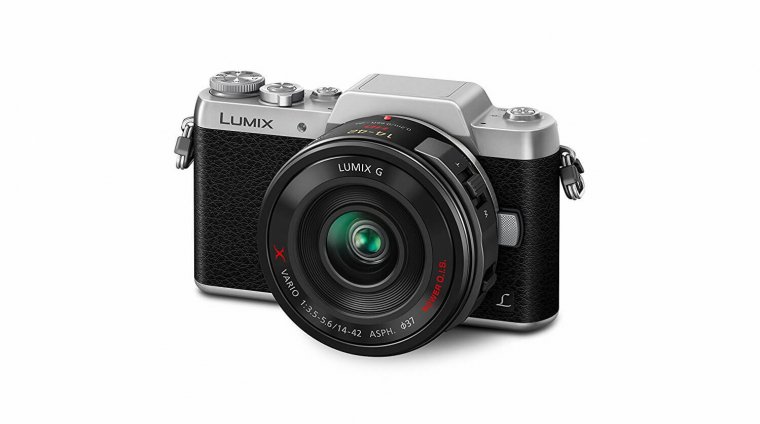 So, without further ado, let's take a quick look at the camera and see what's it all about. As is the case with many entry-level mirrorless cameras the front only holds the focus assist light and the lens release button and this is one of those reasons that make the GF7 look as good as it does. The left side of the camera only features a little speaker, while the right one holds the flap which protects all the ports underneath it. As usual, you'll find the battery compartment and the SD card slot on the bottom of the camera, as well as the tripod mount. Looking at the top reveals the Fn1 button (which is by default programmed to access Wi-Fi related functions), stereo microphones, a pop-up flash with a switch that releases it from the camera body, Intelligent Auto button (which immediately switches the camera to a mode where it decides all the settings for you and tries to optimize them for the current lighting conditions), a shutter button with an On/Off switch and lastly the main mode dial. This only leaves us with the back of the camera. Here we wind the tilting 3-inch touchscreen which takes almost the whole back, leaving very little room for the rest of controls, so they are situated on the right side of the screen. Right above the thumb rest you'll find the Motion Picture button and right underneath it lies the Playback button. Lastly, you can see the main navigation wheel, as well as the Delete/Q Menu and Display buttons. The navigation wheel itself has the ability to be clicked in four different directions and can also be used as a quick way to gain access to Exposure Compensation, White Balance, Drive Mode/Timer and AF Mode.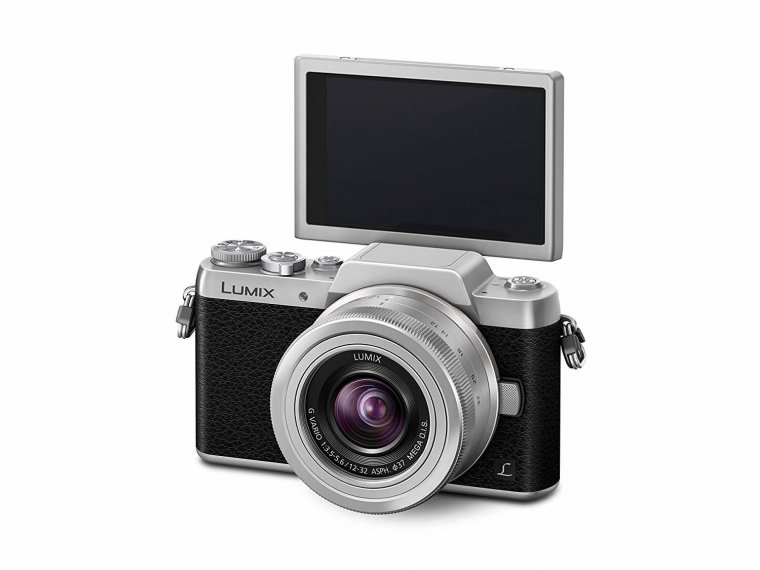 So, it's easy to conclude that the controls scheme on the GF7 was built with simplicity in mind and that's something we would expect from an entry camera. Luckily enough, the user interface is very well optimized and everything fits nicely in its place. It also works great with touch input and it's no problem at all to navigate through it or adjust different settings. If you want an intuitive way to quickly access all of your most important functions you can do so via the Quick Menu. You can bring it up by pressing the Q Menu button and then either use the navigation wheel or touch input to go through various items found inside of it. You can also decide which items will appear inside the menu and you can set it up to contain ISO Sensitivity, Metering Mode, Focus Mode, HDR, Shutter Type, Aspect ratio and many more functions. If you want to assign a specific function to a single button, you can make use of six separate function buttons (the Fn1 button being the only physical one and the rest of them virtual ones selectable by tapping on the screen). These can be programmed to hold many different functions such as Wi-Fi, Quality, Flash Mode, Digital Zoom, Peaking, Histogram and so on. We should also mention the Intelligent Auto Mode, which is the perfect mode to be in if you've just started taking photos or you are using your new camera for the very first time. Besides choosing the right scene mode for you depending on the shooting conditions, it's also smart enough to change White Balance, apply Red-Eye Removal, turn on the AF assist lamp, turn on Face/Eye Detection and so on. If you wish for a better way to take low-light photos without the help of a tripod you can turn on the iHandheld Nigh Shot mode and the camera will take a long burst of images and combine them into one picture. There's also the iHDR mode which will automatically scan the scene and decide when it's necessary to take multiple images with different exposures and combine them into a single image with overall more balanced exposure.
The last thing we are left to talk about is Wi-Fi and what The GF7 offers in this regard. The list of things you can do wirelessly is quite impressive: remote camera control, displaying pictures ion a TV, wireless printing, sending images to an AV device, sending them to a PC or upload them to cloud service via LUMIX Club. Remote control requires you to download and install the Panasonic Image App application from the Android or iOS store and use it to establish the connection between your smart device and the camera itself. After you've done so you can use the application to control the zoom, focus manually or automatically with Touch AF, change display modes or adjust White Balance, ISO, and Exposure Compensation. It's really impressive to see this much control available for an entry-level camera. So, in conclusion, there is really not much to complain about the GF7 in regard to its body, handling, functionality or Wi-Fi capabilities. If you're an advanced user you will surely miss the lack of a viewfinder or have more physical controls, but then again, this isn't a camera aimed at such users, but rather ones that are looking for a capable and simple camera that is easy to use and isn't too hard to figure out and learn to use.
Autofocus and performance
We certainly weren't expecting a lot from the 23-point contrast detect based AF system inside the GF7, especially because it's lacking Panasonic's trademark Depth from Defocus technology that made us praise many of their cameras for their focusing ability. It was a surprise to see that the GF7 handled itself pretty well in this regard, as long as the shooting conditions weren't too demanding. During average use and a combination of still and slow-moving subjects in good light, the performance was good and focusing very quick and accurate. As the light levels dropped, so did focus speed and accuracy, but never to a degree that should worry the average user. Subject tracking performance was average at best, as you would expect from a contrast detect based solution with not much focus points, to begin with. The GF7's performance could easily be compared to a low-end DSLR, which isn't a bad thing at all. You get a choice of three different AF modes: Auto Focus Single that is optimized for still subjects, Auto Focus Flexible that is best for those subjects that have unpredictable movement and Autofocus Continuous that is best used for very fast-moving subjects and allows the camera to continuously search for targets to focus on as long as you keep the shutter button pressed halfway. You can also choose between five Area modes: Face/Eye Detection which automatically looks for faces in your frame and tries to focus on them, Tracking which focuses on the subject of your choice and tries to keep it in focus, 23-Area which is best used when your subject is not in the center of the frame, 1-Area lets the camera focus on the subject in the center of the frame and lastly, the Pinpoint mode lets you control an even smaller focus point that the traditional one, so you can choose the place you want to focus on with even more precision. Manual focus options are also quite extensive and you can acquire focus with the help of a little indicator found on the focus distance scale, MF assist which enlarges the part of the screen you wish to focus on, focus peaking and also the with the help of the MF Guide which lets you see if the point of focus is in the near or the far side.
The GF7 also exhibits very good performance while in use and every operation from taking a photo or powering the camera on took very little time and never felt like it was holding us back during shooting. When it comes to burst rate functionality, you get a choice of three different modes: Continuous High-Speed mode when the mechanical shutter (5.8 fps) is being used and also two modes made for the electronic shutter (10 fps mode and Super High-Speed mode which takes one 40 fps burst of 4-megapixel images). The regular 5.8 fps mode gave us a buffer size of around 50 shots when shooting JPEGs and around 10 images when shooting in RAW. In 10 fps mode, the buffer size dropped significantly when compared to the regular shooting mode and was filled up with only about 7 JPEG images. So, the best way to go is to only shoot at 5.8 fps and in JPEG if you want good buffer size. If there's one thing about the GF7 that doesn't impress in regard to its performance than it has to be the battery life. The endurance of 230 shots per charge, unfortunately, falls under the performance we would consider being average for this type of camera and its class and you should definitely keep a spare battery with you at all times. Other than that, we are quite happy with what the GF7 was able to deliver in every other aspect of its performance and never felt disappointed in any way. It's certainly a well performing entry-level camera.
Video features and quality
As is the case with almost any entry-level camera, the GF7 won't be anyone's first choice for a video production device, but on the flip side, it's still capable of taking some high-quality footage. There's no 4K on board, but you do get a 1080p recording at 60 fps, which is still better than what you'd find on many other cameras at this price point. There's also a choice of two video codecs (AVCDHD and MP4) and you can always choose between video quality and the amount of compression to save on disk or memory card space. Audio is recorded with a decent pair of stereo microphones located on the top of the camera and there is no external microphone jack to improve on audio quality. The inclusion of a touchscreen helps immensely when recording video, especially when it comes to focusing.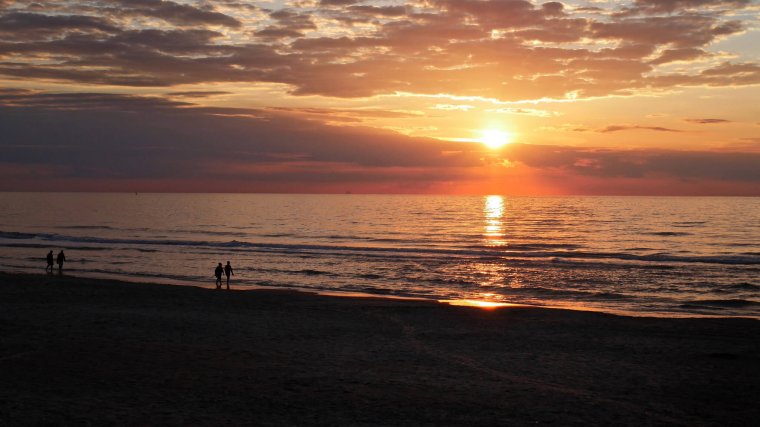 Photo courtesy of Bigayon Frederic
As you would expect, you can easily control the autofocus just by tapping anywhere on the screen and it's also a pleasure to adjust different settings that way. Continuous AF is also available and its performance can be considered average at best. It's not catered to professional use, but it can actually focus very quick at times and as long as your subject isn't moving too fast. You can also choose between full manual exposure mode or the very-well-done Intelligent Auto Mode. As we've mentioned at the beginning of this section the quality of videos recorded with the GF7 is pretty good for an entry-level camera. There's an abundance of detail captured, very little compression artifacts and noise is quite low and not very noticeable up to the ISO of 1600. So, despite lacking in some aspects as a video camera, the GF7 is still perfectly capable of producing pleasing footage, especially for those that aren't planning to use it for any kind of serious work.
Image quality
There is no surprises here, the 16 megapixels 4/3 sensor built into the GF7 is very well known among photographers and reviewers alike, but still, let's quickly summarize its performance and also inform a few people who weren't aware of it of what they can expect to get with it. It's true that it isn't as competitive today as it used to be when it was first announced, but it still exhibits perfect performance when used in an entry-level camera and really gives you a very respectable image quality for your money. Don't let anyone tell you that 16 megapixels aren't enough to get a photo with a lot of detail because it really is and you can really get very sharp photos with the GF7 and the right glass mounted to it. Dynamic range is also good enough to give you plenty of room to get the right exposure or play around with RAW files in post-processing.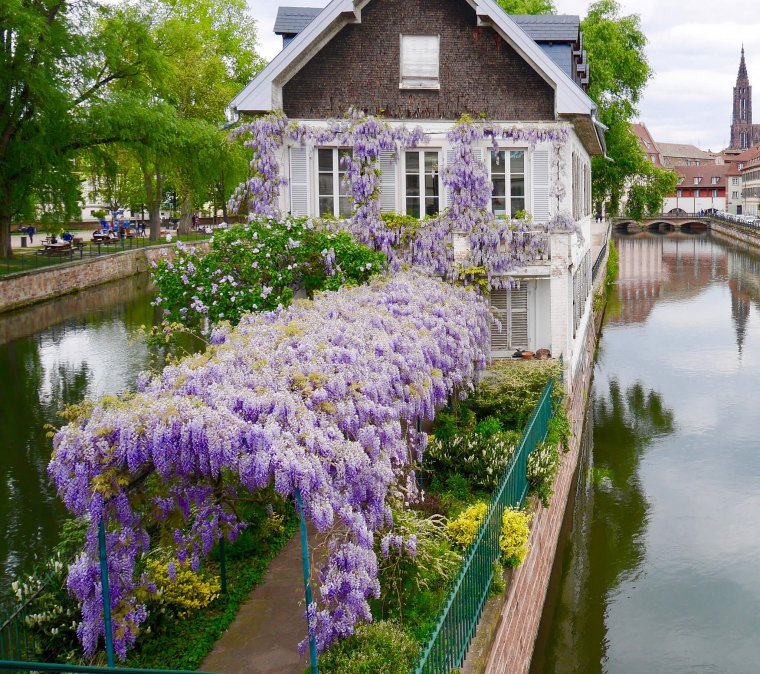 The GF7 also handles noise well and allows you to get very usable results up to an ISO of 3200, which is a very acceptable performance for a 4/3 sensor. It can actually compete with some entry-level DSLRs that come with larger APS-C sensors and that's really an achievement for this camera. If you want a little more resolution out of your JPEGs, you can use the Intelligent Resolution mode which tries to pronounce textures and edges even more than the traditional sharpening methods and it usually doesn't work badly at all. There's also an automated Intelligent Dynamic mode which tries to adjust the exposure in a way that will try to retain as much detail as possible in both highlights and shadows depending on the current scene. Lastly, if you like to play around with image filters and picture styles, you'll be happy to know that there's quite a lot of them available. You can either apply a Photo Style that will define the color in your images (Vivid, Natural, Monochrome, Scenery or Portrait) or one of the distinctive Filters (Expressive, Retro, Old Days, Sepia and so on). So, it's easy to conclude that the GF7 has enough power inside of it to be able to produce some stunning images, especially if you pair it with a high-quality lens.
Conclusion
Well, this was certainly an interesting journey and a discovery of yet another camera which has earned our highest recommendations and our praise. The Panasonic GF7 is a great deal if you're looking for an entry-level camera that has every feature necessary that will allow you to take great photos and videos with ease and also allow you to learn to become a better photographer at the same time. It may not come equipped with some features that will be appreciated by enthusiasts, but we never expected it to be and you really need to keep things in the right perspective when evaluating a camera that is made to compete at the low end of the market. If you managed to do that, you'll be able to see that the GF7 is a well-made and a good performing product that manages to cover all the necessary basics, resulting in a highly competitive camera that will certainly found its way in many people's pockets, bags or other compartments which would usually contain hold your camera and allow you to travel anywhere with it.
If you want to learn more about the best compact cameras, click here.
SaveSave
The following two tabs change content below.
An amateur photographer, songwriter, musician, computer and technology geek and an occasional comedian, I'm a little bit of everything. I always aim to pursue things I'm passonate about and try to look on the positive side of things whenever I can. My mission is to wrap my articles in that aura of positive energy and keep a healthy balance between being serious about my work and spicing things up with a little fun now and than. After all, life's a game and there's always a different way to play it.