Panasonic Lumix DC-GH4 Review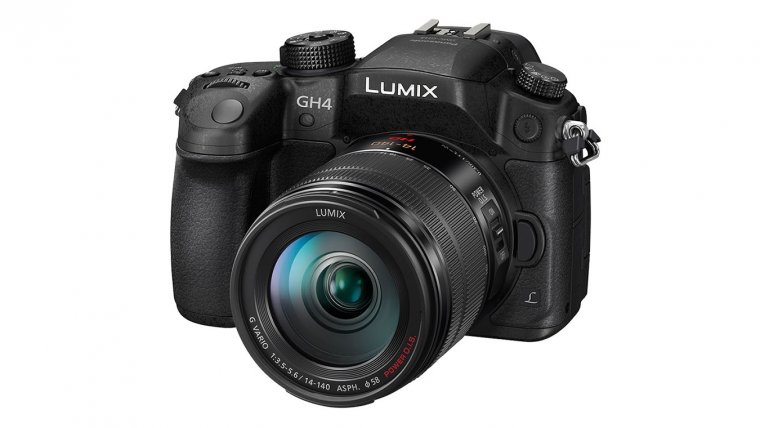 Panasonic Lumix DC-GH4 Review
www.sleeklens.com
For a long time now the more serious videographers out there had no choice but to invest a lot into getting large and bulky video cameras or less expensive and easier to handle camcorders that weren't nearly as capable as their bigger counterparts in terms of image quality and overall features. The trend was slowly changing when camera manufacturers started putting movie modes on their DSLR camera, but it even that was far from being an ideal solution for those users looking for a stable middle ground. This is where mirrorless cameras came into play, with Panasonic being one of the pioneers of creating products that were putting more focus on video recording than stills photography and they haven't strayed too far from that tradition even now in 2018.
While it's true that today's Micro Four Thirds sensors are quite capable of producing high-quality stills that could be used in professional work, they are still outshined in that regard by many APS-C and full frame sensors because of their bigger size and better light gathering capabilities. Interestingly enough, this isn't the case when it comes to video recording and this is the reason why so many Micro Four Thirds cameras have become very serious and powerful video production tools, but are still sold at very acceptable prices and could be purchased even by someone who just wants great video quality for their own personal use and doesn't plan to do any kind of professional work. Although Panasonic have already released their newer GH5 and the GH5s cameras, this time we are taking a look at their venerable predecessor, the Panasonic Lumix DC-GH4, since its drop in price has made it even more of an interesting purchase for those that want to save some money, but still need a very flexible product that will be able to deliver the goods.
The GH4 is certainly a camera that stood the test of time and is still the first choice for many videographers out there even to this day and there are many reasons why that's the case; great build quality, advanced control scheme, extensive video recording options, good stills and great video quality, fast performance, respectable battery life, very flexible mount that can accept a countless number of first party, third party and legacy lenses and so on. While its successor, the GH5, does improve on a lot of these things, it still doesn't bring enough to make the GH4 look like an outdated product without any value on the market.
As we are about to show you through our extensive review, it is still a very capable performer when it comes to professional video work and it certainly possesses all the right tools to allow you to do some high-quality work that will help you stand out from the crowd. First, let us see how its specifications hold up when compared to today's mirrorless cameras and can it still be considered one of Panasonic's flagship products.
The sensor built inside the Panasonic Lumix GH4 is a very familiar beast, being a 16-megapixel micro Four Thirds unit. While common among mirrorless cameras now, it used to be a real flagship sensor for the Four Thirds systems and for that reason it's still a capable one even in 2018.
Pros
Built-in WiFi
Articulating Screen
4K Max Video Resolution
Touch Screen
Electronic Built-in Viewfinder
Face Detection Focusing
Light Body
External Microphone Port
External Headphone Port
Environmental Sealing
Timelapse Recording
3D Shooting Capability
Flash Sync Port
Selfie Friendly LCD Screen
4K Photo
Post Focus Mode
Dual-axis Electronic Level
Remote control with a smartphone
Cons
No Image Stabilization
Poor Low Light Performance
Click to read the full Review
You shouldn't expect to be able to get photos that will compete with modern APS-C and full frame cameras in terms of high ISO performance or raw dynamic range, but for normal shooting conditions, the GH4 should do a fine job of producing enough details and colors that are pleasing to the eye. After all, not many people will be buying a camera of this type primarily for taking stills and it's quite obvious that Panasonic's priorities while creating it where all about producing a fairly priced powerful video recording tool rather than trying to compete on the photography front. It would be great if the said sensor was stabilized (as many of them are on today's mirrorless cameras) as it would greatly help for those of you that like to shoot handheld videos, but using an optically stabilized lens, a gimble or some type of a rig will solve that problem entirely and thus, we believe that not many users will be bothered by this too much.

The sensor itself is also powered by the Venus Engine IX quad-core processor which among other things brings notable improvements to noise reduction, gamma and diffraction corrections, HDR processing and more. The natively supported ISO range goes from 200 to 25600 (expandable to an ISO of 100), there are four aspect ratios to choose from (1:1, 4:3, 3:2 and 16:9) and five white balance presets and lastly, the available shutter speeds are ranging from very slow 60 fps to very fast 1/8000 sec (meaning you'll be able to take very dramatic long exposure shots while your camera is sitting on a tripod and also use fast lenses wide open even in bright sunlight without having to reach for something like an ND filter).

The aforementioned quad-core processor also enables the GH4 to shoot at an incredibly fast burst rate of 12 fps (incredibly fast for a camera not particularly focused on shooting sports and action that is) and the camera also includes a decently capable 49-point contrast AF system bearing Panasonic's trademark Depth from Defocus (DFD) technology. Considering its contrast-only nature we don't expect it to do wonders when it comes to subject tracking or continuous AF performance (this also applies to video recording), but it should do just fine for normal and less demanding shooting tasks. A lot of you will be using it only in manual focus mode, which isn't hard to do thanks to its numerus focus assist features and very impressive viewfinder and OLED screen units (the EVF itself brings a resolution of 2,359,000 dots and a 35mm equivalent magnification of 0.67, while the articulating screen on the back is 3 inches in size and also has a decent resolution of 1,036,000 dots). This means that no one should feel displeased with the shooting experience on the GH4 no matter if they prefer to use the viewfinder or the screen on the back, as Panasonic has certainly saved no expenses in making them as high-quality as possible. The same can be said about the camera body itself made from magnesium alloy materials and also environmentally sealed, the exact traits you would expect to find on a flagship mirrorless camera and also, the rich control scheme consisting of every button and dial you would want to have if you were a professional photographer or a videographer. We also like how the GH4 feels in the hand as it reminds us one of smaller DSLRs; lightweight enough to retain the benefits of being a part of the mirrorless design and substantial enough to allow for a nice and secure grip even when using bigger telephoto lenses).

There's also an abundance of different ports available including the headphone and microphone jacks and the standard USB 2.0 compatible and HDMI ports (capable of outputting very clean 10-bit 4K 4:2:2 signal) in addition to a very powerful built-in pop up flash with a range of 17 meters, a standard hotshoe port and the SD card slot, Wi-Fi chip with support for 802.11b/g/n standard, the Wi-Fi Direct technology and both the WPA and the WPA2 encryption standards, support for the optional DMW-RSL1 wired remote unit and lastly, the obligatory orientation sensor and the stereo microphones.

The only thing lacking here is the inclusion of dual SD card slots (which is something we're used seeing on professional cameras) and it's entirely up to you to decide about the importance of having that particular feature on your next camera (it's not any kind of a deal breaker in our opinion, but of course, yours may vary). Before we move on to the next category of this review and that's the one dedicated to examining the camera body, build quality, usability, handling and more, we will summarize all the important aspects of GH4's video recording capabilities and these are; 4K recording at 30 fps, 1080p at 60 fps and at 96 fps (using the special variable framerate mode), focus peaking, zebra patterns, color grading profiles, markers and guide lines, real-time sound monitoring and audio level control, time code display, black level control, luminance range adjustment and much more.

A lot of those options and features will only be known by the most dedicated videographers out there and their addition clearly shows how serious and bold Panasonic where when deciding to position the GH4 as a replacement for more bigger and expensive specialized video recording cameras and one that would cost you much less money and will allow you to adopt many different types of lenses.
Body and handling
From the very first moment you pick up the Panasonic Lumix GH4 and start shooting with it, you will immediately notice one thing: that it's a very solidly built camera well worthy of its once premium price point. It may not feel as heavy as most DSLRs, but it does have a perfectly ergonomic design allowing for a very secure and grippy hold (even if you've got larger than average hands) without hurting your hands form all its weight after you decide to use it the entire day. It's that perfect blend of holding something that feels very natural and familiar while also being a capable tool that will spark your creativity and give you as much control as possible over the way you're approaching your photography.
The addition of weather sealing is just icing on the cake and will really give you the confidence boost needed when deciding if you should be taking your new camera out during a light rain fall or on your summer vacation where there could be some potential danger of sand or dust tempering with your plans. We've already mentioned the impressive control scheme and port selection, but we should also point out the GH4's touchscreen as it's nearly as usable as all the available physical buttons and dials since it enables you to silently change all your important settings, do it quickly and with almost no lag, customize a lot of the user interface and also make necessary adjustment while shooting at less conventional angles like for example doing macro photography or self-portraits.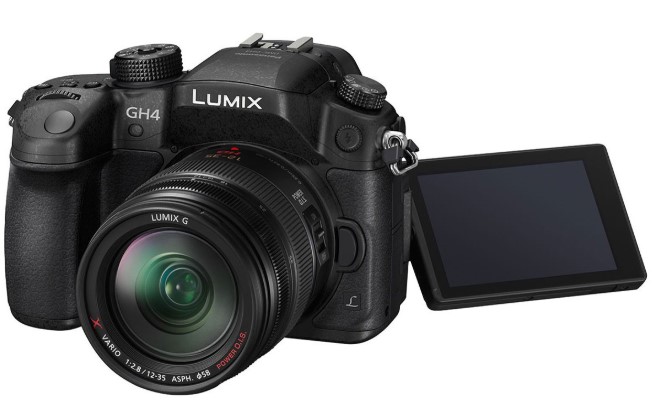 So, now that we've given you our impressions of using the GH4 in the real world, let us see what can really be found around its exterior. The front offers the self-timer indicator/AF assist lamp, the flash synchro socket, the lens release button and the NFC antenna (it will allow you to easily initiate a connection between the camera and the smart device of your choice). The right side of the GH4 holds the SD card slot, while the left side houses all the available ports (microphone and headphone jacks as well as the AV out/Digital and HDMI sockets. The tripod screw socket, battery compartment, unit connector interface and the battery grip connector can all be found at the bottom of the camera body.
The top of the camera is where you'll be able to find the Drive mode dial (used for turning on the Timer option or switching between single or burst shooting modes), the large pop-up flash unit accompanied by the button used to raise it up from its housing, stereo microphones, a hotshoe connector, the main mode dial with its locking mechanism and the power On/Off lever (also the three separate custom profiles), the WB, ISO, Exposure compensation and Fn1 buttons, the Wi-Fi activity indicator light and in the end, the shutter button and the front dial. Now, all that is left is to look what the back of the GH4 holds. Aside from the obvious things like the EVF (together with its diopter adjustment dial and the eye sensor) and the touchscreen there's also the Playback and the LVF/Fn5 buttons, AF/AE lock button and the AFS/AFC/MF lever that surrounds it, the motion picture button, Q.Menu/Fn2, Auto Focus Mode/Fn3 and the Disp buttons, the four-way control dial with the Menu/Set button in its center (the said dial can also be rotated) and lastly, the Delete/Cancel/Fn4 button. Now you'll finally come to realization to why we've already praised the GH4's control scheme without even singling out each and every part of it and there's no denying the fact that it's one of the best aspects and selling points of this camera. We believe that there are no advanced or professional users out there that wouldn't appreciate having so much control at their fingerprints, let alone having a touch-sensitive screen and all the necessary options to make them feel at home with their cameras and be as productive as possible with minimal side backs or distractions brought on by a convoluted menu system, hard to use controls or an unintuitive user interface.
Panasonic has certainly done a very good job of balancing their capable hardware with an appropriate software solution, since their user interface is quite straightforward and easy to navigate, but most importantly very flexible and full of settings that will allow you to set it up just the way you want it. The first interesting feature worth mentioning is the Quick menu consisting of all the most frequently used items and settings that most users would want to have quick access to at all times and you can easily bring it up just by pressing its dedicated button (it can also be rearranged and customized to user's liking and include items like the Photo Style, Metering Mode, Burst Rate, HDR, Flash mode and so on). The second one is the ability to switch between many different display information types which will give you the option to be as clean as possible or filled to the brim with different information like the histogram, the guidelines, exposure meter, tilt sensor readings and more.
The next thing on your to-do list should be the customization of all the available function buttons (including the virtual ones) and the rest of the controls that can be reprogrammed and those are all the Fn buttons (they consist out of five physical and five on-screen ones and can be set up to access a whole plethora of different functions like the Wi-Fi, Zoom Control, Aspect Ratio, Zebra pattern, Histogram and a lot more), as well as the rear and front control dials (you can choose which one will be used to adjust the aperture and which one will take control over the shutter speed). Lastly, there's the possibility to register three different sets of settings using the Custom modes located on the main mode dial, something that will be invaluable to those who often shoot in different conditions and using different equipment and don't have the time or the luxury to change their settings and make the necessary adjustments in danger of losing the moment and not getting that perfect shot.
While not directly related with what we've said above, we feel the need to talk about a few specific features that will enable you to get better image quality when dealing with specific conditions or shooting scenarios (or Image Correction Functions, how Panasonic likes to call them) and these are: i.Dynamic, i.Resolution, HDR, Long Shutter NR, Shading Compensation and Color Space. The i.Dynamic feature will help you get more balanced exposure in contrast in those conditions where there's a big difference in light intensity between your subject and the background; the i.Resolution will try to apply more sharpness to your images where the camera deems it necessary and thus make all of the captured details stand out more; HDR will combine three differently exposed photo in to one photo with much wider dynamic range; Long Shutter NR can be used to remove the noise that can appear while you're working with longer exposures and night photography; Shading Compensation should be very useful on those occasions where your live preview will be dimmer because of dark shooting conditions or smaller apertures since it will try to increase the brightness of the screen to allow you to see more of your scene and lastly, Color Space will allow you to choose the right color profiles depending on what you're planning to do with your photos (sRGB is best to be used if your images will be viewed on any kind of digital equipment, while the AdobeRGB will be perfect for any kind of printing since it offer better color accuracy than sRGB).
Now that we've covered most of the important aspects regarding the Panasonic Lumix GH4's software let us see how well it handles all the tasks related to wireless and wired communications, something that every modern camera is required to cope with without showing any particular weaknesses and without lacking any of the most important functions. Thanks to having a dedicated Wi-Fi button, connecting the GH4 to another wireless-enabled device will be a walk in a park to anyone who knows at least a little about the internet technologies as simply pressing it once will provide you with all the necessary information to establish a connection without much hassle. The use of NFC is also an option for those that own an Android-based tablet or a smartphone and will enable you to form a connection in a couple of steps less than the number that would be required when going with the more traditional route.
Once you've picked the connection method of your choice (do keep in mind that NFC can only be used with smartphones and tablets) the list of functions that you'll be able to benefit from will sorely depend on the type of the device the camera is connected to; pairing it with a smartphone will enable you to remotely control the GH4, transfer images to your smart device's memory, upload them to a web service of your choice or geotag them with the location data gathered by your smartphone (you will need to install the Panasonic Image App to gain access to those features) while connecting it to a TV or a printer will obviously allow you to view your photos on a big screen or print them without having to be physically near the printer. You will also be able to send images to your PC or a compatible AV device via the LUMIX CLUB service.
All in all, the truth of the matter is, Panasonic hasn't really left us with anything to complain about in terms of the GH4's design, user interface or the wireless capabilities and we can all agree on the fact that we are dealing with a serious piece of camera gear, no matter how much time has passed since it has arrived on the market and despite the fact that it has already been succeeded by a newer model.
Autofocus and performance
While having a camera with a 49-point contrast detect AF system doesn't sound like anything to be excited about in 2018 (in case of flagship products, of course) Panasonic has certainly managed to do everything they could back in 2014 to keep the GH4 as competitive as possible with today's modern cameras (even though we wouldn't compare it with the very best, considering its more focused on video production than on photography). Most of the good performance that the GH4 is able to provide in the more demanding conditions is thanks to its Depth from Defocus technology, something that Panasonic include on all of their top tier cameras.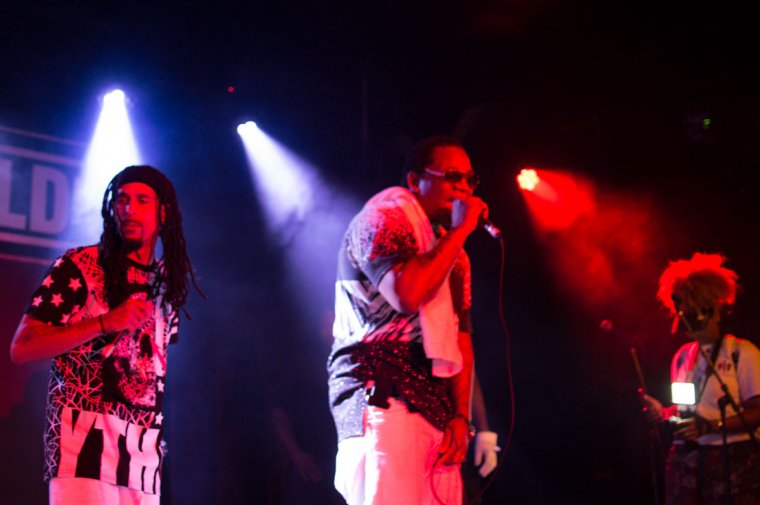 Night photo sample – Image courtesy of jessica garcia
So, what does it exactly do and how does it improve the overall focusing capabilities? Well, the said technology works by instantly measuring the distance between you and your subject by comparing two images with different depths of field and then feeding the processed data to the AF system, resulting in noticeably faster focus acquisition when compared to more traditional contrast detect based systems. It also brings faster continuous AF performance, something that both the sports photographers and videographers will appreciate, but in all honesty, we would still pick a camera with a phase detect or Hybrid AF systems for any kind of serious work that includes one or the other activity. That's not to say that the Panasonic GH4 can't be used for shooting fast action, it just won't give you as many keepers as some of the more powerful flagships on the market (although, in its defense, it doesn't cost nearly as much as those cameras, so it all depends on the type of budget you are working with).
Still, it is Panasonic's flagship camera from a couple of years and for that reason it comes packed with different focusing modes and features that will allow you to maximize the usefulness of the included 49-point contrast detect DFD system and it is time to go through most of them and give you a bigger picture of what you can really expect to get with the GH4 in this particular area.
Let's start with the main ones, as there are four of them: AFS (the best mode used for still subjects like shooting landscapes and architecture or doing any kind of product photography), AFF (this mode automatically refocuses if it detects any kind of movement in your frame, but otherwise acts the same as AFS), AFC (the more aggressive variation of the AFF option that constantly tries to keep a moving subject in focus and also predict its next position) and also the obligatory Manual Focus (MF) mode. The secondary focus consists of slightly more items and will help you even more in adapting to your particular focusing needs; in the Face/Eye Detection mode the camera will automatically detect your subject's face and eyes and try to keep them in focus, the Tracking option will follow a moving subject and adjust its exposure as it detects any changes in lighting and enabling the use of all the available focus points with the 49-Area mode will allow you to focus on those subjects that aren't located in the center of your frame.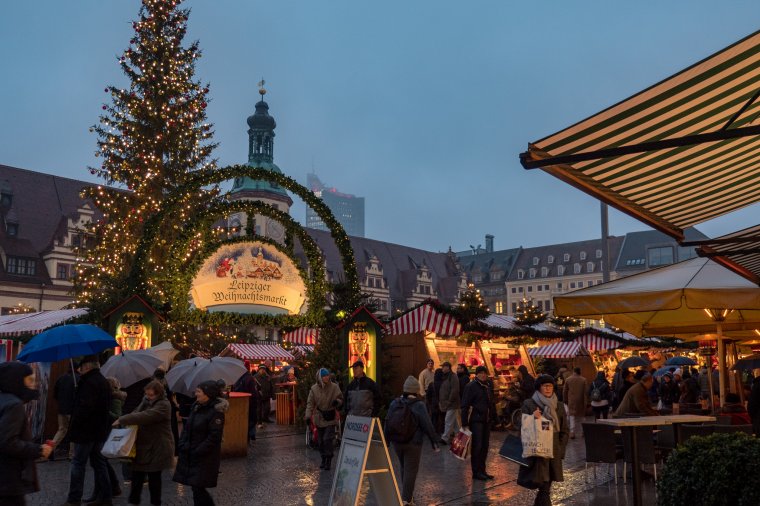 The are also modes like the Custom Multi (this will give you the option to create your own AF area and adjust it horizontally, vertically or using your own shape), 1-Area (best used for subjects in the center of your frame, also allowing you to change the position and the size of the AF area) and lastly, the Pinpoint mode (enables you to use an especially small and precise focus area that will be quite valuable if you shoot more tricky subjects like flowers or insects). Of course, focusing can also be easily done using the touchscreen, which is quite responsive and allows for very quick and precise changing of the AF area position and switching between all the available modes.
Considering the fact that the Panasonic GH4 is a modern mirrorless camera, it's no wonder that it also offers a plethora of tools to help you focus manually like the Focus Indicator, MF Assist (enlarging a portion of the screen), Peaking and the MF Guide. The GH4 will also allow you to manually focus those lenses without a focusing ring on their barrel (using the left and the right buttons on the navigation controller), change the size of the enlarged area enabled by the MF Assist feature, set the color of Focus Peaking and also its overall sensitivity.
Lastly, before moving to the portion of this review dedicated to video recording, let us tackle the GH4's burst shooting capabilities and also its battery life. It offers a very fast shooting speed of 12 fps, but its usefulness to you will depend on the fact of which image format you're planning to use; going with RAW will give you a burst of close to 40 images at full speed, while switching to JPEG will increase that value to as close many as 230 shots, which is of course a considerable improvement. Considering the fact that today's cameras often offer very good JPEG processing and plenty of options to tune the look of your photos without having to transfer them to another device, we believe that staying in the JPEG mode when your fast shooting needs arise shouldn't be an issue at all (unless you are working in very low light conditions and need all the flexibility brought on by the RAW format). There's also a special Continuous Super High Mode at an offer and it will allow you to take 120 4-megapixel JPEG images at an amazing speed of 120 fps (it's not something you will use every day, but still an interesting feature to have for those occasions where shooting speed will be your only priority).
Do keep in mind that all of our results were achieved using a fast UHS-II compatible card and that using a more standard option will give you shallower buffer depth while using the normal 12 fps burst mode, but on the positive side, your shooting speed won't be affected at all. The Panasonic Lumix GH4 also manages to hold its own against its competition when it comes to battery life since it does offer a CIPA standard rated endurance of 530 shots when its screen is in the use and 500 when the EVF comes into play. However, considering the fact that most of you will be buying the GH4 because of its advanced video capabilities, it would probably be wise to invest in an additional battery pack if you were planning to go all the way and work only with 4K footage as it will certainly hit the battery a lot harder than taking photos ever could.
Video features and quality
While it's true that the only reason you could have for buying the Panasonic GH4 is to get its excellent video quality at a very attractive price point, it is still a camera that will mostly be embraced by those videographers that tend to do professional work and know their way around the many advanced features included on this device, but not found on most of mirrorless cameras and DSLRs on the market (even at the time of writing this article and four years after the GH4's arrival).
You can certainly buy many products that offer things like 4K recording, headphone and microphone jacks, articulating touch screens, decent continuous AF performance, Focus peaking and a wide choice of different bit rates and resolutions to choose from, but the GH4 goes a step above that and includes many of those features that will only be familiar to those very professionals that would pick a camera like this one for keeping up with their demanding jobs (and also an abundance of those known by almost everyone, but still very useful in their own right). We are talking about Zebra patterns, Silent Operation (which allows you to operate the camera just by using its touch screen), audio level adjustment during recording, 10-bit 4:2:2 external recording, AF tracking, 96 fps slow-motion recording, log picture profiles (allowing you to color grade your footage in post processing and get the most image quality out of the sensor), 4K Photo Mode (allowing you to grab 8 megapixel stills frames from your videos and essentially getting a 30 fps burst rate), Synchro Scan feature (it will allow you to reduce flickering and horizontal stripes on images) and much more (including all the customization options we've mentioned earlier in the review since the movie mode also benefits from them as well).
There's only one thing lacking on this camera's extensive video-centric specs list and that is the in-body image stabilization. This is something that could only bother those on tighter budgets or set on using only legacy lenses but considering the fact that a lot of good native glass available for the micro 4/3 systems already feature optical image stabilization, this isn't as big of an issue as it may sound at first.
So, the GH4 certainly does bring enough features to satisfy the needs of everyone from casual video shooters and vloggers, to those that doing much bigger projects, but not interested in working with more expensive and bulkier dedicated video cameras.
Image quality
The Panasonic Lumix GH4 may not be on the top of the list as a next possible purchase for many photographers out there considering the fact that its sensor is far more capable at producing very impressive videos than photos, but it does handle most of the shooting scenarios pretty well. Pair it with a high-quality lens and you will have no problems getting sharp images in all lighting conditions aside from shooting in darkness or any kind of situations that will require you to use ISO values that go over 3200.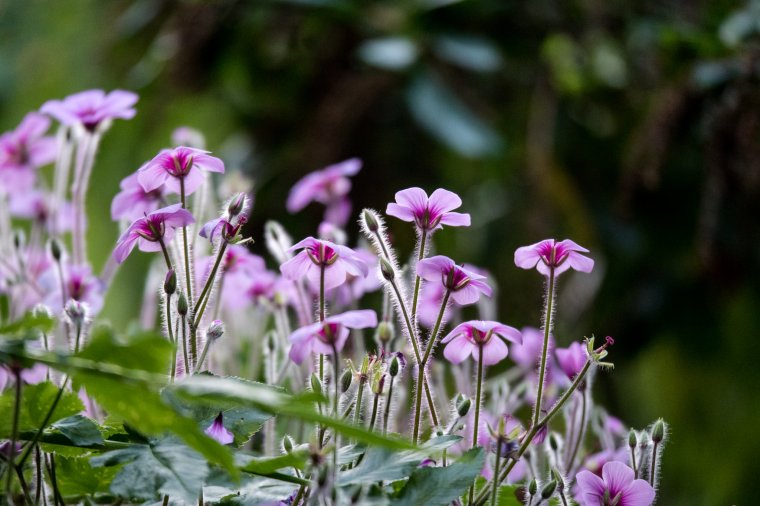 Landscape photographers will certainly appreciate the GH4's above average dynamic range as it will allow them to push those shadows quite far before they start to get unusable images and every user out there that will stick to only shooting JPEGs will be happy to know that Panasonic has managed to balance their image processing algorithms pretty well, leaving you with only slight traces of oversharpening in some images and a finely tuned noise reduction applied to higher ISO shots.
More adventurous users will also be happy to play with the included Photo Styles (Standard, Vivid, Natural, Monochrome, Scenery, Portrait, Custom and Cinelike), the ability to adjust things like Contrast, Sharpness, Noise Reduction, Saturation, Color Tone and Hue, as well as the four available Filter Effects (Yellow, Orange, Red and Green).
Conclusion
It's finally time to blend our experiences and findings with the Panasonic Lumix GH4's promised features and performance and see if it really is as impressive of a camera as most of the photography world portrays it to be and is it still worth buying over its successors, the GH5 and the GH5S.
Well, considering the fact that it's more affordable now than it ever was before and now fits inside a price range of a modern mid-range camera, it does remain present itself as a very interesting choice to those who want a capable 4K recording machine, but don't necessarily need all the latest features and aren't working in low light most of the time (since the GH5 and the GH5S produce noticeably better footage at higher ISO values). The GH4 is also a pretty capable stills camera when compared to the other micro 4/3 devices on the market and the reason for that is its great battery life, control scheme, build quality and shooting speed/performance.
So, deciding if the Panasonic GH4 is the right camera for you shouldn't be too hard if you know where your priorities lie and we hope that we've given you enough data to work with so you can make a confident and an educated decision about your next purchase. You can also try Pentax K50. But if you still can't decide, read here for more infos.
The following two tabs change content below.
An amateur photographer, songwriter, musician, computer and technology geek and an occasional comedian, I'm a little bit of everything. I always aim to pursue things I'm passonate about and try to look on the positive side of things whenever I can. My mission is to wrap my articles in that aura of positive energy and keep a healthy balance between being serious about my work and spicing things up with a little fun now and than. After all, life's a game and there's always a different way to play it.