Olympus Stylus 1 Review: A Mid-Point Between Mirrorless and Compact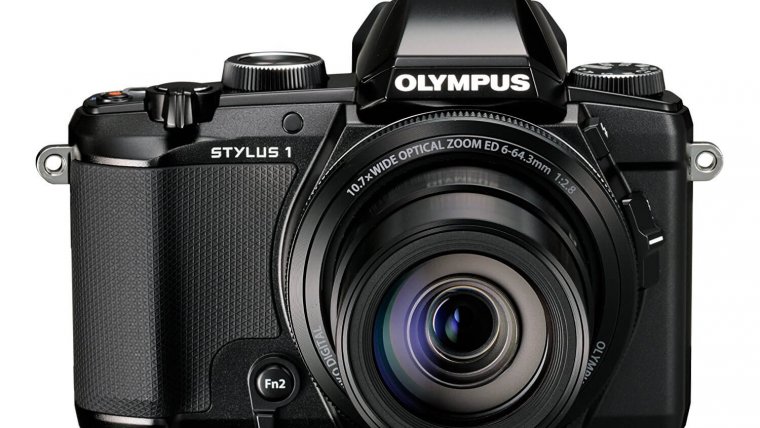 Olympus Stylus 1 Review: A Mid-Point Between Mirrorless and Compact
www.sleeklens.com
From time to time we get to review a unique and different product that stands apart from the rest of mirrorless, compact or DSLR cameras and today is that day. We're taking a look at a little gem from 2013, the Olympus Stylus 1. It's somewhat a hybrid camera, trying to combine mirrorless and compact camera into one package. It comes with a sensor that's larger than the one on your average compact camera, but also smaller than the 1-inch sensors found in more advanced compact cameras.
You do need to know that Olympus had a very good reason for choosing that exact sensor size; it gave the Stylus 1 its unique 10.7x zoom lens with a constant f2.8 aperture. It's in hand feat to put such a lens on a compact camera and gives you an immense amount of flexibility when taking pictures or recording videos. The Stylus 1 also sports a well-built body with an advanced regarding the scheme that relies both on a large number of physical controls and the input received from the touchscreen. The Stylus is a good example of how a premium bridge-style camera would look like if you scale it down in size and having something that portable and powerful at the same time is a very desirable thing. It all does come at a price that fits such a camera, and we have yet to see if it's really worth it. We have made a list of Top 8 Compact Cameras you can consider buying.
So, after we've awakened your curiosity and maybe peaked your interest, let us show you what you can expect to find on the Stylus 1 in the form of a summarized rundown of its main features.
Let's begin the interesting story about the Olympus Stylus 1 with its image sensor. It's a 12 megapixel 1/1.7 inch BSI-CMOS unit, so its size is somewhere in between the average and premium compact camera. While it doesn't come with a very high megapixel count, it should still have the ability to produce some nicely detailed photos because of its larger than average size.
Pros
Built-in WiFi
Image Stabilization
Articulating Screen
External Flash Shoe
FullHD Max Video Resolution
Touch Screen
Electronic Built-in Viewfinder
RAW Shooting
Face Detection Focusing
Long Battery Life
Manual Focusing
Manual Exposure
Cons
Low Resolution Sensor
Heavy Body
No Environmental Sealing
Poor Low Light Performance
Click to read the full Review
On top of it sits one of the main selling points of the Stylus 1, its lens. It's a 28-300 mm equivalent optically stabilized lens with an impressive constant maximum aperture of f2.8. It also has the ability to be collapsed while not in use and has a minimum focus distance of 5 cm. We can't wait to see how it performs in real world and to see how good its optical quality really is. Another great thing is that the Stylus 1 has a built in 3 stop ND filter, so you can tame your exposure even more precisely. The focusing system coupled with it is a 35-point contrast detect module which should give it respectable performance on almost all occasions, but we're not very optimistic when it comes to subject tracking.

The available shutter speeds range from 60 seconds to 1/2000 and the fastest burst rate mode you get can shoot at 7 fps, which is actually pretty good for this type of camera. There's also RAW support on board and you can select an ISO value as high as 12800. The body of Stylus 1 isn't made out of metal like you would expect from a compact camera at this price point, but the camera still manages to retain the high build quality thanks to the rugged plastic material being used. To satisfy your framing and viewing needs you can choose between the 3 inch tilting touchscreen with a resolution of 1,040,000 dots and the 1,440,000 dot electronic viewfinder with a magnification of 1.15x. The rest of the body contains a pop-up flash unit with a very fast sync speed of 1/500 sec, micro-HDMI port, Wi-Fi and the orientation sensor. Sadly, there is no headphone or microphone jack and it would be nice to see at least one of those ports. The reason for this could be that Olympus decided not to put a great deal of attention to the movie mode, since you only get 1080p 30 fps mode as your highest quality option and you need to drop the resolution down to 640x480 if you wish to shoot at a faster frame rate (in this case, 120 fps). So, despite some flaws here and there, the Olympus Stylus 1 seems like a capable advanced compact camera and we hope that our positive impressions won't go the other way as we begin to test the camera. As usual, let's start with its body.
Body and handling
The Olympus Stylus 1 surely looks like no other compact camera on the market. Its design is a blend of a mirrorless and compact camera and the result of that combination is more than positive. You get a camera that feels very comfortable in the hand and also offers a lot in terms of manual controls. It doesn't feel like it's cheaply made, it has quite a deep grip that allows you to hold on to it very securely and at 402 it's a little heavier than your average compact camera but at the same time it gives you that reassuring feeling that you're holding something that is a serious photography tool. One of the main topics that surround the Stylus 1 is controlled, and it's quite obvious that Olympus has put a lot of work to make this camera as attractive as possible to advanced users and beginners alike. Different buttons, switches, and dials are scattered all around the camera, but none of them feels uncomfortable to use or hard to reach. Some of them are made out of metal, which is certainly a nice touch.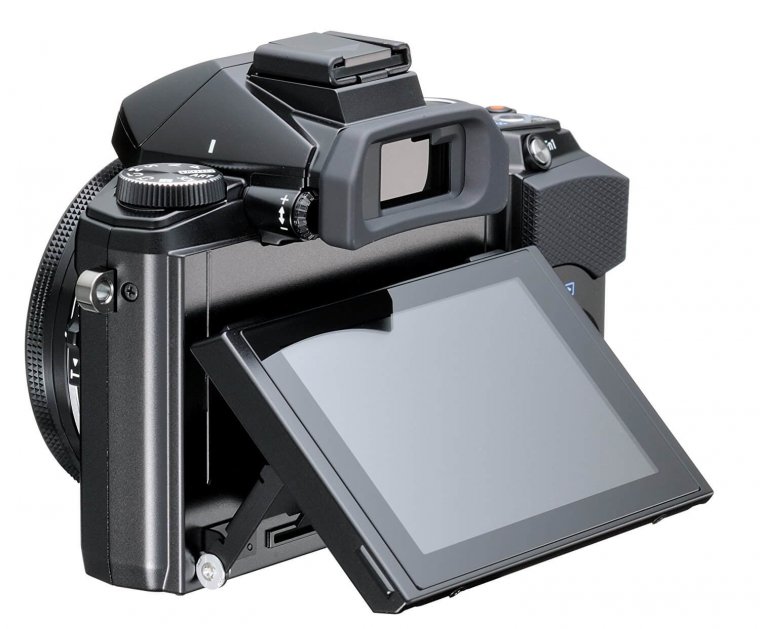 Let's look at that promised advanced control scheme and the rest of the body features into little more detail and see what they bring to the table. On the front, we find the focus assist light, the Fn 2 button with a little lever on it, a switch that releases the pop-up flash, a zoom control lever and a control ring that sits at the end of the lens. The left side of the camera is completely clean, while the right side holds all the available ports. The battery and the SD card chamber are on the bottom. At the top, we find the main mode dial with two custom shooting modes, a hotshot sitting on top of the viewfinder compartment and two stereo microphones, a sub dial which is used to adjust the aperture in Manual shooting mode, shutter button with a zoom lever and lastly, the On/Off and Movie buttons. Olympus has made a really interesting approach when it comes to controlling the zoom on the lens by giving users three ways to operate it; either with a lever on the front of the camera which can operate at different speed, via the control ring found on the lens and by using the lever on the shutter button. This brings us to the back of the camera. Here we find the tilting touchscreen, the EVF, and a button to enable or disable the feature to automatically switch to the viewfinder when you put the camera to your eye, diopter adjustment dial, the Fn1, Playback, Menu and Info buttons as well as the main navigation controller with a few secondary functions of its own (Exposure compensation, Drive/Timer, Flash settings and Home, which selects the AF target position you've previously chosen and saved in the camera's memory). Well, we can only say that we're impressed with a number of physical controls that Olympus has managed to put on the Stylus 1; it really feels a lot more like a DSLR regarding usability than the compact camera.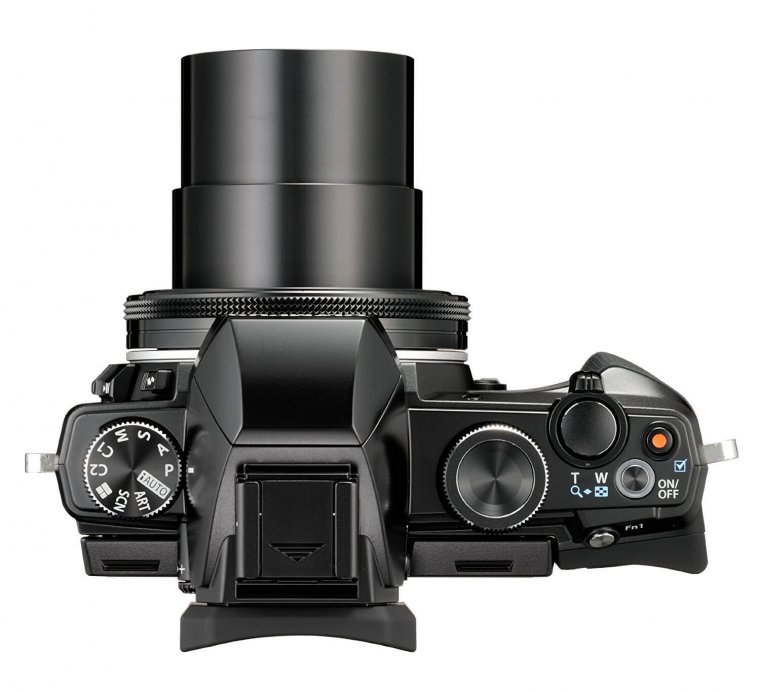 The user interface on the Stylus is intuitive and easy to use, no matter if you decide to navigate by using the buttons or the touchscreen. You can even change which items and information appears on your screen while you're composing a picture or recording a video. Now, on to the topic of customization, because there's really one of the most important aspects of the Stylus 1. The first thing you'll notice is the inclusion of two custom shooting modes (C1 and C2). They allow you to easily save all of your current settings in just a few easy steps, thus giving you the option to have two separate shooting modes that you can always go back to when the need arises. When it comes to button customization, you can change the function of five of them: Fn1, Fn2, Movie, right and down buttons. All of them can hold the same functions, and some of the most important ones are the ISO, ND Filter setting, IS Mode, WB, Metering and AF Mode. Then there's the little lever that sits around the Fn2 button. By default, it can be used to turn the control ring on the lens into a manual focus ring, but you can also set it up to make the lens control ring act as a zoom ring. The last thing that rounds up the whole experience of operating the Stylus one is the super control panel which can be accessed by pressing the Ok button. It allows you to quickly change 17 different settings, like the ISO, White Balance, Aspect Ratio, Picture mode and so on.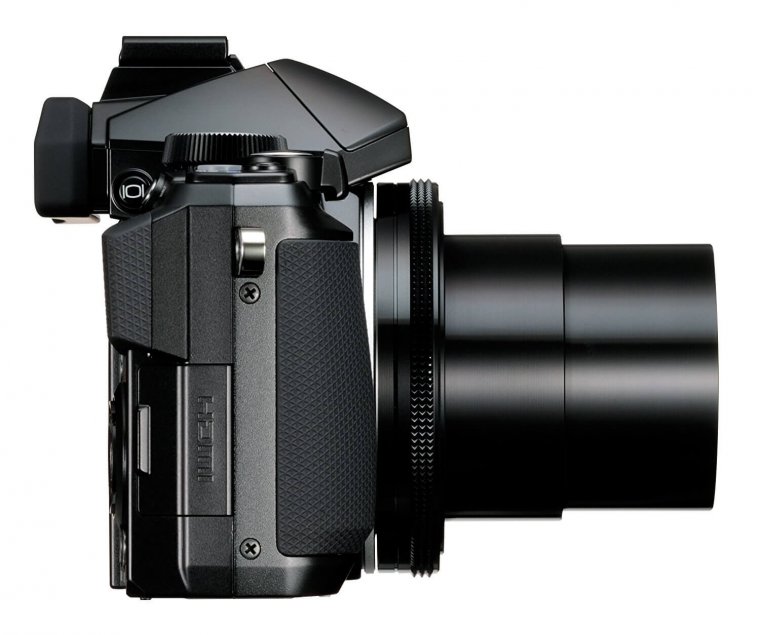 Before we end this section of the review and move on to assessing the camera's performance, let's say a word or two about Wi-Fi features of the Stylus 1. There are no fancy features here as most of the functionality revolves around transferring images or videos to your smartphone or remotely controlling the camera. Do keep in mind that you'll need to download the Olympus Image Share application to access that functionality. It's neat that you get the option to connect to your smartphone simply by scanning a QR code that the camera will provide, which is a really quick way of establishing the connection between the two. What's most impressive about the Stylus is the flexibility you can when it's remotely controlled. Most of the compact cameras out there only give you basic functionality like focusing or changing the focal length, but Olympus decided to go one step further and also included full manual control of exposure, allowing you to adjust shutter speed, ISO, aperture and exposure compensation. All in all, we are very pleased with how the Stylus 1 feels when in use and how much control is given at your disposal. It's rare to see a compact camera that performs this well, doesn't have any flaws at all and makes no compromises.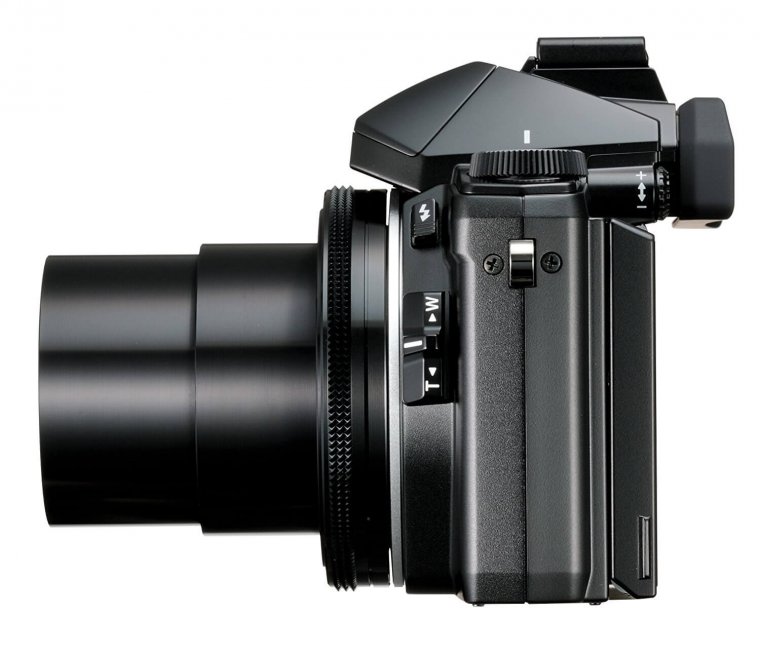 Autofocus and performance
Despite not being the newest camera on the market, we are happy to report that it performs very well when it comes to focusing. The 35-point contrast detects system certainly holds its own in all but the most extreme conditions. It managed to achieve focus in around 0.3 seconds most of the time, and the performance remained roughly the both at the widest angle and the far end of the zoom range, which is something that can't be said for most of the compact cameras out there. Subject tracking performance was also decent, but nothing special or game changing. We expected this kind of performance since it's a well-known fact that regular contrast detects systems don't perform as good when it comes to moving subject as phase detect ones do. Regarding different focusing area modes, you can choose the Single target (small or normal), Group target (9-areas) or All target that uses all of the 35 focus points. The main focusing modes are your standard affair (Single AF, Continuous AF, AF Tracking, Face Detection AF and Manual), except for the Super Macro Mode which locks the zoom and prevents flash use but gives you the ability to focus as close as 5 cm. Focusing manually is also a pleasure with the Stylus 1 since you are given a decently smooth and precise focusing ring as well as the ability to enlarge your focusing area or turn on focus peaking to achieve precise focus. You can also take a look at the distance scale that will be shown on your screen when you're in manual focus mode if you want even more information about the current focus distance you are currently at.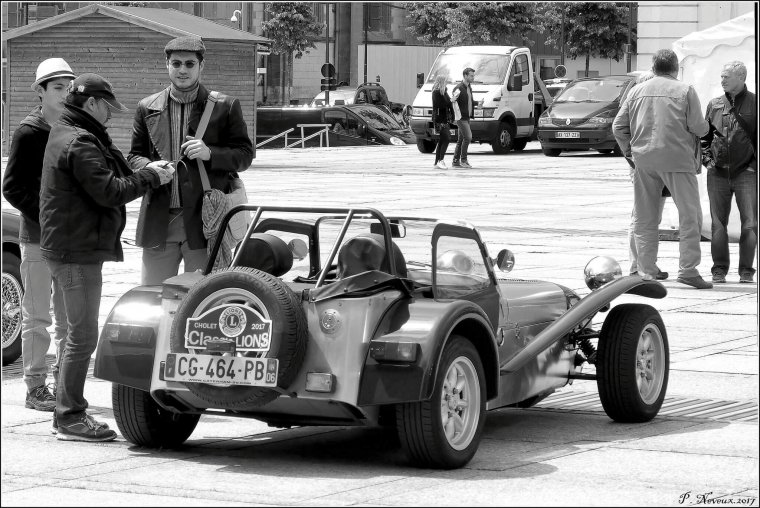 Photo courtesy of Philippe Neveux
The Stylus 1 also performed admirably in general things like when it's being powered on, shot to shot times and buffer clearing times; everything went super-fast, and the overall performance is very satisfying. It only took around 1.3 seconds for it to power on and took the picture and around 0.5 seconds to take the next one, which puts the Stylus 1 right up there with the best performers on the compact camera market. Another thing that serves as a showcase of its power is its burst rate. No matter if you're shooting JPEGs or in RAW the promised 7 fps remained consistent, only slowing down to around 3.4 when the buffer fills up after taking RAW pictures. Buffer size was also excellent as you're allowed to take around 40 JPEG photos and 32 RAW files before the buffer fills up. Another impressive fact is that it only took around 3 seconds for the buffer to empty itself after a full burst of JPEG images and around 7 seconds for RAW files. You will need a very fast SD card to achieve this kind of results, but it still doesn't change the fact that the Olympus Stylus 1 is one of the best performing compact cameras we've ever tested. At 410 shots per charge, battery life is also above average for its class and the type of the camera. You can easily take the Stylus 1 with you for an entire day of shooting without worrying that the power will run out. We'll we have to say that our good impressions of this camera certainly continued with its performance and everything that dictates how good it is. No matter what we've tested, the Olympus 1 passed it with flying colors and really showed us that even a compact camera could exhibit the kind of performance you would expect from a larger or more expensive device.
Video features and quality
After we've taken a look at some of Stylus 1's strengths, it's time to take a look at something that isn't so positive, and that's video recording. It's clear that not much effort has gone into making it more than your average point and shoot camera that you will only use to record footage that will stay in your personal collection or more casual videos. This is because the video mode itself is pretty basic. The best mode to shoot in is your standard 1080p 30 fps mode, and if you wish to get any kind of faster frame rate of more smoother footage, you will have to drop the resolution down all the way to 640×480 (for 120 fps) or 320×240 (for 240 fps mode). There's nothing in between in that, meaning there's not any kind of 60 fps mode. Also, manual exposure control is almost nonexistent while recording, as the only parameter you can change is the exposure compensation. Luckily, not everything is this unremarkable. You do get wind filter for the stereo microphones, focus peaking and the ability to apply different Art Filters and change them in real time.
The image stabilization is also quite effective in compensating for the handshake, and the control you are given over the way you want to zoom in and out is very helpful for video recording, meaning you can really change the focal length very smoothly. Continuous AF is also available, and it performed averagely good in our tests, which is in line with what you'd expect from a contrast detect AF. Focus peaking and Touch AF really help in this regard and make focusing on the Style an enjoyable thing to do. The quality of recorded videos isn't bad at all, but still, nothing out of this world or even comparable to those cameras that can record 4K footage. When you also take into account the fact that you can't record high-quality audio since there's no microphone jack on board, it's clear that Olympus intended for the Stylus to have the movie mode only for those occasions where you really need to record something and for no professional use whatsoever.
Image quality
This brings us to the thing we were most curious about regarding Olympus Stylus 1, how does its image quality stack up to the competition. We are already aware that you can get a compact camera with a larger 1-inch sensor for the same price, but none of them comes with such an impressive lens. The lens itself shows good image quality wide open and at all focal lengths and gets very sharp when you stop it down to f5.6. There's also a 2x digital zoom available if you need the extra reach and while it does noticeably reduce the quality of the photos, it's still one of the better implementations of digital zoom we've seen on a compact camera.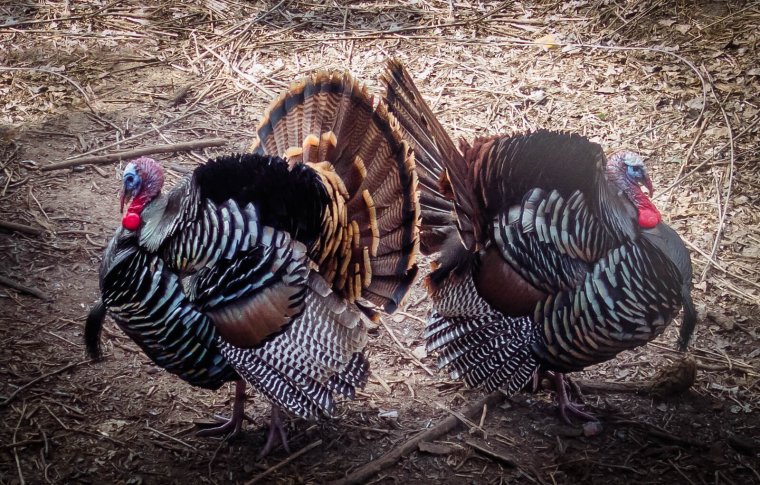 The overall image quality is pretty good. Photos have a nice amount of details and show no noticeable noise at low ISO values; colors are pleasant and accurate and dynamic range is pretty decent. When it comes to shooting in low light, you can get usable images up to an ISO of 1600, which perfectly goes in line with the sensor size we're dealing with. Naturally, you can even get away with an ISO of 3200 if you're shooting in RAW and you know your way around post processing. The great thing about the Stylus 1 is that you'll rarely need to select a very high ISO value to get your shot, because of the bright maximum aperture and effective image stabilization. There's no denying that the picture quality isn't on the same level as with the cameras that come with bigger 1 inch sensors, but that doesn't change the fact that the sensor and the lens combo you get with the Stylus 1 is great, versatile and perfectly capable of capturing good quality images in almost all conditions.
Conclusion
So, we can all conclude that the Olympus Stylus 1 is in many ways a unique camera that easily stands out from the crowd. It has a distinctive body with good build quality and great color scheme and also one that handles like a mirrorless, rather than the compact camera. You also get a lot of flexibility when shooting, with a tilting touchscreen, high-resolution EVF and also the ability to customize the behavior of a decent number of buttons and available features. Then there's the capable AF system, excellent performance during use, very useful burst rate and above average battery life.
The only thing that can be left to debate is if the reduction in sensor size over the competition is worth it to get such a versatile lens. Well, we believe that it is. You certainly won't find a camera in this form factor with a larger than average sensor and such a bright and long lens anywhere else and we are certain that a lot of people would look to have such a device in their hands. So, the answer is simple; if you need the zoom range and a lot of flexibility in terms of physical controls, go for the Stylus 1, if you don't, then get a camera with a larger sensor. It's up to you to decide. And if you're into compact camera, and you're looking with the best point and shoot one, click here to know more.
The following two tabs change content below.
An amateur photographer, songwriter, musician, computer and technology geek and an occasional comedian, I'm a little bit of everything. I always aim to pursue things I'm passonate about and try to look on the positive side of things whenever I can. My mission is to wrap my articles in that aura of positive energy and keep a healthy balance between being serious about my work and spicing things up with a little fun now and than. After all, life's a game and there's always a different way to play it.