Nikon D3400 Review: A Technology Upgrade for a Beginners' Camera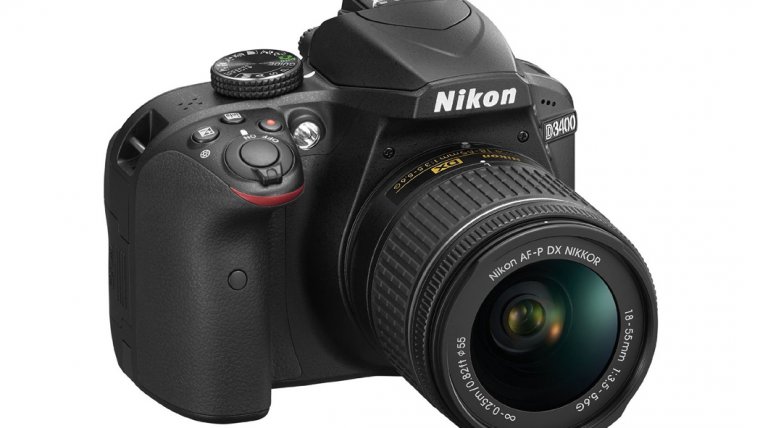 Nikon D3400 Review: A Technology Upgrade for a Beginners' Camera
www.sleeklens.com
Mirrorless cameras may slowly be overtaking the DSLRs, especially on the entry-level market, but that still doesn't mean that there's no place for them and that they've lost the fight. There are a lot of people out there that still prefer the handling of a DSLR over a mirrorless camera and its often-smaller grip and less substantial feel in the hand.
Today, we have one of the Nikon's least expensive DSLRs to review, the D3400. Right off the bat, it doesn't look like a big upgrade over its predecessor and that's because it isn't. It's simply a refinement of an already well-established camera and we're ok with that. It still features a very capable image sensor, a body that doesn't feel cheap, but it's still pretty small for a DSLR and enough features that will satisfy all the new photographers who are still honing their skills and are just looking for a camera that will work well out of the box and at the same time let them take decent pictures and also video.
Since it's obvious that D3300 users have no real reason to upgrade to the newer camera, instead of comparing the two we'll take a look at the D3400 as a standalone camera and from the perspective of a buyer that has yet to own a DSLR.
First things first, let's start with the sensor. As many other Nikon DLSRs, the D3400 also the 24.2-megapixel APS-C sensor coupled with the EXSPEED 4 processor.
Pros
Bluetooth Connectivity
1080p Max Video Resolution
Light Body
Long Camera Life
Remote control with a smartphone
Panorama Shooting
Cons
No WiFi
No Weather-Sealing
No Image Stabilization
No Articulating Screen
No Touch Screen
Click to read the full Review
While we may have an entry-level camera at our hands, it still has a sensor that's capable of taking some great looking photos in all lighting conditions, a trait that is very desirable to see on such a camera. It also has the ability to shoot at ISO values ranging from 100 to 12800 (expandable to 25600).

The AF system built into the D3400 is an 11-point phase detect system with a one cross-type focus point. We can already conclude that this camera isn't catered to sports and action photographers, but rather for those that need fast and accurate autofocus for casual shooting and learning, which makes perfect sense at its price point. What is great, is the 5 fps burst speed and you really couldn't ask for anything better than that in an entry-level DSLR. The viewfinder and the screen also fit on a camera of this type as you'll get a 3 inch 912,000 dot fixed LCD screen and a pentamirror optical viewfinder with a magnification of 0.85x and a 95% accuracy. While on the topic of its body, let's explore some of its major features. First, there's the integrated flash unit with a maximum range of 7 meters, a mini-HDMI and a USB ports and the option to remotely control the camera via the cable connection.

Unfortunately, there's no Wi-Fi on board as Nikon have thought of a more unique way of giving the camera similar capabilities, but with power saving in mind. This is why they decided to include Bluetooth LE 4.0 instead of Wi-Fi and also equip the camera with their new SnapBridge software. We'll take a more in-depth look at all of this in the next section of this review. Lastly, when it comes to video recording, the D3400 has the ability to record 1080p videos at a respectable frame rate of 60 fps, something that is rare to find on entry-level cameras. One strange decision that Nikon has made was to remove the microphone jack that existed on the D3300, probably to keep the costs down and because not many people have used it at all.

So, besides that, the D3400 still looks like a well-equipped entry-level DSLR that has enough to offer to become a good purchase for newcomers and maybe even more advanced users looking for a backup camera. First, let's see how it handles the everyday use and how its body holds up.
Body and handling
Although it's not made out of any special quality materials, in the hand, the D3400 still feels like a well-made best DSLR camera that you won't have to worry about damaging from normal use or from an occasional drop. It's also quite comfortable to hold and to use, but like on many other DSLRs of its size we wish it had a grip that's a little deeper. Still, most people should have no problems with the D3400 and will enjoy using it. While it doesn't feature as many physical controls as more advanced and professional cameras like Nikon D7500, it does have enough of those to satisfy your average user and all of them are arranged in a traditional manner that fits any other Nikon DSLR. All the buttons and dials also don't feel cheap in any way and have a nice and tactile feel to them.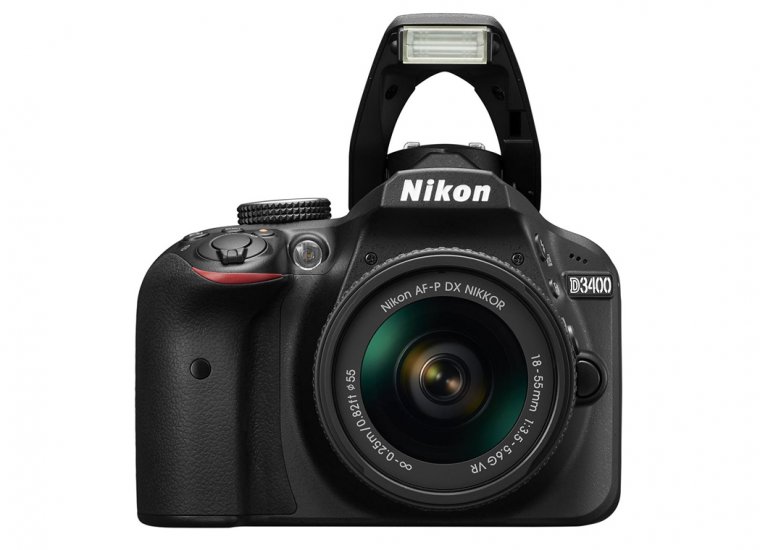 So, as always, let's take a little tour around a camera to get more familiar with it before we begin to dig a little deeper into its core essence. Let's start with the front. There's not much to see here save for the lens mount release button and the focus assists light. The same can be said about the sides of the camera which only hold the flaps which protect all the ports and the SD card compartment. Looking at the top, of course, reveals a different story. Here we find the flash unit and a hotshoe sitting right above it as well as the main mode dial, shutter button with a power on lever on it and direct record, Exposure compensation and info buttons. The main mode dial itself is a little different than the one you'd find on a more advanced DSLR, meaning that instead of having some custom modes added to in it has a couple of scene buttons that bring up a set of optimized settings for each mode. These scene modes are Portrait, Landscape, Child, Sports, Close up and Night portrait. We applaud Nikon for including those modes because they will surely help the beginners to learn and get the feel for different exposure settings and how they affect their images. Lastly, let's see what the back of the camera holds. The left side features five buttons; Playback, Menu, Zoom in, Zoom out and the "i" button. The "i" button is used to access a special menu with twelve different predefined settings and these are: White balance, Image quality, Image size, Active D-Lighting, Flash mode, ISO, Exposure compensation, Flash compensation, Set Picture Control, Metering, AF-Area mode and Focus mode. This is really a neat way of solving the problem of a rather small number of physical controls that plagues many entry-level cameras. Moving on to the right of the camera we find the AE-L/AF-L button, main exposure dial, Live view, Delete and Drive/Timer buttons as well as the 8-way navigation controller.
So, the D3400 certainly follows in the footsteps of its predecessors when it comes to its body and controls, which is hardly a surprise considering it is an entry-level DSLR. Let's see what some of its buttons do and how well the user interface holds up. The first button that many will find useful is the info button which brings up a screen with all of your current exposure settings and the mode you are currently in. Because it lacks the information LCD of the more advanced DSLRs this is a great alternative for it as it gives you the same quick glance of all your most important settings, but of course at a little more expense to battery life. The Guide feature is also an interesting one and it can be accessed via the main mode dial. What it does is that it gives you a simplified graphical menu which allows you to carefully choose what you want to do with your camera and learn of its capabilities through the entire process. Since the D3400 is a camera that many beginners in photography will purchase, it's great to see Nikon finding a way of making the whole process of starting to use a DSLR camera much easier for those users. Another thing that found on the main mode dial that will be of interest to many users it the Special Effects setting. It allows you to access to ten different filters and effects and these are Night Vision, Miniature Effect, Super Vivid, Selective Color, Pop, Silhouette, Photo Illustration, Toy Camera Effect, Low Key and High Key modes. Some of them aren't very exciting, but some like Night Vision mode that allows you to take monochrome images at High ISOs to allow you to see better in the dark or the Miniature Effect is quite fun and we're sure that many users will enjoy them as well. When it comes to the user interface on the D3400, it's your classic Nikon affair, meaning it's very well thought out and all the settings and features are easy to find and aren't buried deep in the menus or put in a non-logical order like on some other cameras. We also like how Nikon made a graphical representation of aperture and shutter speed settings to make new users easier to understand the correlation between the two and allow them to see how they affect their exposure and the amount of light reaching the sensor.
The last thing we are left to talk about is the wireless capabilities on the D3400. Now, we've already mentioned that it lacks Wi-Fi connectivity and replaces it with Bluetooth LE, but the question on everyone's mind is how this change in communication technology affects all the functionality we usually get with Wi-Fi. The first thing to know is that you need to pair your camera with your smart device by using the new SnapBridge application. All the basic functionality like backing up your photos remains unchanged, except for the fact that you can't transfer full resolution images in any way and instead you'll have to deal with lower resolution photos. The benefit to this is that you can send those to your phone the moment you take them, so they are immediately ready to be quickly posted on the social network of your choice. You also gain access to Nikon's cloud storage called Image Space, if you wish to back up your content that way. There's also no way to wirelessly remotely control the D3400, a functionality that can only be done by using Wi-Fi. We do understand Nikon's decision to replace Wi-Fi with Bluetooth because of significantly less power drain, but the speed limitations that Bluetooth still has kind of defeat the whole purpose of having a DSLR that takes high-resolution images if you can only back up smaller resolution files which you can take with your phone anyway. Still, despite that, we are quite pleased with all the things the D3400 has to offer at its price point and it certainly doesn't leave a lot to be desired for an entry level camera. Let's see if that also applies to its performance.
Autofocus and performance
No changes were made to the AF system in D3400 as it sports the same 11-point phase detect system found in its predecessor. We won't try to sugar-coat it, it's not the most advanced AF system you'll find on a camera in 2017, but it still doesn't mean that it's unusable; actually, it's far from it. In normal shooting conditions and when shooting through the viewfinder, you'll get acceptably fast performance both in good and lower light conditions.
For subject tracking purposes, Nikon included their trademark 3D-tracking mode, which exhibits an ok performance, but nothing groundbreaking due to the limited amount of focus points. There are also some more traditional focus modes available like Single-point AF, Dynamic-area AF and Auto-area AF, so the D3400 doesn't disappoint when it comes to all the available modes and features. The AF in live view is naturally slower because that's where the contrast AF system kicks in, but you can get some decent performance out of it if you decide to use the new AF-P 18-55 kit lens that usually comes with the camera itself. Aside from being quieter than the traditional kit lens it also almost doubles the speed of focusing in live view, so if shooting in live view you is your thing than you should definitely check it out.
When it comes to the performance while using the camera for general things like powering it on or going through the menus we really have no complaints. The D3400 handles those things with ease and it never felt like it struggles to do any of them. The 5 fps burst rate may be the same as on its predecessor, but it's still more than enough for this type of camera. Buffer depth is excellent if you're shooting JPEGs as you get around 100 shots before it fills up, but only average for RAW shooting when it drops to around 12 files at best. While it may not sound like a very impressive performance it's an improvement over the buffer size on the D3300.
One thing which received a major improvement is battery life. Rated at 1200 shots, it's a very impressive performance for any camera, let alone a lower tier DSLR. It's also a very useful performance for the types of users it's targeted at since there's a high probability that the majority of them won't ever think of investing in backup battery and giving them excellent endurance right from the start is a great idea indeed. All in all, we are very happy the performance the Nikon D3400 gave us as it turned out to be quite usable little DSLR in all use case scenarios.
Video features and quality
The D3400 is certainly not a camera you wouldn't pick specifically for recording videos it still offers enough in both functionality and quality to satisfy the average user. First, it offers something rarely found on an entry-level camera and that's 1080p video recording at a native frame rate of 60 fps. That gives you a noticeably smoother footage than the traditional 30 fps mode and also gives you some room to play around with slow-motion videos. There are no advanced features like focus peaking or zebras on board, but you do get full manual exposure control during recording with the only limit being that you can only change the aperture when you're out of live view and not during recording.
Despite the lack of the microphone jack, you get a decent pair of stereo microphones and the ability to manually adjust audio levels. There's also continuous AF available for video, but its performance is very good and you can only get some kind of acceptable footage when using the new AF-P type of lens which improves the live view AF performance dramatically. The quality of recorded videos with the D3400 is actually pretty good in both good and low light and you shouldn't be displeased with it in any way. It's still not as good on some more advanced cameras or those offering 4K recording, but it's still a respectable showing for the D3400 despite that fact.
Image quality
We've finally reached the topic of image quality and we can surely say that it's one of the main selling points of the D3400. We never knew we would be able to say such a thing for an entry-level camera, but there it is. Nikon has really stepped up their game in terms of image sensors and the one in the D3400 is almost as capable as the ones found in their higher tier cameras. It won't give images that are as sharp as some other Nikon DSLRs that are lacking the optical pass filter, but it still has plenty enough resolution to produce some really nice and detailed photos. Where it really shines is on those occasions where good dynamic range and noise performance are necessary.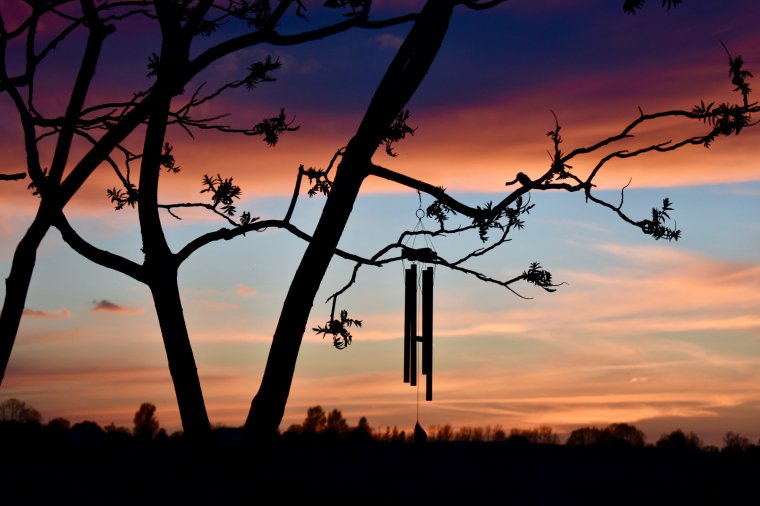 Photo courtesy of Howard Vrankin
You really get a lot of room to adjust your exposure in post processing with a minimal loss in image quality and you can easily get very usable images up until an ISO of 3200. Even the ISO of 6400 doesn't look too bad, but it will require a little more work on your behalf in post processing. Overall, it's quite a good performance for an APS-C camera, let alone a one that doesn't cost too much and is accessible to a lot of people. If you decide to stick with JPEG mode while you're learning your way around the camera or just for the sake of convenience, then you should be happy to know that Nikon also includes a few different color modes that are optimized for taking different types of photos. These are the Standard, Neutral, Vivid, Monochrome, Portrait, Landscape and Flat modes. So, there's enough variety for you to play around with.
Conclusion
These are really some exciting times to be a photographer since we've reached the point where getting an entry-level DSLR doesn't necessarily mean you are sacrificing too much in terms of features or image quality. While these types of cameras don't always sport the most advanced and the newest types of technology in them, they are still well thought out and still able to take some nice-looking images and video and the same can be said about the D3400.
It may be an entry-level DSLR and thus not offering as much expansion and physical controls as some more advanced cameras and also not having the best autofocus performance, but it still manages to impress in a lot of ways, especially when you take into account its price. It offers a nicely built body, fast autofocus performance in normal usage scenarios and a very good performance overall, a very respectable burst rate of 5 fps, outstanding battery life, a nice movie mode with fast frame rate of 60 fps, excellent image quality and class-leading dynamic range and noise performance as well as some interesting technology in regards to wireless communication and Nikon's SnapBridge application.
So, if you're on the lookout for a DSLR that is simple to use, has all the necessary features for you to be able to take decent looking photos and videos and at the same time allows you to learn your way around using a DSLR without breaking the bank, then the D3400 is certainly a very good choice and you really can't go wrong with it.
The following two tabs change content below.
An amateur photographer, songwriter, musician, computer and technology geek and an occasional comedian, I'm a little bit of everything. I always aim to pursue things I'm passonate about and try to look on the positive side of things whenever I can. My mission is to wrap my articles in that aura of positive energy and keep a healthy balance between being serious about my work and spicing things up with a little fun now and than. After all, life's a game and there's always a different way to play it.