Nikon Coolpix P1000 Review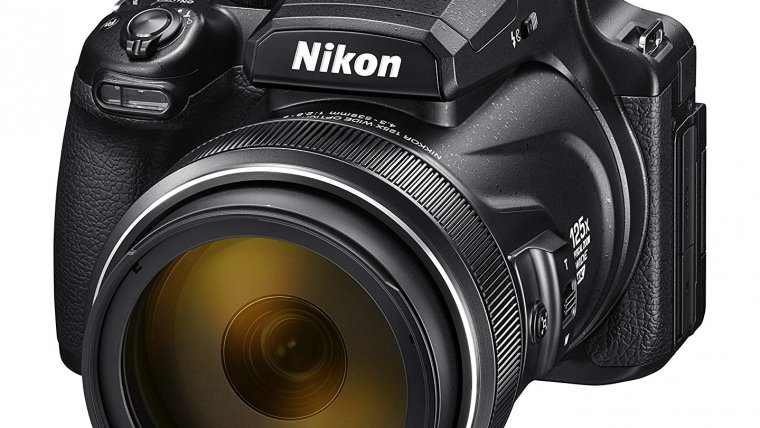 Nikon Coolpix P1000 Review
www.sleeklens.com
There aren't too many original or unique point-and-shoot cameras to be found on the market anymore and the reason for that is certainly the fact that they haven't been enjoyed a lot of popularity since people have decided that their smartphones are more than capable enough of giving them the kind of photos and videos that could be easily posted online or kept on a hard drive as nicely recorded memories. Even the phone manufacturers themselves aren't innovating as much as they used to when it comes to imaging (unless you like all the software trickery and heavy processing that is slowly becoming a trademark in the smartphone industry) and in a way, it's harder than ever to pick any of those that are currently available as a decent replacement for a dedicated camera (although the less demanding photographers out there would like to lead you to believe that this isn't the case and that you can do almost anything you want just with a smartphone).
In this case, the truth is split in two different ways and this time around we'll be taking a look at all the arguments you could still have when it comes to purchasing a compact or a point-and-shoot camera over just accepting the fact that a smartphone is perfect for you despite some of its shortcomings. The camera we are about to review carries a very similar sensor to those that can be found in most flagship phones, but still manages to build an entire system of useful characteristics and features around it that make it one of the best products of its type on the entire market. That camera is the Nikon Coolpix P1000, a latest addition in the company's line up of superzoom point-and-shoot devices (some also call it a bridge-style camera) and also the top of the line one, meaning that once again Nikon is on the path of creating a product that will feel as close to a DSLR as possible (at least when it comes to its design and feel), but also bring the kind of zoom range that can't be matched by any DSLR or a mirrorless lens on the market.
We'll talk about exact numbers in just a moment, but one thing is for sure, we are certainly dealing with one of the most flexible and best Nikon cameras in the market here (even if it probably won't be able to satisfy the needs of more advanced or demanding photographers when it comes to its image quality or the lack of a flagship feature or two). Still, the Nikon P1000 wasn't created to become the main tool for professionals and instead tries to cater to a more casual audience that wants to have an all-in-one camera, aren't interested in having to purchase separate lenses to get the similar zoom range and want something that can handle a wide array of shooting situations out-of-the-box.
While it's not nearly as portable as any of the smartphone and doesn't exactly fall into the category of compact cameras, it does present itself as a perfect companion to your phone when the need arises for more direct control, zoom and better handling (which are certainly the main reasons why you should consider the P1000 as your next purchase).
The Nikon Coolpix P1000 comes equipped with a 16-megapixel sensor of the standard 1/2.3-inch size (at least one that is traditionally found on cameras of its type and also in point-and-shoots as well), but it does bring improved noise performance and better light gathering capabilities thanks to the fact that it features backside illumination (BSI).
Pros
Built-in WiFi
Bluetooth Connectivity
Image Stabilization
Articulating Screen
External Flash Shoe
4K Max Video Resolution
RAW Shooting
Face Detection Focusing
Manual Focusing
Manual Exposure
External Microphone Port
Timelapse Recording
Selfie Friendly LCD Screen
Remote control with a smartphone
Cons
No Touch Screen
No Environmental Sealing
Heavy Body
Low Battery Life
Click to read the full Review
Its image quality should be fairly similar to one produced by any of the modern smartphones, but more natural and less processed since it doesn't include all the advanced software solutions found on today's phones that add more contrast, sharpness and noise reduction which often results in somewhat unnatural images. You will be able to adjust the look of your photos right from the camera itself and also play around with RAW files if you're the kind of photographer that likes to have full control over all the image processing done to your shots. Trying to get the right exposure also shouldn't be an issue to anyone because of the native ISO range of 100-6400, exposure compensation adjustments of +2 to -2EV and also, the available shutter speeds of 60 to 1/4000 sec.

Now, the big deal about the P1000 isn't the sensor itself, but the lens that sits on top of it. It is an optically stabilized unit (offering an impressive stabilization rating of 5 stops), with a fastest aperture range of f2.8 to f8 and a 35mm equivalent focal range that goes from decently wide 24mm and to monster telephoto range of 3000mm (you could even go as far as 6000mm if you don't mind stepping into the digital zoom territory and you can deal with the noticeable loss in image quality). All that range equals to an optical zoom rating of 125x and the P1000 is the first camera in the world that manages to offer such a wide zoom range. Despite the fact that its rather small sensor (at least when you compare it with the likes of 1-inch sensors or above) and the very complex optical formula of the lens its paired with certainly won't give you stunning images in terms of pure quality, it is hard not to be impressed by such an achievement from a fully technical standpoint and also by taking into account everything you'll be able to achieve with such combination (especially if you're shooting wildlife or you're in a situation where you need to be far enough to not disturb your subject).

Nikon has also done a lot to bring a very effective stabilization system, so you'd be able to use the camera handled even while shooting at 3000mm (it's not something you would be able to do if we were dealing with a camera equipped with a larger sensor). Still, we are slightly worried about one thing and that is the focusing performance and the reason for that is the pure lack of information of the type of the AF system that is built inside of the P1000. We are pretty certain that it is of the contrast detect variety, but we weren't able to find out the number of focus points at its disposal and thus, without doing some testing, it is hard to get any kind any kind of idea of how it will perform in more demanding tasks like low light and subject tracking (we believe that it will do just fine for more standard tasks, like shooting still subjects).

The P1000 does bring quite a fast 7 fps to the table, so we hope that such a feature is at least some indication of the direction the Nikon was going with this camera when deciding how it should perform. The lens itself also has the ability to focus really close (30 cm at its normal and 1 cm at the macro range), which makes this camera a decent macro shooter (especially when you consider the fact that the smaller sensor will give you a lot of depth of field to work with and focusing shouldn't be too much of an issue). There's also a plethora of different focusing modes available including the Tracking functionality, but we'll talk more about those in the separate section dedicated to focusing and performance.

Body-wise, the P1000 is the largest available bridge-style camera on the market and the reason for that is its massive lens and a pop-up flash that had to be positioned away from the body itself (so it doesn't cause any issues with shadows). At 1415 grams, it's even heavier than most DSLRs out there and thus, it's not a device you would want to carry with you at all times (unless you're keeping it in your backpack or a larger than average camera bag). Still, it is a very well built and designed camera despite its shortcoming when it comes to portability considering the fact that it manages to include things like the fully articulating 3.2-inch 921,000-dot TFT LCD screen (although it's a shame that it does not touch sensitive), a very sharp electronic viewfinder (EVF) with a resolution of 2,359,000 dots, stereo microphones (and a dedicated microphone port), UHS-I compatible SD card slot, micro-HDMI and the USB 2.0 compatible ports, Wi-Fi 802.11b/g/n, Bluetooth 4.1 LE and lastly, the already mentioned pop-up flash unit with a rather impressive range of 12 meters (together with a standard hotshoe mount to use an external flash).

If there is one last improvement that the P1000 brings to the table over its predecessor it has to be the addition of 4K recording, something that is great to see any modern camera, let alone the one with such an insanely flexible zoom range and a nicely executed stabilization system. We still don't know how good those 4K videos will really look like (and how much of an impact the said lens and the smaller sensor will have on the overall results), but we believe that it will be more than usable for the kind of audience the Nikon P1000 is targeted at.
Body and handling
Despite being the biggest camera on the market, the P1000 isn't as cumbersome to handle as you would have thought just by looking at its design and dimensions. Nikon has done a great job of balancing the body and distributing its weight just the right way, so it doesn't feel very front heavy when the lens is zoomed in all the way and on top of that, the large front grip will certainly allow you to hold on to the camera very securely at all times and thus, most of you out there shouldn't have any special issues when it comes to operating the P1000 (unless your photo sessions tend to last more than a couple of hours, in which case you will have to take a break or two to give your hands some rest before you'll be able to shoot as effectively as possible once again).
We would certainly like to see weather sealing included on the camera in this price range (the P1000 certainly isn't a cheap device), but in Nikon's defense, the challenge of putting environmental protection on such a complex camera was probably too great to become cost-effective (who knows how far the price point would go if something like that was actually included). The same can be said for the overall construction, which does consist of plastic materials (not the cheap feeling type though) and that was also a logical choice in the case of the P1000 (it is plenty heavy enough as it is without having to deal with something like magnesium alloy or aluminum). Overall, this camera looks and feels like a regular sized mid-range DSLR that has chubbed up considerably and has one of the longest and largest lenses available for its mount sitting in front of its sensor (it's entirely up to you to decide if you are willing to sacrifice portability to get the chance of using such a unique piece of gear).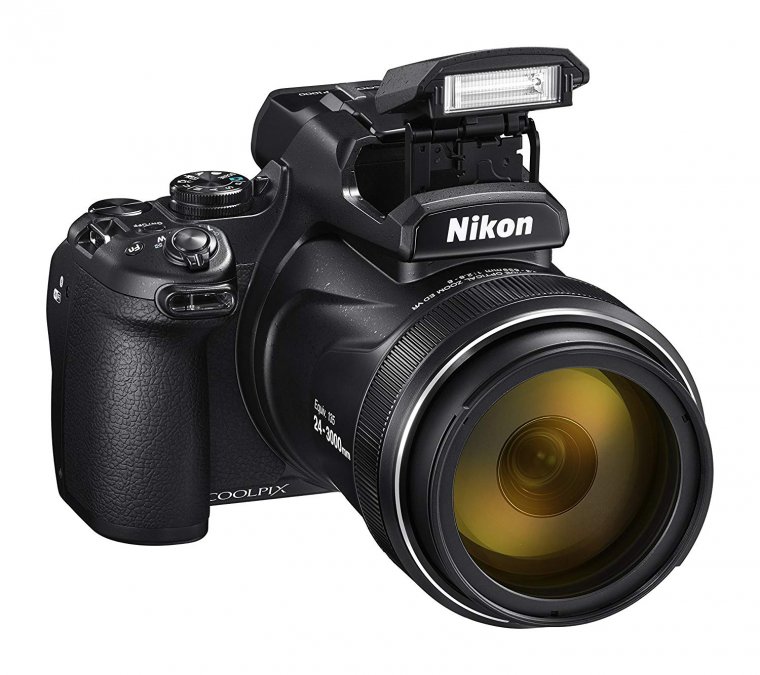 We certainly appreciate the fact that Nikon has managed to complete the entire package with a plethora of available buttons and dials (including the dual dials and a lens control ring), very good electronic viewfinder and the articulating LCD screen and also, two available options when it comes to zooming in and out. The lack of a touchscreen is the only thing that we could consider to be somewhat of a flaw, but other than that, the P1000 looks like a very convincing superzoom bridge-style camera when it comes to its exterior. Just like Panasonic Lumix DMC-ZS70, Nikon Coolpix P1000 do ranked among the best when it comes to small sensor superzoom cameras.
Now, it's time to confirm our findings by taking a little tour around the camera body itself and making sure that everything sits in its place and that there are no nasty surprises waiting to be found. As always, we'll start with the front of the camera and that beautifully big 24-3000mm lens. The lens itself protrudes quite a bit from the camera body, especially when its fully extended, but the extra space on the barrel has been used to include a control ring, the side zoom control slider and also, the snap-back zoom button, which activates a very useful feature that will be of great benefit to those that often shoot at the telephoto range and tend to lose the sight of your subject since it will allow them to immediately zoom out, recompose their image and returned to their previous focal length.
The only other item remaining on the front of the P1000 is the red-eye reduction lamp/AF-assist illuminator, as there wasn't any room left to include anything else. The left side of the camera includes the micro-USB and the micro-HDMI ports as well as the accessory terminal (it will allow you to attach the optional MC2-DC2 remote cord and the WR-R10/WR-1 wireless remote controllers), while the right side is completely void of any ports or buttons. The tripod socket and the battery-chamber/memory card slot covers are located at the bottom of the camera body. The top of the P1000 is where you'll be able to find the eyelets for attaching the camera strap, the pop-up flash and the hotshoe port, a pair of microphones, the main mode dial (also containing a special U or the User settings mode that will allow you to save all of the important settings that you usually work with within the P,S,A and the M modes), a command dial, the power switch/power-on lamp, the Fn (function button) and lastly, the shutter button/zoom control combo (this zoom lever will also allow you to magnify your view while looking at your captured images).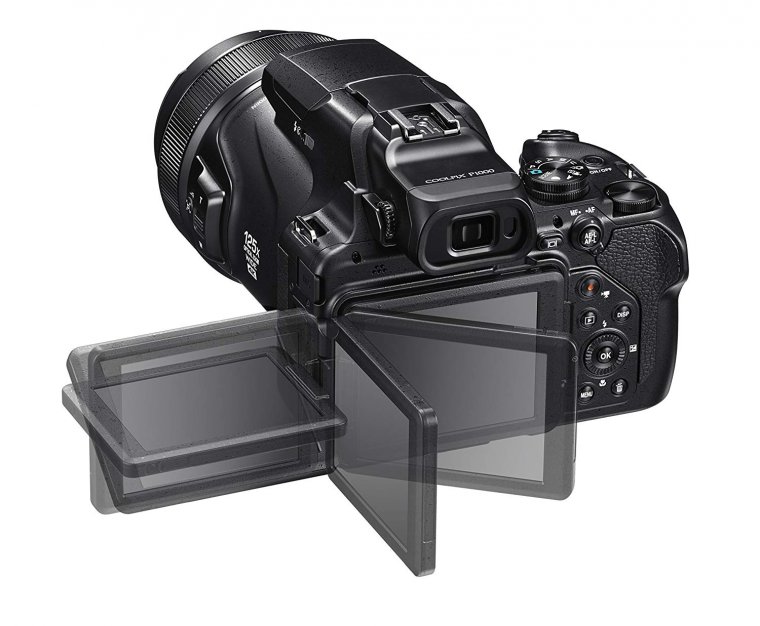 The back of the camera holds the usual things like the articulating LCD screen and the EVF, but also the diopter adjustment control, a mono speaker, the eye sensor (allowing the camera to automatically turn on the electronic viewfinder after you put the camera to your eye), the Monitor button and the AE-L/AF-L/Focus-mode selector, the Movie-record button, the Playback and the Display buttons, the rotary multi selector coupled with the OK (apply selection) button and in the end, the Menu and the Delete buttons. The multi selector itself can also be used to access four separate functions: flash mode, self-timer/smile-timer, focus mode and the exposure compensation, aside from allowing you navigate through the menus and select/adjust any of the items contained within them.
All in all, it's a pretty rich control scheme for a bridge-type camera, but once again (we know we've mentioned it before) it would be almost perfect if Nikon had taken an additional step while designing it and decided to include a touchscreen, since it is something that we're slowly getting used to seeing on a lot of cameras in 2018 and is a generally useful feature to have on any camera. Luckily for Nikon, they have done an excellent job in creating a user interface that is easy to navigate, easy to understand (thanks to the simple and effective iconography), sorted in a logical manner (we are mentioning this since some manufacturers still can't seem to decide in which manner should they organize the menus on their cameras) and nicely color coded.
We also like the addition of things like the Function menu (it will allow you to quickly adjust your image quality and size, the ISO, white balance, access the Picture Control feature, select the AF area mode and more), the Moon and the Bird-watching scene modes (they will automatically optimize your camera's settings for such shooting scenarios), the Active D-Lighting feature (it will allow you to get wider dynamic range in your JPEG photos), the Zoom Memory (you'll be able to select different focal lengths going from 24, 28, 35, 50mm and so on and let the lens automatically zoom in or out to one of those selected numbers), Zoom Microphone (the camera will try to adjust the recorded audio in accordance with your current framing and the distance of your subject), the Easy Panorama feature (it will allow you to either choose the Normal 180 degree or the Wide 360 degree options, move the camera in any of the two or four directions and combine it all into one photo that can contain much more information than the traditional ones), the ability to capture still images while recording a movie with just the full press of the shutter button and lastly, the Electronic VR feature (which will make your videos even more stable than just using the hardware-based stabilization, but it will require you to switch to a resolution lower than 4K).
So, the Nikon Coolpix P1000 does offer a lot of features that will help you in all kinds of different situations, but let us see what it brings to the table in terms of Wi-Fi and cable connectivity. The Snapbridge application (available for both Android and iOS devices) will allow you to easily connect the camera to any of your iOS or Android devices and do transfer images, location data or use the remote shooting function (it will allow you to use the screen of your smart device to view and change some of the settings and to shoot photos while being away from the camera). We also like that Nikon is making use of the Bluetooth LE technology for a lot of operations since it's a lot more energy efficient than Wi-Fi and will leave you with noticeably more battery life if you tend to use the wireless communications frequently. The P1000 is also no slouch when it comes to connecting it to different devices the old-school way; with the use of various types of cables. You can either connect it to your TV via its HDMI port or pair it over USB with a printer or a computer (as a standard mass storage device or through Nikon's ViewNX-i software that will allow you to organize and edit them in a more useful manner).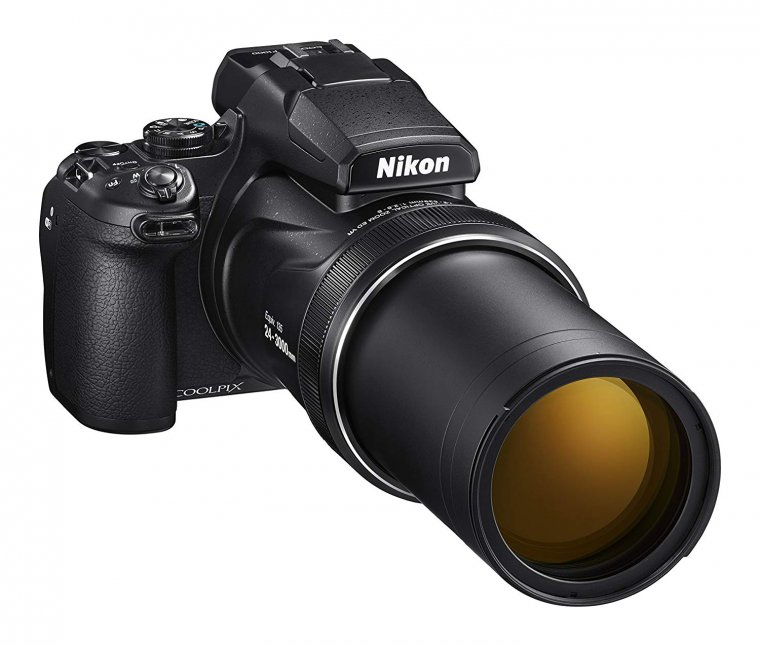 The only thing missing from the list of supported connectivity features is the ability to record videos using the remote shooting function, which is only reserved for only two of Nikon's latest cameras, the Z6 and the Z7 and thus we can't consider it to be any kind of a flaw in the case of the P1000. Overall, in terms of usability, handling, build quality, controls, viewing experience and all the connectivity options, the Nikon P1000 is a very solid a feature-complete package that even some advanced users could be very happy with (although some of them will be bothered by the lack of a touch-sensitive screen, dual SD card slots or the headphone jack, but this isn't a camera aimed at professional users anyways).
Autofocus and performance
Despite the fact that the Nikon P1000 is using a no-name contrast detect based AF system (we aren't quite sure why they're so abstinent when it comes to providing more information about it) we are happy to report that its capabilities and performance turned to be very satisfactory through the course of our testing (at least for its class of cameras, that is). In good lighting conditions and with lens set at its widest focal length it took only around 0.135 seconds for it to acquire focus and get ready to capture the image (that time increased to approximately 0.174 if we decided to work at the telephoto end and its certainly very impressive that the camera has managed to retain a big portion of its performance since most of the superzooms do slow down at this point).
The focusing speed did drop noticeably in low light and some focus hunting started creeping in, but that was mostly when we were fully zoomed in and the camera's sensor wasn't receiving as much light as it would at the f2.8 aperture available at the wide end (that is just the nature of the design of this types of cameras and something you will have to learn to work with). The P1000 also doesn't offer any kind of breathtaking performance when it comes to following moving subjects (although you could use it for some light work where your subjects aren't moving in a very fast or frantic manner) and for a lot of other cameras that could become a potential problem when it comes to shooting wildlife (something that was part of Nikon's marketing strategy for this camera), but the simple fact that you get so much zoom range to work with means that you'll be to stay very far away from your subject without it even being aware of your presence and thus tracking its moment often won't be necessary and the autofocus system will do a decent job of providing you with fast and accurate focusing. The only thing that was a little slower than average is the time it took for the camera to write the images on the SD card (a little less than 1.5 seconds), but only the less patient among will notice something like that while shooting out and about.
It is finally time to dive into the menus and see what items related to focusing the P1000 can be found there with a little digging around. It's quite easy to switch between different focusing modes on this camera; you can use the focus-mode selector to pick either the manual or the autofocus (and press the down button on the multi selector to switch between AF, Macro and the Infinity modes). The Macro close-up setting will allow you to focus closer than the regular 30 cm minimum focus distance would allow, and the Infinity mode is best to be used for any kind of subjects that are very far away (especially if you're shooting in the dark and you don't have any source of light available to focus on).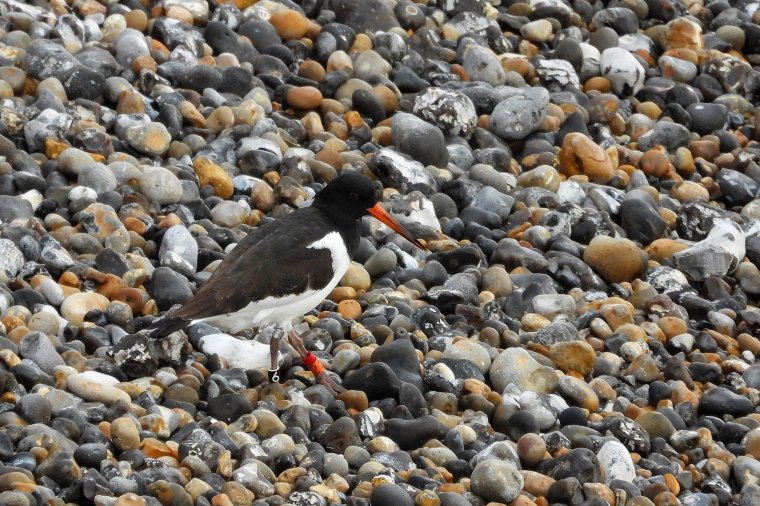 Photo courtesy of Marilyn Dewar
The P1000 will also allow you to use different AF Area modes: Face priority (best to be used for shooting people as it will prioritize their faces over anything else in the frame), Manual (spot, normal or wide), Subject tracking (the name of the mode says it all, just pick your desired subject, focus on it once and the AF system will automatically follow it around the frame) and also, the Target Finding AF (it is turned on by default and allows the camera to automatically any moving subjects it detects). Manual focus capability is also well covered on this camera since it will allow you to enable up to 4x magnification, highlight the areas that are in focus with the peaking feature and also give you the ability to program the control ring on the barrel of the lens to act as a manual focus ring.
We were also surprised to see that the P1000 offers a decent amount of options when it comes to continuous shooting. It's default fastest shooting speed sits at 7 fps and we were able to measure buffer depths of around 10 photos both for RAW and JPEG formats (so nothing to write home about, but good for more casual usage), but what makes this camera more interesting are the additional ones: 1 fps Continuous L mode with a buffer of up to 200 photos, the Continuous Hi 60 fps (at a resolution of 1920×1080), the Continuous Hi 120 fps (at 640×480) and lastly, the pre-shooting mode which captures around 20 JPEG images at a resolution of 1280×960 at a speed of 15 fps before you commit to pressing the shutter button. While none of them may be too exciting for more advanced photographers, they are perfect additions to those users that were planning to post most of their images to social networks and shooting in lower resolution wouldn't be that big of a deal just to get noticeably better performance.
Now, there is only one aspect of the Nikon P1000 that falls into this category of our review that we would rate as below average when compared to its competition and other cameras in its price range has to be the battery life. The endurance rating of 250 shots is far from impressive on a 2018 camera and you will certainly be required to keep the camera topped up via USB charging or keep an extra battery pack with you if you wish to go through a mildly demanding shooting day without it dying on you just when you were beginning to have fun with it (this especially holds true if you decide to make use of its 4K recording capability). So, if you manage to take care of that little hindrance and you aren't trying to pretend that you are using a dedicated sports camera (which it could be easily mistaken for just by its size and its lens) working with the Nikon P1000 should be nothing more than a positive experience and we really couldn't ask more form a such a flexible and powerful superzoom camera.
Video features and quality
You wouldn't think that a Nikon camera like the P1000 would be especially good at delivering the goods on the video recording front (since it clearly seems focused on the photography side of things), but we were pleasantly surprised to discover that it's a much better tool for that particular job then we anticipated it to be. Its headline feature has to be the capability to record footage in 4K resolution and the difference in image quality over the P900 (which only supported 1080p recording) is very noticeable, even if watch the videos from both cameras on a screen with lower 4K resolution.
The new camera also retains the slow-motion capabilities of its predecessor with the 1080p 60 fps, but also includes some neat additional ones like the 1080p 15 fps, 720p 60 fps and the 480p 120 fps (they can either be played at a faster or slower speed than the default one). Autofocus while recording is also available and can either be set to AF-S (locks the focus at the start of recording) or the AF-F (lets the camera focus continuously) mode and we can say that the focusing speed and accuracy turned out to be pretty decent (although still not at the same level that is offered by professional cameras) and reliable enough to use for more relaxed and casual clips (the use of manual focus and peaking is recommended for more crucial situations).
The Nikon P1000 will also allow you to fully control the exposure in your videos, adjust the sensitivity of any connected external microphone (although there is no headphone jack on board for more precise audio monitoring), enable the Wind Noise Reduction, Electronic VR and the Zoom Microphone features, apply different Picture Styles (Standard, Neutral, Vivid, Monochrome and two separate Custom settings) and Filter effects, adjust the white balance and more. We wouldn't go as far as to call it a camera that can compete with the best video production devices out there, but it certainly manages to hold its own within its camera class and even beat out some of its competitors in a couple of ways. We sincerely hope that Nikon will complete the paclumilkage with the next iteration of this model by adding the headphone jack and the touch capabilities to the list of features and thus create a very powerful superzoom camera that could peak the interest of even some of the more demanding videographers out there.
As it currently stands, it is a very good video recording tool for those looking for a capable stills camera that can also shoot good movies when the need arises (especially if your subjects are very far away and out of reach for most devices out there).
Image quality
It is quite hard to judge the results from a camera like the P1000 when it comes to still photography as there are many different factors to take into account before you could make the final call and say if it's good or not; there's the smaller sensor size when compared to superzoom cameras with 1-inch sensors, a complex lens design and optics that will always be challenging for the said sensor, the quality of JPEG processing algorithms, the inclusion or the lack of RAW support and more.
In our opinion, Nikon have done a pretty good job of balancing all of those aspects of the P1000 and get the best out of everything it offers in terms of image quality. The 16-megapixel BSI-CMOS sensor is a very good pairing for the 24-3000mm lens and allows the camera to produce sharp results even at the very end of the zoom range (the included RAW support will also allow you to get even more details by applying careful sharpening in post-production). The same can be said for the P1000's dynamic range and noise performance, since both of them are on the level you would expect to see out of the more advanced superzoom camera and will benefit from RAW processing even though the JPEG algorithms are fairly good at producing nice colors and contrast and applying the right amount of noise reduction depending on the ISO value you decide to work with. The P1000's 1-inch sensor competitors will surpass in terms of raw image quality, but on the flip side, their lenses don't offer nearly the same amount of versatility when it comes to tackling different kinds of photography.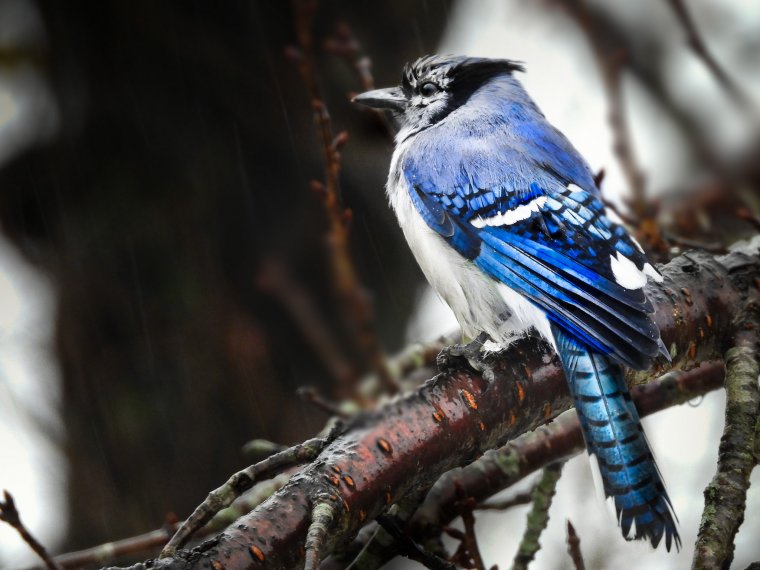 Photo courtesy of jessica mann
We would also like to mention that this camera also offers a decent number of options that will allow you to tune the look of your JPEG images including all the Picture color effects (yellow, orange, red, green and the Enhance contrast feature), more special ones (Soft portrait, Selective color, Cross screen, Fisheye, Minature effect, Painting, Vignette, Photo illustration and the Portrait)as well as the ability to adjust things like image sharpening, contrast and saturation. So, in a nutshell, even though the fact that the P1000 finally brings RAW support (something that a lot of photographers have missed having on the P900), it is still packed with so many features for image manipulation and a very balanced JPEG processing engine that you can be very confident that you will be able to get very pleasing images even without sitting at your computer and carefully editing them.
Conclusion
Well, the Nikon Coolpix P1000 is certainly one of the more interesting cameras we got to review in quite a while and despite many positive things it that come included in its package (good build quality, great control scheme, intuitive user interface, very useful EVF, a wide array of wireless and wired capabilities, a lot of useful features contained within its menus that can seriously impact your user experience and image quality, 4K video recording, strong pop-up flash, very decent stills quality and so on), the biggest selling point and the differentiation factor has to be its one of a kind lens.
The zoom range of 24-3000mm has yet to be matched by any other camera manufacturer, no matter if we're talking about devices with fixed or interchangeable lenses and there are many reasons why a lot of different photographers would like to make a unique beast such as the P1000 in their arsenal (despite the fact that it won't be able to reproduce the image quality of other cameras with bigger sensors, or be as portable, or offer as powerful video recording capabilities). If just the thought of being able to shoot as wide as 24mm and then zoom in to the 3000mm in a couple of seconds and without having to change lenses sounds appealing to you, than the Nikon P1000 is certainly a no-brainer purchase for you, since there's literally no other camera on the market to compare it with (unless we are talking about its predecessor, which is still a very capable camera in its own right, but of course, not as exciting or as feature-packed).
We really hope that the P1000's arrival will attract the attention of other camera brands and inspire them to create a similarly unique product as there's nothing that benefits the customer as more competition on the market.
The following two tabs change content below.
An amateur photographer, songwriter, musician, computer and technology geek and an occasional comedian, I'm a little bit of everything. I always aim to pursue things I'm passonate about and try to look on the positive side of things whenever I can. My mission is to wrap my articles in that aura of positive energy and keep a healthy balance between being serious about my work and spicing things up with a little fun now and than. After all, life's a game and there's always a different way to play it.