Canon PowerShot SX720 HS Review: Powerful Zoom in Compact Format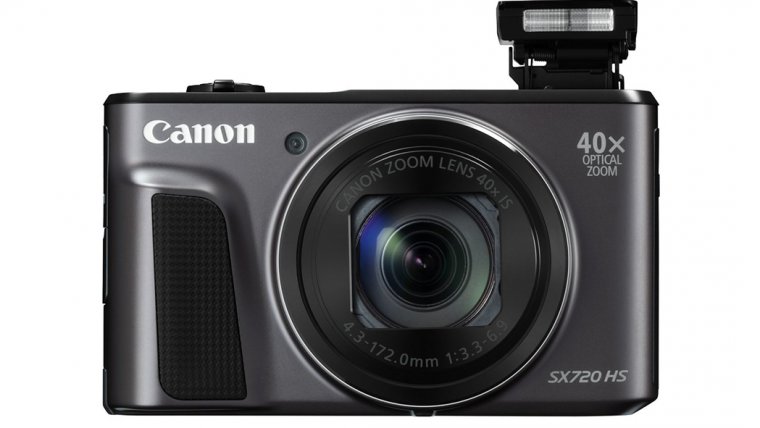 Canon PowerShot SX720 HS Review: Powerful Zoom in Compact Format
www.sleeklens.com
Contrary to the beliefs of many photographers, the end of compact cameras is still far away and many different manufacturers have started to put more solid features into their products to compete and differentiate them even more from the evermore popular smartphones. It's true that you can now take images and videos with a flagship smartphone that are of the same quality as those taken with a traditional point-and-shoot camera, but you'll need to pay a lot higher price to achieve it. That's where the type of camera we're taking a look today falls in and creates an interesting proposition for anyone interested in casual photography, but at a budget-friendly price point.
This time, our pick for that job goes to best Canon camera. The PowerShot SX720 HS compact camera. It brings the same budget price a lot of people would be comfortable to accept to buy a dedicated camera, but it also offers enough compelling features to make it a lot more interesting than any smartphone when it comes to photography. It has a healthy amount of manual controls, a very versatile zoom lens, a decent sensor with a high megapixel count like Canon 5Ds R, has respectable battery life, and much more. So, it's up to us to find out how well all of those features hold together and do they offer a good enough experience to persuade someone who's just starting to get interested in photography to invest into something like the Canon PowerShot SX720 instead of a more expensive smartphone.
As always, we'll start this section of the review with the most important parts of a point-and-shoot camera: its sensor and its lens. The one built inside of the Canon SX720 HS is a 20-megapixel 1/2.3-inch BSI-CMOS sensor, which is a decently capable sensor found in many other of Canon's compact cameras. You'll be able to get some nice-looking images in good light and reasonably good images at night time. Now, one of the most important features of this camera and one of its main selling points has to be its lens.
Pros
Built-in WiFi
NFC Connectivity
Image Stabilization
FullHD Max Video Resolution
Face Detection Focusing
Light Body
Manual Focusing
Manual Exposure
Cons
No Articulating Screen
No External Flash Shoe
No Touch Screen
No Built-in Viewfinder
No RAW Shooting
No Environmental Sealing
Low Battery Life
Click to read the full Review
It's quite an impressive unit, when you take into account that the SX720 HS is a reasonably small camera. You'll get a very wide focal range of 24 – 960mm and a maximum aperture of f3.3 at 24 and f6.9 at 960mm. Image stabilization is also on board to help you get sharper images at those long telephoto focal lengths. It will also be very helpful in low light since the lens itself isn't especially bright, which couldn't be avoided due to its specific design and size constraints.

The ISO range of 100-3200 and shutter speeds that can go from 15 – 1/3200 should also help you tame your exposure more easily in all lighting conditions. If white balance ever becomes an issue, you can choose up to 5 different predefined settings to correct any color problems that might arise in more challenging situations. Unfortunately, as is the case with many other compact cameras that were made to cater to more casual users the SX720 HS also doesn't come with RAW support and thus you'll have to rely on the JPEG algorithms to provide you with decent balance of noise reduction and sharpening, which isn't a big deal in this case since Canon's cameras are well known for their laidback processing and natural looking photos.

Also, the SX720 HS is equipped with quite a powerful and proven DIGIC 6 processor, which is perfectly capable of handling image processing tasks and help improve their quality in a meaningful way. When it comes to focusing capabilities, you should be perfectly satisfied with the included 9-point contrast-detect AF system; as long as your expectations are within the limits of reason. It's not a camera to shoot fast action with but will do just fine for your everyday photography. You'll also be able to get some decent close-up images thanks to the available minimum focusing distance of 5 cm in normal use and 1 cm after the dedicated macro mode is activated. What's great to see is that the burst rate shooting speed has been bumped up a little form the usual slower speeds and now sits at an admirable value of 5.9 fps, which will certainly help in getting some of those tricky shots when moving people enter your frame.

Just like you would expect from a budget-oriented compact camera there's no viewfinder on board, but you do get a respectably sharp fixed 3-inch TFT LCD with a resolution of 922,000 dots. Composing photos and videos should provide no challenge at all, even in direct sunlight. Other hardware aspects of the Canon SX720 HS include a proper xenon flash-unit with a maximum range of 4 meters, an SD card slot, a pair of stereo microphones (which are good to see since there's no external microphone jack available), USB 2.0 compatible data transfer port, micro-HDMI port, as well as Wi-Fi coupled together with NFC for more seamless pairing with compatible smartphones and tablets. Lastly, in terms of video recording, the SX720 HS brings the usual 1080p support but adds a very useful 60 fps mode in addition to the more traditional 30 fps. This means that you'll be able to record footage that looks noticeably smoother than at 30 fps and while also opening the possibility of creating some slow-motion effects.

The quality of videos should also be above average since we are talking about a Canon camera, but we will leave reserve our conclusions for the section of this review dedicated to video recording. All in all, the SX720 HS certainly seems like quite a capable full-featured point-and-shoot camera, despite the fact that it may not be very suited to more advanced users and we certainly can't wait to see it in action. But, before that happens, we should see if Canon has done a good enough job when it comes to the quality of the camera body and its usability in general.
Body and handling
The Canon PowerShot SX270 HS is one beautifully designed camera and we think that most of the people would agree with that statement. No matter if you choose the youthful red or the understated black color, you will surely be satisfied with its look, which is something that can't be found often among the cameras at this price.
Since design itself isn't everything, Canon also wanted to be sure that the SX270 HS handles as good as it looks and it certainly does. Thanks to the pronounced grips on the front and the back and the rounded corners it should fit comfortably in your hand no matter how big or small it is. The camera is also extremely lightweight (270 grams). Because of this, anyone can use it with ease for long period of time and carry it on them without any problems.. All of these things are even more impressive when you take into account that you're getting a very big 40x zoom range in a camera that isn't any heavier than a lot of cameras with more traditional and shorter lenses. We also like its control layout, which consists of many different buttons and dials that are perfectly positioned and easy to access during use. Things are certainly going in the right direction for the Canon PowerShot SX270 HS.
Now, let's take a short tour around the body and pinpoint each of its important aspects. As always, we'll start with the front. There's really nothing special to report here; you'll find only the lens and the focus assist light and that's about it. There's a lot more going on each side of the camera; the left one holds the flash pop-up switch, Framing Assist-Seek button as well as the NFC contact point, while the right side has the HDMI and the USB ports. The top of the camera contains the pop-up flash unit, the stereo microphones and also the power, shutter and Movie buttons. The shutter button itself comes equipped with a little lever that can be used to control the zoom of the lens. Now, most of the interesting things are happening on the back of the camera.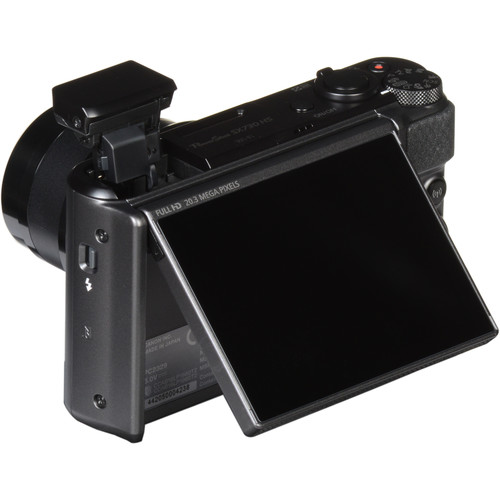 As is the case with most compact cameras, the screen dominates the left and the center portion, while the right one holds all the buttons and dials. The dial that will mostly grab your intention is the main mode dial, which is now located right by the thumb rest instead on the top of the camera. While it may look strange to some people, we assure you, it's a great implementation of such an important dial and it's very easy to switch between all of the available modes just with the flick of your thumb. The rest of the controls consist of four buttons (Playback, Wi-Fi, Info, and Menu) and the main control dial with an additional FUNC./SET button located in its center. In addition to acting as a dial, the latter also acts as a four-way navigation controller and also comes with four shortcuts mapped to each of its directions (Exposure compensation/Story Highlights, Macro, Flash, and Self-timer/Single-image erase). We do believe that some people that were previously used to controlling their devices via the touchscreen will miss having that functionality, but we strongly believe that Canon has done a very good overall job of creating a very usable control scheme that even those users should have no problem adapting to in a very short amount of time. More advanced users out there will miss having a second control dial for easier control over exposure, but since this is a camera more catered to beginners and amateur photographers, we think that its omission isn't a big deal in this case.
There's one very important things that turn the SX720 HS into such a usable camera and that's its user interface. Canon is one of those manufacturers that have managed to bring the software on their cameras almost to a perfect level in terms of how organized and easy to navigate it usually is. The story isn't any different in this case; every menu is nicely laid out, the color scheme is balanced and unobtrusive and there's plenty of options available to customize the overall behavior of the camera and its most important features. We also like how the manual mode on the SX720 HS is executed; if you're currently in the Shutter or Aperture priority modes, you can adjust those values simply by rotating the navigation dial and after you switch to Manual mode you can select either the aperture or the shutter speed with the up button and then adjust them the same way as in the other modes. It's a really interesting way of battling the problem of having only one control dial. Now, let's end this section of the review by saying a couple of words about the available Wi-Fi features.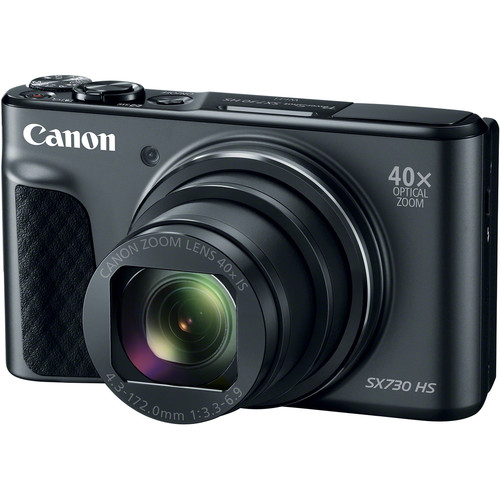 Right off the bat, we can proclaim that the SX720 is one full-featured camera when it comes to wireless-related functionality. Connecting the camera to a Wi-Fi compatible device is no issue at all and it can also turn into a very easy task if your Android smart device supports NFC. The list of the main features that are given at your disposal should be very familiar to anyone who owns a modern Canon camera; you can send images to multiple different devices (smartphones, tablets, printers, computers and even to another Canon camera), upload them to a web service of your choice or to Canon's iMAGE GATEWAY service, back them up automatically to your computer with Image Sync or remotely control the SX720 with the help of your smart device's screen and the appropriate application. We certainly like that you're not only limited to controlling the shutter when the camera is connected to a smartphone or a tablet and that you can also use things like zoom, self-timer, flash and many others.
When it comes to Wi-Fi features, this is a modern camera through and through. All we can say about the Canon PowerShot SX720 HS for this section of the review is that it's a perfectly balanced point-and-shoot camera that will make any casual or beginner photographer very happy and inspire them to go out there, explore the world around them and take a lot of photos without much hassle. You really can't ask anything more from a budget-friendly compact camera.
Autofocus and performance
Simple camera, simple features; this seems to be a general theme with any budget-oriented point-and-shoot camera and it's the same case with Canon PowerShot SX720 HS and its focusing system. It's a rather traditional 9-point contrast detect AF system, meaning that it will provide you with very respectable performance when it comes to shooting still or moderately fast-moving subjects in daylight, but will be averagely fast when the light levels come down.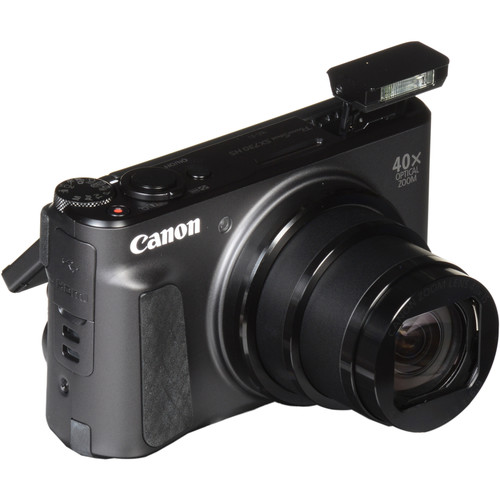 This is no surprise for a camera aimed at more casual users and those types of users will be perfectly satisfied with how it performs in this regard. This, however, doesn't mean that you won't get a decent number of different focusing modes to choose from. Firstly, you can choose the size of your AF frame and your best choice would be to stick with the Center option for the majority of your time since it's the most reliable option for everyday shooting. Then there's the Face AiAF mode, which automatically detects people's faces, focuses on them and also adjusts the exposure and the white-balance afterward. This is the best mode to be in when shooting portraits or photos of groups of people. Tracking AF should be your first option if you want the camera to keep the focus on a specific subject. It's pretty simple to use; you just point the camera at the subject of your choice, press the left button on the navigation controller to start tracking it, press the shutter button halfway to confirm the focus and for the camera to adjust exposure and then take the picture. If you want the camera focus continuously on anything in the frame and while you're keeping the shutter button press halfway, then just activate the Servo AF mode. If, however, you wish to focus manually, you'll be happy to know that you have the option to turn on the MF Peaking feature and make the experience of focusing manually a more pleasant affair than just relying on more traditional focus assist like for example magnification of the image frame.
Now, what can be said about the overall performance of the PowerShot SX720 HS? Well, simply said, it's great! There are two main things that can be thanked for such performance: the DIGIC 6 processor and simple and lightweight user interface. Canon has really done a fantastic job in this regard since the camera performs almost as good as some of their flagship cameras, which are of course a lot more expensive than the SX720 HS. While this camera may not be a speed demon in terms of focusing speed or subject tracking it does come equipped with quite a useful 5.9 fps burst rate that will certainly help you capture any moving subject much easier, despite the rather shallow buffer size. Just be sure to invest in a decently fast SD card to make sure that camera isn't bottlenecked by slow writing speeds.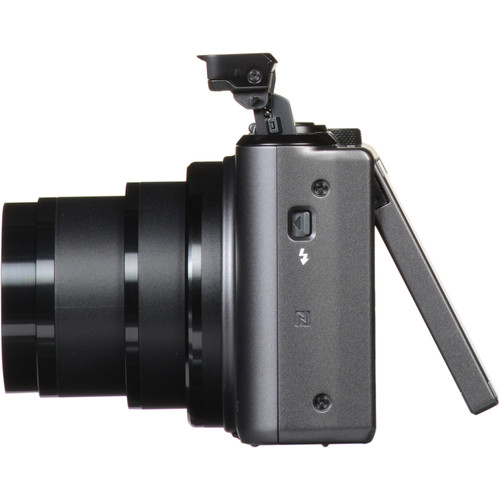 Lastly, we are sure that you would like to know how good is the battery life on the SX720 HS. With a CIPA rating of 250, we would consider it to be just good for a camera of this type. It could certainly be a lot better, but that would also mean that the camera would end up being much bulkier and much less portable just to fit a larger battery pack and in our opinion, this would undermine one of the main selling points of the SX720 HS and that is the fact that you get a huge zoom range in relatively small package.
Video features and quality
The Canon PowerShot SX720 HS brings a pretty satisfactory video recording experience for a camera that's not specially made for such a task. Right off the bat, we should mention the thing that makes it stand out the most from the crowd and that's its ability to record 1080p videos at 60 fps instead of the regular 30 fps found on most cameras. This means two things; any subject you're recording that exhibits some kind of motion will look a lot smoother and closer to what our eyes can usually see and you can also use that increased speed to slow the motion down and more easily notice some details of moving subjects that you wouldn't be able to at regular shooting speed. The quality of recorded videos is also well above average.
There's a decent amount of sharpness, colors are close to being natural, noise is low at the very high ISO values and there are very little compression artifacts to be found. Audio is also of respectable quality thanks to the included stereo microphones.
We also appreciate the fact that the image stabilization does a pretty good job of keeping the footage smooth and steady, even if you're working within the telephoto range. At 960mm you will need to use a tripod to get the best results, but for some casual recording on the go, the stabilization works well enough to make the videos usable even at such a long focal length. Continuous AF during recording is also available and it does a decent job most of the time, but don't expect it to be fast enough to focus quickly in low light or to track the moving subjects very well, as is the case with taking stills.
Image quality
Now, we do have to say that we were a little bit skeptical about the image quality when we approached this review. It's not rare to find that superzoom cameras with a smallish 1/2.3-inch sensor disappoint in this regard because of the complex designs of their lenses, less than stellar light gathering abilities and finally, the space constraints. Because of those facts, we didn't expect the Canon PowerShot SX720 HS to perform any better than those cameras such as Nikon 1 J4 which has a 1″ sensor only but we were pleasantly surprised to discover that this wasn't the case at all.
The images did end up being at their sharpest from the widest angle and up to the middle of the zoom range, but even those taken at longer focal lengths still showed enough detail to be of decent quality. The JPEG processing on the SX720 HS is pretty mature, allowing for sharp pictures without the nasty noise reduction artifacts and also very balanced colors.
Dynamic range was average at best and what you would expect from a camera with a 1/2.3-inch sensor. Despite the lack of RAW support, you will gain a little room to adjust your shadows and highlights in post-processing, but you'll still need to be careful with your exposure when shooting in challenging lighting conditions. We were also happy to see that the noise reduction algorithms weren't too aggressive and didn't smudge away too many details, meaning that you'll be able to get very usable images up to an ISO of 1600, which is a pretty good achievement for the relatively small sensor built inside of the SX720 HS.
Conclusion
Reviewing the Canon PowerShot SX720 HS was a pleasure. While not a very exciting camera from the standpoint of a professional photographer, it's still a very capable one for anyone looking to get a lot of useful features in an easily pocketable body.
To get a versatile 24-960mm lens in such a diminishing package is an achievement on its own, but that wouldn't be enough to make a camera a good camera, wouldn't it? That is the reason why the SX720 HS comes with a lot more welcome features than just its lens. You'll get a nicely designed and ergonomic body, decent number of manual controls, easy to navigate user interface, great Wi-Fi capabilities, usable AF system and burst rate, decent battery life, very respectable image and video quality in all lighting conditions, effective image stabilization and a generally snappy performance no matter what you do with the camera.
The only thing missing here that we were hoping to see is RAW support, but luckily, Canon's JPEG algorithms are optimized so well that many people will never feel the need to edit their photos in so much detail as they would if the camera had RAW support. All in all, the Canon PowerShot SX720 HS ended up being quite a neat little package that is sold at a very compelling price point and we are sure that it will get many fans among the more casual community of photographers and be deserving of many interesting vacation photos no matter if their motive is landscape, wildlife or something entirely different.
If you're looking for a superzoom
SaveSave
The following two tabs change content below.
An amateur photographer, songwriter, musician, computer and technology geek and an occasional comedian, I'm a little bit of everything. I always aim to pursue things I'm passonate about and try to look on the positive side of things whenever I can. My mission is to wrap my articles in that aura of positive energy and keep a healthy balance between being serious about my work and spicing things up with a little fun now and than. After all, life's a game and there's always a different way to play it.