Canon PowerShot N100 Review: Another Compact Choice to Consider!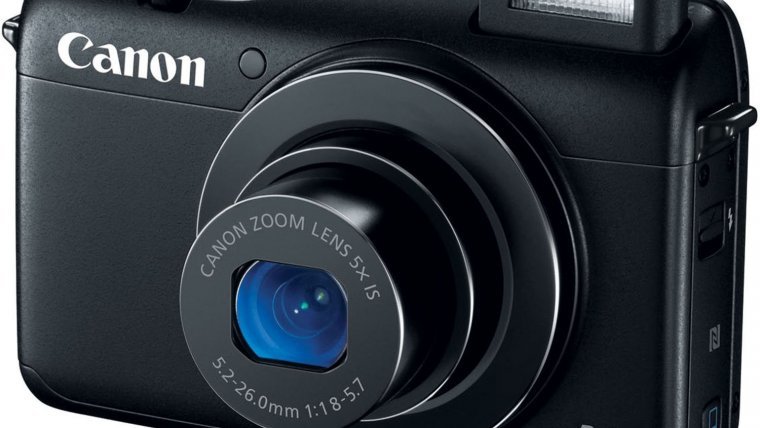 Canon PowerShot N100 Review: Another Compact Choice to Consider!
www.sleeklens.com
If you're one of those people who believe that the time of point-and-shoot cameras is slowly coming to an end with each passing year, believe it or not, you'll only be partially right. While the mirrorless cameras have begun to rule the market, there are still some compact cameras like the Olympus Stylus 1 from 2013 that keep the idea of simple to use photographic tools alive. Smartphones did hurt their sales considerably,but the convenience of having a dedicated camera and all of the features that come with it will never be easy to replace with an all-in-one device such as your phone. So, today, we have one of the unique offerings from the realm of point-and-shoot cameras and it's one of Canon's unique cameras that came to be three years ago from now, but still, stands out from the crowd. We're talking about the Canon PowerShot N100. In a way, it was a camera ahead of its time bringing modern features such as Wi-Fi, NFC, a capacitive touchscreen and a few secondary, but also useful functionalities that we'll talk about later in the review. Even to this day, it's capable of producing noticeably better photos than your regular compact camera with the usual 1/2.3-inch sensor. So, even for a 2014 product, it's still capable enough to compete with the newer point-and-shoot cameras and that's one of the main reasons why we've decided to revisit it and take a fresh new look at everything it has to offer. If this introduction managed to peak your interest at least a little bit, then keep scrolling as we take a closer look at the specifications of Canon PowerShot N100. But if you're looking for some budget friendly camera that would give you great results, you may try Canon's 250D. After reading this and you want to know of more of what Canon has to offer in terms of the best cameras, you may read here.
So, what is the Canon PowerShot N100 all about and what does it bring to the table. Well, first, we should discuss its sensor, since this is the first thing that makes it stand out from a lot of other point-and-shoot cameras.
Pros
Built-in WiFi
NFC Connectivity
Image Stabilization
Articulating Screen
Touch Screen
Long Battery Life
Manual Focusing
Cons
No External Flash Shoe
No Full HD Video
No Built-in Viewfinder
No RAW Shooting
Low Resolution Sensor: 12.0MP
No Manual Exposure
No Environmental Sealing
Click to read the full Review
Instead of the traditional 1/2.3-inch sensor, you'll be getting a bigger 12.1-megapixel BSI CMOS 1/1.7-inch sensor. This means that the N100 should perform admirably in all conditions, even in low light and produce clearer photos than the cameras with smaller sensors. Canon has also included a lens that goes nicely with that sensor; it's a 24-120mm equivalent unit with a maximum aperture of f1.8 at its wide and f5.7 at its telephoto end. That is a really nice range for everyday shooting and we like that the lens is very fast at its wider angles, since that's the zoom range you'll usually be shooting at most of the time.

It also sports optical image stabilization, which is another very useful feature. Now, in the case of any other camera, right about now we would be moving on to some of its other aspects, but the Canon N100 is a different beast. Aside from the normal camera on its front, it also has a 25mm equivalent wide-angle "Story Camera" on its back. It works in tandem with the main camera to enable the feature called Dual Capture and combines both photos (or videos) taken with both cameras into one and creates a picture-in-picture effect. This means that you can capture your emotion during the moment you've taken that special shot, which is a certainly a neat feature.

To ensure that the overall performance of the N100 isn't compromised in any way, Canon have implemented a capable DIGIC 6 image processor, which can also be found in company's other cameras such as their 80D and 750D DSLRs or some of the other cameras from their PowerShot line up such as the S120 or G16. The said processor also brings advanced noise suppression algorithms and is the piece of hardware to thank for the N100's burst rate of around 3 fps. It's not an impressive speed by any means, but still quite acceptable for the camera of this type. When it comes to things directly related to exposure you'll get the option to shoot at shutter speeds ranging from 15 to 1/2000 sec and ISO values from 80 to 6400. No surprises here, but no disappointments either.

The body of the NX100 sports a rather bulky, but nicely rounded design that's perfectly aligned with the camera at its price point. You surely won't need to pamper this camera all of the time to help it survive through the years of use, that's for sure. Inside its body lies a simple, yet effective 9-point contrast detect AF system as well as Wi-Fi and NFC units, while on the outside you'll find a built-in xenon flash with a maximum range of 7 meters, an SD card slot, two stereo microphones and one mono speaker and an articulating 3-inch TFT PureColor II G Touch screen LCD unit with a decent resolution of 920,000 dots. The Canon N100 also has the ability to record 1080p videos at a framerate of 30 fps using the regular H.264 codec format.

So, there's no denying that the N100 looks like it has enough going for it to make it a desirable purchase for anyone looking for a simple point-and-shoot camera with a few unique features and we would certainly agree, but since this is an in-depth review we'll need to dig a little deeper into its core to confirm that it really is everything it seems it is. As always, let's start with a detailed look at its body.
Body and handling
The first time you hold the Canon PowerShot N100 in your hands you'll immediately notice a few things; it's not a premium camera built out of impressively sturdy materials like some of the more expensive devices, but unless you're a professional and a serious photographer you'll surely like its playful design and shape. No matter if you opt in for the black or the white color the N100 will always look like a camera that is made for you to go outside and have fun while you explore your creative side. With a weight of mere 289 grams, you will never feel any discomfort while using it for prolonged periods of time, but you could find it a bit hard to handle if you have really small hands and that's something you should be aware of. All of its controls are nicely positioned on its sides and on the back while the tilting touchscreen takes a big portion of the camera itself and can be used as yet another method of controlling it aside from using the traditional navigation buttons. We haven't found any functional or handling problems with this arrangement and are quite pleased what Canon has done.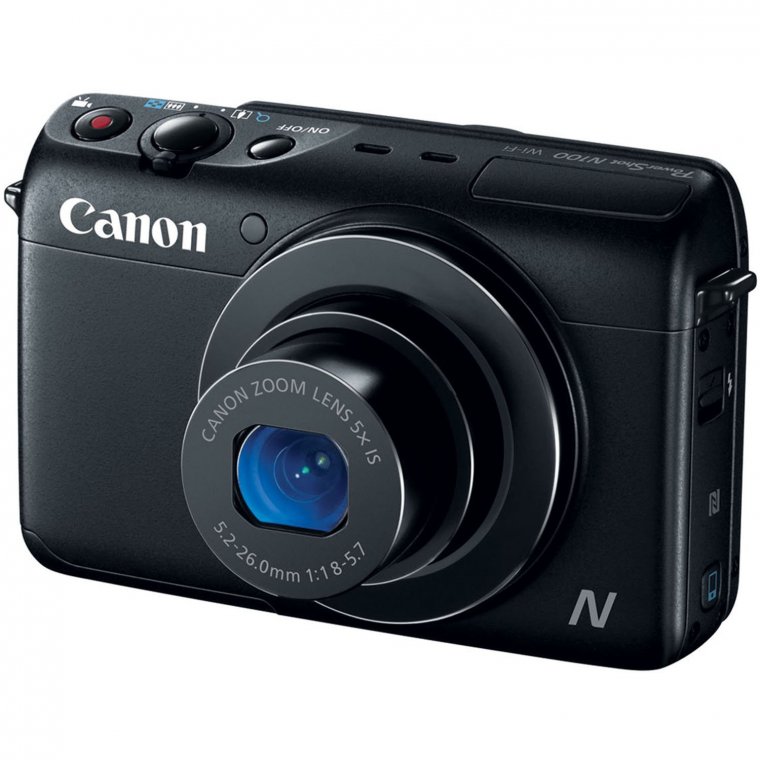 Let's take a more detailed look at its exterior before embarking on the journey of discovering all of its interesting features. The front of the camera looks very clean and sports only the lens, focus assist lamp and the prominent logo with the letter "N" that gives it a little bit of class and identity. Looking at the left side reveals the first strap mount, a flash switch, NFC connection mark and the Mobile Device Connection button. The right side reveals the second strap mount, DC coupler cable port and a little door that protects all of the available connectors (the external microphone and the HDMI port). Looking at the top of the camera you'll find the pop-up flash unit, stereo microphones, and the Power, Movie and shutter buttons. As is the usual practice with compact cameras the shutter button also has a little lever on it that allows you to control the zoom of the lens. Lastly, we are left with seeing what the back of the camera holds. The Story Camera and the Story Highlights button are located right above the screen, while the rest of the conventional controls are located on the right. There you'll find the mode switch, a mono speaker, the Favorite button, a four-way navigation controller, as well as the Playback and Menu buttons. The navigation controller itself can also be used to access the Exposure compensation/Wi-Fi functions, the Macro mode, Flash settings and the Display options. So, despite its youthful nature and a not so serious look, the Canon PowerShot certainly has enough controls scattered all around its body and more than you would get with a more traditional point-and-shoot, that's for sure. We were also quite impressed to see an external microphone port, something we didn't expect to find on a compact camera of its class.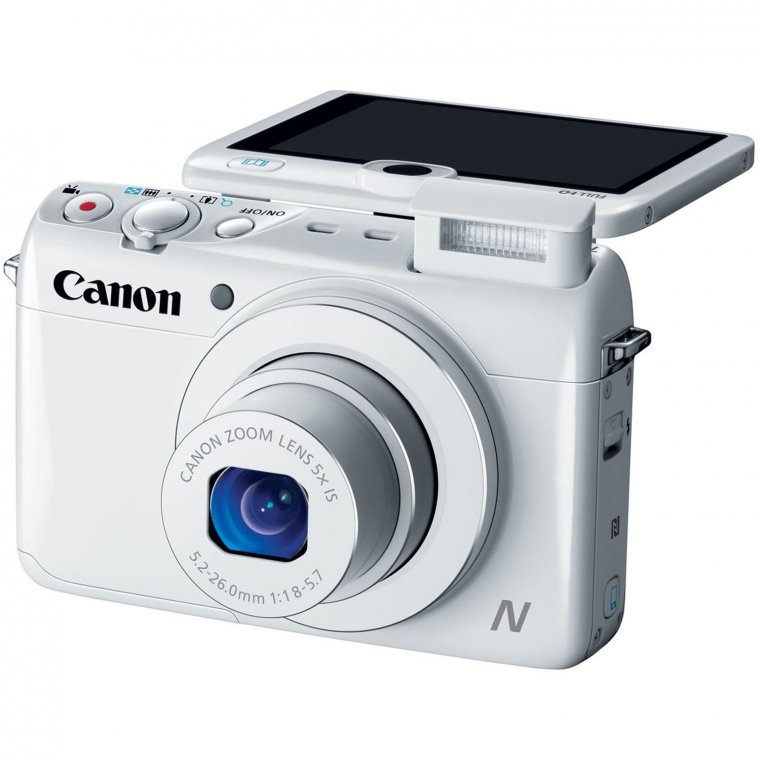 When it comes to the general experience of using the camera, such as navigating around the user interface or finding all the necessary features and options, there's really no reason to complain at all. The combination of nicely designed software and two different methods to navigate it (physical buttons or the touch screen) blends together well and will allow anyone to quickly learn their way around the N100 and use it with ease. Those that are first-time camera users will be happy to know that Canon has put a lot of emphasis on filling it with enough guides and information on every corner to make the entire experience of learning about the basics of photography a much less cumbersome chore. This is also reflected in the available shooting modes; there's the regular Auto mode in which the camera controls every important setting (easiest mode to begin with), Hybrid Auto mode creates a digest movie of each of your shots (this also includes those taken with the Story Camera) and lastly, there's the Program mode which lets you take control of Exposure compensation, metering methods, and the ISO speed. This is as close as you can get to a true manual mode since the N100 doesn't come with one. This is something that would surely bother the more advanced users out there, but since this camera isn't aimed at that kind of audience it's no surprise that Canon decided to keep things simple as possible. Now, let's mention a few of those unique features. The first one is the Dual Capture mode. Simply said, it captures two pictures or two movies at the same time (one recorded with the main camera and one with the Story Camera) and combines them into one photo or a clip. Then there are the many different special effects which you can use to give your photos a unique look. Some of those are the Fish-Eye and Miniature effects or the Background Defocus and Creative Shot features. There's certainly a lot to play around with if that's something you're interested in. The last feature we that we should mention is the Story Highlights. This option allows you to create an album of different photos that the camera will automatically select for you and combine them in one slideshow that you can save as a movie file. This is certainly a fun and seamless way to make a compilation of all of your photos and look at them in a more interesting fashion.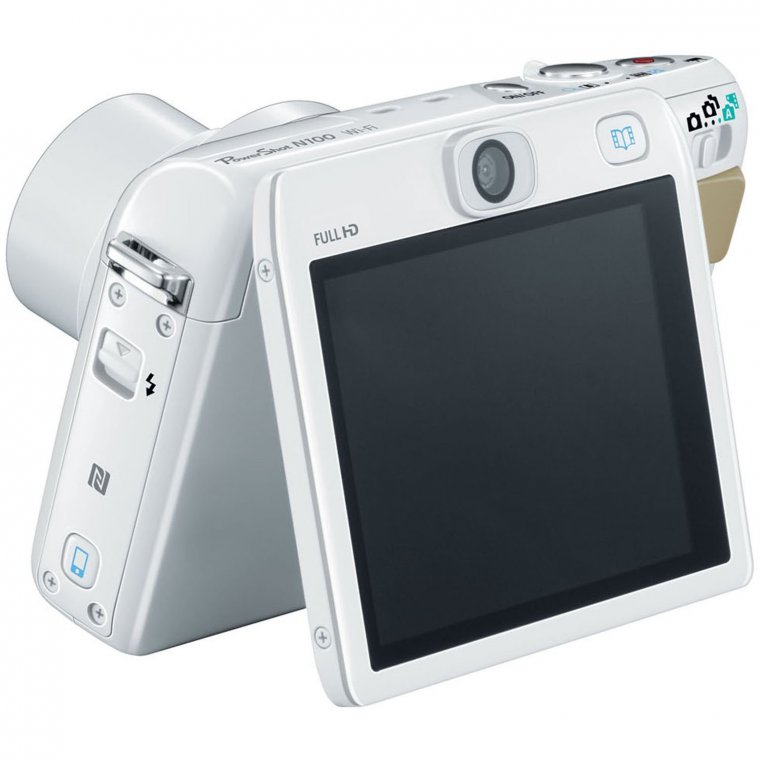 In the end, all that is left to look at in this section of the article are the N100's Wi-Fi features. Well, we can say that we've been pleasantly surprised after we've discovered how much of a functionality the N100 has when you take into account that it's a point-and-shoot camera. First, you can upload your images to different web services via e-mail, video, and image sharing sites or to Canon's own iMAGE GATEWAY cloud service, if you're not one of those people that wish to connect their smartphone to the camera. If you want to make use of all the smartphone-related features you will need to download the CameraWindow application from the store on your device, since all of the communication happens through that application. After you've done so and established a connection between the smart device and the camera you can send your images to your smartphone or a tablet or remotely operate your camera and control things like optical zoom, flash, self-timer, shutter release and so on. You can also add the GPS data gathered by your phone to your photos. Lastly, you can connect the N100 to a wireless printer and very easily put your photos onto paper. Well, it might not be a dream-come-true camera for advanced and professional users looking for a backup camera to their more expensive ones, but other than that it's a very well executed device that ticks all the right boxes in terms of usability, handling, control and communication-related features and we are sure that anyone that appreciates a well-made device that's easy to use will appreciate what it has to offer.
Autofocus and performance
Since the Canon PowerShot N100 isn't a flagship camera, even among point-and-shoots, we didn't expect it to have great focusing performance, but you'd be surprised how decent it is one you start using the camera. No, you won't be shooting sports or action with it and no one should expect such performance, but for everyday photography, the 9-point contrast detects AF system will do just fine. It's plenty accurate, decently fast and handles averagely well in low light; all of these are traits you would expect to find in compact cameras of this class. The lens included with the N100 is also very versatile when it comes to focusing, as it offers very solid macro capabilities thanks to its minimum focus distance of only 3 cm at 24mm and 30 cm at 120mm. While there aren't many advanced focusing modes available, you will at least get the ones you would expect to see like the 1-point, Face AiAF and the Servo AF mode. Touch AF is also available and is the most convenient way to acquire focus since you can choose any subject in your frame and just tap on it. You can always check if the camera focused perfectly by enabling the AF Point Zoom which will magnify the area at which your focus point lies when you press the shutter button halfway and let you double check your focusing before taking the photo. If, however you're trying to focus on something that's far away, like for example the stars then you'll be happy to know that you can set the focus to Infinity and not worry about focus at all. We should also mention that the Continuous AF is also included, but don't expect any miracles out of it since it works averagely good at best.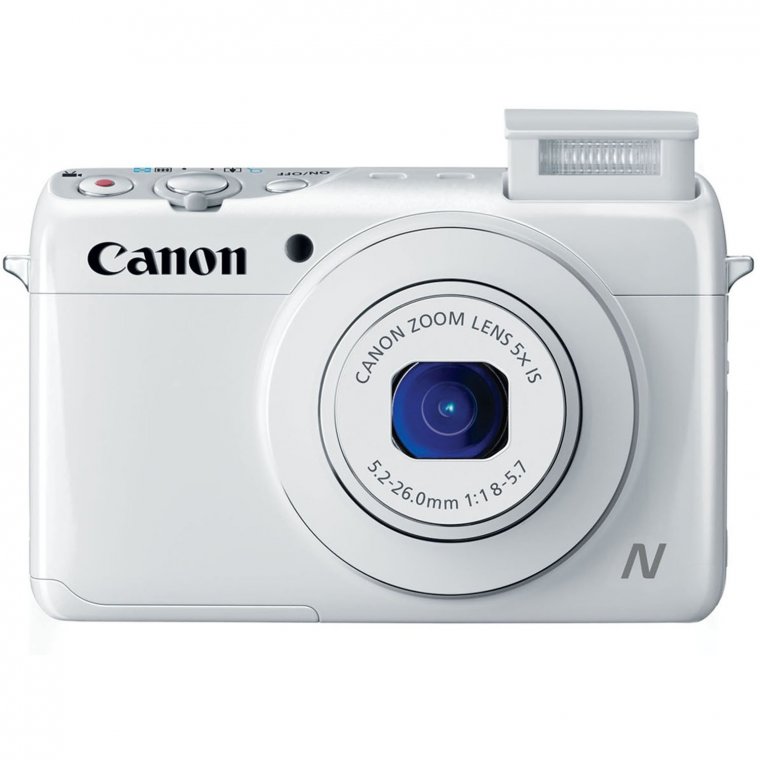 Where the Canon PowerShot N100 doesn't disappoint even a bit is in the speed of operation. Thanks to the very simple and lightweight user interface and the capable DIGIC 6 processor it will perform any task you throw at it admirably well and it will never disappoint you or leave you waiting for too long. Using the N100 is really a smooth sailing and we appreciate that Canon has taken enough care to make even one of their less expensive cameras perform this well.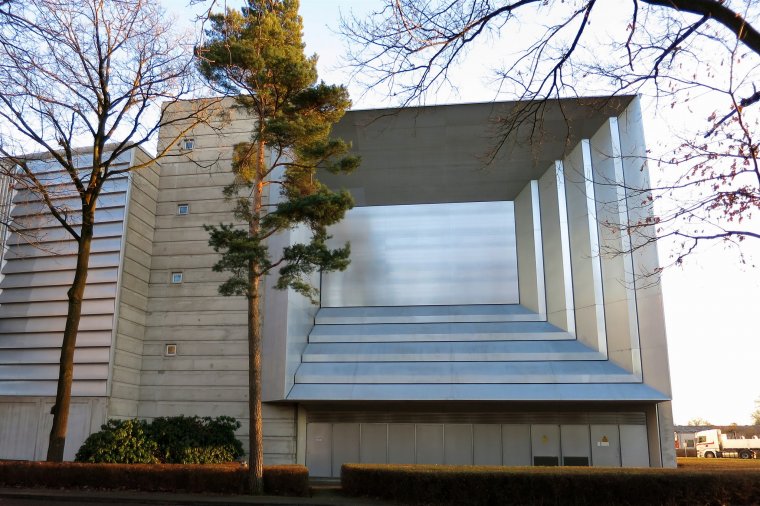 Photo courtesy of Franz Wegener
Burst rate shooting isn't one of this camera's strongest point, but it isn't the weakest either. The maximum speed at which you'll be shooting is 3 fps and it sits perfectly in line with the performance you would get from the mid-end compact cameras released a few years back. It is useful enough to help you with taking photos of your family and friends that just can't keep still, but nothing more than that, which is ok in our book. The battery life you could expect to get out of the N100 isn't bad at all. You can get around 330 shots per charge, which even beats some of the more expensive today's modern cameras. It's not an impressive performance by any means, but well above average for a point-and-shoot camera.
Video features and quality
There's no way around it, the PowerShot N100 is a pretty simple and ordinary package when it comes to its video recording capabilities. You get the ability to shoot at 1080p resolution at 30 fps (which is a standard for most of the cameras on the market) or you can lower the resolution to 720p or 480p. The sound is recorded in stereo and you can also connect an external microphone if you wish to improve its quality. Image stabilization is also available and it exhibits generally good performance. Focusing on recording isn't particularly fast, but is accurate if there's enough light in your scene. Video quality is pretty decent in normal conditions and averages at best in low light, just like you would expect for a point-and-shoot camera with a sensor that's a little bigger than average. So, there are no surprises here, aside from the external microphone port, which is something that anyone interested in recording videos will surely appreciate.
Image quality
This brings us to the most important factor of every camera on the planet, the image quality. Luckily, in the case of Canon PowerShot N100, we can say that we're quite pleased with the quality of the photos that come out of it. In daylight, images exhibit plenty of details, little noise, nicely balanced colors and decent dynamic range. When the light levels drop down, the image quality can remain respectable, but only up to an ISO of 800. If you decide to go above that value, you'll end up with photos that sport a healthy amount of noise and noise reduction artifacts, but that's the limitation of the smaller sensor and something we've expected out of the N100. The good thing is that you won't need to use very high ISO values too often because of the bright f1.8 aperture at the wide angle of the lens and also image stabilization, so things aren't as bad as they might sound at first.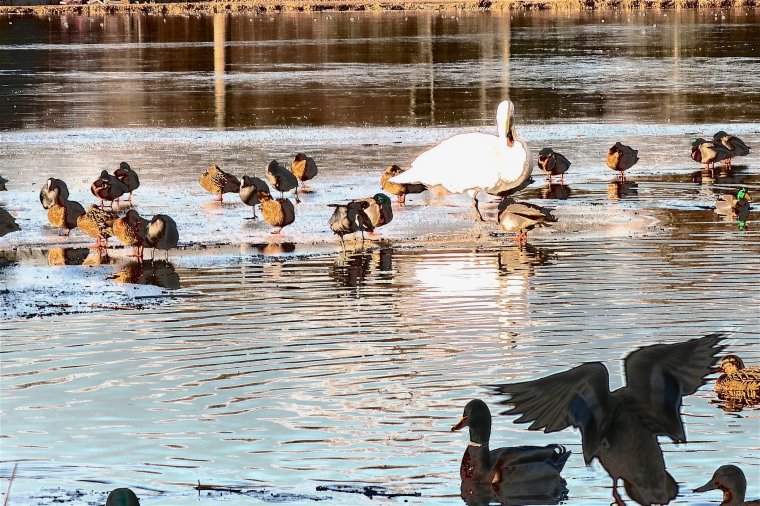 Photo courtesy of Franz Wegener
We wish that Canon has included the ability to shoot in RAW, which would certainly help you a squeeze out a little more image quality from the N100's sensor if you know your way around post processing, but since this is a camera that was made with simplicity in mind, we saw it coming even before we've started writing this review. So, as is the case with every other aspect of this camera, it performs well when it comes to image quality, but you won't get a lot of control in terms of exposure or the look of the images.
Conclusion
So, it's time to sum everything up and form a final opinion of the Canon PowerShot N100. Who is this camera for? Does it offer enough to entice today's buyers despite its 3-year-old age? Does it perform good enough? The answer to all of those questions is a resounding "Yes".
It's still quite a capable camera no matter what feature you decide to take a look at to judge its value. It has a nicely designed and decently durable body, great handling and usability, a versatile lens with image stabilization, bigger than an average sensor that can produce good-looking images in all but the darkest conditions, respectable battery life, good focusing performance and performance in general and excellent Wi-Fi capabilities.
The only thing that sets it apart from the more expensive offerings are its basic video recording functionalities, lack of proper manual controls and no RAW support, but some corners had to be cut so it could reach its competitive price point. We believe that they won't present a problem for the majority of users looking to buy this type of camera, as most of them want a simple and easy to use product that will provide them with images that are of good enough quality to be kept in their collections for many generations and shared among their family and friends and the Canon PowerShot N100 should have no problems in satisfying the needs of these types of users. It's a very usable fun little camera and you really can't ask any more out of it than that, especially if you take into account its price, which is certainly very fair and makes the N100 somewhat of the best buy product.
Check out our other posts about Canon PowerShot family members such as Canon PowerShot G16 or Canon PowerShot G9 X Mark II. If you want to find the best point and shoot cameras, just click here.
SaveSave
The following two tabs change content below.
An amateur photographer, songwriter, musician, computer and technology geek and an occasional comedian, I'm a little bit of everything. I always aim to pursue things I'm passonate about and try to look on the positive side of things whenever I can. My mission is to wrap my articles in that aura of positive energy and keep a healthy balance between being serious about my work and spicing things up with a little fun now and than. After all, life's a game and there's always a different way to play it.