Canon PowerShot G1 X Mark II Review: Meet a Revisited Classic
Canon PowerShot G1 X Mark II Review: Meet a Revisited Classic
www.sleeklens.com
We know that most of you are interested about the reviews of newer cameras, as the older models are usually very well covered by other websites, but not a lot of them returns to those cameras when they aren't as popular as they used to be. The thing is, considering how camera prices tend to drastically fall as the older models are replaced with newer ones, those cameras that are now a couple of years old could become very popular once again. Maybe you've got your eyes set on a shiny new camera like the Canon 800D Rebel T7i, but it's way out of your league price-wise, and you can't afford it. Well, it's not a problem in the camera world, as you can always wait for its price to drop and enjoy it the same way as you would when it was just released. Thus, today we've got a chance to revisit one of Canon's flagship cameras from the year 2014, the PowerShot G1 X Mark II which is a year beyond Nikon Coolpix P7800 and see if it can fit into the category of those devices that can still be a great choice for potential buyers in 2017.
Well, a quick look at its specifications certainly reveals that it still has a lot of fight left in its body and that it will still offer a lot to those users who want an advanced portable camera, but don't like to pay premium prices for them and aren't in a hurry to get them the same day they reach the market. If you've wondered if the G1 X Mark II can replace your smartphone (since a lot of users are asking themselves the same question when deciding if they should purchase a dedicated camera) and give you a lot more functionality and also improved image quality than the answer is: Yes, it certainly can!
So, try to keep an open mind and let us give a second chance to one of Canon's compact camera champions from a couple of years ago and see how much power is left in such an interesting piece of gear. If still, you want more where you can choose the best camera, you may click this link.
Canon PowerShot G1 X Mark II is certainly one of those rare cameras that were created to stand the test of time and to be as competitive on the market as long as they can, and the list of specifications attached to it certainly proves this statement.
Pros
Built-in WiFi
NFC Connectivity
Image Stabilization
Articulating Screen
External Flash Shoe
FullHD Max Video Resolution
Touch Screen
RAW Shooting
Manual Focusing
Manual Exposure
24mm Wide Angle Lens
Built-in ND Filter
Selfie Friendly LCD Screen
Cons
Heavy Body
No Environmental Sealing
Electronic (Optional) No External Viewfinder Option
Low Resolution Sensor
Low Battery Life
Click to read the full Review
The most important thing about the G1 Mark II is its sensor. With its 1.5-inch size, it's certainly a rare beast in this day and age, being positioned right in the middle of 1-inch and APS-C sensors. This means that we can expect it to perform very admirably, even in low light conditions, but we'll reserve our conclusions after we're done with this review. At 12.8 megapixels, it doesn't sport the highest megapixel count we've ever seen, but considering the sensor size, we believe that it won't be enough of an issue to prevent the G1 X Mark II from getting you sharp and detailed photos.

Since this is an advanced compact camera, it's of no surprise that it also brings RAW support, meaning that those of you who like to spend time editing your photos will be able to get even more out of that sensor that you will usually be able to get when shooting only JPEGs. The sensor itself is also powered by the familiar DIGIC 6 processor which will ensure that shot to shot times are fast and that the camera can retain its 5.2 fps burst rate for a decent amount of time. It will also allow you to shoot at shutter speeds ranging from 1/4000 sec to 1 minute and also at a highest ISO value of 12800. You can gain even more control over your exposure with the built-in 3-stop ND filter, which will allow you to cut down on the harsh light when shooting in sunny conditions and also to slow down your shutter speed to achieve some of the very desirable effects like silky smooth water or blurred moving clouds.

On top of that 12.8-megapixel sensor lies a 24-120mm equivalent lens with a maximum aperture of f2 at 24 and f3.9 at 120mm. This means that the lens can capture a decent amount of light, especially at its wider angle and that shooting in low light shouldn't be an issue. The included optical image stabilization is also here to allow for sharper photos at slower shutter speeds and to smooth out the shakiness caused by shooting videos handheld. Lastly, the lens itself features a very useful minimum focusing distance of only 5cm while you're shooting at 24mm and 40cm at 120mm focal length. While such a lens won't replace a dedicated macro lens you would usually be able to use with a mirrorless camera or a DSLR, it certainly does the job considering we're talking about a camera that tries to do as much as it can in one portable package. When it comes to G1 X Mark II's focusing ability, Canon claims that its much improved over its predecessor and brings a new 31-point contrast detect AF system to the table which aims to improve everything from focusing speed in normal situations to subject tracking. It also comes with Touch AF capability and Focuses Peaking for those that prefer to focus manually.

When it comes to video recording, you'll get the ability to record 1080p footage at 30 fps and with stereo sound. There's no 4K support or 60 fps recording on board (nor the headphone or microphone jack) which is certainly a shame for those professionals that we're thinking of using the GX 1 Mark II as their backup camera, but on the more positive side, the recorded footage should be of very good quality thanks to the large built-in sensor. You'll also get some additional shooting modes (for those of you that want to explore the more fun side of videography), but we'll talk about those a little later. One area in which the G1 X Mark II doesn't seem to bring any compromise is its body design and build quality. You'll be able to control every aspect of this camera with ease thanks to the abundance of available dials and buttons and also keep it in good condition for a long time because of its magnesium alloy construction.

We also like that Canon has decided to implement a touchscreen unit instead of a more traditional screen, as an addition like that improves on usability immensely. The unit in question bears a diagonal of 3 inches and a resolution of 1,040,000 dots. It also promises to bring very high color accuracy, hence its sRGB PureColor II moniker. There's no built-in viewfinder, but you do get the option to connect an external one via the hotshoe on the top. It is an additional investment, but considering the fact that not everyone will need such functionality we understand why Canon decided to keep it as an option, rather than forcing their customers to pay for it.

Some of other hardware aspects we should tell you about are the included pop-up flash unit with a maximum range of 6.8 meters and Slow Synchro mode in addition to the regular ones, both the USB and HDMI ports, Wi-Fi and NFC and also an orientation sensor. There is no GPS unit built-in, but you can easily use the data gathered by your smartphone and add it to your photos, so it's no issue that it's missing. So, while it does have a few quirks to its side, the Canon PowerShot G1 X Mark II still looks like a pretty capable camera, even 3 years after its release and thus we are very curious to know how well will it handle during our testing. So, let us begin.
Body and handling
If there is one area in which the Canon PowerShot G1 X Mark II really feels like a premium camera (aside from its image quality) it is its body and everything that's related to it. Not even the Canon's decision to keep the viewfinder an optional purchase or the lack of environmental sealing is enough to ruin our very positive impressions. The moment you take the camera in your hands you'll notice that it was built to the highest standards. The magnesium alloy materials are here to keep it sturdy and durable, while the large textured grip on the front will allow you to hold the camera very securely.
We also like the attention to detail Canon has put into designing the G1 X Mark II as they've also added a textured pattern to both control rings on the lens barrel and the also to the main mode dial, making them easier to feel when you've got the camera to your eye, or you're using it the dark. While we can certainly say that the build quality is excellent, it did take its toll on the weight of the camera. At 553 grams, it's even heavier than some DSLRs, and you'll certainly feel it the moment you start shooting with it. So, it may not be the most portable compact camera out there, and it's up to you to decide if you can live with some additional weight. Luckily, the dimensions themselves don't pose any problem whatsoever s the camera body isn't too large for compact or mirrorless camera standards.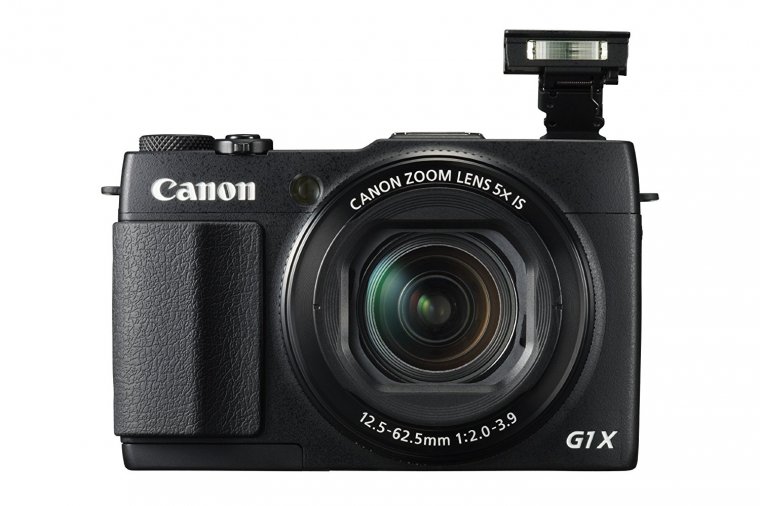 Now, let's see what you can expect to get with the Canon G1 X Mark II regarding its controls and other external features. Let's start with its front. Here you'll find the focus assist lamp and the lens, which also features two control rings on its barrel (one is a step ring and one continuous). Both of those rings can be customized to almost no limit, but more on that a little bit later. The left side of the camera holds the pop-up flash switch, a mono speaker unit and the NFC mark, while the right side features all of the included ports (Remote, AV/Digital, and HDMI), all protected under one flap. The memory card slot and the battery share the same compartment and are located at the bottom of the camera, together with the traditional tripod socket.
The top of the G1 X Mark II features a pop-up flash unit, a hot shoe mount, a pair of microphones, the Playback and the On/Off buttons, the shutter button combined with a zoom lever and lastly, the traditional shooting mode dial with two customizable profiles (C1 and C2). In the end, let's see what can be found on the back of the camera. Aside from the LCD screen itself, we find the Mobile device connection button located just above the thumb rest, the Movie and the Shortcut buttons to its right and the MF/Single-image erase, AF frame selector/Filtering image display, Display, and Menu buttons, as well the main navigation controller just below it. The navigation controller itself can be used either as a four-way joystick or a control dial and also has four functions mapped on each of its sides (Macro, Exposure compensation, Flash, and ISO).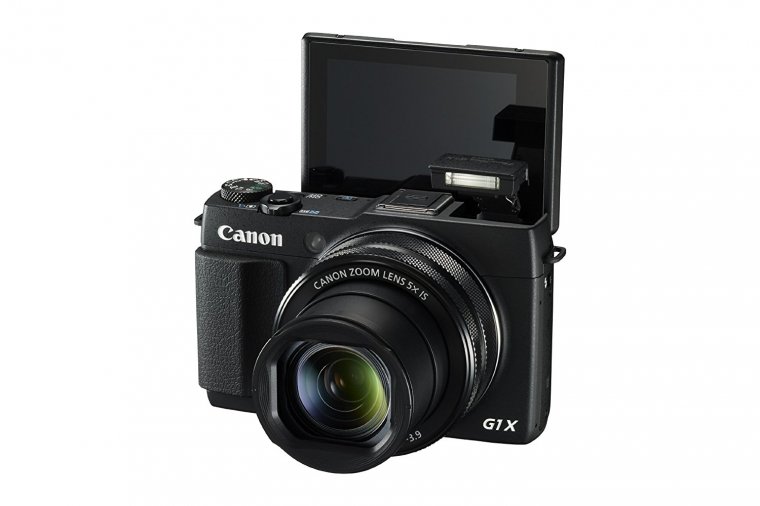 Well, the Canon G1 X Mark II certainly doesn't disappoint concerning raw control and just one good look at its body will confirm that statement. Add to that a familiarly great user interface found on a lot of other Canon's cameras and the ability to navigate it using a touchscreen and you'll get one solid package that should satisfy even the most demanding photographers (at least those that know that we are still talking about a compact and not a DSLR or a mirrorless camera). A camera that's catered to more advanced users wouldn't be the same without a lot of options regarding setting up its behavior, so let us examine some of its features that are closely related to customisation.
First, there's the two lens rings and the control dial/navigation controller on the back. The continuous (or outer ring) can be used to adjust the Exposure compensation, Shutter speed or the Aperture. The step (or the inner ring) can be programmed to adjust the ISO, DR or Shadow corrections, White Balance, Aspect ratio or to be used for step zoom operations. The control dial on the back has the largest number of available options that can be assigned to it and they are the exact ones that can be performed by the outer and inner rings but combined. The outer ring can also be used for manual focus while the AF+MF feature is enabled. Additionally, you can also change the behavior of the Shortcut and Movie buttons. Both of them bear the same list of available functions, and some of them are: Drive mode, Self-timer, AF frame, Light metering, ND filter and so on.
The G1 X Mark II is also equipped with a Function Menu (accessed via the Shortcut button), which will allow you to fill it up with those options that you couldn't assign to any of the buttons or dials like Compression, Movie quality, Recording pixels, Image type and so on. While it's certainly not uncommon to find this level of customization on a more expensive DSLR or a mirrorless camera, we are still happy to see that more premium compact cameras (like the G1 X Mark II) aren't left far behind and can offer a lot of functionality that will otherwise be left out and often ignored.
On another positive note, this camera also brings a lot concerning wireless-related features. Its equipped both with Wi-Fi and NFC, meaning that you'll be able to connect it to a wide array of different devices, including Android smartphones and tablets that support NFC and will allow for much faster pairing than using the more traditional methods. First, to enable the G1 X Mark II to communicate with a smartphone or a tablet you'll be required to install the CameraWindow application, which is downloaded for free from the respective stores on Android and iOS platforms. After you've done so, you'll be able to send your photos to your smart device, use it as a remote viewfinder or add the GPS data it has gathered directly to your images.
We do wish that you could do more when remotely controlling the camera (like adjusting exposure parameters), but the ability to control the zoom, Self-timer and flash mode will be enough for most users. Aside from the smartphone/tablet related features, you'll also be able to send your photos via an email, upload them to a social network of your choice or back them up to Google Drive or Canon's cloud service. Do note that you'll need to register your camera to Canon's iMAGE GATEWAY service before performing those operations, which will take you a bit of time, but is only requiring to be done once, so it shouldn't be of real issue to anyone.
Well, Canon have certainly done a fantastic job of creating a compact camera that feels like a proper tool that will be loved by advanced users and professionals as its build quality, control scheme, customization options and wireless functions shouldn't make any photographer feel indifferent about the Canon PowerShot G1 X Mark II, especially if they are looking into buying a premium compact camera.
Autofocus and performance
The Canon G1 X Mark II isn't the best performing compact camera we've ever tested regarding focusing as it is one of its aspects that does show its age. While the included 31-point contrast detect AF system copes well with most types of usage it does suffer a little in low light; we're its accuracy and speed were average at best. Luckily, you can always use the Focus Peaking feature to help you in those situations, and the said feature worked very reliably during our testing, and we've never felt that focusing manually was too much of a chore with the G1 X Mark II. In all other areas, he said focusing system performed admirably and predictably well, even when it comes to subject tracking (something that can't be said for a lot of compact cameras on the market). So, if you aren't spending most of your time shooting in dark conditions, you should have no problems with getting sharp and well-focused photos with this camera. Also, those of you that are coming from smartphones or other cameras that support the Touch AF capability will be happy to know that it's also included on the G1 X Mark II and that it works as expected.
Now, let us touch on some of the available focusing modes (mind you, there are a lot of them). The 1-point focus is the most effective method of focusing reliably as it allows you to pinpoint the exact spot you wish to focus on. You can also use the Continuous AF mode to enable the camera to constantly try to focus on any subject of your choice, even without the need of pressing the shutter button. If you're mainly interested in shooting portraiture, then you should stay in the Face AiAF mode as it will automatically detect people's faces and adjust the exposure and white balance accordingly. You can also use the Face Select feature to choose the face of a person that is of your main interest, instead of letting the camera choose one for you.
You can also do quickly focus on anything you want by using the Touch AF and tapping on the screen. There' also a special mode available called Focus Bracketing. In this mode, the camera will capture three images; one that is focused manually by you and two others that are focus nearer and further from the selected focus area. This will give you an increased depth of field, which is especially useful for those occasions when you're shooting at close distances and in those cases where the thin depth of field is not a desirable trait. If you find yourself in such situation, then you can also enable the Macro mode and limit the focusing range of the lens, meaning that you'll be able to achieve focus faster, especially if you're moving from one subject to the other and the camera will need to take its time to refocus on your shots.
So, the G1 X Mark II certainly defends its status of the premium compact camera when it comes to its focusing prowess, but can the same thing be said about its performance in general? Well, yes, it will certainly be able to hold its own no matter what you throw at it. The powerful DIGIC 6 processor and Canon's own optimisations are to be thanked for that. The camera will only take a little more than a second to power on and be entirely be ready for use, and you can also expect shot to shot times that will always be well below a second, which certainly a great performance for a compact camera. The same can be said about its burst rate (at least for shooting JPEGs), which comes in two modes: 5.3 fps when the focus is locked at the first shot and 3 fps when the Continuous AF does its magic.
If you insert a fast-enough SD card into the G1 X Mark II you'll be able to shoot for as long as there's enough free room; the camera will never drop its speed. Now, this only holds true if you're shooting JPEGs and the story is very different when it comes to RAW. In this case, you can expect a speed of around 1.5 fps for locked focus and less than 1 fps with Continuous AF, which isn't a very impressive performance at all. Since we are talking about a compact camera, it's of no surprise that it can't handle shooting in RAW as well as a more expensive mirrorless camera or a DSLR, so, we are very satisfied that shooting in JPEG yields excellent results.
One thing that could use some improvement on the G1 X Mark II is battery life, which is sadly below average for a camera of its type (especially when you take into account that it's a little bigger than your traditional camera). You'll only be able to get around 240 shots per charge out of its battery pack, which means that you should invest in an additional battery pack if you even consider yourself a moderate user, let alone a heavy one. Other than that, the Canon PowerShot G1 X Mark II proved to be an admirable camera when it comes to performance and will be a great choice for anyone but those users that often work in low light conditions or need fast RAW shooting.
Video features and quality
If there's one area which could be considered a somewhat of a weak point for the Canon PowerShot GX 1 Mark II than it has to be its video recording capabilities. It seems that Canon went all out concerning providing a very good stills shooting experience, but let the video recording fall into the second plan. The GX 1 Mark II can record 1080p videos at 30 fps, something that was more common for the time when it reached the market, but it's not very impressive for 2017, where a lot of cameras can shoot 1080p videos at 60 fps and even in a lot higher 4K resolution. For those that aren't planning to do any professional work with this sort of camera, 1080p 30 fps won't be an issue, but everyone else might feel a bit limited creativity and quality-wise.
The videos coming from this camera could be considered average at best. While the bit rate of 24 Mbps isn't bad, to begin with, it doesn't help a lot to keep the footage very sharp of clean of any impurities. That's not to say that your footage will look bad, but don't expect any quality that will wow you at first glance. The same can be said about audio quality; it was decent and recorded in stereo, but having a microphone jack would certainly be of great benefit and its shame that it's missing considering that the body of the G1 X Mark II is larger than that of your traditional compact camera.
There are also some limitations to be found when it comes to adjusting exposure or focusing manually. You can adjust some exposure parameters and quickly acquire focus with the help of Focus peaking before you start recording the video, but as soon as you hit the Movie button all of those options are gone, and you can only adjust focus using your touchscreen. So, the G1 X Mark II is halfway to being a fully manual video creation tool, but as soon as you start recording it flips into a point-and-shoot mode, which is certainly a shame. Luckily enough, Canon has decided to include some a couple of fun Special Effects to brighten up to the entire experience. Star Time-lapse allows you to continuously take stills for as long as two hours and combine them into one movie which will showcase the movement of the stars. Digest Movie feature will record a clip of up to 4 seconds in length before you capture a still photo and combine them later into one video file. This can serve you as sort of a slideshow of all of your moments you've experienced through your day with the camera.
The Miniature Effect mode will blur the top and bottom parts of your images and also speed up the footage to give you the illusion that subjects you are currently shooting look like living toys, and it's a quite fun play around with if you know to pick the right situation to use it. In addition to ones we've already mentioned, you'll also be able to apply additional Special Effects to your videos like Nostalgic, Poster Effect, High Dynamic Range, Toy Camera Effect and many more. So, we think that the message is clear with in terms of video recording with the Canon G1 X Mark II; it's not aimed at professional or advanced users in any way and its meant to be used as a backup tool to shooting photos and is here for you to have fun with it, rather than taking it too seriously.
So, if you think you are the person who knows how to let themselves go from the strict way of thinking when the need for creating videos arises, then you should be perfectly happy with what this camera has to offer and not be bothered by some of its limitations.
Image quality
Now, we all know that most of who weren't aware of the Canon PowerShot G1 X Mark II is curious about its image quality since it was one of Canon's best compact cameras couple of years ago, and those of you who knew about it will certainly want to know how well it held up in 2014 and how it compares to modern cameras. Well, it's not class leading anymore, that's for sure, but it's still very good for a camera that was meant to offer a lot of power in a portable package. 12.8 megapixels certainly won't excite anyone, but coupled with that large sensor it will provide you with sharp images and very little noise, even at higher ISO values.
Shooting in RAW will allow you to get very usable images, even at an ISO of 12800, which is something that still can't be said for a lot of other compact cameras. You can also expect to get decent dynamic range, but nothing that's groundbreaking or even close to the performance of some of the more modern and pricier offerings. The lens on the G1 X Mark II is also of pretty respectable quality. It only gets a little softer at its telephoto end and with the aperture open to its maximum, but stopping down just a little immediately yields noticeably sharper images. Since we are talking about a moderately bright lens (even when fully zoomed in), there's a lot of room available to play with depth of field and blur your backgrounds when your close enough to your subjects, which makes it feel like a DSLR or a mirrorless camera at times.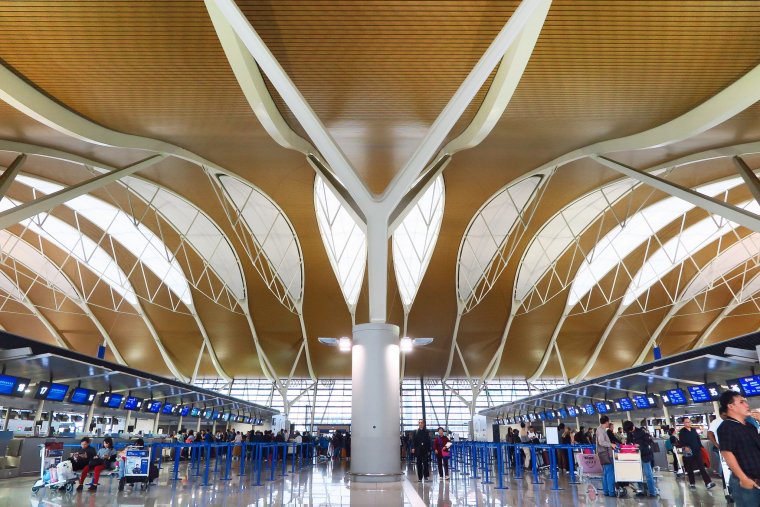 As is the case with most of Canon's cameras, those users that aren't interested in shooting in RAW all the time will get a decent number of different effects to apply to their photos. There are a lot of those to speak of, so we will only mention a few of them: Nostalgic, Fish-Eye Lens Effect, Background Defocus, Toy Camera Effect, Soft Focus and so on. If you're the type of person, who enjoys playing with such features than you will never get bored with the G1 X Mark II since it's packed to the brim with them. Other than that, it's a very solid performer when it comes to taking stills, especially for the flexibility brought on by its large sensor and bright lens.
Conclusion
It's finally time to condense all of our findings of the Canon PowerShot G1 X Mark II into one final section of the review and let you form a concrete feel for this camera. It's always somewhat tricky to review older cameras, especially if they weren't top of the line models at the time of their release, but our job has been easier this time because we got the chance to take a look at one of Canon's most prominent compact cameras that was created to compete with the very best on the market back in 2014.
The question is, has it aged well since the time of its release and does it still offer enough to become a realistic purchase three years later? In our opinion, it certainly does! While it isn't without its flaws (with no weather sealing, outdated video mode and less than stellar battery life) it does offer a long list of great features which include a large and still capable 12.8-megapixel sensor, optically stabilized and bright lens, well-crafted body with a ton of ways to control and customize the camera's operation, an adjustable touchscreen unit, the option to connect an EVF, Wi-Fi + NFC, decent AF system, very good burst rate for shooting JPEGs and a plethora of different effects that work both for photos and videos.
The bottom line is, if you're looking for a compact camera to shoot videos with mostly, then the Canon PowerShot G1 X Mark II shouldn't take your camera of choice, but if you're primarily interested in taking photographs, and you don't mind carrying a spare battery pack with you for those busier days, than you certainly can't go wrong with this one. Considering how quickly the technology is advancing with each passing year (and that also holds true for cameras) it's always interesting to find a device that is nowhere near to being brand new anymore, but can still be wholeheartedly recommended to many different types of users And Canon PowerShot G1 X Mark II is certainly one of those rare devices.
SaveSave
The following two tabs change content below.
An amateur photographer, songwriter, musician, computer and technology geek and an occasional comedian, I'm a little bit of everything. I always aim to pursue things I'm passonate about and try to look on the positive side of things whenever I can. My mission is to wrap my articles in that aura of positive energy and keep a healthy balance between being serious about my work and spicing things up with a little fun now and than. After all, life's a game and there's always a different way to play it.