Meet the Canon EOS M3: An Entry-Level Mirrorless Camera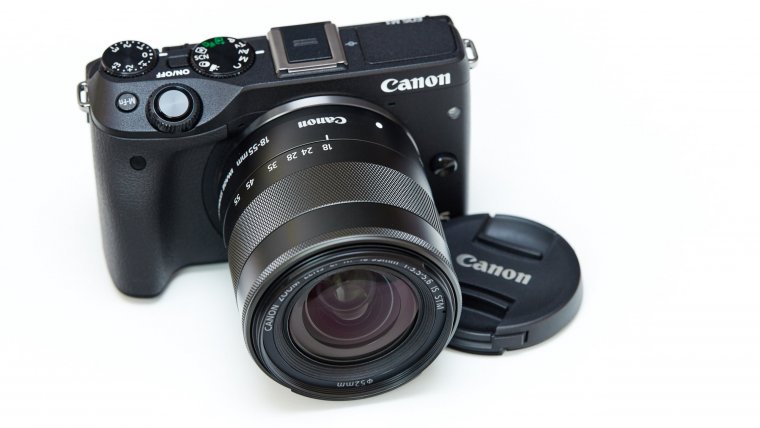 Meet the Canon EOS M3: An Entry-Level Mirrorless Camera
www.sleeklens.com
The mirrorless camera market has been very saturated with a lot of different offerings for quite some time now and every manufacturer is trying to get the piece of the cake. So, it's no wonder that a company like Canon decided to step in and share their vision of a perfect mirrorless camera. Today, we are taking a look at one of their entry-level offerings, the Canon EOS M3.
In a way, the M3 is a Canon Rebel T6s in a lot smaller body and with some features added in and considering the target market for this camera, it makes a lot of sense to use all the technology that can be already found in a well-established camera like the T6s. So, this already points out to a camera with at least decent image quality, capable focusing system and a quality body with a useful control scheme. Let's see if the transition from a DSLR to a mirrorless camera was a successful one and does the Canon EOS M3 bring enough interesting things to the table to stand out and make it to be the best camera in the already very competitive market.
Will the Canon's expertise in making cameras be able to outsmart SX720 HS which is a small sensor superzoom or will the M3 end up being just another mirrorless camera with a familiar brand name slapped to its body? Let's see.
As always, let's start the specs roundup with the camera sensor. The EOS M3 comes equipped with a 24 megapixel APS-C sensor with Hybrid CMOS AF III technology. What that means is that it brings more advanced focusing methods instead of the traditional contrast detect solutions. You get 49 phase detect AF points, which is a similar approach that Canon has made on some of their more expensive cameras bearing Dual Pixel AF technology and should give you respectable focusing performance both when it comes to taking stills of moving subjects or in video recording.

Pros
Built-in WiFi
NFC Connectivity
Articulating Screen
FullHD Video Resolution
Touch Screen
Selfie Friendly LCD Screen
Remote control with a smartphone
Cons
No Image Stabilization
Low Battery Life
No Environmental Sealing
Click to read the full Review

The EOS M3 also comes with DIGIC 6 processor, the one that can be found in T6 and T6s as well as the more advanced 80D, meaning it should give you great performance no matter what you do with your camera. Despite having a very capable processor, the burst rate is still limited at 4.2 fps and we've certainly seen faster cameras at this price point. We have yet to see how large the buffer is while shooting a burst of images, so we'll reserve our final judgment for later. The EOS M3 is also has a maximum shutter speed of 1/4000 sec and an ISO range from 100 to 12800 (expandable to 25600). Its body is a combination of magnesium alloy and hard plastic and it feels very well-made. The screen on the back is a touch enabled 3 inch unit with a resolution of 1,040,000 dots and the ability to be tilted upwards for a maximum of 180 degrees, so all of you that are keen on taking selfies or making vlogs will be quite happy with this feature. Like many other mirrorless cameras at this price point, it doesn't feature an integrated viewfinder, but Canon were smart enough to allow you to connect an external EVF via the hotshoe on the top of the camera.

The EOS M3 also has an integrated Wi-Fi with NFC, a microphone jack, mini-HDMI port as well as a pop-up flash unit with a maximum range of 5 meters at an ISO of 100. When it comes to video capabilities, you get the option to either shoot at 1080p resolution at 30 fps or 720p at 60 fps. Unfortunately, there is no 4K recording on board and Canon are again very reluctant in including it on their less expensive models and reserve it only for their full frame cameras and

camcorders

. Other than that slight omission, the EOS M3 seems like a well-rounded mirrorless camera judging it sorely on its specifications. As always, the first thing on our to-do list is to see how the camera body holds and is the EOS M3 a comfortable camera to use.
Body and handling What you'll immediately notice about the EOS M3 once you take it in your hands is its build quality. It's seriously well built for a camera in an entry-level range and really shows us how serious Canon are in building camera that should last you a long time, even if you're one of those people that don't take a lot of care about your gear. It's not the most attractive camera around and instead opts in for function instead of good looks, so the EOS M3 looks more professional and more serious than other cameras in its price range. It also has one of the biggest and most comfortable grips you'll ever find on a mirrorless camera of its size and makes it extremely comfortable to use. At 366 grams, it has some nice heft to it, something that goes well with the overall feel of quality that surrounds this camera. Another thing that's immediately noticeable about EOS M3 is its advanced color scheme. It tries to make a perfect blend of touch input and physical controls and give you more control than you will usually get on a similarly priced camera. The control layout is also your standard Canon affair, so even if you haven't used a Canon camera before you should be able to learn your way around it very quickly.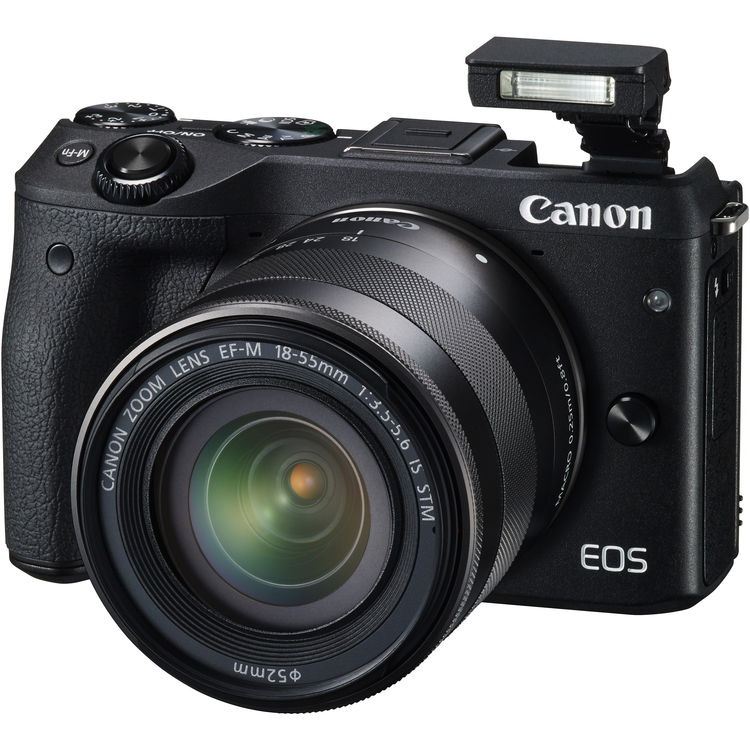 So, let's take a tour around the EOS M3 and see what it's all about. Let's start with the front. Here, you won't find much, only the focus assist light and the lens release button. The left side of the camera holds the switch to release the pop-up flash unit as well as the NFC contact point that will allow you to easily pair the EOS M3 with your Android smart device just by tapping them together. Taking a look at the top of the camera starts to reveal more interesting things. Looking from the left, we find the pop-up flash compartment, a hotshoe which serves as a way to connect an external flash or the viewfinder accessory, a main mode dial with one custom mode on it, an exposure compensation dial and lastly, the shutter button which also doubles as a front control dial. The back of the camera is almost completely dominated by the 3 inch touchscreen, which only leaves room for controls on the right. The first thing you'll find is the Movie and Playback buttons which are located just to the right to the thumb rest. The last group of controls you'll find are positioned around the four-way navigation controller/back control dial. These are the AE Lock/Index, AF Frame Adjustment/Magnify, Info and Menu buttons. The four-way navigation controller also holds shortcuts of its own and allows for a quick access to ISO/Wi-Fi, Flash control, Manual Focus and Erase functions. We weren't wrong when we stated that the EOS M3 feels like a far more advanced camera than its price dictates and we are really happy to see a manufacturer take their job seriously and deciding not to hinder the shooting experience in any way and equipping their camera with enough options that would satisfy both the beginners and advanced users.
What we also like about the EOS M3 in terms of usability is its user interface. Canon have really nailed it and made it one of the most intuitive ones we've seen so far on a mirrorless camera. It's simple to navigate, clean, nicely laid out and also optimized well for touch use. It goes perfectly with a responsive touchscreen found on the M3. Canon's UI is also not a stranger to customization and allows you to change the function of up to seven different buttons. Keep in mind that not all of those buttons are able to hold the same functions, but it's still a very respectable amount of customization to have on a camera that doesn't cost much money. On top of that, you get a customizable My Menu feature that allows you to put up to six of your most important settings and is a good way to fill it with some of those functions that can't be access via a dedicated button or are buried somewhere in the menus. Lastly, there's the C shooting mode which allows you to save your current exposure settings in camera's memory and access them later just by switching to that mode. It's a great way of having the ability to quickly change your settings on the go without losing your momentum and the change to take that winning shot is completely lost. If, however you aren't too keen on spending time fiddling around with the camera and you just want to take photos, then you'll certainly spend a lot of time inside the Q Menu. It can be accessed by pressing the SET button found inside the navigation controller and it consists of all of the most important settings you would ever need. It's also quite easy to use it with a touchscreen, which is always a plus.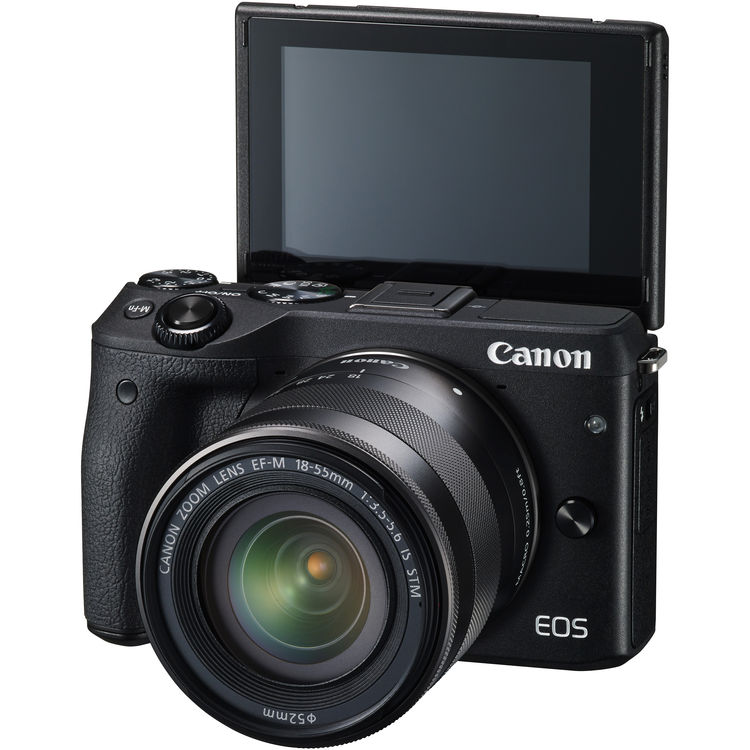 Lastly, before ending this section of the review, let's see how capable the EOS M3 is in regard to Wi-Fi functionality. The answer is, very capable! There are five main ways to make use of the Wi-Fi capabilities: connect the M3 to a smart device, another camera, DLNA compatible device, a wireless printer or to Canon's iMAGE GATEWAY web service. When connected to a smart device (Android or iOS) you can either transfer images to that device or use it for remote shooting. This requires the use of EOS Remote app, which you can download for free from the application store on your device of choice. Other than that, you can back up your photos to the cloud via the iMAGE GATEWAY service and also use it to post your photos and videos on different web services. You can even set up the camera to automatically sync your images and send them to a computer or a web service of your choice. All in all, we are very impressed with what Canon has achieved with the EOS M3 in regard to its body and everything that goes with it. Some may argue that removing the EVF and making it an optional purchase was a bad idea, but it makes sense when you're looking at it from a standpoint of the M3 being a camera that's priced to appease to those users who are probably buying their first mirrorless camera and are used to taking photos and videos with their smartphones, meaning they are accustomed to using a touchscreen and not having a viewfinder. This allows them to make the transition to a dedicated camera less complicated and gives them the option to add the EVF at a later date after they've grown accustomed to their camera.
Autofocus and performance
As we've already mentioned, the EOS M3 comes equipped with a 49-point phase detect system, which is a departure from the more traditional contrast detect based systems found in many other mirrorless cameras. In theory, it should bring excellent performance similar to one you get with a DSLR when shooting through the viewfinder, but that's not the case with the M3. It's a decent AF system overall, but it performs just like a contrast detect system and there are no expected performance gains to be seen anywhere. It's still a reliable performer in normal shooting conditions, but not the fastest we've seen. The overall performance drops a little when there are moving subjects in your frame, which is a shame since this is one of those use case scenarios where phase detect AF systems usually show their strength over the contrast detect ones. On the positive side, you do get some useful AF modes to help you achieve better results. You get either One shot or Servo AF and both of them have to focus area modes: Face detect + Tracking and 1-point AF. You'll get the best tracking performance if you enable the camera to continuously focus by itself, but you still won't get the kind of results you would with a more advanced camera. One good thing about the AF on the EOS M3 is that it doesn't slow down at all when you adapt an EF mount lens to it, which is great for anyone already invested in Canon's lenses and wants to make use of them on a mirrorless camera as well. Lastly, if you intend to do manual focusing, then you can make us of both focus peaking and the ability to magnify your image frame to achieve critical focus more easily.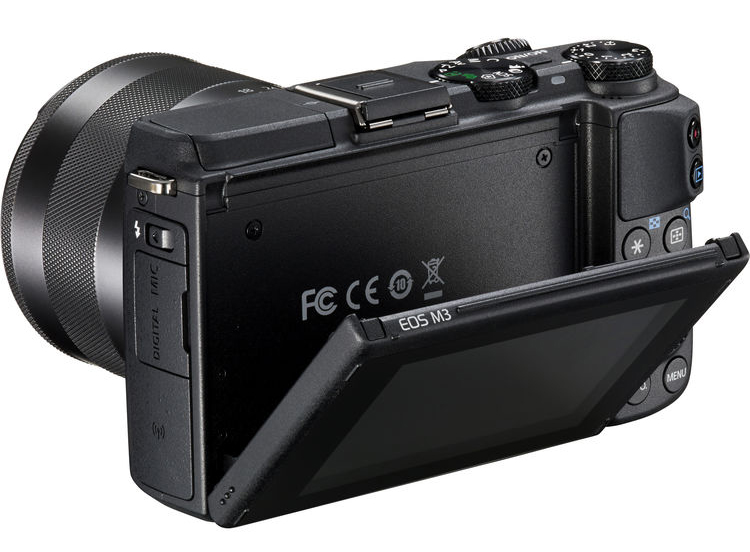 The overall performance of Canon EOS M3 is on par with its DSLR siblings, the T6 and T6s. Not the fastest performance available, but still respectable in every way, so no one should have any problem in using the EOS M3 on the daily basis or be disappointed about its performance. The burst rate performance is somewhat of a mixed bag and depending on your particular needs it can either be great or underwhelming. A burst rate of 4.2 fps is average for the camera in this class, so there's not much to complain about that. What isn't very impressive is the RAW buffer size, which sits at around 5 shots before it needs to clear. On the flip side, when you switch to JPEG you can shoot an unlimited number of images and you're only limited by the size of your memory card. So, it's up to you to decide if shooting only in JPEG to get acceptable performance would be agreeable to you or not. The EOS M3 also doesn't show any inspiring performance when it comes to battery life. An endurance of 250 shots per charge is average at best and you should consider investing in an extra battery if you're buying this camera to shoot for longer periods of time. So, in conclusion, the EOS M3 is an average performer in everything from focusing and general performance to taking a burst of images and battery life. It's nothing disappointing, but we expected a big manufacturer like Canon to try to beat the competition, rather than just follow it.
Video features and quality
The EOS M3's video capabilities are very similar to those on the Rebel T6. There's no 4K recording and the quality tops out at 1080p at 30 fps. If you wish to record at 60 fps, you'll need to drop the resolution down to 720p. This isn't ideal by any means, but we didn't expect nothing more from Canon since they are still making very slow progress when it comes to improving video capabilities on their cameras (unless you have the money to buy an expensive full frame camera like Sony's Alpha a7R III or one that is sorely made for video recording). You do get a microphone jack, which is certainly a nice touch.
There's also full manual exposure control, audio adjustment, continuous AF and Dynamic image stabilization. Focusing performance is better than a lot of similarly priced cameras as this is where those phase detect focus points show their advantage. It's still not as good as Canon's cameras that come with Dual Pixel AF technology, but still way above average for a camera in this class. Dynamic IS also works very well and it does so by combining electronic image stabilization with the one built in your lens. Now, despite not being able to record 4K videos, we are still pleased with the quality of 1080p footage coming from the EOS M3. It's not class leading by any means, but still very good thanks to Canon's expertise in putting very capable video modes on their cameras.
Image quality
One of the main selling points of the EOS M3 has to its image quality. Thanks to the large high-resolution sensor it's able to produce some nice-looking images no matter if your shooting in ideal lighting conditions or in low light. Dynamic range and noise performance are noticeably better than what we used to get on the older generation of Canon's sensors.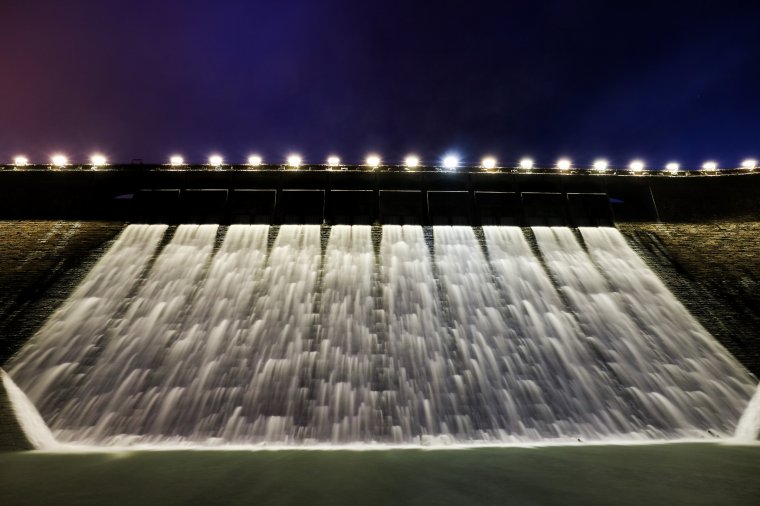 Photo courtesy of Yau Ming Lai
You can comfortably take photos in those conditions where it's hard to get even exposure across the frame and be able to pull a decent amount of detail from those parts of the image where the corrections are necessary. Good noise performance also allows you to get very usable images up to ISO of 3200 and even get decent images at 6400. It's quite a good performance for a camera with an APS-C sensor. We also like Canon's JPEG algorithms as they are perfectly balanced and offer a nice blend of color accuracy, tasteful sharpening and moderate noise reduction. A lot of manufacturers could learn a thing or two from Canon in this regard.
Conclusion
So, what's left to be said about Canon EOS M3. Did Canon really strike gold with this one? Is it a good enough improvement over their last attempts to stir the waters of the mirrorless camera market? Well, actually, it is. The EOS M3 is a solid camera with many strengths on its side.
It offers great image quality, solidly built body, great control scheme with an excellent touchscreen and user interface, solid autofocus system that is most beneficial for video recording and the ability to adopt EF mount lenses without any penalty to focusing speed or image quality. It may not be the fastest camera around and it doesn't have 4K recording, but it's nonetheless a capable mirrorless camera and a step in right for Canon. The competition may have caught up to Canon and even surpassed it some ways, but there's still some fight left in this company and it really shows on the EOS M3.
The following two tabs change content below.
An amateur photographer, songwriter, musician, computer and technology geek and an occasional comedian, I'm a little bit of everything. I always aim to pursue things I'm passonate about and try to look on the positive side of things whenever I can. My mission is to wrap my articles in that aura of positive energy and keep a healthy balance between being serious about my work and spicing things up with a little fun now and than. After all, life's a game and there's always a different way to play it.