Canon EOS M100 Review: Canon's Newest Mirrorless Camera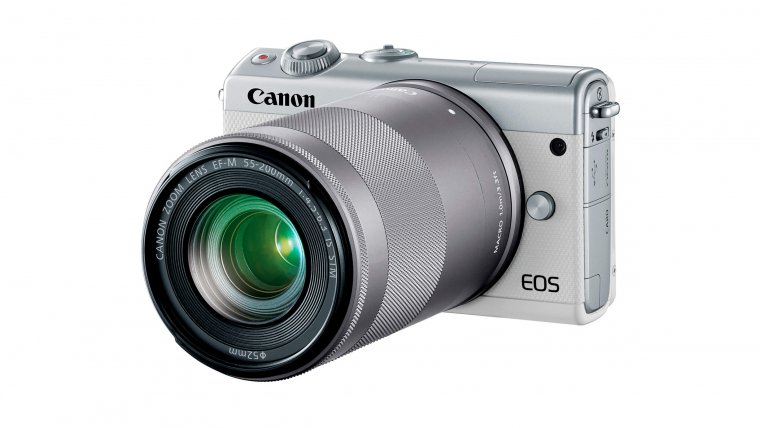 Canon EOS M100 Review: Canon's Newest Mirrorless Camera
www.sleeklens.com
We are all aware of the fact that many camera manufacturers are trying to find their place on the ever-growing mirrorless camera market as the mirrorless camera themselves are slowly but surely starting to overtake a lot of other types of cameras that used to enjoy much bigger popularity until a couple of years ago where a lot of people would still opt in for buying a DSLR or a compact camera over something else. So, it is no wonder that many different brands are constantly battling with each other for a piece of that grand and tasty cake called mirrorless camera market and are trying to outdo each other with as best cameras they are able to produce.
Today we get to review the latest offering coming from Canon's camp and it's their newest EOS M100 model which is a direct successor of their older M10 camera. It aims to bring simplistic design aimed at beginner and amateur photographers that just want to take high-quality pictures but don't want to bother with the entire process setting up the cameras and want the camera to do most of the work for them. It also manages to bring many powerful features such as the large high-resolution APS-C sensor which can also be found on Canon 700D, a very capable focusing system (both for live view and for shooting through the viewfinder), a sharp and responsive touchscreen unit, decent battery life, support for both the native EF-M mount lenses and the regular EF mount lenses with the use of the optional adapter and so on.
Since it's also trying to be a very competitive camera price-wise you shouldn't expect to find things like a built-in viewfinder, 4K video recording, a large number of manual physical controls, lots of expansion ports and so on. It's certainly not a product the will wow many advanced users, but it's not trying to be, and it certainly seems like it has the goods to do the job that it was made to do and that's providing a pleasant shooting experience to anyone looking for a camera that is straightforward to use, but that also manages to offer the flexibility of being able to change its lenses and allow you to learn more about photography at the same time. So, now that we've given you a quick look at what kind of camera the M100 really is, it's time to take a look at its specifications.
So, we've already established that the Canon EOS M100 is an entry-level mirrorless camera that will try to attract the attention of those users who have developed an interest in photography and want to upgrade to something a lot more capable than their smartphones or point-and-shoot cameras, but without losing the ease of use that those devices are usually known for.
Pros
Built-in WiFi
Bluetooth Connectivity
NFC Connectivity
Articulating Screen
FullHD Max Video Resolution
Touch Screen
Face Detection Focusing
Flash Sync Port
Selfie Friendly LCD Screen
Remote control with a smartphone
Light Body
UHS-I Memory Card Support
Cons
No Image Stabilization
No External Flash Shoe
No Built-in Viewfinder
No External Viewfinder Option
Low Battery Life
No Environmental Sealing
Click to read the full Review
One of the biggest improvement you'd notice with the M100 is in image quality. This is thanks to its sensor, which is the same 24-megapixel APS-C unit found in Canon's mid-range offering the 80D and a lot of their other DSLRs and mirrorless cameras and is well known to offer great image quality, even in low light conditions. It's a big step up over Canon's older 18-megapixel sensors and even improves on the 24-megapixel sensors found on the cameras like the Canon 750D and 760D. So, even if you're not very interested in shooting in RAW and you just want great image quality out-of-the-box, the M100 will certainly be able to provide it. It will also be able to perform any task you throw at it with ease thanks to its powerful DIGIC 7 processor and Canon's light, but comprehensive user interface. You'll also be able to experience a burst rate of 6 fps, which is a really good speed for a budget-oriented camera as this one and should also get together very well with the included 49-point phase detect AF system and the Dual Pixel AF technology. What this means is that the focusing capabilities of the M100 should be very similar to those from Canon's more expensive cameras and something that will make every potential buyer of this camera very happy.

While it is a camera that encourages the use of Auto mode, it does come with your usual manual modes and will allow the users to adjust things like the Aperture, Exposure compensation, ISO sensitivity (100-25600) and Shutter speed (30-1/4000 sec). The EOS M100 also offers decent video recording capabilities. While things like 4K recording and the headphone and microphone jacks are missing (which was expected considering its small size and low price point) the addition of 1080p 60 fps recording, Dual Pixel AF, stereo microphones, the HDMI port and the electronic 3-axis image stabilization will certainly inspire a lot of users to try to invest more time in learning about video production and at the same time provide them with decent looking full HD footage.

While it may be an entry-level mirrorless camera, the Canon EOS M100 surprised us with its stylish and solidly built body and quite a few useful features that are contained both on the inside and the outside. It's made out of composite materials, which enable it to feel pretty solid in the hand, but also very light at only 302 grams of weight (including the LP-E12 lithium-ion battery pack). It actually comes pretty close to some compact cameras in terms of its overall size, which almost puts it on another level in terms of portability when compared to a lot of other mirrorless cameras. Still, you won't find as much controls and different ports as on a lot of other cameras, because Canon has decided to follow a slightly different philosophy with the M100 by focusing more on the touchscreen use than physical controls (which makes perfect sense considering that most of its potential buyers are probably already used on using a touchscreen on their other devices).

So, there's no viewfinder on board, but you will be getting a sharp TFT LCD unit with a resolution of 1,040,000 dots and the ability to be tilted upwards to a maximum of 180 degrees. This will be perfect for those that like to take self-portraits of themselves or their friends and family, especially if you attach a nice wide-angle lens to the M100 like the 11-22mm EF-M f4-f5.6 lens. You'll also be getting a small, but useful pop-up flash with a range of 5 meters, a USB 2.0 compatible port for any data transfers to your computer or a laptop, a single UHS-I compatible SD card slot, an orientation sensor that will help you keep your shots straight and lastly, a trio of wireless technologies (802.11/b/g/n Wi-Fi, NFC and Bluetooth).

While a GPS unit is not included, it shouldn't be a big problem to anyone since it's quite easy to connect the camera to your smartphone and collect your location data that way. So, we believe that you've got the picture and a that you at least partially know if the Canon EOS M100 is the right type of camera for you.

If you find everything we've said to be interesting, then keep on reading as we're about to examine this camera in a lot more detail and in the end, form our final opinion and let you know if you should purchase it or not. As is the case with most of our reviews, we'll start by examining its body, build quality, handling, usability, user interface and wireless capabilities. So, let's begin.
Body and handling
This is one of those rare occasions where we aren't left with talking much about the body of the camera that is currently going under review as it's a very simple and minimalistic camera design-wise. You won't find a lot of buttons or dials on the M100, which would instantly come as a big and maybe an unpleasant surprise if we didn't already know the concept of this device. It's one of the first mirrorless cameras that was created to be used almost entirely via touch input and creating such an unconventional control scheme is certainly a brave move, even for a big manufacturer such as Canon. Photography purists will immediately dismiss the M100 because of its lack of many physical controls or a viewfinder, but less demanding users (especially those that have never used a dedicated camera before) could actually find it very compelling and easier to comprehend, because instead of learning what each button/dial does and remembering their position on the camera body itself they'll be able to find everything they need on their touchscreen and decide when they want to turn on the Auto mode and just shoot away or switch to Manual and play around with different settings. So, it's actually a genius concept when you look at it from the right perspective. Other than that, the Canon EOS M100 is a nicely designed camera, that fits very well in the hand and is light enough to be used for hours and hours without causing any fatigue to its user just like the Lumix DC-GX9.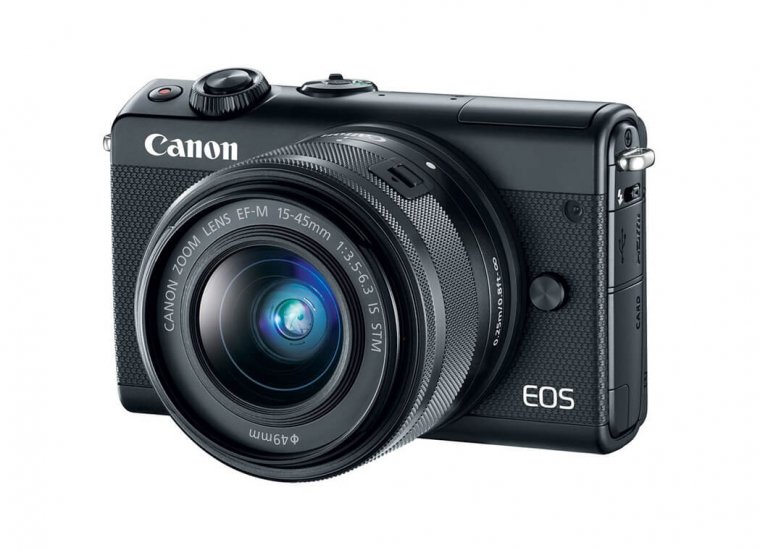 It comes in two colors (black and white) and you can also add the optional rubber sleeves to it and give it an even better grip and a different color scheme. Now, let's take a quick look at everything you can expect to find on the M100's body. The camera's minimalistic design shows the moment you take a look at its front, where you'll find nothing else but the lens mount, its accompanying release button, and the focus assist lamp. Both sides of the M100 features a strap mount, while only the left side contains the terminal cover for the USB and the HDMI ports, flash pop-up switch and also the SD card slot while the right side only contains the mono speaker unit. As is the case with most cameras the battery compartment and the tripod socket are located on the bottom, but interestingly the NFC mark is also here, instead of on one of the camera's sides.
The top of the camera features the pop-up flash unit, the stereo microphones, a simplistic main mode dial with only three modes (Auto, Effect and Movie modes) and the power button inside of it, the shutter button which sits atop of the front control dial and lastly, the Movie button. In the end, let's have a look at the back of the Canon EOS M100. To say that the back is dominated by the touchscreen unit would be a big understatement, but it's something that was expected considering the philosophy behind this camera. The rest of the defining features include a thumb grip, Menu, Wi-Fi and Playback buttons, as well as the four-way navigation controller with four predefined shortcuts on each of its directions (Exposure compensation/Single-image erase, AE lock, Flash, and Info) and the Quick Control/Set button in its center.
So, like you could have guessed, it's a barebones, but effective control scheme and its usability will be determined by the touchscreen unit and its behavior for the entire experience. Luckily, Canon has always been known for their ability to create great camera software and the story is no different with the M100. It doesn't matter if you've owned a Canon camera before or you're a first-time user, you should have no problems learning all the ropes very quickly and getting to know every corner of the interface in just a matter of days. Most of your important settings can be found inside the Quick Menu, which can always be accessed by pressing its dedicated button found inside the navigation controller. You can choose to navigate it either via the touchscreen or with the navigation controller itself and thus it's quite easy to adjust and control anything that comes to your mind. You can also rearrange the items within this menu to your liking and choose which one will appear inside of it.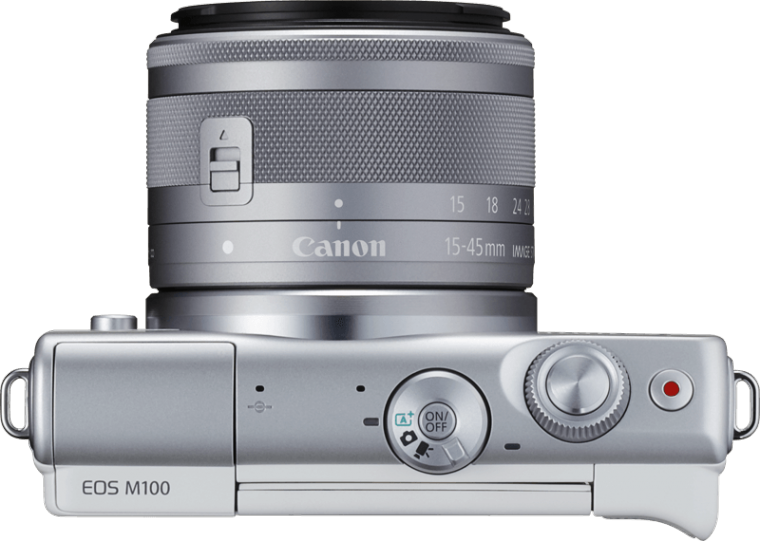 The M100 also offers a Hybrid Auto mode, which will enable you to shoot within nine different specific profiles (Self Portraits under Optimal Settings, Portraits, Smooth Skin, Landscapes, Close-ups, Moving Subjects, Enhancing Colors of Food, Evening Scenes without a tripod and Backlit Scenes). Each of them will make the camera behave differently and optimize its settings for very specific use case scenarios and those are a great addition to anyone that's learning to take photos and still isn't ready to adjust every setting themselves but do know what kind of subjects they want to shoot. You'll also be able to make use of a couple of Creative Filters like the Minature Model, High-Contrast Scenes, HDR, Monochrome, Soft Focus, Fish-Eye Lens, Oil Painting, Water Color and Toy Camera. They will help you give your pictures a more distinctive look, but without the need to edit them inside the separate software tools and knowing anything about the entire process of making them look that way. Another neat addition included on the M100 is the Creative Assist feature. It will allow you to save a set of your favorite settings and access them at any time just by switching the camera to the Creative Assist mode. If you've managed to set up your camera to always provide you with the shots you won't under specific circumstances, then this is the feature you'll really enjoy.
Now, let's talk about wireless capabilities, as we're sure that a lot of you are interested in what the Canon EOS M100 is capable in this regard. Since most of you will be interested in connecting the camera to your smartphone let's start with that kind of functionality. To gain access to all the available features you'll need to download and install the Canon Camera Connect application (available for both Android and iOS), which you can get for free from the application store on your smartphone or a tablet. After you've done so, you'll be able to send your photos to your smart device (either via the Wi-Fi itself, Bluetooth or NFC), view them directly on your smartphone without the need to send them first, send the GPS coordinates gathered by your phone or even remotely control the M100 by using your smartphone as a viewfinder.
You'll also be able to upload your images to different web services of your choice (like the social networks) after you've registered them via the CANON iMAGE GATEWAY service and also, print out those same photos with the help of the wireless-enabled printer. So, the Canon EOS M100 certainly doesn't show any lack of features when it comes to its wireless communications and we are happy to see that's the case since we are talking about an entry-level camera. The M100 is on the right path to being the perfect camera it tries to be; a serious competitor to any flagship smartphone or a compact camera, but with some seriously useful features that can hardly be matched by those types of devices. Its controls scheme, handling, and Wi-Fi functionalities are certainly one of them, but as you'll see in the very next section of this review, its AF system certainly has the potential to be one of the most important additions on that list of defining features.
Autofocus and performance
We've had great expectations for the Canon EOS M100 and its focusing performance and we are happy to report that we weren't disappointed with the experience it managed to provide with our testing. Shooting still subjects in daylight and lowlight wasn't a problem at all for its 49-point phase detect AF system and we were left with a very big number of perfectly focused shots, no matter the lens we've used with the camera. We've tried to use the M100 for everything from landscape to close-up photography and it had no problem providing us with satisfactory performance most of the time.
Tracking moving subjects proved a little more challenging, but we were still able to get more than 70% of perfectly focused shots at average during our testing, which is something that can't be attributed to the most of budget-oriented mirrorless cameras and this makes the M100 a very versatile camera when it comes to its focusing capabilities. All of that performance can also be attributed to the included Dual Pixel AF technology which works very well with the Touch AF feature and is as quick as your average flagship smartphones, which is a great achievement for such a competitively priced camera and puts it right at the top of its class when it comes to focusing.
Now, let's see who much control is given to the user in terms of available focusing modes and how well the M100 handles manual focus. You'll be given the option to choose between three main focusing modes; 1-point AF (the best mode to be in if you want to focus on a specific subject), Face+Tracking (the mode you should be in while taking photos of people, no matter if they are standing still or moving around) and Smooth zone AF (the ultimate mode for capturing action and moving subjects). You can also enable the Servo AF (or continuous focusing mode) which will let the camera constantly search for subjects to focus on and without the need of you keeping the shutter button pressed halfway. The Touch AF is also split into two modes; the traditional one and one that will prioritize people's faces. Another thing that's great about the M100 and its focusing capabilities is that it can also cope very well with manual focus. You can enable the MF even within camera's menus or by the MF switch found on a lot of Canon's lenses. After its activation, you'll be able to magnify the part of your image you are trying to focus on and adjust that area just by swiping around the screen. You'll also be able to activate the Focus peaking features, which will color the parts of your image that are currently in focus, making it very easy to focus on the fly. There are also the options to choose its color and sensitivity.
Lastly, there's also the option to activate both the AF and MF at the same time which will allow you to first focus automatically and fine tune it manually before taking your shot. So, the Canon EOS M100 may not come with the same amount of options to adjust its focusing system as some of the more expensive cameras, but that presents no issue since the AF system itself was speedy and accurate and the focusing modes that are available will be enough for most users that will show interest in this kind of a camera.
Another area in which the M100 performs almost as good as a lot more expensive camera is when it comes to its responsiveness while it's being used. The DIGIC 7 processor inside of it certainly has no problems powering on the camera and tying all the hardware and software together into one smooth performing device. It only took the M100 around a second to power on, 0.5 seconds to take its first shot and only around 0.1 seconds to focus in normal conditions with enough available light. Shot to shot times were also respectably fast and sat around half a second on average. Surprisingly enough, the Canon EOS M100 also didn't disappoint when it comes to its continuous shooting performance. While its 6 fps burst rate may not be anything that's groundbreaking, it still more than good enough for an entry-level camera, but that speed wouldn't be very useful at all if the buffer depth wasn't deep enough to handle it and luckily, it is on the M100. After we've inserted a fast UHS-I compatible SD card into the camera, we were able to get around 90 JPEG images or around 20 RAW files before we've noticed any drop in overall speed. There's really nothing to complain about when it comes to said burst rate as it's even more useful combined with the very good phase-detect AF system in the M100, making it one of the fastest budget mirrorless cameras we've ever tested. There is only one aspect of about this camera that could be considered to be average at best and that's its battery life. It's an improvement over its predecessor and the M100 now offers a maximum of 295 shots instead of 255, but it's still something we would call a very impressive endurance. There is, however, an Eco Mode on board, which will allow you to squeeze around 410 shots, but at the cost of the dimmer display after a certain period of inactivity, which is something that doesn't sound like a big sacrifice for noticeably better battery life. If you're mostly interested in recording videos, then you should probably invest in a backup battery pack, just to be sure that you don't run out of juice at some crucial time. Other than its endurance, everything else about the Canon EOS M100 falls well within the expectations anyone should have for this type of a camera and even above that when you take into account its AF system and burst rate.
Video features and quality
Not many people would consider the Canon EOS M100 as their first choice for recording professional videos, but that doesn't mean that it's not equipped enough to satisfy the needs of anyone looking to have fun with producing some casual videos of friends, family, their vacation or any other event and create them with ease because of the many helpful features that can be found on this camera. Let's start with the video quality and the available formats and resolutions. The M100 offers 1080p recording at up to 60 fps and 720p recording at up to same framerate. It uses the traditional MPEG-4 format, H.264 encoding and records stereo audio in AAC format. Its bitrate maxes out at 35 Mbps, which is certainly nothing to write home about, but still solid enough to allow for decent picture quality. There's no 4K recording on board and neither the headphone or microphone jacks, but that's to be expected for cameras at this price point. The quality of recorded videos is above average, but not on the same level as that of some of the other mirrorless cameras or DSLRs at the M100's price point.
The amount of capture detail was solid and so were the contrast and colors, but the footage lacked a certain amount of punch that we'd expect from a modern mirrorless camera. You would be able to improve their look to a certain degree in post-processing, but we believe that not many users will go to such a trouble and invest in such software. The good thing is that the noise performance was satisfactory, just like we would expect from the sensor that's taken directly from the Canon 80D. Still, one of this camera's greatest strengths has to be its focusing performance during recording.
The Dual Pixel AF technology built in a lot of Canon's cameras is already well-known to provide them with excellent continuous and Touch AF capabilities and the story is no different with the M100. You won't need to work very hard to be able to use the camera with utmost confidence in its focusing system no matter what type of video work you've decided to do. A lot of types of cameras falter at such a task (even more expensive ones), but the Canon EOS M100 is able to hold its own and produce footage without any nasty hunting or unpleasant focus changes.
You'll also get some extra features with this camera like the Time-lapse recording, the ability to adjust the recording volume of the included stereo microphones, the wind filter, the Attenuator feature which will automatically try to fix the distortion caused by your lens while recording and the electronic image stabilization which does a pretty decent job to removing the shakiness in videos caused by using the camera handheld. There's really not much to complain about the Canon M100 and its video recording capabilities, especially considering its price and we believe that anyone but the advanced and demanding users will have a good time with its movie mode.
Image quality
Now, what's really interesting about the Canon EOS M100 (aside from its design) is its sensor. While less-expensive mirrorless cameras are often able to bring very respectable image quality, something that can't be said about a lot of them is that they borrow a sensor from a mid-range and thus much expensive camera. Since the 24-megapixel APS-C sensor in question is the same one found in the Canon 80D, the overall image quality is very good and one of the best that you'll be able to find on a mirrorless camera at this price point. You can expect to get very detailed photos, with very little noise at lower ISO values, good dynamic range, and excellent colors and contrast. JPEGs themselves sport very mature processing, with quite good noise reduction algorithms brought on by the DIGIC 7 processor.
If you want to give them an entirely new look, but you aren't interested in playing around with different photo editing tools, then you'll surely be able to make use of the included Picture Styles. There are eight of them in total and all of them will allow you to adapt to different shooting scenarios and can also be tweaked beyond their default values. This will allow you to save your own customized Picture Styles and gain a lot of control over the look of your photos directly from the camera itself. There are also the options to crop or rotate your images or to correct the effects of Red-Eye while shooting with the pop-up flash unit. Now, if you opt in for shooting in RAW, you'll gain even more flexibility in making your photos look the way you want them to and squeeze as much quality as possible out of them. You can even process your RAW files within the camera itself, adjust some of the important image parameters and save them in JPEG format. This means that even those of you who aren't very versed in using more advanced programs on your computers to edit your RAW files will be able to take a lot of advantage in shooting uncompressed photos.
When it comes to low light performance, the Canon EOS M100 managed to put in a really commendable performance. We had no problems in getting very usable images up to an ISO of 6400 and that holds true even when shooting JPEGs thanks to that mature image processing. A performance like that makes this camera into a fierce competitor for any other mirrorless camera in its class and price range and enables even the beginner and more casual photographers to get the type of shots that they could be proud of and cherish as memories that were captured in the best possible way. That's not to say that the M100 is the best performer out there, but it doesn't change the fact that it's exciting to see this kind of a performance on such an inexpensive device that can bring the right tools to create quality pictures in the hands of a lot more people and that's never a bad thing.
Conclusion
It's not very often that we can call an entry-level camera the one that has the ability to change the conditions on the entire market and maybe even steer a part of it in an entirely new direction, but the Canon EOS M100 may just be such a device. It may be a very simple camera, but it's also one that tries to change the habits of some photographers, but also allow for a lot of users to retain theirs when switching to a new camera. What it really tries to do is to act as a missing link between the smartphone/point-and-shoot users and amateur or beginner photographers and be the device that will allow the more casual users to get much better image quality than they would be able to previously achieve and give the amateur photographers a more straightforward shooting experience, but with the very important flexibility of being able to change lenses remaining untouched.
It's not the camera that will be of interest to more advanced photographers who are more used to shooting with the help of physical controls, a proper viewfinder or having the ability to record 4K videos and have more control over their audio with the use of the microphone and headphone jacks. No, the Canon EOS M100 is a barebones mirrorless camera that brings only the most crucial features like the large and quality sensor, a nicely designed body, a responsive and sharp touchscreen unit, decent battery life, an excellent AF system, very usable 6 fps burst rate with above average buffer depth, a respectable 1080p 60 fps video mode and an overall performance that would make even the more demanding users very happy.
So, if you're on the lookout for a small, simple and easy to use a mirrorless camera that will provide you with some of the best skills you could get at its price point, then you should look no further from the Canon EOS M100.
SaveSave
The following two tabs change content below.
An amateur photographer, songwriter, musician, computer and technology geek and an occasional comedian, I'm a little bit of everything. I always aim to pursue things I'm passonate about and try to look on the positive side of things whenever I can. My mission is to wrap my articles in that aura of positive energy and keep a healthy balance between being serious about my work and spicing things up with a little fun now and than. After all, life's a game and there's always a different way to play it.