Canon EOS M10 Review: Meeting a Precise Compact Camera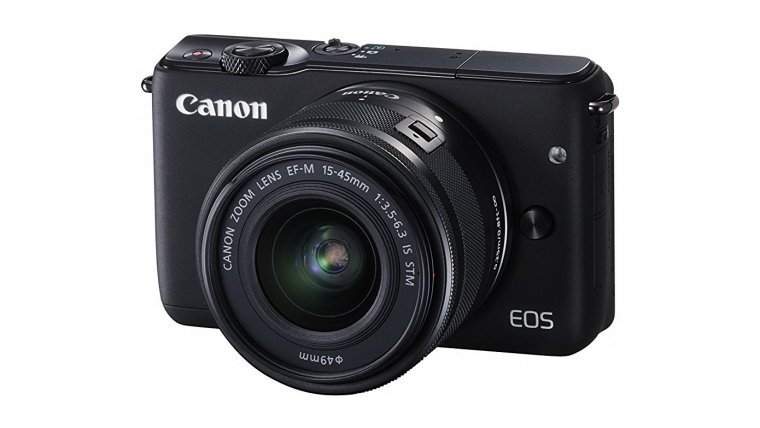 Canon EOS M10 Review: Meeting a Precise Compact Camera
www.sleeklens.com
This time around we had the chance to look at one of the most affordable entry-level mirrorless cameras on the market, the Canon EOS M10. Released in 2015 and at a very compelling price point, it aims to bring more users to the world of mirrorless cameras and photography in general by offering enough features and functionality to be easy to use and at the same time give you a DSLR-like image quality and the flexibility of changing lenses which makes it different with Canon PowerShot SX740 HS that has fixed lens. While the rest of the M lineup feel like the new Rebel cameras in a lot smaller packages, the M10 feels like an older one, which is to be expected when you take into account its low price.
It's certainly a good thing because the Rebel lineup has always been known to provide a good balance between their cost and its features and that's what potential buyers of the M10 will also look for in their next purchase. We wouldn't be surprised if someone who was previously planning to get a compact camera decides to change their opinion and opts in for the M10 because of its advantages over a compact camera. So, this camera has the real potential to take over a large portion of the budget camera market and make the Canon's best mirrorless camera lineup more popular than ever before. All right, enough with the introductions, let's kick off this review with a look at the M10's specifications and really get a feel of what it has to offer.
The Canon EOS M10 sports a sensor that's probably the same one found in the first two of M-series cameras (the M and the M2), meaning that it should bring similar image quality as those two cameras. So, you shouldn't expect to get any kind of breathtaking photos with this camera, but you can still expect to get very decent results for the price you're paying for it.
Pros
Built-in WiFi
NFC Connectivity
Articulating Screen
FullHD Video Resolution
Touch Screen
Face Detection Focusing
Cons
No Image Stabilization
No External Flash Shoe
No Built-in Viewfinder
No External Viewfinder Option
Low Battery Life
No Environmental Sealing
Poor Low Light Performance
Click to read the full Review
The sensor in question also brings a very respectable native ISO range of 100 – 12800 (expandable to 25600). What's really positive about the M10 is that Canon chose to power the camera with a Digic 6 processor, the same one that's found in Canon 750D, 760D and even the more enthusiast oriented 80D. This means that the M10 should, in theory, perform very well in use, but we'll see if that holds true after we put it through its paces. When it comes to performance, the M10 is able to shoot at a shutter speed of up to 1/4000 sec and at a burst rate speed of 4.6 fps. For all your focusing needs, Canon has included a 49-point Hybrid CMOS AF II AF system, which is the same on found in the Canon EOS M2, meaning it should perform really well in non-demanding tasks and pretty decent when it comes to subject tracking or shooting anything that moves in fast or unpredictable manner. While it doesn't sport any premium build materials like the more advanced mirrorless cameras, it still doesn't feel cheaply made due to very sturdy plastic being used for its construction. There's also no viewfinder on board (also a side effect of its low price point), but you do get a very respectable 3-inch touchscreen with a resolution of 1,040,000 dots.

The rest of its body features include a built-in pop-up flash unit with a maximum range of 5 meters, a pair of stereo microphones, mini-HDMI port for easy sharing of your content via an HDMI-compatible screen, an orientation sensor and lastly, Wi-Fi 802.11b/g/n with NFC. So, it comes with enough features to satisfy the needs of beginner and amateur users, but the more advanced photographers and videographers will miss having things such as a viewfinder, a hotshoe and the microphone and headphone jacks. This also brings us to the M10's video capabilities, which are also catered to undemanding users. The highest resolution you can record in is 1080p and if you wish to shoot at a faster frame rate than 30 fps you'll have to drop your resolution to 720p, which is less than ideal for any professional user out there, but just fine for those who plan to only use the movie mode on the EOS M10 for their private needs and not for any serious work. So, the Canon EOS M10 certainly isn't the most exciting mirrorless camera out there, but it doesn't need to be. It's a very affordable piece of gear that is aimed at those users who have never used an interchangeable lens camera before and they want to start with something as simple as possible, before maybe investing more in a more advanced camera and judging solely by its specs, it has all the right tools to do its job without any problems.
Body and handling
There's no denying the fact that the Canon EOS M10 looks like a pretty barebones camera, no matter from what angle you look at it. That holds true for both the black and the white variants. Its body is very clean, with a just a few controls thrown in here and there to keep the usability at an acceptable level. More importantly, it feels pretty good when you hold it in your hand and you can clearly see that Canon didn't cheap out on build quality despite pricing the M10 so competitively. The weight of only 301 grams, so much lighter than Canon Powershot G3 X and dimensions of 108 x 67 x 35 mm really make for a very compact piece of gear and one of the smallest mirrorless that comes with a large APS-C sensor on the market. By default, it doesn't come with any type of a front grip, which doesn't hinder its handling by much thanks to its small size, but you can opt in for an optional GR-E3 grip if you feel that the camera doesn't feel secure enough in your hand. We've already mentioned that the M10 doesn't come with many physical controls, but those that are available can easily be accessed when you're using the camera and make for a very comfortable experience.
So, let's see what those controls are and let's also take a look at some other physical aspects of the Canon EOS M10. The front of the camera doesn't reveal much, only the focus assist lamp and the lens release button. The left side contains the terminal cover, the flash pop-up switch, as well as the memory card cover, while the right side holds the NFC contact point and the HDMI and the digital video/audio ports. At the bottom, we find the tripod socket and the battery compartment. Looking at the top reveals the pop-up flash unit which is neatly tucked into the camera body while not in use, the two stereo microphones, a power button that also doubles as mode switch (lets you switch between the Auto Hybrid mode, the other shooting modes and the movie mode), a shutter button which also holds the front control dial, as well as the movie button. Finally, let's take a look at the back of the camera. Here we find the 3-inch touchscreen unit with the ability to be tilted upwards to a maximum of 180 degrees, a little grill that holds the speaker, the Menu, and the Playback buttons, as well as the main navigation controller with a Q/Set button found inside of it. The navigation controller also holds shortcut buttons such as AE lock, Info, Flash and Exposure Compensation/Single-image erase.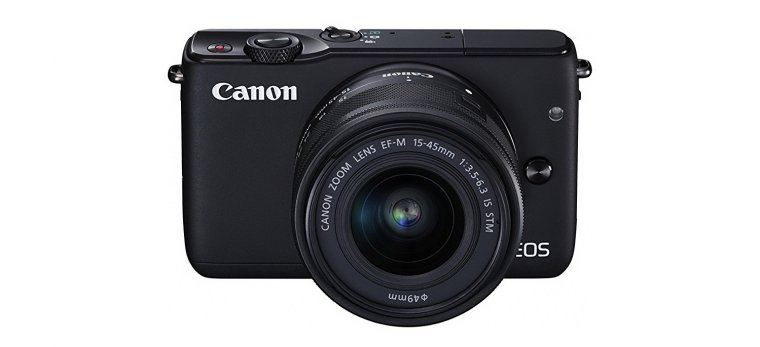 So, without dwelling any deeper into the M10's control scheme, we can already tell that going any further than the basic features will require an additional button press or two, because the camera was designed to act more as a point-and-shoot compact camera, than the mirrorless one. What's positive about that approach is that the users can learn about taking photos and getting a feel of composition first, then decide to go beyond that and learn about gaining more control of their exposure, depth of field and so on. The user interface on the M10 is done really well and Canon's long experience of creating digital cameras does show here. A lot of care has been put into making navigation around the interface as smooth as possible and it's very easy to find or access any type of function or feature either by using the physical controls or the touchscreen. So, the combination of physical and virtual control works seamlessly on the Canon M10. Now, onto some features and functions that dictate the usability of the camera and the whole experience of using it. The first important thing to mention is the Q or the Quick Set menu. This is the place in which all of the important functions which usually don't have a dedicated button on the camera itself lie and can be easily accessed and adjusted if necessary. In addition to all the usual shooting modes that can be found on a mirrorless camera, the EOS M10 with useful Auto and Hybrid Auto modes. The latter is especially interesting because lets you pick a scene mode of your chose and then records both a still image and a movie clip after you press the shutter button and saves both of them separately. After you've been using this mode for the duration of your day, it will combine all of those video clips into one file and let you have a one digest movie that serves as a living showcase of all of your still images. Another helpful mode is the Creative Zone Settings which lets you choose between six different modes which let you adjust different aspects of your image. For example, you can choose the Background mode in which you can change the aperture and play with your depth of field or you can enter the Color tone mode with lets you adjust your white balance and make your picture look warmer or colder. There's also a separate Self Portrait mode which makes it easier to shoot pictures of yourself with the screen flipped up and also gives you some additional options that allow you to fine tune your brightness or apply skin smoothing effects. There isn't a lot of customization options available, but you do get the ability to change the behavior of the shutter, AE lock and movie buttons to a certain extent.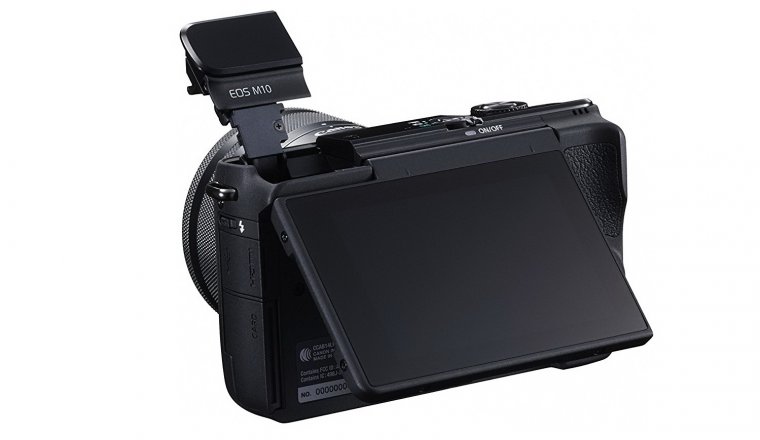 Before ending this section of the review, we are only left with taking a look at the M10's Wi-Fi capabilities. They are separated into five main categories: Smartphones and tablets, Web Services, Media Player, Printers and Another camera. In essence, this means that you can use your smart to remotely control the M10 or send images to it, upload and backup your pictures to Canon's cloud service, connect the camera to a Wi-Fi enabled DLNA device and view your content that way, directly print your images with the use of a wireless printer or send your images to another Wi-Fi-enabled Canon camera. You can also establish the connection between the camera and your Android smart device even faster by using NFC just by tapping the two devices together, which is certainly very convenient. We are very impressed with the number of different Wi-Fi related features that you get with this camera considering its budget oriented nature and are really glad that Canon took the wireless functionality that serious with the M10. All in all, the Canon EOS M10 is a well-built mirrorless camera that is easy to handle and easy to operate and we certainly couldn't ask much more from an entry-level model such as this one.
Autofocus and performance
We weren't expecting any kind of breakthrough performance out of the M10's 49-point Hybrid AF system, but we did expect for it to perform decently for all shooting conditions and it certainly does. It took around 0.3 seconds for it to focus in good light and a little longer in dim conditions and low light. This certainly isn't the fastest AF system we've ever seen on a mirrorless camera, but it's perfectly usable and performs as well as it can for an entry-level mirrorless camera. While the speed wasn't anything special, we were quite happy when it comes to accuracy, which was consistently high most of the time. Subject tracking performance was also average at best, despite the EOS M10 having a Hybrid AF System. You won't be shooting sports or any kind of action with this camera, but it will do just fine when it comes to taking pictures of your friends, family members or anything that isn't moving too rapidly. You also get the option to choose between a few different focus modes. The first one is 1-point AF in which the camera uses a single AF frame to allow for very accurate focusing. After that, you can use the Tracking mode which is very helpful when you're shooting moving subjects since it places a white square on your subject and tries to track it around your frame, so you can focus anytime you choose before taking your shot. The Touch AF lets you tap anywhere on the screen to achieve focus, just like you would do when shooting with your smartphone. Lastly, there's the Servo AF in which the camera will constantly try to reacquire focus as long as you keep the shutter button pressed halfway. Of course, you can also decide to focus manually and you get two methods to aid you in achieving focus; you can either magnify your frame or use focus peaking.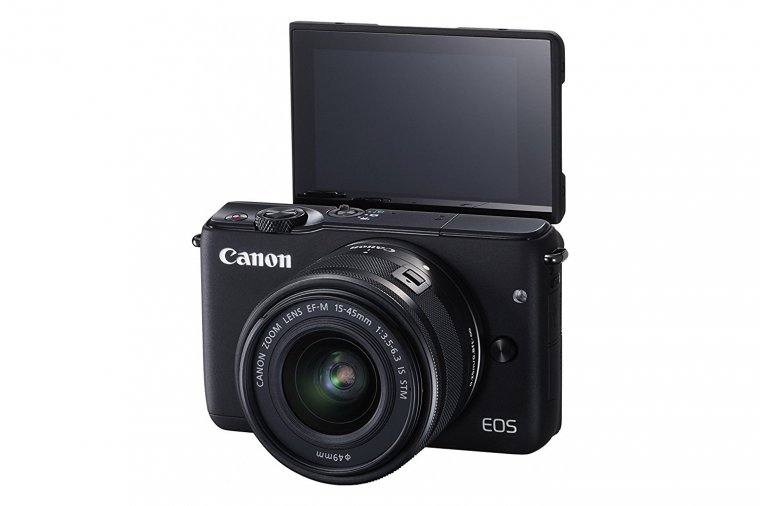 When it comes to performance in general, the Canon EOS M10 performs average at best. It takes a while for it to power on, but after that, it operates very smoothly no matter what you do with it. When it comes to its burst rate, we got somewhat mixed emotions. If you're ok with only shooting JPEGs, then you'll be more than pleased with the buffer size of around 80 images. Meanwhile, if you're only a RAW shooter, then the buffer size of 6 RAW files will leave you quite unhappy. So, if you want decent performance, stick with only shooting JPEGs and you'll be able to shoot at a rated speed of 4.6 for a very long time. The last thing we need to mention is the battery life. This is another area in with the EOS M10 is average at best since you can only get a maximum of 255 shots out of it before the battery needs to be recharged. Luckily, this is easily solved just by purchasing an additional battery, which certainly isn't a very expensive investment.
Video features and quality
The EOS M10 isn't really a powerhouse when it comes to recording videos, but it does have a feature or two that put it a step above the more basic cameras. Since it's priced so competitively, Canon had to make a compromise somewhere, so they decided to only include a 1080p 30 fps mode as the highest quality option. So, there's no 1080p 60 fps mode or 4K resolution recording. On the more positive side, you do get full manual control of exposure during recording, audio level adjustment, focus peaking, and also Dynamic IS which combines both the image stabilization in your lens and the electric one included in the M10. There's also continuous AF available, as well as Touch AF. We recommend that you focus by touching the screen instead of on relying on the camera to focus by itself since it isn't reliable 100% off the time and you may end up with some parts in your videos that aren't in focus.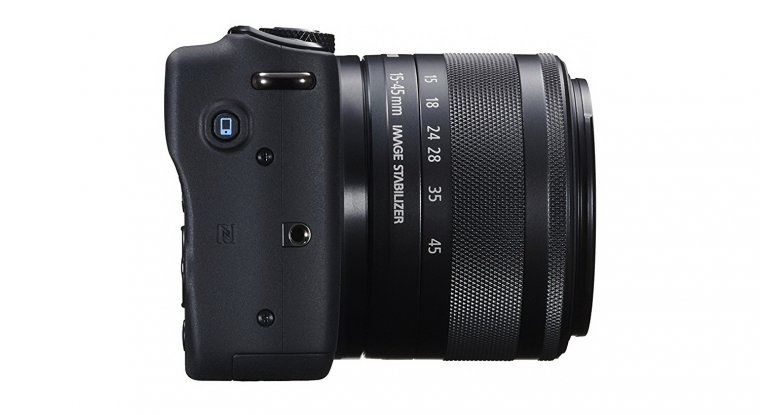 The quality of videos recorded with the M10 is pretty good for an entry-level camera and we really can't complain too much here. It's not the best 1080p footage we've ever seen, but it's easily comparable to what you can get the Rebel cameras such as 750D or 760D. The audio recorded with the integrated stereo microphones is also pretty decent. All in all, while you won't get those advanced features such as 4K recording or microphone and headphone jacks, the EOS M10 still looks like a decent package when it comes to recording videos on the budget because of its respectable video quality and the control you get while recording.
Image quality
At last, the time has come to take a look at the M10's image quality and to see what you can expect out of its 18-megapixel APS-C sensor. Well, it's a very similar performance to what you get with something like a Canon 700D. Photos came out sharp with plenty of detail and low noise at regular ISO values. You can get relatively noise free images up to an ISO of 1600, but going above that will require some post processing in RAW if you want to achieve the best image quality possible.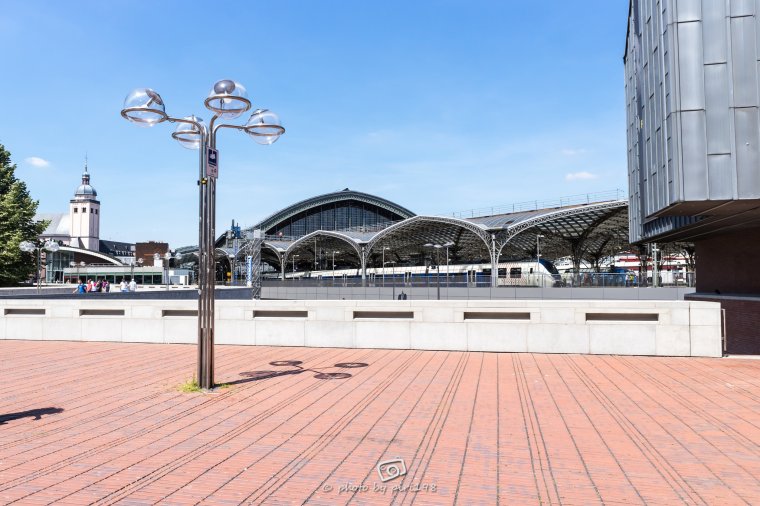 Photo courtesy of Pierre Tometschek
Dynamic range is pretty decent, meaning you'll get a decent amount of room when it comes to recovering detail in the overblown highlights or underexposed shadows, but do expect a lot of noise if you go overboard with recovering detail from the dark areas in your image. JPEG processing is quite mature and we didn't notice too many nasty artifacts that appear in case of too aggressive sharpening nor did we notice that the noise reduction was too harsh. We also like the available number of different effects you get if you opt in to shoot JPEGs. You can either choose between different color modes such as the Art Vivid, Bold and Embossed or the other types of effects like the Fish-Eye, Water Painting, Miniature, Toy Camera, Soft Focus or Grainy B/W. The EOS M10 may not offer the best image quality we've come to see out of a mirrorless camera, but it's certainly more than good enough when you take into account how little you're paying for this camera.
Conclusion
So, what's left to be said about the Canon EOS M10? Who is this camera for? Well, the answer is quite a simple one. It's a camera for those who haven't used something like a mirrorless camera before and have decided to take their photography or videography one step further by moving away from using a smartphone or a point-and-shoot. It's for the people who still want something that is simple to use, but that also brings the flexibility of changing lenses or having full manual control over their exposure. And they want it all at a price that won't break the bank. If you think that you fit that description, then the Canon EOS M10 is certainly the right camera for you.
Enthusiast photographers looking for a backup body to shot with when they can't be bothered with carrying their main one may also find some use for the EOS M10, despite its limitations like the lack of a viewfinder or a hot shoe. All in all, the M10 is certainly one of the most capable mirrorless cameras you can get at its price point and it because of that it doesn't have many other competitors on the camera market.
The following two tabs change content below.
An amateur photographer, songwriter, musician, computer and technology geek and an occasional comedian, I'm a little bit of everything. I always aim to pursue things I'm passonate about and try to look on the positive side of things whenever I can. My mission is to wrap my articles in that aura of positive energy and keep a healthy balance between being serious about my work and spicing things up with a little fun now and than. After all, life's a game and there's always a different way to play it.