Best External Hard Drives To Back Up Your Photos & Videos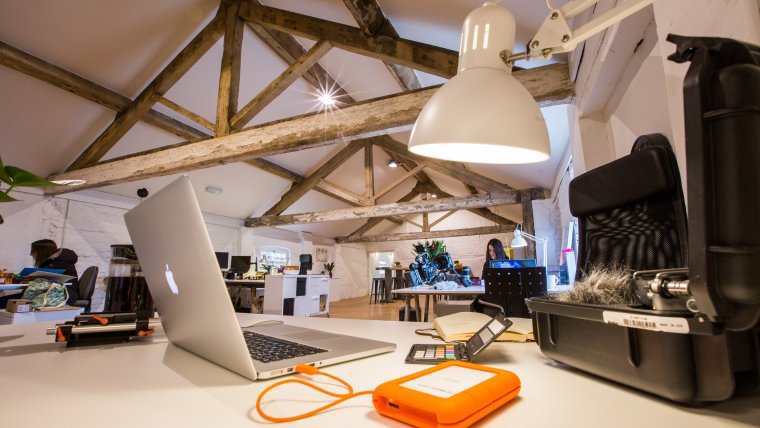 Best External Hard Drives To Back Up Your Photos & Videos
www.sleeklens.com
If you like photography, there's a good chance that you like to take a lot of pictures. The only problem with taking lots of pictures is that you need a place to store them. Photos and videos can take up a significant amount of space on a laptop or desktop computer. This is where an external hard drive comes into play.
11 Best External Hard Drives for Photographers
LaCie Rugged USB-C
Sandisk Extreme Portable SSD V2
OWC Envoy Pro Elektron
Western Digital My Passport
Samsung T7 Shield
Sandisk Professional G-Drive
Seagate Expansion Desktop
Western Digital Desktop
OWC ThunderBay
LaCie 2big RAID
QNAP TVS XT
An external hard drive is a portable digital storage device that can connect to your computer with a USB cord, firewire, or even wirelessly. Some hard drives are portable and can draw their power through the USB cord, while others need to be connected to a traditional outlet via a power cord, in addition to the data cord that transfers photos and videos.
There are two main types of hard drives: solid state drives (SSD) and hard disk drives (HDD). The traditional HDD uses a spinning platter to write, record, store, and release data…sort of like a record player. By contrast, an SSD leverages new technology to store data on microchips, which means they can read and write data faster and they are less prone to the mechanical failure that can occur over time with an HDD. This is because the HDD has internal moving parts that are fragile and subject to damage if the drive is dropped. As such, photographers on the go might consider an SSD for usage while they are out and about, and an HDD for a more secure location like their home studio.
Why Do Photographers Use External Hard Drives?
Photographers use external hard drives because photos and videos take up lots of space. Photographers are often on the go, and an external hard drive is portable and convenient. While it is true that there are cloud services that can provide storage solutions, these require subscription fees that can increase with usage. If a photographer has been in the business for years or decades, they may have an overwhelming amount of photos and videos that they want to keep. The best storage solution is to use an external hard drive or even multiple drives. A hard drive as a device is also more durable than something like an SD card, so it offers a more secure and permanent storage solution.
Another consideration is the quality of photographs that are taken. The average person using their iPhone to take family portraits is not really going to run into a storage issue, because most pictures are not going to go above 2.3 MB of data. Compare this to the photos captured by a professional with a serious camera, which may surpass 82 MB per picture!
Just to give you some comparison, that's 40 times more than the most detailed iPhone photos. And on a 16 GB hard drive, such a photographer could only keep around 200 photographs. A professional photographer at a wedding might take as many as 800 photos for one event! The storage that comes with a computer is just not a viable solution, even for a day…let alone a lifetime hobby or professional career. A good photograph needs a good hard drive, and one that can help with quick uploads and downloads if they are working on tasks like batch editing in Lightroom.
11 Best External Hard Drives for Photographers
The following are portable drives. A portable hard drive will often be an SSD drive (solid state drive), but some of them are a more traditional hard disk drive.
LaCie Rugged USB-C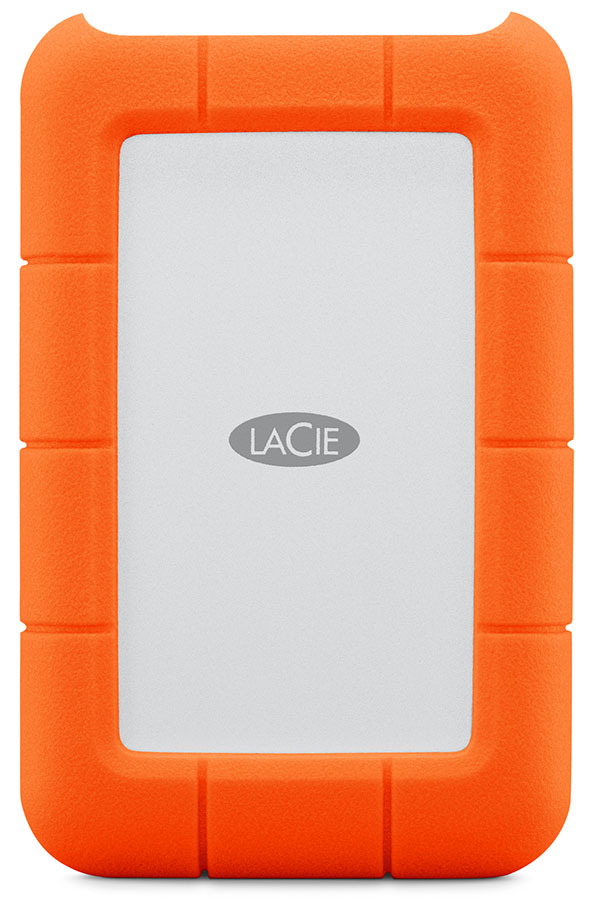 The LaCie Rugged USB-C combines large storage capacity with durability. If you're photographing on the go in rugged locations and looking for a very affordable option often under $100, this is the drive for you. There are options ranging from 1 TB up to 5 TB, and it easily connects with PC, Mac, and Thunderbolt 3 and 4 ports, so whether you use the Mac OS or Windows you'll be good to go. You may see this referred to in conversation as the LaCie rugged mini or the LaCie rugged SSD.
Sandisk Extreme Portable SSD V2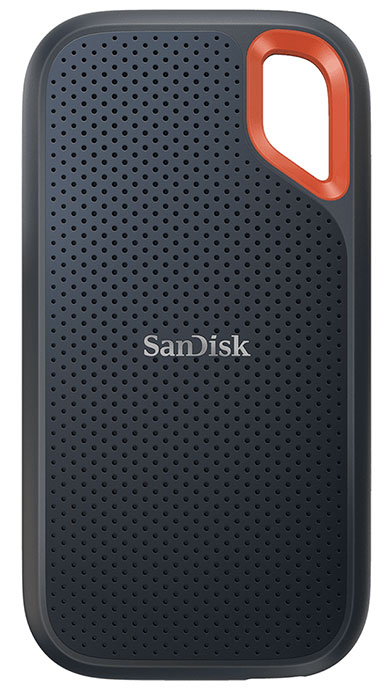 If you're looking for something that can fit into your shirt pocket, the Sandisk Extreme Portable SSD V2 is a great choice. It's got a phenomenal ability to read at 1050 Mbps and write and 1000 Mbps with its USB-C 3.2 Gen 2 connection. If you're photographing in a place where you may get exposed to dust and water – even brief submersion – its IP55 dust and water resistance will help keep the fruit of your labors dry.
OWC Envoy Pro Elektron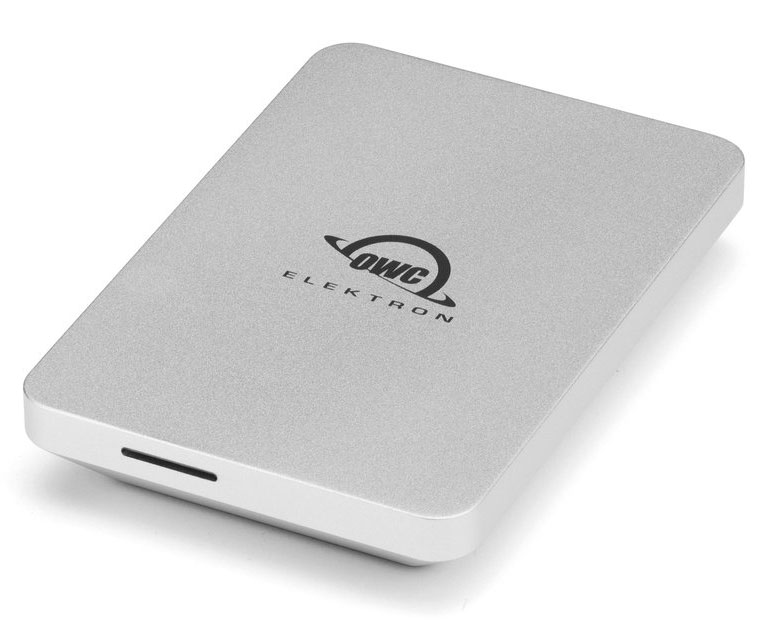 If you're on the road and worried about the durability of your drive, the OWC Envoy Pro Elektron is a portable SSD encased in a solid block of aluminum. It cannot be crushed, dusted, or damaged by water – even if submerged in a few feet for up to 30 minutes. The USB 3.2 Gen 2 connection delivers read and write speeds hovering around 1000 Mbps. The only downside to this particular hard drive is that it comes with a higher price tag, but it is simply invaluable if you are concerned about external damage.
Western Digital My Passport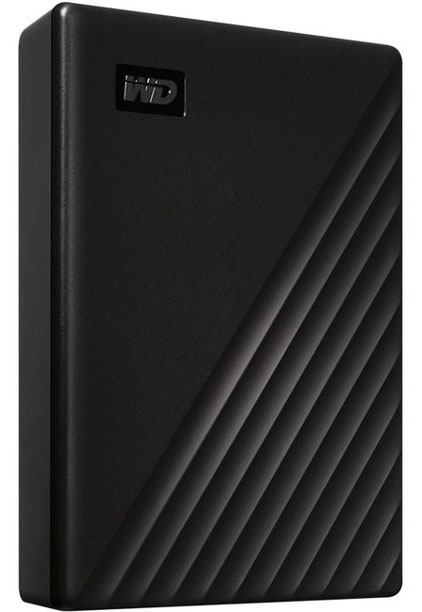 Western Digital is an established name in storage solutions and the Western Digital My Passport carries the torch. It comes in storage options ranging from 1 TB to 5 TB and is a bit less expensive than some of its competitors. The USB-C port comes with a USB-C cable and a USB-C to USB-A adaptor so that you can connect the WD hard drive to a Mac or PC, which is great for Windows fans and Mac users. In addition to the HDD, there is also an SSD option that offers a slight bump in speed.
Samsung T7 Shield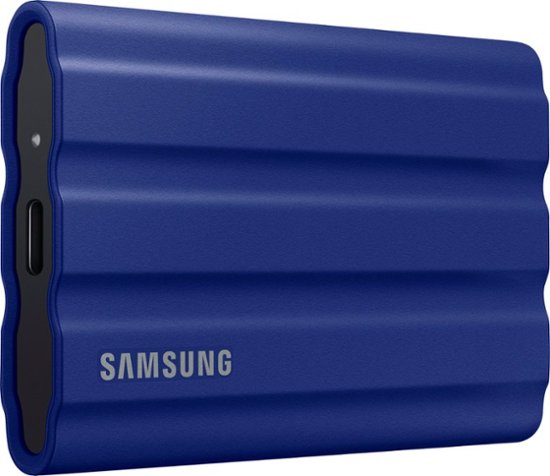 The Samsung T7 Shield is the latest SSD from this tech manufacturer. Its PCIe NVMe technology facilitates speeds that are double those of T5 devices, bringing users to 1050 Mbps for reading and writing. The protective rubber case around the device gives it an additional layer of protection against drops of 3 meters (roughly 8 or 9 feet), and IP65 dust and water protection. It's a little more affordable than its competitor by Sandisk and also a little more durable as well.
---
The following options are not portable drives, but TB external hard drive options that should remain in your home or studio, or wherever your home base is for working with your Lightroom presets.
Sandisk Professional G-Drive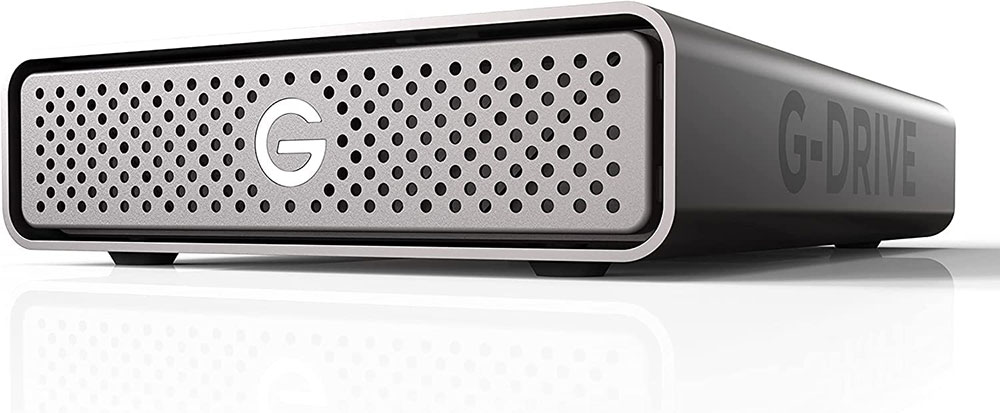 When it comes to larger hard drives for your studio, the Sandisk Professional G-Drive comes in 4TB, 6 TB, 12 TB, and 18 TB options. Each one is outfitted with a WD Ultrastar 7200 rpm enterprise-class drive that can provide read/write speeds of 250 Mbps. The USB 3.2 Gen 1 Type-C connector can give it 45 watts of power right from your computer and is especially well suited to MacBook Air users since it does not require an Apple power cable. Its solid aluminum enclosure also makes it a great option for a slight degree of portability.
Seagate Expansion Desktop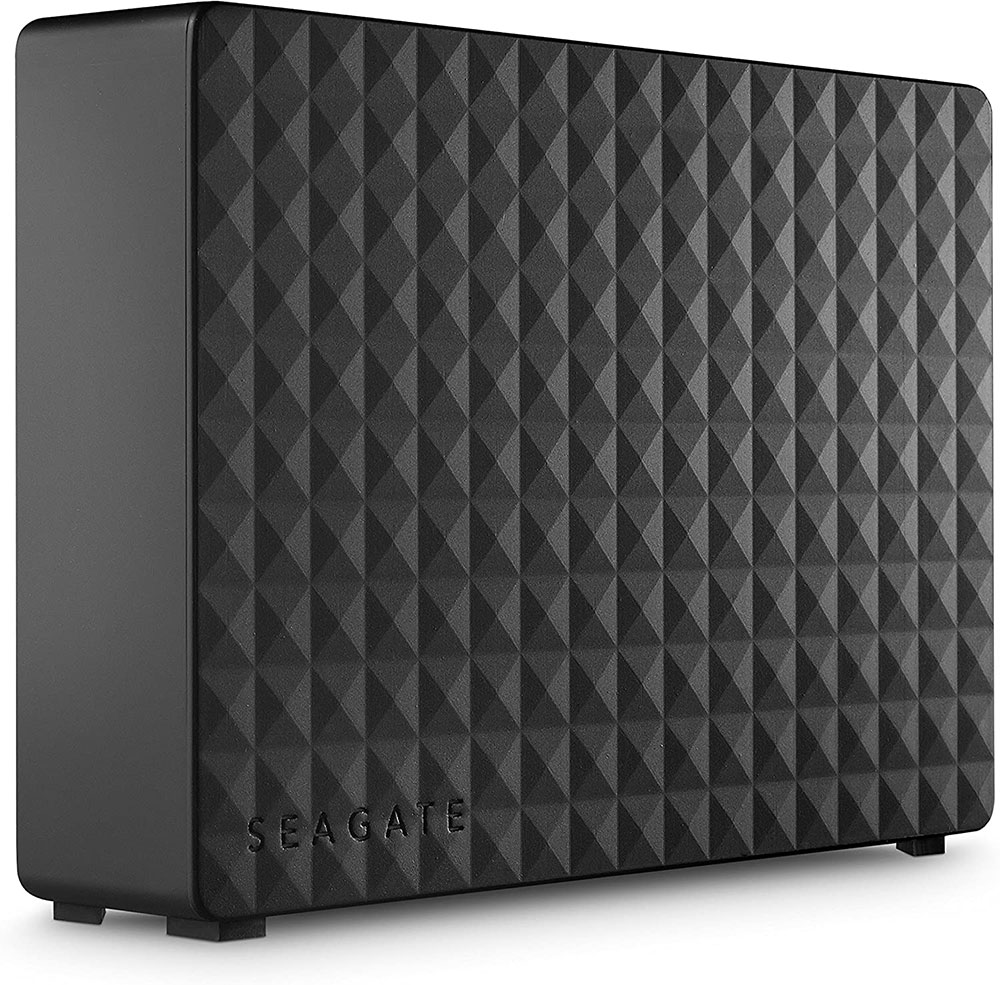 Seagate is another name for desktop storage and the Seagate Expansion Desktop comes in storage options of 4 TB, 6 TB, 8 TB, 10 TB, 12 TB, and 16 TB. This is an affordable but powerful storage option with a hard drive of 5400 rpm and a Micro-USB 3.0 connection. Many people have commented that the Seagate options are very similar to those in the Western Digital Elements series, and that the best bet for a photograph in need of storage is to see which model is on sale when they need it.
Western Digital Desktop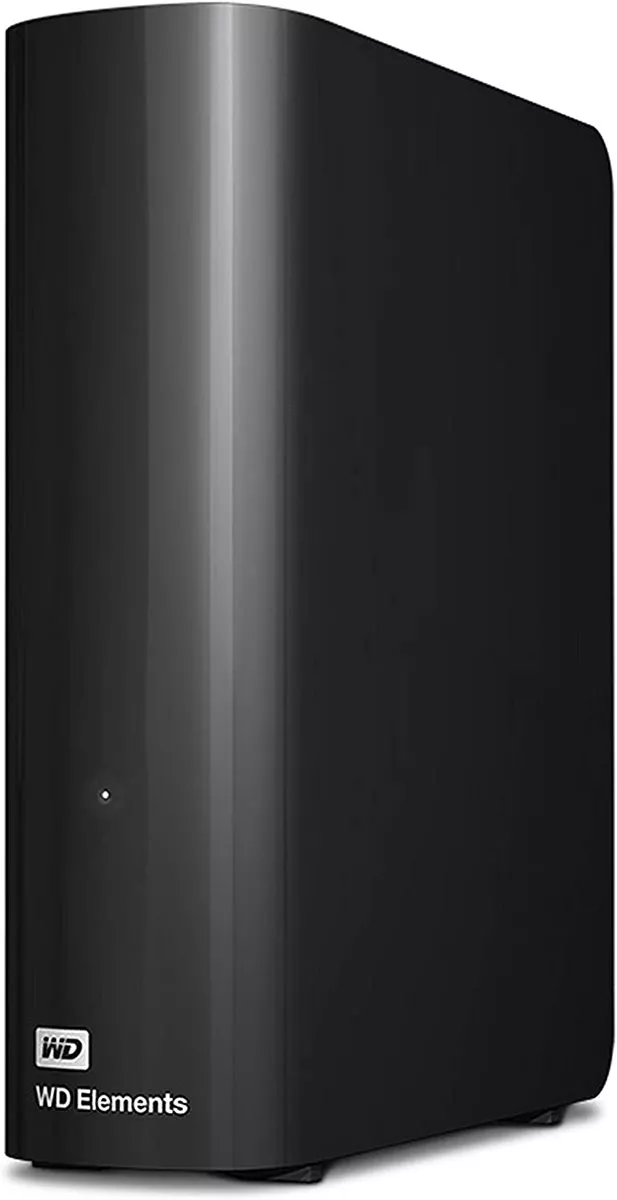 Western Digital Desktop hard drives come in several iterations of 4, 6, 8, 10, 12, 14, 16, and 18 TB. Various models include WD Elements WD My Book. They are relatively affordable with a 5400 rpm drive and Micro-USB 3.0 connection, with read/write capabilities of 185 Mbps. As you can see, it is very similar to the above-listed Seagate, but some users have commented that the case is made of a thinner plastic that lends the drive a potential for vulnerability and breakage if moved from place to place. The rpm speed is also lower than that of WD drives placed into Sandisk products, some of which can get up to 7200 rpm. As such, this is often rated as a good drive on a budget, but not one that should be moved outside of its permanent location.
---
The next several devices RAID drives. These RAID drives are commonly thought of as backups, but that is not really true. RAID devices are actually for managing hard drives or a network of hard drives. The RAID device itself should not be a place to store photos, and this misunderstanding has led to many photographers losing a copious amount of work when they delete original files. Even so, RAID devices are great tools for business continuity and managing your hard drives, through processes such as data transfer.
OWC ThunderBay
If you're looking for a huge amount of storage space on a budget, the OWC ThunderBay 4 and ThunderBay 8 could do the trick for you. These RAID enclosures feature Thunderbolt 3 connections and a DisplayPort connection for your desktop monitor. You can also purchase the enclosure empty and insert your own preferred make and model of drive. The hardware does not comprise RAID controllers but uses software controllers from the SoftRaid brand, which can be licensed with your unit when you purchase it.
LaCie 2big RAID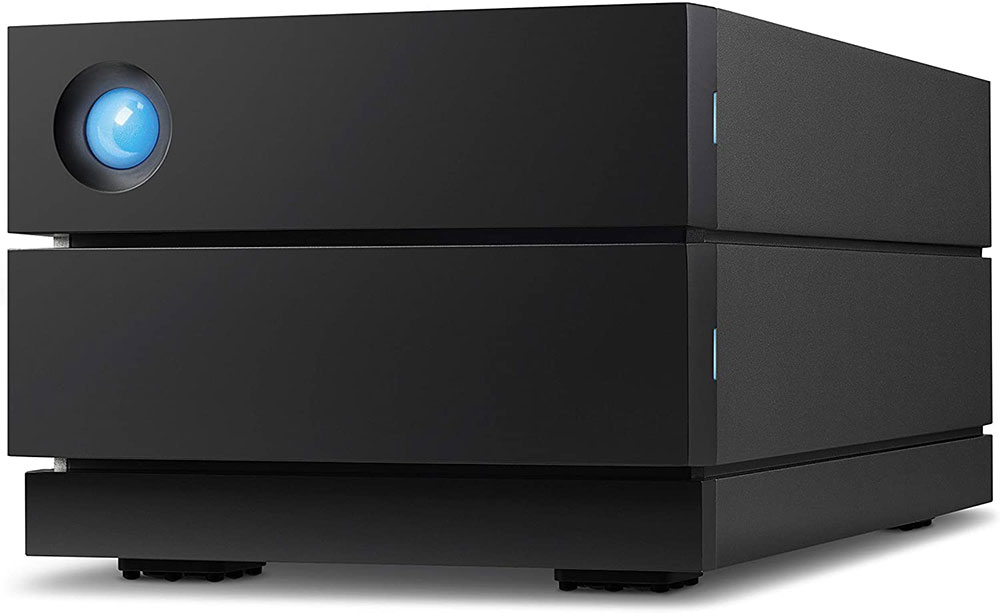 Another LaCie option is the LaCie 2big RAID, which comes in 8 TB, 16 TB, 28 TB, and 36 TB options. Since LaCie is a subsidiary of Seagate, it comes with a Seagate IronWolf Pro 7200 hard drive. Combined with the hardware RAID controller, users can get maximum speeds of 550 Mbps. The USB 3.1 Gen 2 connection is good with USB ports and Thunderbolt 4 and 4 ports as well, delivering the full speed of the drive and making this LaCie unit a great universal solution in terms of compatibility.
QNAP TVS XT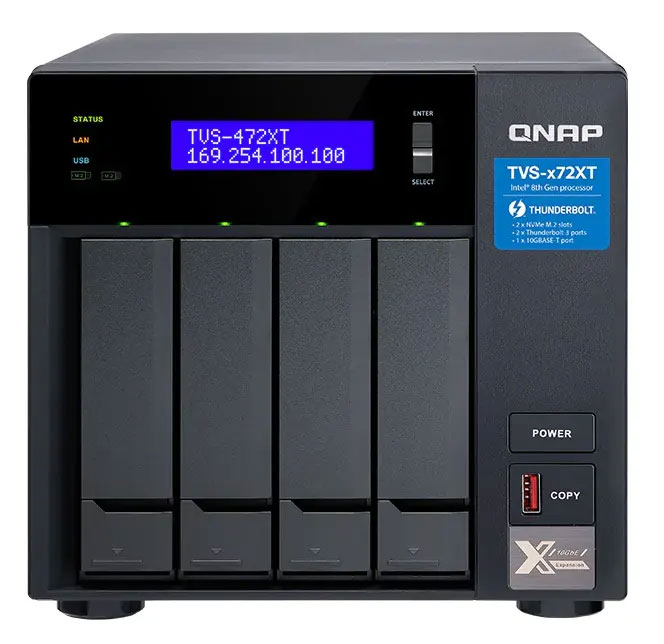 If your photography practice would benefit from network attached storage (NAS), that is, multiple devices connected to your centralized storage solution, the QNAP TVS XT series is best for you, coming in 6-bay and 4-bay options. With a 10 Gbps Ethernet connection, it can handle large files from photoshop and even 4k video editing, if your practice also involves some videography. The TVS XT models feature Thunderbolt 3 ports, which allow multiple devices to access files from the drive simultaneously via direct connection and wirelessly as well. So if you've got a studio where multiple photographers are going to be editing on different computers, this is probably the best option for you.
Best External Hard Drive for Photos
External drives like external SSD or external HDD provide external storage solutions for photographers whose Macbook Pro or desktop PC does not have enough space to hold all their photographs or videos
A search for the best external hard drive for photos will yield a lot of results, but these external drive options listed above are great choices in terms of transfer speed, storage space, durability, and cost. Cloud storage may seem like a viable solution but will quickly tap out. For all these reasons you really would benefit from locating the best external hard drive, just like you would the best laptop for photo editing.
The following two tabs change content below.
Michael Moodie is a Freelance Photographer and Photojournalist. He Enjoys Lifestyle Photography and Traveling while doing all things creative!