How to Capture Creative Couple Poses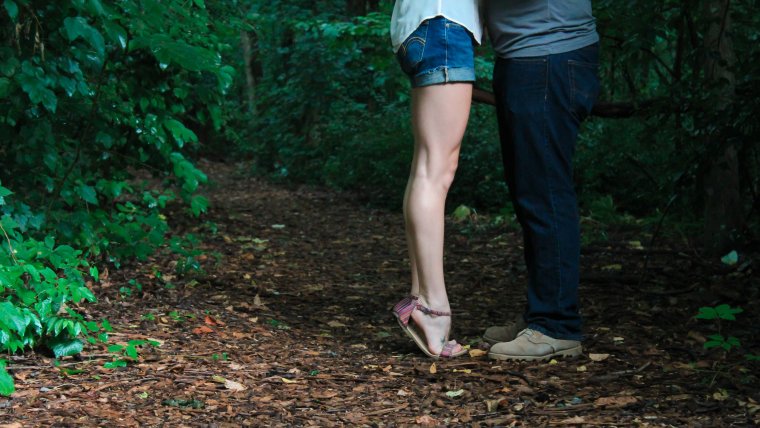 How to Capture Creative Couple Poses
www.sleeklens.com
A couple photoshoot can be an intimidating assignment to any photographer, especially if you're new or simply more used to working with one client at a time. It's important for a photographer to learn how to manage clients and keep them engaged with each other during the photo session instead of focusing on the camera and the fact that they're having their photo taken. If you're a photographer who is fearful to take on couple poses, fear no longer! This guide will provide ideas to help you to work with couples to capture their best, most natural looks.
There are several things you can do to help capture the happy couple you're photographing in more natural looking couple poses. Here are just a few ideas for making the best of your couple photoshoot:
Top 9 Natural Couple Poses
Help the Couple to Relax
Have a Collection of Couples Poses
Try Cliché Poses
Be Bold, and Try New Angles
Have Couples Get in Close
Take Walking and Movement Photos
Have the Couple Lie Down
Get Silly and Playful
Encourage Lots of Kissing, Hugging, and Cuddles
Sometimes it's harder than you think to capture a natural, easygoing photo of a couple. Many times, people stiffen up during a couple photoshoot, failing to look natural or relaxed—even with the one they love. But there's a lot the photographer can do from behind the camera to put their photo subjects at ease and help them appear as relaxed and comfortable as possible in the final photo.
Whether for engagement photos or wedding photography, an anniversary, or just because they want to remember this moment in their life, we know that the happy couple you're photographing ultimately wants a picture that showcases their relationship, which means you want to capture them in as natural a cute couple pose as possible. We'll help you with tips and tricks, including poses to avoid, while helping couples relax and enjoy each other's company—allowing you to get the beautiful best couple poses for their couples photography session.
Top 9 Natural Couple Poses
Follow these tips for capturing couples in natural-looking poses during a couple photoshoot:
Help the Couple to Relax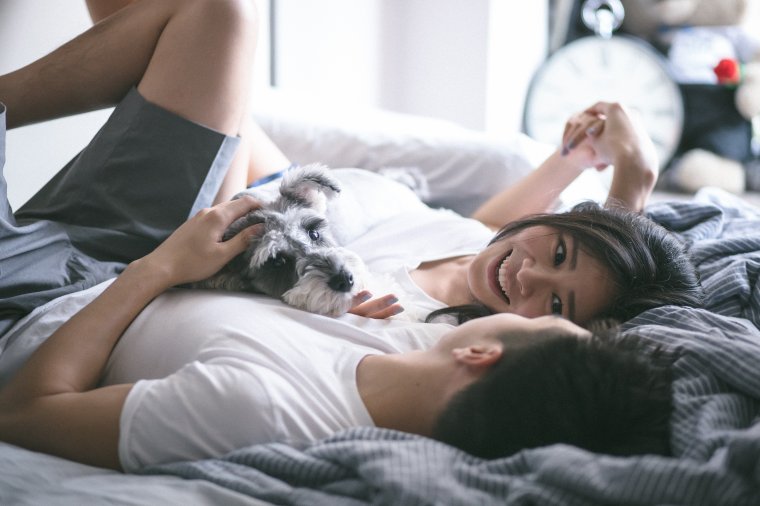 In order for a couple to be themselves and act natural (and as if there wasn't a photographer pointing a camera at them), they have to feel safe as they pose. The couple needs to feel like they can express themselves without being judged or embarrassed by others. To do this, make sure the couple is prepared before the photo session. Let them know where the location is, how much time you will be spending at the location, and when you'll cue them for outfit changes.
Before the photoshoot, try to schedule a time to sit down and let them ask questions in person. This gives them a chance to get to know you as a person, as well as get any technicalities out of the way. It's important that they get a chance to have a conversation with you in length in order for them to feel comfortable around you. To a degree, it puts the subjects at a vulnerability when they are being photographed, especially in couple poses. Knowing the photographer goes a long way toward relieving this anxiety—this is especially important when shooting high-profile events, like a wedding day, vow renewal, or anniversary party.
Have a Collection of Couples Poses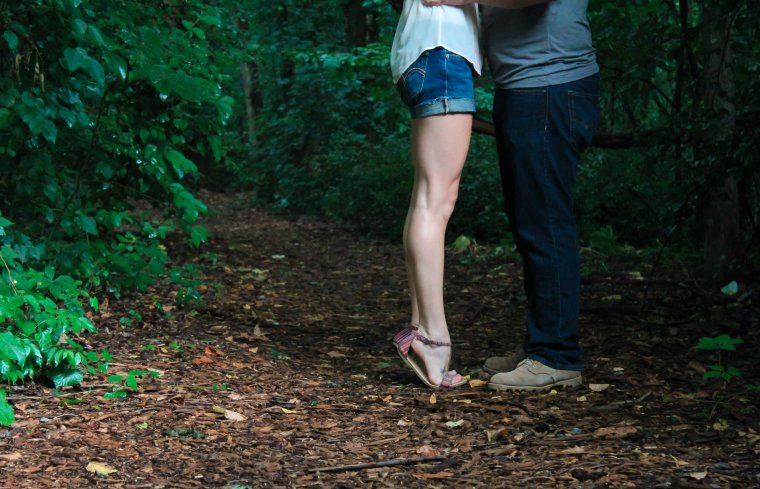 When it comes to couple poses, there are great couple photoshoot ideas online for inspiration. Personally, I like to browse collections on Pinterest and save them before the day of a couples photoshoot. Then, during the couple photoshoot, if we need a pose idea, I'll look up a few different poses and have the couple try them out.
Not every couple will like the same couple poses, so try out a lot of different poses and ideas during your photoshoot. You'll be happy you did. One of my favorite photoshoot ideas is demonstrated in the photo above. Have the girl stand on her toes to stand up higher, and take a picture of the couple from the waist down. This cute couple pose is great because it works with most couples that are similar in height. Because the girl is standing on her the tips of her toes, it makes her legs seem longer and creates an attractive look.
Try Cliché Poses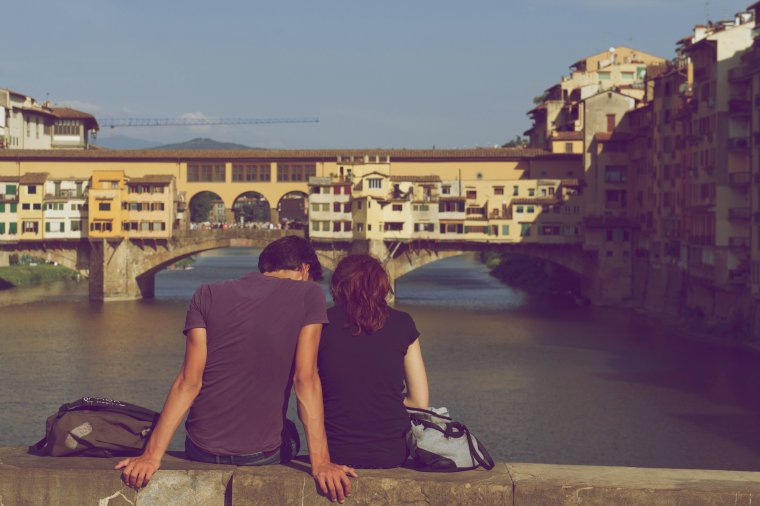 For some couples, cliché couple poses are all they'll want to do. For other couples, they won't like any of the cliché couples photography, and will want to do their own thing. Try out a few cliché cute couple poses, such as taking a picture of them sitting together from behind, like in the picture above. If the couple seems to like it, keep going. If you sense that they aren't liking this method of copying other people's poses, take a break and try some new ideas.
The most important thing is to gauge how the couple feels, and change up the pose accordingly. Couple photography is a very fluid type of photography, especially because there is one extra person involved—the photographer. This makes it easier for the couple though, since there is one more person coming up with ideas. The couple is also mainly interacting with each other, which takes the pressure off of one single person.
Be Bold, and Try New Angles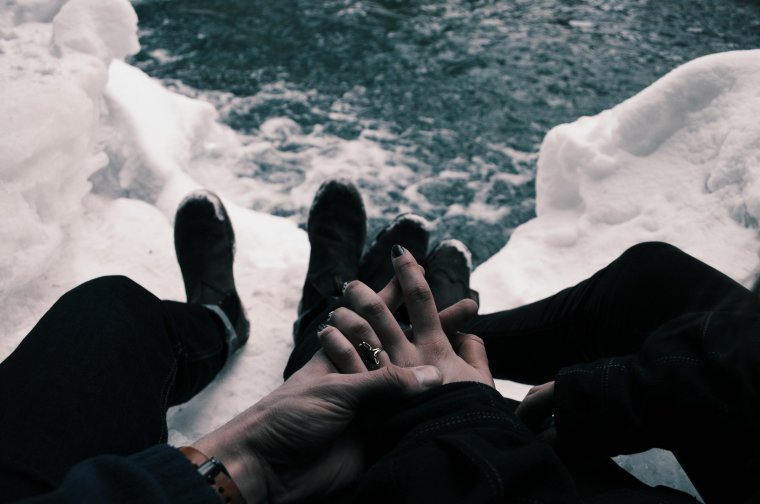 A successful couples photographer is one that is not afraid to try new ideas. In the photo above, we see a new take on the tradition of capturing the engagement/wedding ring. Instead of capturing it from the front of the couple, the professional photographer decided to capture it from the angle of where the couples' heads are. This creates a much more dramatic effect, and helps the viewer sense the bond between the couple. It also makes the photo unique, which is a key element in a great photo.
Don't be afraid to try new ideas with your wedding couple poses, and soon you'll be wishing all of your photo shoots were of couples!
Have Couples Get in Close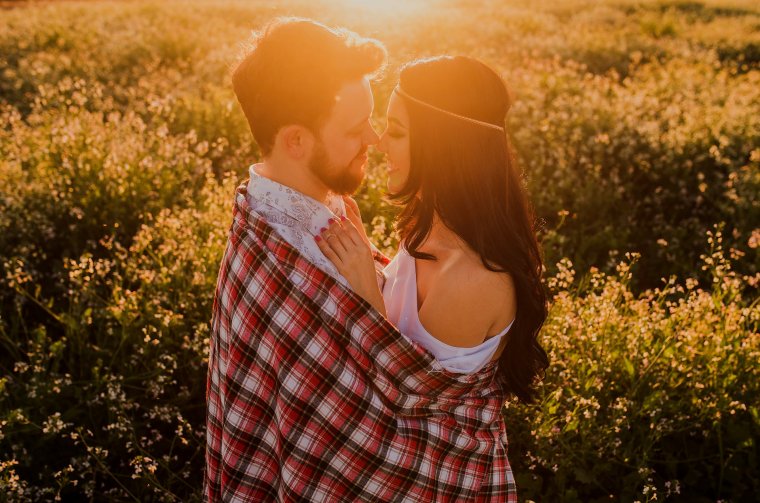 A couple should look like a couple. Many times, it's easy, even for couples, to want to keep an open distance between themselves as they pose for photos. But it's important, for the sake of composition, as well as reflecting their relationship, for the couple to really get close. One way to ensure you get a cute pose is to have the couple put their faces close together and look at the camera. Or try a romantic pose, like capturing a forehead kiss between the couple. You can have the couple hold hands, snuggle or hug. Let them try a few close couple poses that they might naturally engage in, and snap a few test shots to see what composes well within your frame. You're sure to find an intimate pose that works.
And don't forget—getting in close goes for you, the photographer, too. Not everything has to be shot from a wide angle. Don't be afraid to really zoom in on the couples' faces, especially if and when they aren't paying you any attention. This can be a great way to capture some authentic and tender moments between the couple—especially for a wedding album.
Take Walking and Movement Photos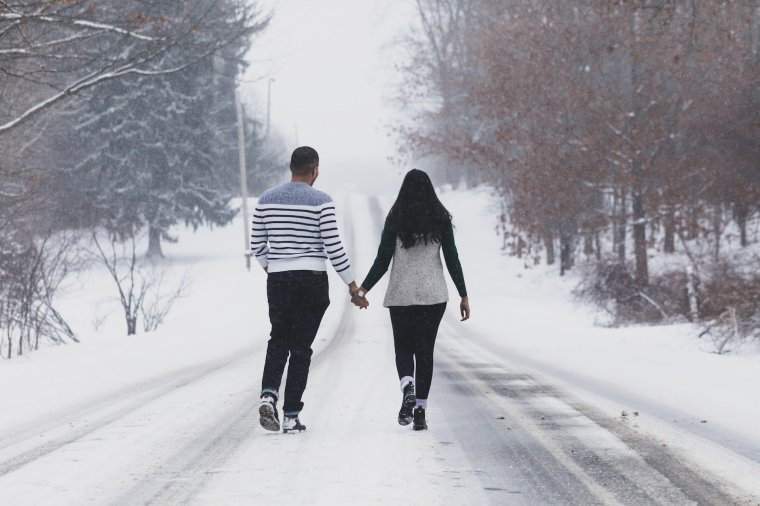 One good way to get your couple acting naturally is to have them move around. Ask them to walk around holding hands, look at each other, have one carry the other—there are so many options.
Try to get the couple interacting naturally. It's likely that they'll forget you're there and you can catch some great moments. You can shoot them walking toward you and walking away. In fact, sometimes it's good to start with the couple walking away from you. When they can't see the camera, they're more likely to relax and move naturally.
Get them talking to each other and laughing—these are excellent moments to capture in your photographs. You also can also try to switch up the way they're walking, the way they're holding hands, or even which side they're on. You can have one put their hand through the arm of the other instead of holding hands in a traditional fashion. Another good option is to have one partner in front of the other, holding hands, with the partner in the lead looking back at the other.
Another good choice is to snap pictures of the couple while they dance. This can look like a lot of things—everything from a close, romantic slow dance to a freestyle, joyful laugh fest. Try to choose something that matches your couple's personality and comfort level.
Have the Couple Lie Down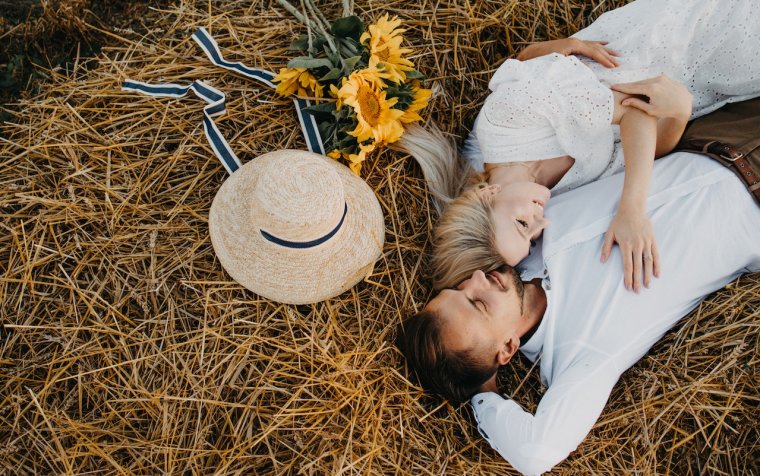 Another good way to get couples to relax and act naturally is to have them lie down. This way, they can be silly and lose the tendency to formally pose. You might try posing the couple side by side or lying in opposite directions with their faces close to each other. You also can pose the couple by having one lie their head on the other's back or stomach. The couple can be looking at each other or at the camera—feel free to experiment and see what the best couples poses are for the photo.
When the couple is posed lying on their backs, you'll want to shoot from a stepstool or other riser that allows you to shoot them from above. Conversely, if you have them posed on their stomachs, you'll need to get down on their level to grab the best shots. Both couple poses offer interesting and often unexpected vantage points that make for arresting final photos. Pro tip: this can also be a great way to snap unexpected and visually interesting family portraits.
Get Silly and Playful
Couple photos should convey the joy of romance, love, companionship, and fun. Try to encourage your couple to be silly—whatever a "silly" pose means to that particular couple. Authentic smiles and laughter, plus feelings of genuine love and joy, make for amazingly powerful final photos. Sometimes even shooting this kind of portrait photography at home can help couples feel relaxed and more at ease because they're in a more comfortable environment, and therefore more likely to feel playful as they pose.
Encourage Lots of Kissing, Hugging, and Cuddles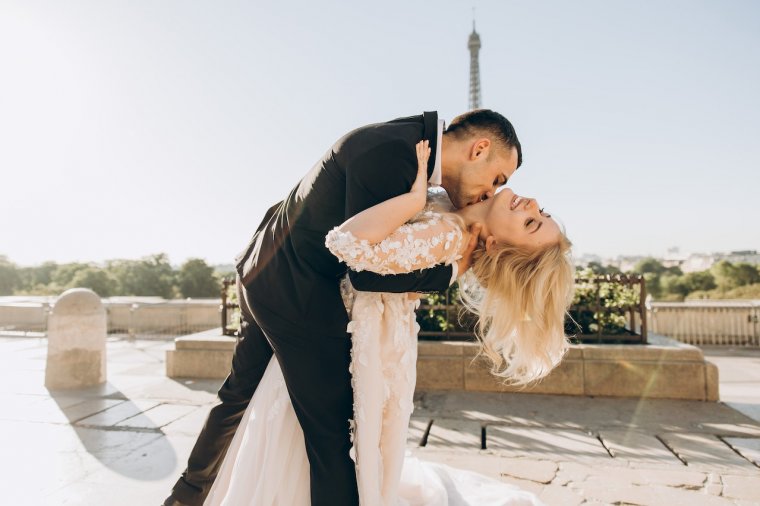 For truly intimate and romantic photographs, you can ask the couple (if they're comfortable) to pose as they hold each other, cuddle, hug each other, and even kiss. One great photo option is to have the couple pose as if they're just about to kiss, but without lips touching. The resulting photo often can convey a sense of both tenderness and anticipation.
Capturing the Best Couples Poses for Any Occasion
One of a photographer's greatest challenges is getting nervous couples to relax and behave naturally so that their photos don't look stilted and overly formal. With a little advance planning and a few tricks up your sleeve, though, you can encourage the couple to try different couple poses that result in unique and highly sentimental photos.
If you want an extra boost to make sure your couple photos turn out amazing, check out our Lovers Escapade Lightroom Presets Collection, which can help streamline your couple portrait editing workflow and give your photos a cohesive, aesthetic look.
The following two tabs change content below.
Jonathan Ma is a freelance writer and professional photographer. He grew up in the beautiful Pacific Northwest of the United States. The natural beauty that surrounds this area has helped him to learn to appreciate art and photography. Jonathan's favorite styles of photography are nature and sports photography. He enjoys learning and teaching others what he knows.