Desert in the Winter: Joshua Tree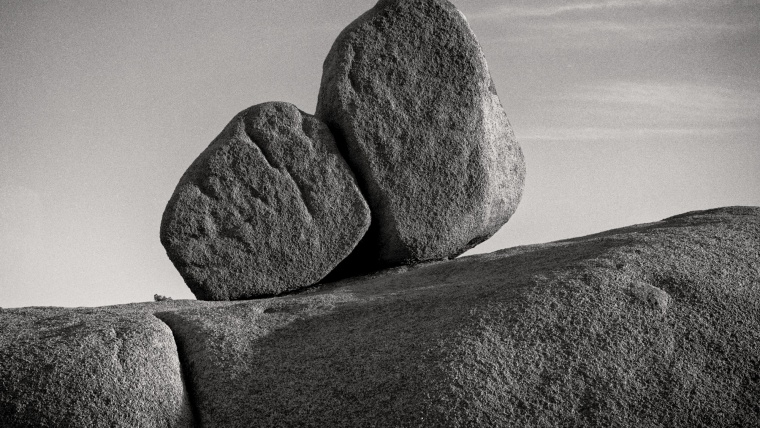 Desert in the Winter: Joshua Tree
www.sleeklens.com
When I first visited what is now Joshua Tree National Park in Southern California, it was designated a national monument, apparently meaning to some people it wasn't special enough to make the hour-long drive out of Palm Springs to the high desert where the park is located. Along with the lack of visitors, the roads were rough with few places to park; the facilities were kind of dumpy, and it felt as if I was the first person to photograph many of the boulder-filled landscapes crammed with the ubiquitous Joshua trees.
No matter how often I went there, I was overwhelmed by the rock formations, sculpted into balls and swirls and sinuous tails. I tried everything I could to capture the variety with black and white infrared film, long exposures under a full moon, nude photographs, and astrophotography. I camped in the lonely backcountry, hiking in on both sandy trails and cross-country routes. I discovered something new every trip.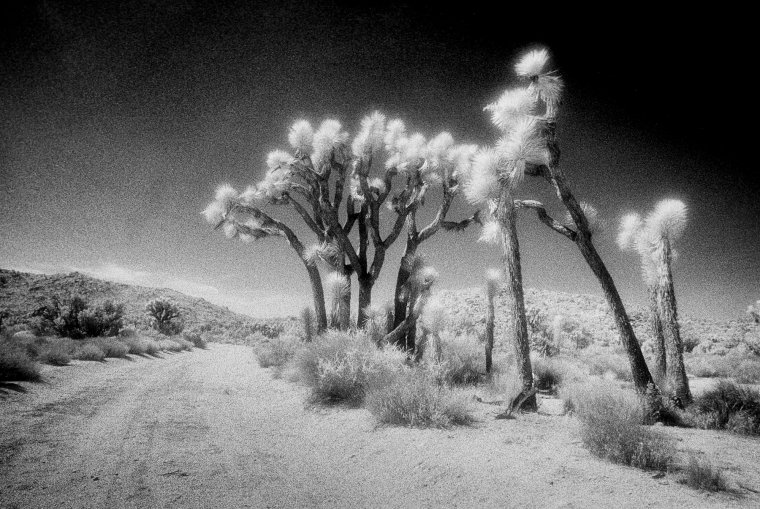 Then the place grew up and became a national park in 1994. The roads are now wider. There are more people and nicer facilities. And yet, some can still feel undiscovered by just wandering off even a quarter mile from the road. The distances aren't so vast it can take hours of pre-dawn driving to find your photogenic destinations. Like Death Valley, it gets roasting hot in the summer, so the best time to visit is the winter, although the higher elevations there sometimes invite below-freezing temperatures, especially at night, and even the occasional snow. Dress accordingly.
Although Joshua Tree to me is more about meandering about, walking cross-country among the gnarled Joshua trees and craggy rock formations, here are a few places that make good starting points during your explorations.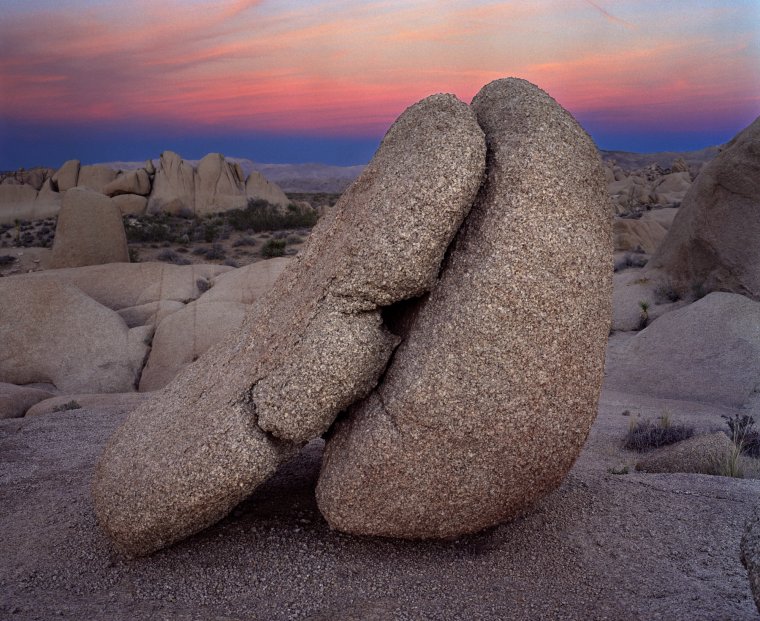 Jumbo Rocks
Not a lot of Joshua trees here, just millions of boulders and rock slabs, most of which are composed of granodiorite, a surface so rough, all but the most worn-out shoes will stick to it. That means you can usually climb about the formations that seemingly go on for miles, getting the best angles without the need for climbing equipment.
Access is also easy. I usually drive through the West Entrance near the town of Joshua Tree and follow the main road until I pass the dirt "Geology Tour Road" (worth investigating if you don't mind a bumpy drive) which brings me to the edge of Jumbo Rocks north of the road. The proximity continues for several miles with turn-outs along the way. Just park and walk among the rocks. Pay attention to where you come from so you can return without getting lost.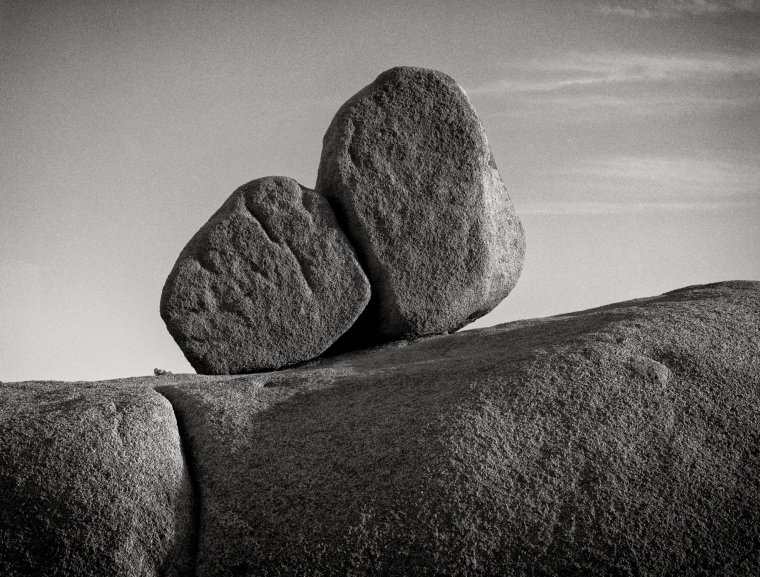 Best in the morning or evening. I've also spent many nights there photographing the sometimes bizarre landscapes under the light of the full moon. Anything from wide angle lenses to normal focal lengths works best but you might find an occasion or two when a medium telephoto works for something like isolating odd-shaped boulders perched against the sky.
I also recommend visualizing your shots in black and white—and processing them as such—because the rough textures and amazing shapes here are reduced to their essence with tones of gray. Color doesn't often enhance those qualities unless you're capturing a brilliant sunrise or sunset.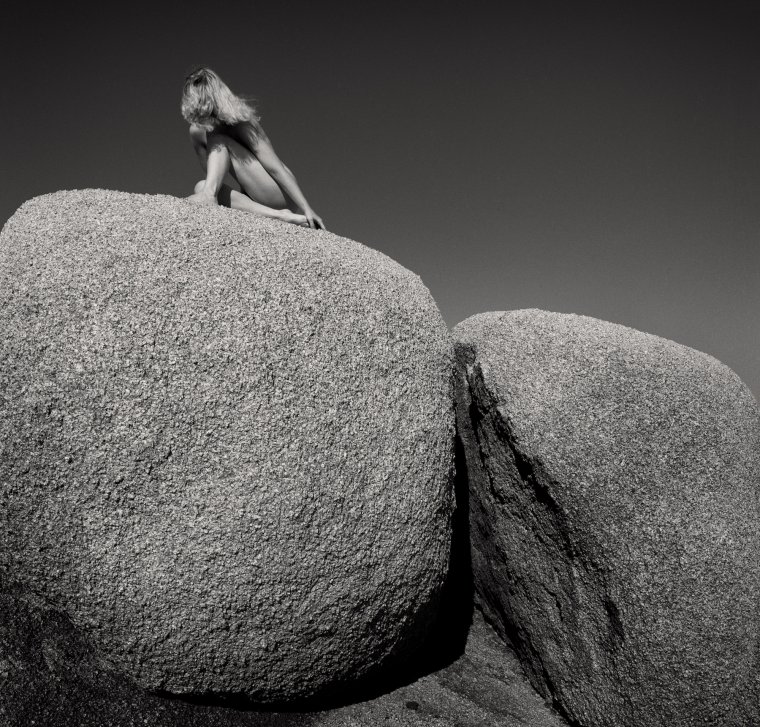 One other thing that perhaps the Park Service would prefer I not say, but there are so many secluded spots in Jumbo Rocks it's perfect for photographing nudes, especially juxtaposing your model with the boulders there. Ahem. Just be sure your location is suitably private which means hiking far away from the road where most people never roam.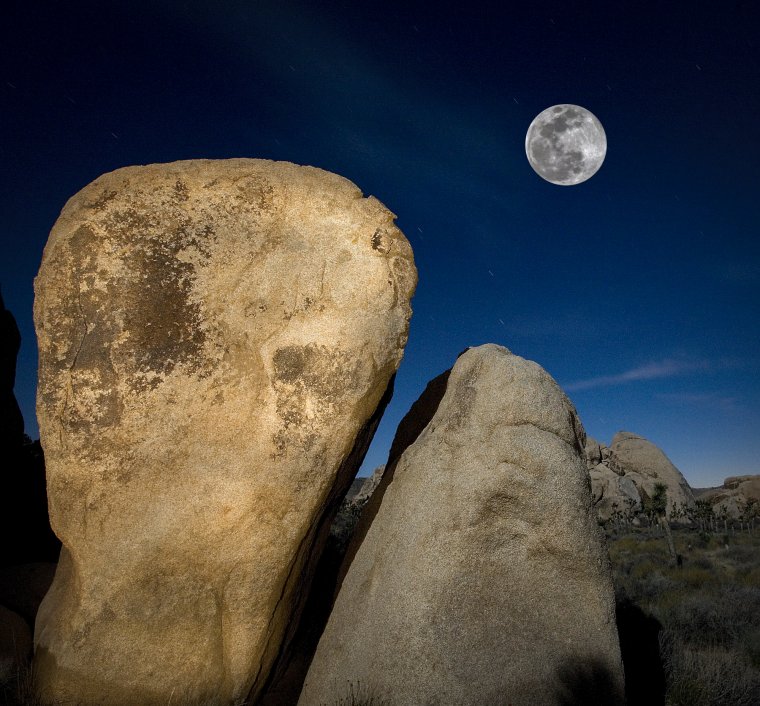 Wonderland of Rocks
This involves the well-marked Boy Scout Trail which connects the West Entrance road (called Park Boulevard) with Indian Cove. About two miles down the path, which is populated with its share of Joshua Trees, look to your right (east) to a large area surrounded by high rocks. There's a use trail that leads into the area with enormous potential for unique landscapes. Be sure to bring plenty of water and appropriate clothes according to the weather. Again, be aware of your surroundings so you don't get lost. Better yet, bring a map and compass.
If you want to hike light, a zoom lens along the lines of a 24-70mm would work nicely here.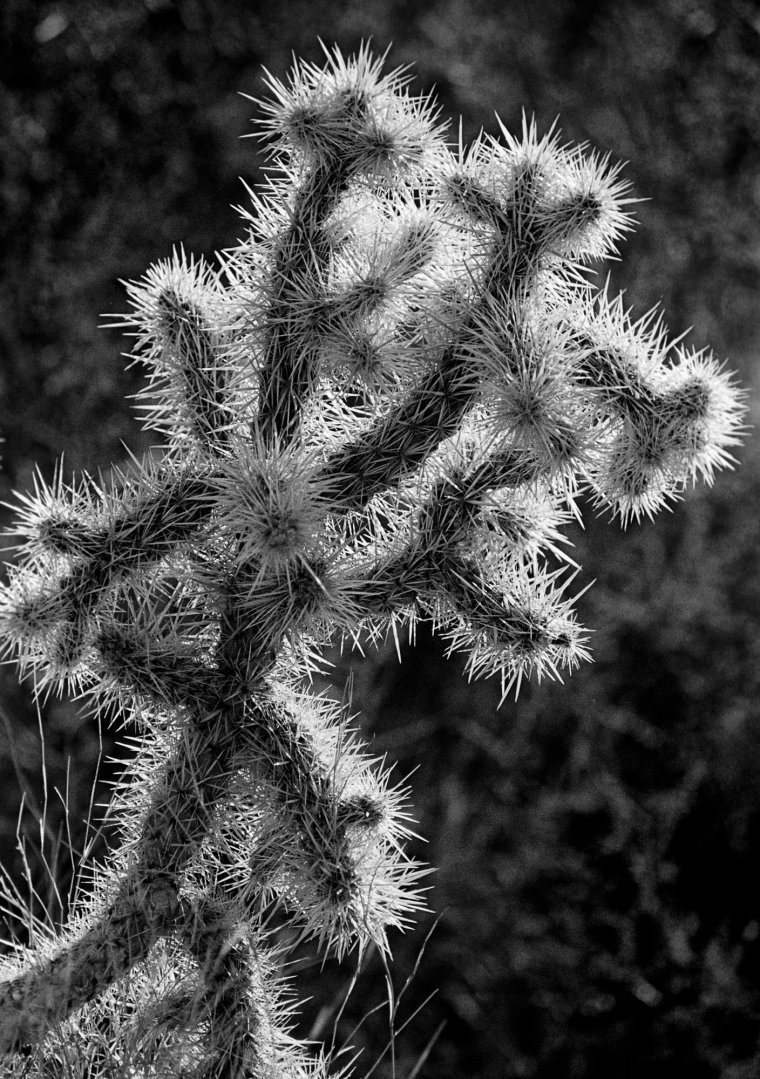 Cholla Cactus Garden
Past Jumbo Rocks, driving east, you'll come to an intersection where Park Boulevard continues north to the North Entrance, and Wilson Canyon Road leads southeast. Turn right onto Wilson Canyon Road and look for the Cholla Cactus Garden on the right. The fuzzy cholla was made for early morning and late afternoon light, backlighting the needles. Try to find angles where there are shadows behind the cactus which really brings out the rim light. A slightly longer lens can help out here to isolate the plants along with a willingness to crouch low for the best angles. There are other cacti here as well to photograph. Oh, one word of caution: the cholla needles look soft and fuzzy but come near them and they will seemingly fly off the plant and embed themselves in your clothes and skin. Great pain follows. Don't say I didn't warn you.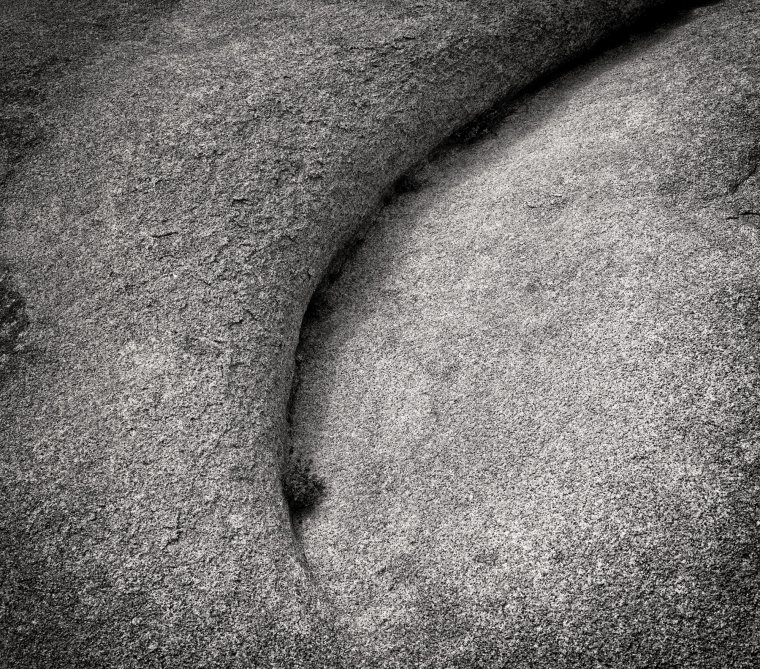 Wildlife
For those with big honkin' super telephotos, there are a few opportunities for wildlife pictures. At certain times of the day, especially morning and evening, coyote seem to be everywhere judging by all the howling you'll hear. In the early morning at Cottonwood Spring in the south end of the park, you might see mountain sheep but please be cautious and don't do anything to disturb them. There is also the occasional rattlesnake, so be careful where you step. If you have more patience than I do, there are about 250 species of birds that hang out there, especially in the winter. Lastly, at night, bats are bopping about although I can't offer any tips for photographing them, but it's just cool seeing them flying overhead against the stars, of which there are billions filling the sky.
The following two tabs change content below.
Bill Sharpsteen has seen photography evolve from the primitive days of film (his first camera was a cheap metal box with plastic lens and a hundred light leaks) to digital sophistication (he now works with a Canon EOS-1D X). Not once has he ever uttered the words, "Real photographers only use film." He's a freelance photographer and writer; his first book project, Dirty Water: One Man's Fight to Clean Up One of the World's Most Polluted Bays, was released in 2010, and his next book, The Docks, about the Port of Los Angeles was published in 2011, both by University of California Press. His latest book, self-published in 2015, is a collection of essays and photographs about the sport of canyoneering called Canyon Deep: Descents Into Hidden Landscapes. His photographs have appeared in Washington Post, Entrepreneur, Emmy, Westways, Washington Journey, Outdoor Photographer and Photo Techniques. He has published more than 60 articles for such publications as Los Angeles Times Magazine, Los Angeles Magazine, Washington Post, TV Guide, Entrepreneur, Photo Techniques, Outdoor Photographer and Alaska Airlines Magazine. The topics covered a wide range of interests including business, television, the environment, personalities, travel and entertainment. Sharpsteen also worked during the early 1980s as an award-winning documentary director covering Alaska Natives and the social issues facing them. Those shows garnered such awards as a silver medal in the 1983 International Film & TV Festival of New York, the Lincoln Unity Award and Alaska Press Club awards for best documentary and best video photography. He lives in the Los Angeles area.