Travel Photography: The Perfect Combo of Capturing & Exploring
Travel Photography: The Perfect Combo of Capturing & Exploring
www.sleeklens.com
Every city has its own flair and specialty. When we travel to any country and explore different cities we enjoy and discover something new. A trip to a new place makes us feel our holiday was well spent. Being a tourist means "a person who travels to explore a place for pleasure", this means we can be a tourist anywhere even in our own city. Having lived in Jakarta, I wouldn't have thought of discovering my city as a tourist. Jakarta is the capital city of Indonesia and Indonesia is known to be the World's Largest Archipelago. A city that is vibrant filled with cheerful people willing to help and guide you anytime, anywhere. Each city has their specific landmarks that is a must visit. In Jakarta, there are not many places to visit but some give a completely new outlook on what our city is all about.
There are many ways to see your city like a tourist, you can have a group of like-minded friends and go together or join a group of explorers who do tours to various parts of the city. I chose to do the latter and have found many new things about my city. By seeing new things, learning more about my culture has helped me to grow through photography.
Capturing is about Perspective or Vista, a way we see everything around us. Thus, taking pictures through exploring helps to motivate the photographer to gain perspective and have an outlook. Through my trips, I saw my city in a new way and tried to click as many photos as I could to treasure the moments. Whilst clicking, I was able to experiment with my camera to understand the principles of Photography. I learned the meaning of ISO, Aperture, Exposure, Focus, and White Balance and how to use them during my captures. Through the process, I realized once you understood how to balance the light with ISO and Aperture the rest goes with how we feel during the moment. Although, I am not even close to mastering these main features but the mystery behind the balance allows me to keep sharpening my skills.
Through the photos below, I shall share my experiences when taking them.
Jatinegara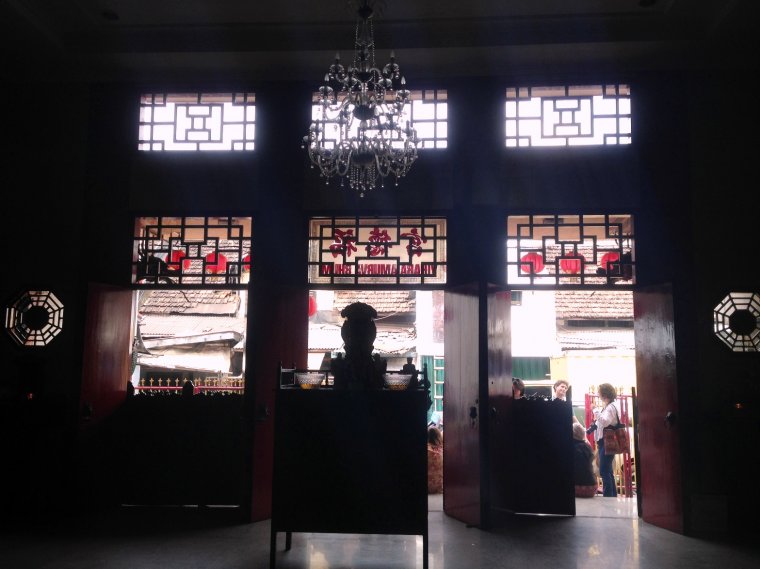 This shot was taken last year, during our Jatinegara walk as we stopped by a Buddhist Temple in the area. Inside the temple, I was taking a couple of shots and trying to find the correct point of view to get the right lighting. The top portion with the Chinese writing and lanterns plus how the doors were opened peeking towards the opposite direction was quite fascinating. This helped me frame the top and capture the shot.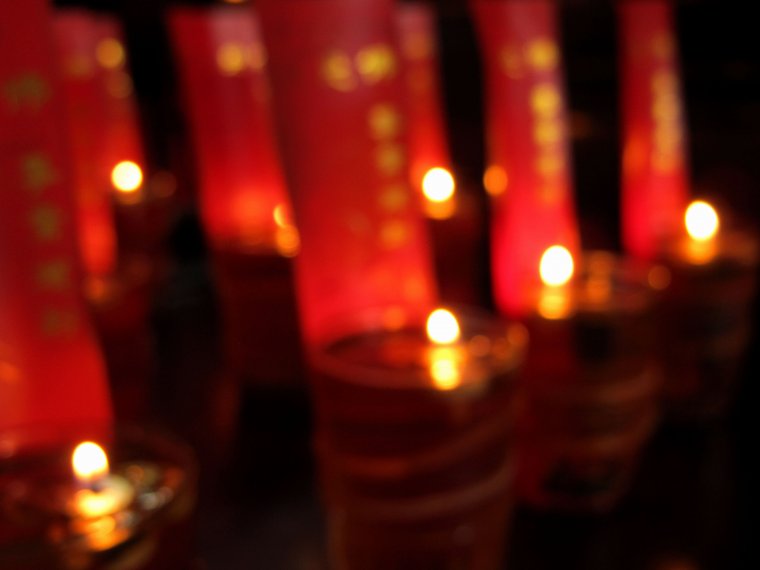 Trying to achieve the "Bokeh" effect. This was quite a spontaneous shot whilst at the Temple.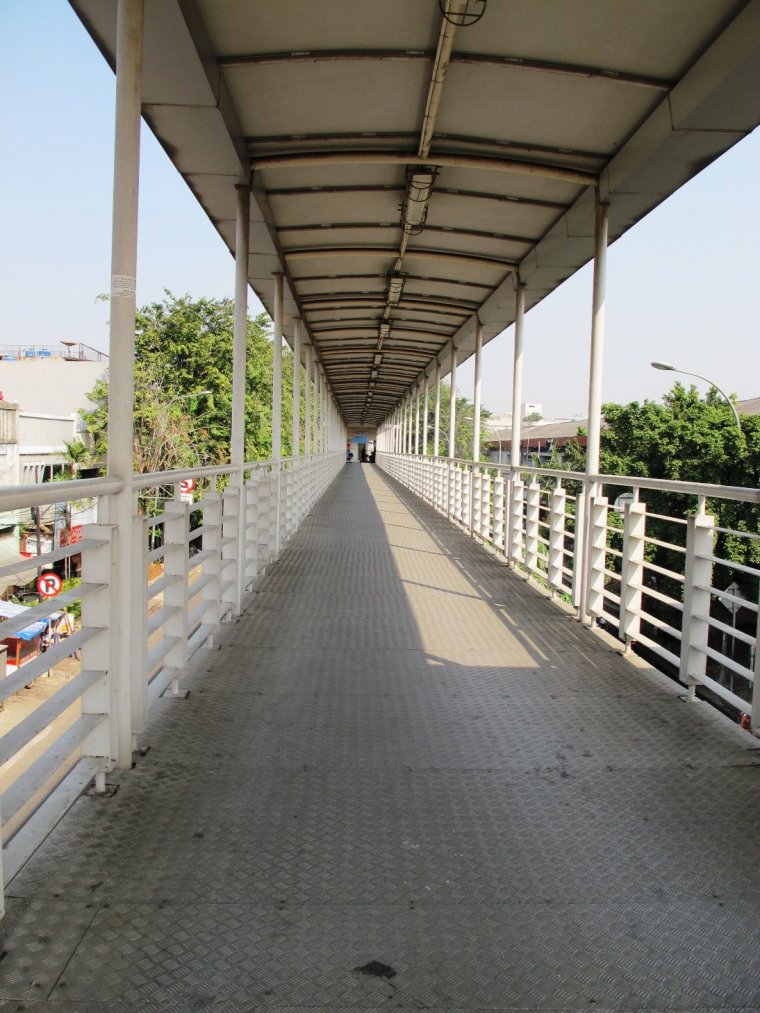 When crossing the bridge, from a distance, this particular scene had formed a sort of symmetry in my mind. The lines, curve, and shadow gave this moment a more crisp look. These aspects tempted me to click.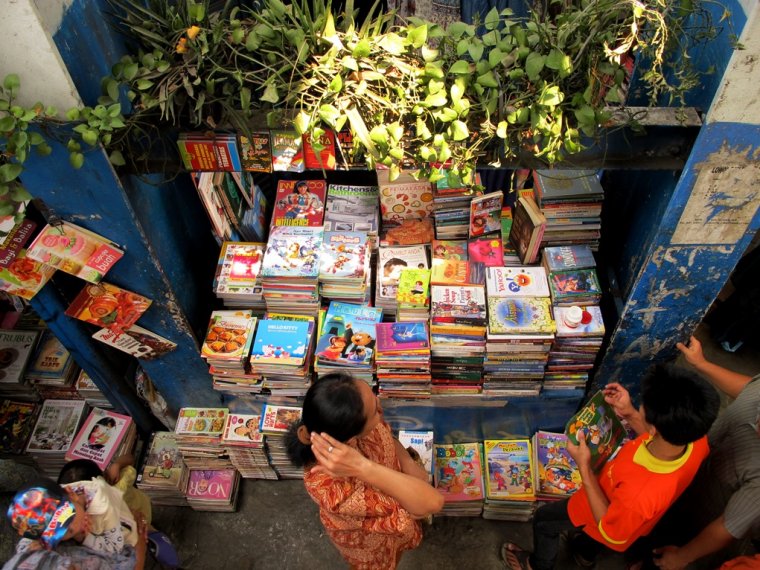 Taking photos with different views and colors has always intrigued me. What better way to try it out whilst looking down. The row of colorful books with passers-by was an opportunity not to be missed.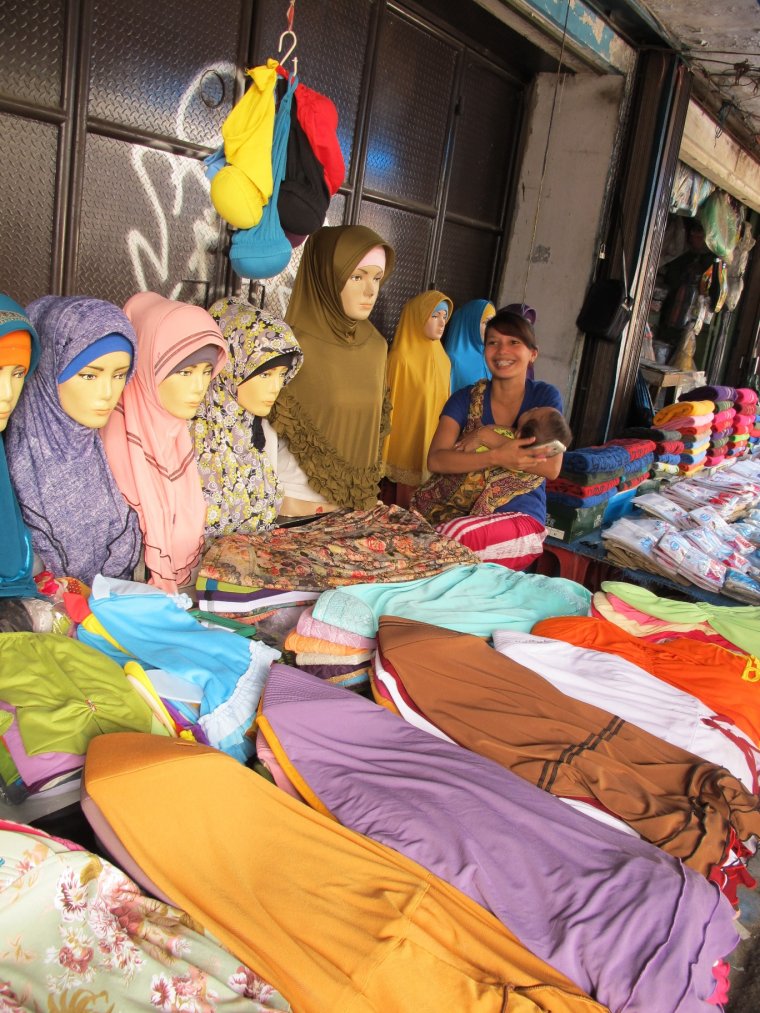 This smiling lady with her baby sitting at her small hijab stall caught my attention instantaneously.
MONAS and MOSQUE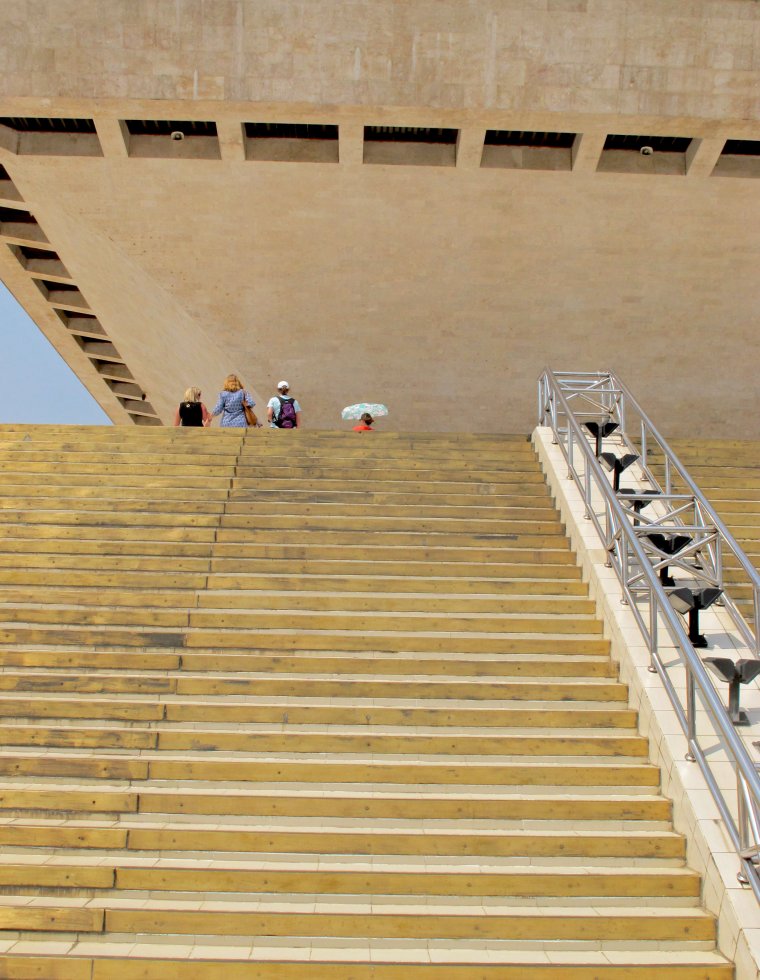 Monas our National Monument is a crucial landmark in Jakarta with its famous history and scenic top view of Jakarta. Whilst climbing up the monument, the steps and a portion of the monument formed a specific frame in my shot.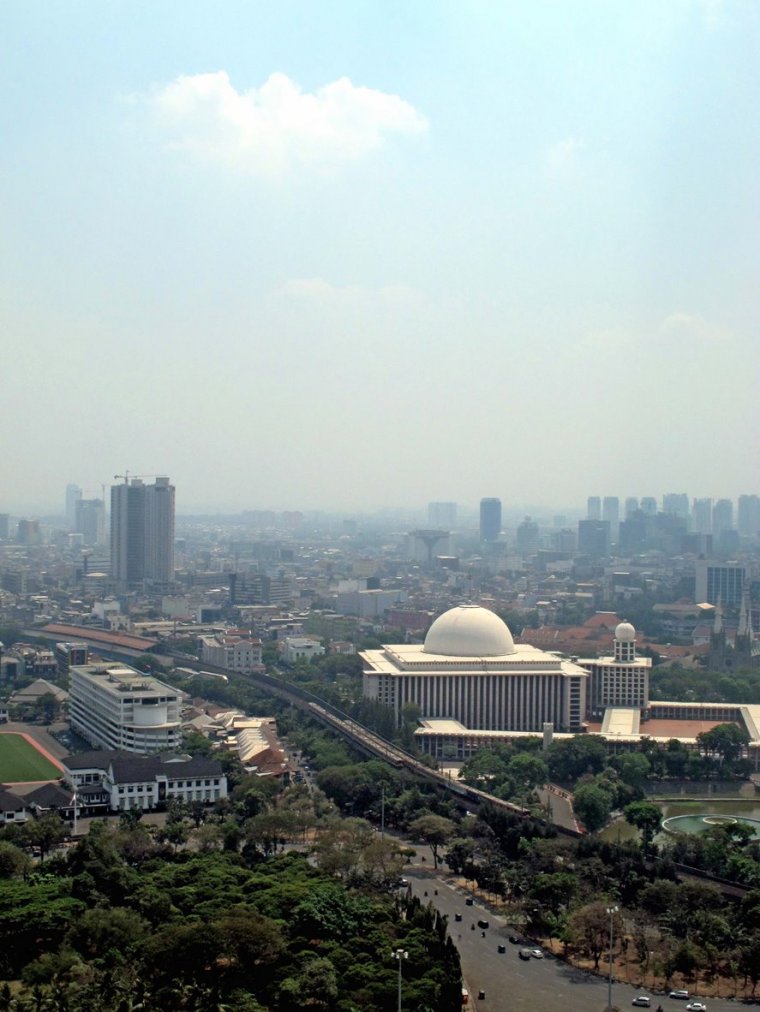 Upon reaching the peak of Monas, we were able to have a view of Jakarta from all angles. It was quite interesting to take a couple of shots and see the city from the top.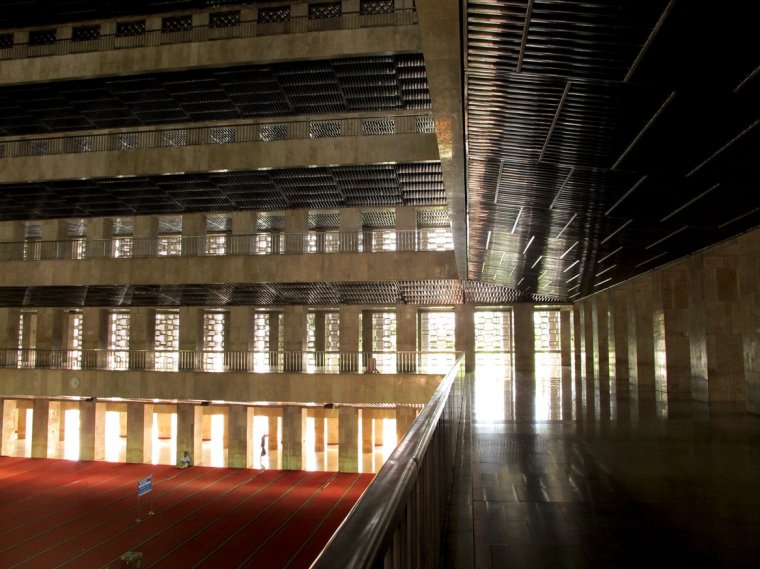 The exterior view of the Mosque (Masjid Istiqlal) can be seen in the previous photo. This is known to be the largest mosque in Southeast Asia and here, you can see the interior of the mosque. The architecture of this building is intricate and captivating yet, it can be tricky to try to shoot every aspect of it.
SUNDA KELAPA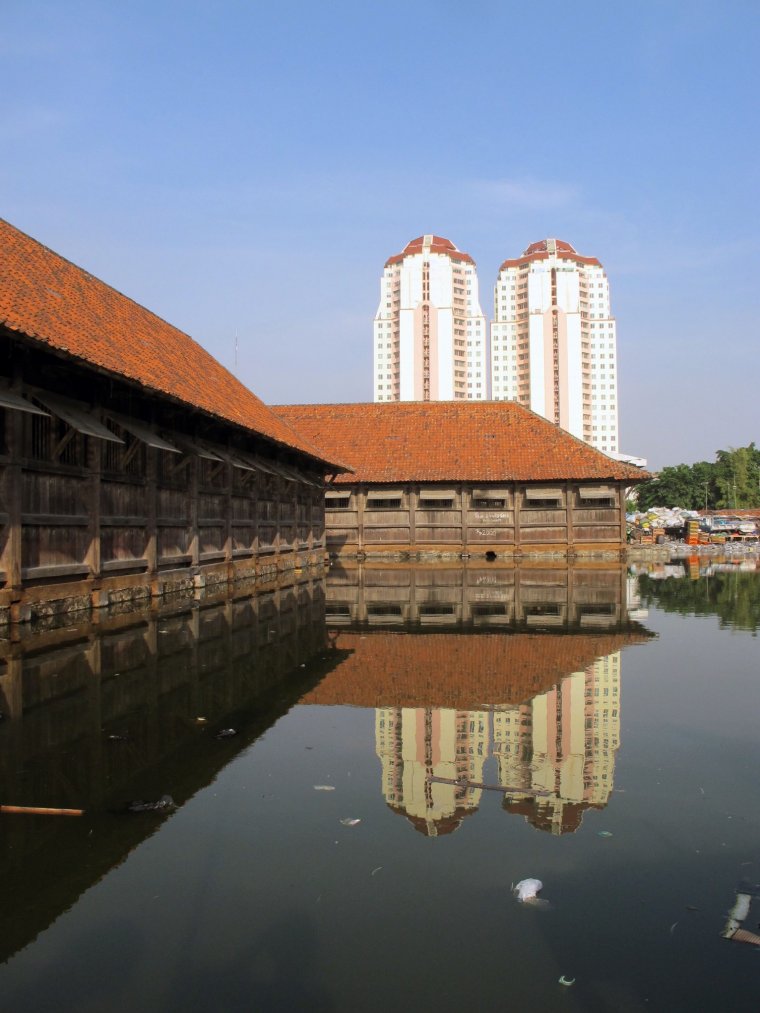 A reflection of the two buildings and an old traditional house was hard to ignore as we were exploring the slum area in Sunda Kelapa. The Sunda Kelapa is another important landmark as it is the Old port of Jakarta.
TAMAN SUROPATI (MENTENG)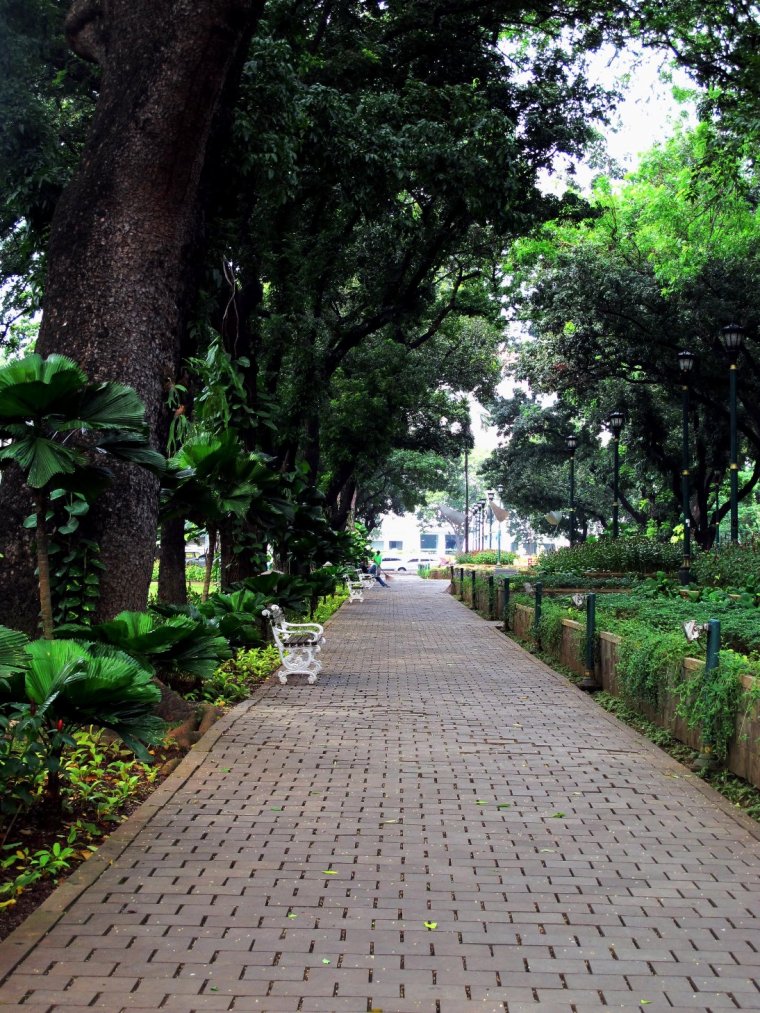 The greenery and serene atmosphere around this lovely park in Menteng area (the first residential area in Jakarta) felt like a perfect moment to shoot. An alley filled with tall trees in the morning hours completed the setting.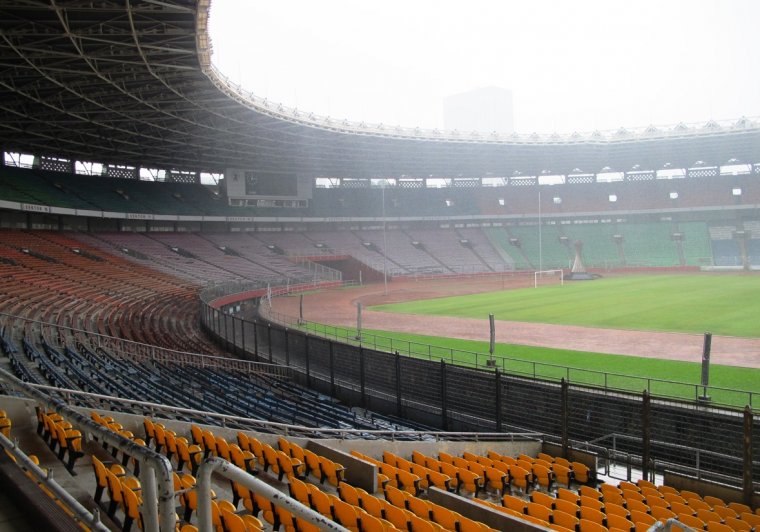 Getting to our National Stadium was quite a challenge as it was a rainy day. The experience of being in this huge empty stadium with the sound of rain inspired me to feel the moment and then click.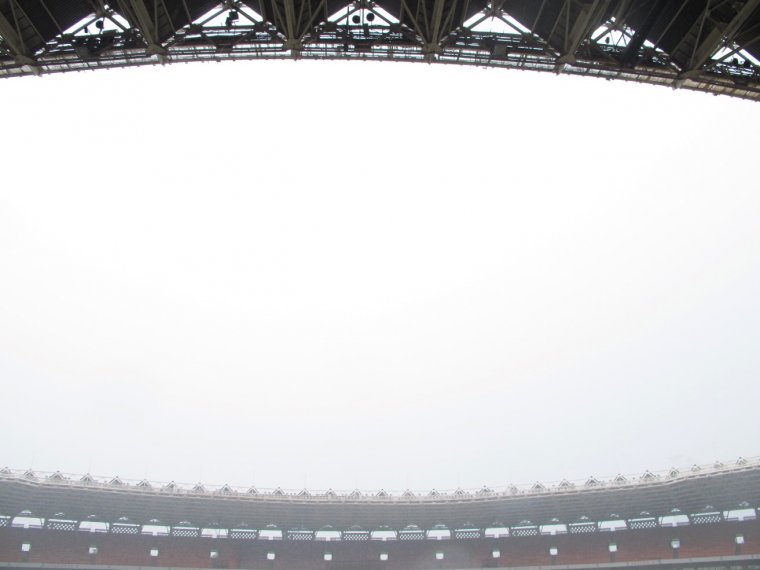 This second photo of the Stadium was a shot where I was trying to attempt to get a minimalist touch and a semi-circle shape within it.
The photos above have a variety of different photography styles that I have tried to achieve. Certain aspects and styles of photography by some renowned photographers have encouraged me to try different styles.
Did exploring make me enjoy taking photos more? Yes, it, in fact, made me want to take more photos not because I had to but because when seeing a place, there are so many wonders around that can be clicked from various angles. Capture and explore can be a perfect combo for those of you who would like to grow through photography. The journey to keep taking photos carries on and we need to find ways to keep the passion of photography alive within us. Seeing your city from a new perspective like a tourist would can broaden your imagination and creativity as a photographer.
The following two tabs change content below.
Simran is an entrepreneur, passionate photographer and writer from Jakarta, Indonesia. She captures moments through her camera and iPhone. As a contributor for Sleeklens and Grryo, she enjoys sharing her work through captivating moments found in daily living.